"One bite and all your dreams will come true!" If that were only true! Been getting my creep on unusually early this year and I just can't help myself. 👻 I won't apologize. Nope. So, today I'm sharing poison apple cookies made with a more trendy Descendants kind of vibe. I love how they turned out and also obsessed with how super easy they are to make using store-bought cookie dough and other simple shortcuts. More on that in a flash.
"Dip the apple in the brew."
"Let the sleeping death seep through."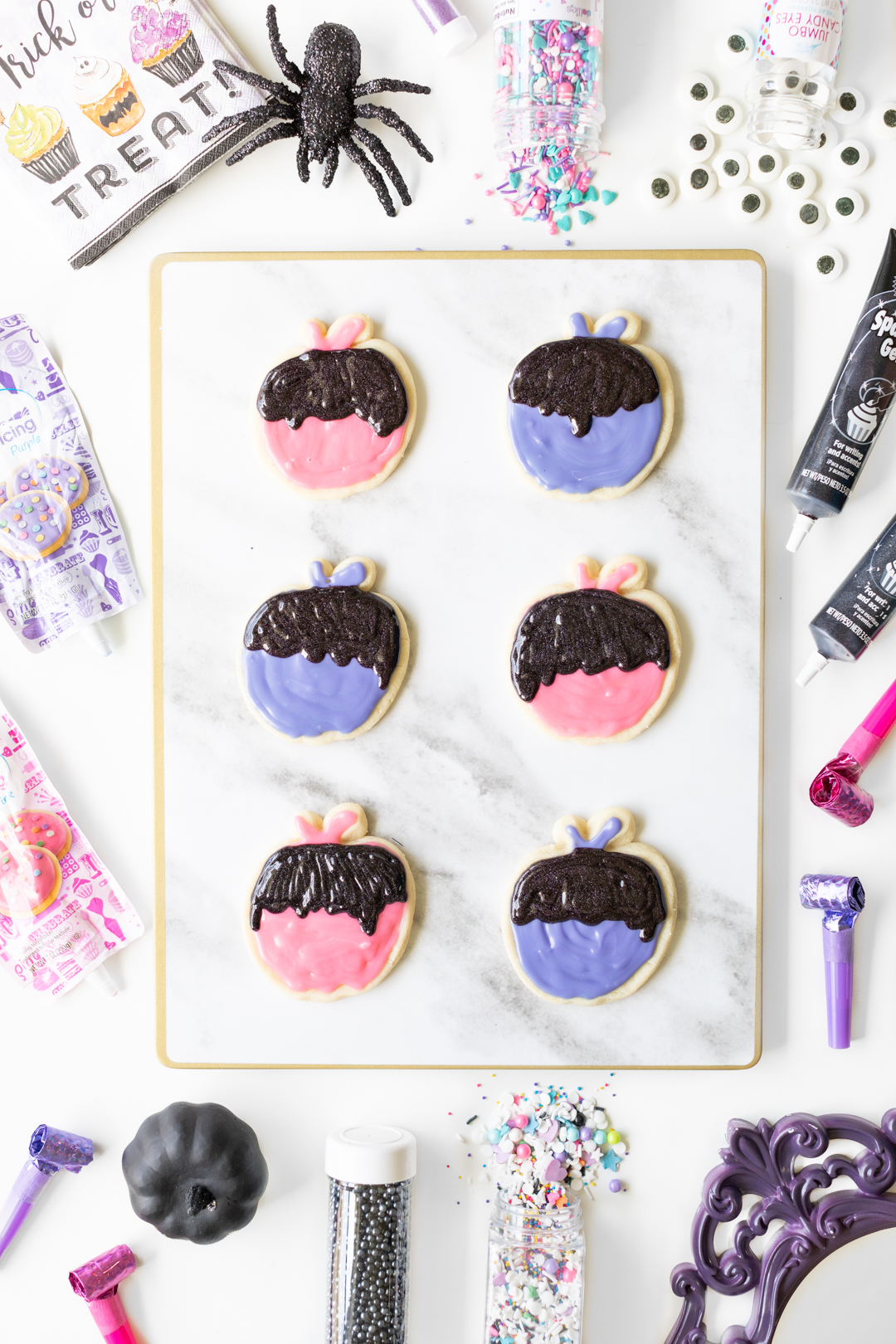 You might recognize this spell cast upon an apple by the Evil Queen to give to poor unsuspecting Snow White.
The good news is that you don't need to be an evil queen to serve up some enchanted poison apple cookies this Halloween. But, if you want to dress up like one… who am I to stand in the way? Go for it.
Who dares to take a bite?
I promise that these all treats and no tricks today.
POISON APPLE SUGAR COOKIES
From Disney inspired poison apples for Halloween to apple bobbing, you have to admit that apples have certainly made quite a haunting impression on the holiday. It seemed like a great time to add my own little twist to this fun apple inspired treat. Let me show you how to make cookies that look like poison apples but taste a whole lot better. Assuming you won't be eating a whole batch on your own, these won't cause a deep sleep effect like the poison apple in Snow White.
Here is what you need to make these fun Halloween sugar cookies:
Apple Cookie Cutter
Ready-to-Bake Sugar Cookie Dough + All Purpose Flour
Pink and Purple Cookie Icing
Black Sparkle Gel or Writing Icing
That's really it! These cookies are also fun to decorate for a Halloween activity too since they are so simple.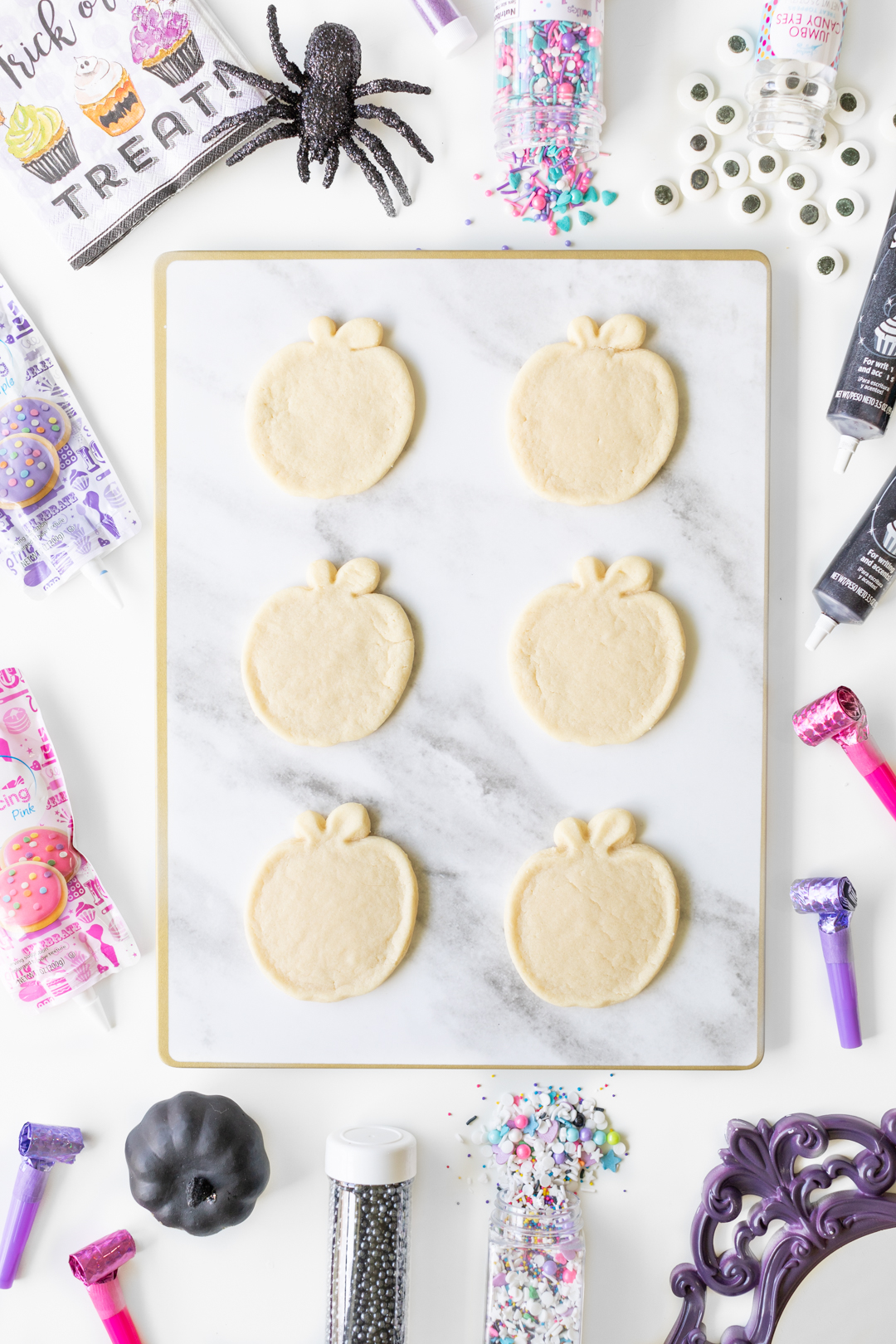 First let's chat about how to limit the spreading when making sugar cookies because it really, really matters if you want identifiable cookies.
DOES REFRIGERATING COOKIE DOUGH REALLY MATTER?
Yes, it does. There is actual a real reason for it, too. Chilling the dough actually makes the fats solid and will therefore prevent excess spreading.
HOW TO REDUCE SUGAR COOKIE SPREADING
To keep your sugar cookies from spreading the #1 key is to keep the dough chilled. Keep the dough chilled before working with it and make sure to store it in the freezer for about 10 minutes after you've cut your cookie shapes for the best result.
MORE READY-TO-BAKE SUGAR COOKIE TIPS
Once your cookies are pulled from the oven, they WILL appear blown out.
Do not panic yet!
Let your cookies cool completely because they will basically slowly deflate down to their real size within several minutes.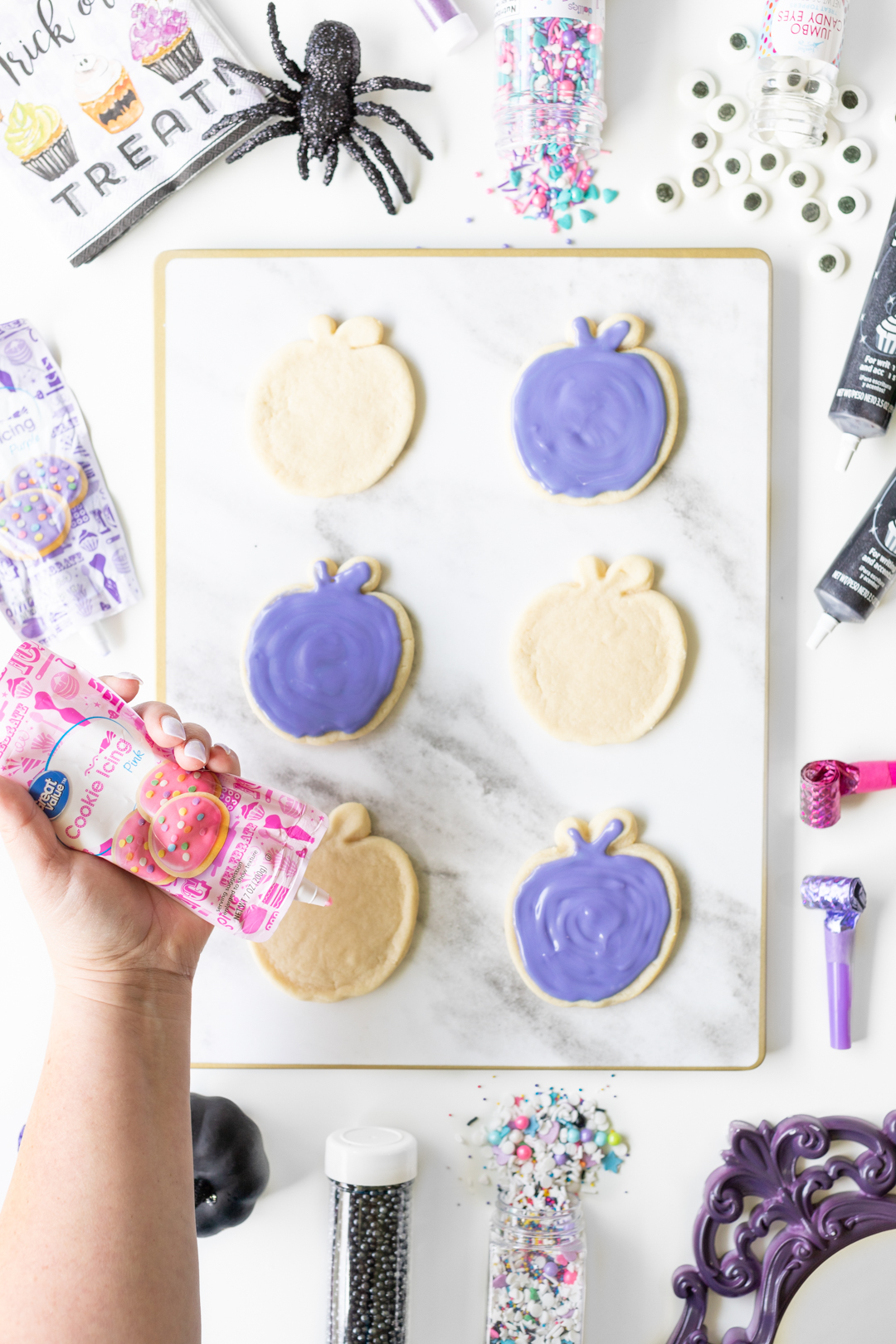 To get these pretty colored icings, you can of course make your own. I am more of a store-bought icing person. The only regular retailer that sells these colors is Walmart. I found that this brand wasn't as smooth setting as Betty Crocker brand Cookie Icing, but it still works well.
Once your cookies are completely cool, it's time to whip out the pretty colorful icings and get to decorating.
When the icing is set, you can add the final touch. I love Wilton Sparkle Gel in Black for this so much. It adds a fun pop of glitter and they are so easy to use and control. You can use regular black icing that is meant for writing if you prefer.
Once the "poison" is drizzled on top, wait for the cookies to set before serving.
Have fun with this fun and mildly eery treat!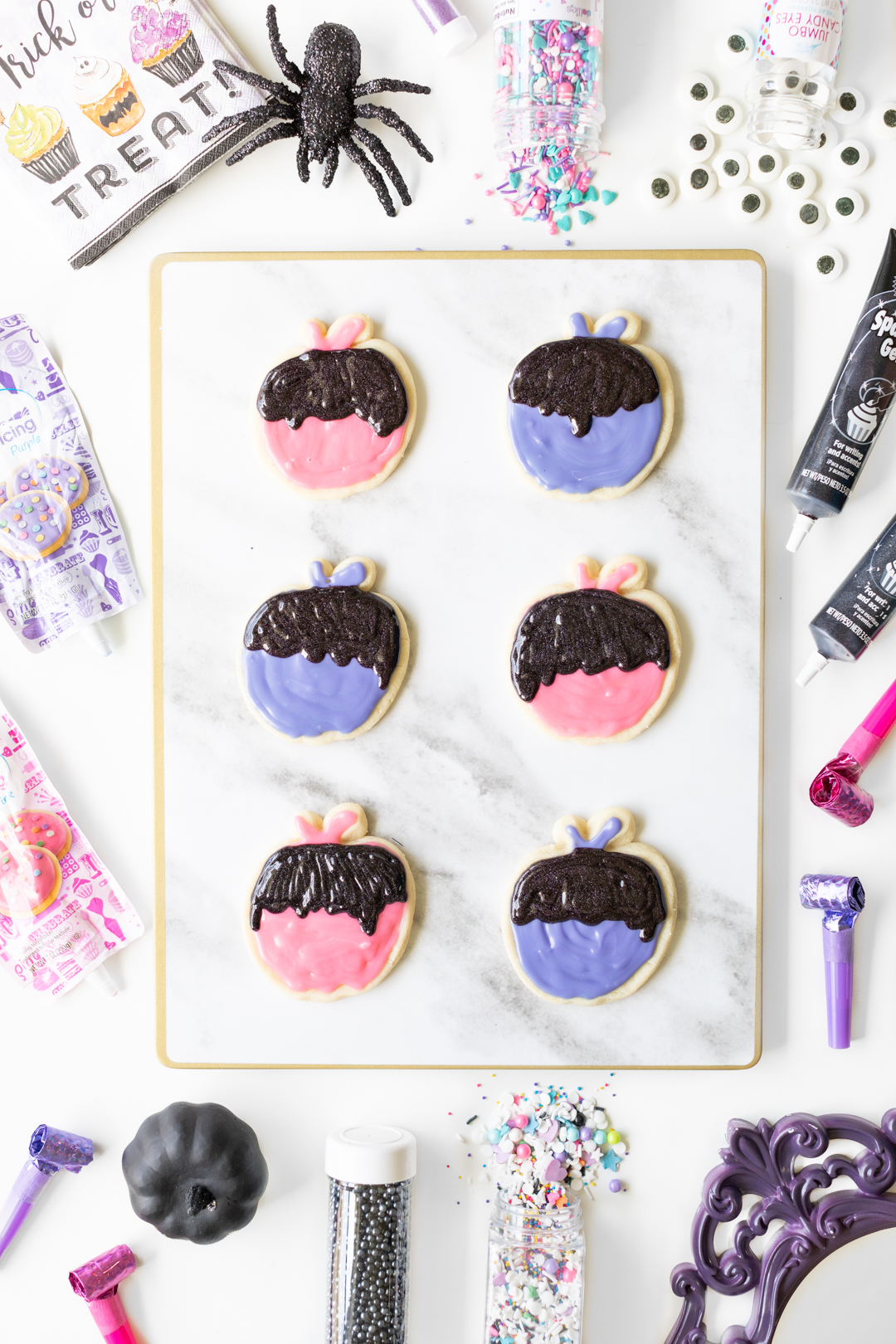 WHAT COLOR IS THE POISON APPLE IN SNOW WHITE
I assure you that it's not purple or pink like these trendy colored cookies, but it's actually red.
POISON APPLE IN DISNEY MOVIES
Of course you can see the poison apple in Snow White, but there are other mentions and references of them in other Disney films, too.
Enter Descendants (see my
party ideas here
) and even Ralph Breaks the Internet amongst others according to
Disney Fandom
. Bring on the poison apples!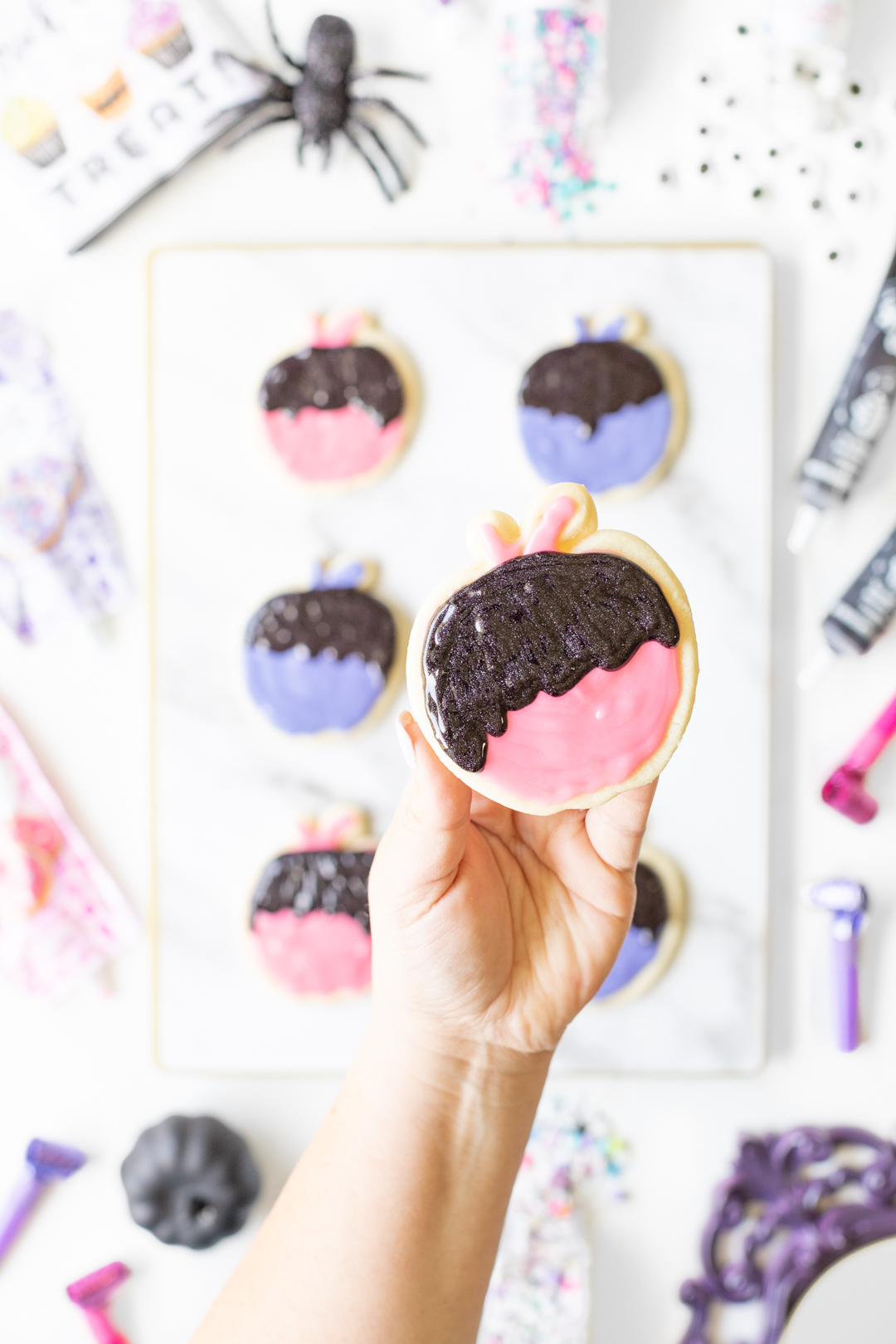 Hope you like this fun new twist on the poison apple for Halloween!
COOKIES USING STORE-BOUGHT SUGAR COOKIE DOUGH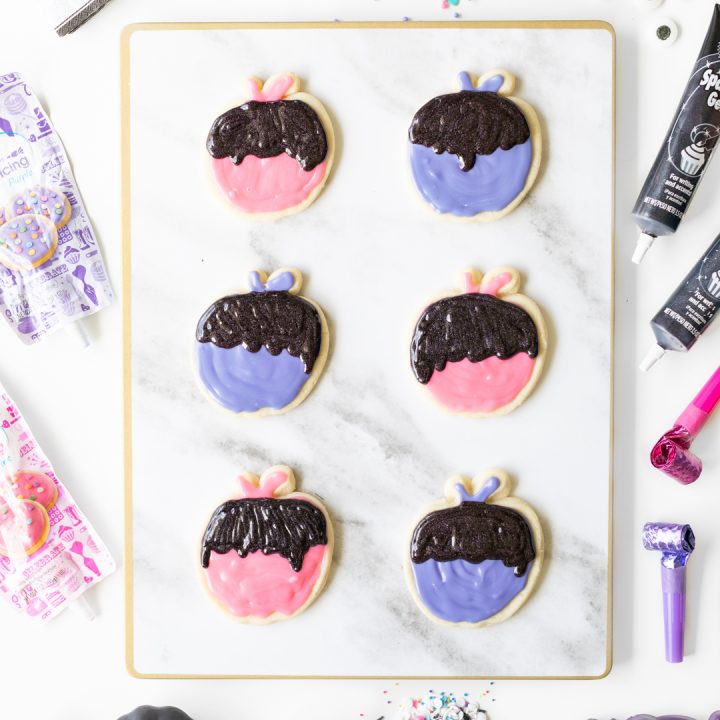 Poison Apple Cookies
Additional Time:
20 minutes
Trendy Twist on Poison Apple Cookies for Halloween. Pretty pink and purple treats.
Ingredients
Pillsbury Sugar Cookie Dough (16.5 oz)
1/2 Cup All Purpose Flour
Cookie Icing (Purple & Black)
Black Sparkle Gel or Writing Icing
Tools: Apple Shaped Cookie Cutter
Instructions
Preheat oven to 325°F
Knead cookie dough with all the purpose flour on a floured surface.
Roll the dough out until the dough is about 1/4" thick
Use Apple Shaped Cookie Cutter to make 10-12 cookies
Place cookies on a non-stick baking sheet(s), leaving 2 inches between them
Add baking sheet to the freezer for 10 minutes or refrigerator for 15 minutes to preserve shape.
Bake for 8-11 minutes.
Cool completely before decorating.
Use cookie icing to cover entire cookie and set.
Use Sparkle Gel or Writing Gel to drizzle the "poison" over the top half of each cookie leaving "stem and leaf" alone.
Let the icing set before serving.
Recommended Products
As an Amazon Associate and member of other affiliate programs, I earn from qualifying purchases.
Nutrition Information:
Yield:

10
Serving Size:

1
Amount Per Serving:
Calories:

106
Total Fat:

4g
Saturated Fat:

1g
Trans Fat:

0g
Unsaturated Fat:

2g
Cholesterol:

0mg
Sodium:

43mg
Carbohydrates:

18g
Fiber:

1g
Sugar:

10g
Protein:

1g
EASY HALLOWEEN COOKIES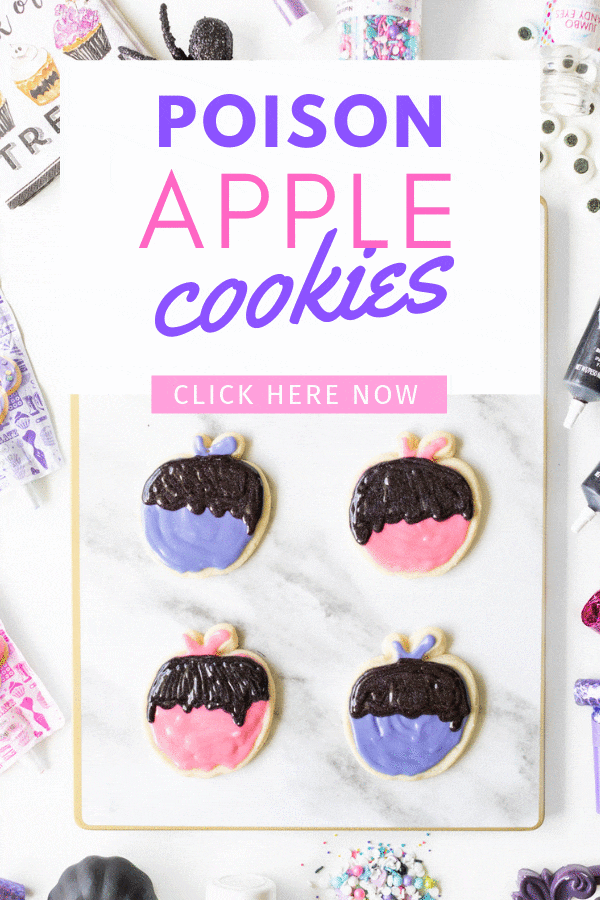 What are your favorite easy treats to make for Halloween?