This is a sponsored post with Disney Book Group, all opinions are my own.
Calling all Disney Descendants fans, you are in for an evil treat! Escape from the Isle of the Lost is IN STORES NOW and it's time to get a little wicked! To celebrate, I'm sharing Wicked Makeover Party ideas featuring Hades inspired Ember Cupcakes. Instead of hosting a party for kids to dress up like princesses, this party gives them a chance to transform into their favorite evil descendant. If they dare.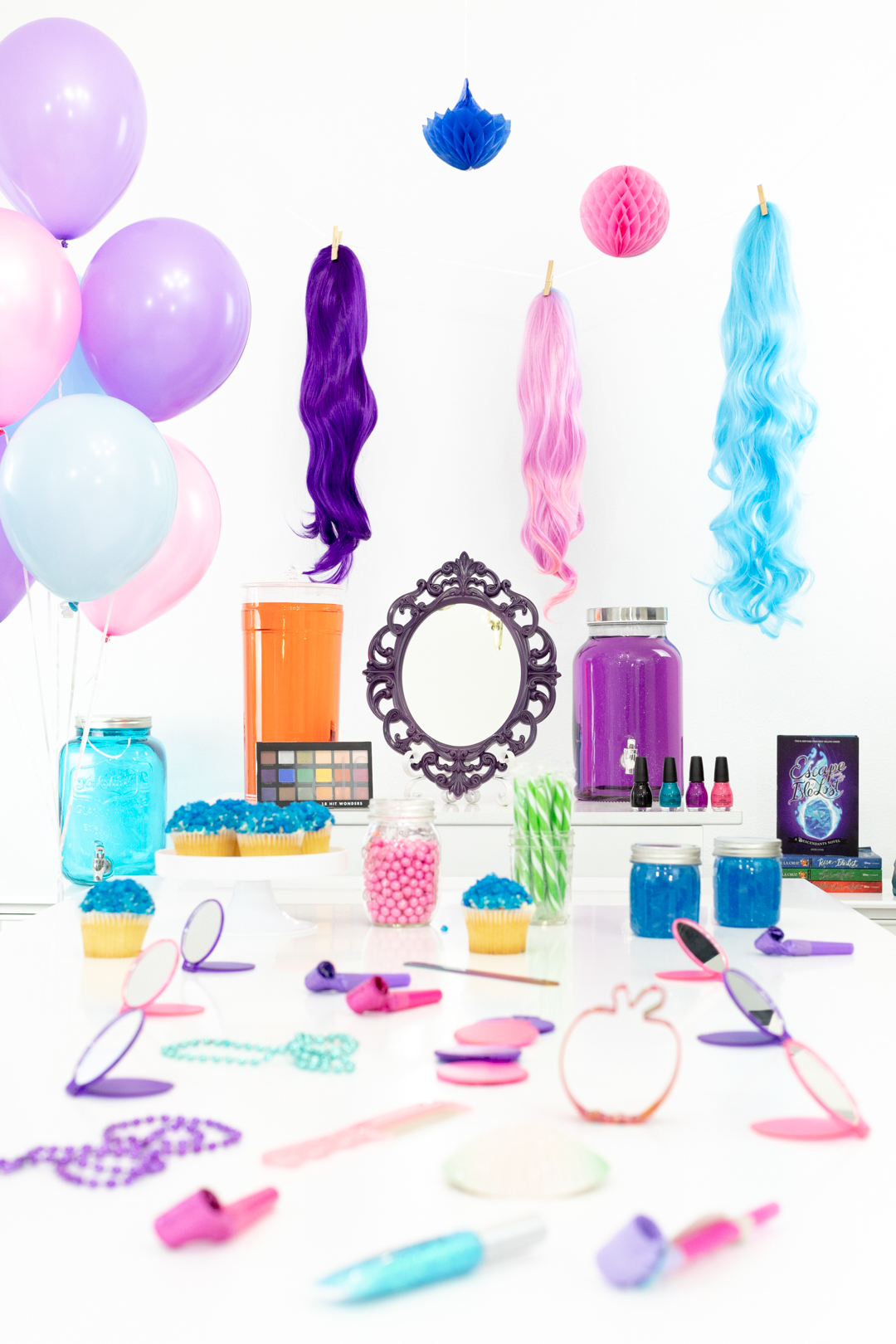 Escape from the Isle of the Lost is just the beginning of the fun. Read it now before the third Disney Channel Original Movie is released later this summer! If you and your Disney-loving kids are new to this series, you will instantly love this deepening of the classic stories you know and love. It serves as an extension of your favorite Disney characters from Ursula to Belle as it's based on the children of these characters. It's awesome. This is the fourth book in the #1 New York Times best-selling Descendants series that basically chronicles the battle between good and evil with the next generation of soon-to-be-classic Disney characters.
DISNEY DESCENDANTS PARTY IDEAS
This is going to be an exciting summer ahead for Descendants fans, so considering hosting a themed party to bring it all together. These simple but fun party ideas embrace the villainous Descendants by letting kids embrace their inner evil with a super cool makeover. This is perfect for a pre-teen birthday party or a way to kick off summer break. It would also be fun for a sleepover theme. I'm sitting here wishing this was a thing when I was a kid. So much fun to be had. Don't forget to take a lot of pics, especially before and afters.
With Descendant's inspired foods, DIYS and easy makeover ideas for kids, it will be a unique and memorable day for everyone.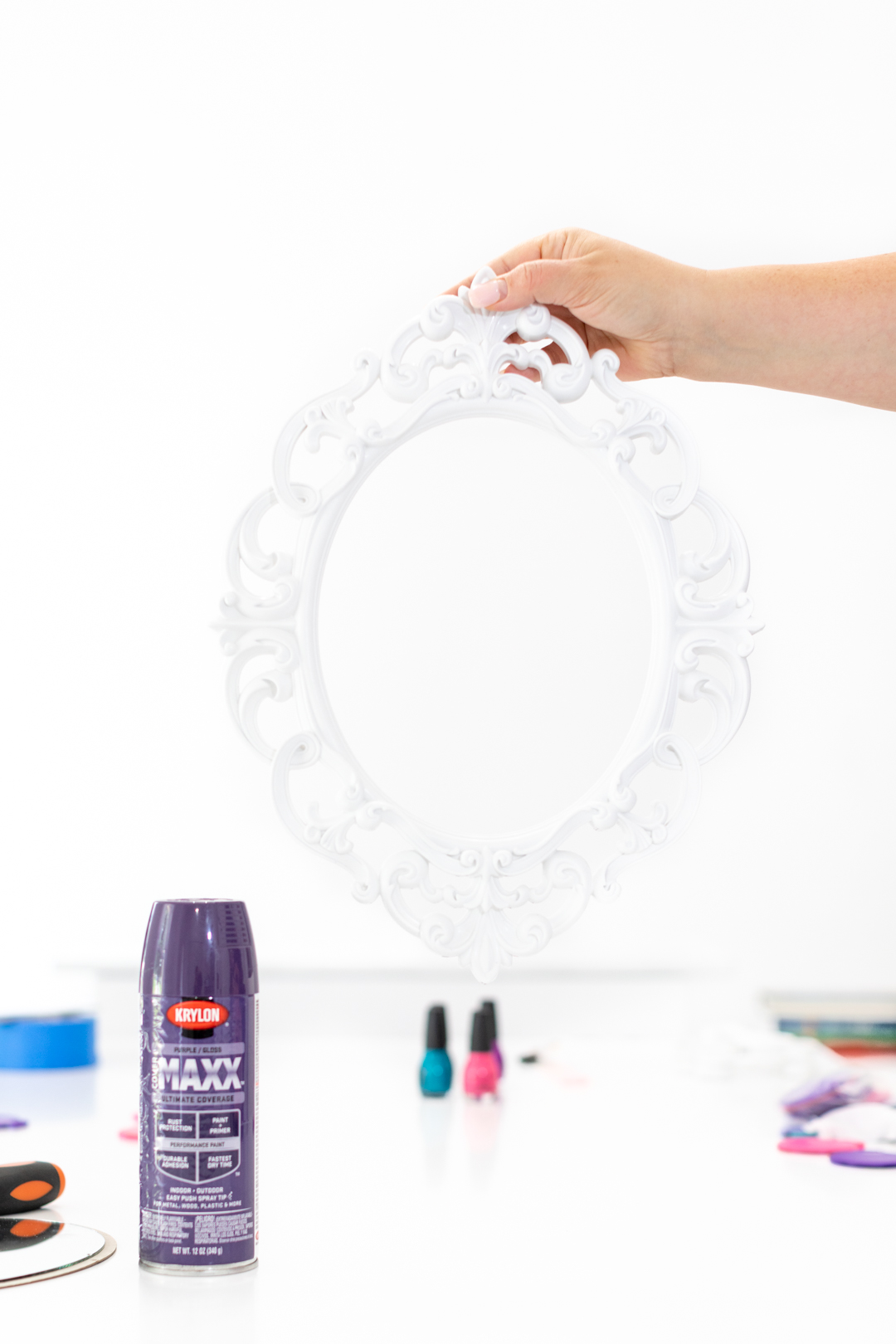 EASY MAGIC MIRROR DIY
All wicked makeovers start with a magic mirror! Transforming a regular mirror is easy with a little paint. I chose to do a deep purple spray paint to transform a white mirror. Simply unscrew the back to remove the mirror before painting and then screw it back on once it's dry. I love how this turned out and it would make the perfect centerpiece for a villainous makeover party.
DESCENDANTS INSPIRED CUPCAKES
"Something Wicked is Coming." As Mal, Evie, Jay, and Carlos prepare to graduate Auradon Prep, something is brewing on the Isle of the Lost. Uma has discovered a potential partner in crime in Hades, god of the Underworld. These easy cupcakes inspired by Escape from the Isle of the Lost are the perfect way to celebrate this amazing new book in the series. Find out how it all plays out by making this book a part of your summer festivities!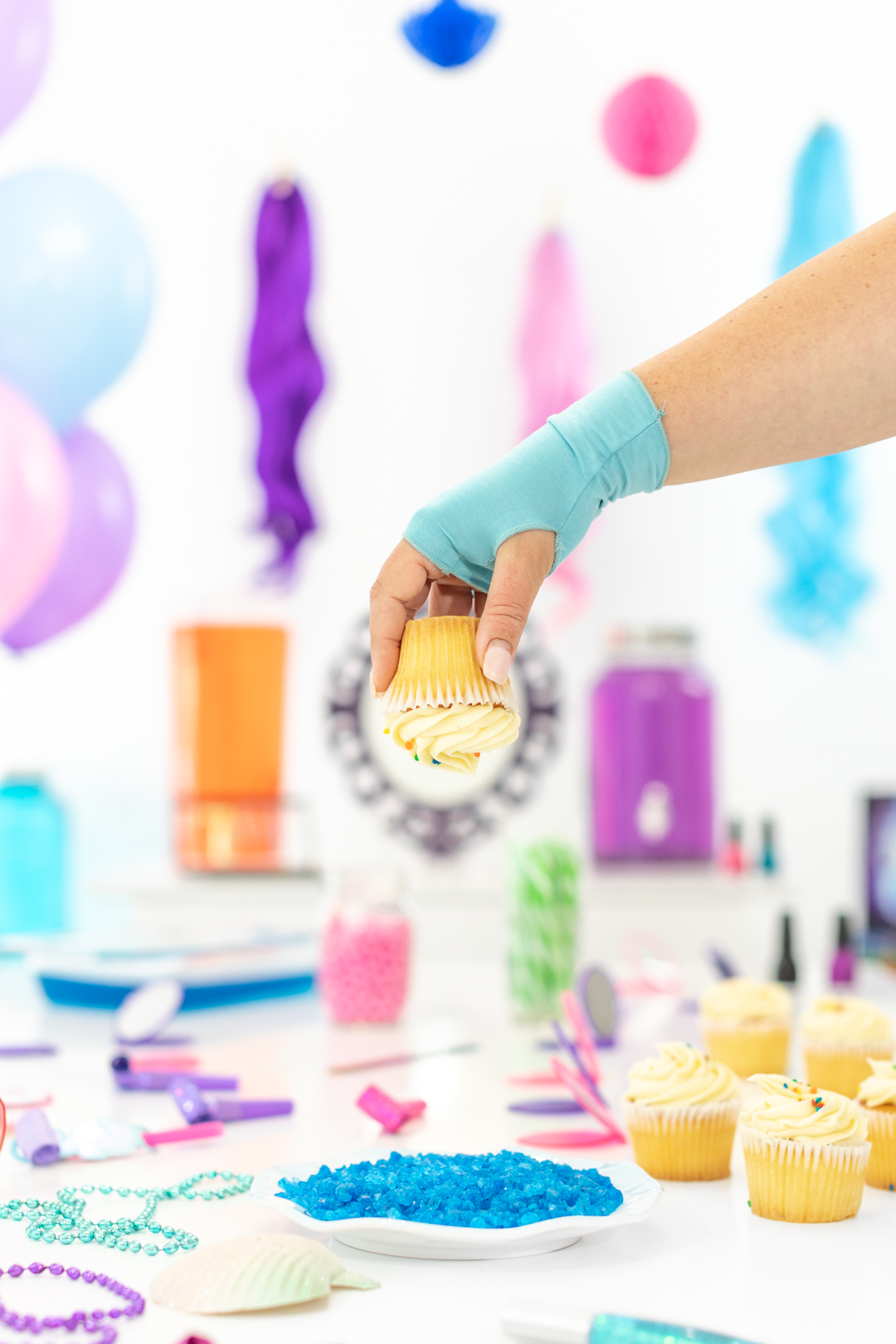 Now, here is how to oh-so-easily whip these cupcakes up:
Store Bought Frosted Cupcakes or Homemade and Frosted
Blue Raspberry Rock Candy Crystals
Simply press each frosted cupcake into the candies to coat the entire frosted area. Voila. Not sorcery, but a great party hack!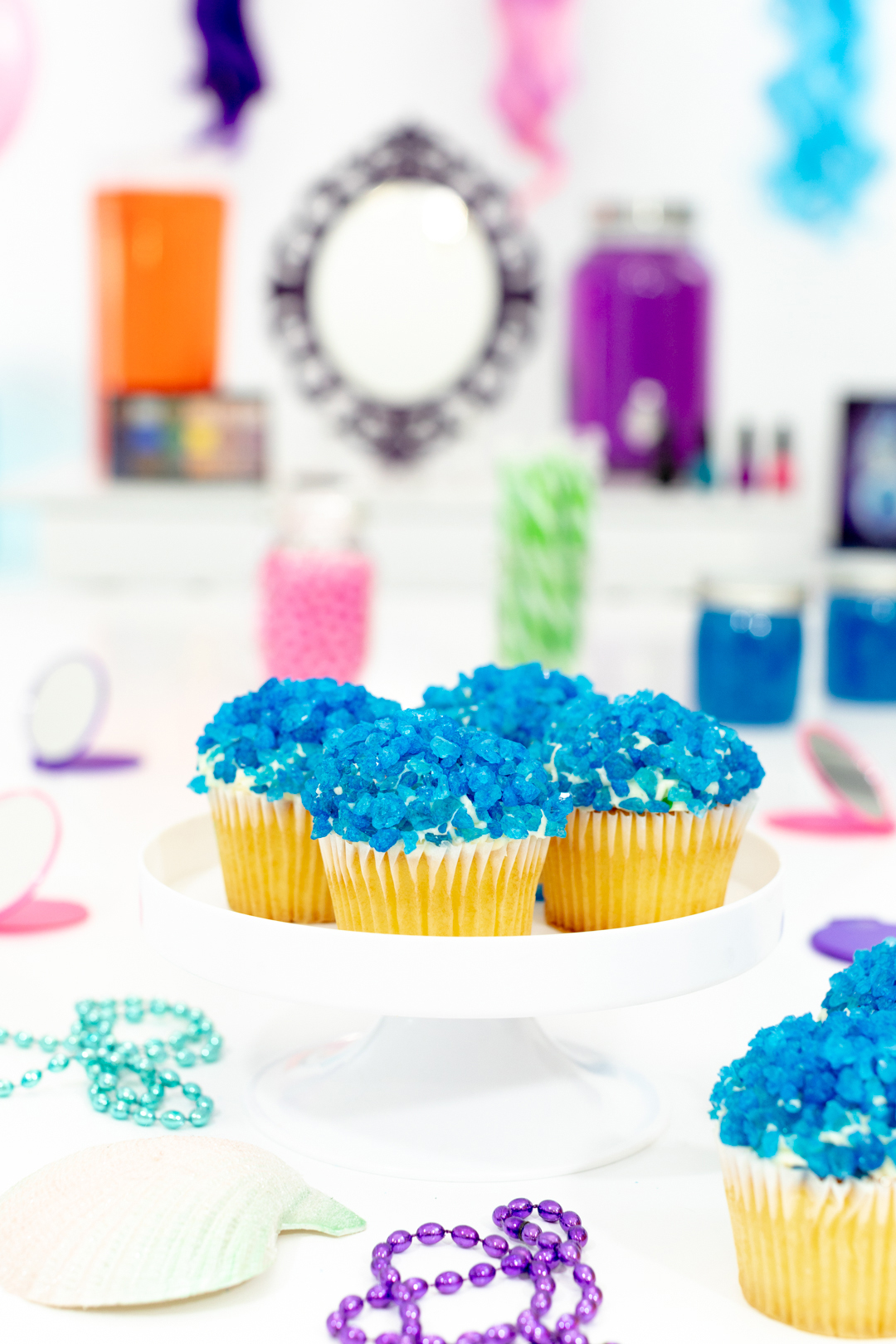 MORE DESCENDANTS INSPIRED PARTY FOODS
More easy party foods that I featured include simple blue gelatin in individual containers. Sparkling blue desserts are perfect for this because not only do they represent Hades embers, but they match the book art so beautifully.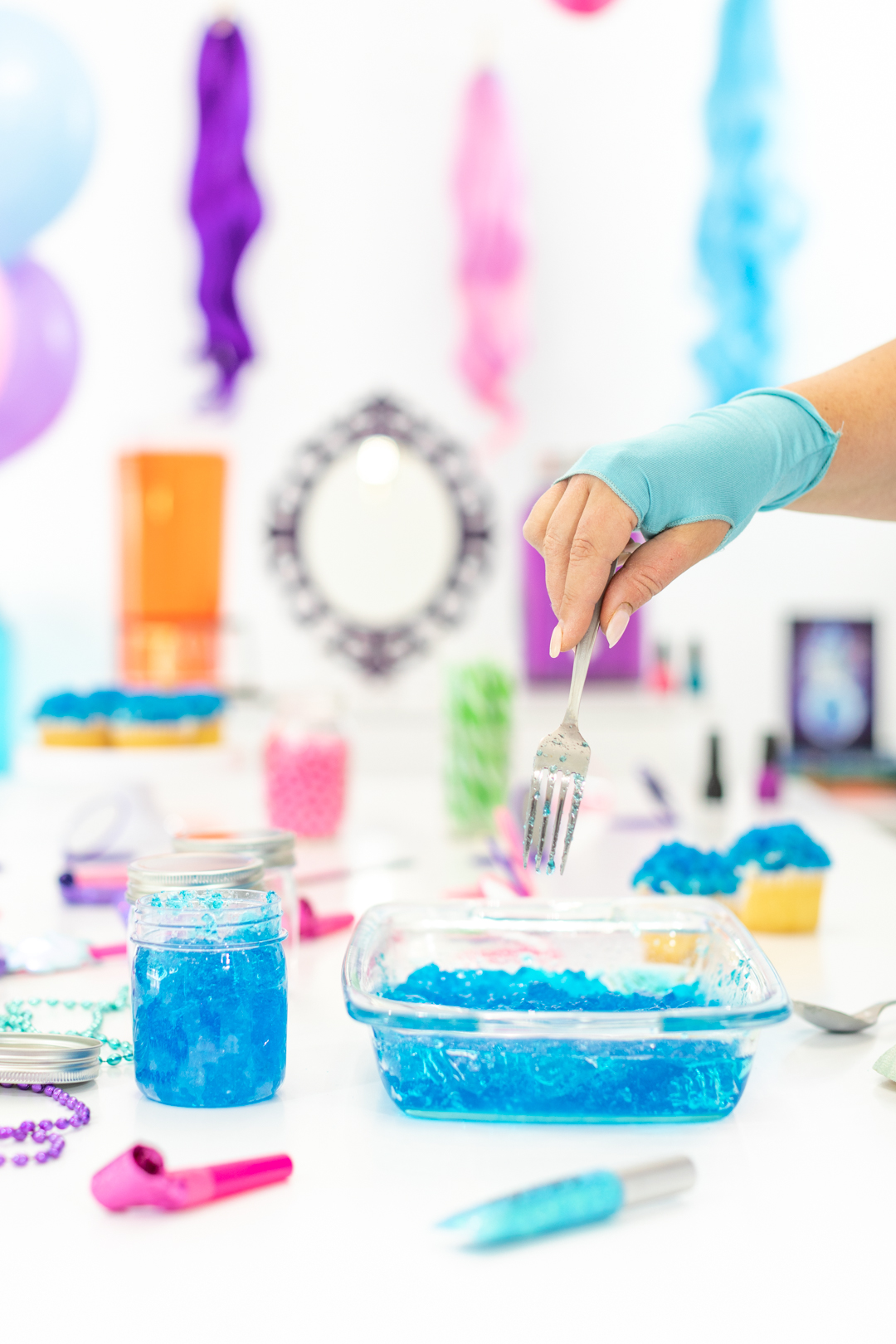 Another fun addition is to serve colorful beverages in various sized drink dispensers. Like many of the ideas in this party, this one is inspired by the Curl Up and Dye hair salon that Dizzy works at over on the Isle. In the movies, there are various colorful concoctions shown around the room, so this really fits the fun theme so well.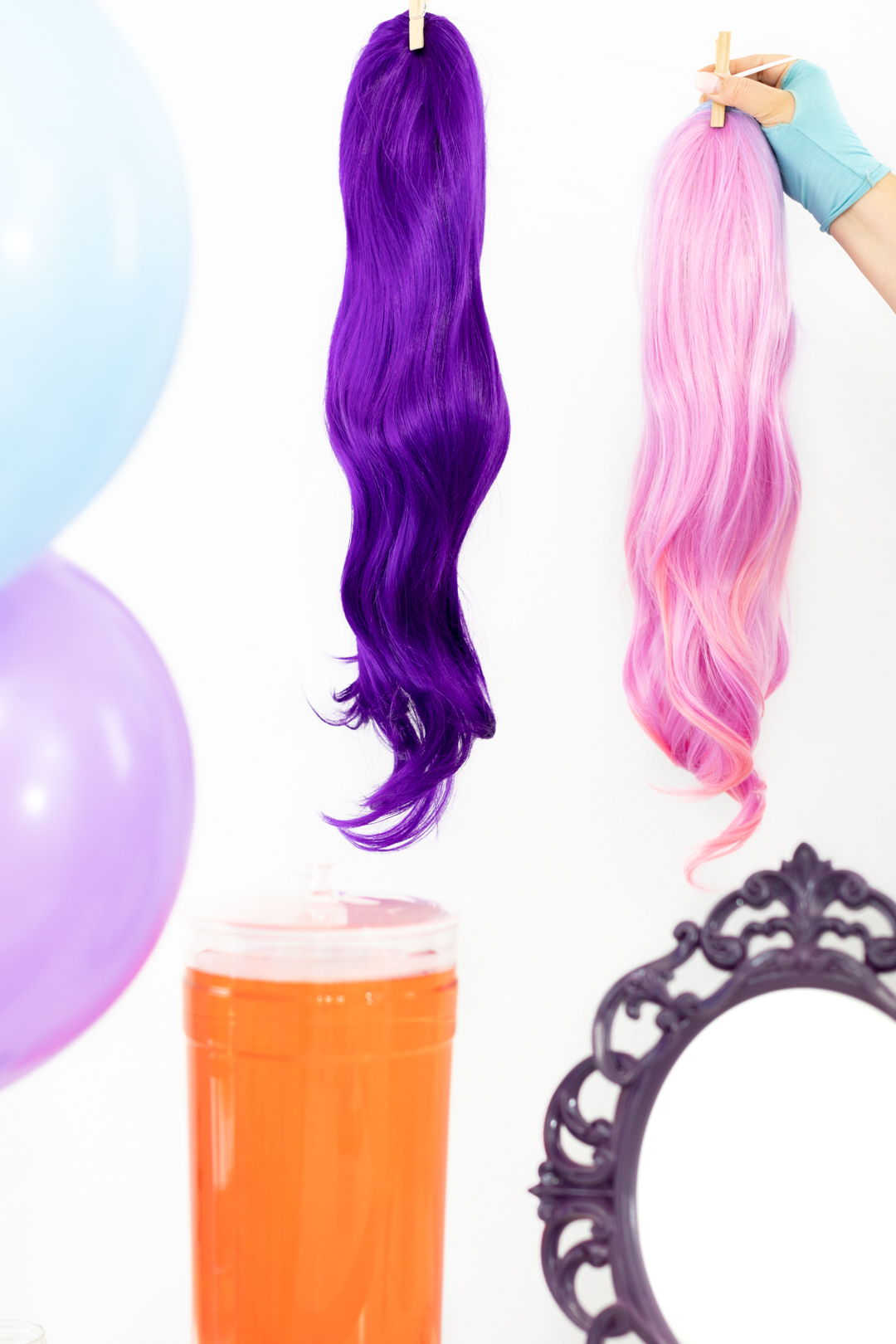 VILLAIN MAKEOVERS
Letting kids create their own wicked makeover is by far my fav part of these party ideas. Here is a list of ideas on what provide so that party attendees can make their transformations below. Make sure to include only age-appropriate options to keep things mess and stress-free.
Colorful Wigs - this is one of my VERY favorite ideas.
Temporary Hair Color such as sprays or hair glitter wands are a low-mess way to amp up the fun.
Combs and brushes.
Hairspray
Hair pins and clips
Lip glosses and lipsticks.
Eye shadows and liners. Mascara if it's age appropriate.
Nail Polishes - make sure they are wicked colors.
Disposable cosmetic applicators because sharing is not always caring.
Compact mirrors which are perfect to place at every setting so that the kids can see their wicked transformations even if the Magic Mirror is being used by another little evil villains in the making.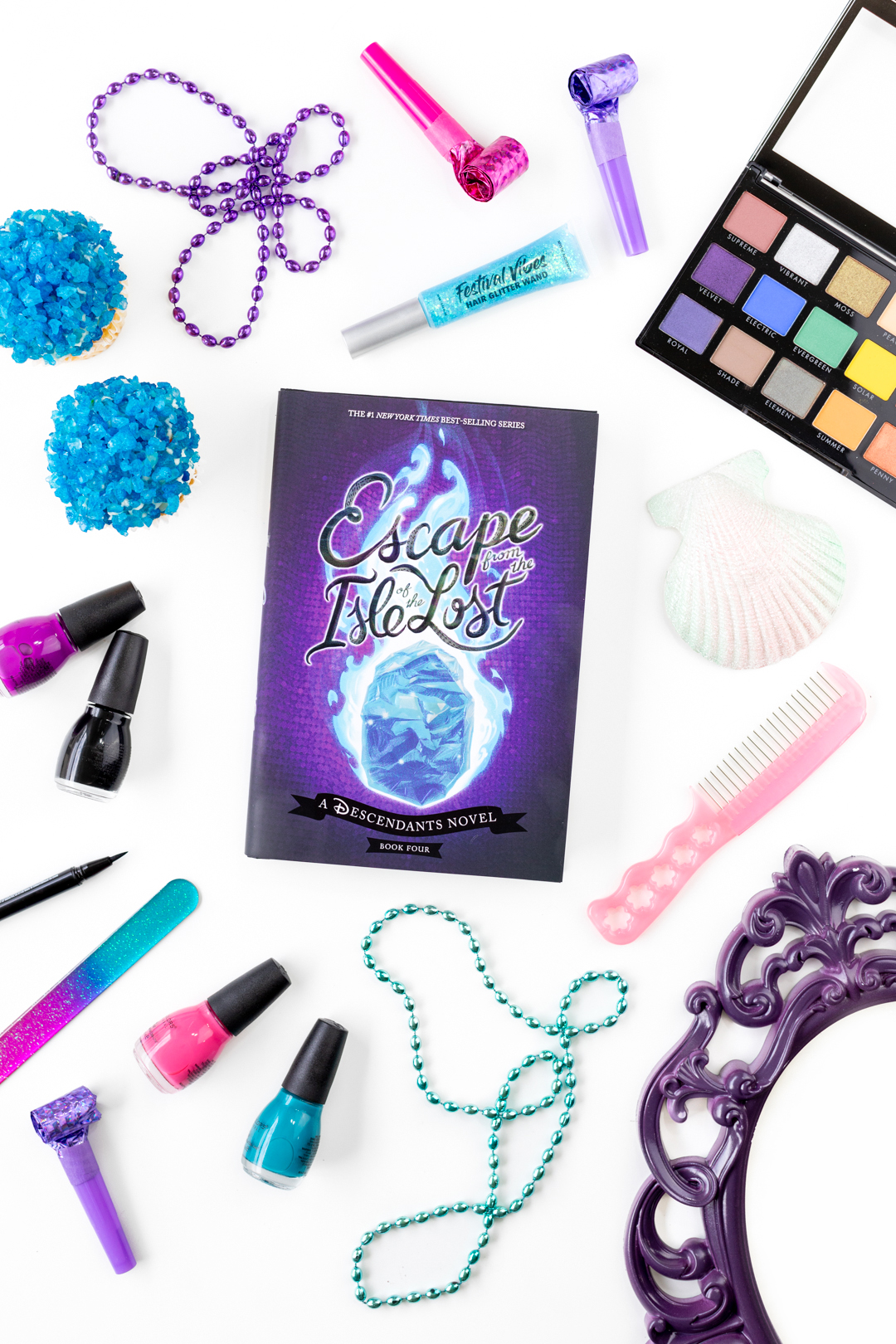 Hope you enjoy these epic wicked party ideas! Mal and Uma have a score to settle, and they'll come face to face in an explosive underwater battle that could determine the fates of Auradon and the Isle of the Lost once and for all. Grab this awesome book by Melissa de la Cruz and get the party started to see how it all unfolds!
LIST OF DISNEY DESCENDANTS NOVELS
Here is the list, in order of the books in the series to-date:
The Isle of the Lost
Return to the Isle of the Lost
Rise of the Isle of the Lost
Escape from the Isle of the Lost
MORE DISNEY INSPIRED PARTIES
Giganotosaurus Ice Cream Party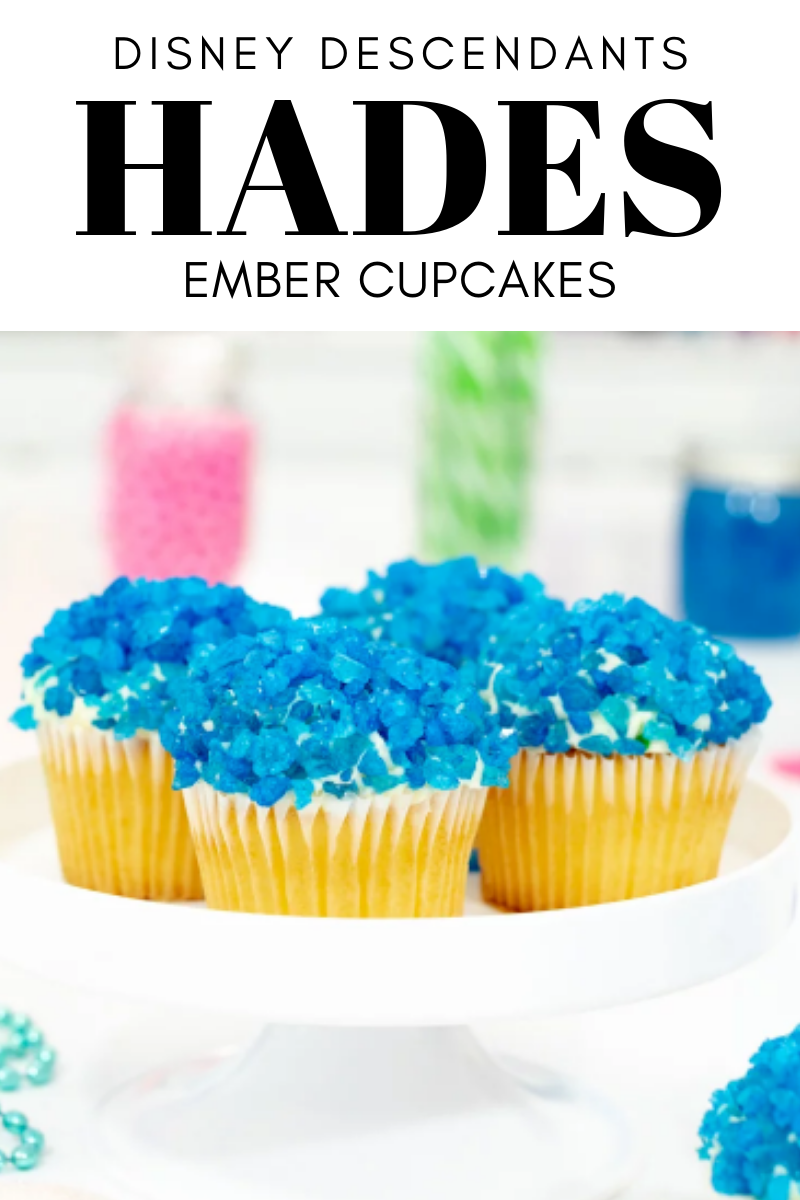 MORE DESCENDANTS PARTY IDEAS