The anticipation is so there. For months, I've been waiting for the new Dumbo movie and I can't believe we're almost there. When does Dumbo come out you might be asking? The new movie will be in theaters on March 29th. I thought it would be a lot of fun to put together some easy party theme ideas inspired by the Dumbo movie with carnival party supplies. This post contains affiliate links.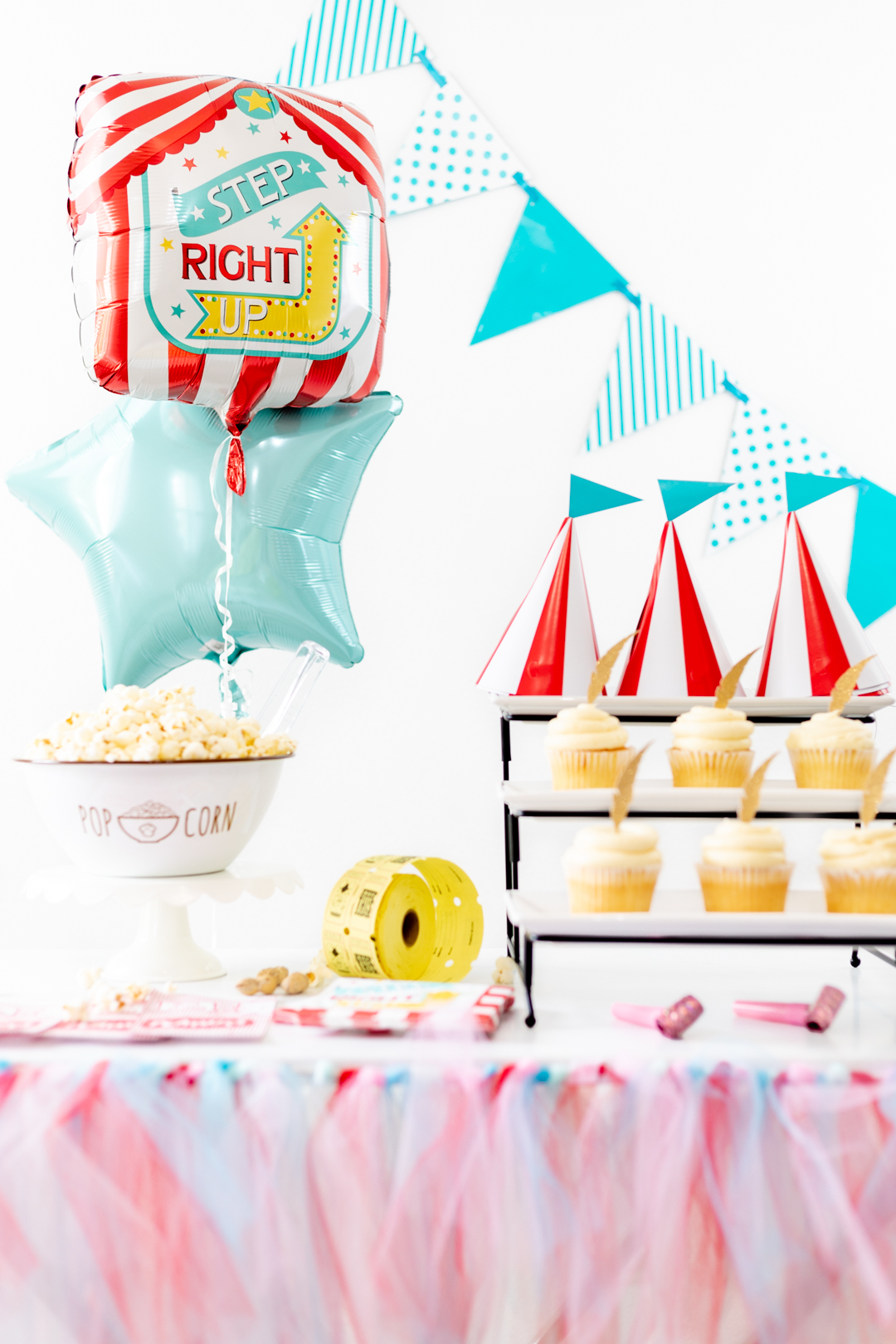 I love the way everything came together and I hope you love them as much as I do! They are so simple, which is what I love the most!
It's hard to believe that the original Dumbo movie came out on my birthday… October 23rd way back in 1941. I'm so excited that Disney revisited this amazing classic many decades later to give it a whole new life for more generations to come to enjoy it. Are you as excited as I am? Let's get the party started!
CARNIVAL PARTY TO CELEBRATE DUMBO
Are you looking to celebrate the new Dumbo movie? You have come to the right place. These Dumbo inspired carnival party ideas are all too easy to put together and super sweet, too. From simple touches like glitter feather cupcake toppers to a simple DIY Tulle banner, this party can be put together in no time. I wouldn't have it any other way.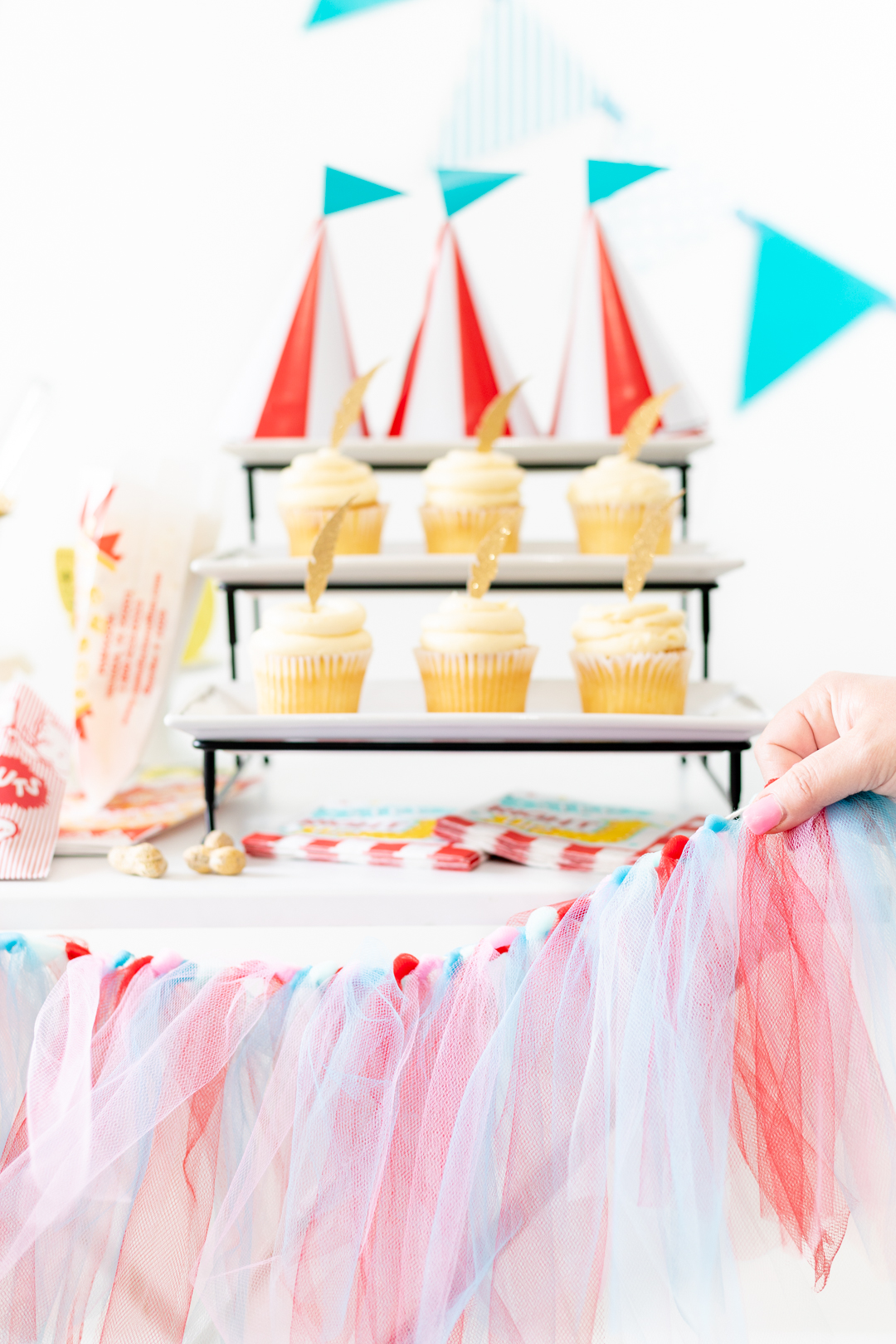 DIY TULLE CARNIVAL TABLE SKIRT
When shopping around for party supplies, I couldn't find a banner for my little party table that I loved. I got the idea to whip up a cute one out of tulle. Just so happens, I found an affordable multi pack of colors on Amazon that worked perfectly for this. Using a thick string, I cut equal(ish) pieces of the tulle and simply tied them around the string. It really could not get easier to do.
I love how it came out and it really worked perfectly. I used four of the colors in the multi pack and alternated until I filled up the entire desired length. So easy peasy if you want an extra flair. Super budget friendly as an added bonus.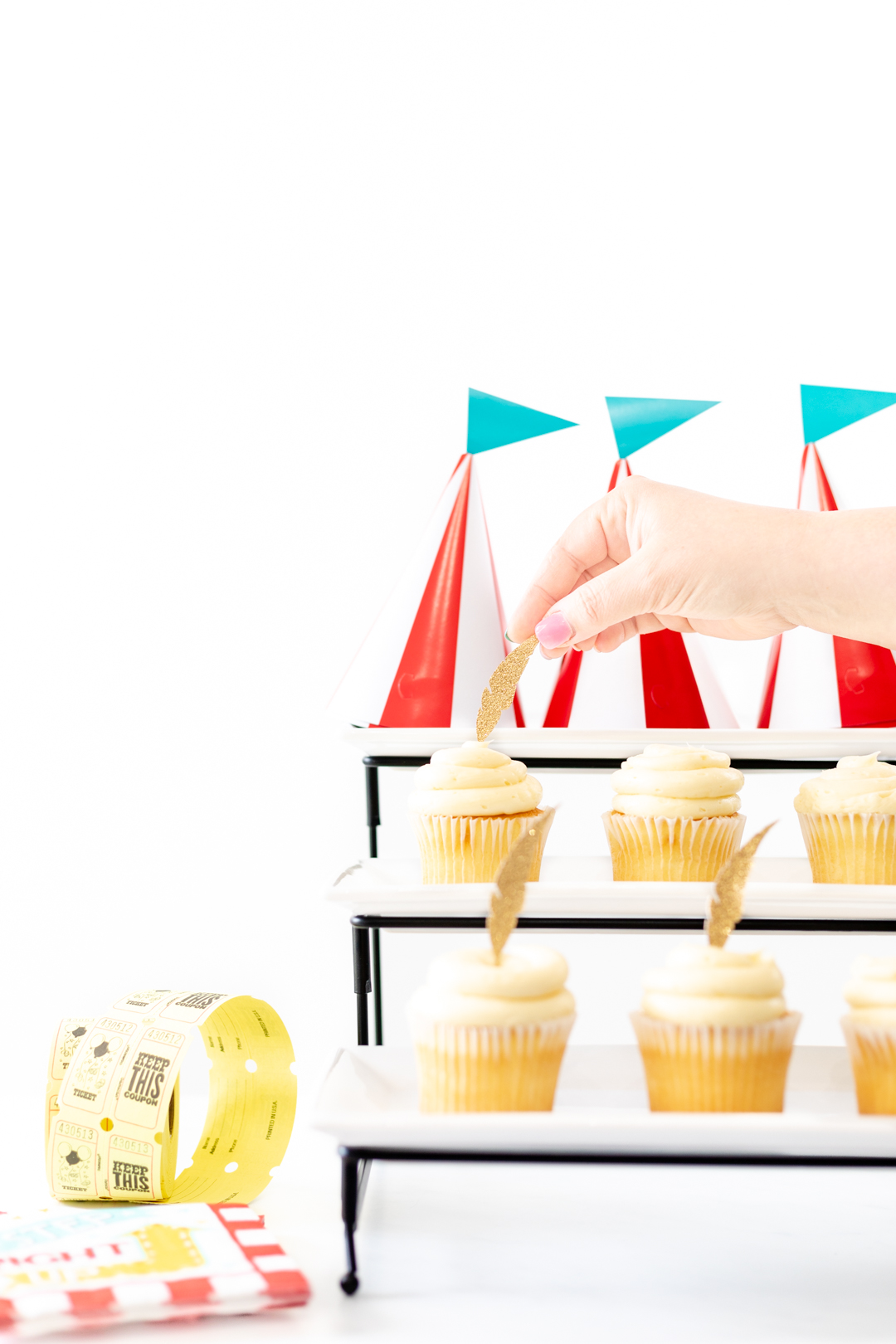 DUMBO INSPIRED CUPCAKES
To create a simplistic Dumbo cupcake, I wanted to find a feather cupcake topper. I found the prettiest gold glittered feather cupcake toppers here, too. You can simply make a vanilla cupcake or purchase them and add the topper. They are so simple, but so effective in making the Dumbo theme pop. I love how the gold feather looks against the plain vanilla cupcake but you could make them fancier if you prefer.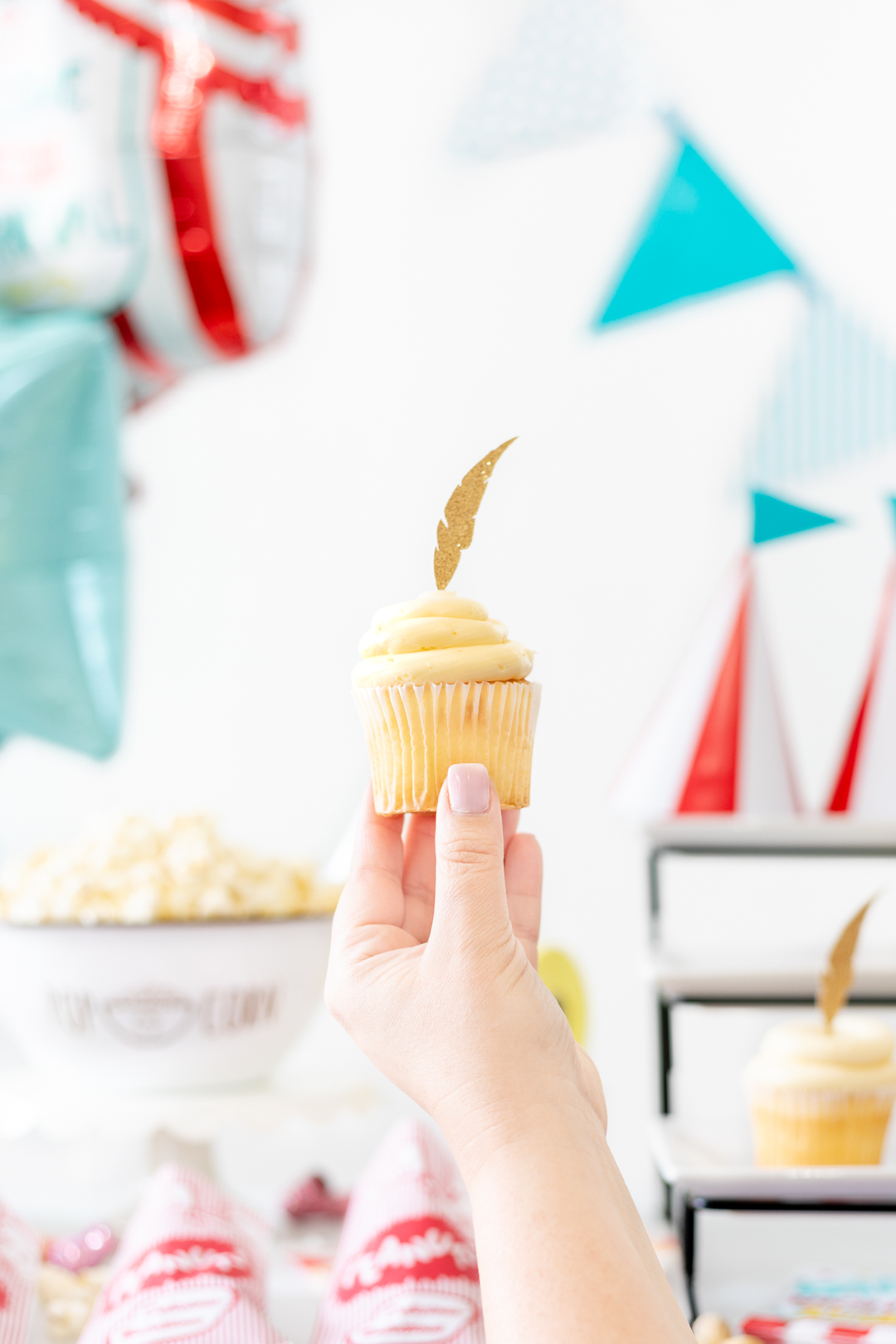 EASY CARNIVAL FOOD
For super simplistic food ideas that are carnival themed, sticking to the basics will be a win! I kept it super easy by including peanuts and popcorn. But for an easy way to take it over the top, I found these super cool serving bags here that really push the theme.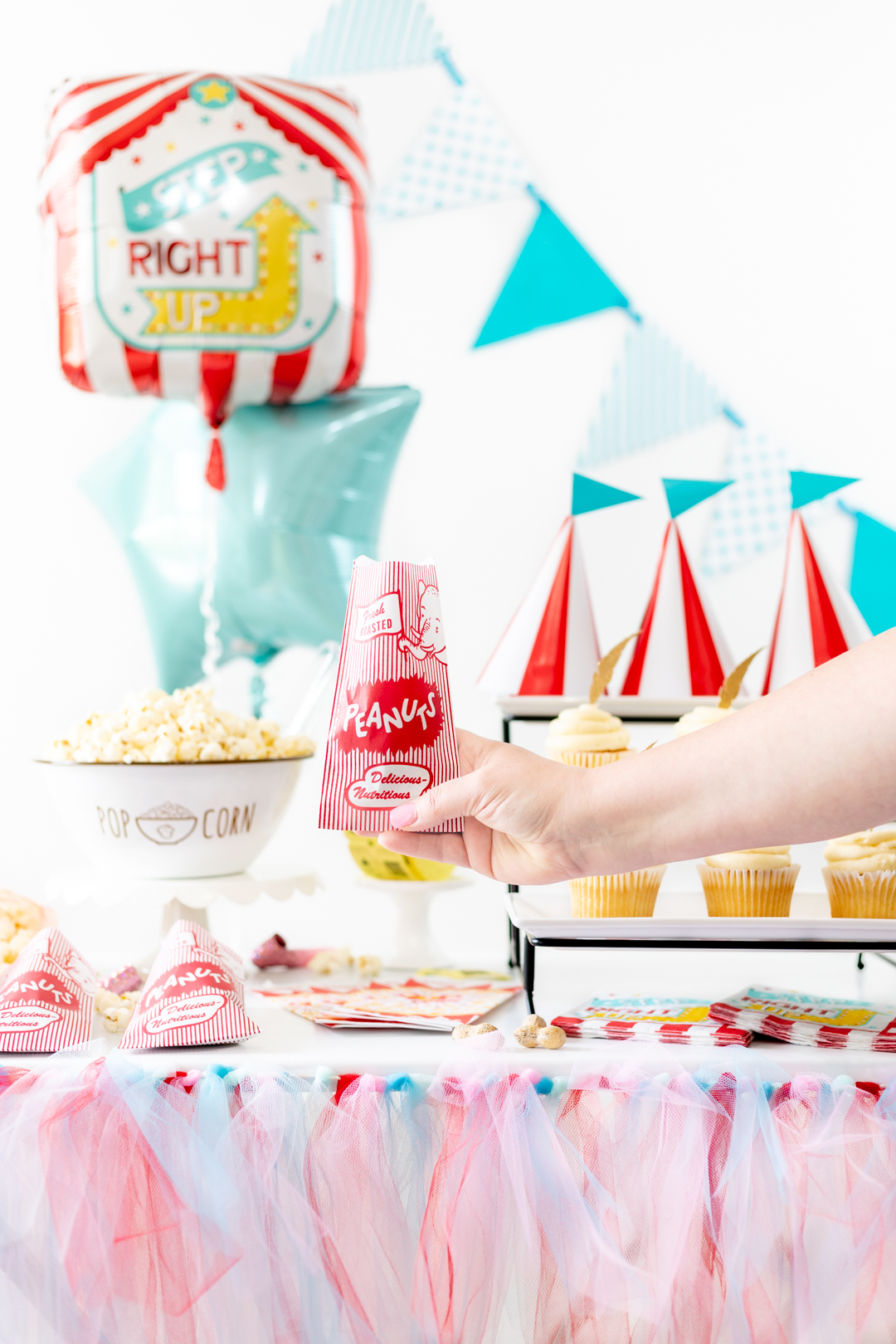 The elephant on the peanut bags totally made me swoon. Too fun!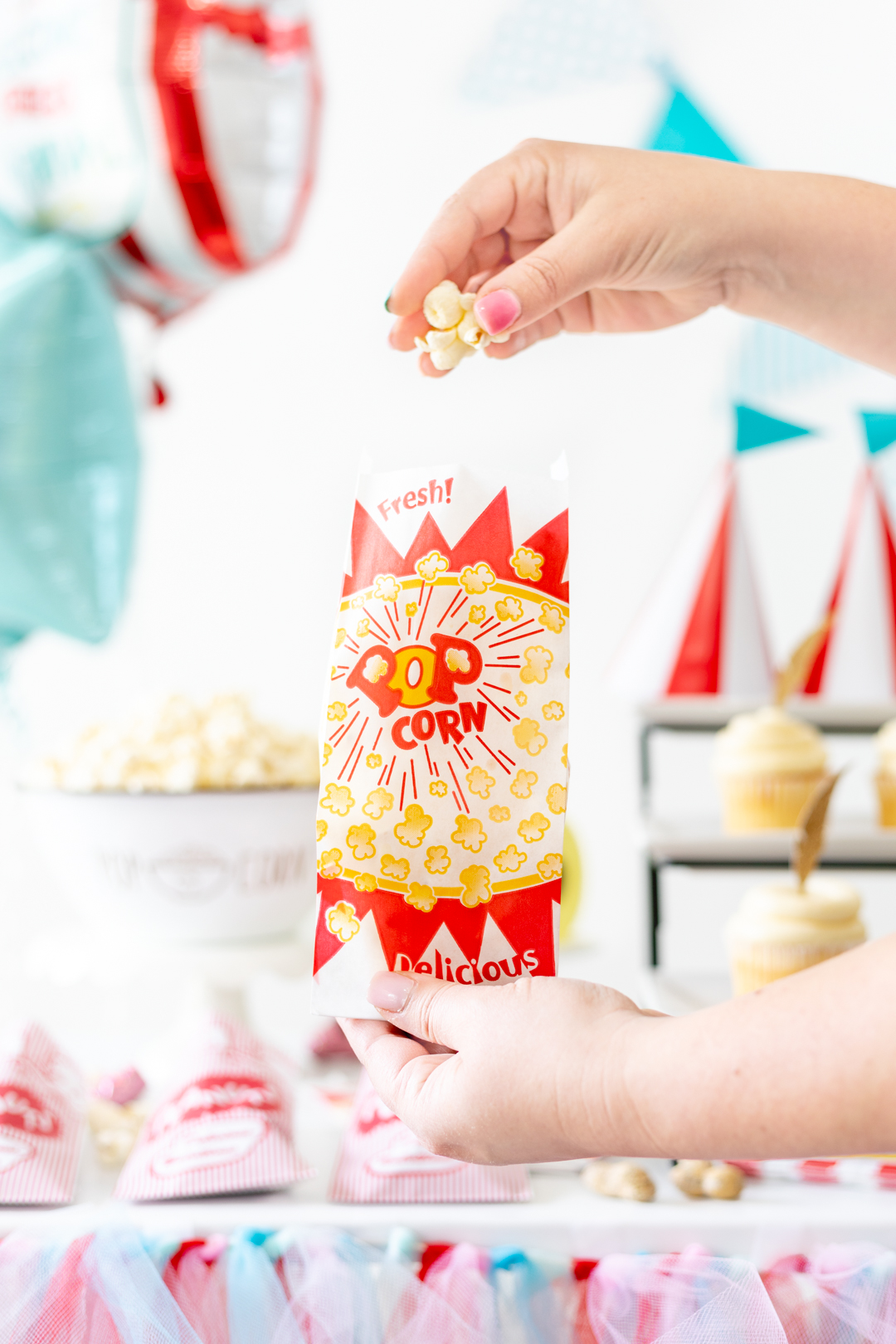 If you want to go all out, these extra carnival food basics would be super fun:
Snow Cones
Cotton Candy
Nachos
Hot Dogs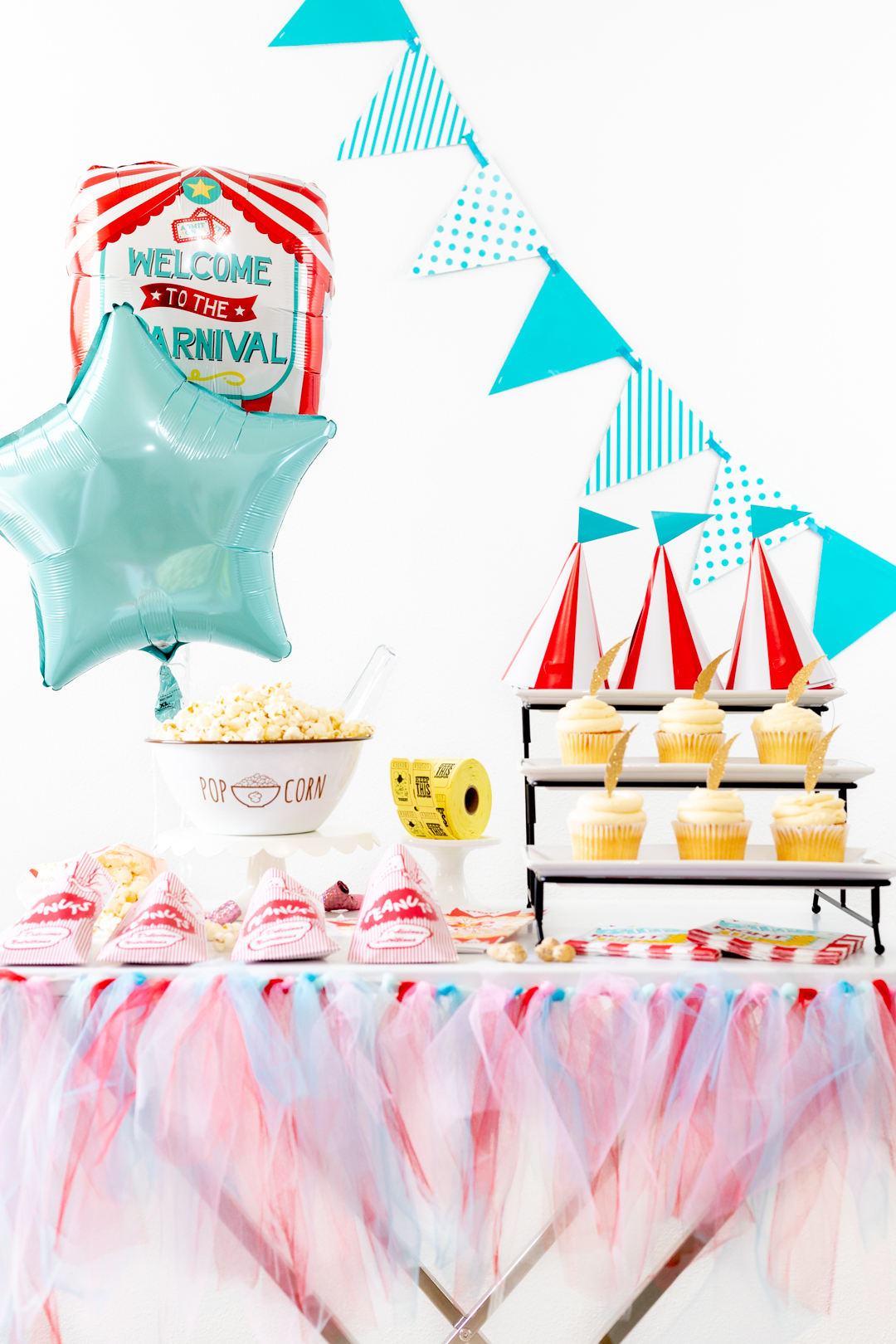 CARNIVAL PARTY SUPPLIES
For easy and eye-catching party supplies for a carnival theme, check these out:
Carnival Balloons
Carnival Tickets
Carnival Cone Hats
Carnival Plates and Napkins
Visit my Amazon storefront here, to see all of the items purchased for this party: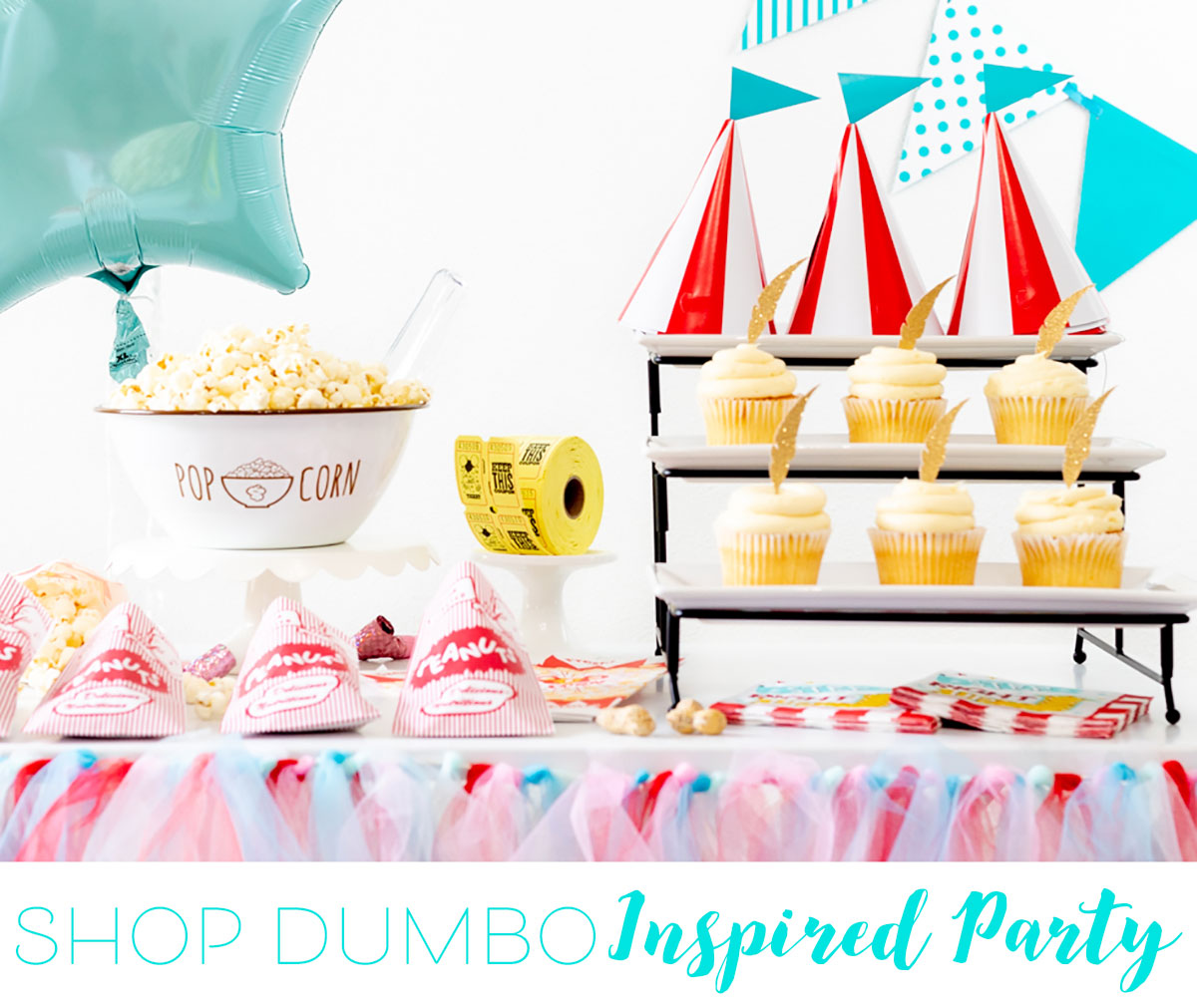 Voila. Super simple. No fuss. All good stuff.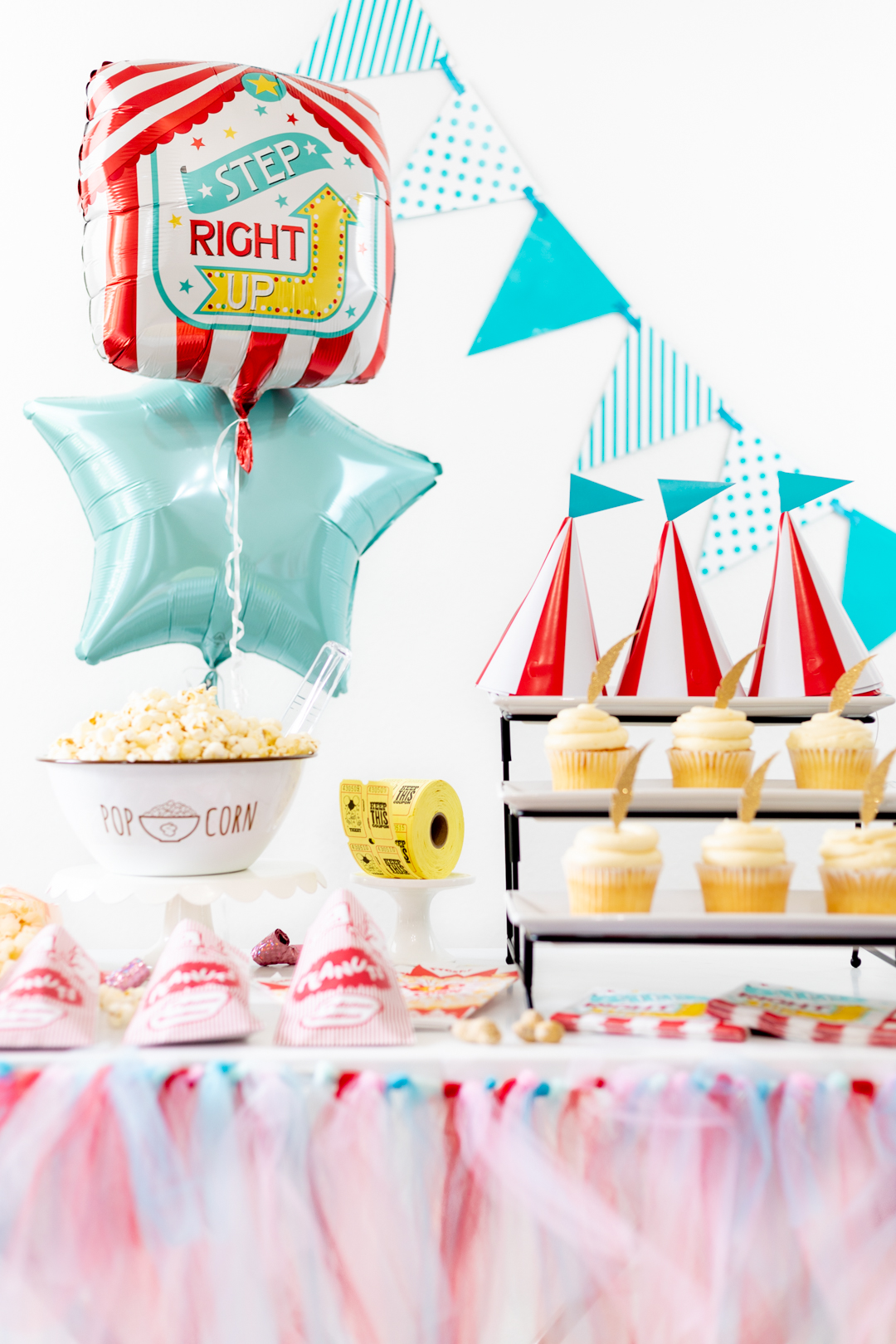 MORE EASY PARTY THEMES:
Lover of simple party ideas? Me too! If you liked these Dumbo party ideas, you will love the ease of these themes, too. Check them out:
This party has been featured at Kara's Party ideas. Visit to find even more fun party spreads.
DUMBO RECIPES
Visit other fun recipes here:
Dumbo Recipe: Elephant Ears With Chocolate Feather
Printable Dumbo Popcorn Bucket
DUMBO CRAFTS
DISNEY INSPIRED RECIPES
Love Disney goodies? I have some more special ideas to share at Cutefetti.
VISIT MY DUMBO INSPIRED PARTY STOREFRONT ON AMAZON
Hope you enjoyed these party ideas in honor of the upcoming Dumbo movie!