This post has been sponsored by Betty Crocker. All thoughts and opinions are my own.
If there's one thing that can add extra joy to our days, it's a tray of well thought out treats to share. I'm so excited to share some cheer with these Fun Treat Charcuterie Board ideas featuring Betty Crocker snacks which are conveniently available at Southeastern Grocers stores (Winn Dixie, BiLo, Harvey's, Fresco y Mas.) Just add the simple ingredients that I'm sharing to your regular shopping list to get started! You'll soon be wondering why you hadn't thought of this sooner. And don't forget to follow hand washing guidelines to keep everyone safe and germ free before diving in!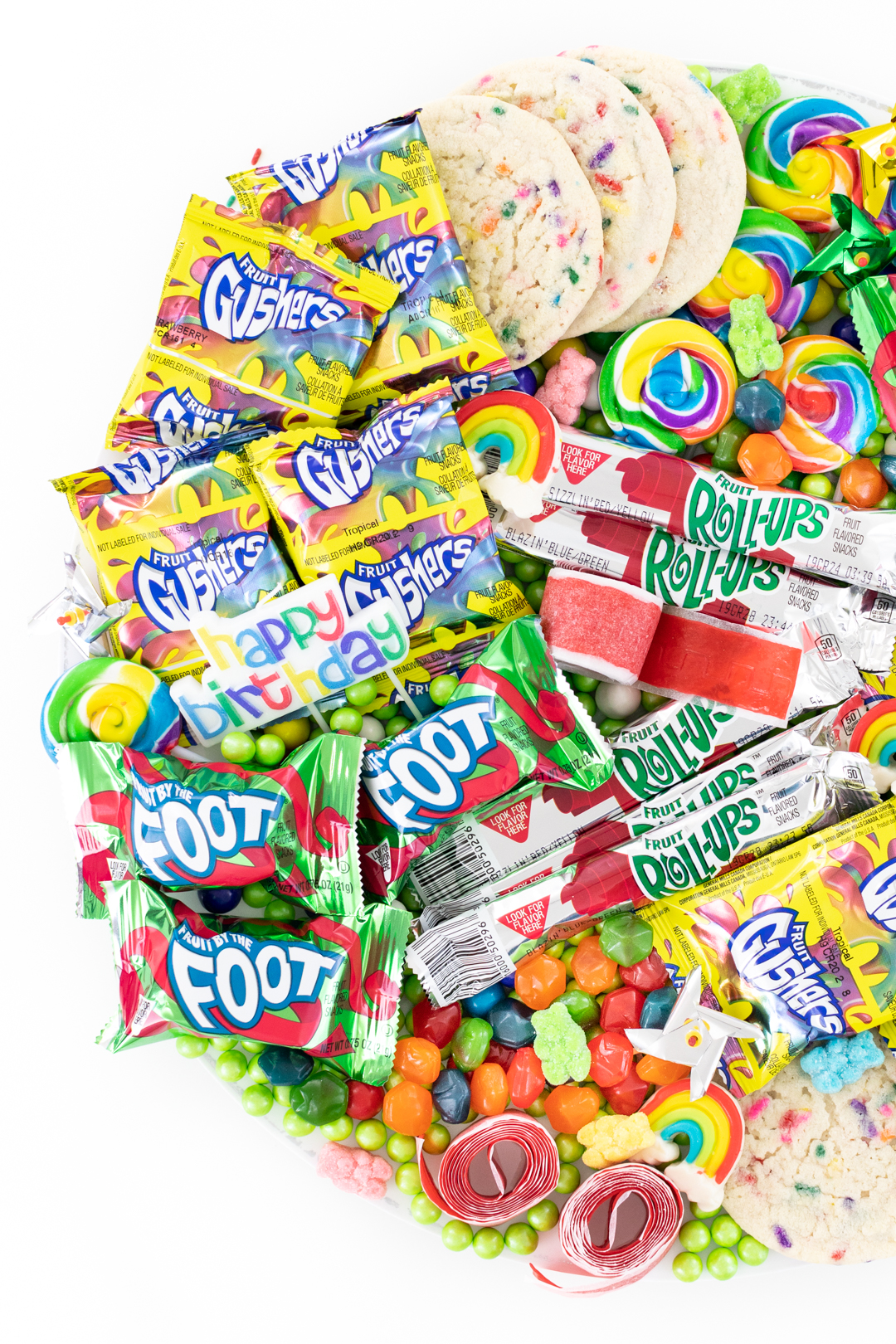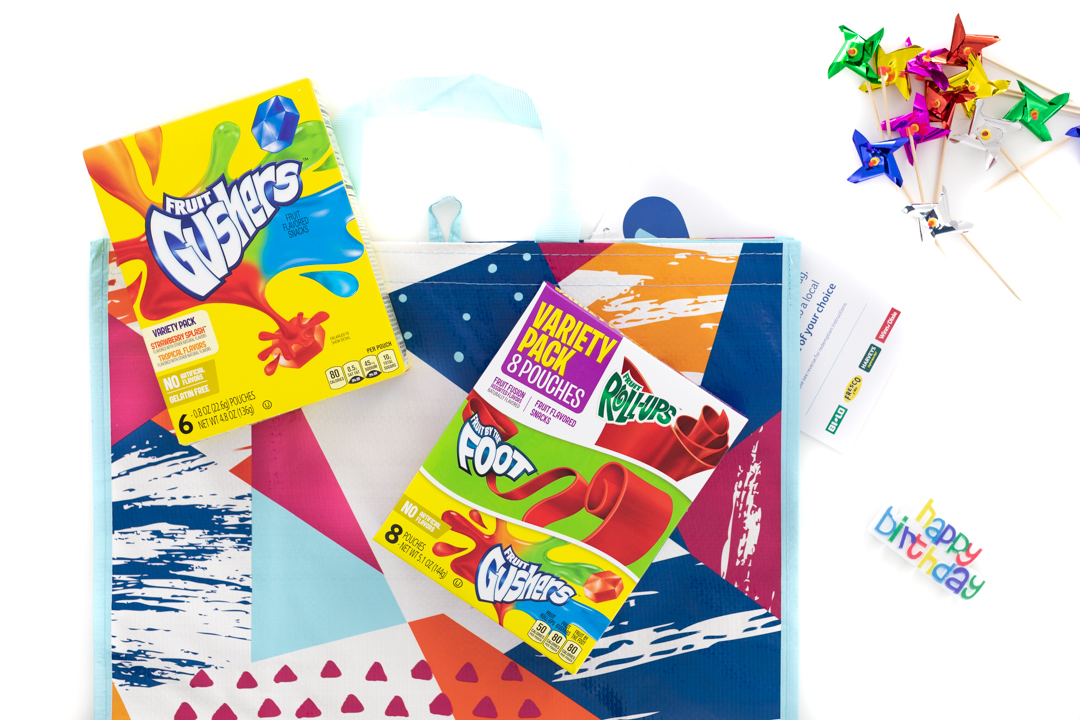 SHOP NOW at Southeastern Grocers stores (Winn Dixie, BiLo, Harvey's, Fresco y Mas.)
This grazing board with simple treats is perfect for making an afternoon more fun, taking movie night-in to the next level or for perfecting your kids birthday treats. You can easily make it as small or large as you need for your family. It won't take much to inspire a special moment anytime when you include help of Fruit by the Foot, Fruit Roll-Ups and Fruit Gushers.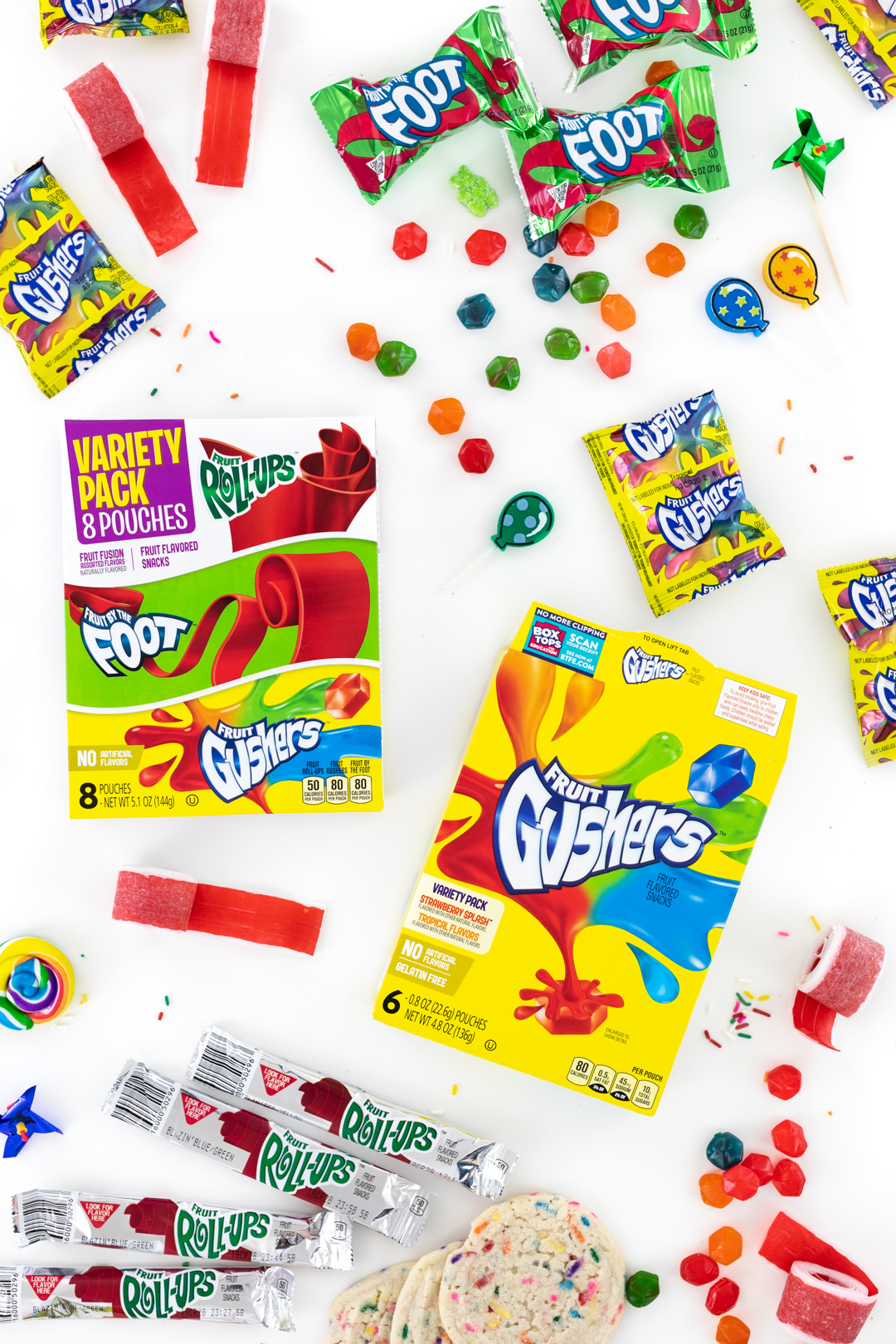 These treats have long been a favorite here. I can't tell you how many days I packed one of these into a lunch bag AND opened my own to find a delicious surprise packed by my mom inside.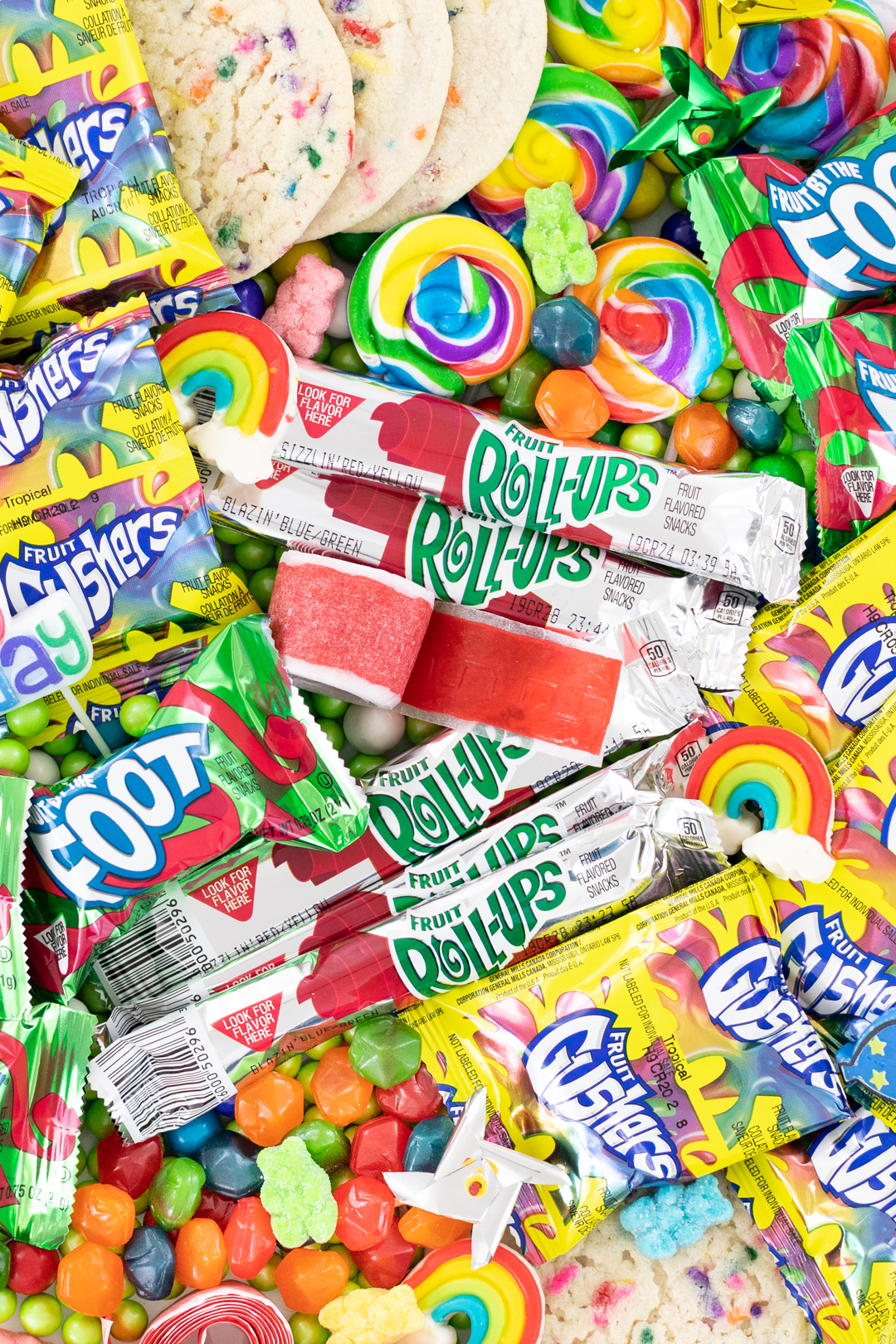 There's so much nostalgia when serving these treats which makes it extra fun to serve up to create even more great moments to remember.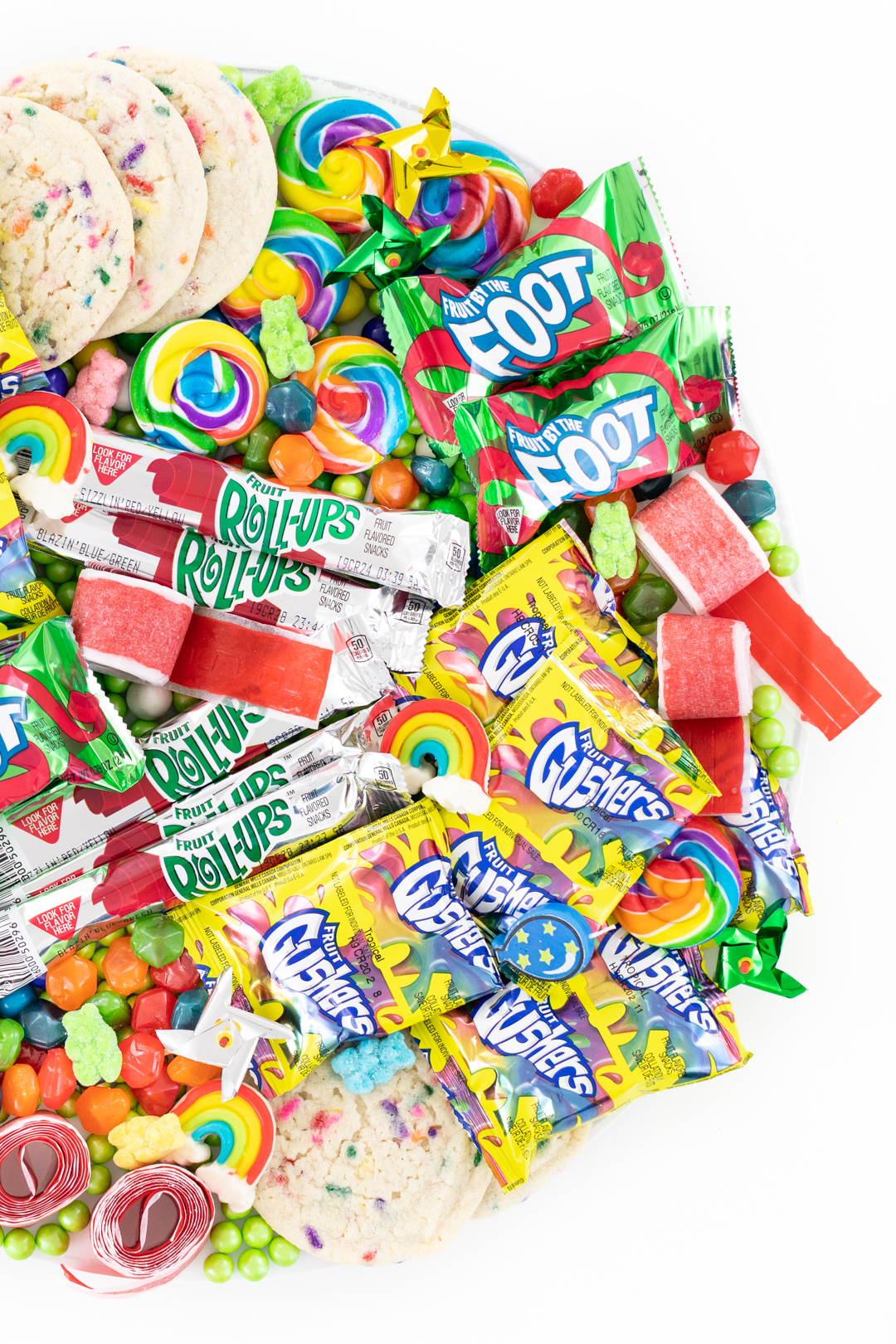 TREAT BOARD IDEAS FOR KIDS
When deciding on which treats to include on your snack board, remember to add snacks that are both fun and easy-to-eat. It will be easier for kids to enjoy when they can easily grab the treats without dropping or making a mess.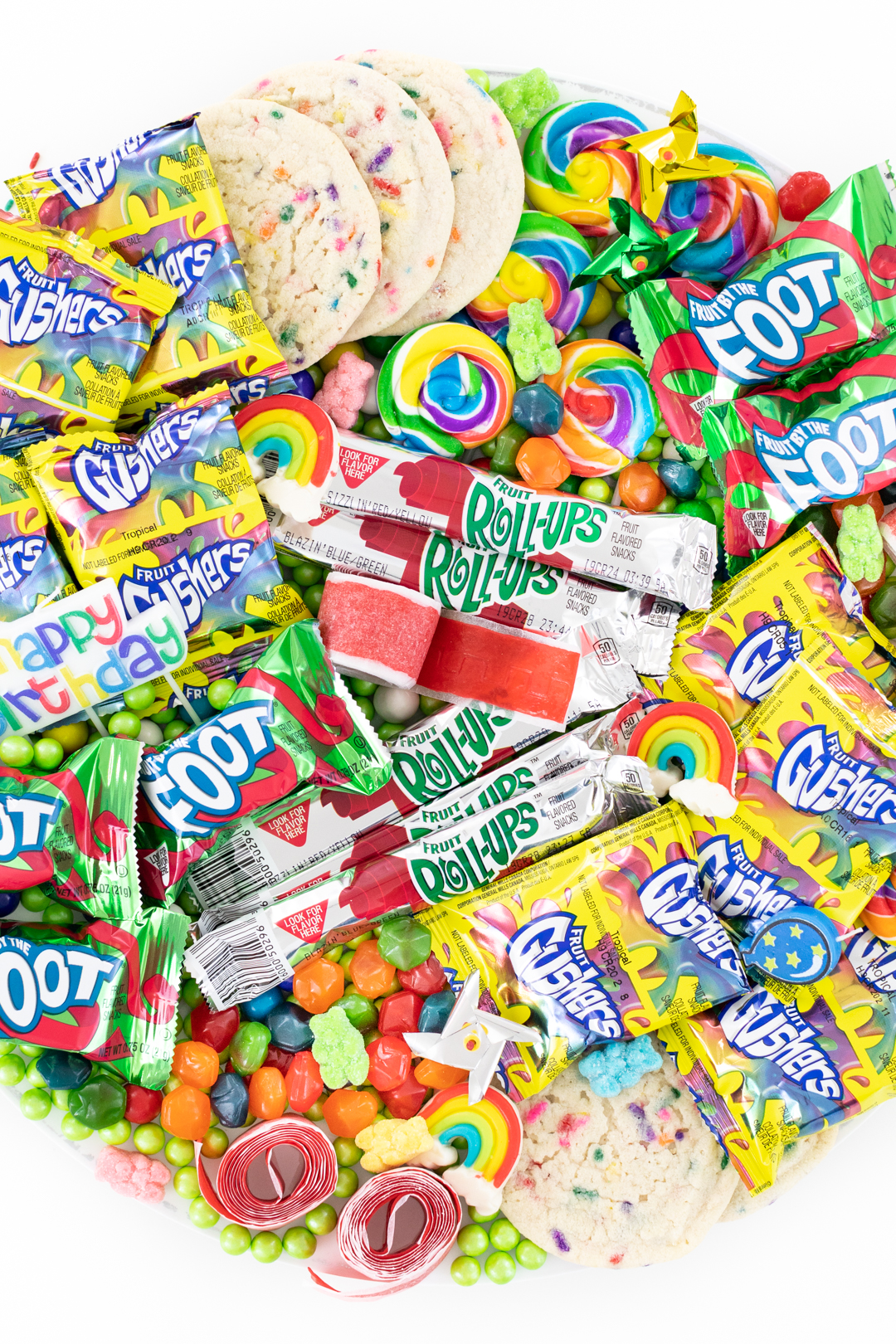 Here are some epic starter ideas to get you started on your own kid-style treat board.
Individually wrapped snacks like Fruit by the Foot, Fruit Roll-Ups and Fruit Gushers
Snacks outside of the wrappers to add fun variety
Variety of colorful candies and gummies.
Rainbow Lollipops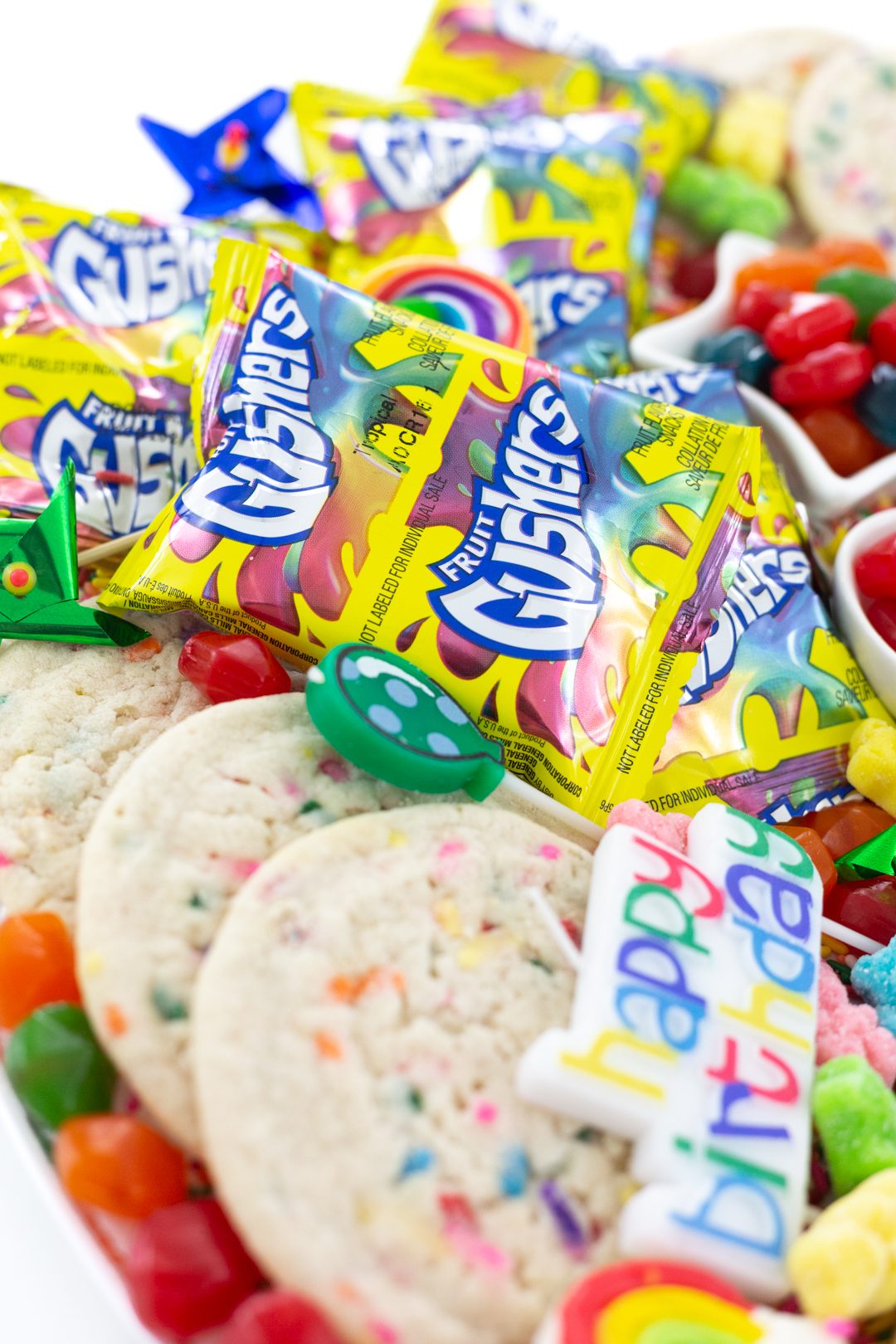 Easy to eat fruits like grapes, mandarin oranges and mini bananas
Variety of small crackers (such as oyster crackers)
Variety of small cookies and candy &/or yogurt coated pretzels.
Optional Decor: cupcake picks and/or candle messages like "Happy Birthday"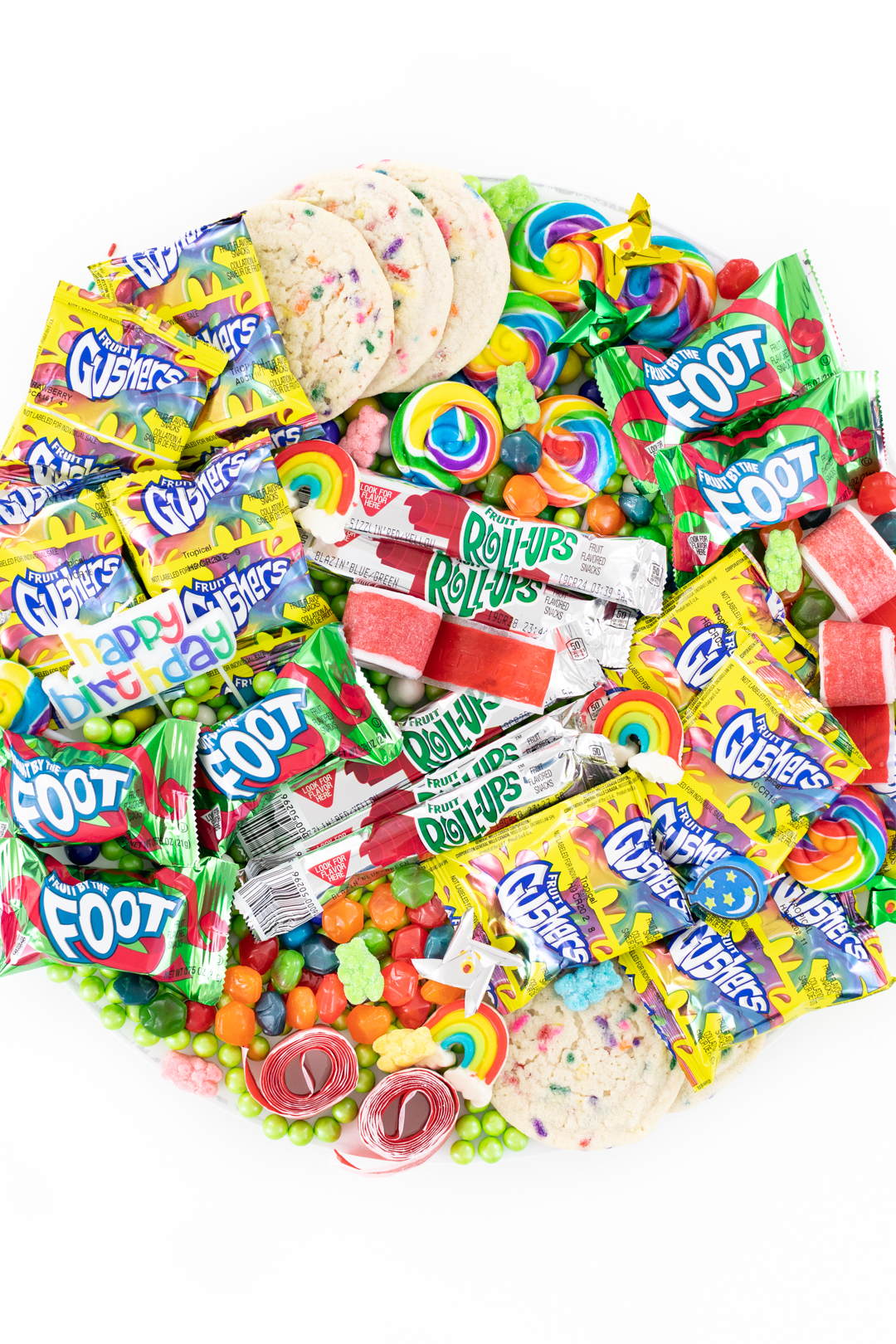 HOW TO SET UP A DESSERT BOARD FOR KIDS
Start by selecting your large tray or board big enough for whatever crowd you are feeding.
Stick to 3-4 colors for your treats and alternate them as best you can for a pop of interest.
Select fillers to use as a base like smaller candies and sprinkles. These will help you to fill up the entire tray or board to give that feeling of abundance.
After you place all of your main treat selections down, go back in with smaller filler candies/sprinkles to fill in any unexpected spaces.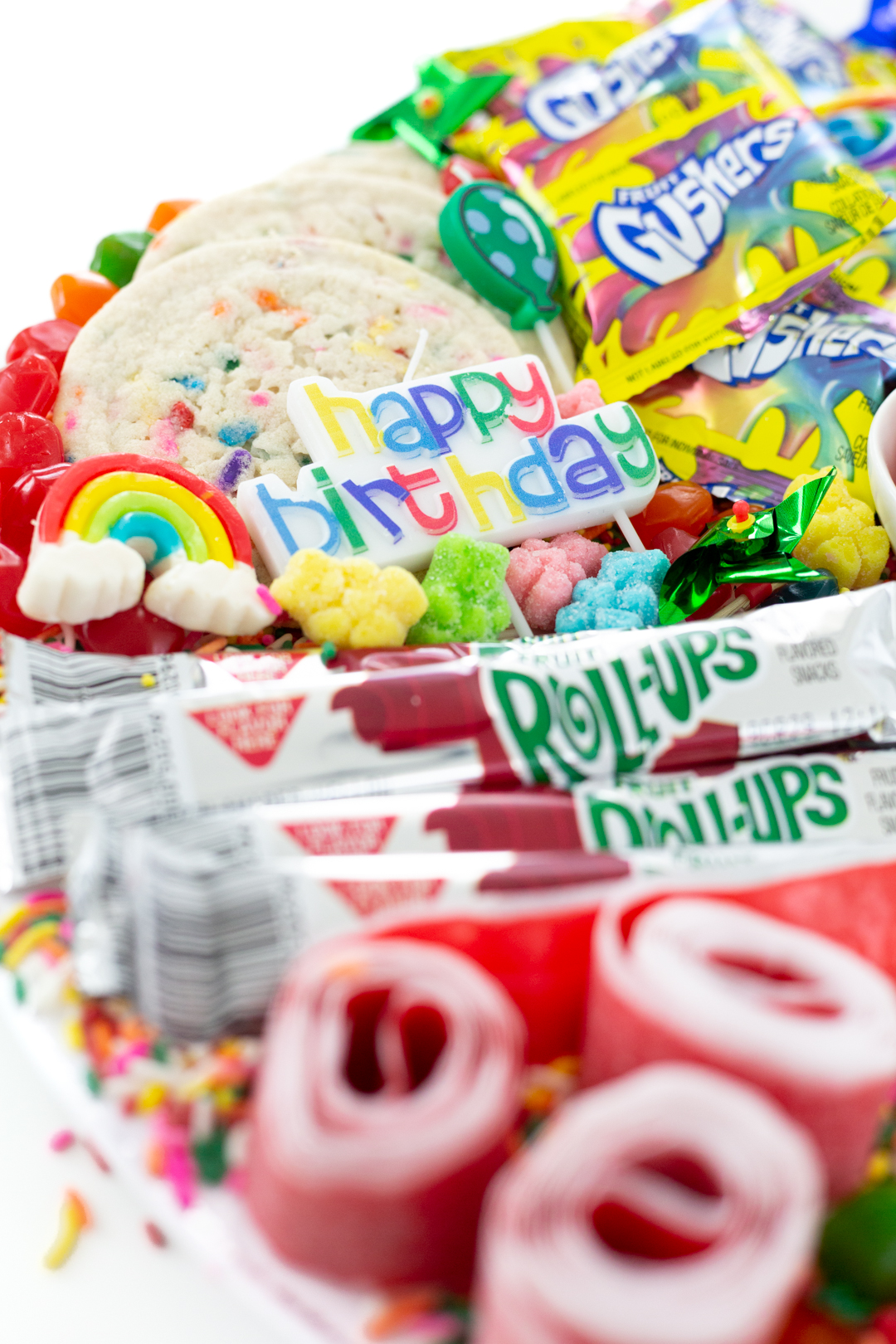 Voila! It's so very easy to create the perfect fun treat tray that kids will absolutely adore!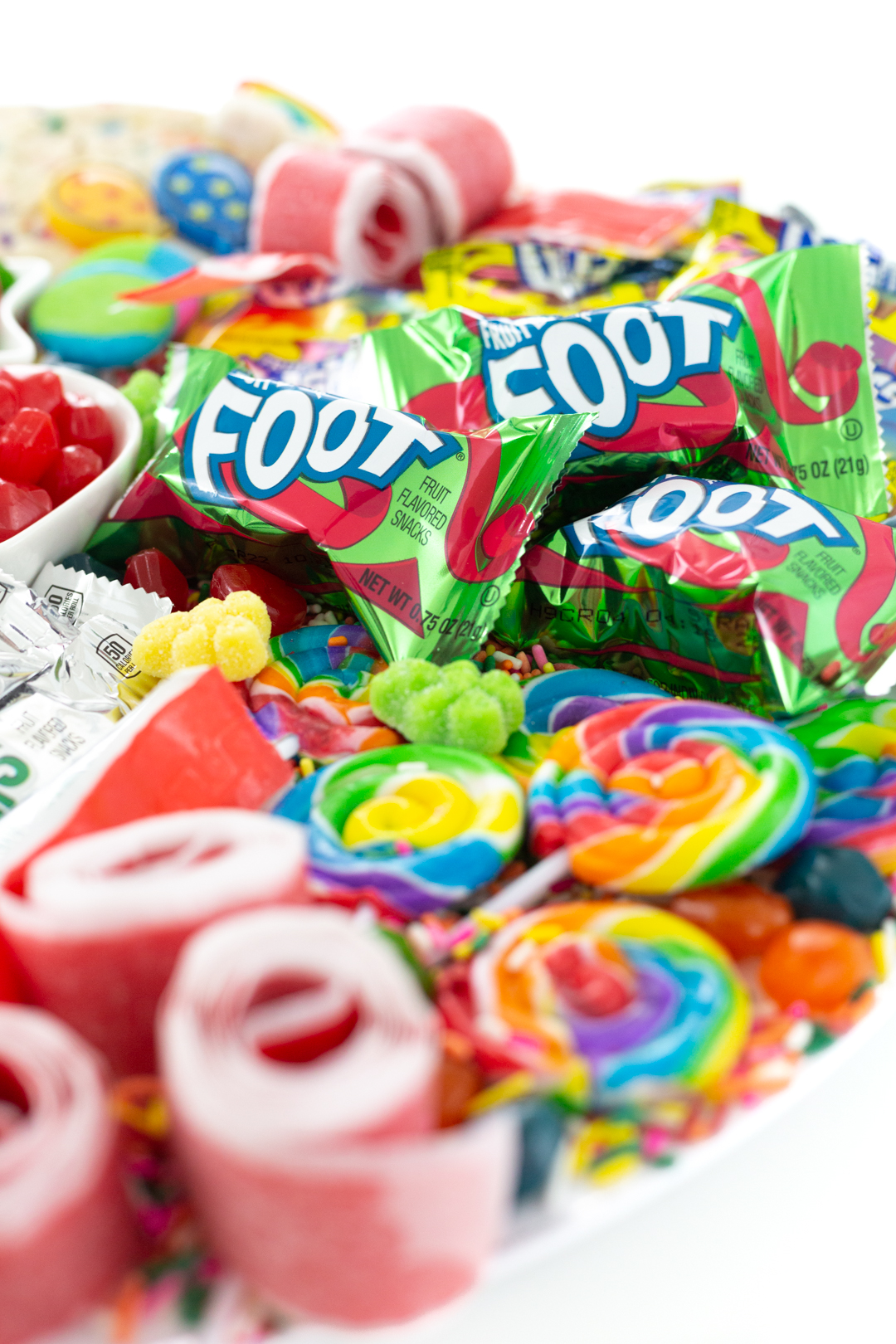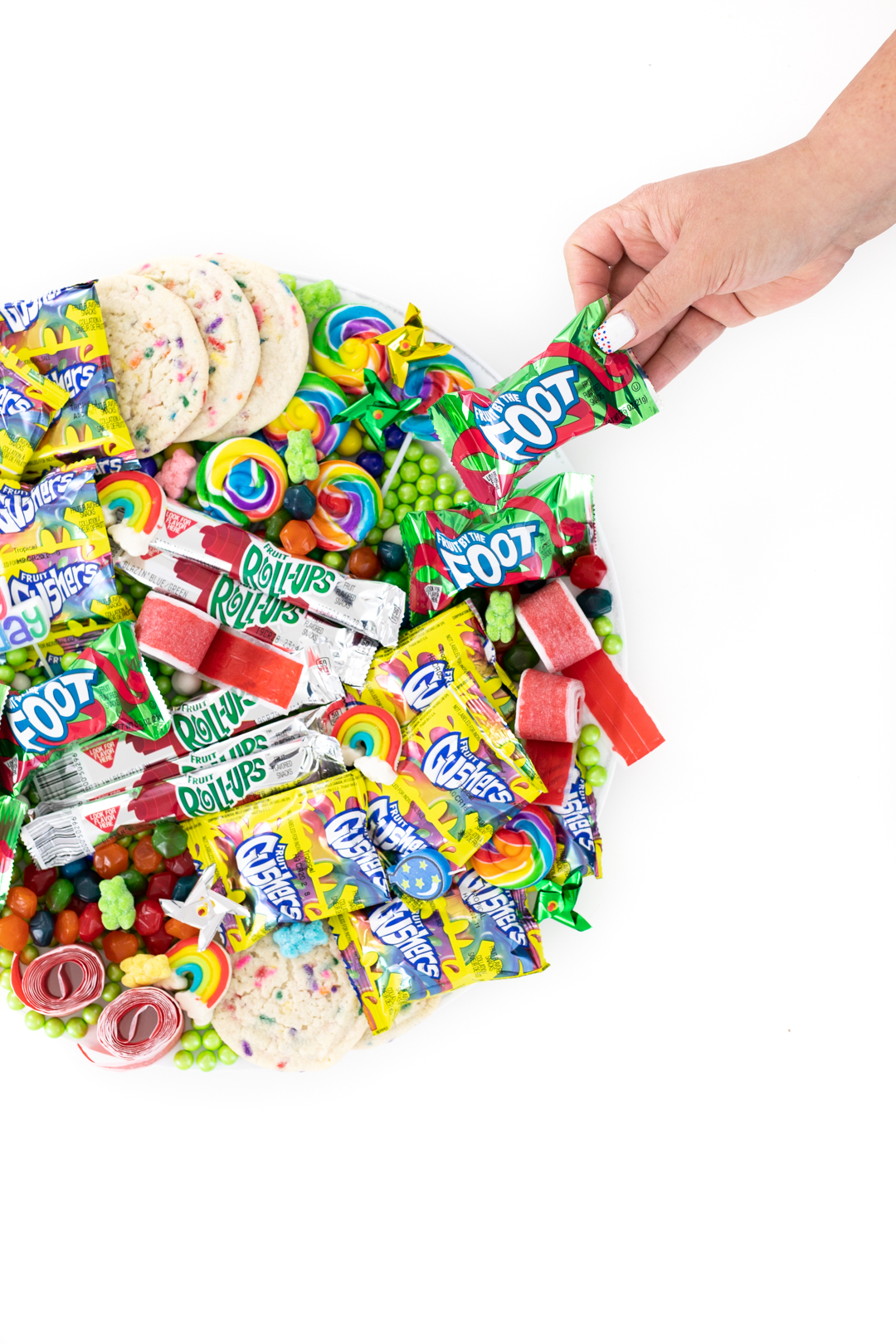 Make your next treat extra special when you add Fruit by the Foot, Fruit Roll-Ups and Fruit Gushers to your Southeastern Grocers shopping list!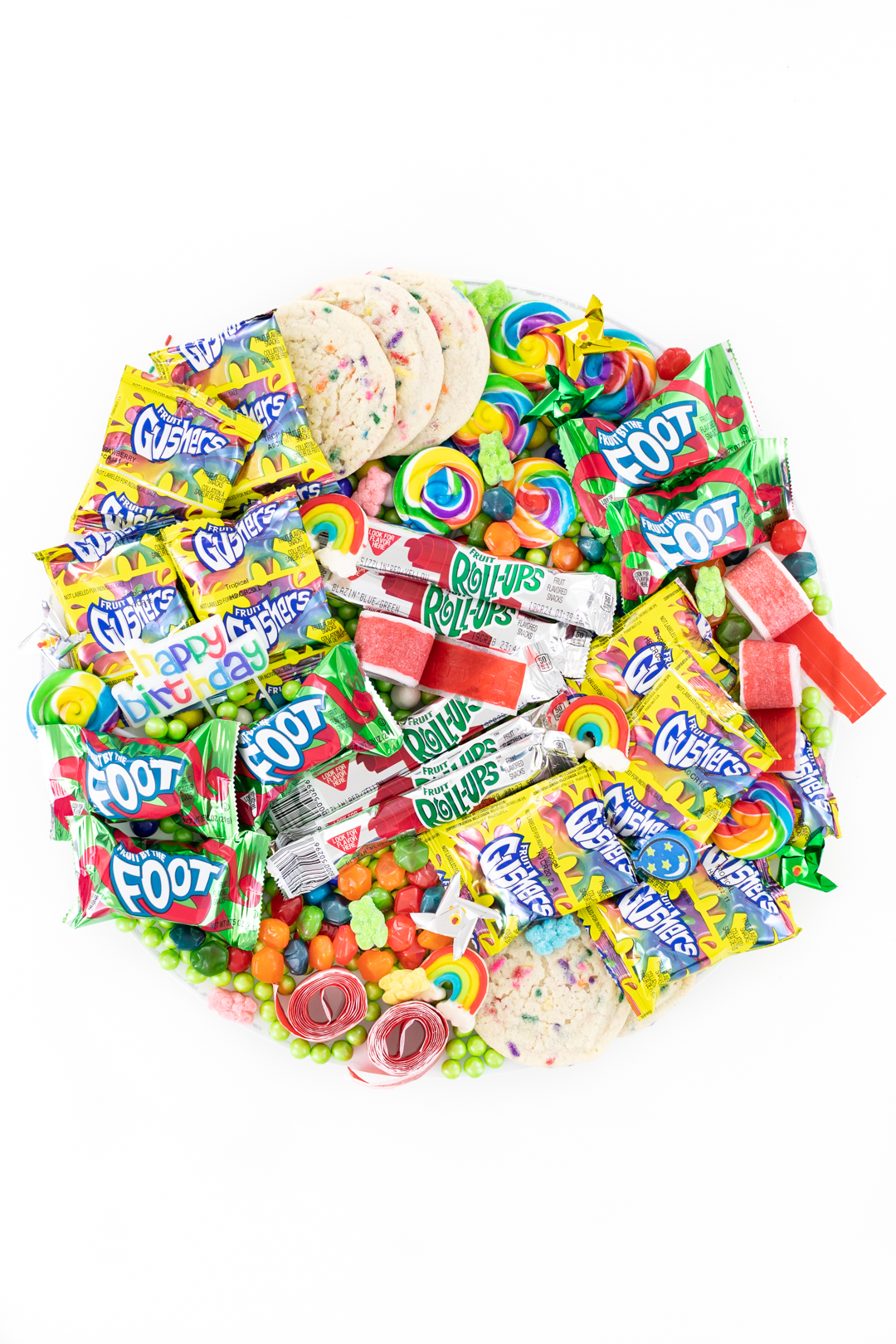 Have fun with it!