When it comes to planning for a zombie apocalypse, canned foods are all the rage! But, what about everyday use? When it comes to reducing waste, I try to only buy the produce that we need and will consume before it goes bad. Having to throw away uneaten produce is such a waste! I wasn't surprised to learn that I am not alone, 73% of Americans throw away spoiled fruits and vegetables on average two times a week. Now, that is a serious amount of waste. That is where useful products like canned foods can really help us reduce all of the waste. And, come to find out that "the canning process generally locks in foods' freshness, flavor and nutrients at the peak of ripeness, just hours after picking." So we're saving, but we're not compromising, which is the most important thing! This is a sponsored post.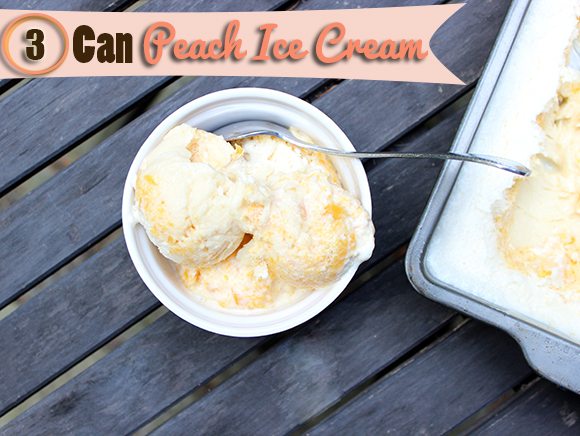 To celebrate canned food, I wanted to try something nothing short of exciting! After much thought and delicious inspiration, I came up with this idea to make 3 Can Ice Cream! Do I have your attention? I've seen people make all different types of ice cream recipes with elaborate ingredients and even just 1 or 2 using ingredients like Carnation® Evaporated Milk. For the perfect amount of sweetness, I added some Carnation Sweetened Condensed Milk and a can of drained Del Monte Sliced Peaches.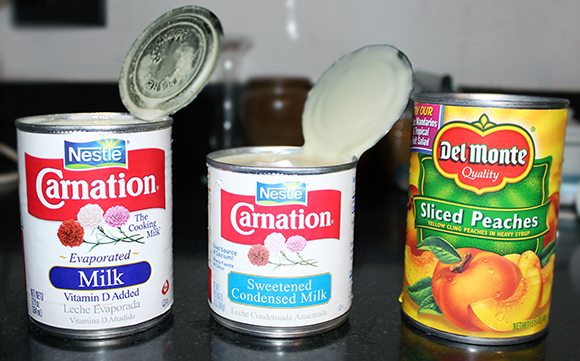 This is also a cinch because you won't need an ice cream machine, you can whip it up in just a few minutes and set to freeze. I have to say, it is very creamy, sweet and decadent. It has been added to my definitely must make to impress company pile of recipes! I can't wait to experiment with even more flavors! How about canned pears or pureed pumpkin? Both lovely for this fall.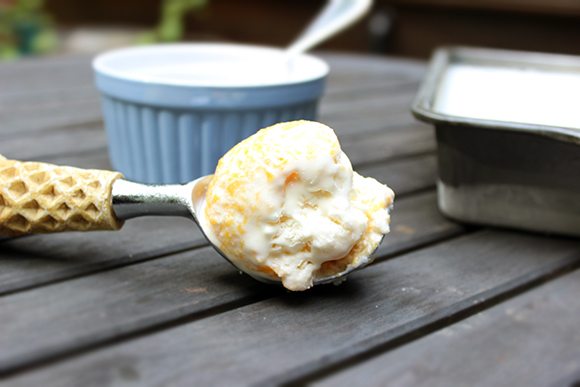 So what do you think? Cooking with cans can be pretty exciting with a little imagination. End of summer is the perfect time to start stocking your "Cantry" up because there are usually a ton of sales. Cans generally have really long expiration dates, which makes them the perfect item to stock up on when there are awesome sales! Since cans can help save us time and allow us to serve healthful and flavorful home cooked meals, it's definitely a no-brainer!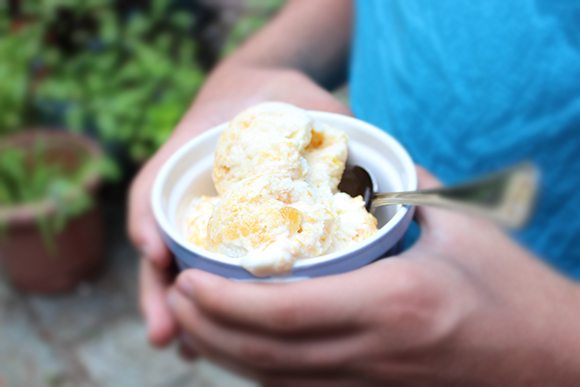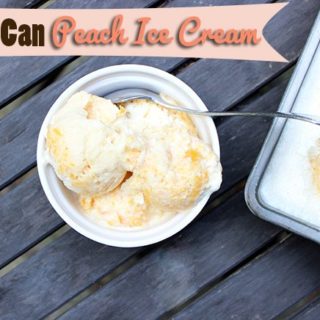 3 Can Peach Ice Cream Recipe
Total Time:
4 hours
10 minutes
Easy peach ice cream recipe using canned goods.
Ingredients
1 Can Evaporated Milk, 12oz (I used Carnation brand)
1 Can Sweetened Condensed Milk, 14oz (I used Carnation brand)
1 Can of Sliced Peaches, 15.5oz (I used Del Monte)
Instructions
Drained can of sliced peaches and mash into smaller pieces with a fork, put aside.
Mix Evaporated Milk with a heavy duty electric mixer or high powered blender on high until it forms peaks. This should take about 30-60 seconds.
Add in the Sweetened Condensed Milk until blended thoroughly, then mix peaches in for a few seconds.
Pour into a container, cover and put in freezer until frozen through. Voila!
Recommended Products
As an Amazon Associate and member of other affiliate programs, I earn from qualifying purchases.
Nutrition Information
Yield

8
Serving Size

1
Amount Per Serving
Calories

299
Total Fat

10g
Saturated Fat

6g
Trans Fat

0g
Unsaturated Fat

3g
Cholesterol

36mg
Sodium

135mg
Carbohydrates

46g
Fiber

1g
Sugar

46g
Protein

9g
: Do you have any recipes that you make regularly with canned foods? :
: What is your favorite kind of ice cream? :