I'm totally loving no bake desserts, especially recipes that require very few ingredients. Love being able to whip up something for a last minute occasion or any day in a very short amount of time. What is not to love? Have you seen those Birthday Cake Oreo cookies yet? Sugary heaven, I tell ya! Well they serve as an inspiration to these bars, that and birthday cake anything besides cake just seems so fun!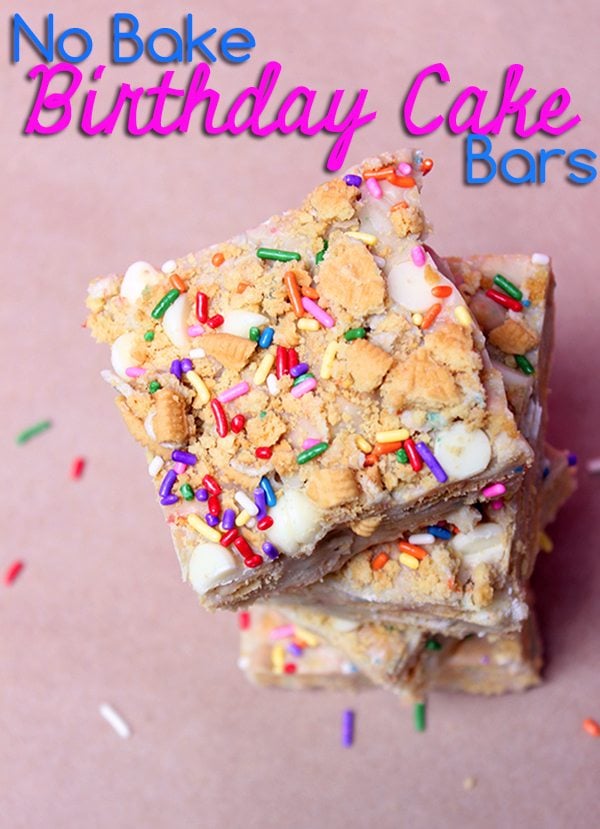 These are probably the most sugary sweet bars I've ever tasted, it's outrageous... but must be tried. Plus they are so easy, why not? All you need to make these bars are the cookies, sweetened condensed milk, white chocolate and of course some colorful sprinkles to bring it all together. See, told you it was a simple recipe!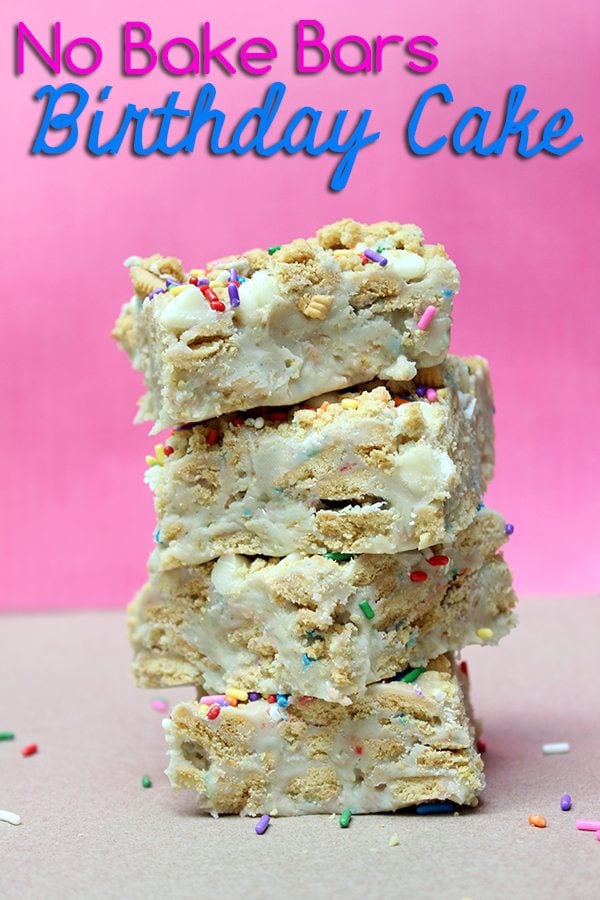 No Bake Birthday Cake Bars will come in handy next time that I need to whip up a quick treat for a birthday or bring something to a birthday party. The sweet and the crunchy cookies make for a great combo. Who's in?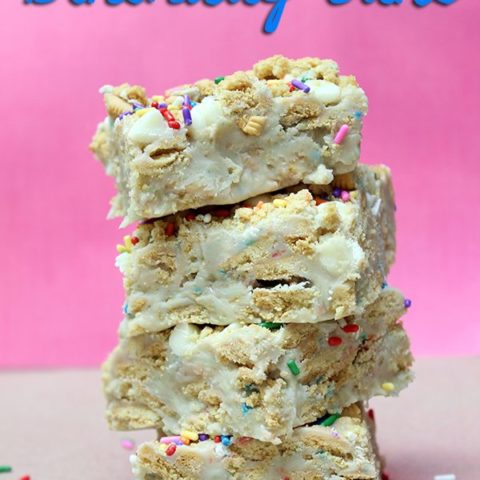 No Bake Birthday Cake Bars
Ingredients
White Chocolate Chips (12 oz bag)
Can of Sweetened Condensed Milk (14 oz)
30 Birthday Cake Oreos Loosely Crushed (15.35 oz package)
2 Teaspoons Colored Sprinkles
Non-Stick Spray
Aluminum Foil
Instructions
Line an 8 x 8 pan in foil. Spray with non-stick spray. Set aside ¼ cup of white chocolate chips and 5 Oreos. Melt the remaining chocolate chips on stove top or in microwave. Remove from heat and mix in sweetened condensed milk until fully combined. Add crushed Oreos and make sure all cookies are fully covered in chocolate mixture. Try not to further crush the cookies as you combine. Spoon mixture into lined pan. Press the batter down evenly with a spoon or spatula. Let cool for a few minutes, then add colored sprinkles and remaining chocolate chips evenly onto the top of the batter. Press into the top and then flatten the bars again if needed. Let cool for approximately an hour. Faster if refrigerated. Enjoy!
Nutrition Information
Serving Size

1
Amount Per Serving
Calories

1854
Total Fat

93g
Saturated Fat

79g
Sodium

794mg
Carbohydrates

210g
Sugar

208g
Protein

23g
Are you a birthday cake fan? Have you ever tried creating a treat inspired by birthday cake?