It's not even funny how much I adore Halloween. It's just so FUN! I am totally obsessed with gawking at recipe and craft ideas surrounding the holiday on Pinterest. I probably will never get to doing that many crafts and recipes in my lifetime, but hoarding them on my pin-board seems to satiate my addiction. Am I alone?
As I was thinking of fun ideas to create, I made a simple update to my original pinata cups recipe that I shared a few months ago. The only difference is that these are stuffed with festive candy corn and the frosting is colored up to match! Totally excited to do this all again for every holiday, it's not going to get old... me thinks.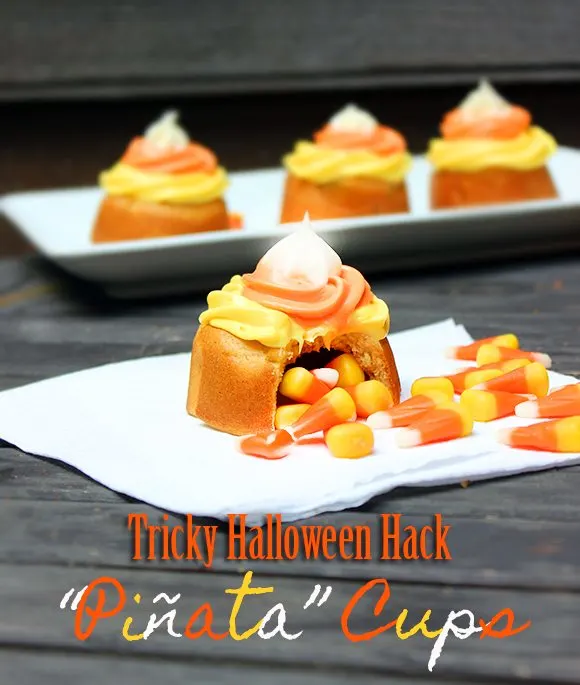 For those of you who haven't seen my original post, you are probably dying to know what this Halloween "hack" I mentioned is all about. I totally don't blame you, after all I am completely monopolizing your time if you are still reading thus far. Are you getting impatient yet? (Yes, I am in a weird mood, thanks for asking!)
Well, you see... these are not hollowed out cupcakes as they might appear to be.
These are actually frozen pancakes baked into cups and turned upside down. Like, how EASY is that?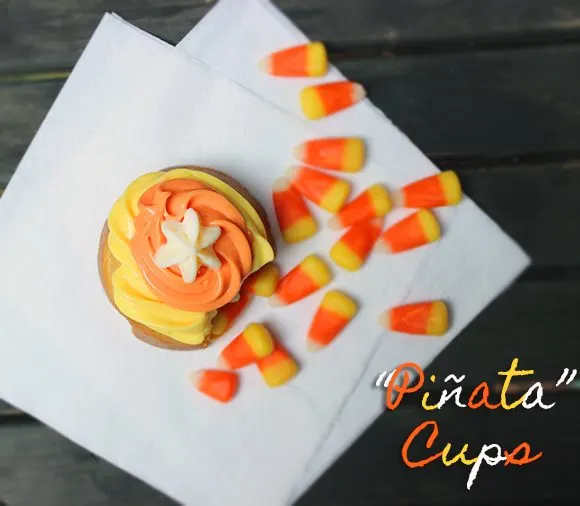 I personally just can't stand how fun it is to make these cups and turn them into a great starter for breakfasts all the way up to surprising sweet treats for Halloween! Even more beautiful? They only take about 15 minutes to bake into the perfect cup! If you aren't a fan of candy corn, you can absolutely add any candy that is small enough to be concealed under the cups! To make it even easier, you could also just stick to a single color frosting such as white and maybe add some orange and or black sprinkles. The possibilities are endless.
Are you ready to make your Halloween Piñata Cups?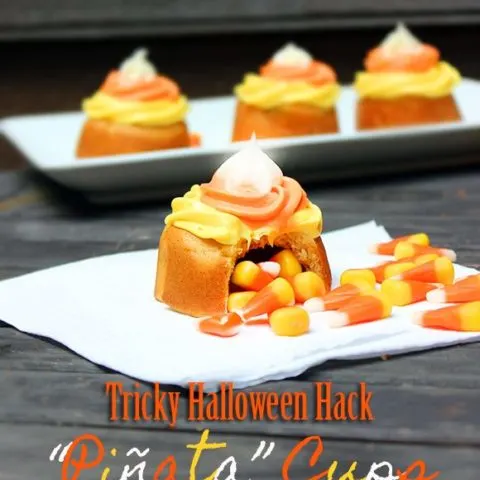 Halloween Piñata Cups Recipe
Ingredients
6 Frozen Pancakes (I used store brand)
Non-stick cooking spray
1 Can of White Frosting
Candy Corn
Optional: Red & Yellow Food Coloring
Instructions
Preheat your oven to 375. Defrost desired amount of frozen pancakes in the microwave. Spray your muffin tin with non-stick cooking spray. Press each pancake delicately into the center of your muffin tin. Press the sides of each pancake into the side of the muffin tin. Cook for 14-16 minutes until lightly crisped but not overly browned.
Meanwhile, prepare your frosting if desired. Use red & yellow food coloring to create orange. You can divide your frosting into 3 parts accordingly and color 2 parts (one yellow and one orange) if desired.
Remove "cups" from tins and set aside until completely cooled. Once cooled, top with frosting. Hide candy corn (or choice of candy) underneath your cups.
Makes 6 Cups.
Want to see what else is cooking at Homemaking Hacks? Check out our Halloween recipes and ideas.
Is Halloween one of your favorite holidays too?