You might have noticed that I like easy recipes, well this no bake bar with a Halloween theme fits the bill. With the use of candy corn and Halloween Oreos, the bars have a splash of those festive colors. Add some chocolate and more chocolate and we have a seriously sweet bar that is fun to serve! With all the candy and cookies in them, you might not even need to go trick or treating!? Yeah right! The base of these bars is so versatile, it's made up with semi-sweet chocolate, sweetened condensed milk and crushed cookies! You could really play around with the flavors and the toppings you decide to add. Using different flavors of chocolate and Oreos, you can really make a ton of different flavor combos! Oh and did I mention there are only 4 ingredients??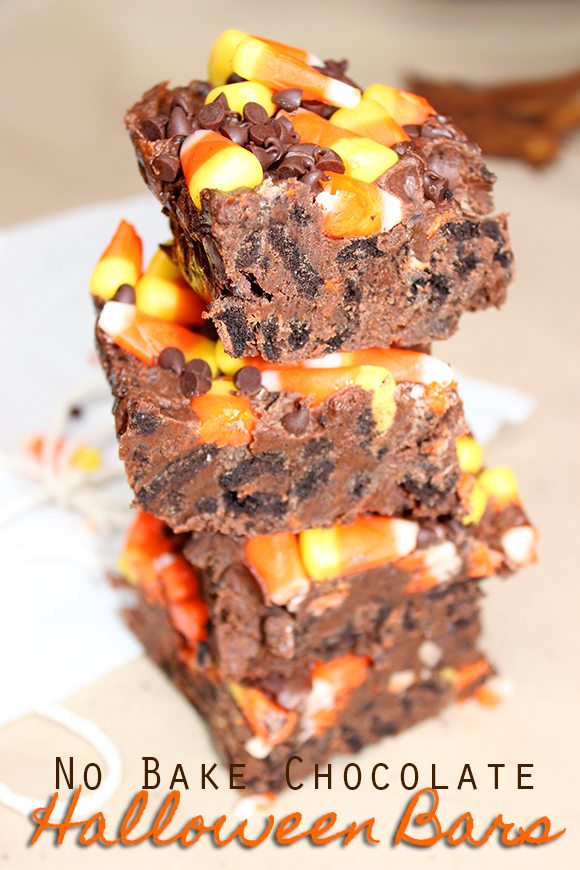 To get the party started, I melted some semi-sweet mini chocolate chips on the stovetop, but you could choose to microwave them for another shortcut. Mixed in a can of sweetened condensed milk and then added a pack of loosely crushed Halloween Oreos, the ones that have that festive orange filling. Try not to crush the cookies into oblivion, you'll want some of the orange filling to show up in the final product to give the bars some color. After flattening the mixture into your pan, the last step is to press your candy into the bars. Then you'll just set to cool before distributing and devouring! The best ways to describe these bars are like fudge meets brownies meets trick or treat bag. Really impressive for how simple they are to toss together!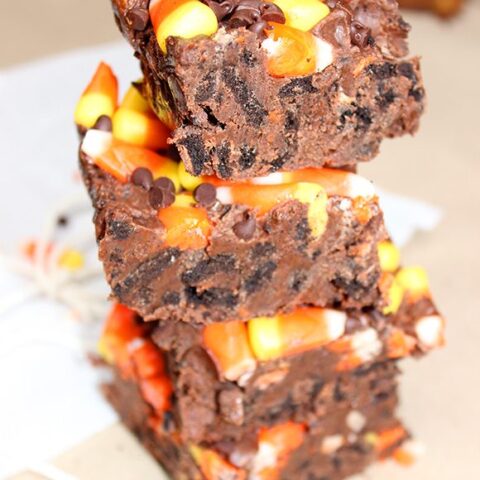 No Bake Chocolate Halloween Bars Recipe
Ingredients
Mini Semi Sweet Chocolate Chips (12 oz bag)
Can of Sweetened Condensed Milk (14 oz)
30 Halloween Oreos Loosely Crushed (15.35 oz package)
1.5 Cups of Candy Corn
Non-Stick Spray
Aluminum Foil
Instructions
Line an 8 x 8 pan in foil. Spray with non-stick spray. Set aside ¼ cup of the mini chocolate chips. Melt the remaining chocolate chips on stove top or in microwave. Remove from heat and mix in sweetened condensed milk until fully combined. Add crushed Oreos and make sure all cookies are fully covered in chocolate mixture. Try not to further crush the cookies as you combine. Spoon mixture into lined pan. Press the batter down evenly with a spoon or spatula. Let cool for a few minutes, then add candy corn and remaining chocolate chips evenly onto the top of the batter. Press the candy into the top and then flatten the bars again if needed. Let cool for approximately an hour. Faster if refrigerated. Enjoy!
My mind is exploding with ideas, I'll totally be sharing my next version later this week. Hope they'll be as tasty as these! Mouth is watering just thinking of all the fabulous Halloween recipes to be made. Nom nom!
Are you a fan of no-bake recipes? Do you have any favorites?