I don't think there is a better taste combination than either pumpkin or apple along with caramel in the fall. Hmm hmm hmm. In attempts to create something super simple to achieve some festive flavor in the oven, I came up with this super simple Caramel Pumpkin Mini "Pies". Well, they aren't really pies per say since they aren't made with a traditional crust, you see I made them using Grands! Homestyle Buttermilk Biscuits. They are so super easy to throw together to satiate that fall flavor craving!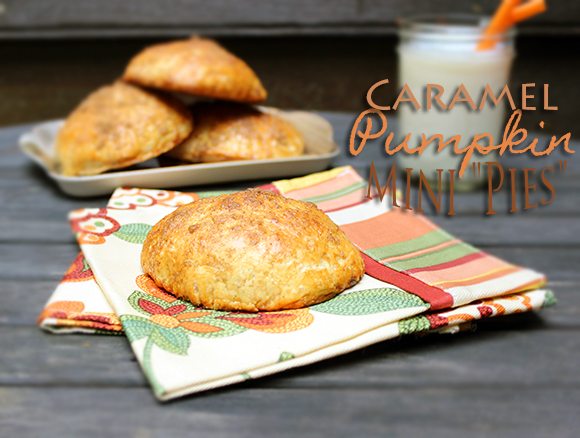 Funny enough, I made about 4 batches of these before coming up with a shape that worked. My poor tummy!? Having to taste test each batch too… I'm sure you feel bad for me! The final shape came in mini pie form, I like how they are easy to hold vs. the other shapes I came up with. These were the easiest to do also, great for a quick treat! Trying to only eat one could be a challenge, but other than that, I think you will like these!
The filling is simply a piece of caramel, you could use either Kraft Caramels or Brach's "Milk Maid" both should work nicely. Add a little pre-seasoned pumpkin pie mix such as Libby's Easy Pumpkin Pie Mix and top with egg wash and sugar and pumpkin pie spices and you are good to bake. See, I told you it was easy!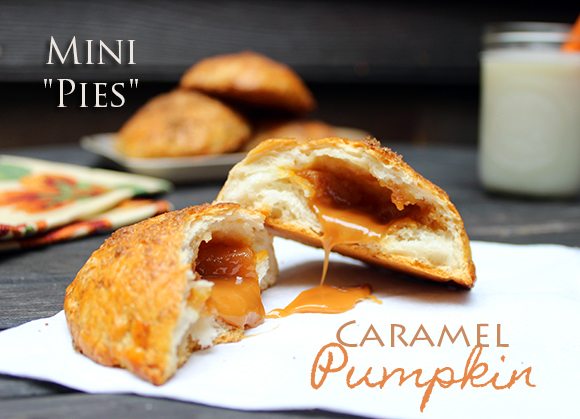 Simple Caramel Pumpkin Mini "Pies" Recipe
Ingredients
1 Can Grands! Homestyle Buttermilk Rolls
8 Pieces of Caramel (Kraft or Brachs brands)
1/4 Cup Pre-Seasoned Canned Pumpkin Pie Mix (I used Libby's)
1 Egg Beaten
Optional: Sugar and Spices to Top.
Instructions
Pre-heat Oven to 375°. Grease a nonstick baking pan. Separate each biscuit in half and tuck a piece of caramel and heaping teaspoon of pumpkin pie mix into the center. Press the dough tightly to seal. Use a fork if desired to make perforations around the entire biscuit's edges. Repeat for all 8 biscuits. Brush each with beaten egg. Optional: sprinkle the top any combination of sugar and spice, such as: brown sugar or granulated sugar with cinnamon or pumpkin pie spice. See here for an idea https://cutefetti.com/2013/08/pumpkin-pie-spice-sugar-recipe.html
Bake for 18-20 minutes until light golden brown and cooked all through. Enjoy!
7.8.1.2
49
https://cutefetti.com/caramel-pumpkin-pie-recipe/
What other fall flavors do you enjoy?