I am just getting warmed up with Halloween recipes and ideas. Did I mention wanting to make this the best Halloween ever? My son is getting older and I want to capture every single moment before he is no longer a kid! One of my favorite parts of the fabulous holiday is trick or treating! No, I don't go trick or treating myself.. but I love all the hoopla and getting dressed up! I don't even want to think about when that will end! So, all happy thoughts from here including these No Bake Pumpkin Cheesecake Chocolate Bars that will send you on a sugary holiday overload, that much I can promise.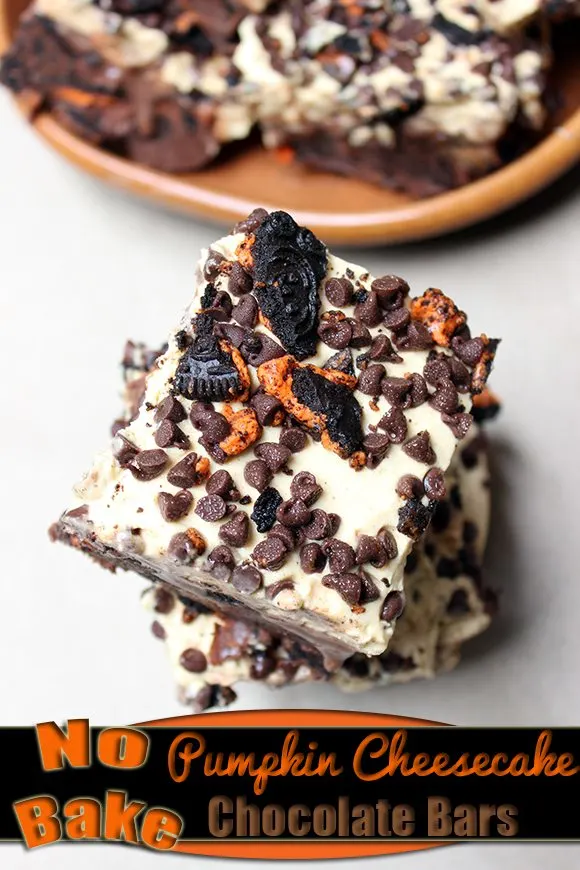 These bars are so super sweet that I had to send actually give them away after we all had some. I knew they would be dangerous since we had very recently polished off these No Bake Chocolate Halloween treats. These bars have the same delicious chocolaty base, but with a big twist. I can't decide which bars are my favorite yet. I do know that my stomach still hurts thinking about it! But it certainly is the time of year to indulge in candy and sweets! I've been walking during my son's 2 hour football practices, I am probably going to need to do a whole lot more of that to fend off all of these goodies! It's a compromise I'm willing to make 😉
No Bake Pumpkin Cheesecake Chocolate Bars
Ingredients
8 oz Cream Cheese Softened
1 Cup of Whipped Topping (such as Cool Whip)
1 Cup of Sweetened Flavored Canned Pumpkin Filling Mix (such as Libby's brand)
Mini Semi Sweet Chocolate Chips (12 oz bag)
Can of Sweetened Condensed Milk (14 oz)
30 Halloween Oreos Loosely Crushed (15.35 oz package)
½ Tsp. of Pumpkin Pie Spice or equivalent
Instructions
Grease a 8x8 pan for extra thick bars or 16x16 for thinner bars. Set aside ½ cup of the mini chocolate chips and ½ cup of loosely crushed Oreos. Melt the remaining chocolate chips on stovetop or in microwave. Remove from heat and mix in sweetened condensed milk until fully combined. Add crushed Oreos and make sure all cookies are fully covered in chocolate mixture. Try not to further crush the cookies as you combine. Spoon mixture into greased pan. Press the batter down evenly with a spoon or spatula. Put pan in the refrigerator to begin cooling as you prepare the pumpkin cheesecake layer.
In a high powered mixer combine cream cheese, whipped topping, pumpkin pie mix and pumpkin pie spice. Mix thoroughly until fully blended, about a minute stirring frequently. Spread the layer evenly over the chocolate Oreo layer. Lastly spread the remaining chocolate chips and crushed Oreos evenly onto the top of the batter. Press the candy into the top very gently and then flatten the bars again if needed. Let cool for at least 2 hours. Keep refrigerated. Enjoy!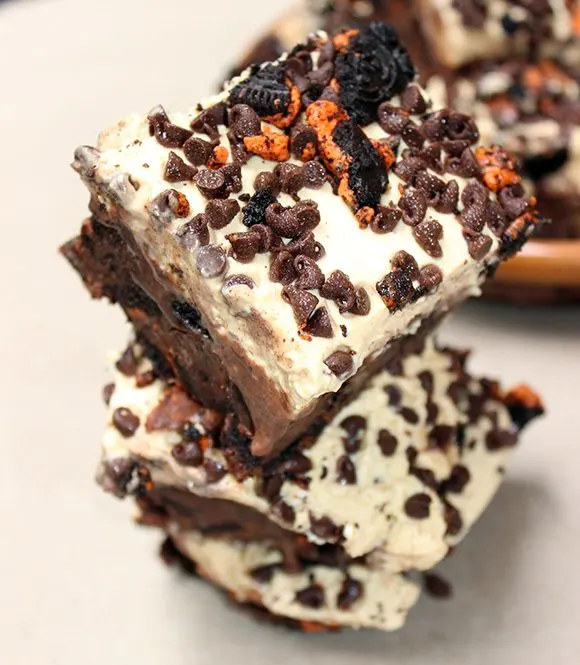 One of the main reasons I made these bars is because nobody should have to choose between pumpkin or chocolate when you can have your yummy bars and eat them too! That reminds me, Dunkin Donuts just started promoting a Mocha and Pumpkin Latte, yum yum!
What is your favorite Halloween candy?