My husband did a thing recently. He surprised me by gifting me the same card that I had given him for his birthday earlier this year. My card to him read "It's Always Been You". He did the most simple but touching thing in return. He simply wrote "too" on the card he gave back to me. It became instantly clear that the ball was back in my court to keep up the romance, and what better way to do that than with food? Enter this Romantic Charcuterie Board for Two!
This post has been sponsored by Stella® Cheese. All thoughts and opinions are my own.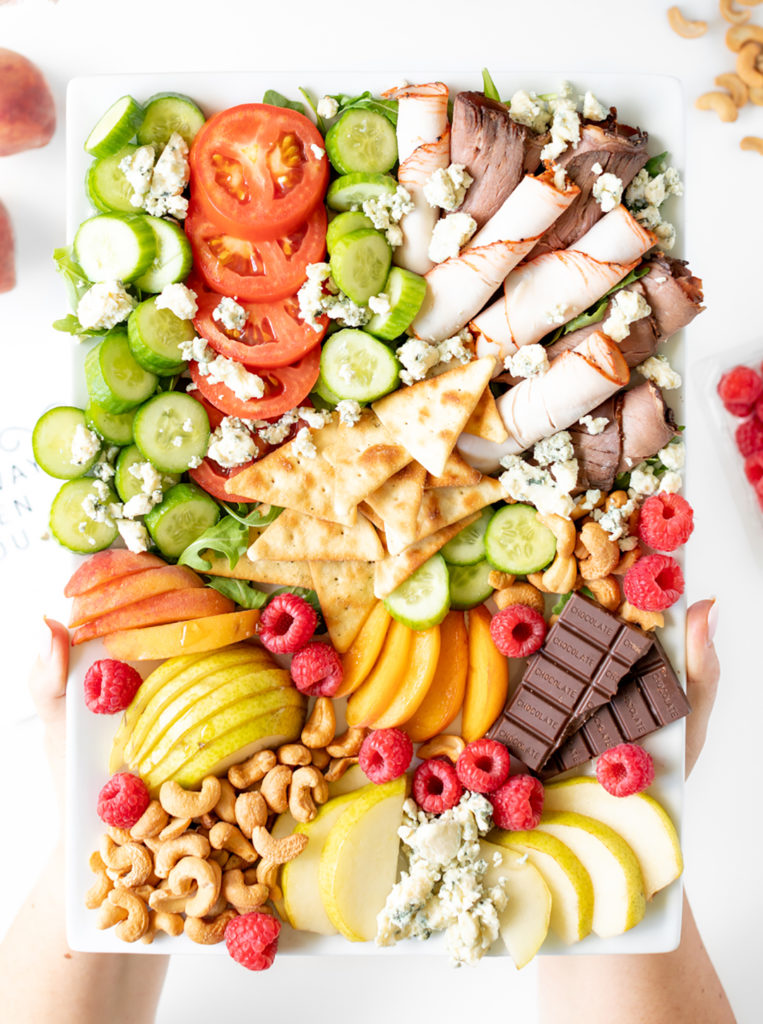 This snack board is perfect for a night in with your significant other and is especially great to celebrate anniversaries. Using careful and delicious pairings will take this over the top. For this one, I used creamy and delicious Stella® Gorgonzola Cheese. It made all of the ingredients pop, from sweet to savory. Let me show you how to make one, too. Let Stella® inspire you to make every day gourmet.
ROMANTIC CHARCUTERIE BOARD FOR DATE NIGHT
This Charcuterie Board for two is a gorgeous spread that is perfect for a romantic evening for two featuring Stella® Cheese. I hope that you love these tasty ideas as much as we did. Of course, the best treats will include your significant other's favorites—so make sure to include those special touches, too. I'm starting with the perfect savory ideas first; let's dig in.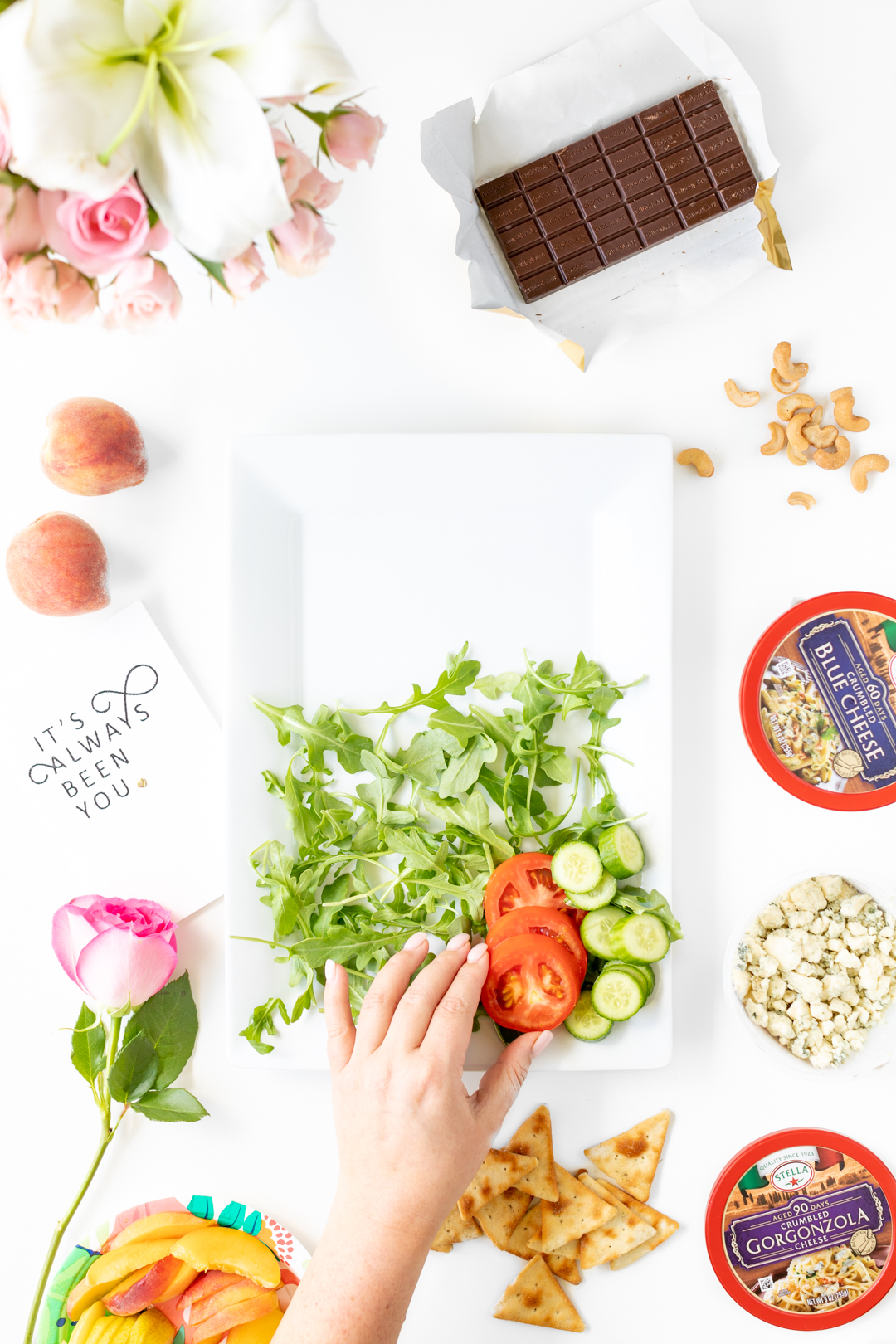 Start with a medium-sized serving plate or board to house your delish creation.
ROMANTIC SNACK PAIRINGS
For the savory side, I added a small bed of arugula first. Then, I generously stacked sliced tomatoes and plenty of sliced mini cucumbers. For a hearty punch, I chose to add smoked turkey slices and roast beef slices because of how well it pairs with Stella® Gorgonzola Cheese. Its pleasantly mellow but tangy flavor easily complements the other foods, making it the perfect pick. To make them extra pretty, I rolled each slice of meat and stacked them neatly onto the board.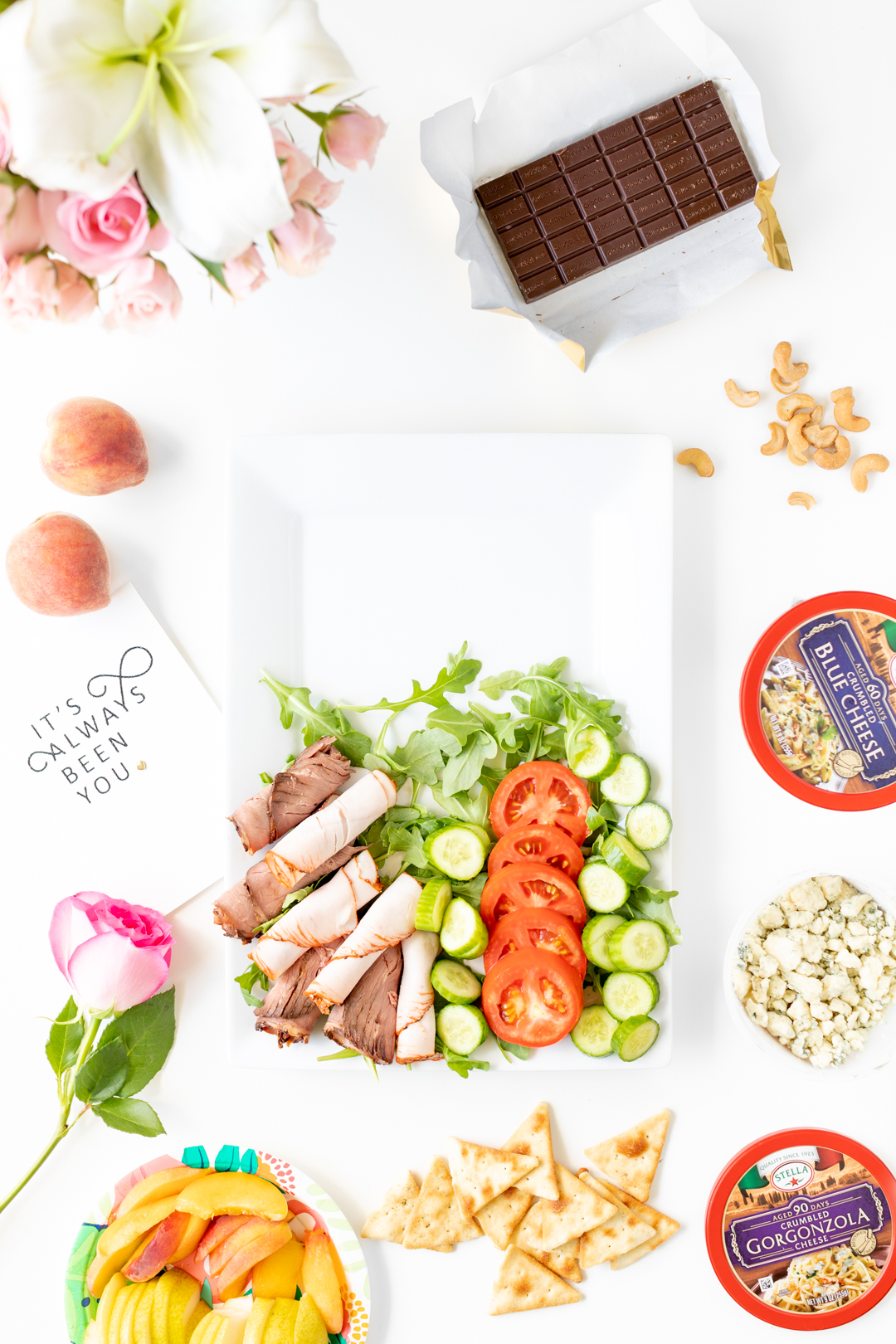 For more savory add-ons, I included seasoned pita chips and cashews. Stella® Gorgonzola Cheese adds the biggest pop of flavor and complements these other simple picks. It's so perfect. Each nibble feels like a bonus when you get a mouthful of this flavor-packed crumbled cheese.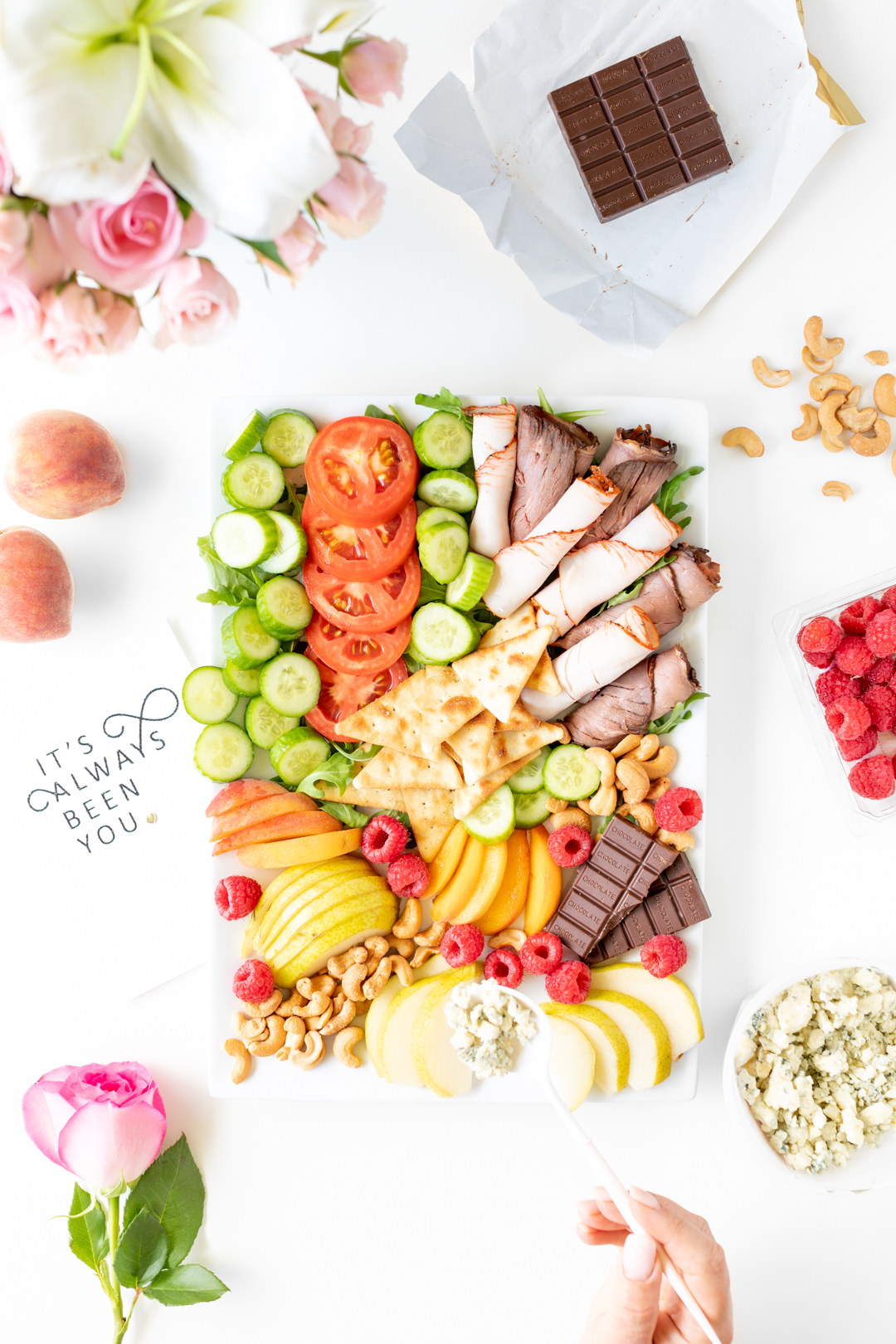 DATE NIGHT DESSERT PAIRINGS
Now for the sweet side. You simply can't enjoy a date night at home with your sweetie without the perfect dessert. These pairings are the most surprising and are making my mouth water just thinking about it. For the base, I added sliced pears, sliced nectarines or peaches, and fresh raspberries. These fruity picks pair surprisingly well with Stella® Gorgonzola Cheese and drizzled honey. Sounds unusual, but it's such a fun touch to keep things intense and interesting for your romantic night in.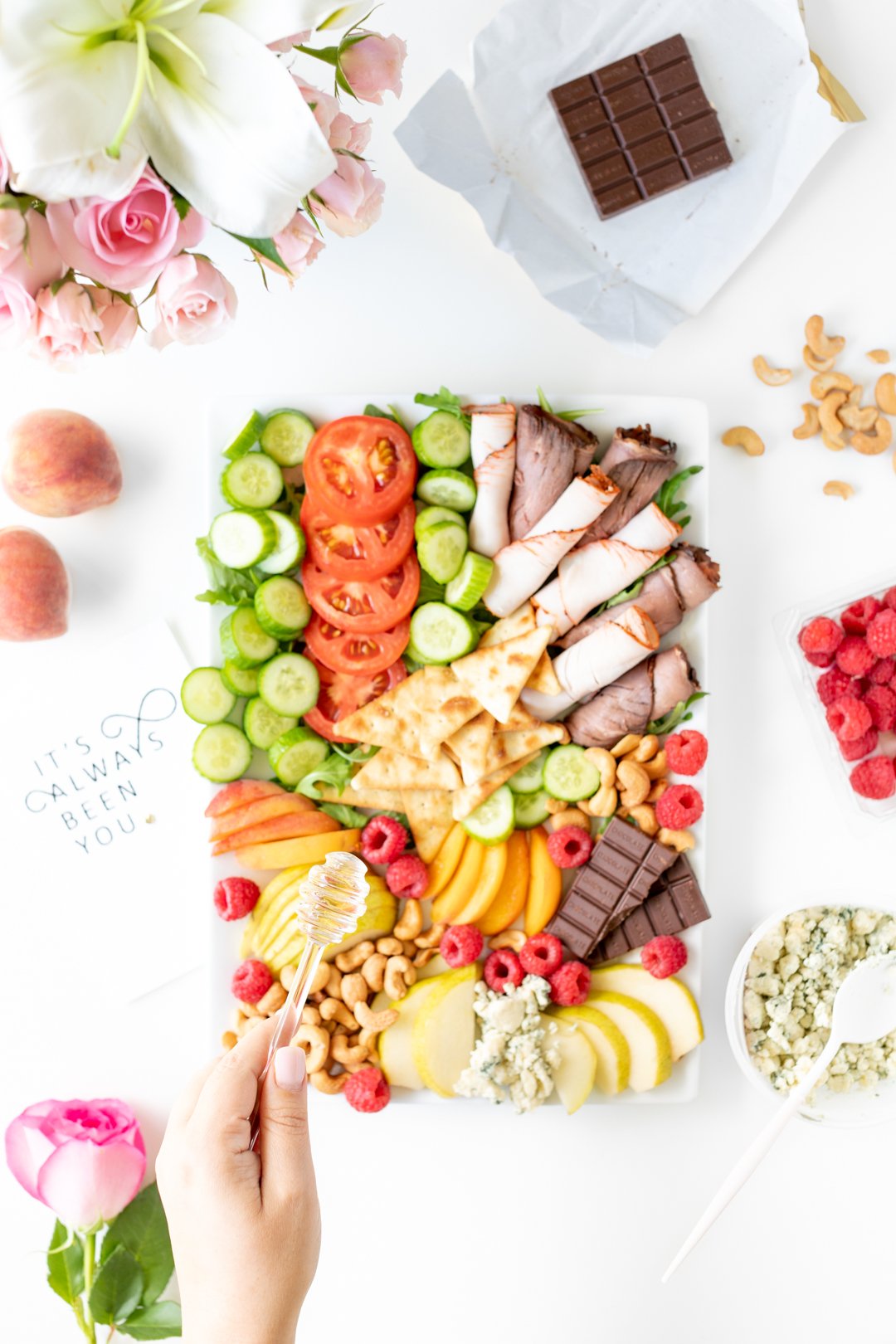 More dessert options that I love for this board are dark chocolate squares and more cashews. Yum.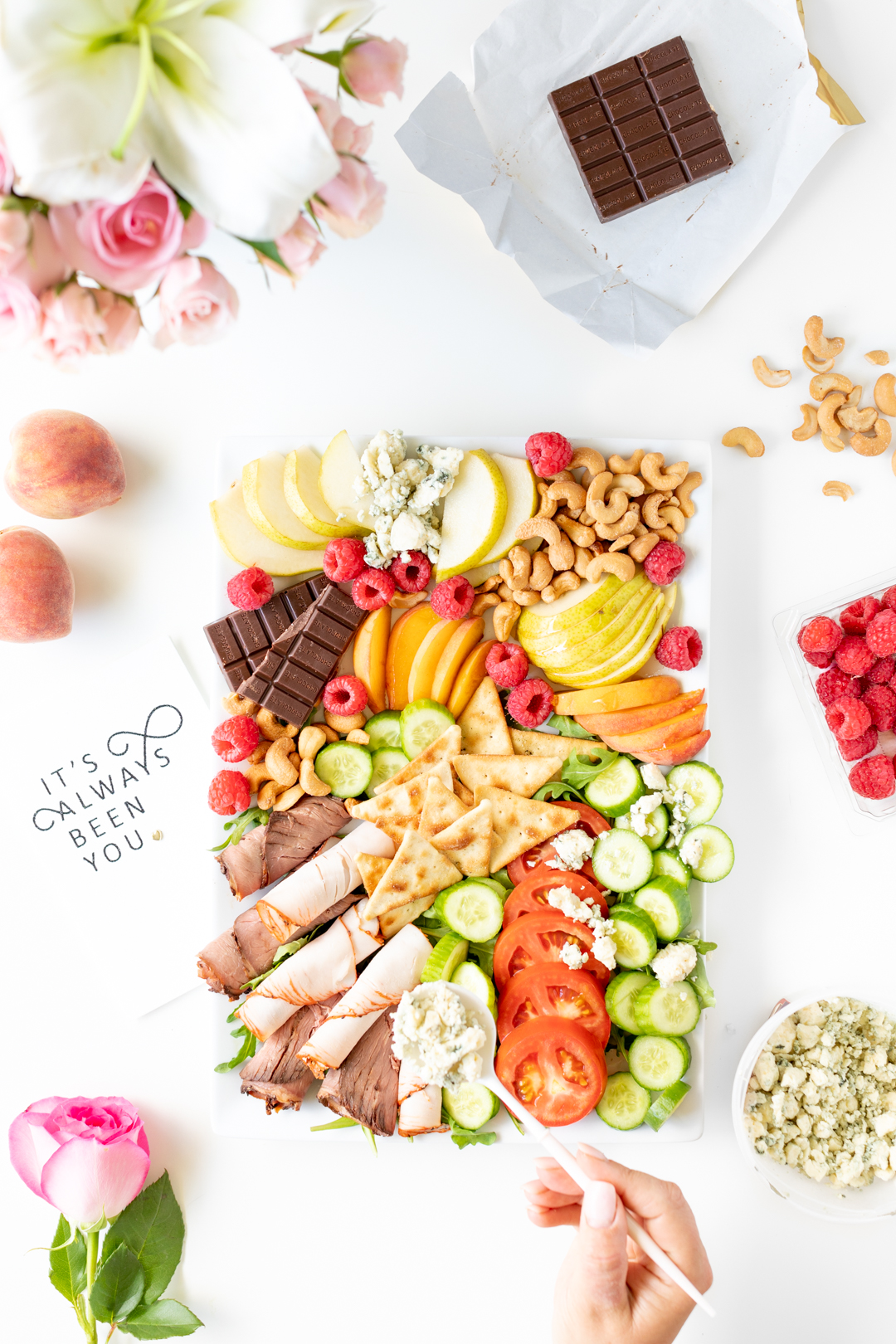 The more, the merrier. Make sure to go back in and fill any empty spaces with more snack foods. The key to the perfect charcuterie board is abundance.
DATE NIGHT IN SPECIAL TOUCHES
To make your special night... special, plan some extra special touches to go along with your unique charcuterie board. Think simple like flowers (I love roses to set the scene), a card, and plenty of candles. To make the night more, considering playing a fun game or planning a movie night. Just make sure to decide in advance. There is nothing worse than agreeing to watch a movie but killing time trying to decide on which one to watch.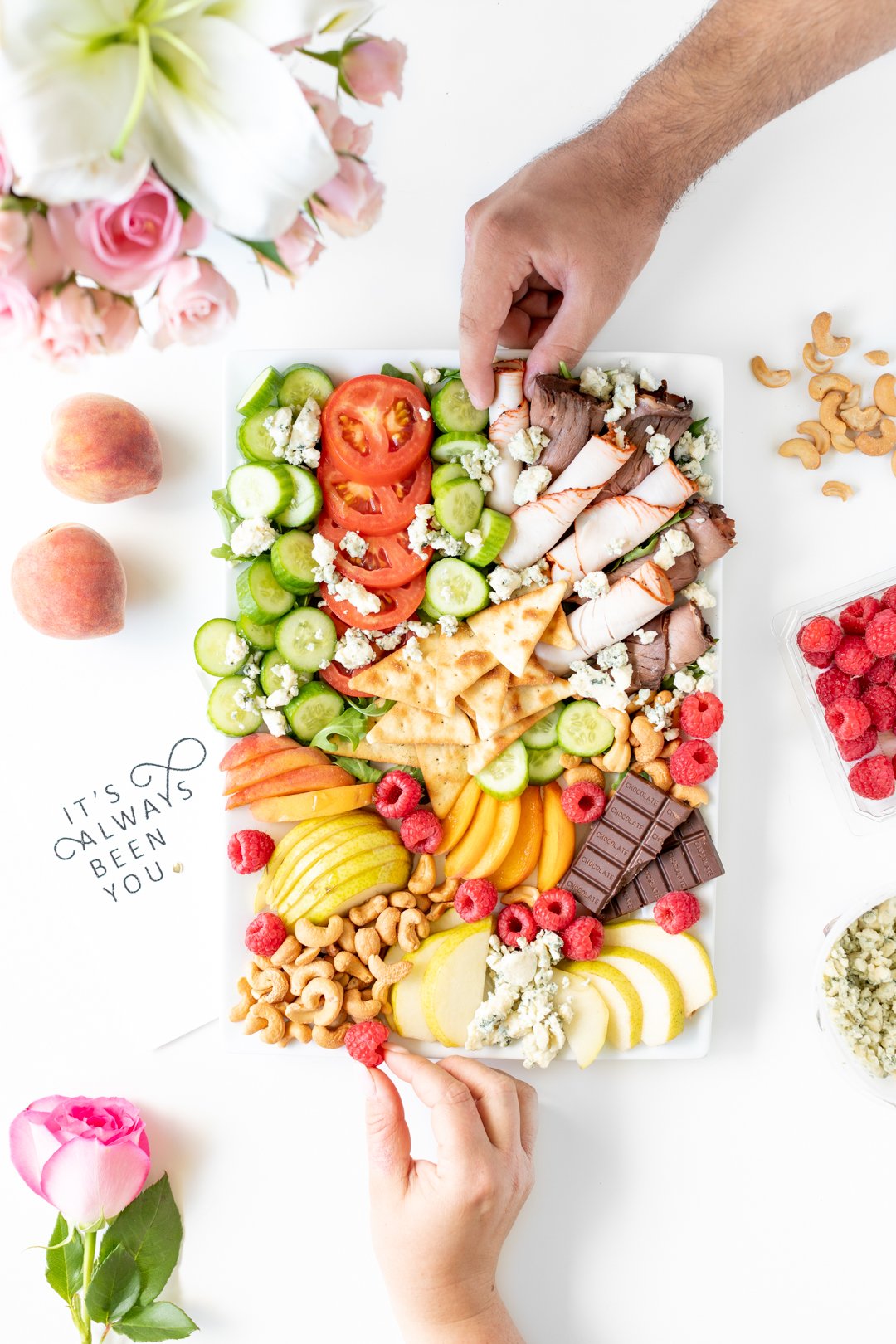 Whatever special touches you choose, I hope that you have the very best date night in!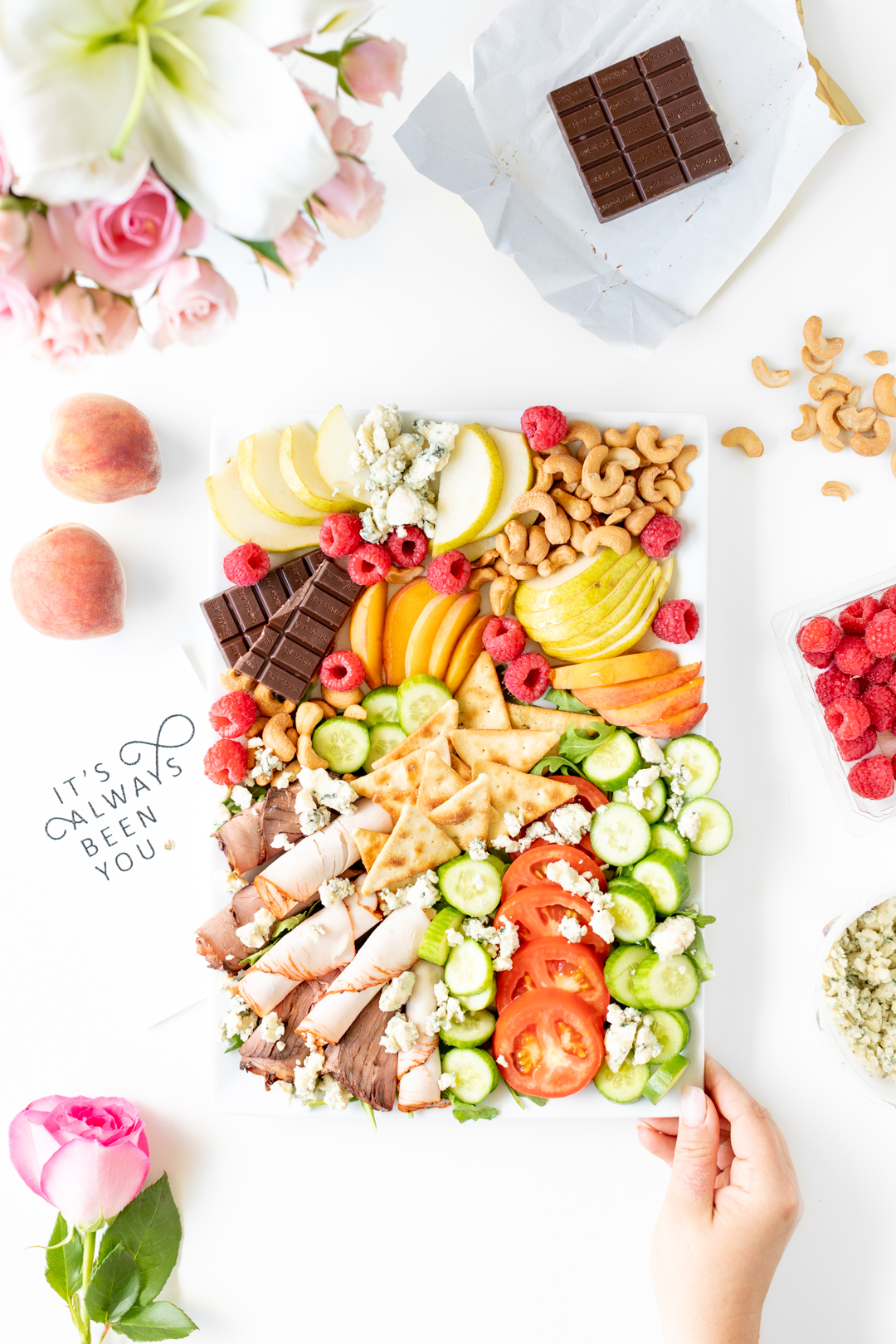 Let Stella® inspire you to make every day gourmet; find out where to buy it here.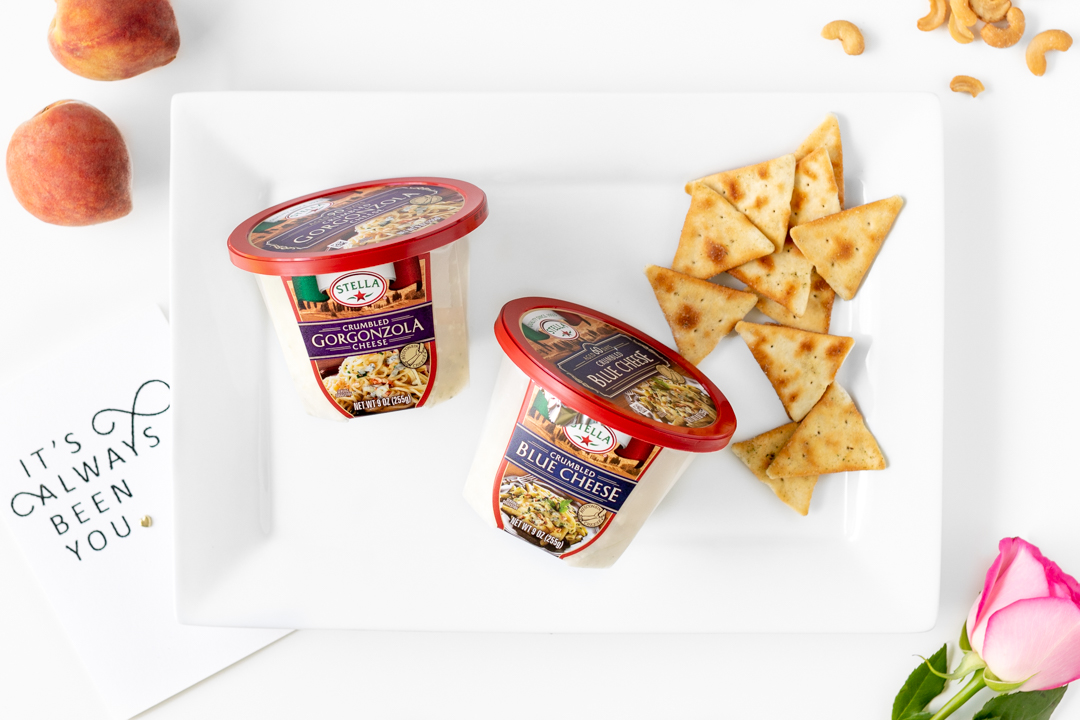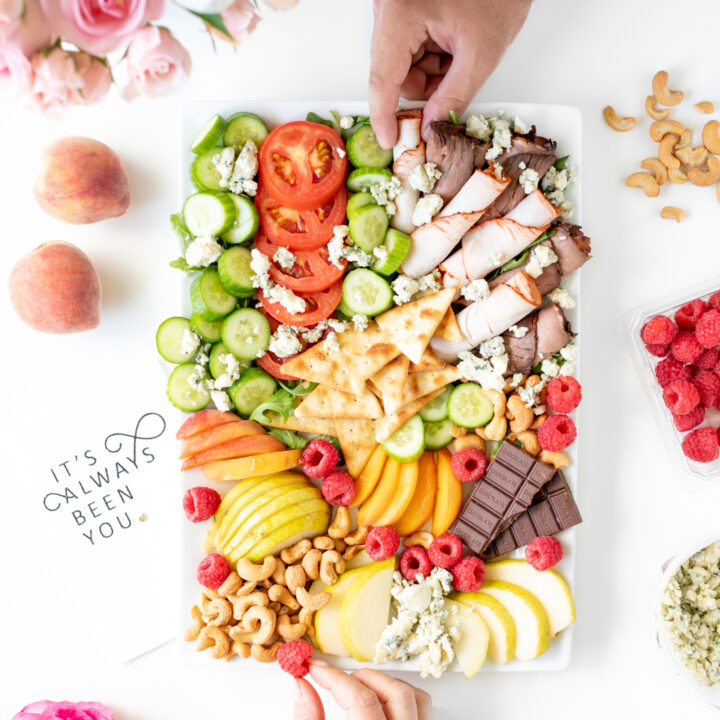 Charcuterie Board for Date Night
Charcuterie Board for Date Night. Romantic snack pairings.
Ingredients
Stella® Gorgonzala Cheese Crumbles
Roasted Turkey, Deli Slices
Roast Beef, Deli Slices
Roasted Cashews
Pita Crackers
Arugula
Sliced Tomatoes
Sliced Mini Cucumbers
Dark Chocolate Squares
Raspberries
Sliced Pears
Sliced Nectarines or Peaches
Honey (Optional)
Medium sized Charcuterie Board, Cutting Board or Serving Dish
Instructions
Layer Arugula under savory items.
Add slices of vegetables, nuts and meats to fill half of your board or serving dish.
Place Stella® Gorgonzala Cheese Crumbles in between the savory items.
On the other half of board or serving dish, add fruits, chocolates and nuts.
Add more Stella® Gorgonzala Cheese Crumbles and drizzled honey over fruits if desired.
Enjoy!