These adorable Mickey Mouse Cupcakes are perfect for Christmas. They use swirl lollipops for the ears for the easiest holiday celebration ever. Simple Disney DIY inspired dessert to ring in the holidays with that remind me of the cute ear headband that I bought last year. SO cute. Holiday Mickey treats are all too perfect for celebrating a Holly Jolly July, too! This post may contain affiliate links.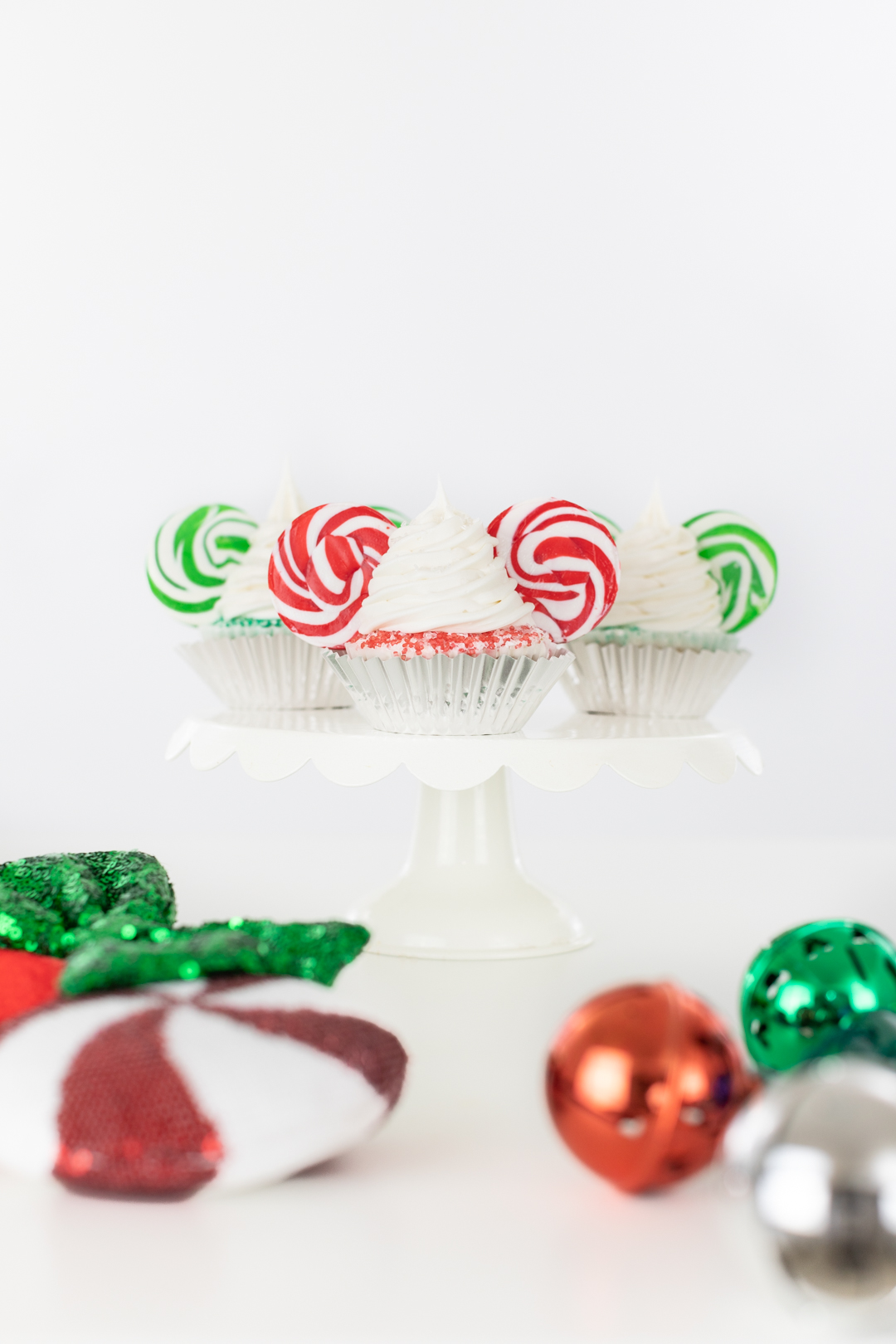 These whimsical Mickey cupcakes are seriously easy to make. We're using your choice of basic cupcake recipe whether white or yellow cake. You can use a boxed cake mix like I did. Make this recipe as simple as you like. Then, we're adding a pop of color with sprinkles followed my a huge dollop of frosting. Finally, we're topping the cupcakes with gorgeous swirl lollipops for Mickey's ears for the most magical transformation. You really can't beat how easy this is.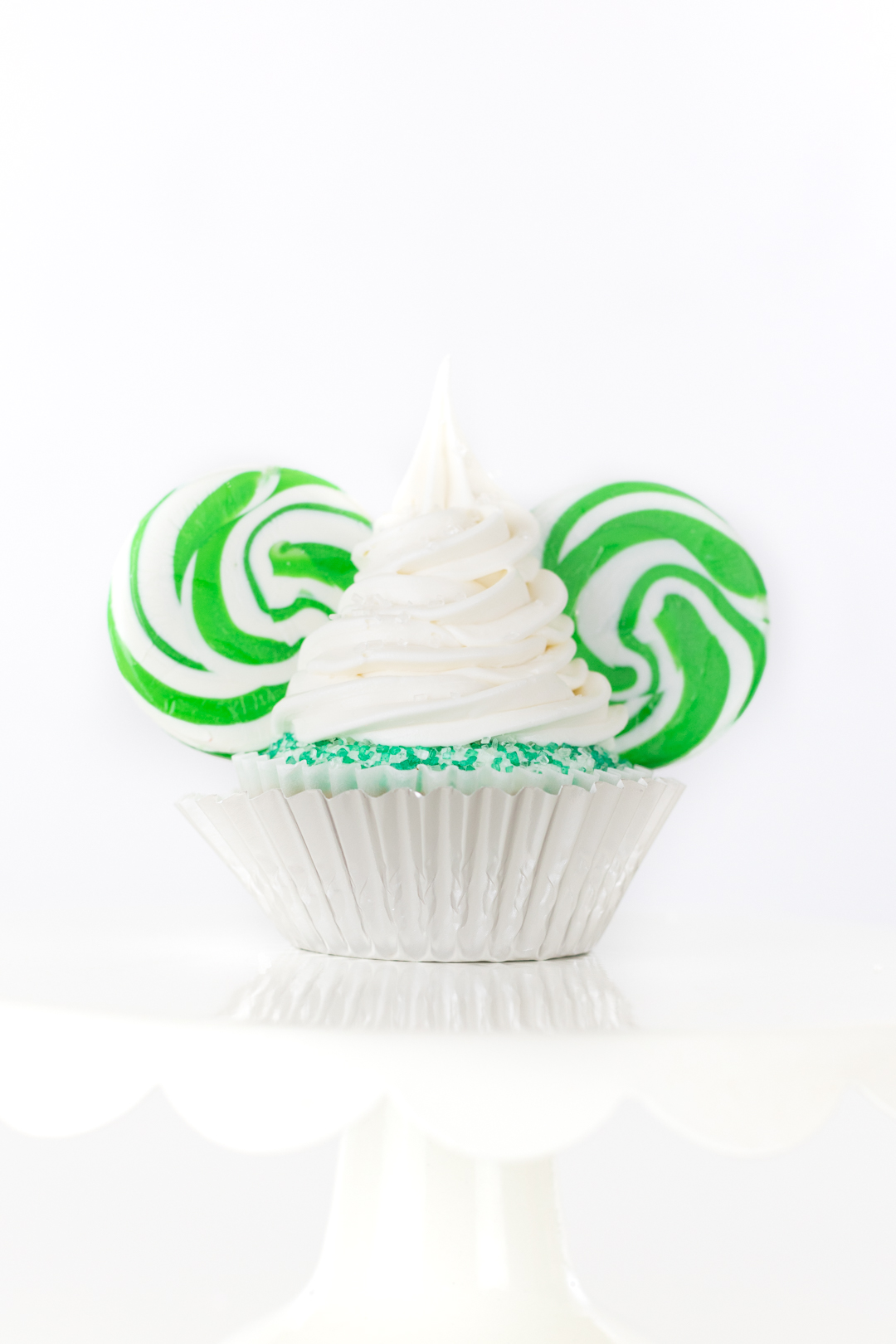 MICKEY SWIRL EARS CHRISTMAS CUPCAKES
Let's make these fun Christmas cupcakes to share our Disney love this holiday season. Here are the simple things you will need to make these.
Prepared Vanilla Cupcakes
Store-Bought Buttercream Frosting & Star Tip w/ Pastry Bag or Wilton Decorator Plus with Star Tip
Palm Tree Cupcake Toppers with Christmas-theme. I got mine on Etsy, here.
Mini Flamingo Figures or Flamingo Cupcake Toppers. The ones I used are here from Amazon.
Matching Sprinkles – I am loving the blend I have with traditional colors + a heavy added dose of pink sprinkles.
Cupcake Liners for Baking and Extras for Decoration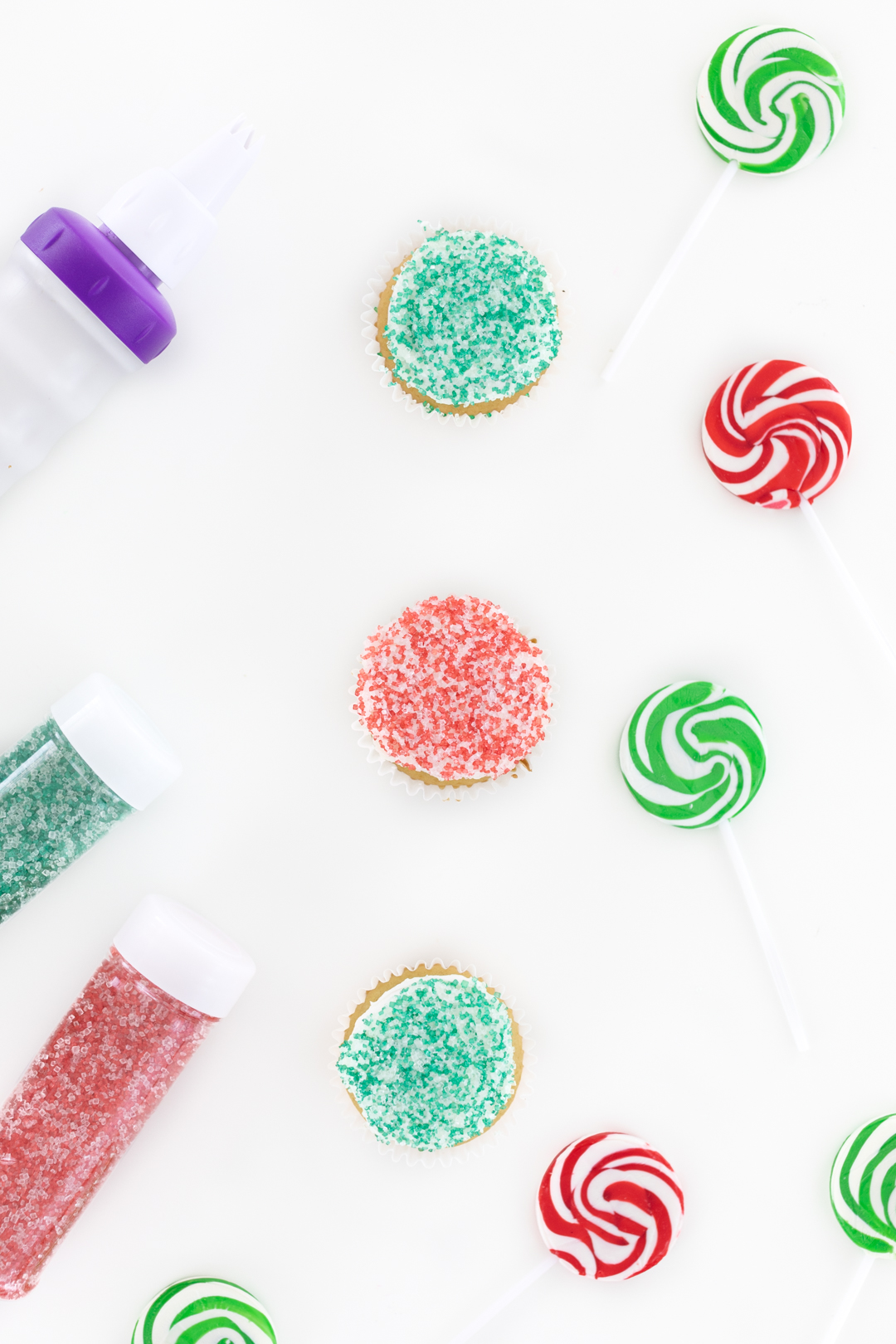 HOW TO FROST CUPCAKES WITH HEAVY TOPPINGS
After experimenting with a frosting Minnie cupcakes that are topped with heavy cookies, I have come to the conclusion that using an open star tip is the best method to support heavier items on top like lollipops and also keep the shape of the icing. The lollipop stick also helps them stay easily in place. It's pretty seamless.
For these, I used my Wilton Dessert Decorator Plus with the star tip and worked my way up in a circular motion with about four layers that get smaller as you work your way up.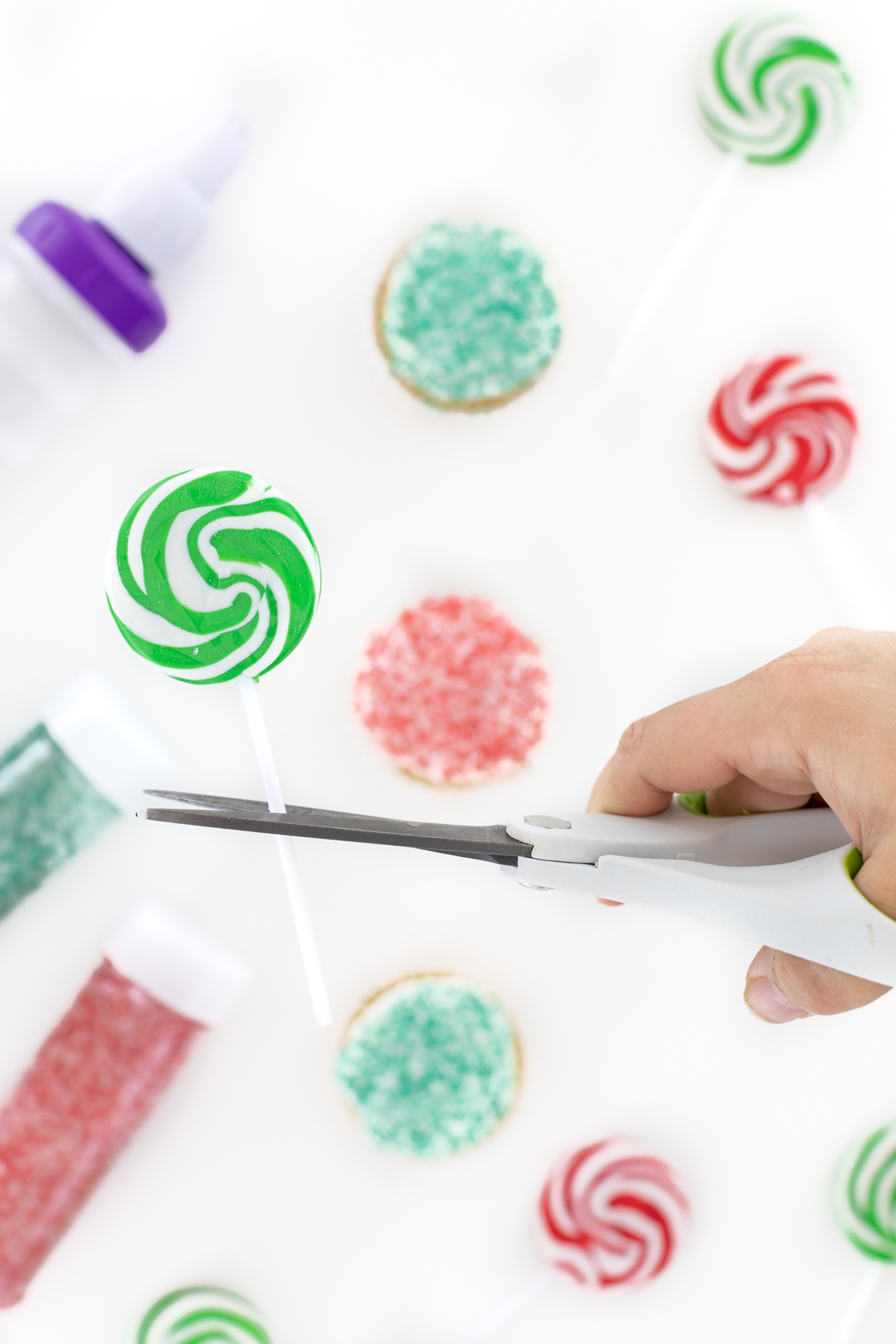 I have tried other methods and they were unsuccessful.
The frosting will separate and look abnormal once you insert your heavier cupcake toppings.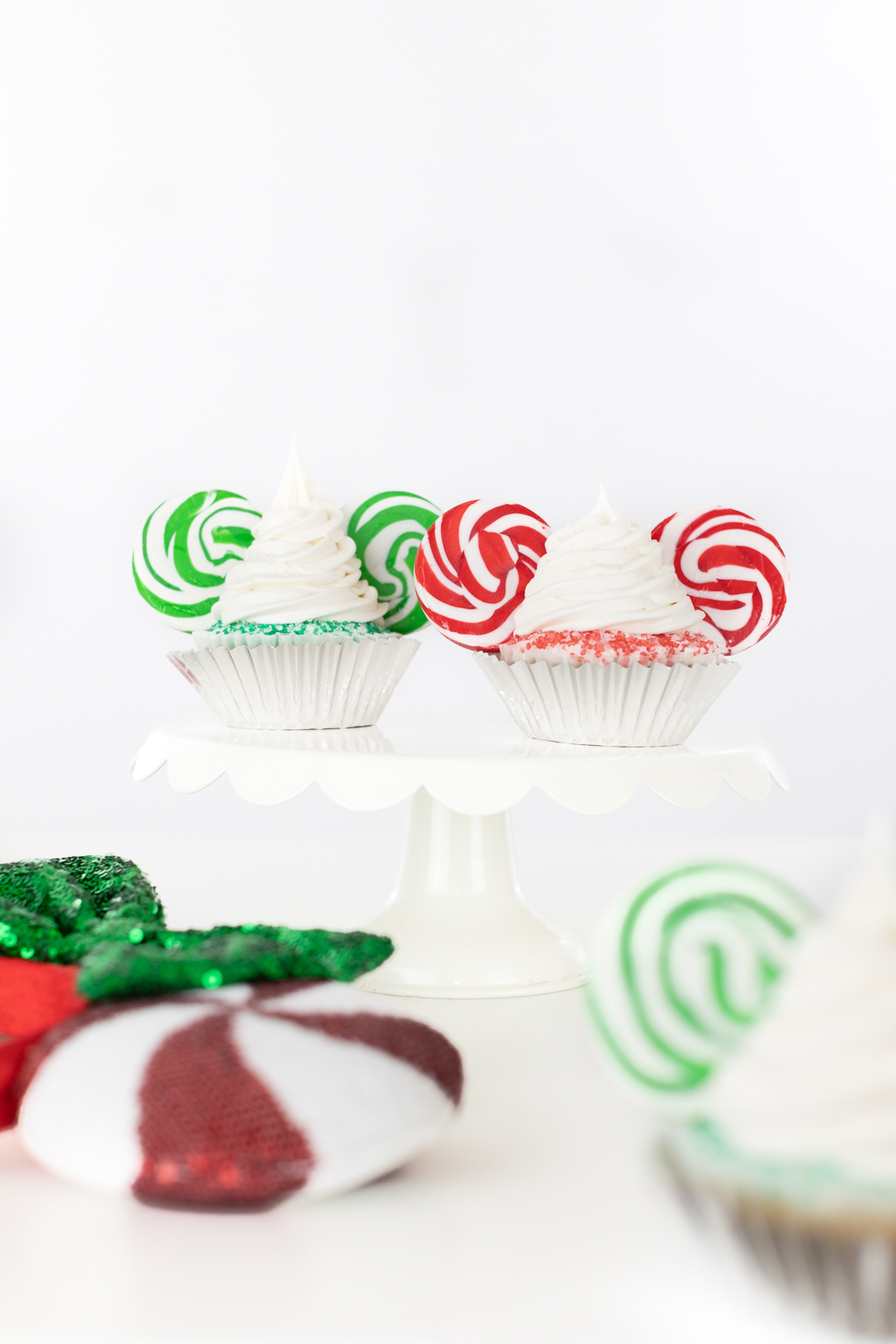 This method leaves the frosting decoration soft enough for you to be able to press the lollipops in, yet the frosting itself is thick enough for it to work and keep things put.
Be sure to print the directions below for the full tutorial on how to put these cute cupcakes together.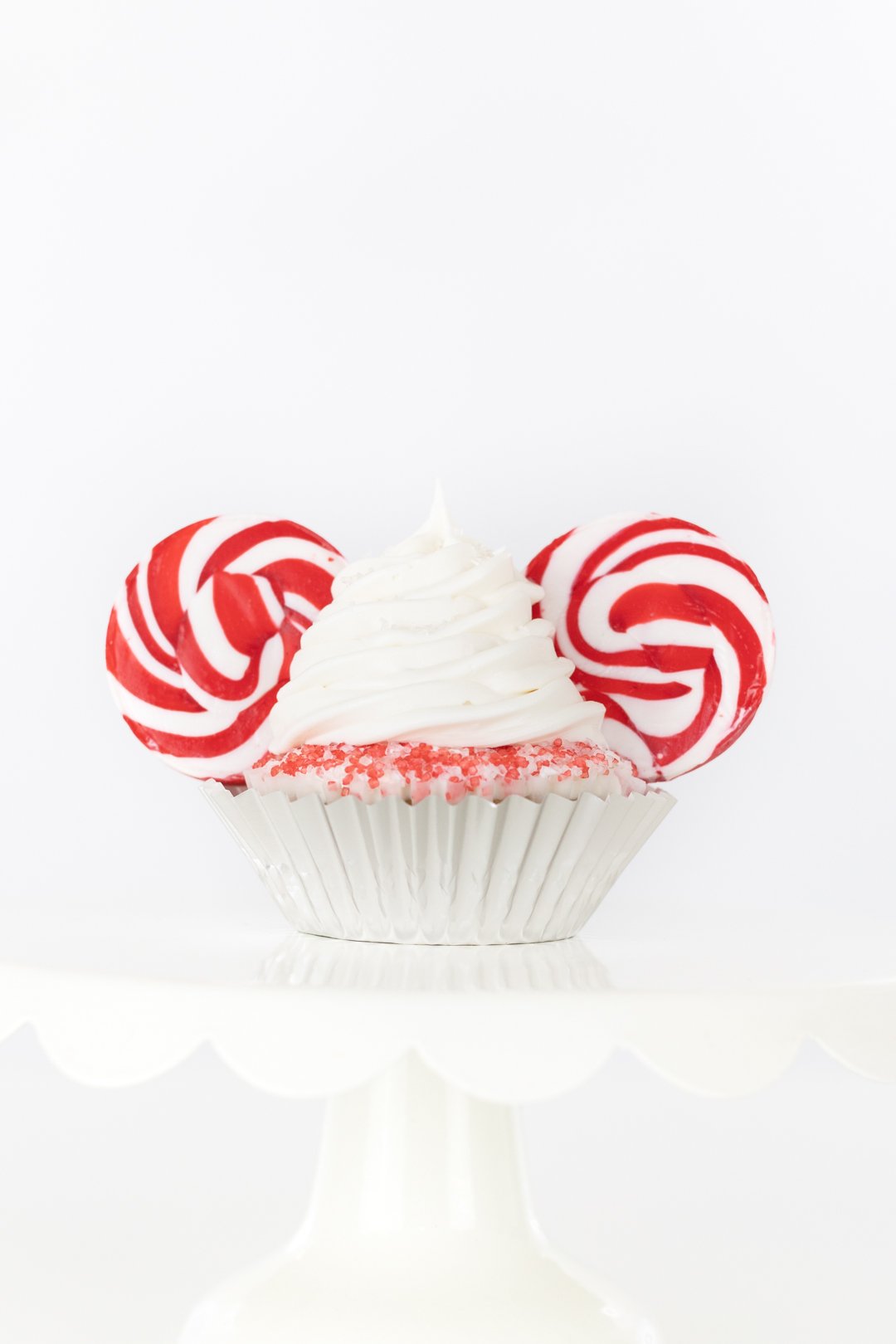 MICKEY MOUSE CHRISTMAS DESSERTS
Entertaining with the mouse at home this year? These fun and EASY Disney-inspired recipes and ideas are perfect for sharing for any kind of celebration.
Candy, candy, candy. This Mickey Mouse Christmas Candy Board is going to be an instant hit. You can use any candy of your choice with this easy method of creating candy boards that I share.
If Christmas Cookies are your thing, the next to ideas are your thing. First up, these easy peasy Mickey Mouse Cookies all decked out for the holidays are so much fun to make... and eat.
These have to be one of my favorites. Enter giant Minnie Mouse Ear Headband Cookies with the cutest bow on top. Another simple recipe idea for the books.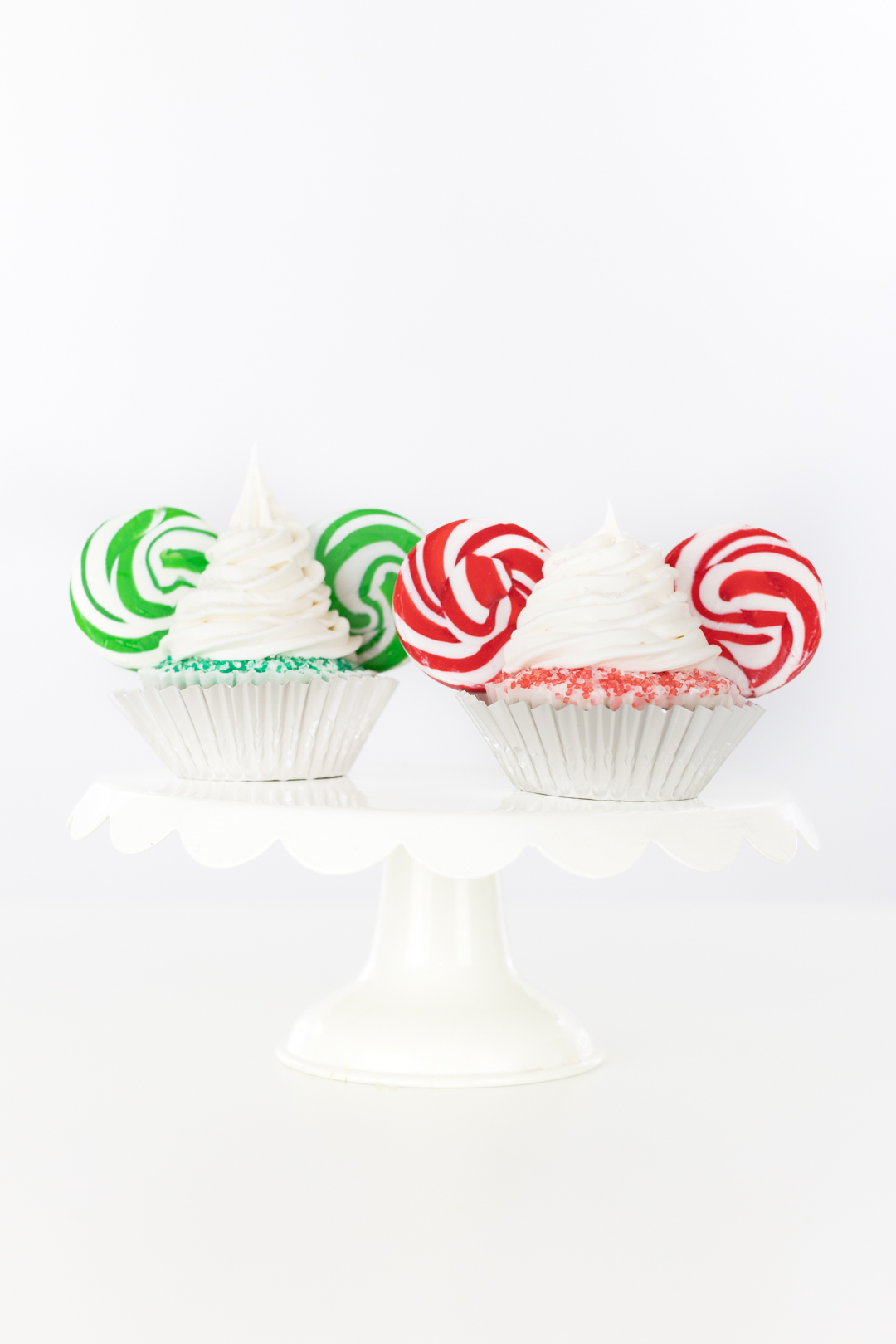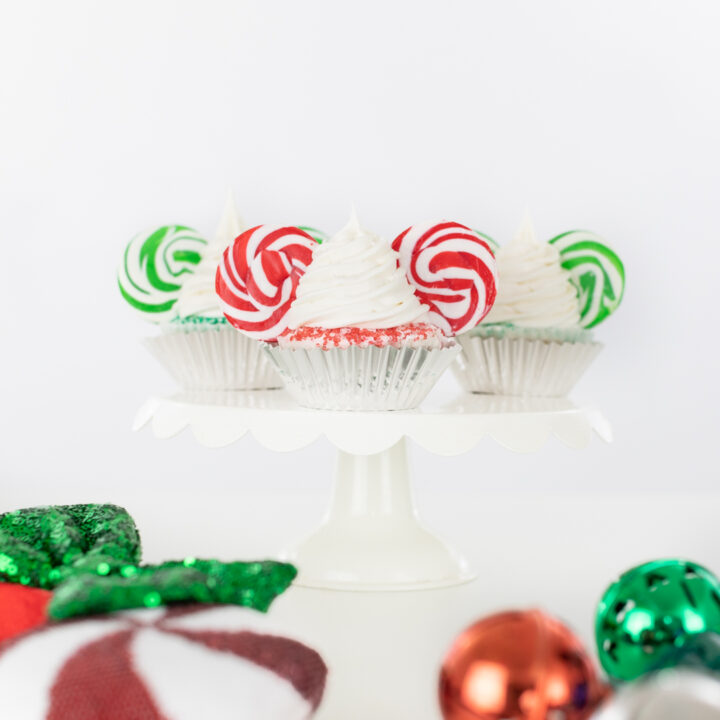 Mickey Mouse Christmas Cupcakes
Christmas Mickey Mouse Swirl Ear Cupcakes. Adorable Disney Holiday Dessert made with white or yellow cake and topped with buttercream and lollipops for ears.
Ingredients
6 Prepared Vanilla Cupcakes
2 Cups Store-Bought Buttercream Frosting
Red and White Sugar Sprinkles
Green and White Sugar Sprinkles
6 Red and White Swirl Lollipops
6 Green and White Swirl Lollipops
Cupcake Liners
Optional: White Sprinkles
Instructions
Start by spreading a layer of frosting over the top of each cupcake.
Then, pour each colored sprinkle blend into to separate shallow dishes and then press the cupcakes into the sprinkles. Half into green sprinkles and half into the red.
Use a star tip to pipe on frosting in a circular motion with about four layers that get smaller as you work your way up and lifting quickly at the top to leave a cute little point on top.
Trim your lollipop sticks off leaving a little over an inch. Press two lollipops carefully into frosting and being sure to press into the cupcake completely so they are sturdy.
Voila, that is it for this easy recipe.
Recommended Products
As an Amazon Associate and member of other affiliate programs, I earn from qualifying purchases.