Christmas in July has always been such a fun concept to me. To be honest, I hadn't really heard about it until I started blogging and getting my Pinterest groove on. Now, I'm mildly obsessed with the idea. Since there aren't many holidays in the middle of summer, it's a great excuse to have a little FUN. Since I LOVE all of the holiday happenings at WDW, I thought it would be so cool to celebrate with Mickey Christmas Cookies this year.
This recipe idea is SO simple and easy that anyone can get their Disney DIY on for the holidays! Glad you are here to join in for a little Christmas in July Cookie Celebration along with some fellow food bloggers who are sharing their inspired ideas, too. Keep reading to get in on all the sweet holiday goodness!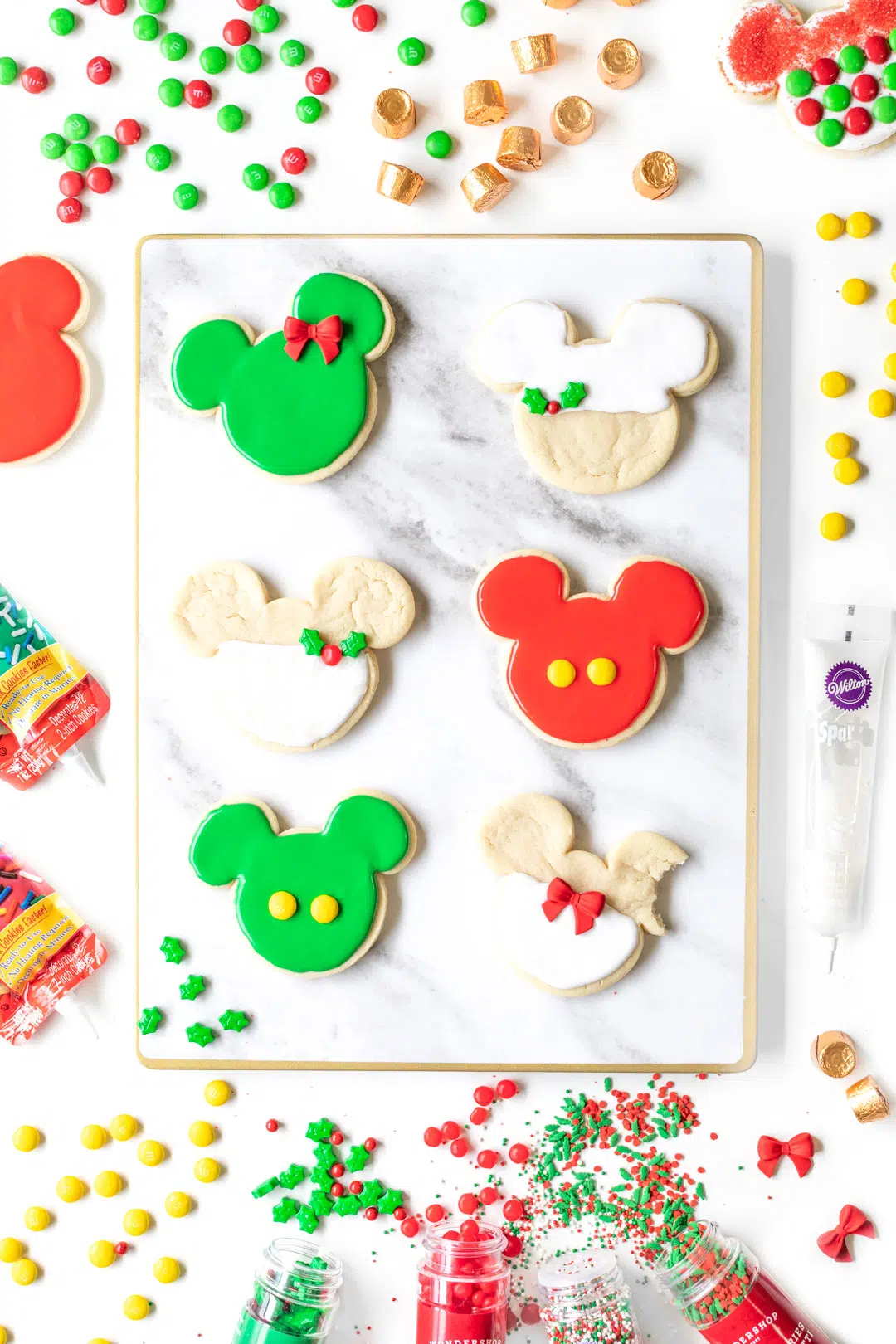 Dashing through the snow.. err steaming humidity! Let's get into a cooler state of mind with these fun Mickey and Minnie Mouse Christmas cookies made in the easiest way possible. Bring out all of the Christmas sprinkles and your favorite festive candies and have a jolly old time. Over the long few months ahead, I'll be merrily daydreaming about going to this year's Mickey's Very Merry Christmas Party. Between the parade and the snow on Main Street, there's a lot to be thinking about. Until then, it's time to create my own celebration right at home. Will you join me?
MICKEY MOUSE CHRISTMAS SUGAR COOKIES
The simplicity of this recipe idea is where it's at. You don't need to be a master baker to get these cookies made. But, if you are totally into from-scratch cookies, you can always whip up a batch of your fav sugar cookie dough and follow the rest of the steps, too. Let me walk you through this easy peasy cookie process.
Here are the basics that you need to make these:
Mickey Mouse Christmas Cookie Cutter
Ready to use Sugar Cookie Dough + All Purpose Flour
Cookie Icing
Christmas Sprinkles
Favorite Candies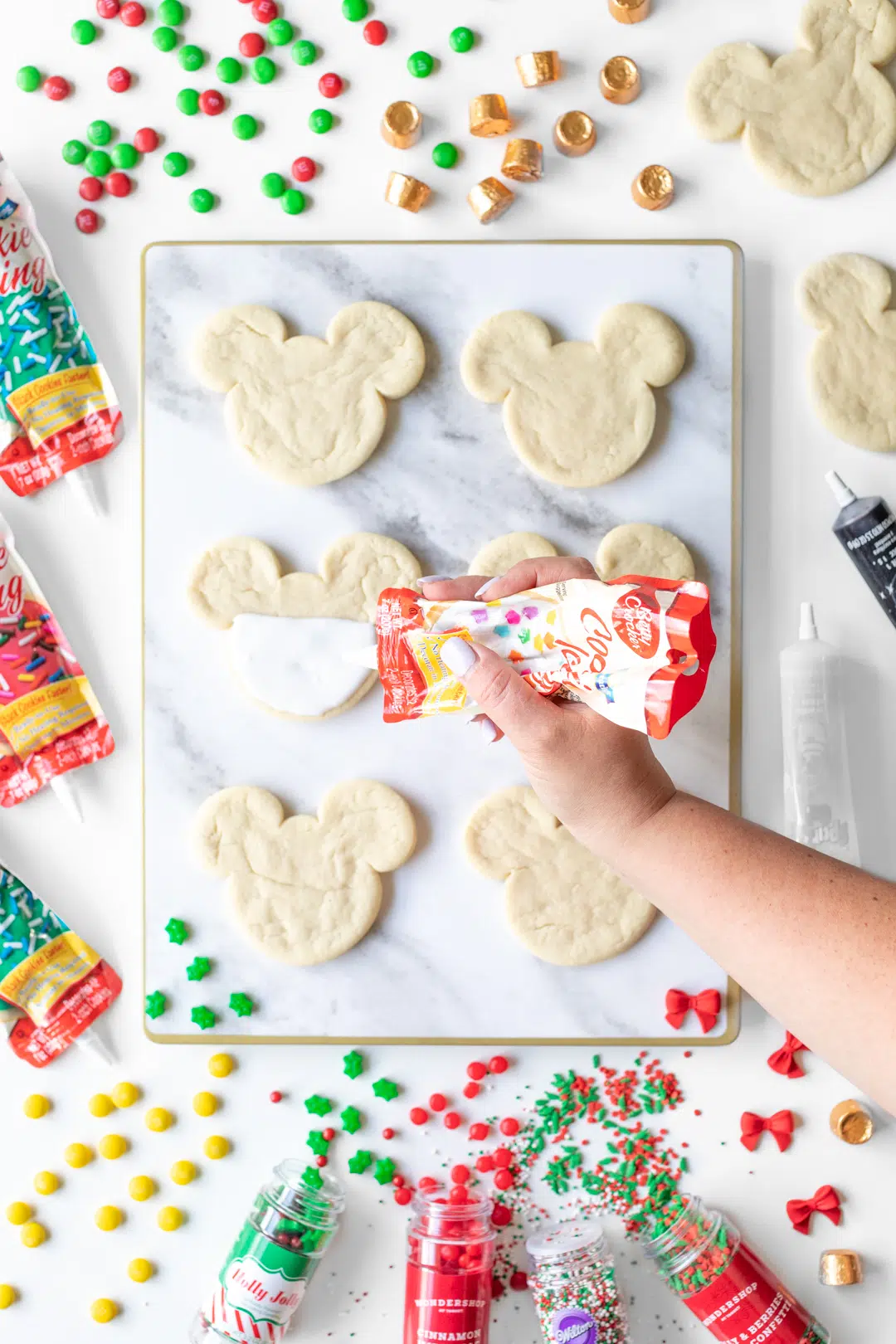 Are you ready to make Mickey Mouse cookies without Oreos for a change? While those are super adorable, it's good to have a variety of options to make Disney themed Christmas cookies. It's fun to break it up every now and then. Don't you think?
PREPARE STORE BOUGHT COOKIE DOUGH
I had never thought of this before making my own custom shaped cookies at home, but there is a simple process to prepare a roll of store-bought refrigerated cookie dough. Typically the dough is sold in a roll or in pre-sliced cookie circles or shapes. But, to be able to use the dough to make your own cookie cutter shapes, you will need to add some All Purpose Flour to blend into it. The most popular sugar cookie roll calls for ¼ cup all-purpose flour to be kneaded into the dough, but make sure to check the packaging you purchase for correct suggestions. Then, you will need additional flour for your surface and rolling pin.
Another thing to know is the baking time will be substantially reduced once you add flour and knead the dough. Once you have rolled the dough and made your desired shapes with cookie cutters, there's one thing that I highly urge you to do. Add the cookie sheet with cut cookies on it to your freezer for up to 10 minutes before baking. I have found that this helps to keep their shape without fluffing up or blowing out too much.
If your baking sheet won't fit in the freezer, try adding on a few minutes and store them in your fridge instead.
Once you bake and completely cool, it's time to get your cookie decorating party on.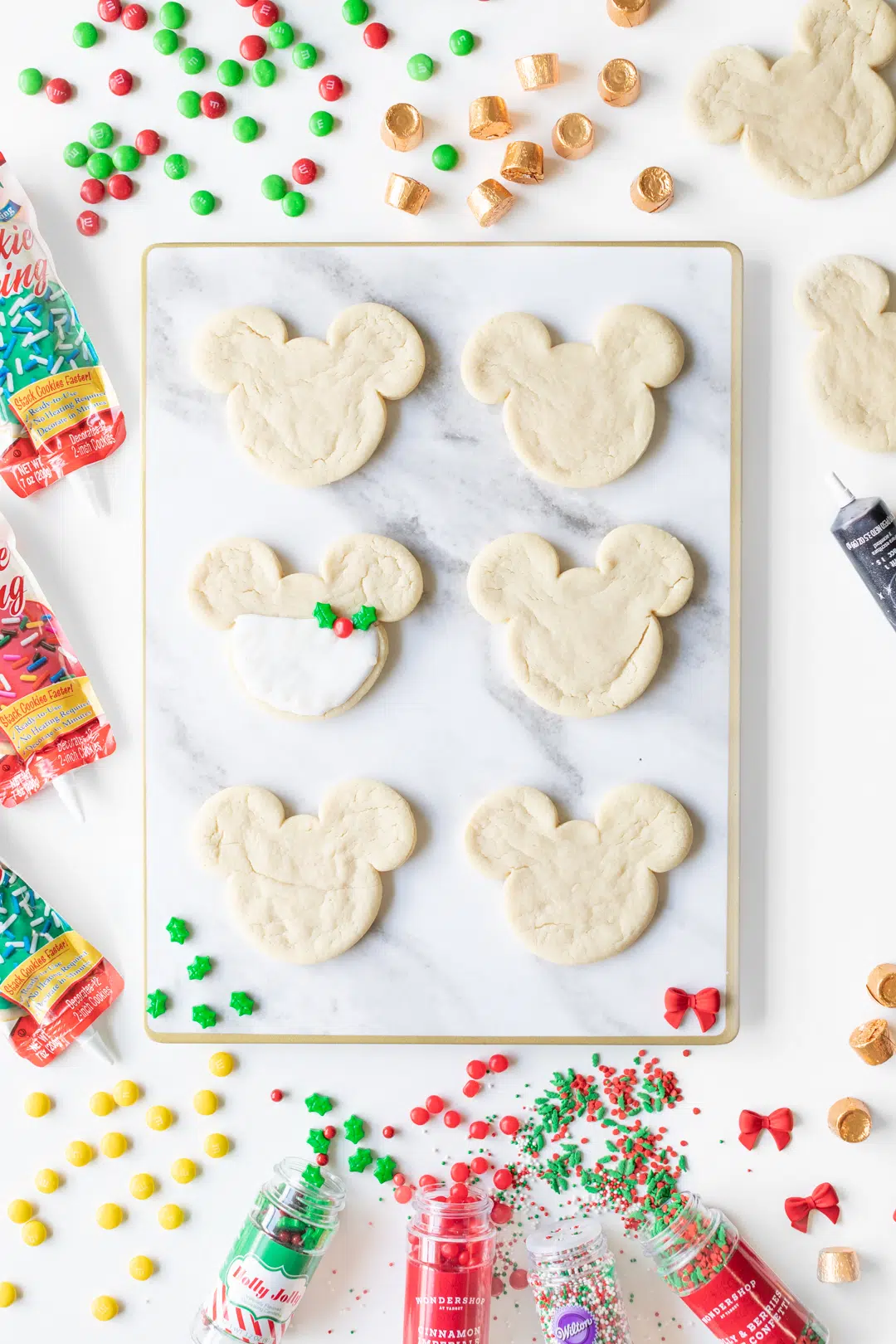 CHRISTMAS COOKIE DECORATING IDEAS
For the ultimate in holiday cookie decorating, I dug into my stash of candies and sprinkles.
Here are the fun goodies I used to make these extra special after deciding to use white, red and green cookie icing. You can go all out or keep it quite simple.
Holly Shaped Sprinkles
Cinnamon Imperials
Icing Decoration Bows
Candy Coated Chocolates
Idea #1: White icing on top or bottom half of cookies with added Holly Sprinkles & a Cinnamon Imperial in the center. I love how pretty these came out.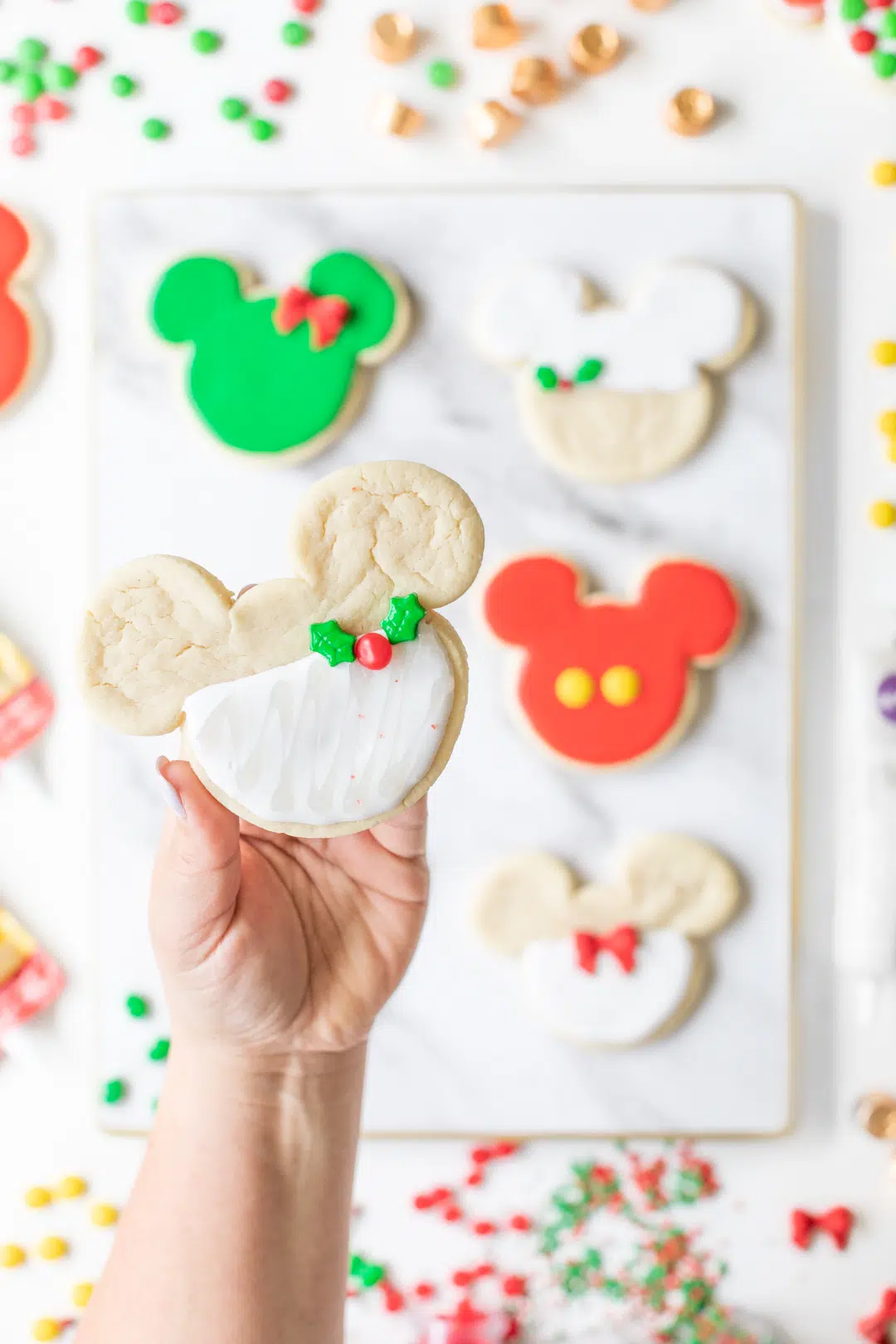 Idea #2: Ice cookies in both red and/or green and add two yellow candies to represent Mickey's pant buttons.
Idea #3: Ice cookies or half of the cookie in both white or green and add a ready-made icing bow.
MORE DISNEY THEMED TREATS TO MAKE:
Mickey Mouse Ice Cream Sundaes are SO much fun and can be customized for any festivity.
These Purple Potion Minnie Cookies are super simple to make using store-bought cookies & purple sprinkles.
Mickey Pumpkin Cupcakes are inspired by a trip I made to WDW one fall.
This adorable take on a Jack Skellington cookie is to die for.
Cute R2D2 cookies are another galactic choice for your Star Wars parties.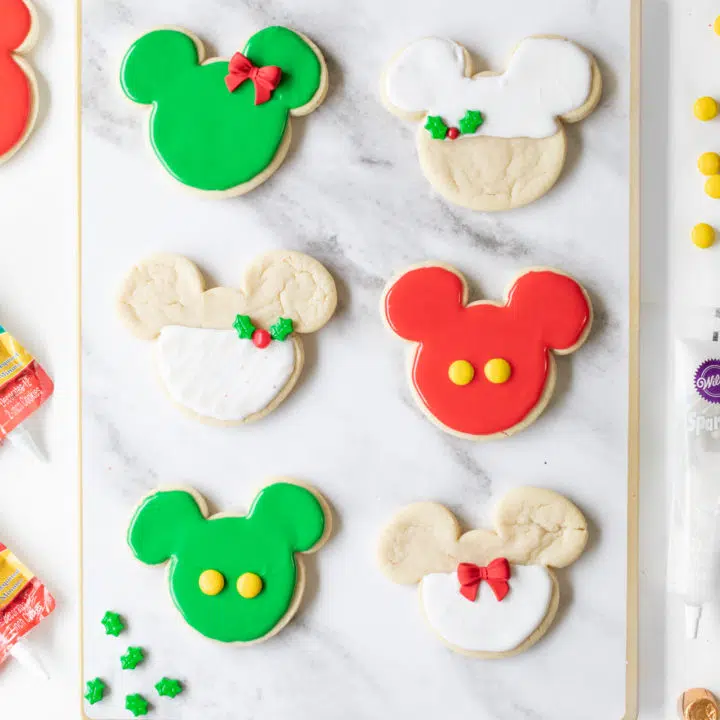 Mickey Christmas Cookies
Additional Time:
30 minutes
Christmas themed Mickey and Minnie Sugar Cookies with sweet and simple holiday decorations.
Ingredients
Pillsbury Sugar Cookie Dough (16.5 oz)
½ Cup All Purpose Flour
Cookie Icing (Red, Green, White)
6-8 Yellow Chocolate Coated Candies
Holly Sprinkles
Cinnamon Imperials
Bow Icing Decorations
Tools: Mickey Shaped Cookie Cutter
Instructions
Preheat oven to 325°F
Knead cookie dough with all the purpose flour on a floured surface.
Roll the dough out until the dough is about ¼" thick
Use Mickey Shaped Cookie Cutter to make 8-10 cookies
Place cookies on a non-stick baking sheet
Add baking sheet to the freezer for 10 minutes or refrigerator for 15 minutes to preserve shape.
Bake for 8-11 minutes.
Cool completely before decorating.
Use cookie icing, holly sprinkles, cinnamon imperials, bow icing decorations to decorate the cookies. Let set before serving.
Notes
Idea #1: White icing on top or bottom half of cookies with added Holly Sprinkles & a Cinnamon Imperial in the center.
Idea #2: Ice cookies in both red and/or green and add two yellow candies to represent Mickey's pant buttons.
Idea #3: Ice cookies or half of the cookie in both white or green and add an icing bow.
Recommended Products
As an Amazon Associate and member of other affiliate programs, I earn from qualifying purchases.
Nutrition Information
Yield

10
Serving Size

1
Amount Per Serving
Calories

131
Total Fat

5g
Saturated Fat

2g
Trans Fat

0g
Unsaturated Fat

3g
Cholesterol

2mg
Sodium

47mg
Carbohydrates

20g
Fiber

1g
Sugar

11g
Protein

2g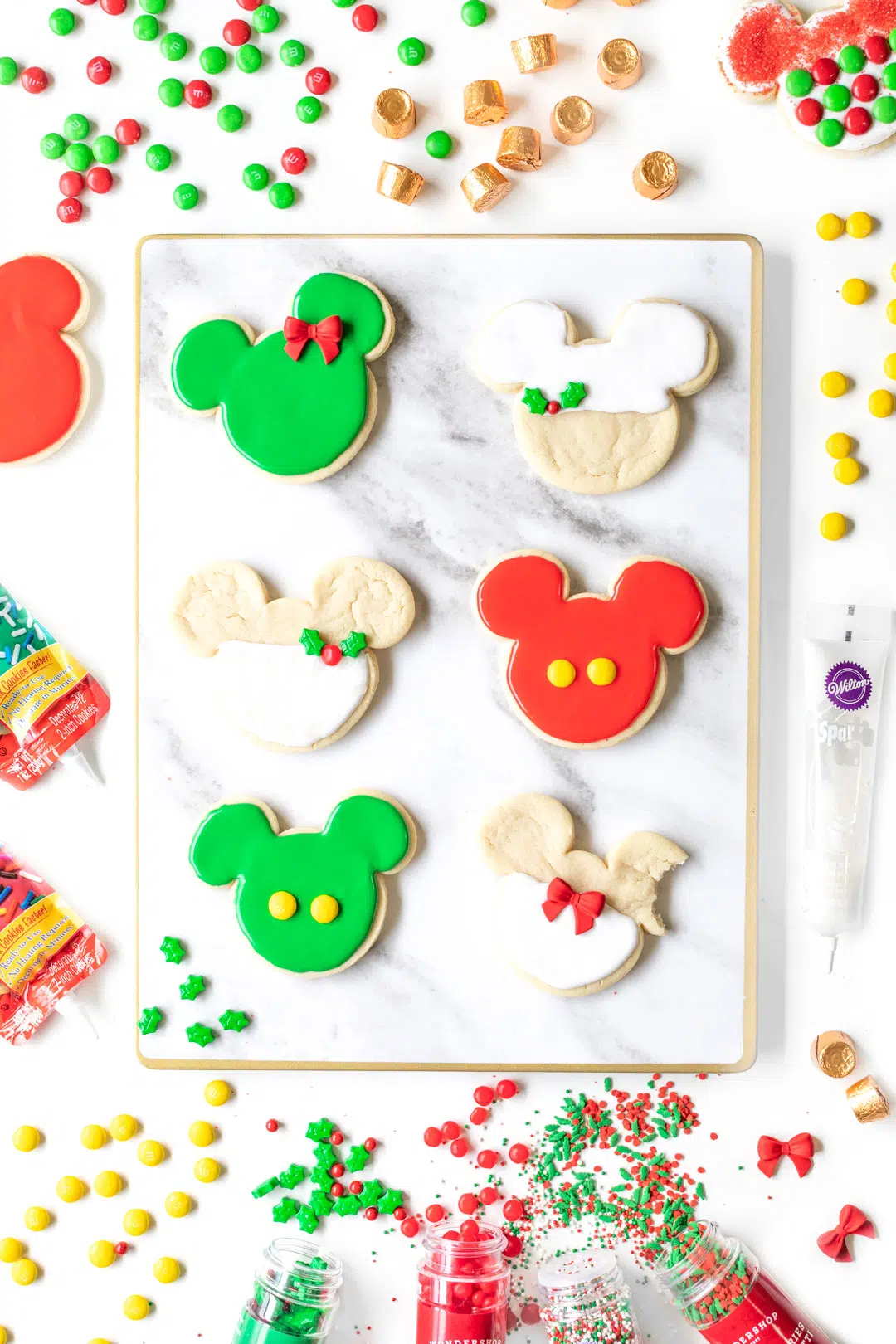 Christmas in July Cookie Celebration
Now, as promised... more COOKIE recipe ideas to celebrate Christmas in July from a few of my talented foodie friends:
Chocolate Marshmallow Peppermint Cookies from Walking on Sunshine Recipes
Snowball Cookies from Flour on My Face
Lemon Iced Star Shortbread Cookies from Sizzling Eats
Reindeer Cookies from Mom Skoop
Grinch Christmas Cookies from Aileen Cooks
Italian Ricotta Cookies from Ever After in the Woods
Elegant Christmas Tree Cookies from She Saved
Tell me which of these cookies you plan on trying!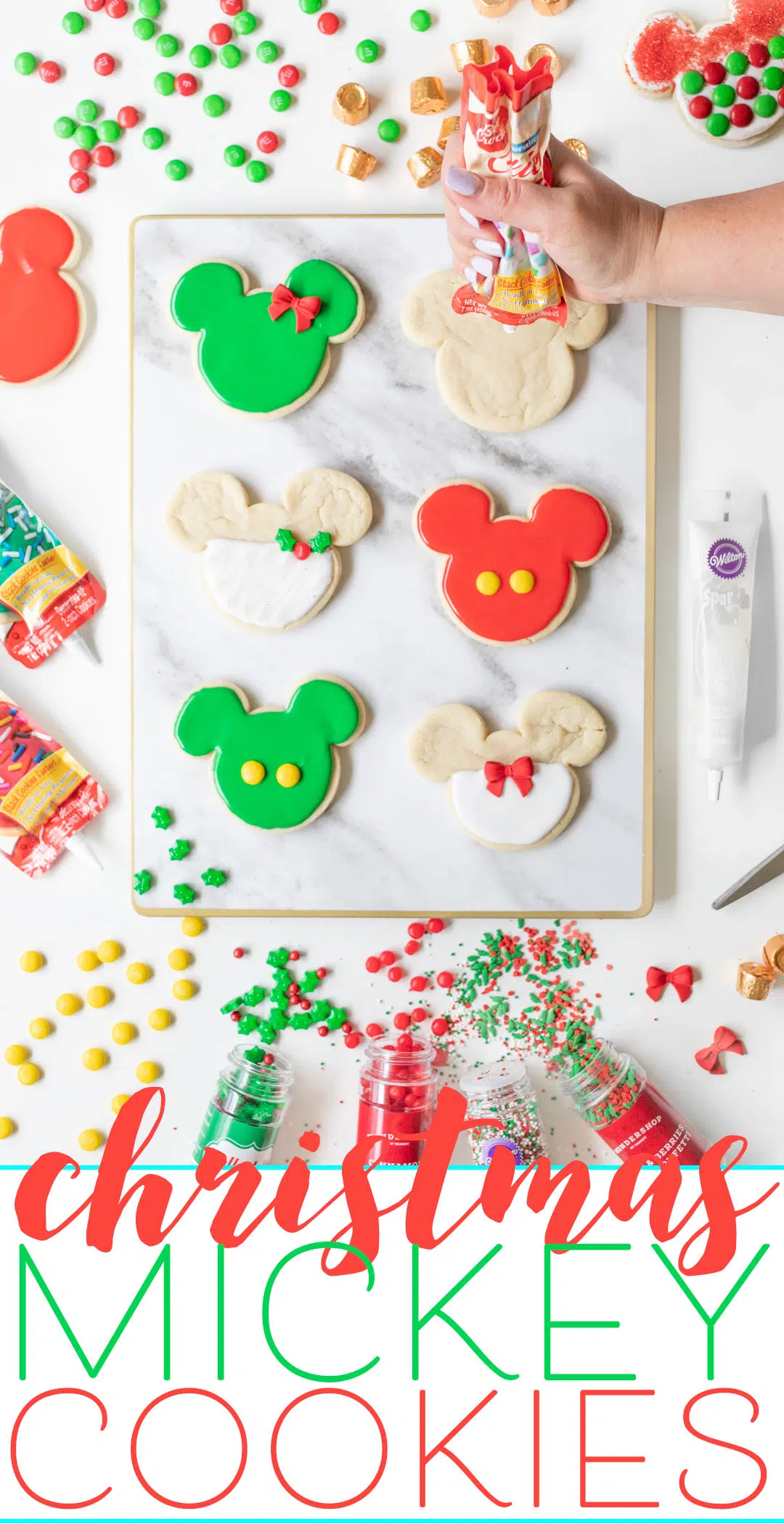 Voila! You now have the most adorably easy Mickey Mouse holiday cookies!