Fresh raspberries take boxed cake mix to an new level along with a fat layer of the most delicious whipped lemon frosting. This easy Raspberry Lemon Cake recipe will be an instant hit with none of the fuss that baking from scratch brings. The sweetness of the fluffy frosting compliments a good dose of tart raspberries for the ultimate pop of flavor in your mouth.
I love a good dessert made from scratch, but this easy dessert proves that recipe shortcuts can be amazing, too.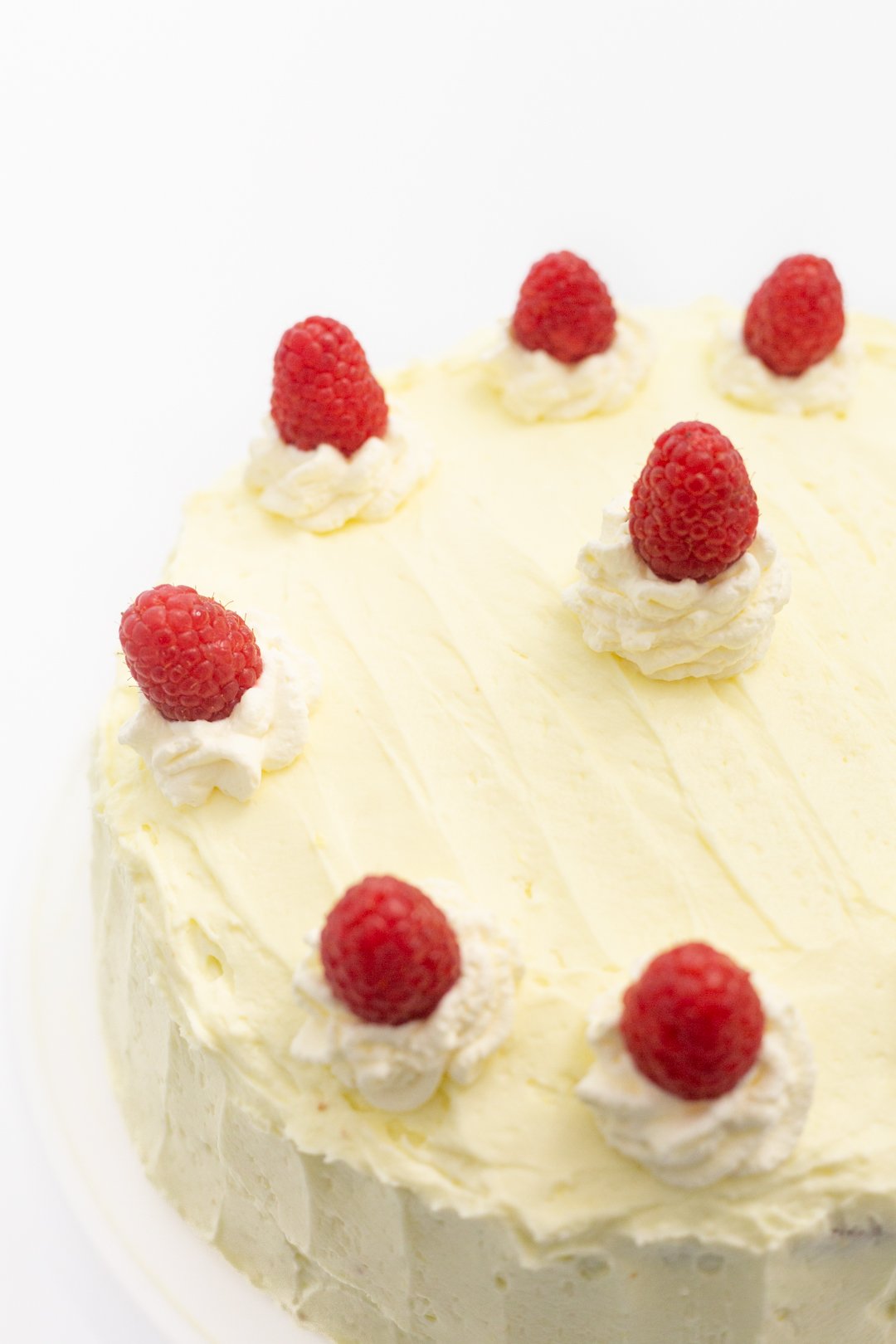 This simple idea was inspired by my super popular Blueberry Lemon Cake and I think you will like this variation for something new. The frosting is a tad sweeter to offset and complement the raspberries. I also think this cake would be really lovely with a blend of blueberries and raspberries.
HOW TO MAKE RASPBERRY LEMON CAKE
This delish creation starts with a raspberry vanilla cake recipe that's a yellow cake base elevated with vanilla pudding mix for a little extra thickness and sweetness to amp up the raspberries. This exquisite cake might be from a boxed cake mix, but I promise you will be quite delighted at the outcome.
There are many popular and downright outstanding lemon raspberry cake ideas on the web, but they all have so many ingredients that it makes my head spin. This recipe is for all of you cake lovers who want to hack your way to delicious flavor.
You are my people!
Now let's get to making this yummy goodness!
Here are the basic ingredients that you will need to make the basic raspberry yellow vanilla cake that will serve as our base.
Yellow Cake Mix (Prepared)
Vanilla Pudding Mix
Fresh Raspberries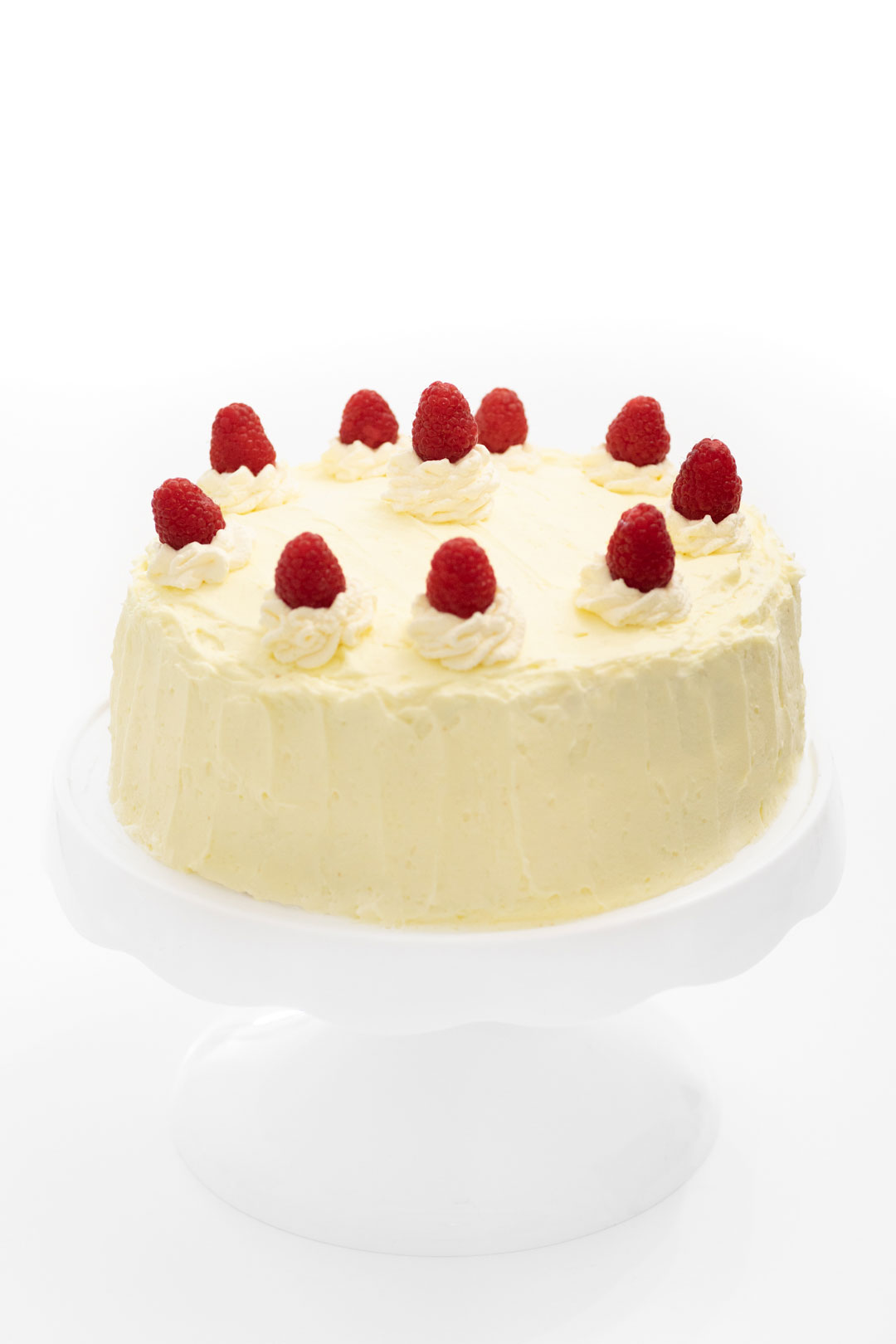 HOW TO ADD RASPBERRY FLAVOR TO A CAKE
My answer for this is simple. You can add fresh raspberries like I did. They work well with a boxed cake mix and the addition of pudding. They don't sink like you might think. They hold up fairly well. Your experience may be different with scratch made cakes. If you don't love the tartness of the raspberries, you can make sure that your cake batter and or frosting is a little sweeter (like I did). If you want an extra strong and more balanced flavor, you may consider a little raspberry extract which you can find on Amazon and possibly in some grocery stores.
HOW TO MAKE WHIPPED CREAM FROSTING FOR CAKE
Have you ever made homemade whipped cream? Well the recipe is pretty much exactly the same, but you may want to leave out the vanilla and add a little extra sweetness like we will do in this cake. You add heavy whipping cream and some sugar and whip until the mixture forms stiff peaks. Then, frost your cake and be sure to keep it refrigerated for maximum freshness. There are actually many ways to embellish a simple whipped cream frosting like with cream cheese or pudding, but today we're using pie filling to make it epic.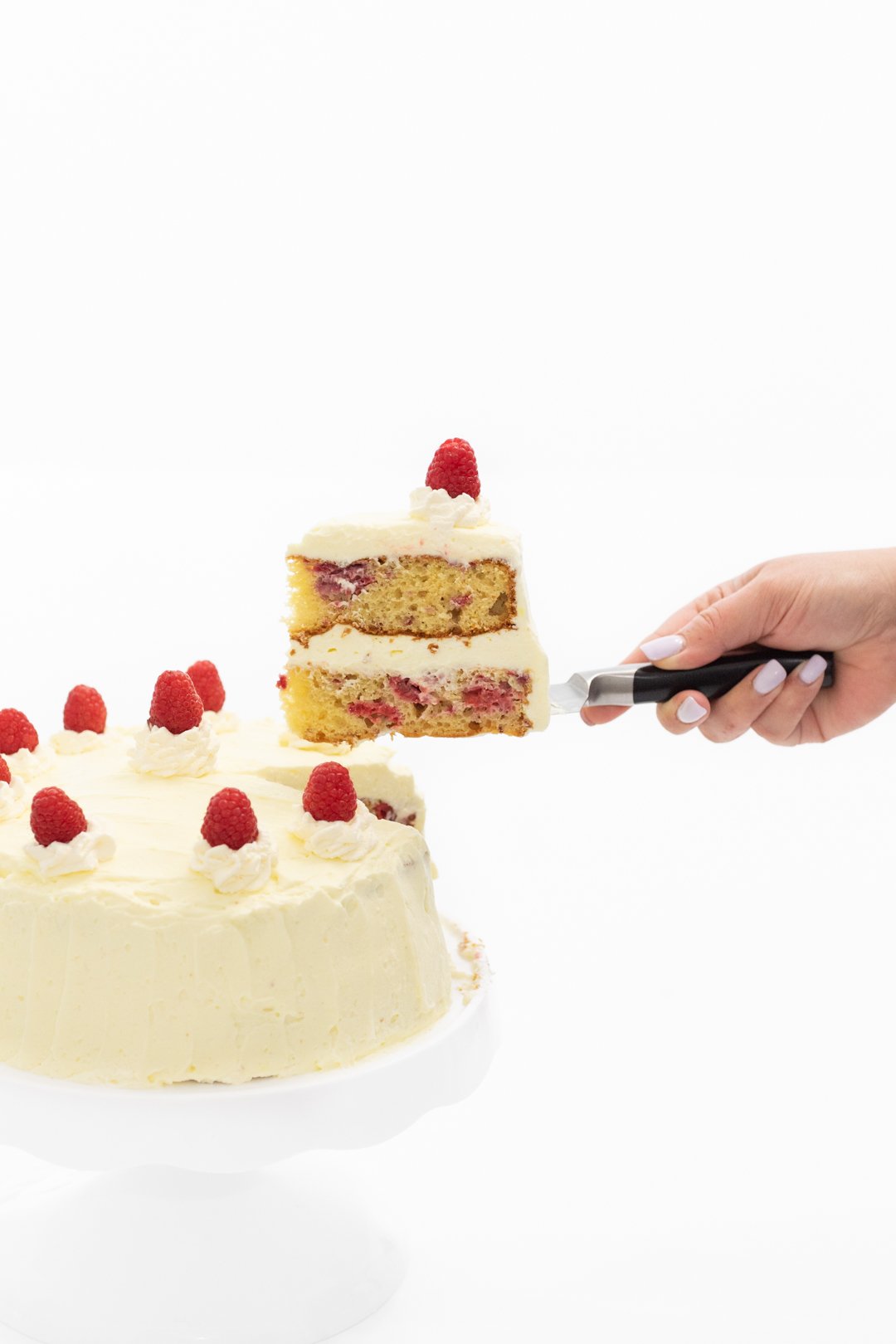 WHIPPED LEMON FROSTING AND FILLING
This recipe isn't exactly a raspberry lemonade cake, but this beautiful whipped lemon frosting brings the perfect flavor. I absolutely love how easy it is to put together. The lemon flavor shines through so perfectly and it's not overwhelming at all. Not too sweet and not too intense. Here is what you will need to whip this up in no time.
Whipping Cream
Powdered Sugar
Lemon pie filling
Note that this recipe calls for pie filling that you can easily buy in any store, not to be confused with the similar lemon curd which isn't as readily available for purchase.
The finished cake pairs up so perfectly with this fun and fluffy topping. I can't wait for you to try it, too.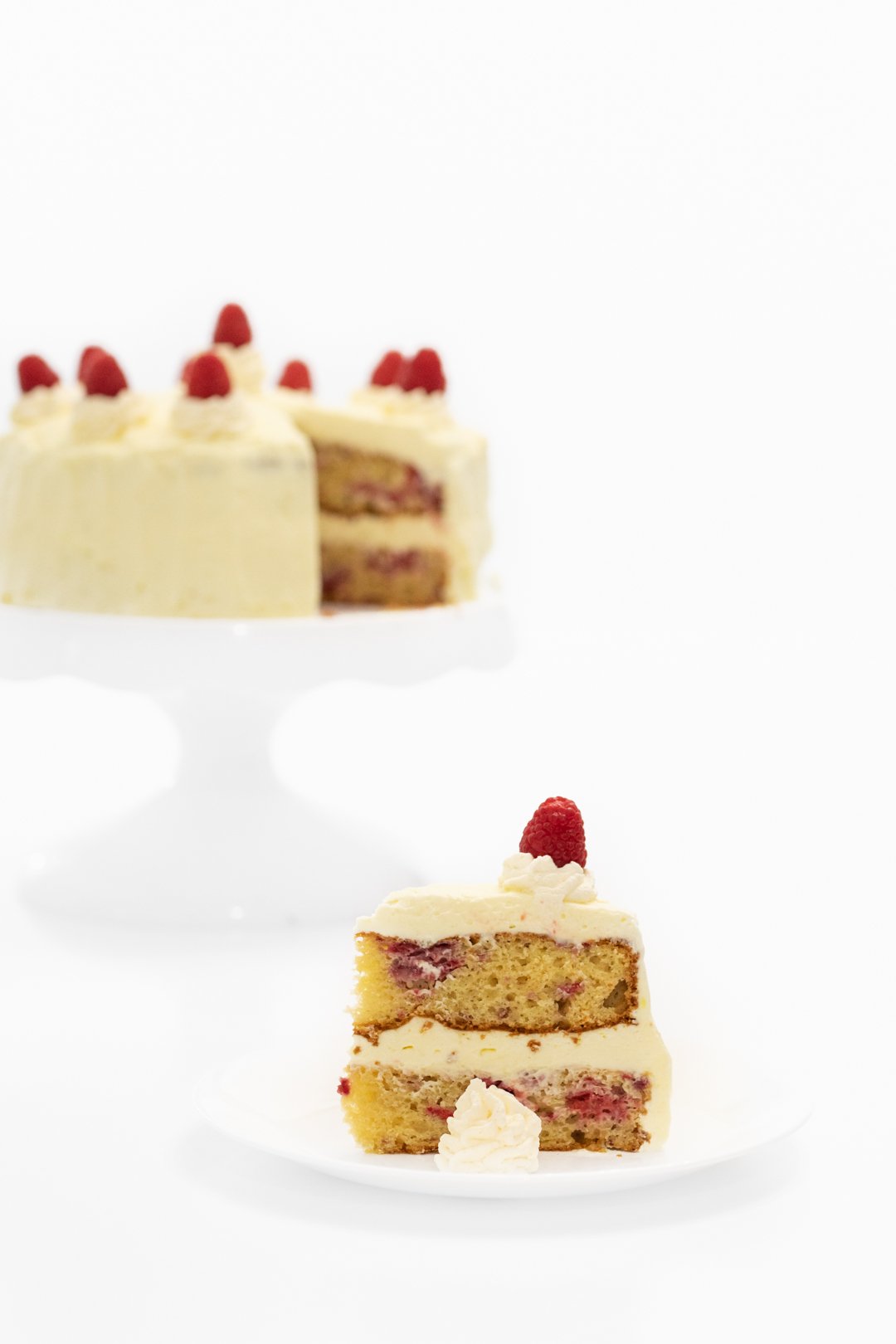 This idea proves that you don't have to be a master baker to create something a fancy.
MORE EASY CAKES RECIPES
If you love this delish idea, here are even more easy cakes to make.
Blueberry Lemon Cake with Cake Mix
Pineapple Lush with Store Bought Angel Food Cake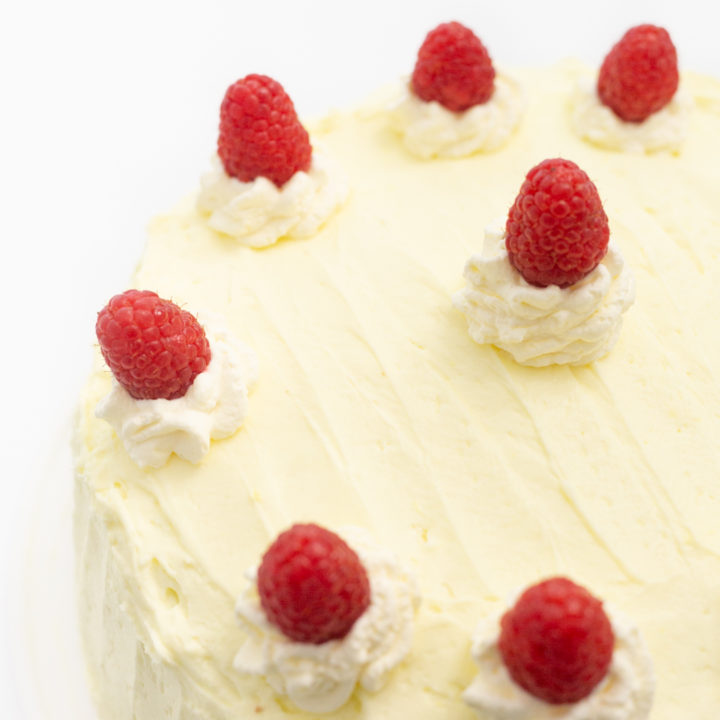 Raspberry Cake with Whipped Lemon Frosting
Easiest raspberry lemon cake with boxed cake mix, fresh raspberries and perfect whipped lemon frosting.
Ingredients
Yellow Cake Mix (Mixed according to directions)
1 Box Vanilla Pudding Mix (3.4 oz)
2 Cups of Fresh Raspberries, reserved
1 Pint Whipping Cream
½ Cup Powdered Sugar
1 Can Lemon Pie Filling (15.75 oz)
Instructions
Preheat oven according to cake mix instructions. Thoroughly grease two cake pans. Prepare cake mix according to package instructions then add in dry pudding mix. Mix until fully blended. Fold in the raspberries (reserving some for garnish if desired). Pour batter evenly between two cake pans. Bake according to package instructions.
While cake is baking, prepare your Lemon Whipped Cream Frosting. Use a high powered mixer and add whipping cream and powdered sugar together and beat on high until it firms up and forms stiff peaks. This will take about 3 minutes. Fold in can of lemon pie filling and gently stir until blended. Store in the refrigerator until ready to use.
Once cakes are done(when a toothpick can be inserted and removed cleanly), allow to cool a bit before removing from pans. Then, make sure to very carefully remove the cakes as the raspberries will be very hot and moist. Allow to cool completely before adding frosting.
Once cakes are ready to be frosted, add a layer to the center of the cakes and then frost the top and sides. Top with whipped cream and reserved raspberries if desired.
Keep this cake refrigerated. It tastes best when served nice and cool.
Recommended Products
As an Amazon Associate and member of other affiliate programs, I earn from qualifying purchases.
Nutrition Information:
Yield:

10
Serving Size:

1
Amount Per Serving:
Calories:

444
Total Fat:

20g
Saturated Fat:

12g
Trans Fat:

1g
Unsaturated Fat:

6g
Cholesterol:

55mg
Sodium:

542mg
Carbohydrates:

65g
Fiber:

3g
Sugar:

41g
Protein:

4g
MORE LEMON DESSERTS & IDEAS
Pineapple Lemon Dessert with 3 Ingredients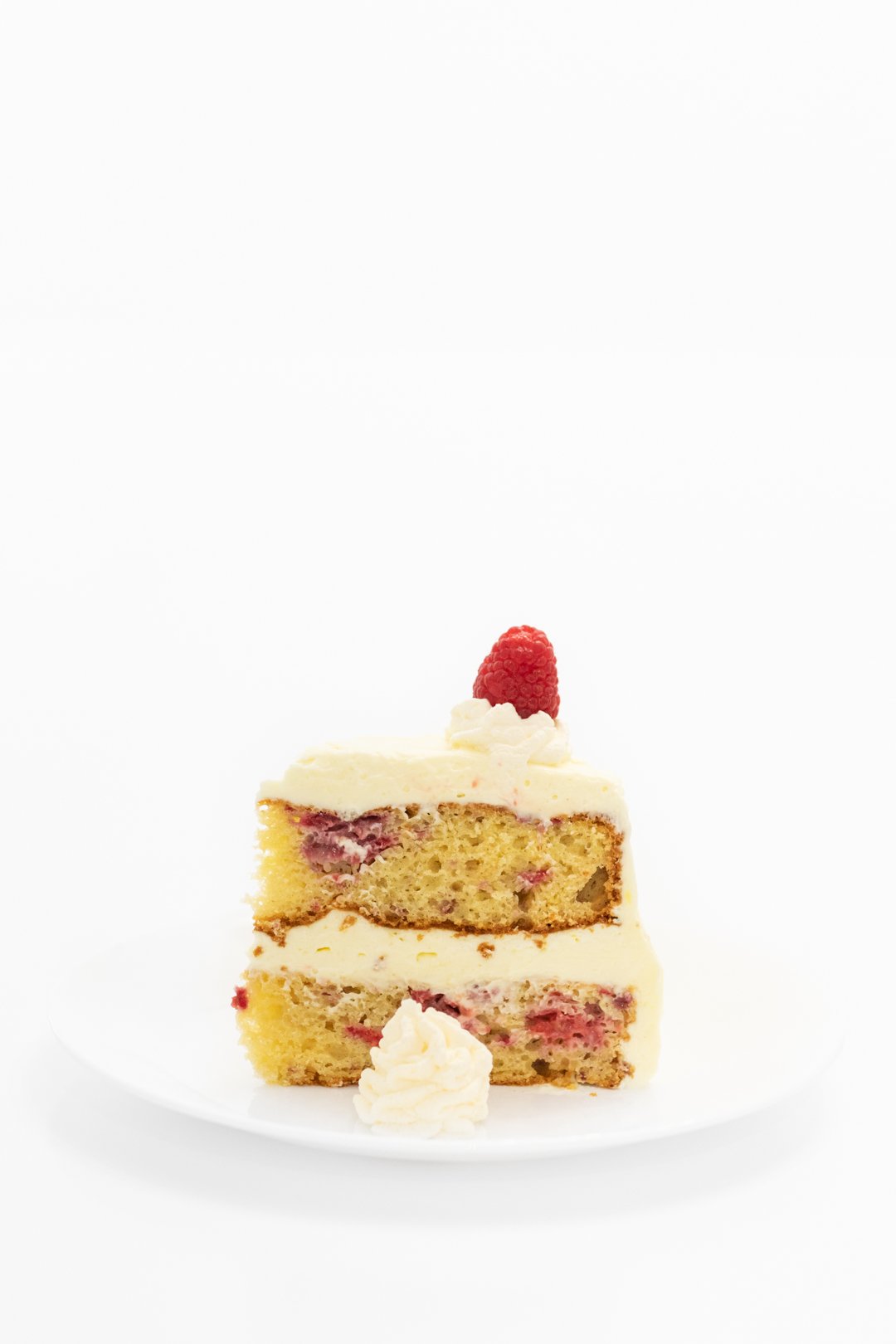 Have you made any other yummy raspberry desserts? Share!