Cake recipe that takes minutes to assemble and flavored perfectly with a combination of canned pineapples in the juices and topped with fresh strawberries. This dessert is perfect for summer parties and almost any occasion that calls for sweets. This Pineapple Lush Cake takes a ready made angel food cake right from your local grocery store and takes it to all new levels. Don't plan on having leftovers with this one! This amazing creation is so delish that nobody will even wonder if it was made from scratch or not. It's kind of brilliant.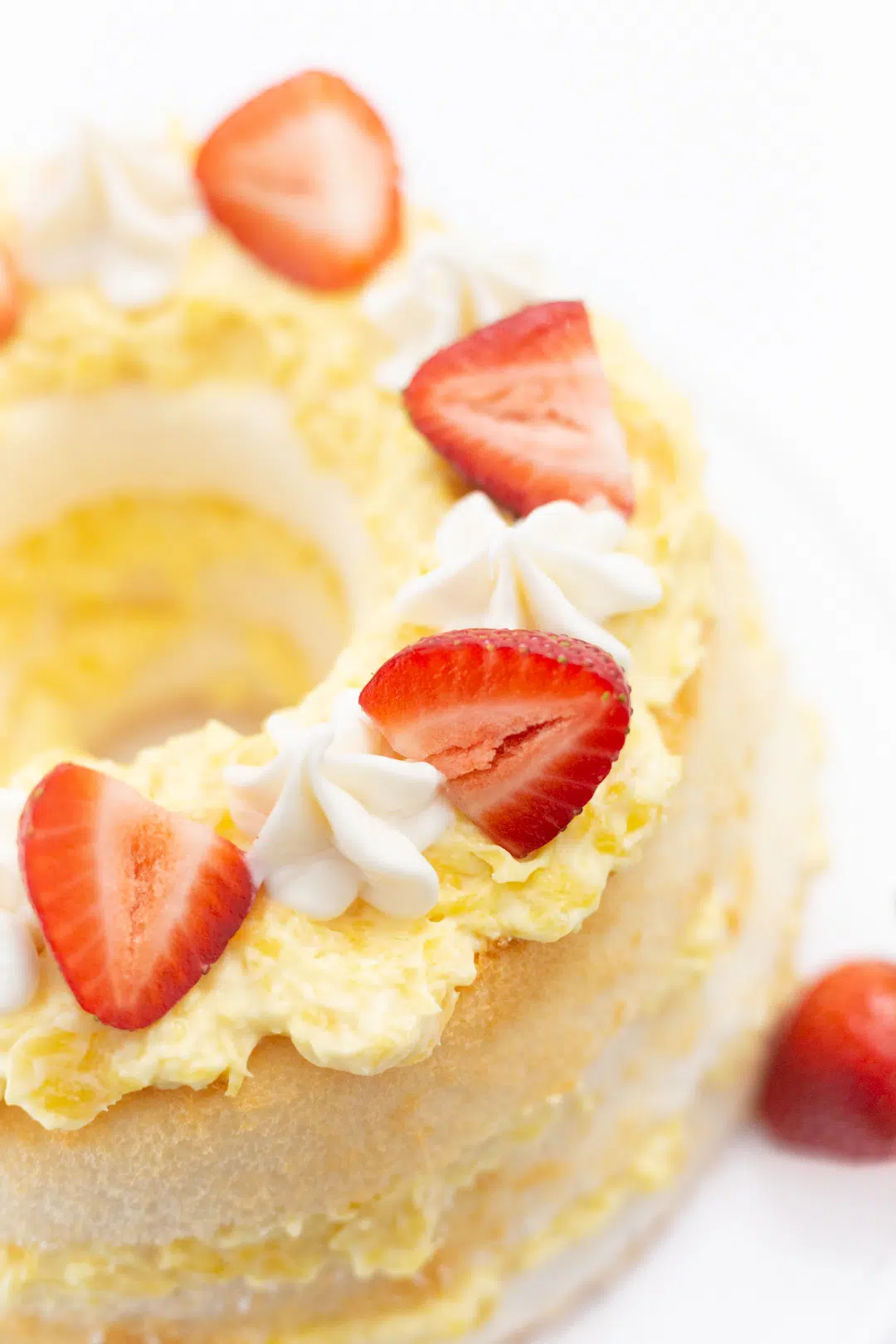 I shared this recipe back in 2014 originally and even made an amazing spinoff dessert from it since it was so well liked. The original recipe might look familiar to you because it's a classic recipe Kraft developed. I had worked with them to share some easy desserts back then and this was one of the recipes I selected to share. I was reminded of this recently when I saw this recipe still going strong on a pack of their JELL-O. This is truly a cake that has stood the test of time and I thought it was time for a fun refreshed post to share it again.
If you remember or have ever seen it, you know that this recipe is made with JELL-O Vanilla Pudding, Cool Whip, crushed pineapple, fresh strawberries all to be layered into a store bought angel food cake. The best part is that it only takes 15 minutes to put together. Can I get a whoo, hoo?
You have 15 minutes for awesome, don't you?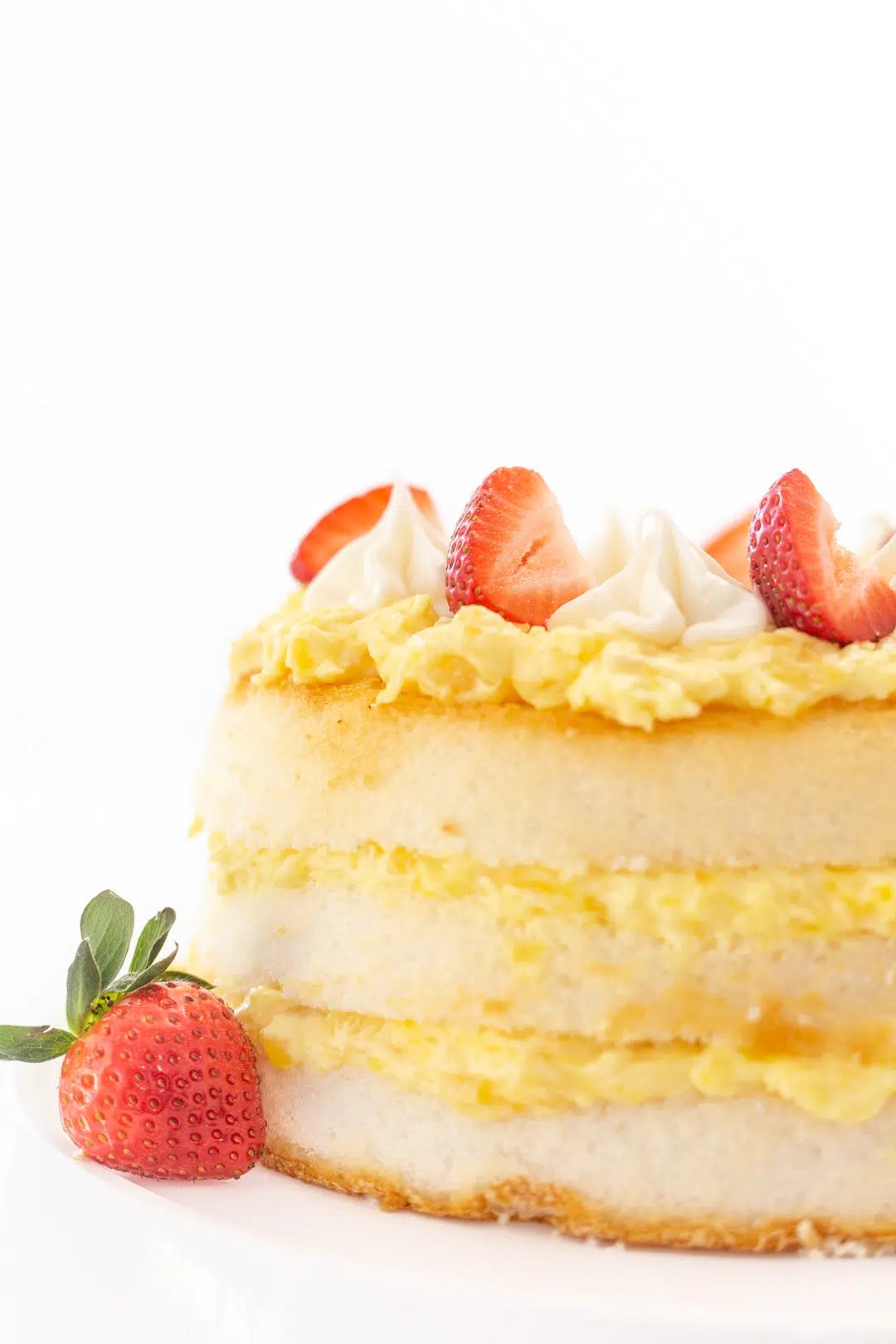 This is a great recipe to get kids involved in the kitchen, too. When I first made this, it was easy to have my son help. It really is a confidence booster. While I cut the pre-made angel food cake into three equal sections, he whipped together the pudding and pineapple layer. Fast forward to today and he actually helped me record the video tutorial for this cake. Funny how things have changed. Until I originally made this, I had no idea that you could use pudding mix, canned fruit and Cool Whip to come up with the perfect filling for a cake. It's been quite life changing, I have to admit. Makes me want to go cake crazy and start experimenting with different flavors. And, I think I might just do that. They have another variation option where you can use JELL-O Lemon Pudding instead. Sounds yummy! Either way, I don't think my family will complain one bit! So very clever, indeed!
ANGEL LUSH CAKE RECIPE
This angel lush cake is one of the easiest desserts you'll find. To sum it up, it's angel food cake with pineapple and vanilla pudding. You can top it however you like but strawberries are perfect. Then, a choice of whipped cream or a little frosting can take it up an extra notch if you're feeling fancy. It's definitely the most simplified crushed pineapple cake recipes on the internet.
This easy recipe proves that you don't have to spend hours and hours to serve up amazing food! You also don't need to have extensive kitchen skills. Ideas like this one have really kinda made me feel like kind of a wiz in the kitchen. On that note, check out this heavenly recipe for yourself. I think you'll love it. But first, let's chat about some things.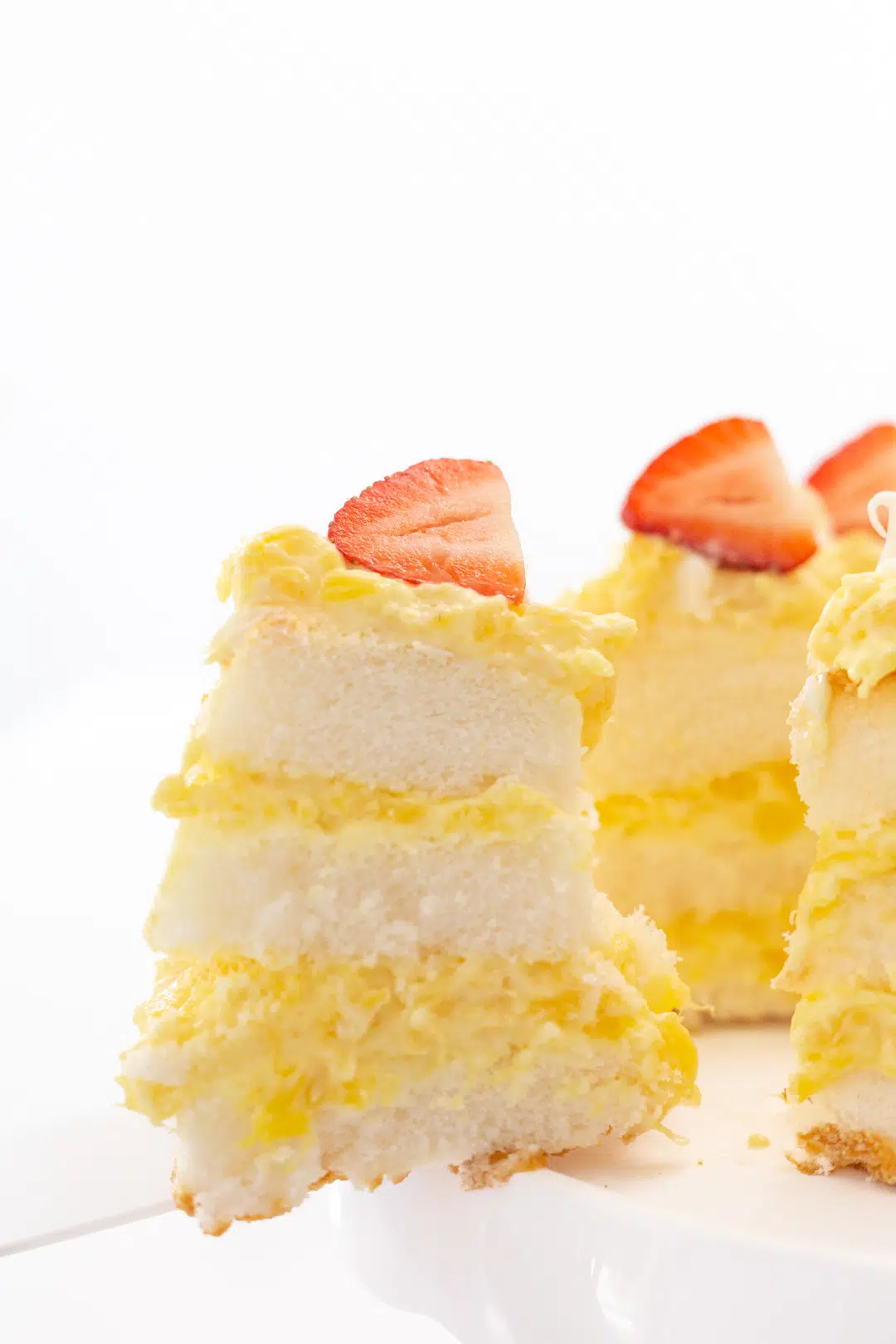 WHAT IS A LUSH CAKE?
As far as I can tell it's a cake with layers generally including whipped cream and pudding. This lush cake recipe calls for whipped topping and pudding set between layers of angel food cake that you can either buy ready-to-eat at the store or make yourself. Cakes like this are an easy way to make one, but you can also create lasagna style layered cakes which are popular too.
RECIPES USING CRUSHED PINEAPPLE
Pineapple Dessert with 3 Ingredients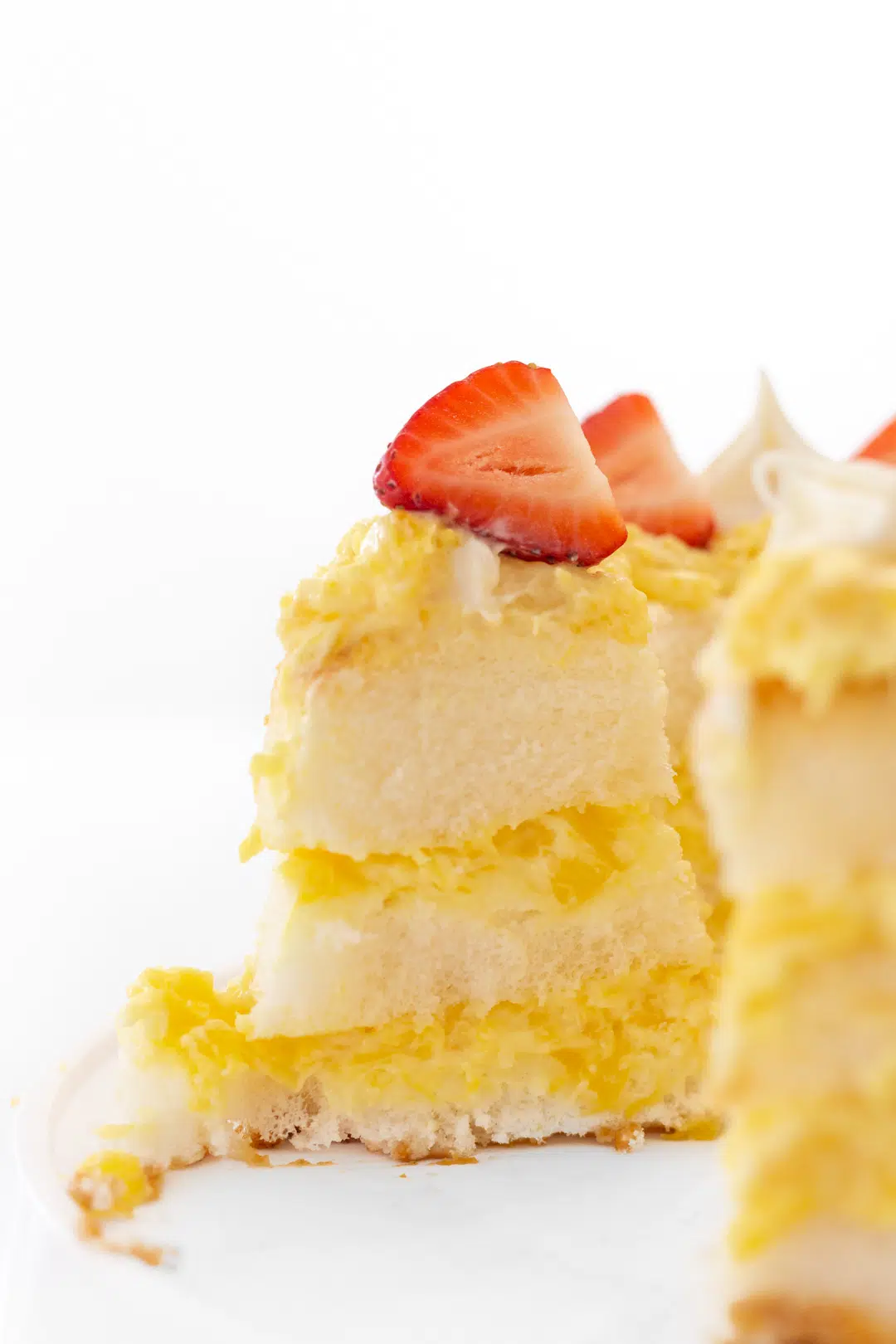 \
EASY CAKE GARNISH IDEAS
Pretty fresh fruit is always a good idea. Think fresh strawberries or pretty maraschino cherries. Fresh mint is also another fun color pop that compliments many desserts and cakes. Then, something a little extra sweet can be piped up such as frosting, fresh whipped cream or whipped topping. If you're a chocolate fan, this easy glaze is amazing.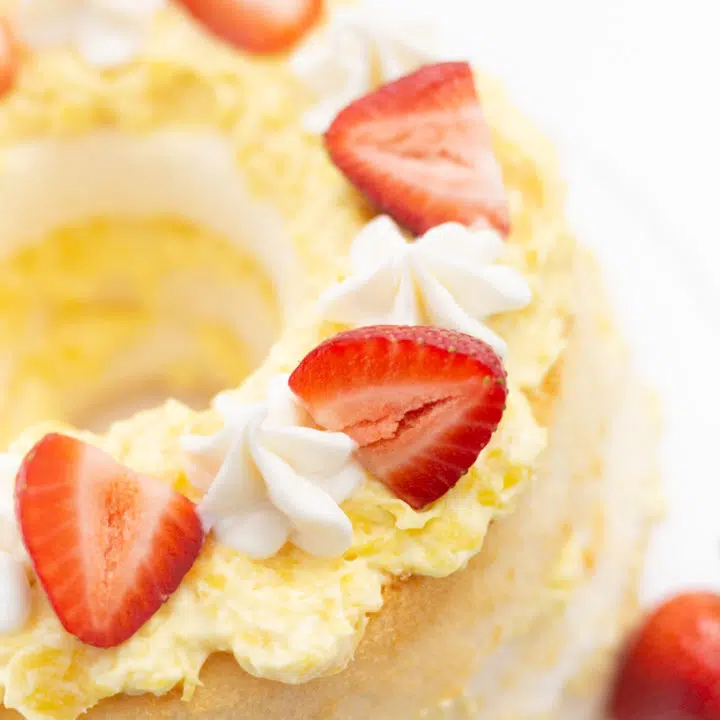 Pineapple Lush Cake Recipe
Total Time:
1 hour
10 minutes
Pineapple lush cake with an easy 3 ingredient filling. Store bought angel food cake filled with layers of crushed pineapple and pudding.
Ingredients
1 can (20 oz.) DOLE Crushed Pineapple in Juice, undrained
1 pkg. (3.4 oz.) JELL-O Vanilla Flavor Instant Pudding
1 cup thawed Whipped Topping (Cool Whip)
1 pkg. (10 oz.) round angel food cake, cut into 3 equal layers
10 small fresh strawberries
Instructions
MIX pineapple, dry pudding mix and whipped topping until pudding is fully dissolved.

STACK cake layers on plate or cake dish, spreading pudding mixture between layers and on top of cake.

REFRIGERATE the cake for one hour.

Garnish the cake with fresh berries and/or other garnish.
Recommended Products
As an Amazon Associate and member of other affiliate programs, I earn from qualifying purchases.
MORE EASY CAKES TO MAKE
Wow your guests or family any night of the week!