This is a sponsored post as a part of my Cool Food Panel participation with the National Frozen and Refrigerated Foods Association (NFRA), all opinions are my own.
The holidays are on the way! You know what that means? A huge to do list! Before things get hectic, let me introduce you to some dessert hacks that will save you a lot of time. I'm going to share four delicious ways that you can make a frozen pie your own this holiday season. You won't need to sacrifice flavor or that sense of pride when you serve up a beautiful semi homemade pie creation with Mrs. Smith's pies.

Confession time! I've never really been great at making pies. Actually, I'm not good at making pies… at all. They take a certain level of skill and patience that I just don't have in my "tool kit". That's okay though. I've learned to work around this and still serve up perfectly baked desserts. It just requires a little thinking outside of the box. Don't worry, because I totally have you covered with all of the tasty pie inspiration today!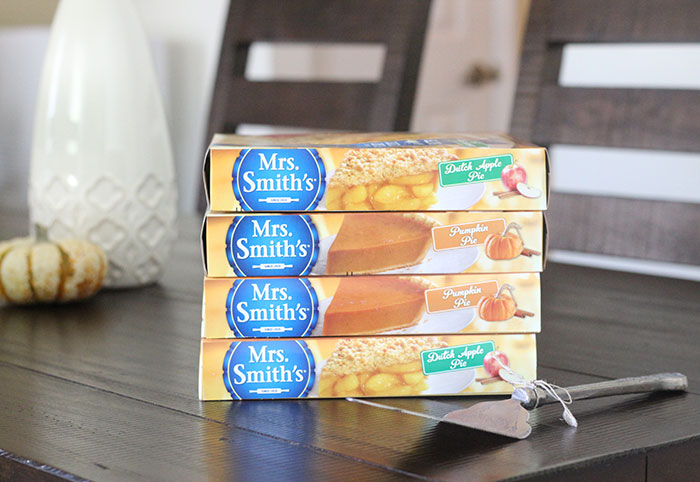 Have you tried Mrs. Smith's pies? You'll find all of your classic favorites from cherry to peach pies made with a flaky crust with real butter. It's going to be pretty hard for your holiday guests to suspect that your glorious pies came right from your freezer! Today, I'm taking my own holiday favorites including Mrs. Smith's Pumpkin and Dutch Apple Pies and giving them a tasty holiday hack. Are you ready for all of this pie goodness? Warning. These tips are REALLY easy. All you need to do is stock your freezer with these ready-to-bake pies.
CREAM CHEESE & CHOCOLATE PUMPKIN PIE
For this super delicious pie hack, you'll need to prepare a Mrs. Smith's Pumpkin Pie. To take it over the top, simply add dollops of cream cheese frosting and mini chocolate chips.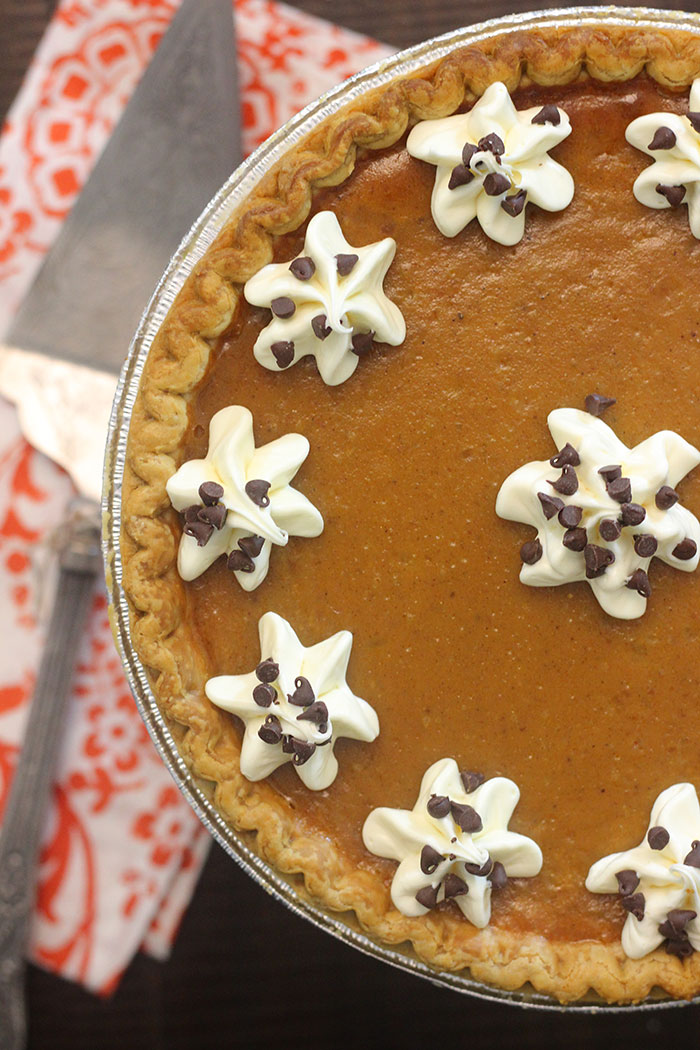 In just minutes, you'll have this delicious and unique pie creation. This combo is outstanding! The cream cheese frosting gives the pie a cheesecake flair with no fuss. Delicious!

Use a star tip to dispense the frosting for an extra pretty result.
CARAMEL & PECAN DUTCH APPLE PIE
This pie hack is one of my top picks for the holidays. For this pie creation, I used Mrs. Smith's Dutch Apple Pie which combines a classic apple pie filling with a sweet streusel crumb topping. Then, I added homemade whipped cream all over the top of the cooled pie.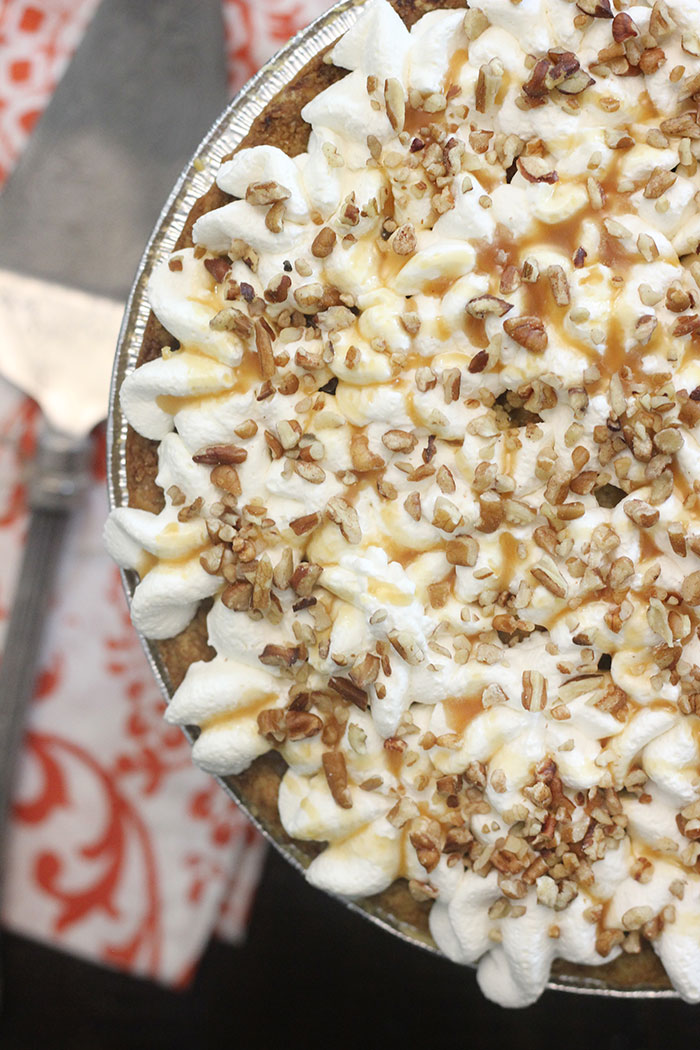 To make it pretty, use a star tip frosting dispenser. Then drizzle caramel and sprinkle crushed pecans over the top of the entire pie. YUM. You will be glad you tried this one.
THE PIE CRUST HACK
The pie is the limit… ahem. The sky's the limit when it comes to the amazing cookie cutter designs you can add to a frozen pie to make it fancy. Just keep a package of ready to bake pie crust in your freezer this holiday season for a quick way to take your pies to the next level.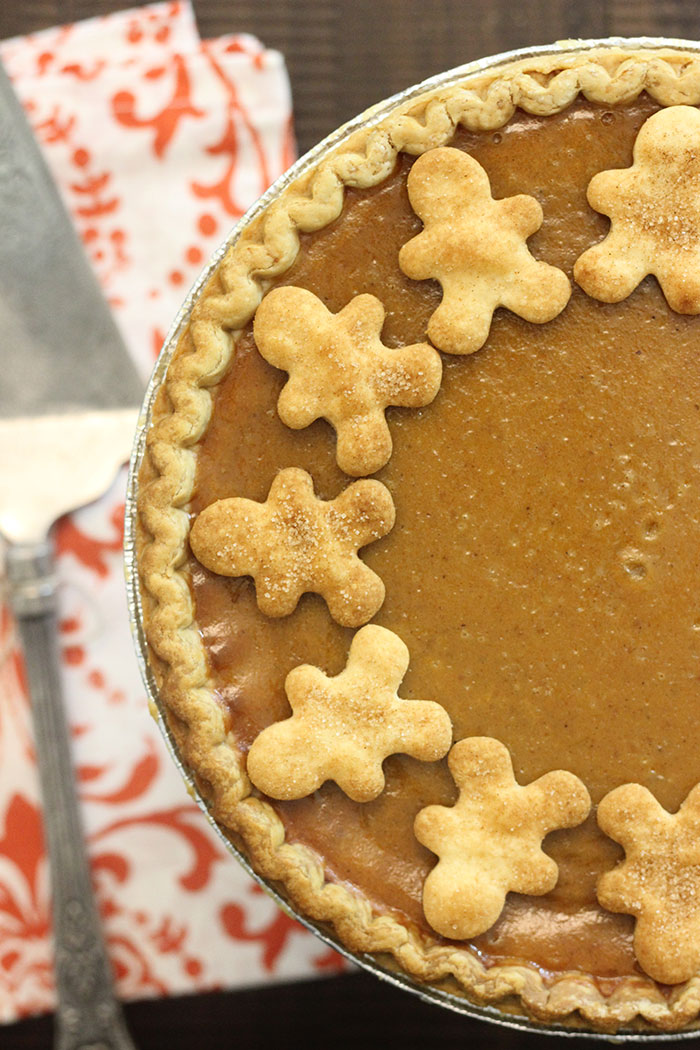 My two favorite picks for pie crust art are gingerbread men and Christmas trees. Simply use cookie cutters to shape your pie dough. I like adding a little cinnamon and sugar before baking. Once your pie crust cookies are cooled, decorate your favorite pies with them.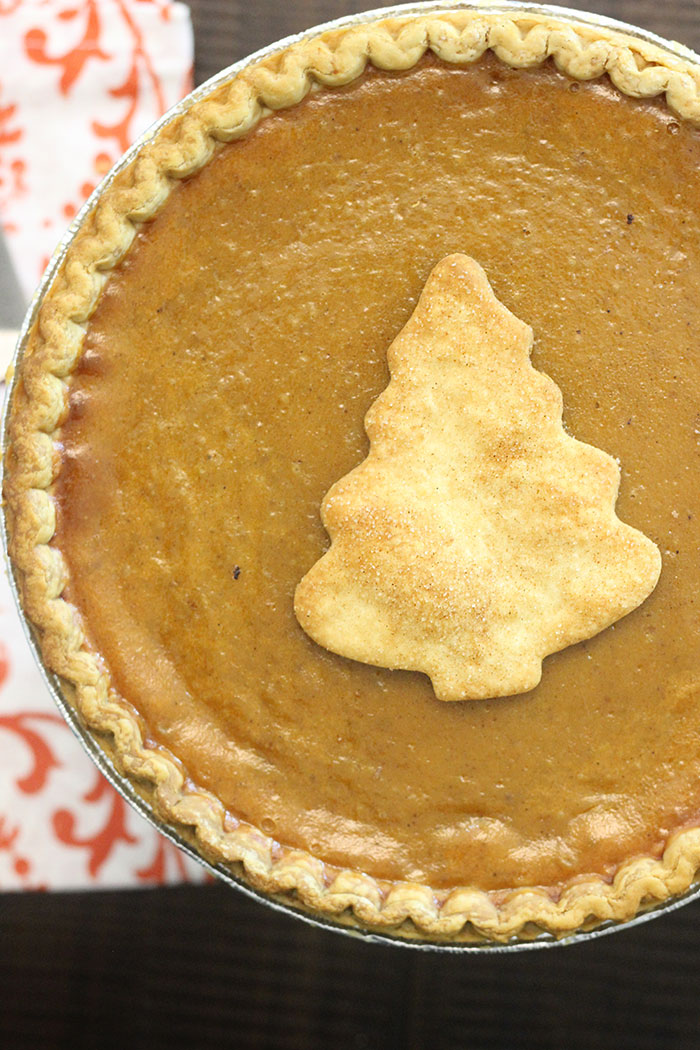 I personally love how the pie crust shapes look on the Mrs. Smith's Pumpkin Pie.
CINNAMON SUGAR DUTCH APPLE PIE
This is a super simple pie hack that will add a flair to your frozen pie in just a few minutes.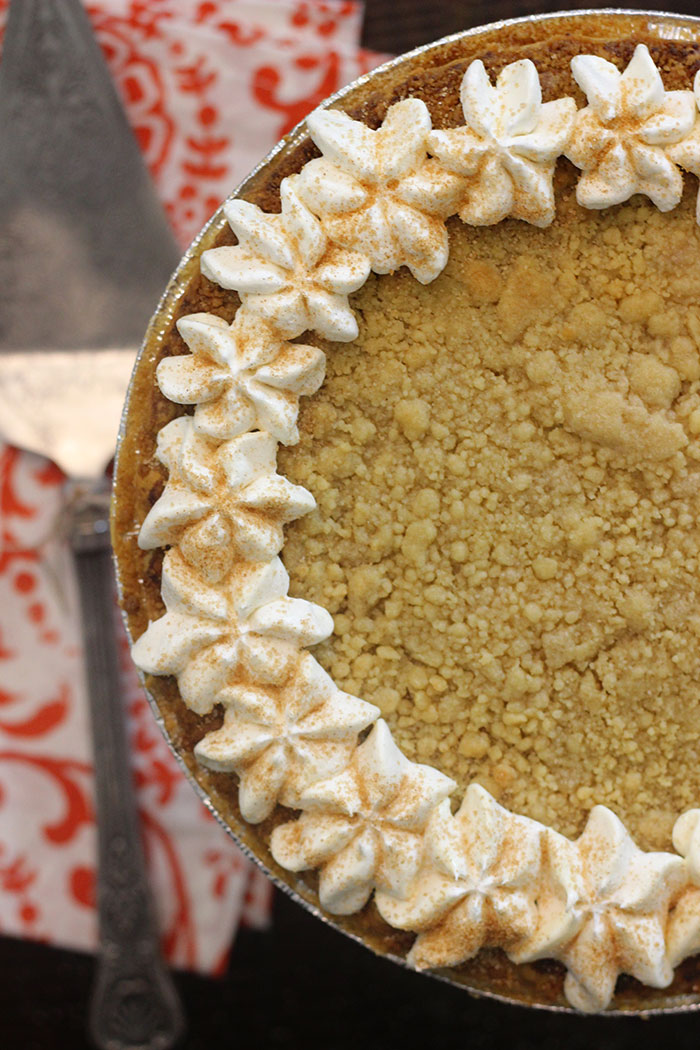 For this one, bake up a Mrs. Smith's Dutch Apple Pie and top with pretty dollops of fresh whipped cream. Then sprinkle the whipped cream with a mixture of cinnamon and sugar. If you like churros, this option will totally float your boat.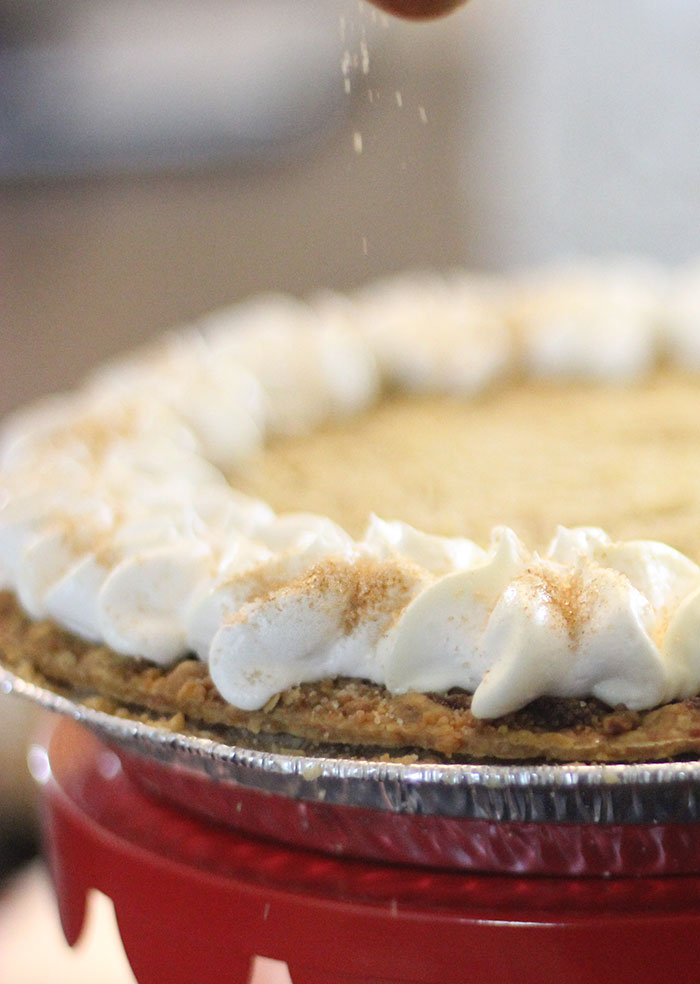 Voila! Now you see how easy it is to make a store bought frozen pie like Mrs. Smith's pies your own! Now to pick a favorite to serve?! Who am I kidding… pick a few favorites. You never know when you'll have even more guests drop by during the holiday season.
Which of these Mrs. Smith's Original Flaky Crust pies will you be stocking up on for the holidays? How could you add your own personal flair?