This post brought to you by The Gorilla Glue Company. The content and opinions expressed below are that of Cutefetti.
Tis' the season for fun DIY projects. Oh the possibilities for making the perfect decorations are endless. My glue gun was just itching to be used on something cute and adorable. Enter these Mickey and Minnie Christmas Ornaments. With the help of Gorilla Hot Glue Sticks, I am so giddy about how they came out! Can you hear me squealing from here?

I've always used generic glue sticks and never thought twice about it. There really hasn't been many options, really. I was really stoked to learn that Gorilla Glue brand came out with Hot Glue Sticks. Pretty sweet! The one thing that caught my eye was that you can use them for all temperatures. One of the limitations that I usually have is when trying to figure out which glue to use on my foam projects. Well, the Gorilla Glue Hot Glue Sticks are actually good to use for low temp situations, so you can actually use your glue gun for even more things than ever with these. Love that SO much.
DIY Mickey & Minnie Ornaments
Let's jump right on into this fun project and get knee deep into creating something festive.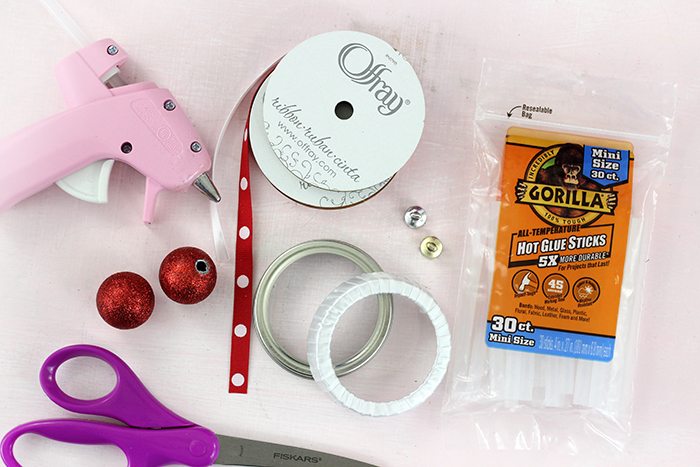 Here is what you'll need to make these super duper cute Mickey & Minnie Christmas Ornaments:
Mason Jar Lid Rings
Thin Ribbon in Multiple Colors
Mini Plastic Christmas Ball Ornaments (Separated)
Mini White Buttons
Gorilla Glue Hot Glue Sticks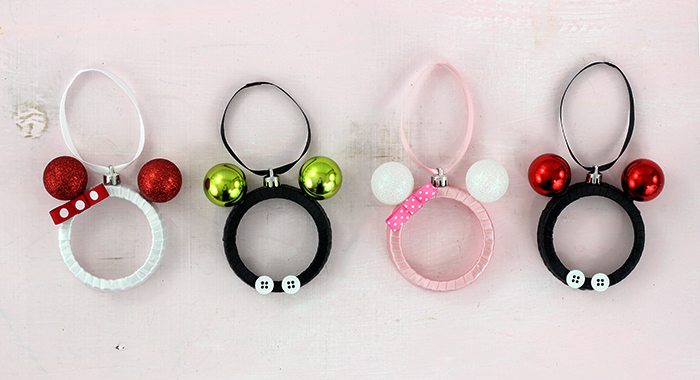 Here's what I did to make these.
Prepare your Plastic Ornament Balls
First, we need to seperate the ornament base from the ball. You should be able to seperate them by hand. Then you will need a sharp tool with ridges to very carefully slice off the bump portion off as well which will leave you with just a perfectly round ornament ball.
Wrap Ribbon Around Each Mason Jar Lid Ring
Wrap each Mason Jar Lid with your choice of ribbon. Start by gluing the ribbon on to hold it in place. Then as you wrap the ribbon around, using your Gorilla Glue Hot Glue Sticks in your glue gun to secure it as you move along. The glue dries nice and quick, so once you're done making the base, you can move right on to the next step. See how easy this is already?

Glue on the Ornament Ball "Ear's"
Using the Gorilla Glue Hot Glue Sticks in your glue gun again, glue on the ears. Make sure to space them out where you want them before gluing. They look cute almost any width apart. Play around and see which placement you like best.
For Minnie
Make a little bow and use your glue gun to secure it, then glue it on. You can do it on the side like I did or in the center if you prefer.
For Mickey
Glue on two little white buttons on the bottom of your lid.
Make the Ornament Hangers
Use more of the thin ribbon. Make sure to trim equal lengths to hang all of your ornaments. Then, glue on the reserved ornament holders that we pulled off earlier to the top center of each ornament. Then, thread each ribbon into them and use your glue gun to to seal the loop. Voila!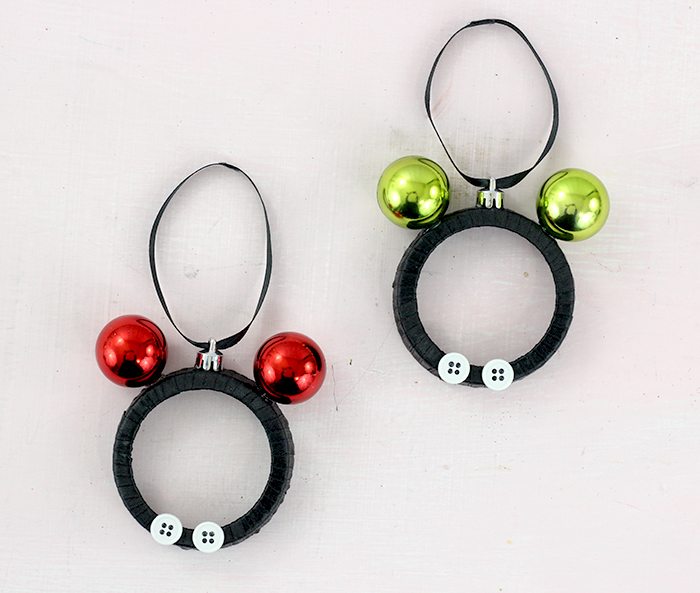 They only take minutes to dry, then you are good to deck your halls with your Mickey and Minnie Ornaments.
For your next Christmas DIY, check out Gorilla Hot Glue Sticks available at Walmart. They are made 5x more durable and are also weather resistant making them perfect for wreath DIYS. They work on a ton of surfaces and are safe for all temperatures both high and low. These aren't your average glue sticks. They are more than kinda awesome.
Make sure to enter to win a $250 Visa Gift Card to make your DIY dreams come true thanks to Gorilla Hot Glue Sticks! This giveaway ends on 11:59 p.m December 23, 2016. Must be a resident of one of the 48 contiguous United States (excl. PR, HI, AK) the age of majority in his or her jurisdiction at time of entry. Odds of winning depend on number of entries received.
Get your entries in through the form below:
*Giveaway Closed*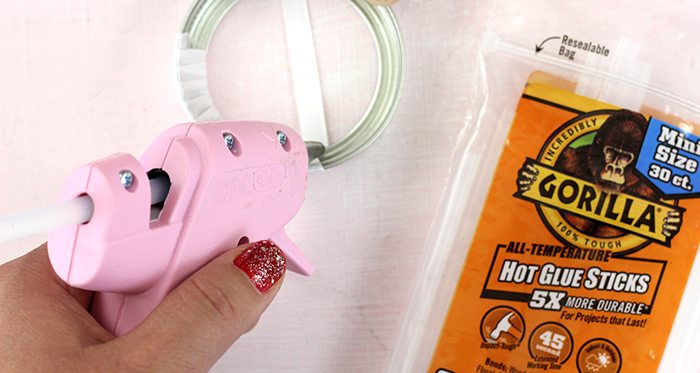 What Christmas DIY projects do you have planned this year?