Giddy up, friends! Calling all horse lovers, especially the younger ones! I have a special treat for you. This post is all about the best horse party supplies and ideas made extra unique with the sweetest new horse playsets and figurines. Schleich is bringing joy to horse lovers everywhere with these dreamy toys and their new Horse Club Horse Adventure app. More on that in a minute! Let's take a look at how to treat your little horse lovers to a fun party. This post is sponsored by Schleich, all opinions are my own.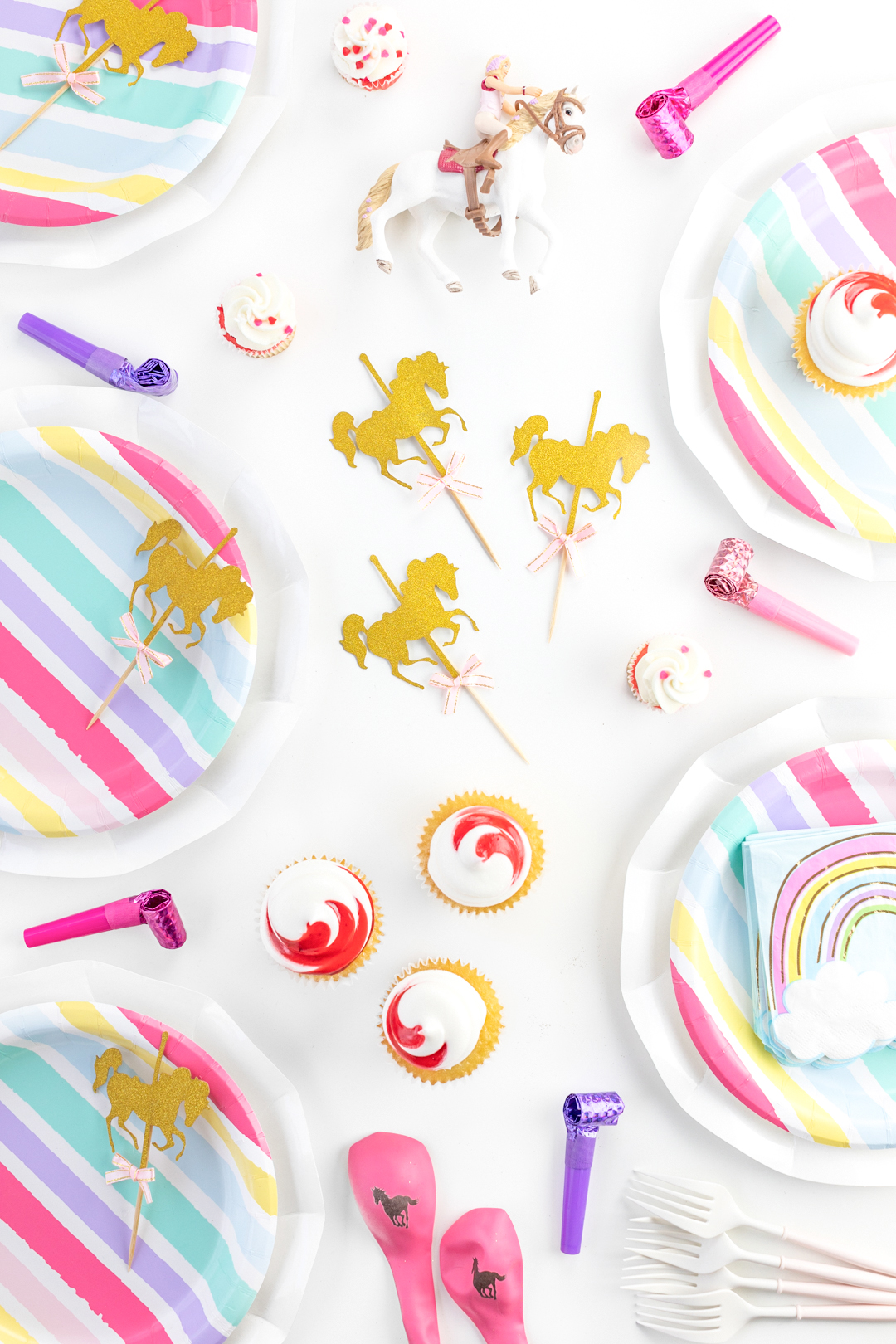 HORSE PARTY IDEAS FOR GIRLS
From horse toys to supplies, favors, decorations and food, you are going to love this fun goodness to help you plan your party or playdate. The love of horses has been celebrated so beautifully by Schleich, that I couldn't help but to use their new Large horse stable with house and stable at a centerpiece and springboard for all of my ideas. The details of this playset are absolutely incredible and my whole family agreed that we would have loved to play with a toy like this when we were young. Kids are going to have countless hours of imaginative fun with this!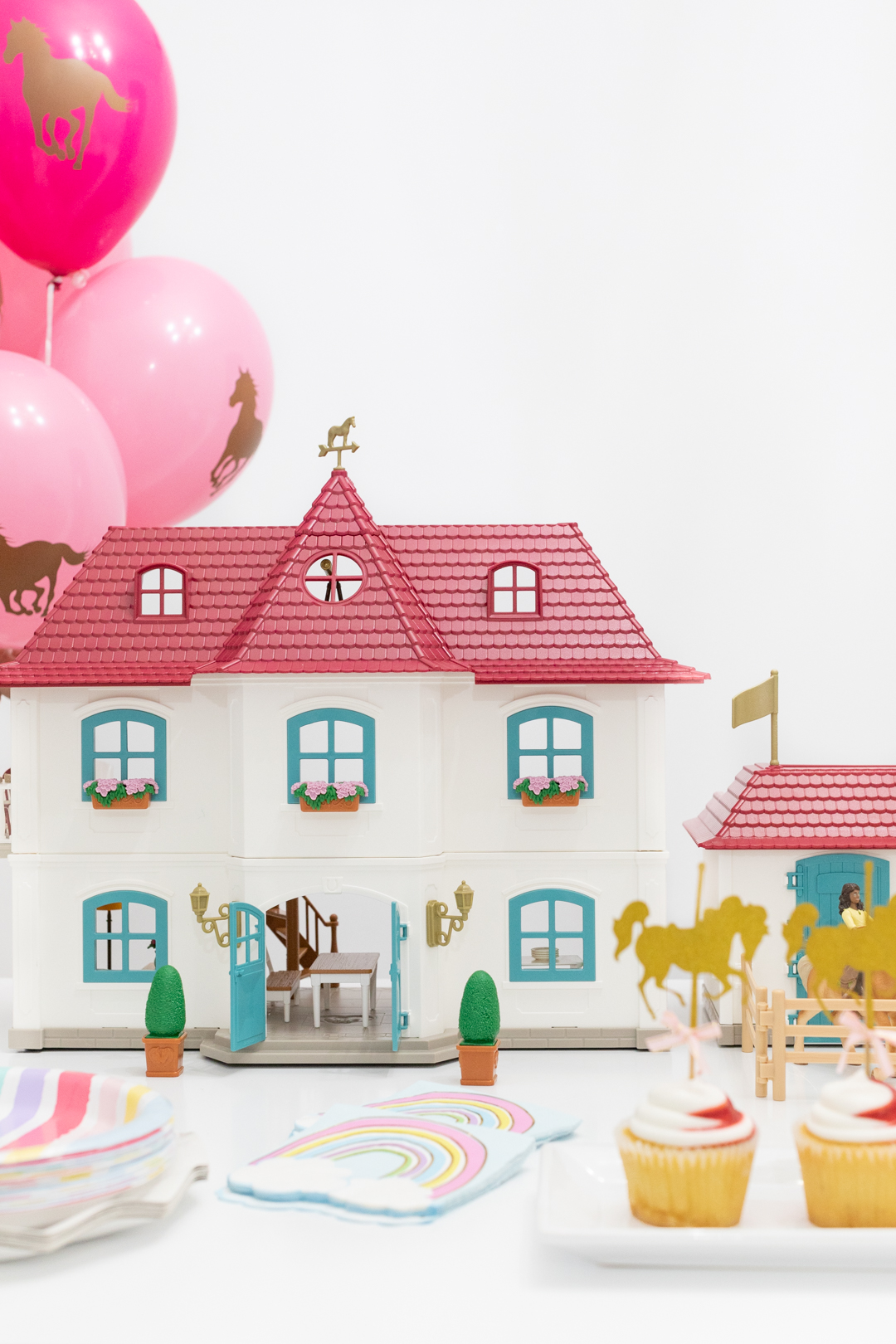 HORSE PARTY BALLOONS
So let's chat more about all of the pretty horse party decorations for a girl including the very best horse party balloons that I found that are perfect for this. In searching for unique party supplies, I stumbled on the prettiest pink and gold balloons. You could say that this expanded my thoughts on just how pretty a horse party could really be. This pretty pack that I found has a variety of pink shades as well as white balloons. Each balloon has a gold horse printed on it. So pretty!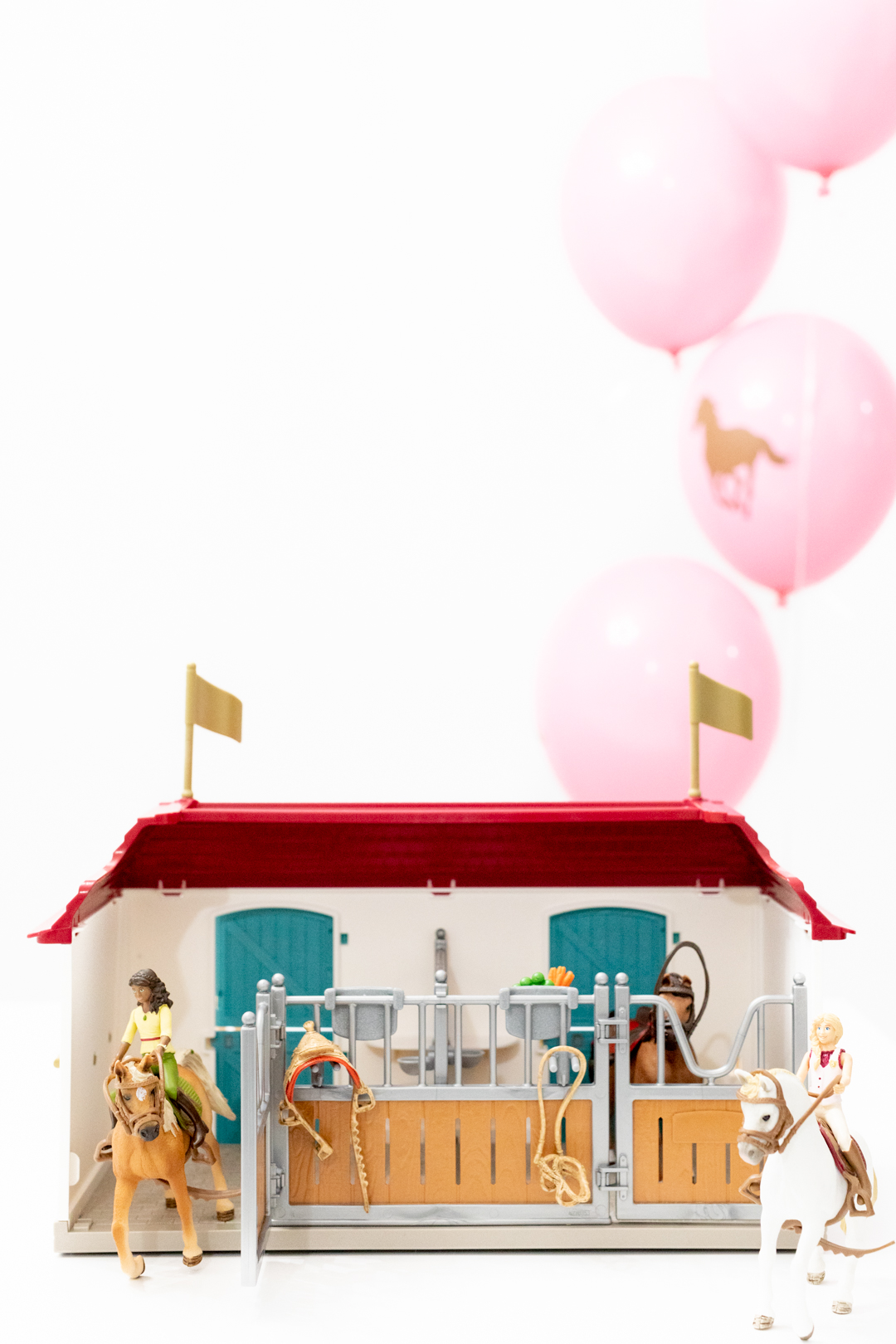 HORSE PARTY FAVORS
To keep your horse party on theme, you can send home matching candy and trinkets inside of the pretty carousel boxes below or you can send something home that will provide endless fun and memories. The new wonderful horse figurines from Schleich would be such a fun choice.
Check out these fun new toys:
HORSE THEMED PARTY FOOD
Everything you need for an easy horse themed party can start with a horse cookie cutter. I found the perfect larger size that is excellent for making a pretty pink horse cake as well as for making actual horse cookies. For something savory, you can also use it to make horse shaped sandwiches using sliced bread, meats and cheeses easily. You could even use it to make individual pizzas. It's one of the best ways to make easy themed matching party foods.
HORSE PARTY CUPCAKES
To add to the pretty party decor easily, you can use the best horse cupcake toppers. These pretty gold carousel inspired horses are eye-catching and the pretty pink bow makes them even more precious. These pretty toppers can elevate your party and you can simply add them to any store-bought or homemade party cupcakes. Voila!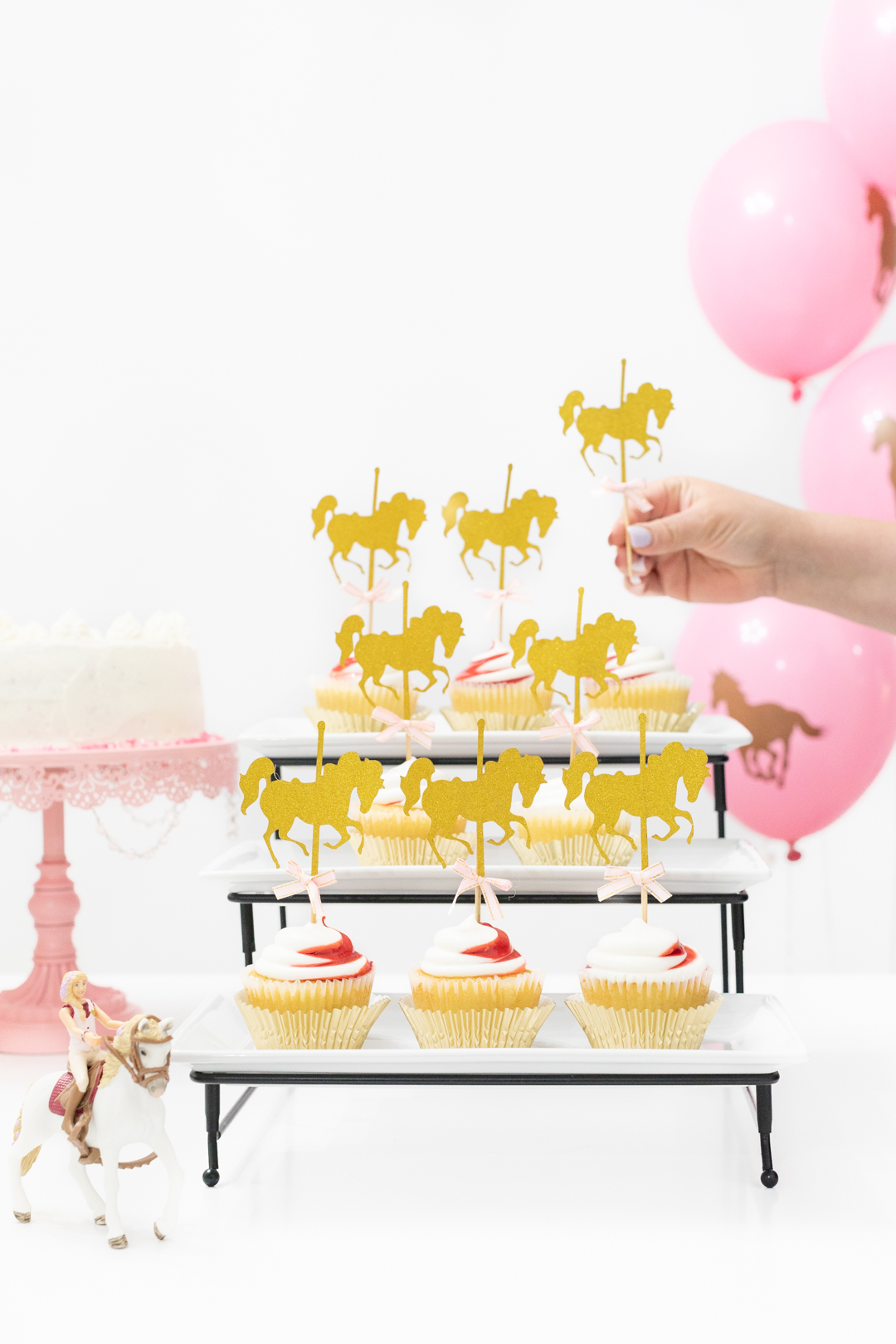 HORSE CAKE DIY
Now we are on to my very favorite food! Cake! Making a horse themed cake your own is so easy by using a cookie cutter and your choice of pretty sprinkles. I love this sugar blend of various shades of pink to match the party.
I used a strawberry boxed cake mix and swapped mayo for oil and added a small package of vanilla pudding to the mixture as well. This is my current favorite way to add bakery flavor to store-bought mixes. It also gives the cake layers a heartiness that is great for being able to decorate.
Using store-bought buttercream is another recent hack of mine. I love using canned frostings, but generally need to add a little something to them to make them more firm when it comes to cake decorating. You can also make your own buttercream or frosting, too.
Once your cake is covered with your choice of frosting, it's time to grab your horse cookie cutter to get this party started… literally!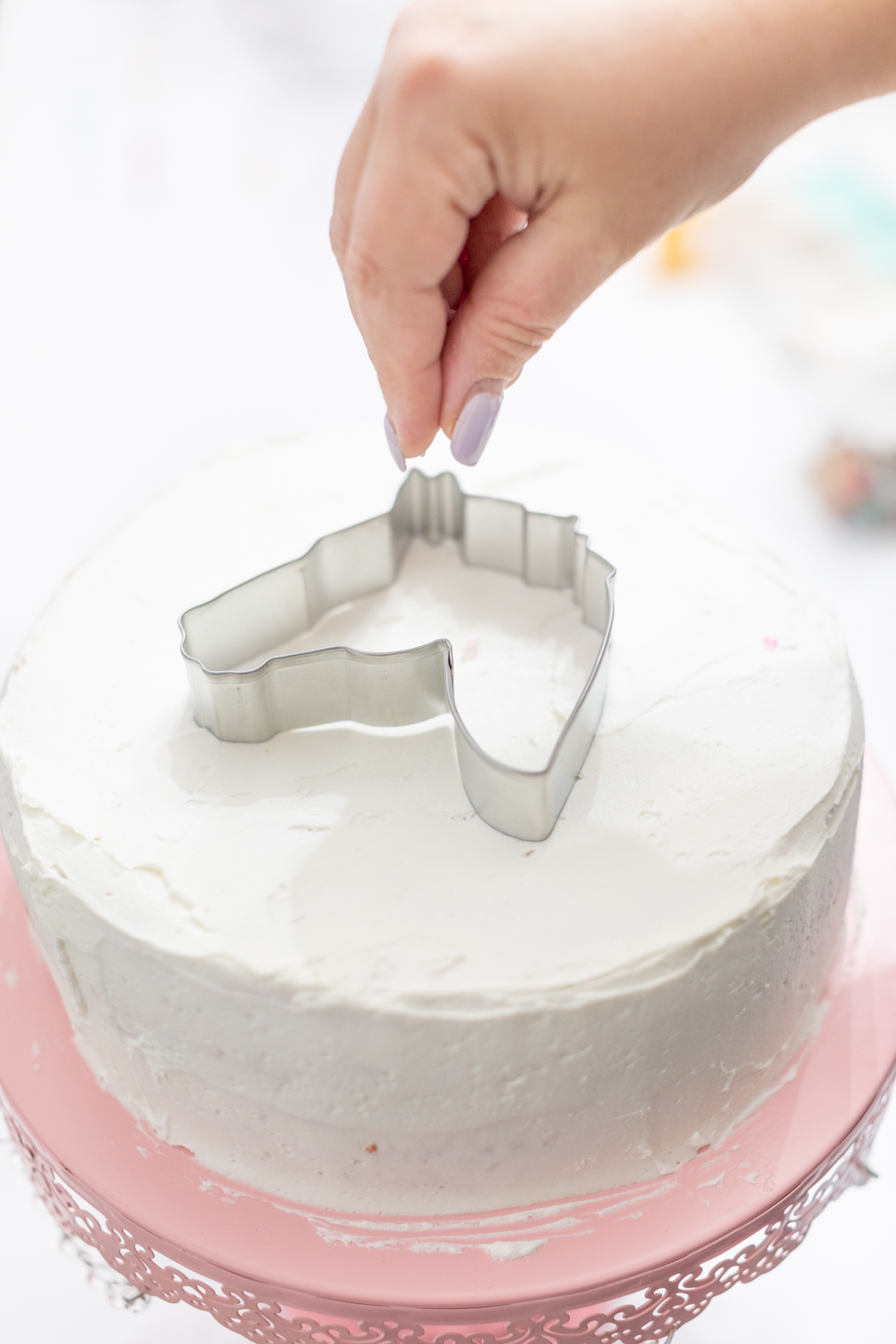 Use care to place the cookie cutter exactly in the center of your cake. Then, slowly and carefully using your hands or a spoon to drop sprinkles within the space of the cookie cutter. No worries if a few sprinkle over, it's easy enough to gently remove them after. Once the cookie cutter is filled with sprinkles, use a utensil or your fingers to gently press the sprinkles down into the cake so that they stay put.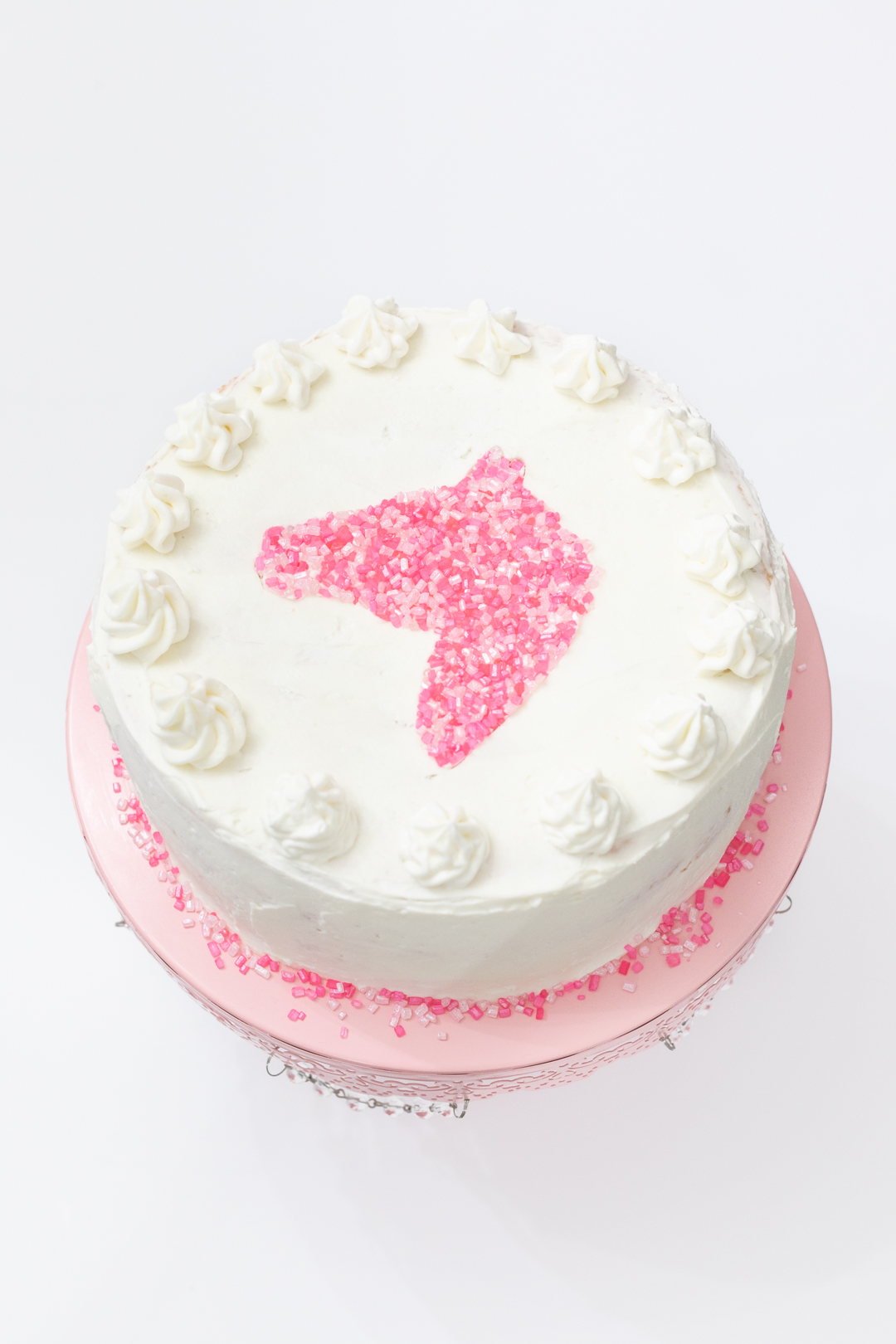 Make sure they are all pressed down before carefully removing the cookie cutter. Once you are done, your horse cake will be pretty and ready to serve!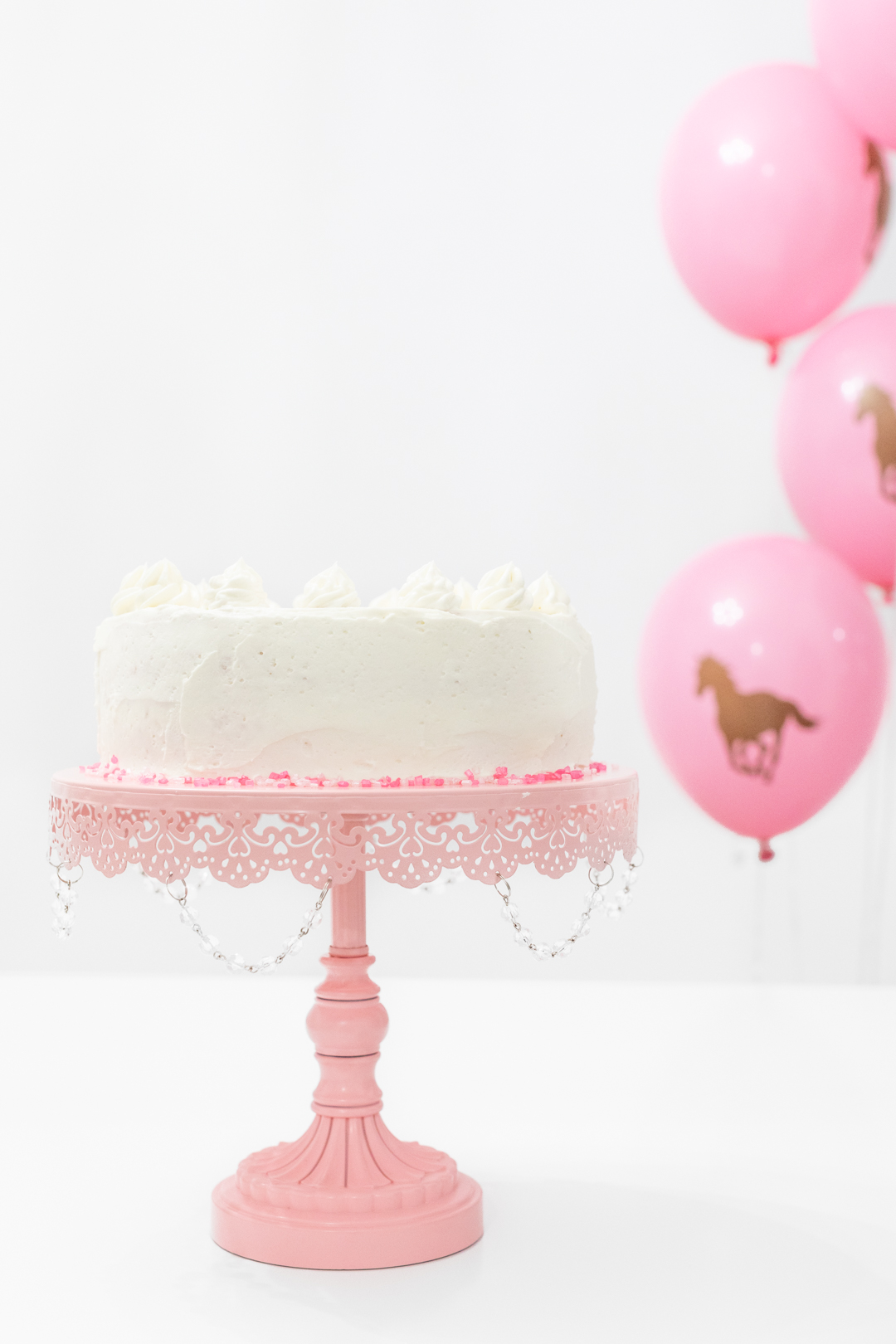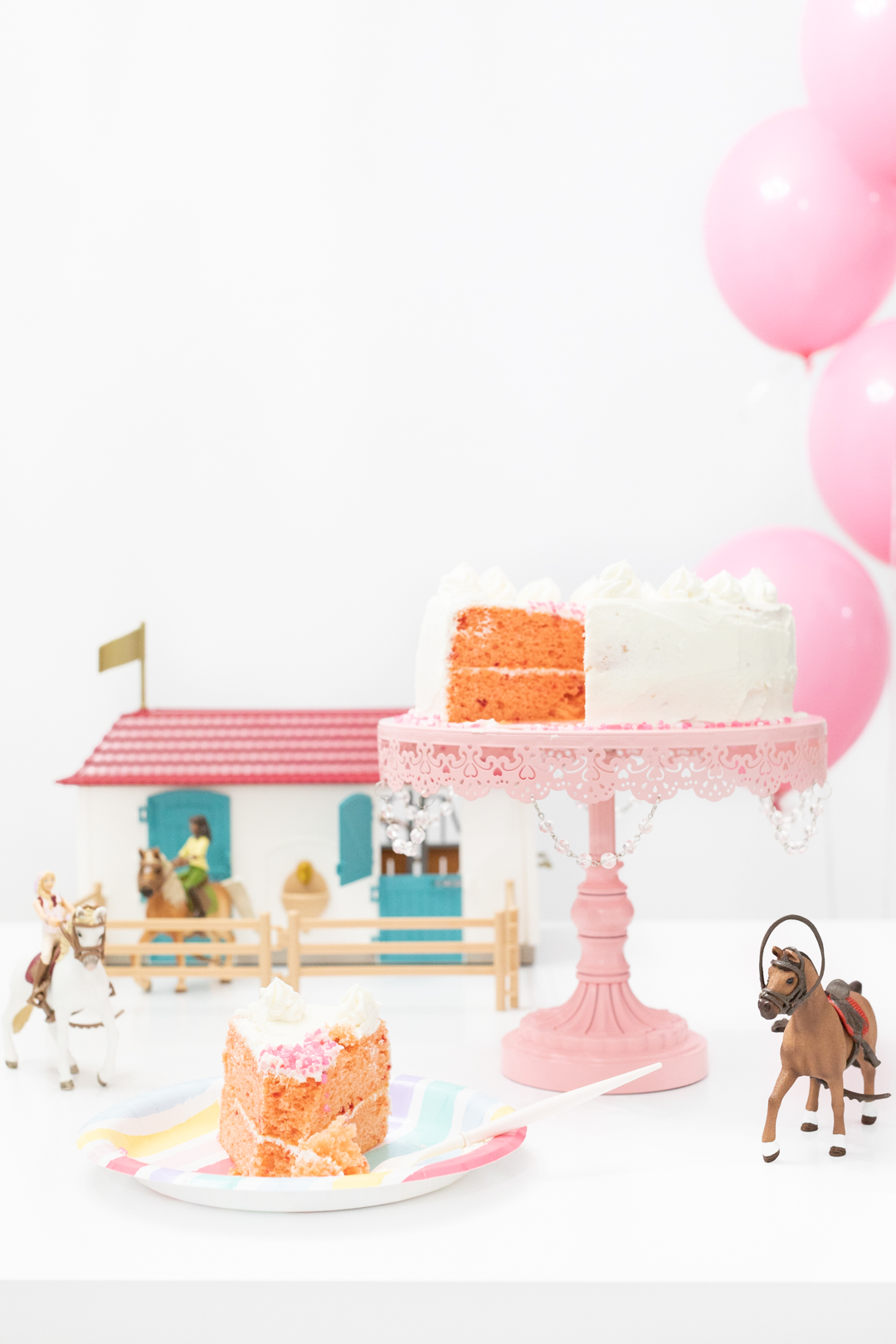 HORSE PARTY ACTIVITIES
Renting horses for parties is very popular, but the new Large horse stable with house and stable from Schleich is a game changer. This playset is for children ages 5-12 making it perfect for most kids parties. Gift it as a gift for your child and build the party around it. I suggest building the set in advance before the day of the party so that the kids can play. Everyone will be so delighted!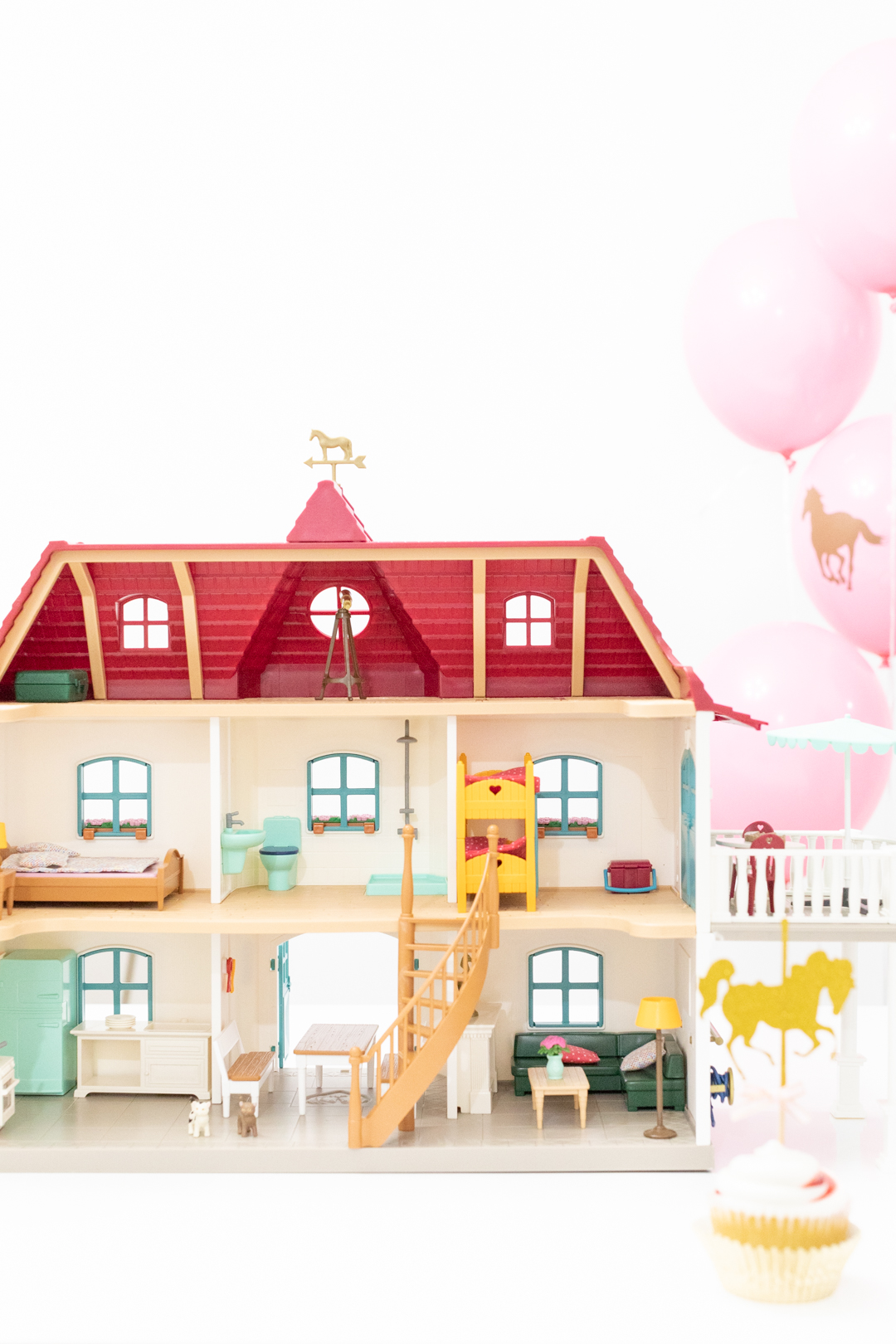 See where to buy these wonderful Horse Club sets and figurines here. Schleich's unique toys and figures can be found at 40,000 locations worldwide!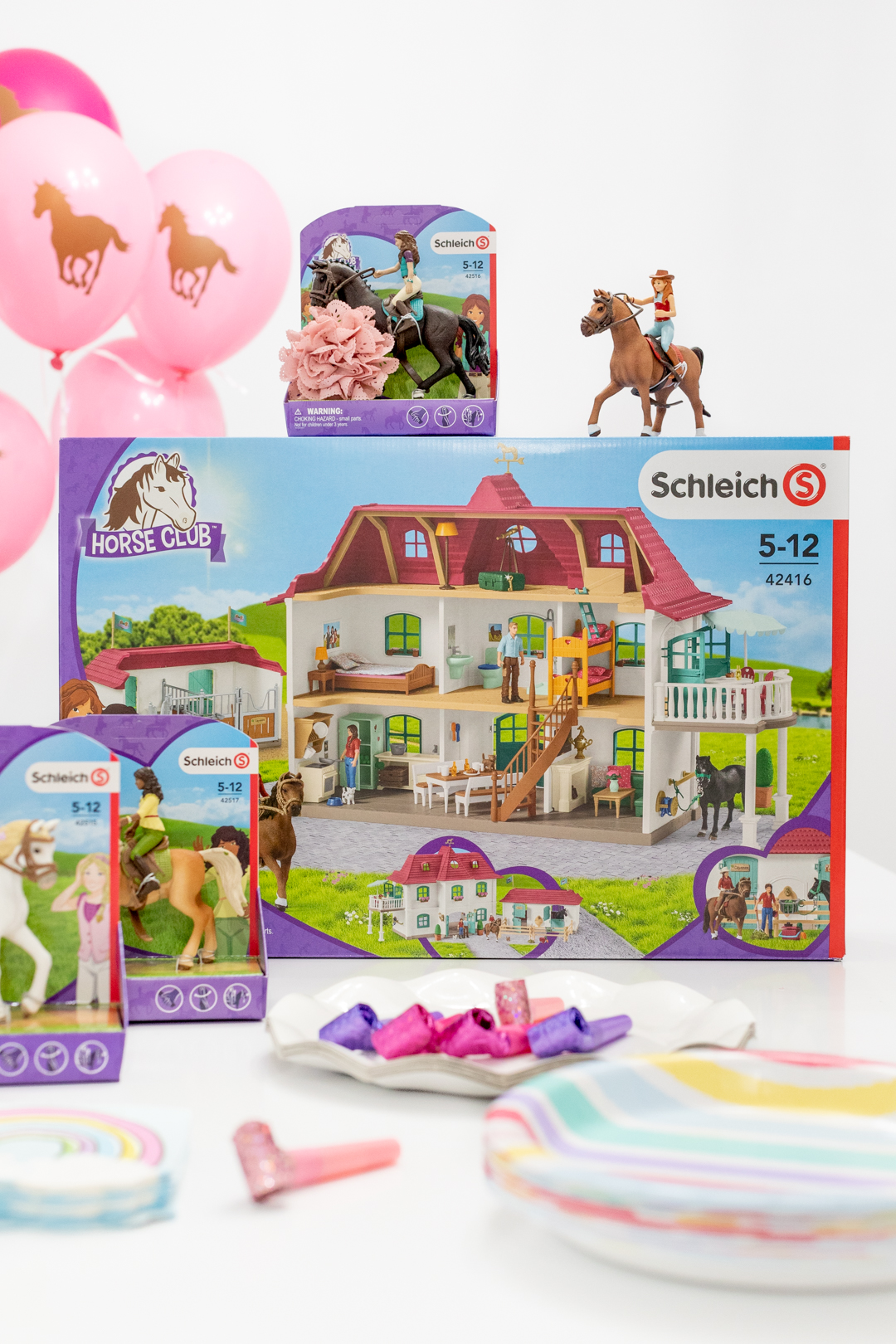 BRING THE HORSE CLUB TO LIFE
To take all of the new fun goodies over the top, there's also a new Horse Club Horse Adventure app for kiddos to continue the adventure with from exciting missions to fun quizzes, too!
MORE KID BIRTHDAY PARTY THEMES
Pretty Horse Party Supplies
List of horse party supplies to create the perfect DIY birthday party celebration. Pretty pink and gold theme.

I hope your little horse lovers enjoy this goodness!