Do you like to have a little fun on April Fools' Day? Traditionally, I've always loved to play a few tricks. My favorite to-date is to tape the handle of the water sprayer down on the sink. When your victim turns the water on, they'll get a surprise. This year's contribution of tricks and pranks comes in the form of this epic candy charcuterie board! This post may contain affiliate links.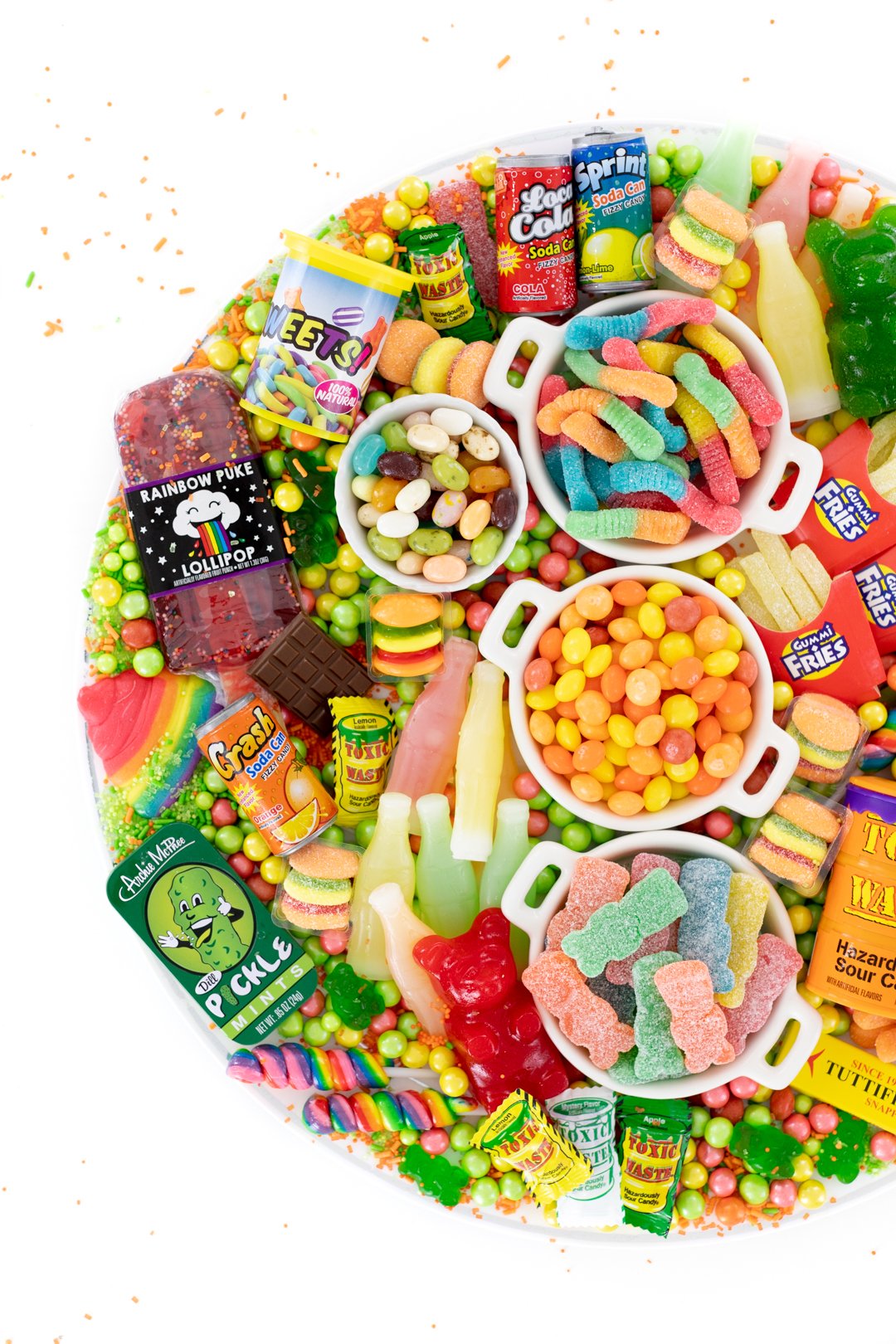 Instead of delightful treats, it's filled with pranks and the ultimate in sour, spicy and downright gross candies. I couldn't be more stoked to share this big list of April Fools' candy to get you started!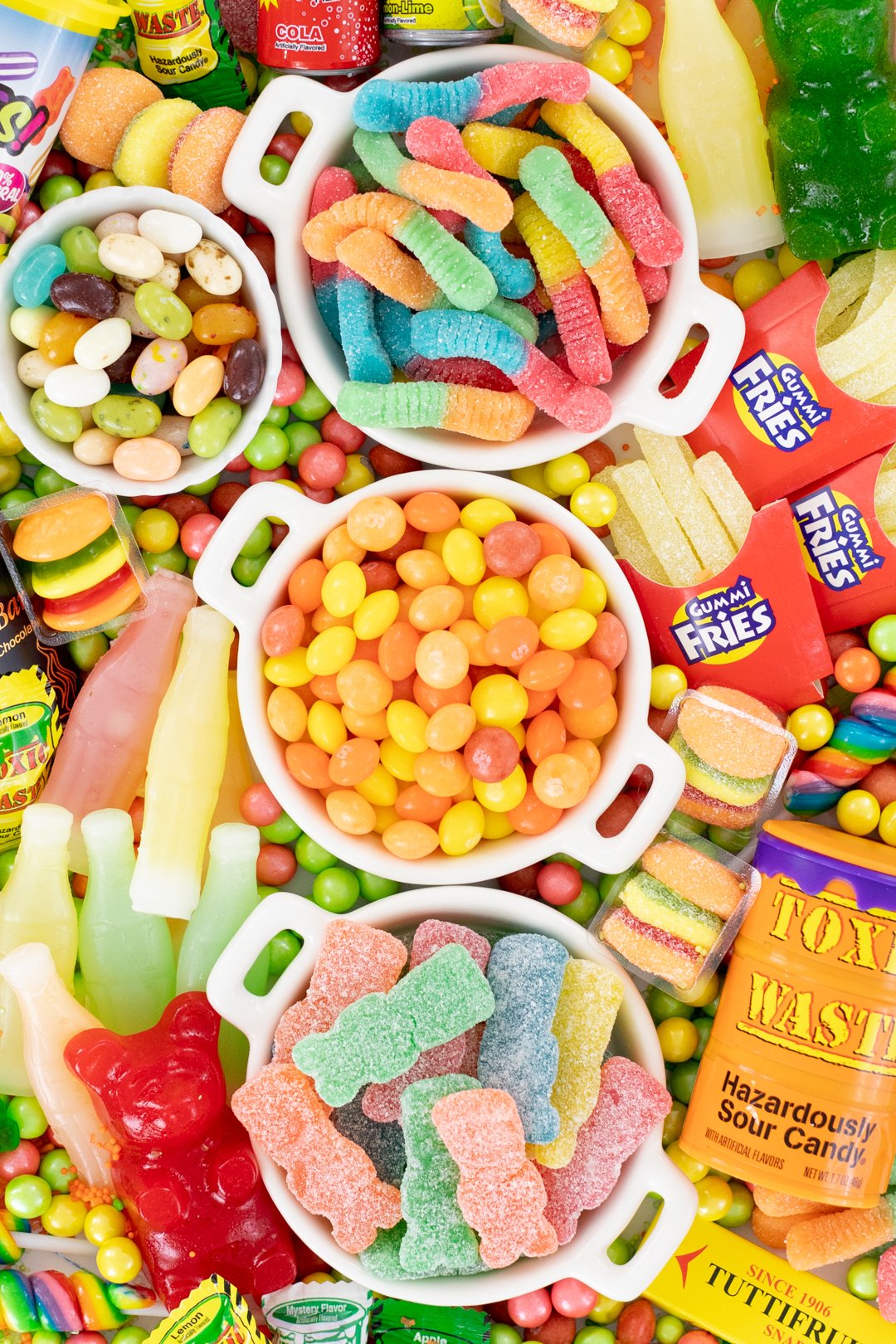 I'm kind of obsessed with this fun way to get a little silly. While it's all about pranks and shenanigans on April Fools Day, this tray of crazy candy is best "enjoyed" when everyone knows that they are in for it. And make sure to only add age-appropriate tricks to your board. This board was made with my own son in mind who loves extreme sour and extreme spicy foods with friends. It's like more of an activity... who can handle the most terrible candies for longer?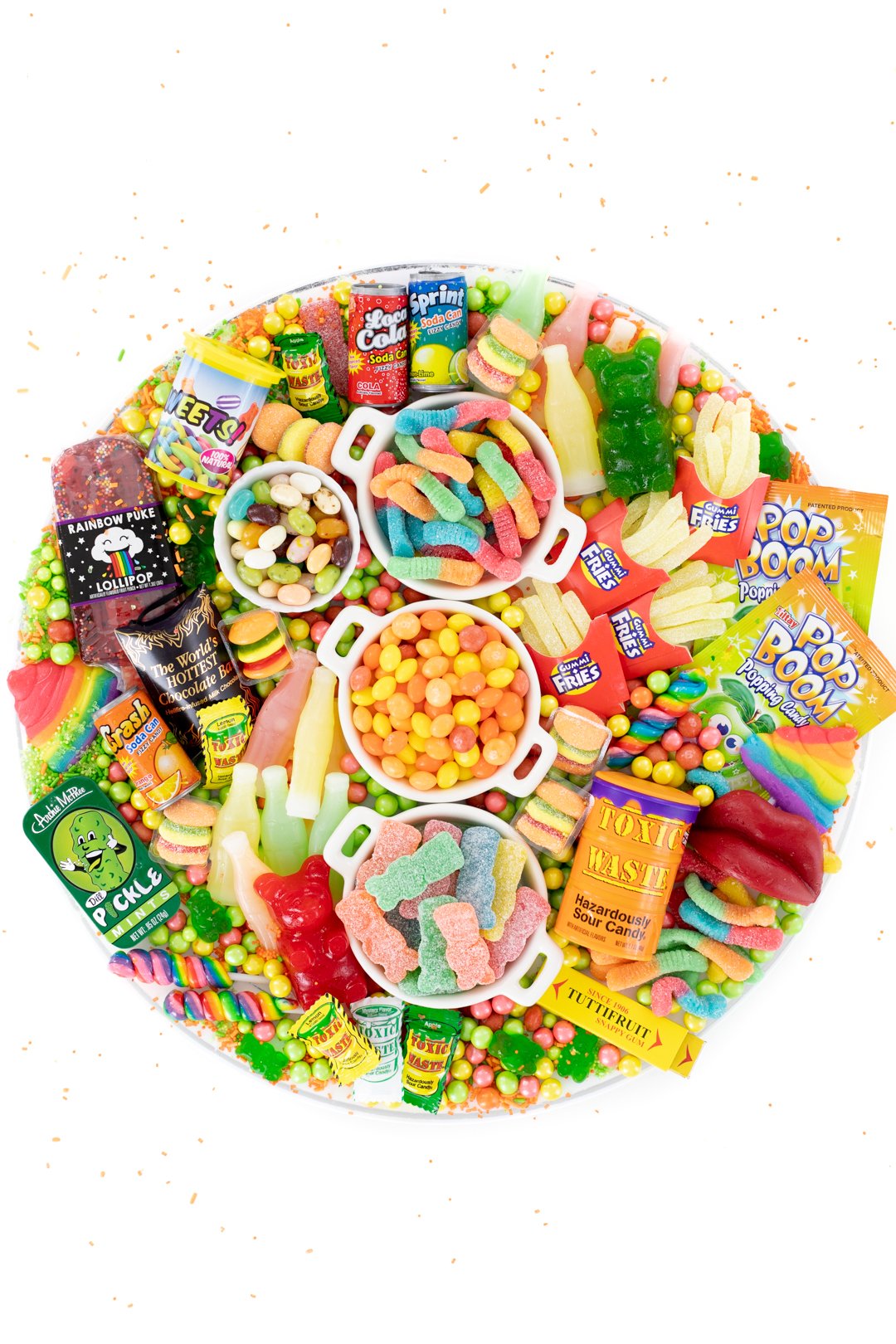 Candy Charcuterie Ideas for April Fools' Day could not be more perfect to celebrate!
CANDY CHARCUTERIE IDEAS FOR APRIL FOOLS' DAY
April Fools! It's what you'll be saying as you present a tray full of the most sour, spicy and grotesque candies around. Throw in some classic pranks and it will be more like an event to remember. This terrible candy board would also be perfect as a Halloween charcuterie board or for a night-in with teens or tweens. It has the makings to even be the worst sleepover food ever, making it pretty perfect.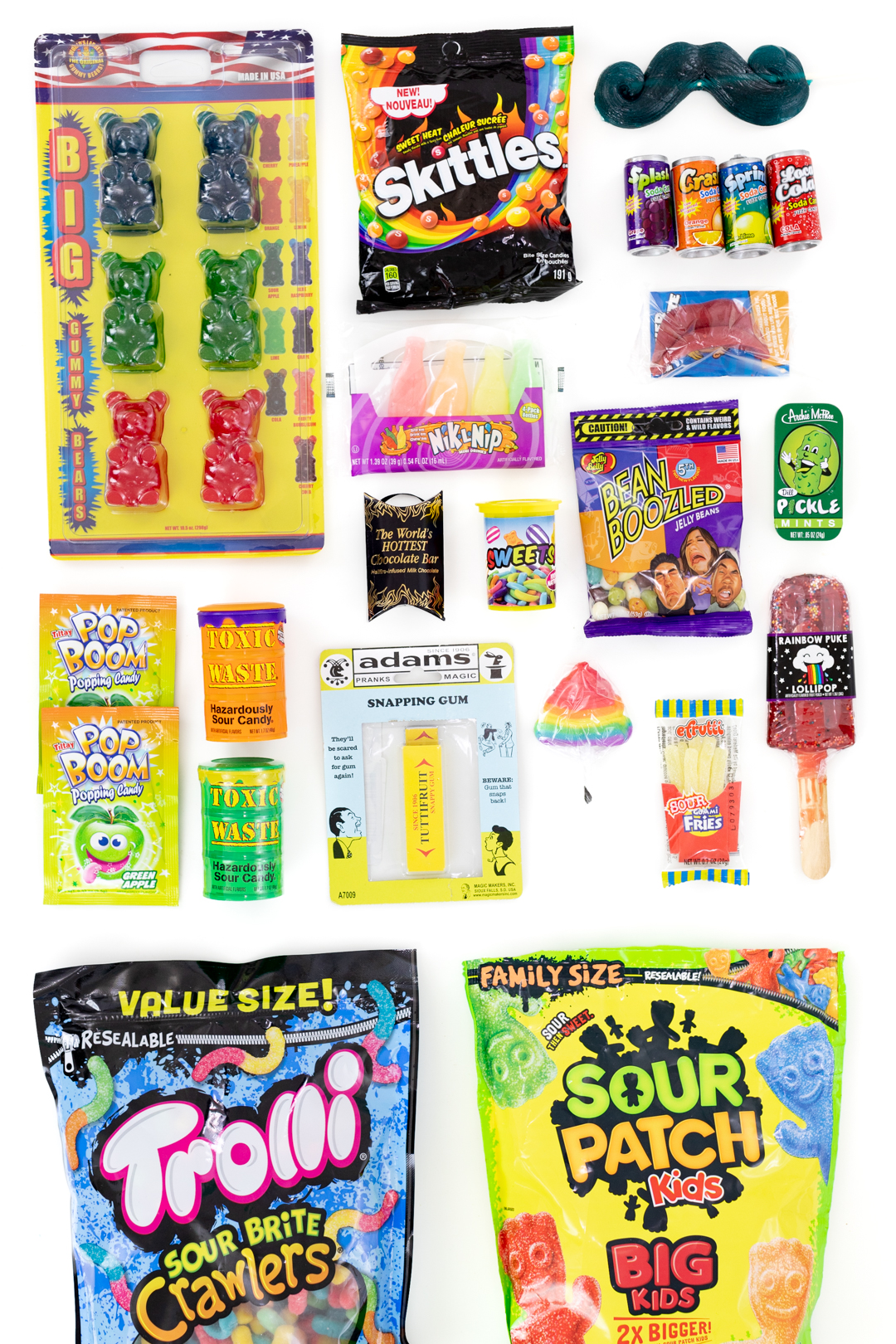 With so many fun things to do on this silly holiday, this funny candy board is among the very best ideas ever.
PRANK CANDY BOARD
Celebrate April Fools day in the very worst way. Pick out the worst candies and pranks ever and get ready to have some fun. Don't forget to grab your camera. There is bound to be some gut-busting laugh-worthy photo opps!
First thing to do is to pick out a large tray or board. Think serving trays or cutting boards to set up your candy on.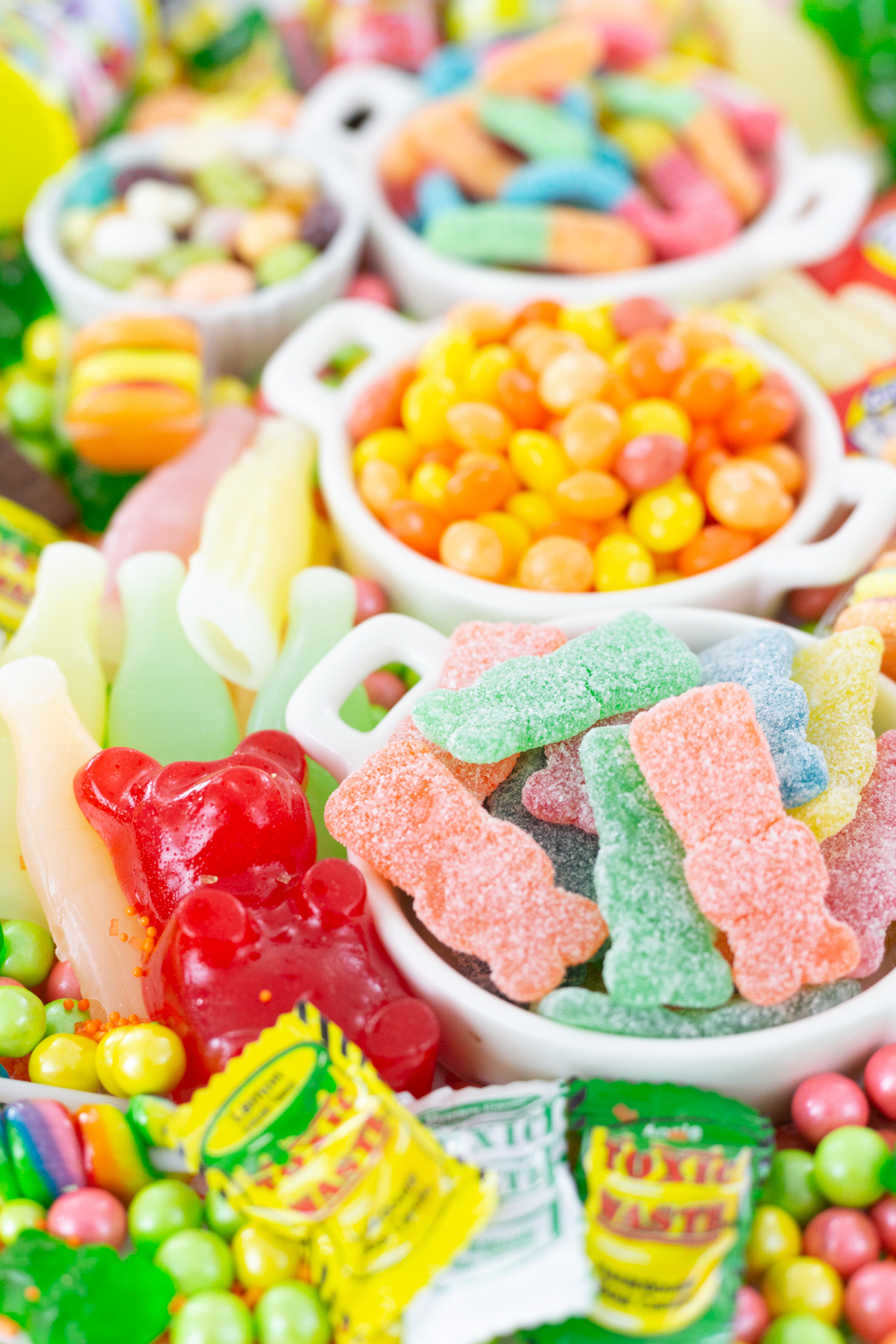 Next! Pick all of your candy selections and prank ideas. Here is the big list of hand-picked "tricks" to get your ideas started.
SOUR CANDY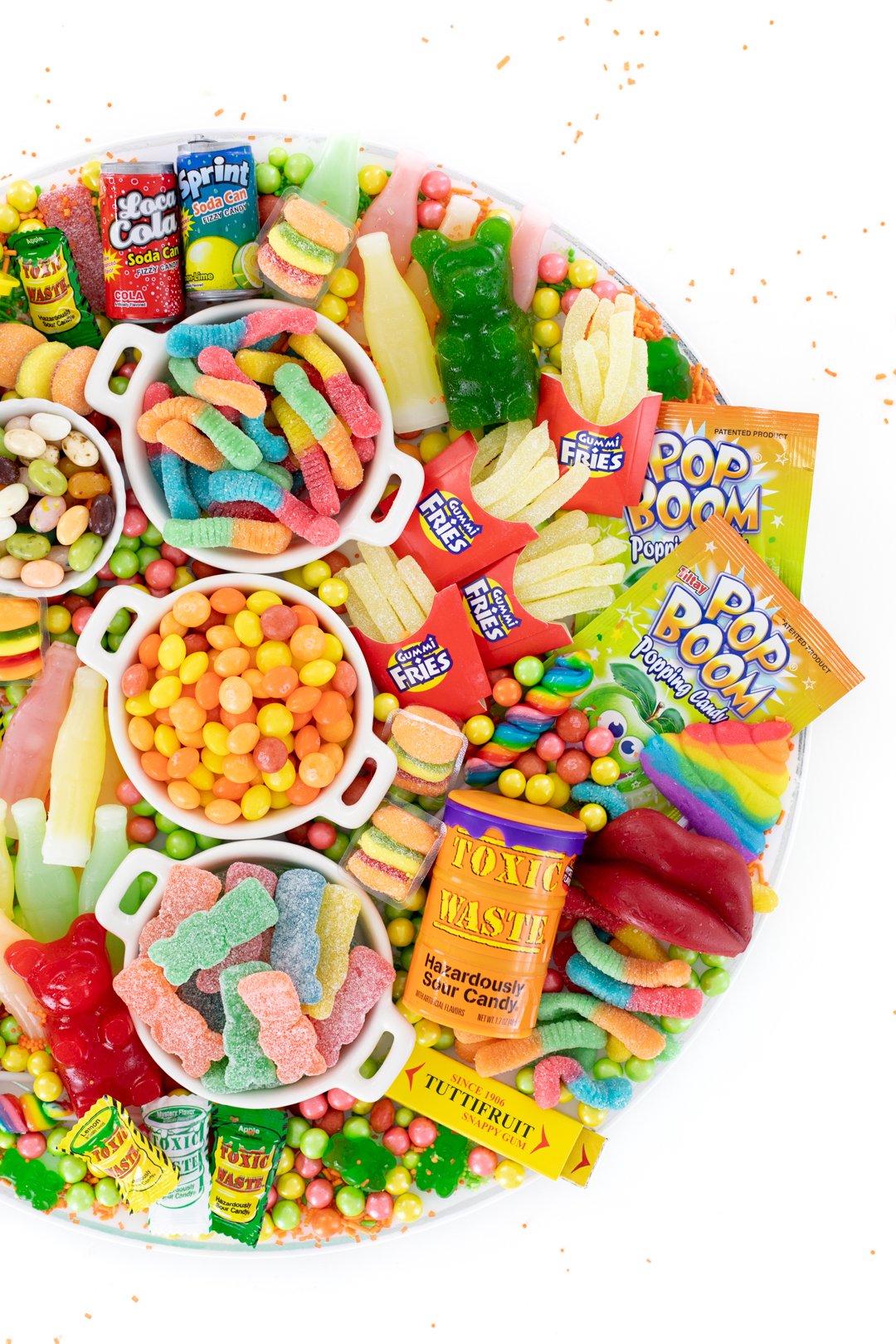 SPICY CANDY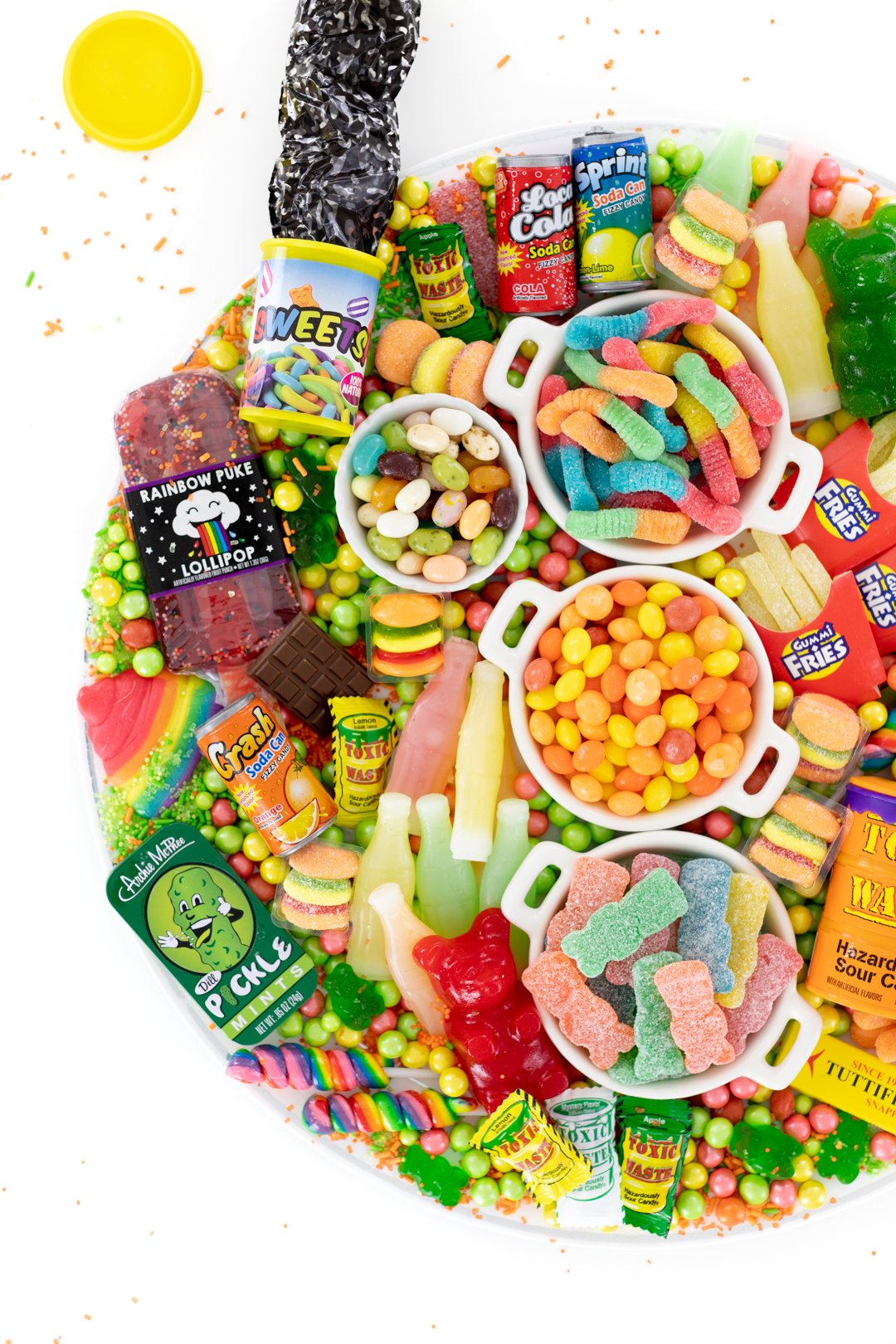 GROSS CANDY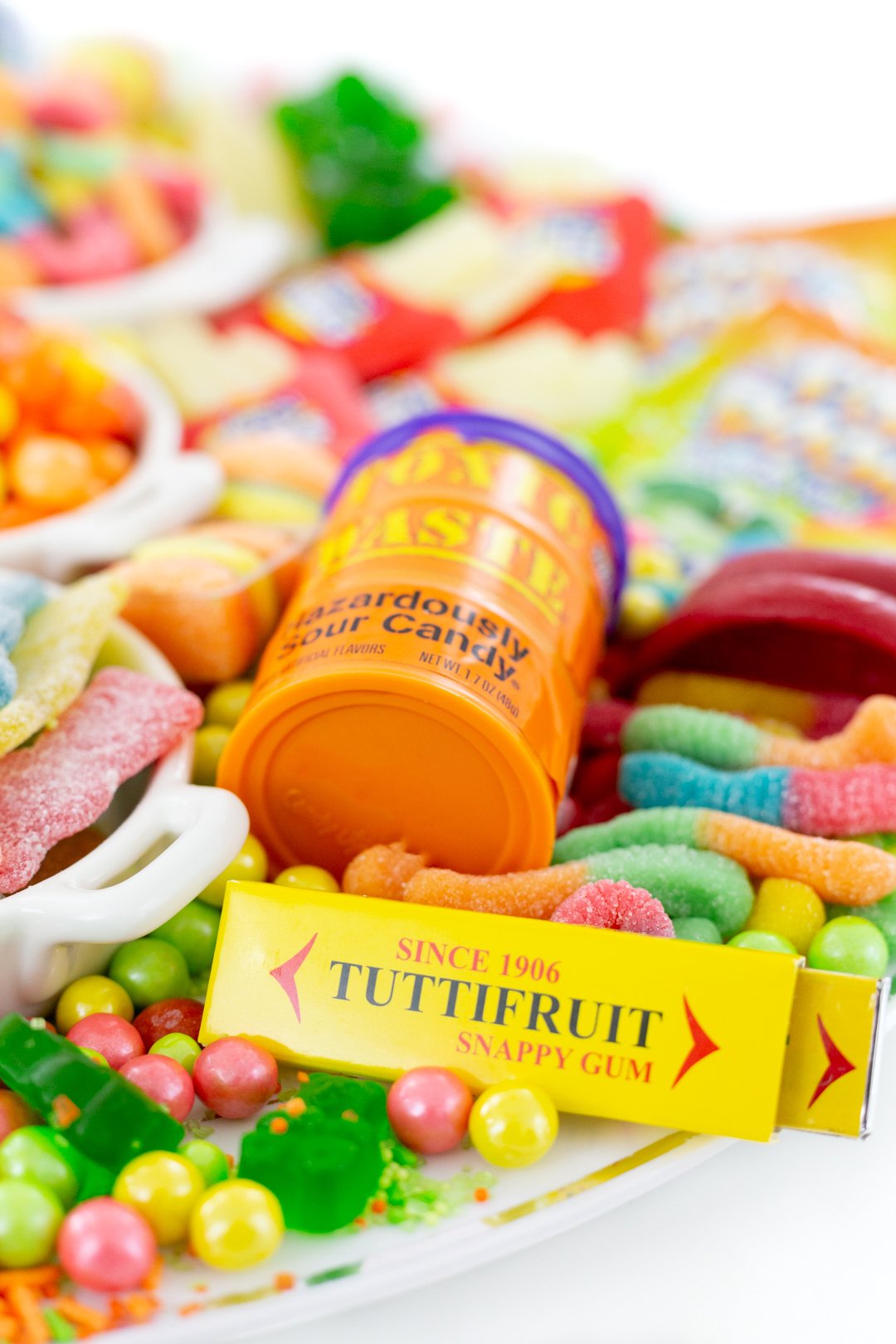 FUNNY CANDY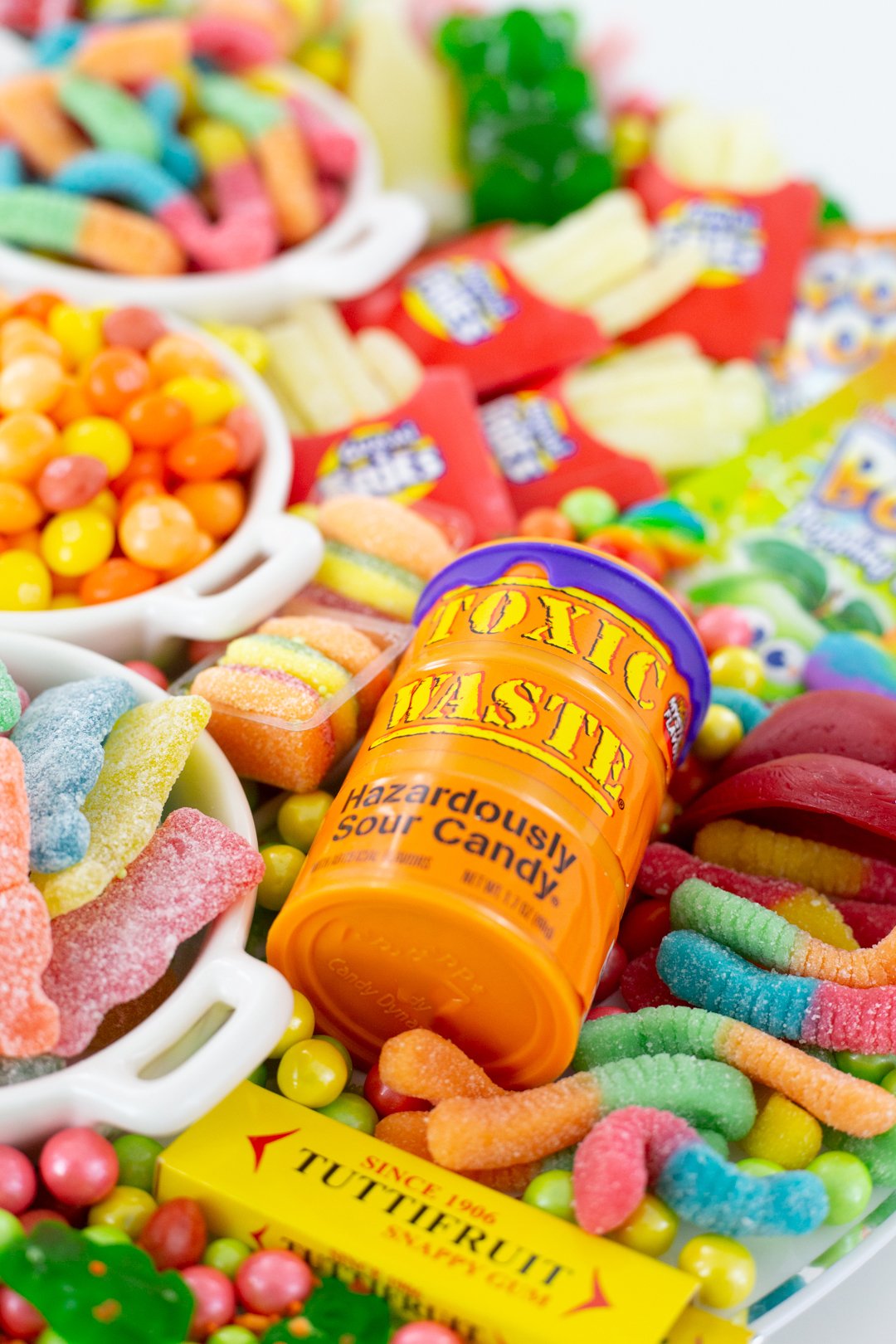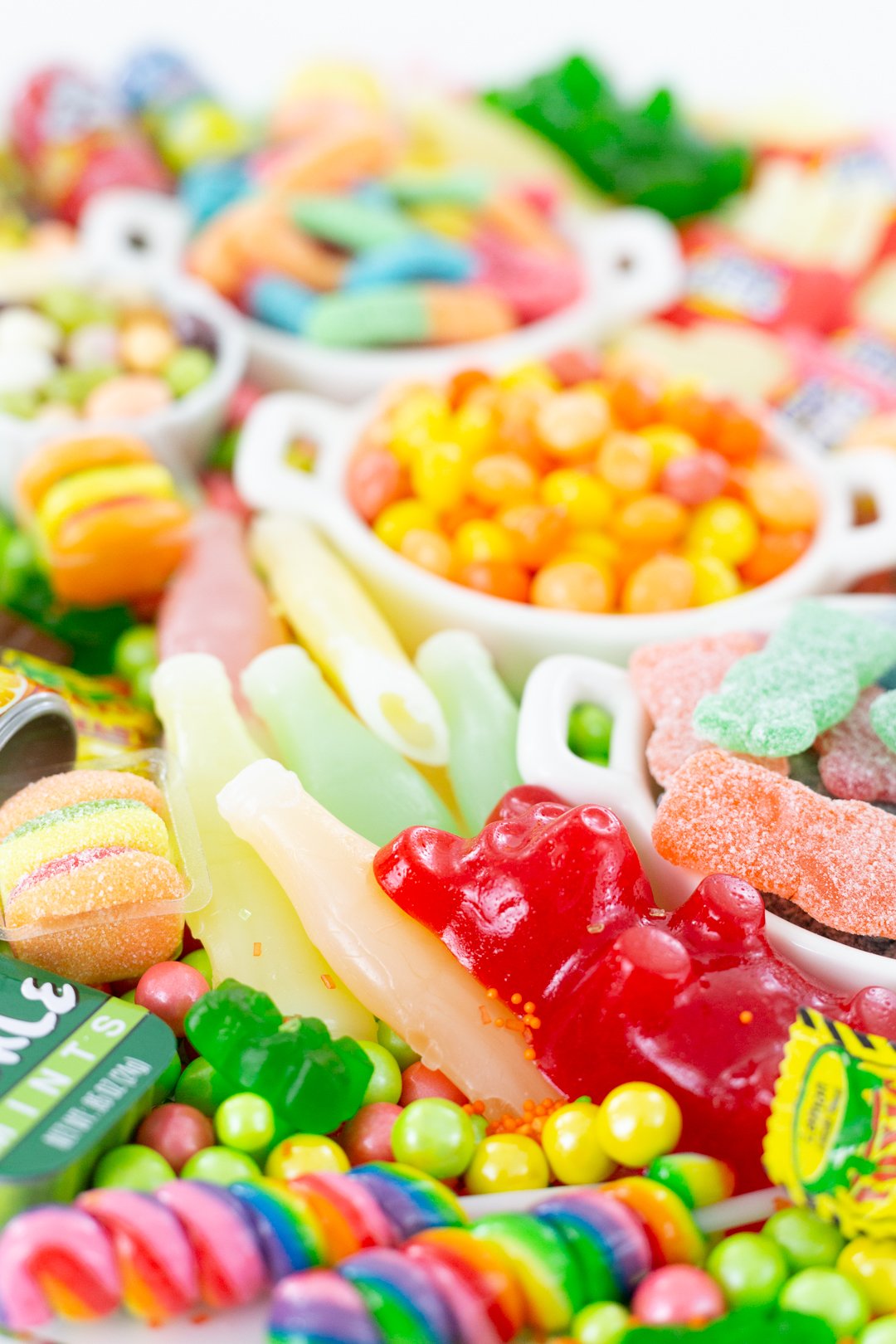 PRANK "CANDY"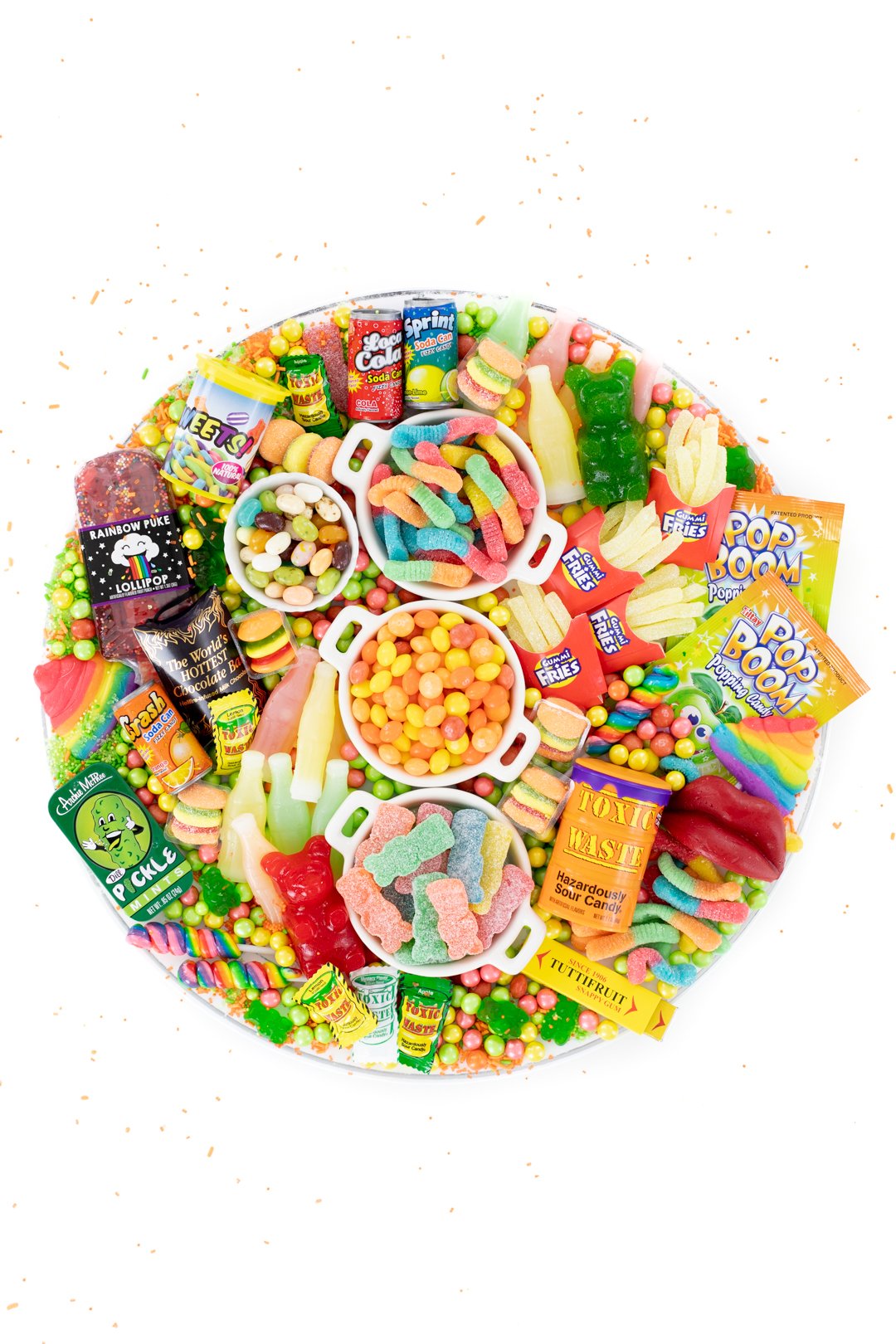 Hope you loved these absolutely terrible candy and pranks!
BEST CANDY CHARCUTERIE BOARDS
Want to celebrate Fat Tuesday? These Mardi Gras Candy ideas are perfect to get the party started.
This candy board adds a pop of fun to your St. Patrick's Day.
Celebrate a birthday party with this super colorful and happy charcuterie board.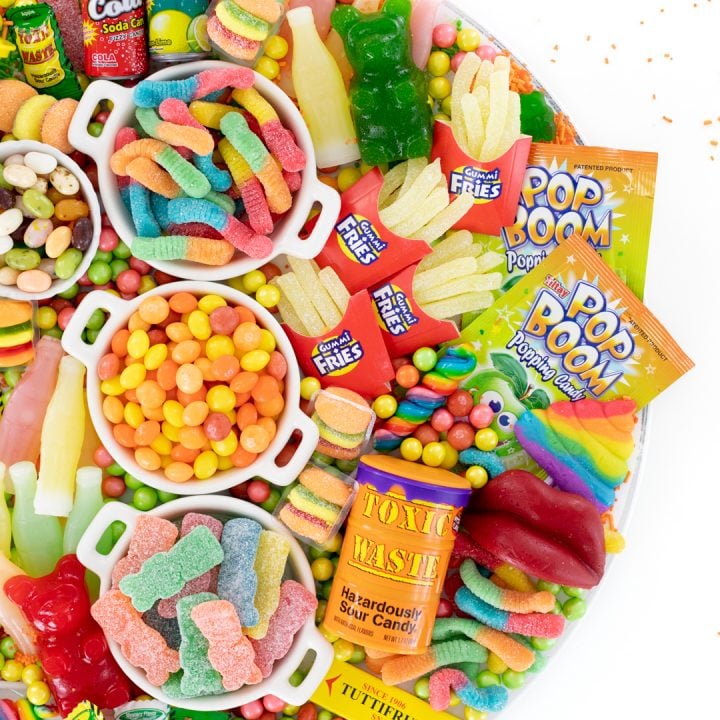 April Fools' Day Candy Board
Prep Time: 20 minutes

Total Time: 20 minutes

Candy Charcuterie Board to celebrate April Fools Day with sour, spicy and gross candy. Plus extra pranks like shock gum.
Ingredients
Wack-O-Wax Candy Lips
Sour Patch Big Kids Candy
Trolli Sour Brite Crawlers Sour Gummy Worms
Nik-L-Nip Mini Drinks Candy
Skittles Sweet Heat, Bite Size Candies
TOXIC WASTE ULTRA SOUR CANDY
GIANT GUMMY MUSTACHE Lollipop
Giant Gummy Bears
World's Hottest Chocolate Bar
eFrutti Gummy Food Mega Mix
Pop Boom Popping Candy
Soda Cans Fizzy Candy
Dill Pickle Flavored Mints
Jelly Belly Bean Boozled
Rainbow Poop Swirl Lollipops
Mini Rainbow Twisty Lollipops
Rainbow Puke Lollipop
Non-food pranks:
Pranks and Gags Screaming Candy Jar
Snapping Gum Prank
Instructions
Choose a large tray or cutting board.
Layer your board with all your candies being sure to fill it up completely.
Use sprinkles and smaller candies as fillers.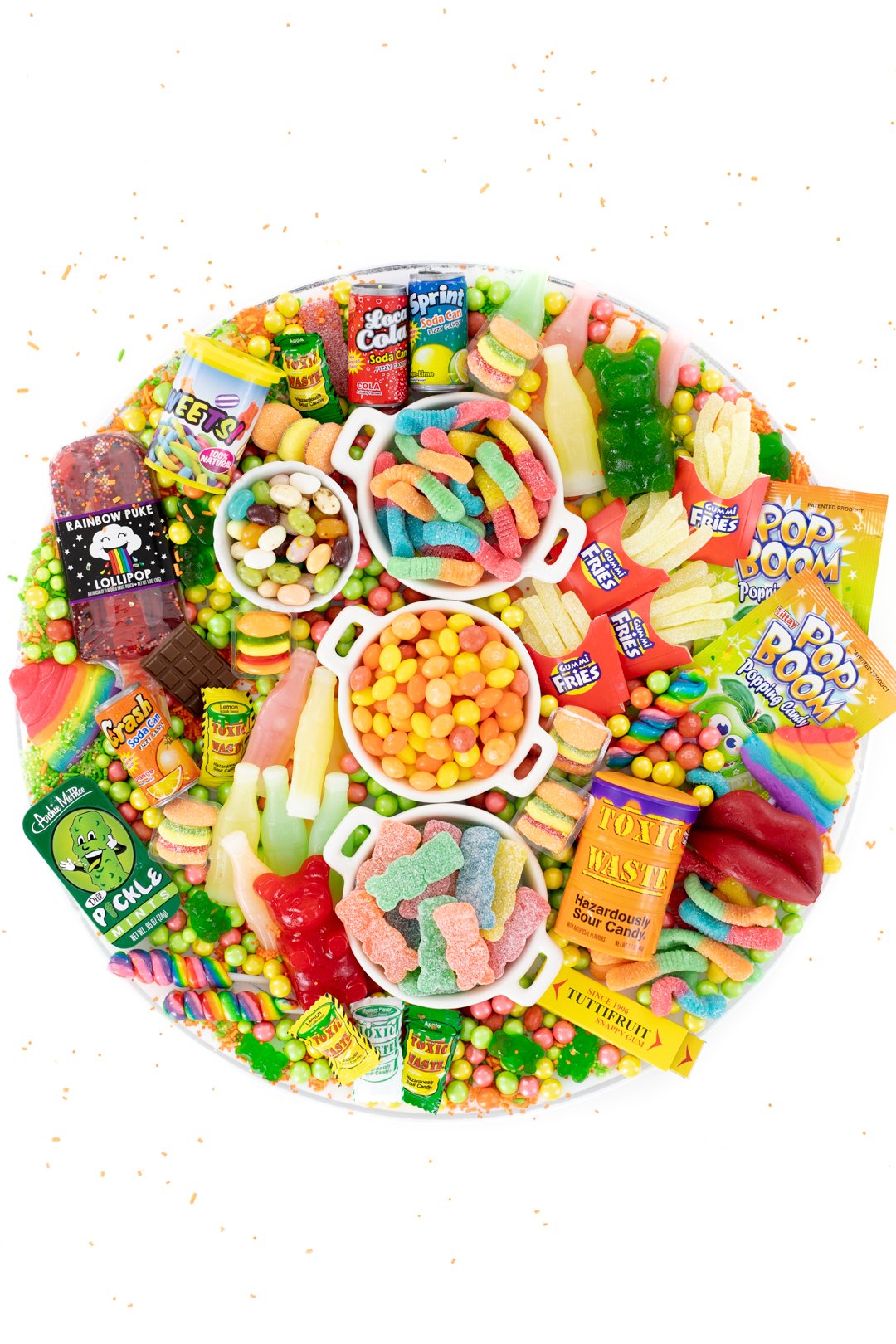 What would you add to this horribly silly candy charcuterie board?