Green stuff. It's everywhere around St. Patrick's Day! I've been thinking about green foods for the past couple of weeks, it's not an easy color to make treats with that's for sure. While grocery shopping last week, some lime sherbet caught my eye and I rejoiced a bit inside. You see, I don't like mint or pistachio ice cream. Is that weird?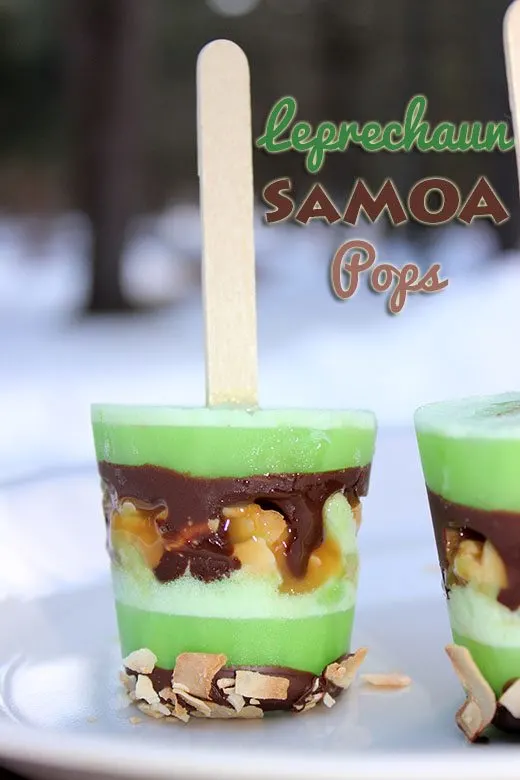 Well anyway, Samoa Girl Scout Cookies have always been my favorite and I'd also seen so many fabulous recipes on Pinterest using the concept. These really caught my eye "Samoa Popsicles" absolutely gorgeous, but I also want to know how in the world they got their pops to stand like that?
Anyway, the strange idea to make Leprechaun Samoa Ice Pops entered my St. Paddy's Day brainstorms and I just went for it. Perhaps it's a strange bunch of ingredients to merge together, but my goodness it works. It reminds me of some Key Lime Coconut Patties my mom brings home from her vacations in Florida from time to time too. So yummy!
Leprechaun Samoa Ice Pops Recipe
Ingredients
1 Quart Lime Sherbet
7.5 oz Magic Shell or Hershey's Shell
¾ Cup Toasted Coconut
Caramel Topping ( I used Smucker's Sundae Syrup)
Mini Bathroom Cups (3 ounce size) I used Dixie Brand
Wooden sticks or lollipop sticks
Instructions
Let lime sherbet defrost for about an hour. Fill your mini cups up about ⅓ of the way. Stick them in the freezer for about a ½ hour. Then add a pinch of toasted coconut on top of the sherbert layer. Then cover the coconut with some caramel topping. Finally add a thin layer of the chocolate shell topping. Let set just a minute. Once it's firmed up, you can add the rest of your sherbet to fill the cups. Set in the freezer for about a ½ hour, then stick your wooden sticks or lollipop sticks into the center. Continue to freeze for at least 4 hours before serving. To get the pops out of the cups, I cut into the rim and then peel away the paper. Drizzle some chocolate shell topping onto the top of each pop and press some of the remaining toasted coconut into it right before serving.
Makes approx 10 pops. Enjoy!