If you've been searching for the best chocolate cupcake recipe, this just might be your wingman. These triple chocolate cupcakes are fondly referred to as Dark Side of the Moon cupcakes for no other reason other than that they are downright mysteriously delicious. This post may contain affiliate links.
This is not your everyday run-of-the-mill dessert!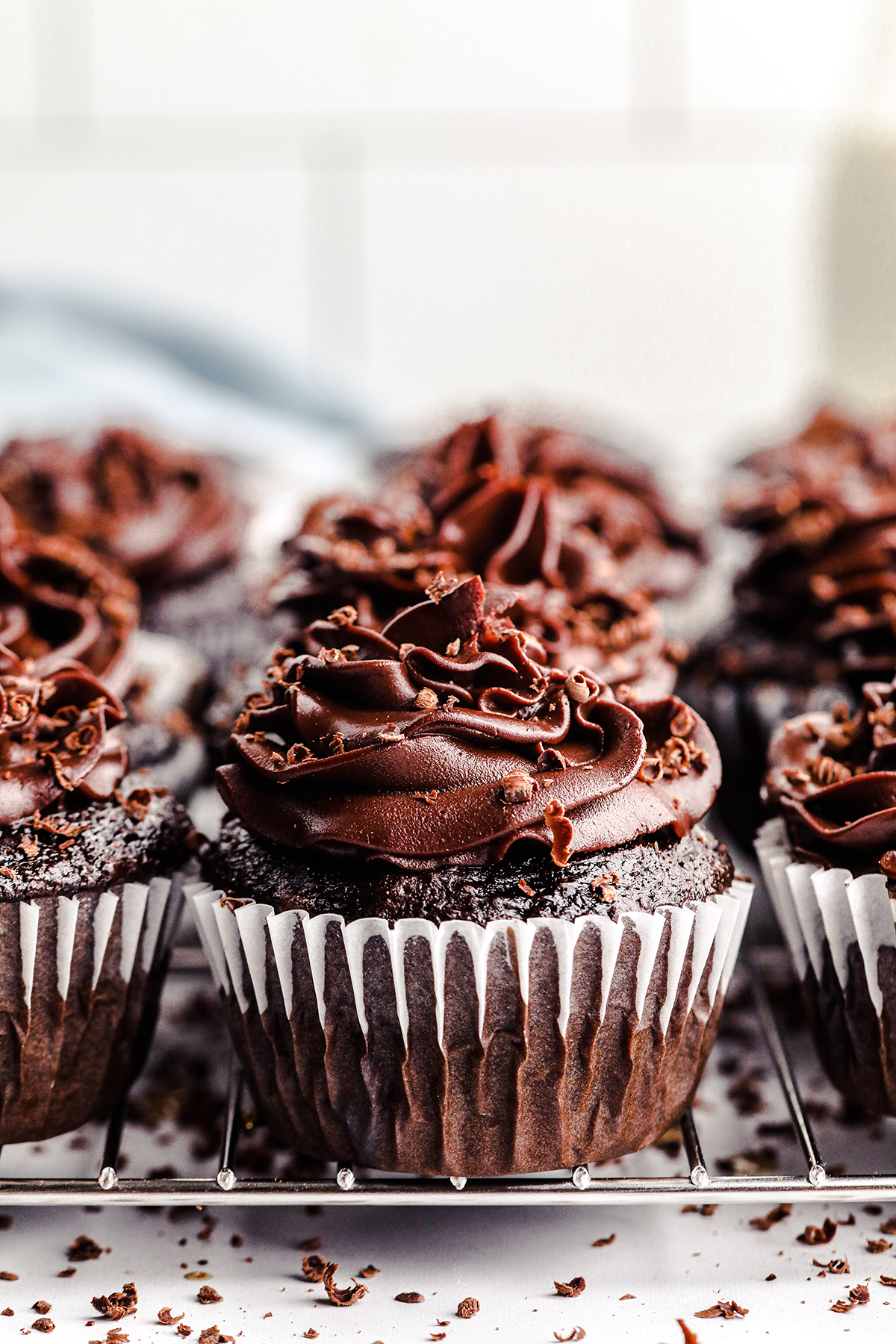 These amazing triple chocolate fudge cupcakes have a few steps, but I promise they are all super simple and worth every effort.
Let's start by going over the ingredients that are needed to make these delicious hand-held treats.
The magic all starts with a box of cake mix and we will build on from there step-by-step.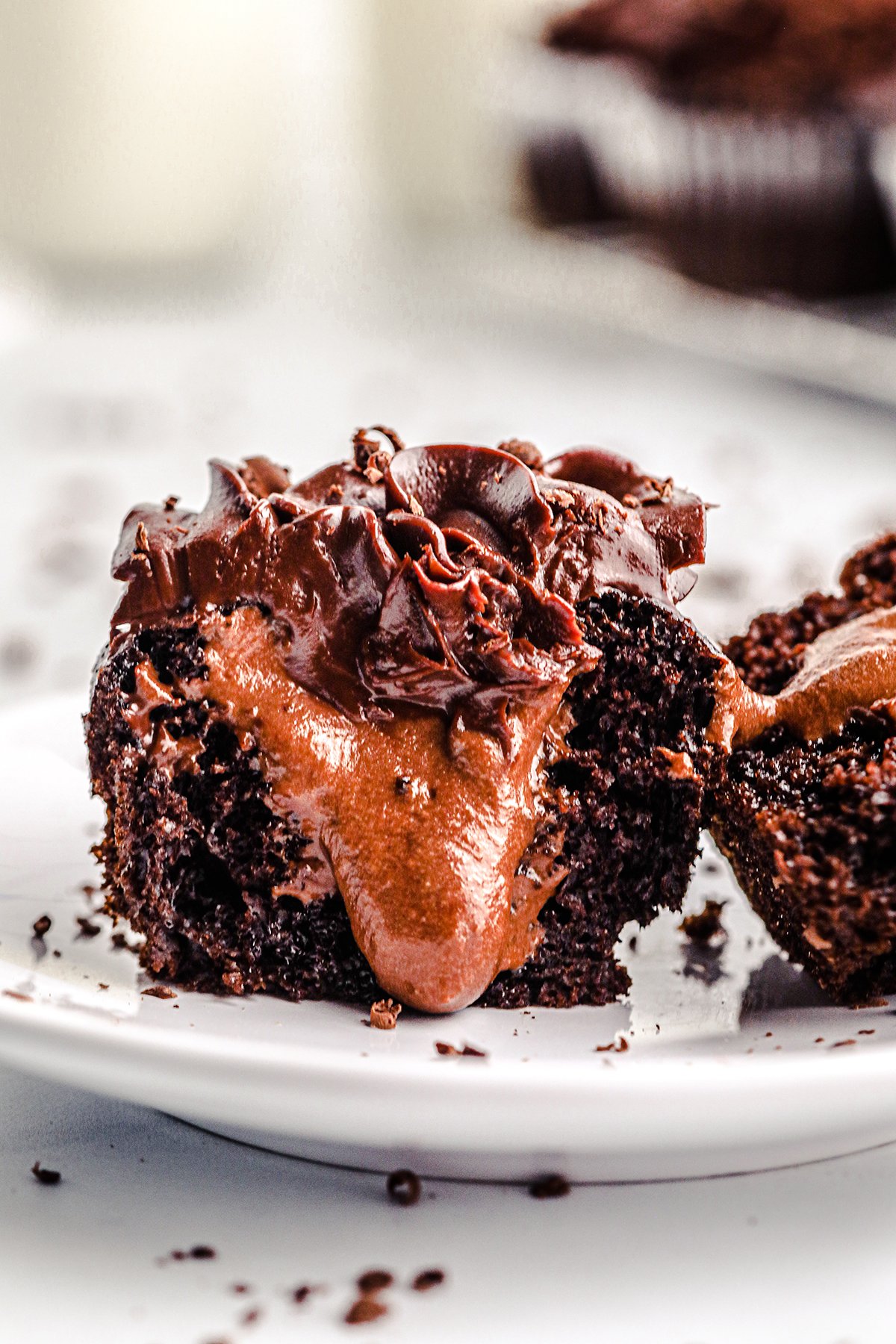 DARK SIDE OF THE MOON CUPCAKES RECIPE
These triple dark chocolate cupcakes are the perfect dessert for any chocolate lover. They're rich, chocolatey, and extra fudgy! Plus, they're easy to make and require very simple ingredients. You'll love them!
These mysteriously dark and delicious cupcakes are loaded with chocolate flavor. Don't skip any of the delicious steps to make these from the mousse filling to the ganache frosting. The recipe also calls for a scrumptious coffee simple syrup that guarantees these cupcakes will be ridiculously moist.
DARK SIDE OF THE MOON CUPCAKE INGREDIENTS
This recipe is quite simple, but it involves combining a few micro recipes to bring it all together.
I thought it would be helpful to do a quick breakdown on what ingredients are needed for each part to give you a quick overview.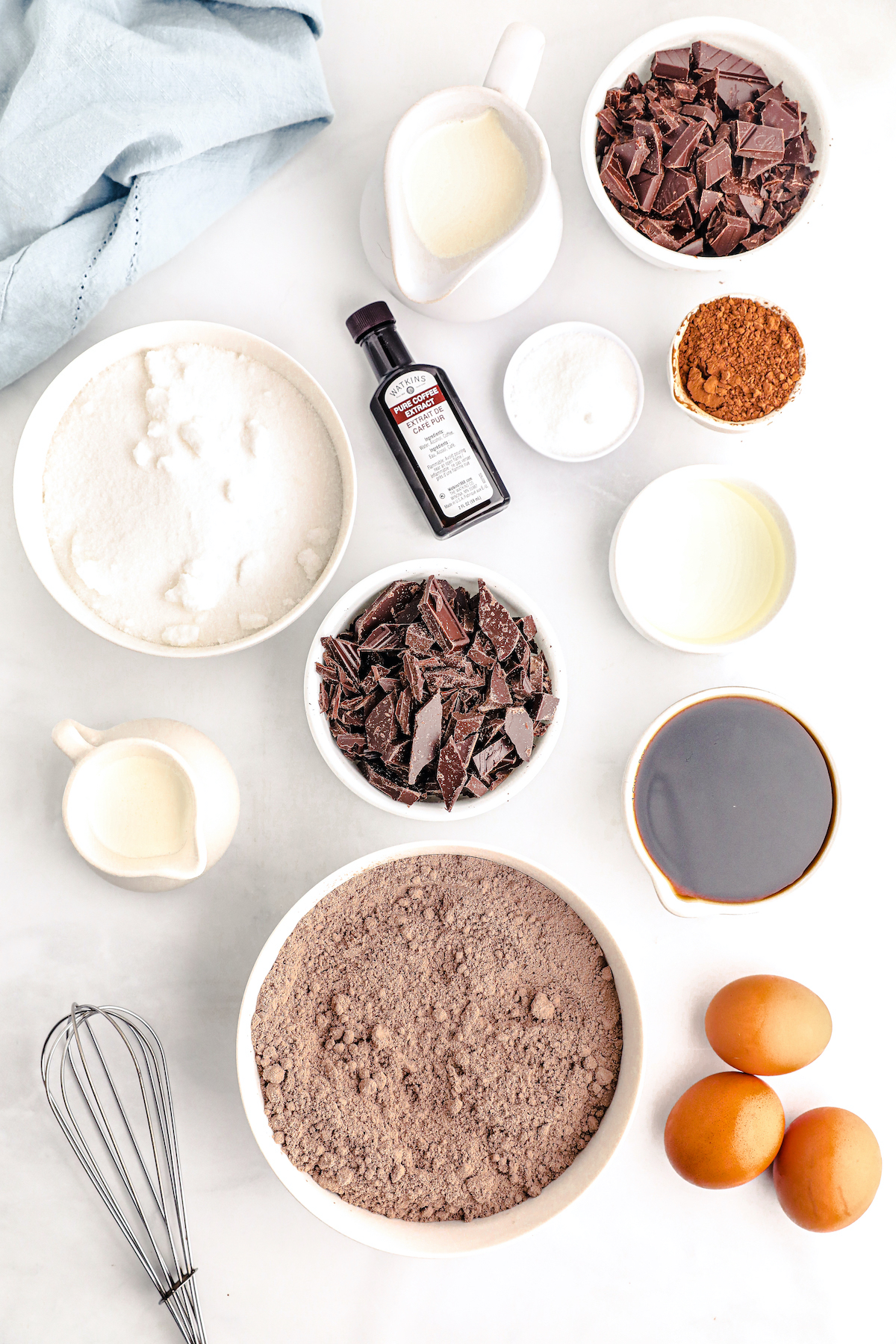 Be sure to scroll down to the recipe card to print the full recipe instructions that include the exact measurements needed.
CAKE MIX INGREDIENTS:
Dark Chocolate Fudge Cake Mix
Cold Coffee
Eggs
Vegetable Oil
COFFEE SIMPLE SYRUP
Granulated Sugar
Hot Water
Coffee Extract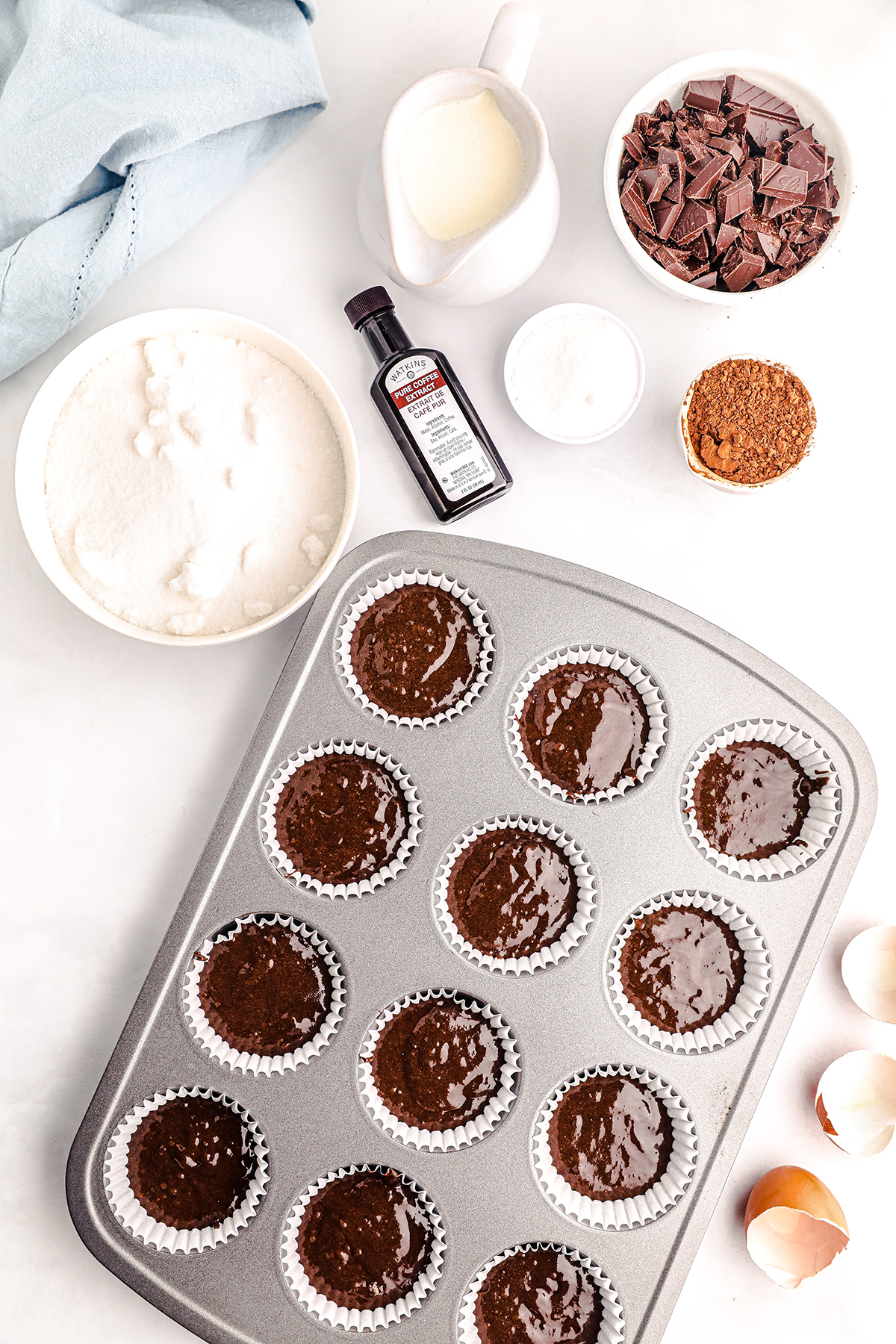 MOUSSE FILLING
Hot Water
Heavy Whipping Cream
Unsweetened Cocoa Powder
Semi-sweet Chocolate
Granulated Sugar
GANACHE FROSTING INGREDIENTS
Heavy Whipping Cream
Dark Chocolate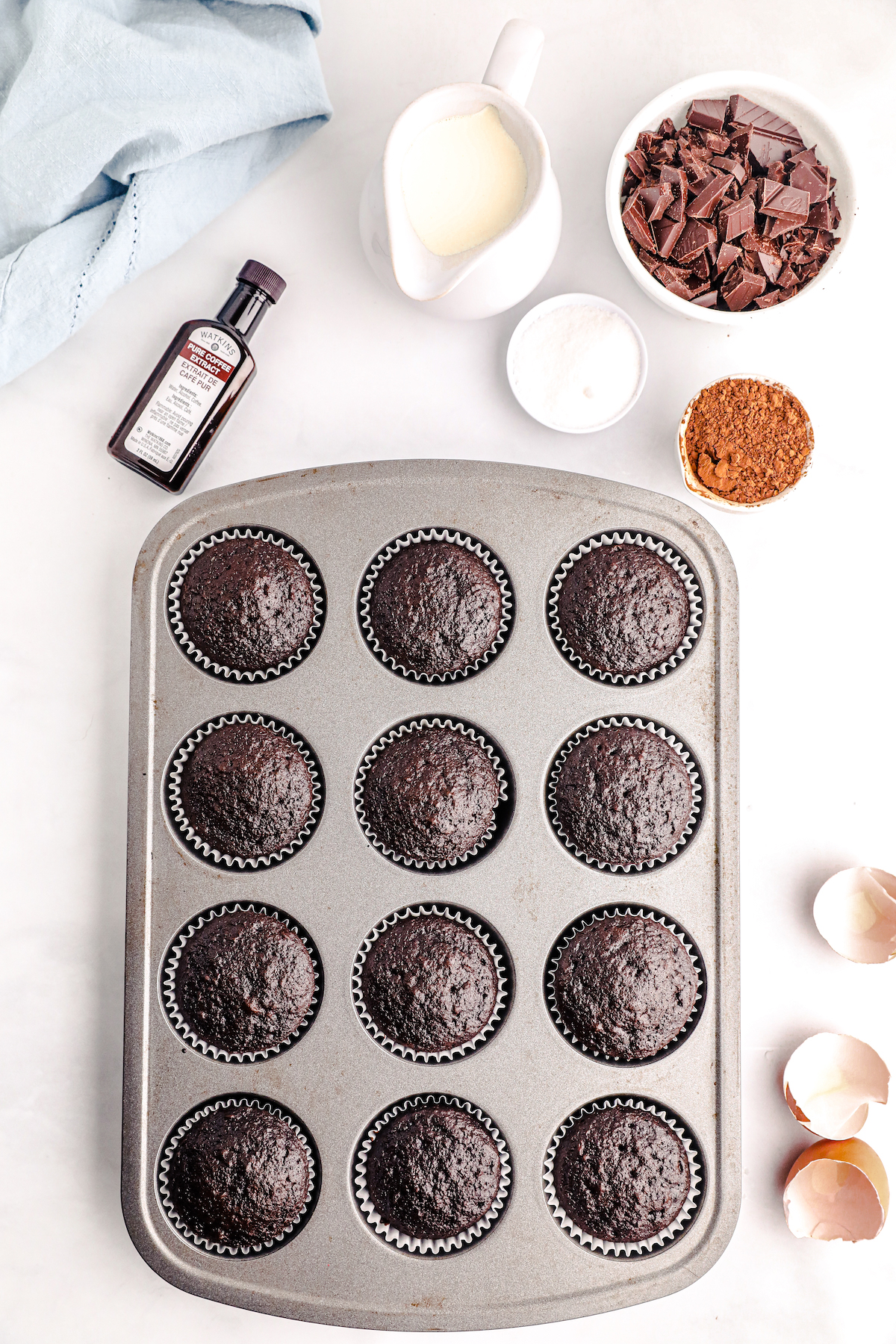 TRIPLE CHOCOLATE CUPCAKES TOOLS/SUPPLIES
Here is a quick rundown of the kitchen tools and supplies that you need to make this recipe.
Hand or Stand Mixer
Cupcake Baking Tray
Medium Saucepan
Whisk/Spatula (to mix ingredients)
Apple Corer or Wooden Spoon
Piping Bag
Large Piping Tip (for ganache frosting)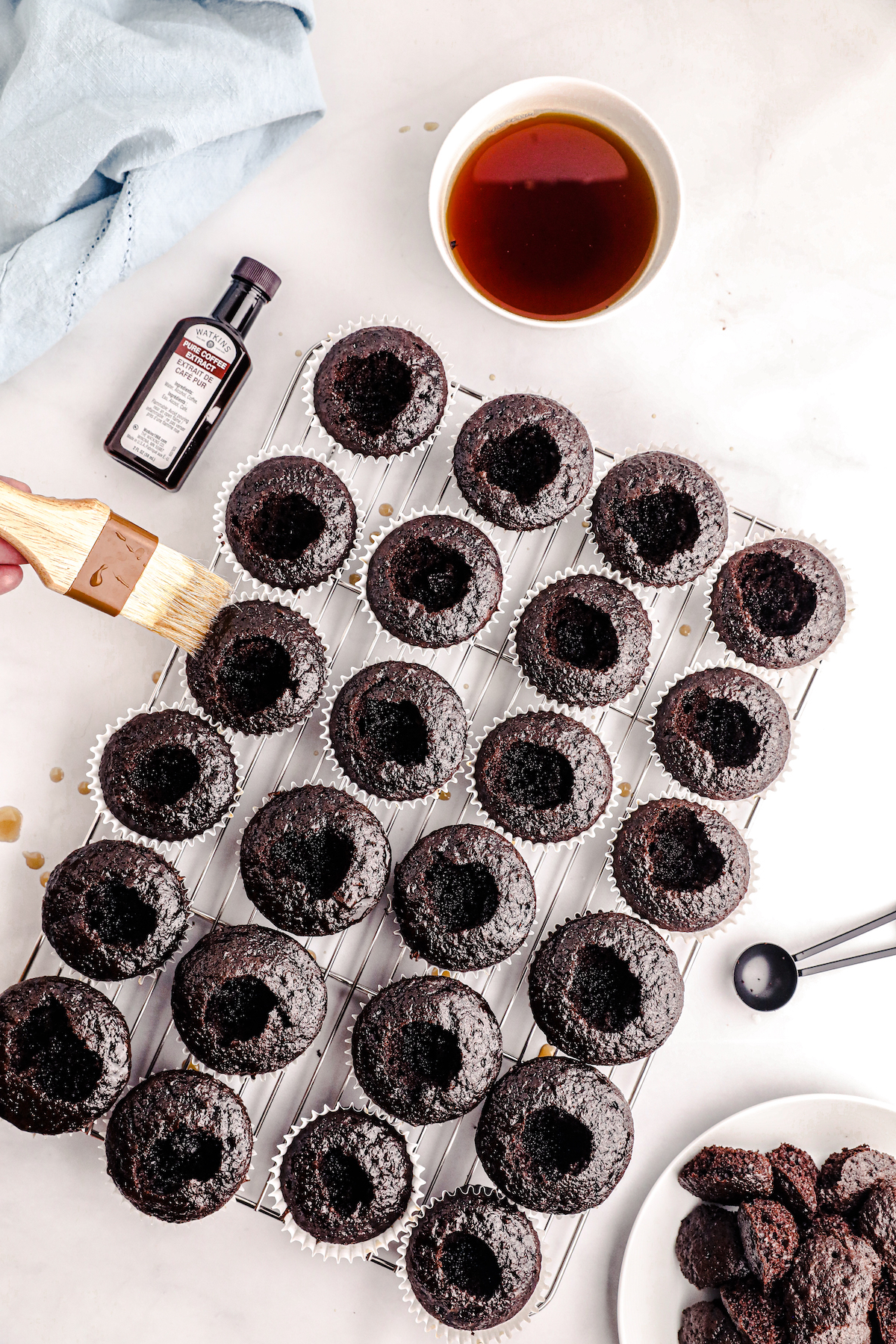 HOW DO I STORE THESE CUPCAKES?
You can store the cupcakes in an airtight container at room temperature for 3-5 days. You can also store them in the fridge, and they will stay fresh longer. If your house is on the warmer side, you may want to keep them in the fridge, so the ganache frosting doesn't lose shape and melt.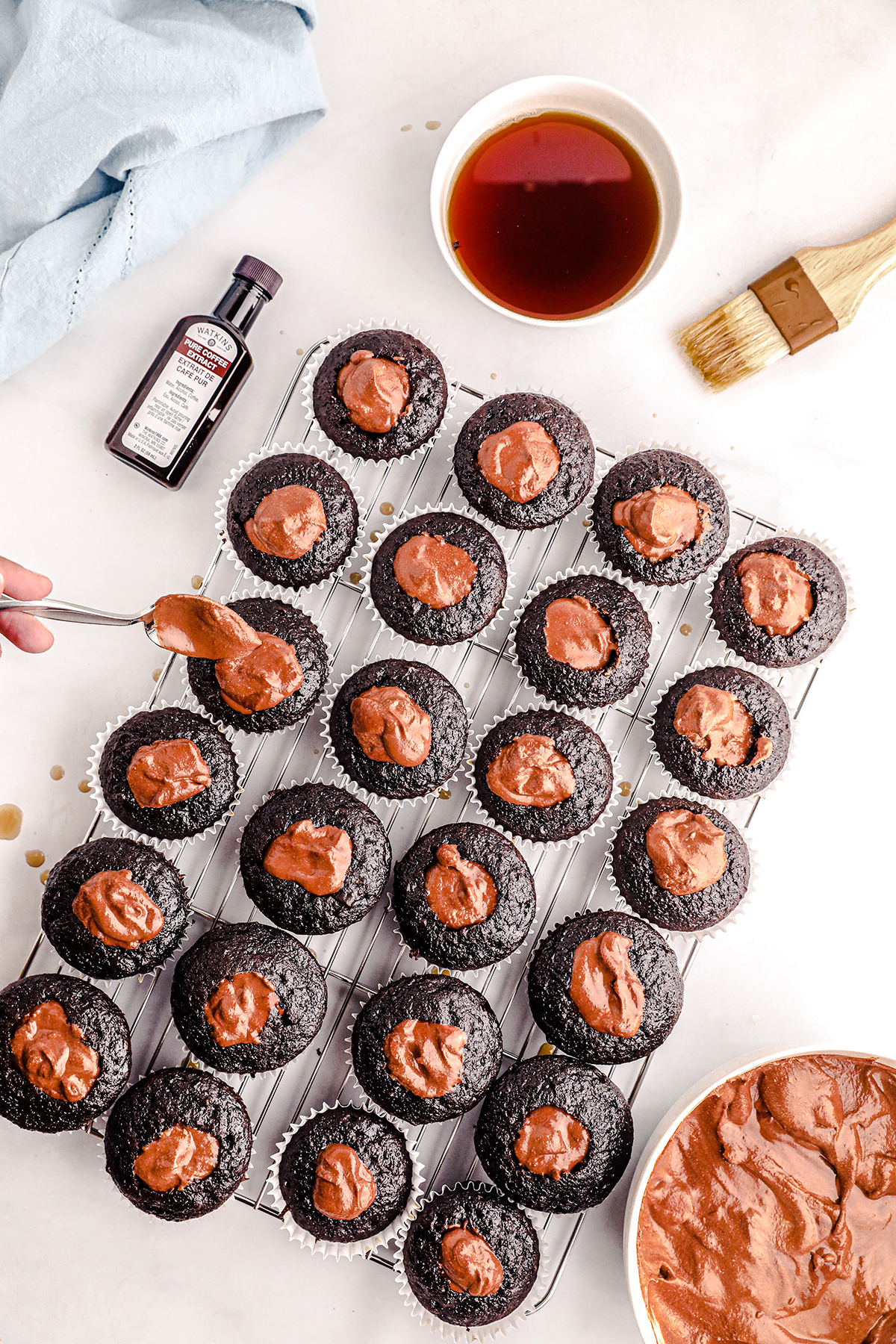 CAN I JUST USE A DIFFERENT CAKE MIX?
Absolutely! I try to stick with a "fudge" cake mix for this recipe, but any chocolate cake mix will work just fine. Just follow the directions for the water/eggs/oil amounts for that specific box of cake mix. I like to swap the water for cold coffee to really increase the chocolatey flavor of the cake.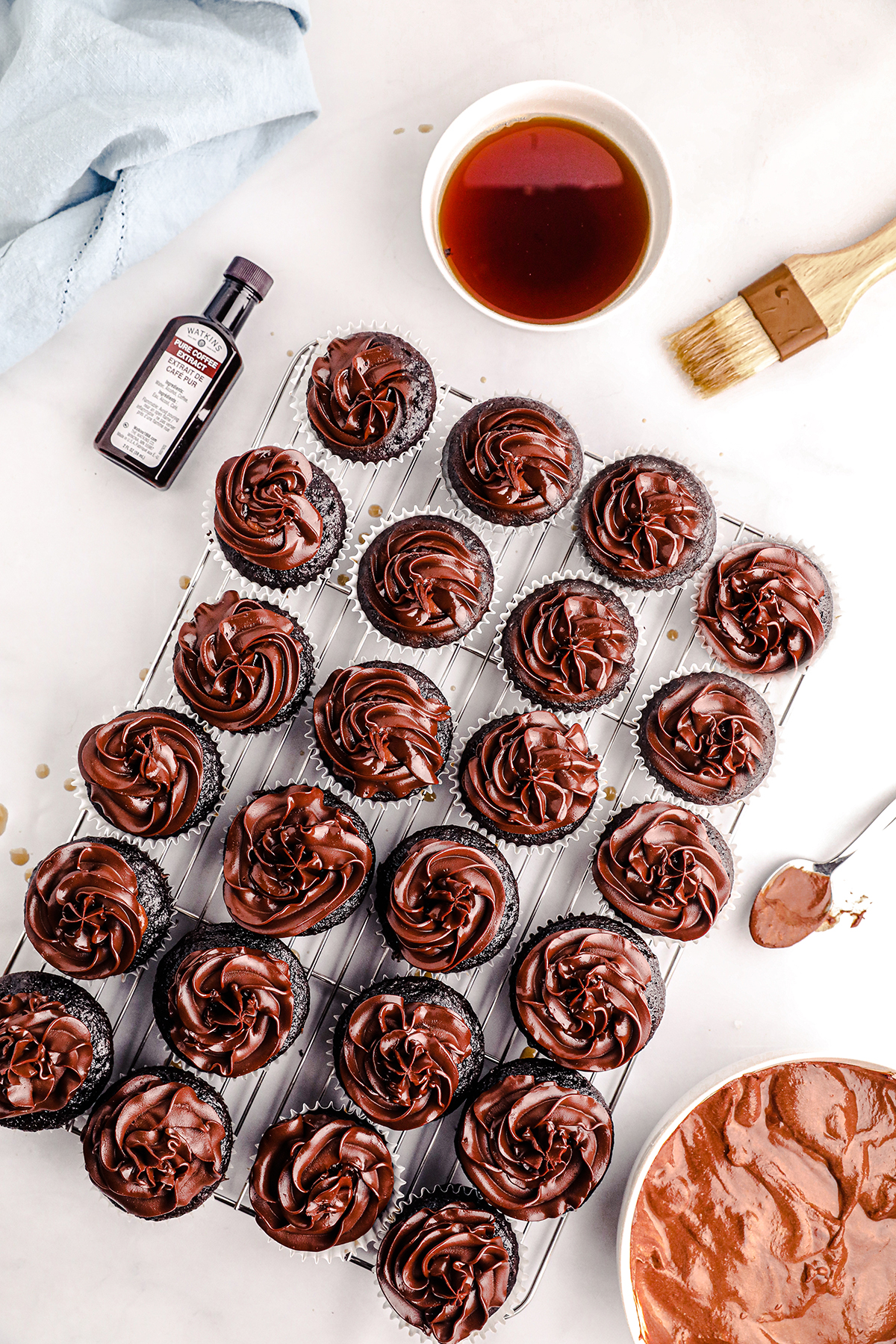 These rich and indulgent treats are sure to satisfy everyone's sweet tooth. Plus, they're easy to make - perfect for last minute entertaining. Give them a try.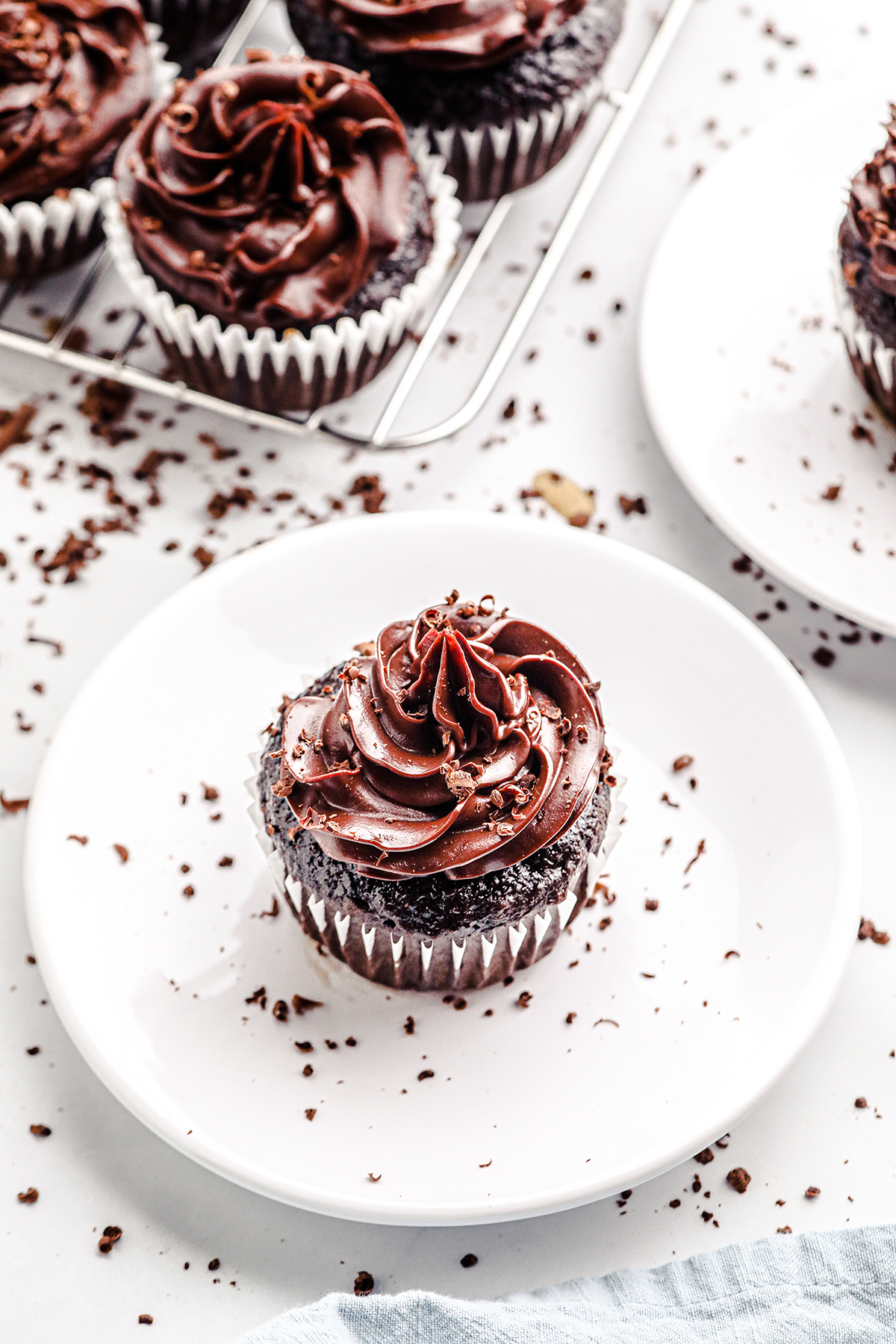 I hope you're ready to get your chocolate fix with this cupcake recipe. It's a triple-chocolate decadence that takes the cake!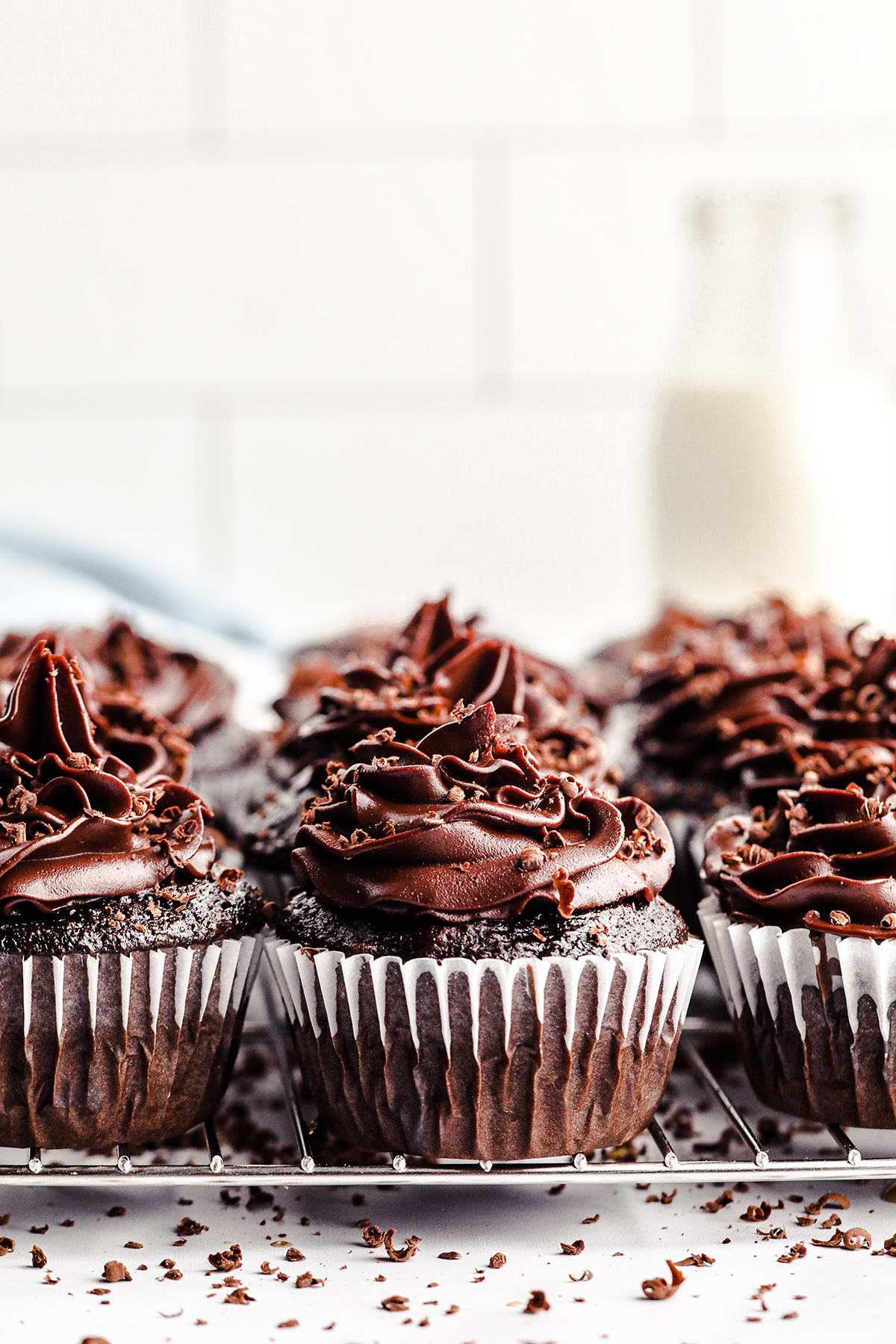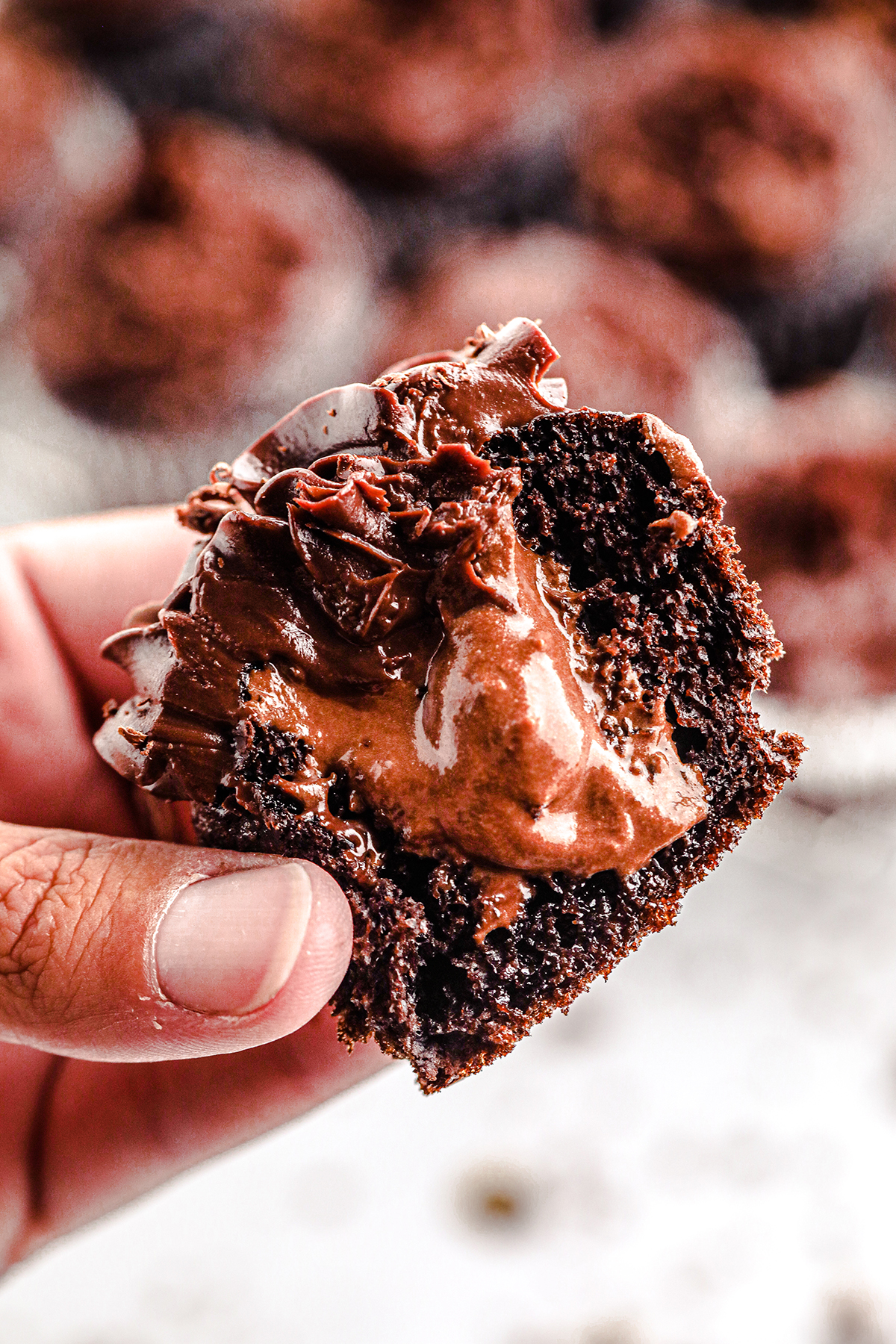 And if you love sweets, then here are some more recipes for you to try out: Peanut Butter Swirl Brownies, Snickers Brownies, and Peanut Butter & Jelly Bars.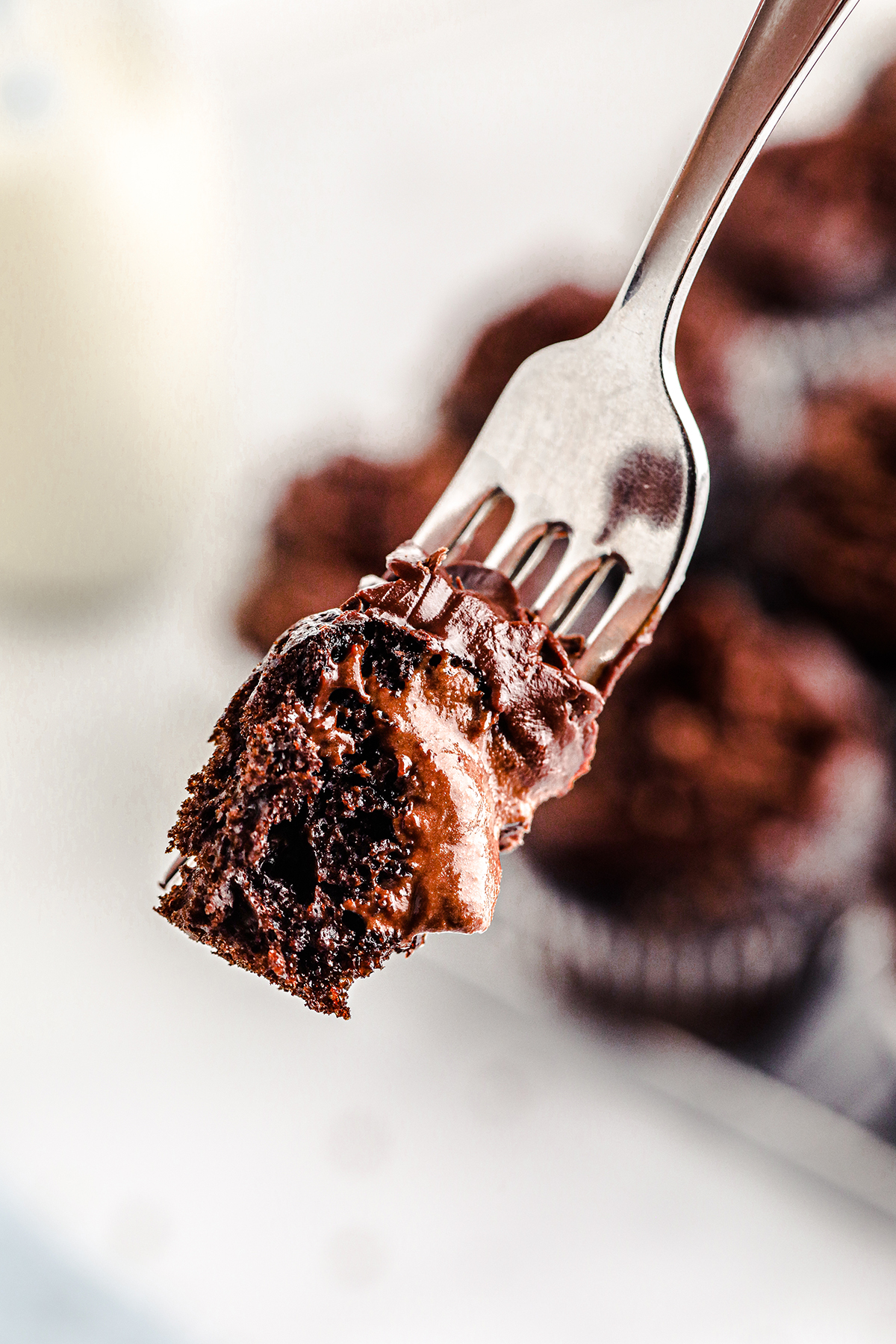 It's hard to believe that a cupcake could be this good. These Dark Side of the Moon Cupcakes recipe is the perfect dessert for any occasion, and it will impress your guests with its rich chocolate flavor.
Follow these instructions closely, and enjoy!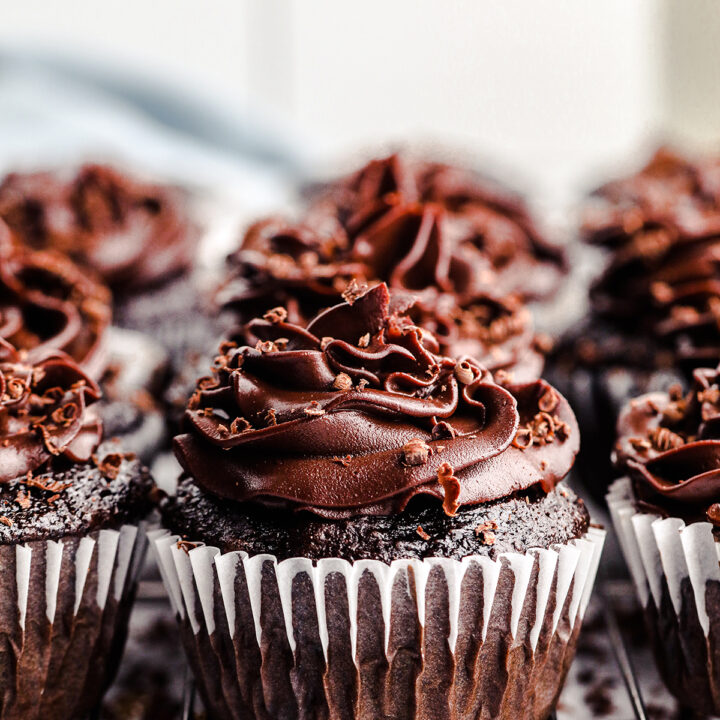 Dark Side of The Moon Cupcakes
Total Time:
2 hours
41 minutes
A decadent triple chocolate cupcake that's extra fudgy. Dark Chocolate Fudge Cupcake recipe made from cake mix with chocolate mousse filling and chocolate ganache frosting. Delicious and somewhat mysterious.
Ingredients
For the Cake Mix:
1 (15.25-ounce) box of dark chocolate fudge cake mix (or similar chocolate cake mix, I used Duncan Hines)
1 cup cold coffee
3 eggs
⅓ cup vegetable oil
For the Coffee Simple Syrup:
1 cup granulated sugar
1 cup hot water
1 teaspoon coffee extract
For the Mousse Filling:
¼ cup hot water
1 cup heavy whipping cream
2 tablespoons unsweetened cocoa powder
4 ounces semi-sweet chocolate, chopped
1 tablespoon granulated sugar, divided
For the Ganache Frosting:
2 cups heavy whipping cream
16 ounces of dark chocolate, finely chopped
Instructions
Begin by preparing the chocolate ganache frosting.
In a medium saucepan, heat the heavy whipping cream until it is almost boiling.
Pour the heated heavy cream over the chopped dark chocolate and let it sit for about a minute or two.
Stir the chocolate until smooth and allow to cool for 1-2 hours in the fridge.
Preheat the oven to 350 degrees Fahrenheit.
Using a hand or stand mixer, combine the cake mix, coffee, eggs and vegetable oil in a large bowl.
Prepare a cupcake tray by either greasing the individual cups or placing cupcake liners
Fill each mold ¾ full of batter.
Bake for 18-21 minutes, or until a toothpick comes out clean.
While the cupcakes are baking, prepare the coffee simple syrup.
In a medium-sized saucepan, combine the granulated sugar and hot water.
Stir until the sugar has dissolved.
Allow to cool before adding the coffee extract and stirring to combine. Set aside.
Once the cupcakes have cooled, prepare the chocolate mousse filling.
In a large bowl, combine the water and unsweetened cocoa powder.
In a microwave safe container, or a double-broiler, melt the chopped semi-sweet chocolate in 20 second bursts until smooth. (Make sure to stir well each time and be careful not to overheat it and burn the chocolate).
Add the cocoa mix to the melted chocolate and stir until well combined. Allow to cool
In a separate bowl, use a hand or stand mixer to beat the heavy whipping cream and granulated sugar until stiff peaks form.
Fold in the chocolate mixture with a spatula until combine and chill in the fridge until ready to use.
Then, use an apple corer or a wooden spoon to create a hole in the center of each cupcake.
Using a pastry brush, brush the coffee simple syrup over each cupcake. Allow the syrup to soak in before filling the cupcake with the mousse.
Using a piping bag or a spoon, carefully fill each well of the cupcakes with the chilled chocolate mousse filling.
Next, take the chilled ganache frosting and transfer it to a piping bag.
Carefully pipe the frosting over each cupcake using whatever style tip you prefer (just make sure it is a large tip as the chilled ganache can be a little more difficult to squeeze through a small opening).
Garnish with chocolate shavings and serve.
If you try it out, don't forget to tag @cutefetti with a photo on social media so we can see how these ridiculously fudgy cupcakes turned out!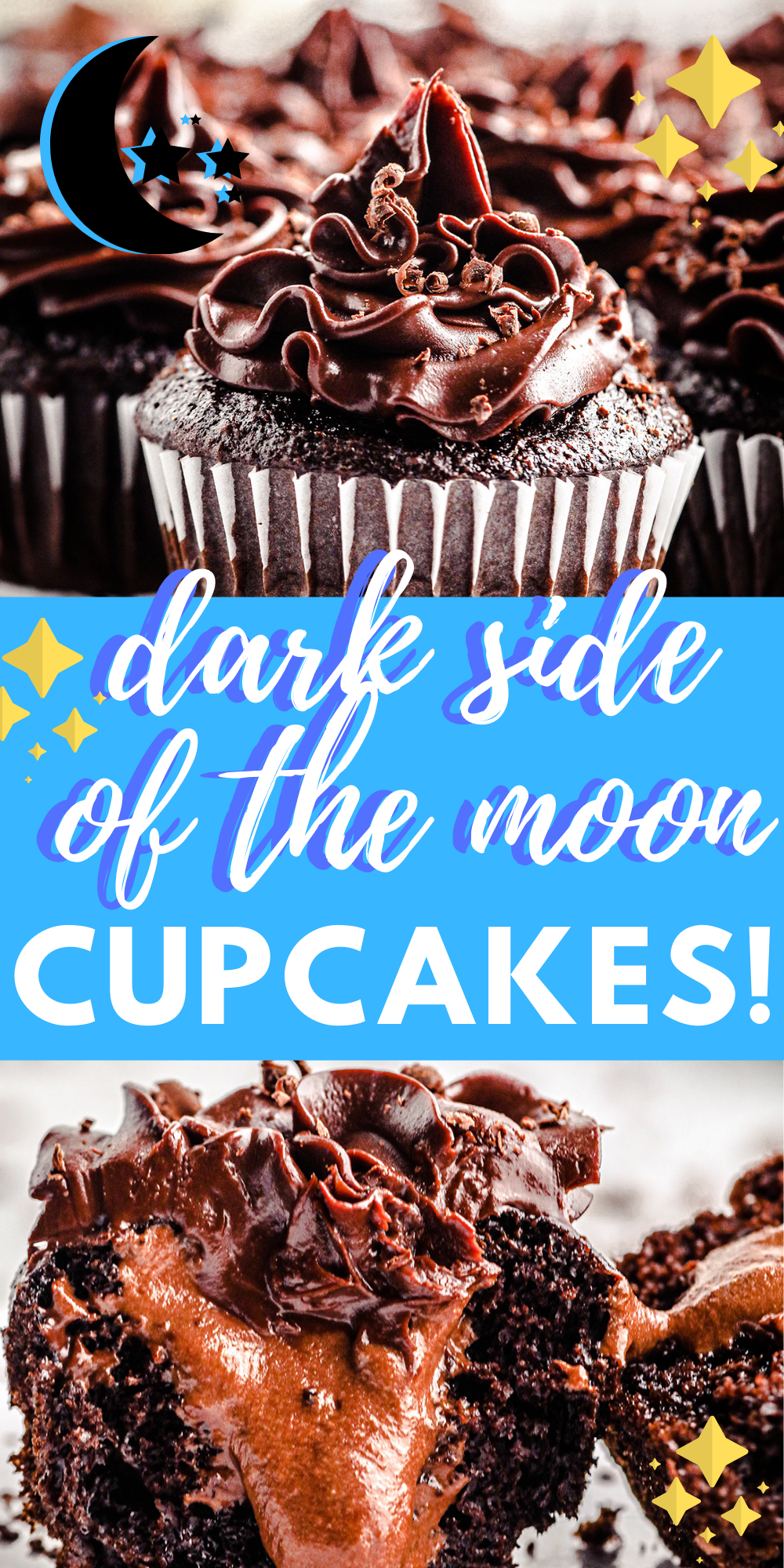 I hope you enjoy these delicious chocolate cupcake recipes as much as we do!
And don't forget to share it with friends who might also love these tasty treats too.