Looking for easy no bake recipes? This simple dessert is going to be a hit all while your kitchen stays cool. This 3 Ingredient Mandarin Orange Pie promised to be an instant hit this summer. Pie, oh my. Brace yourselves for the easiest dessert ever. This post may contain affiliate links.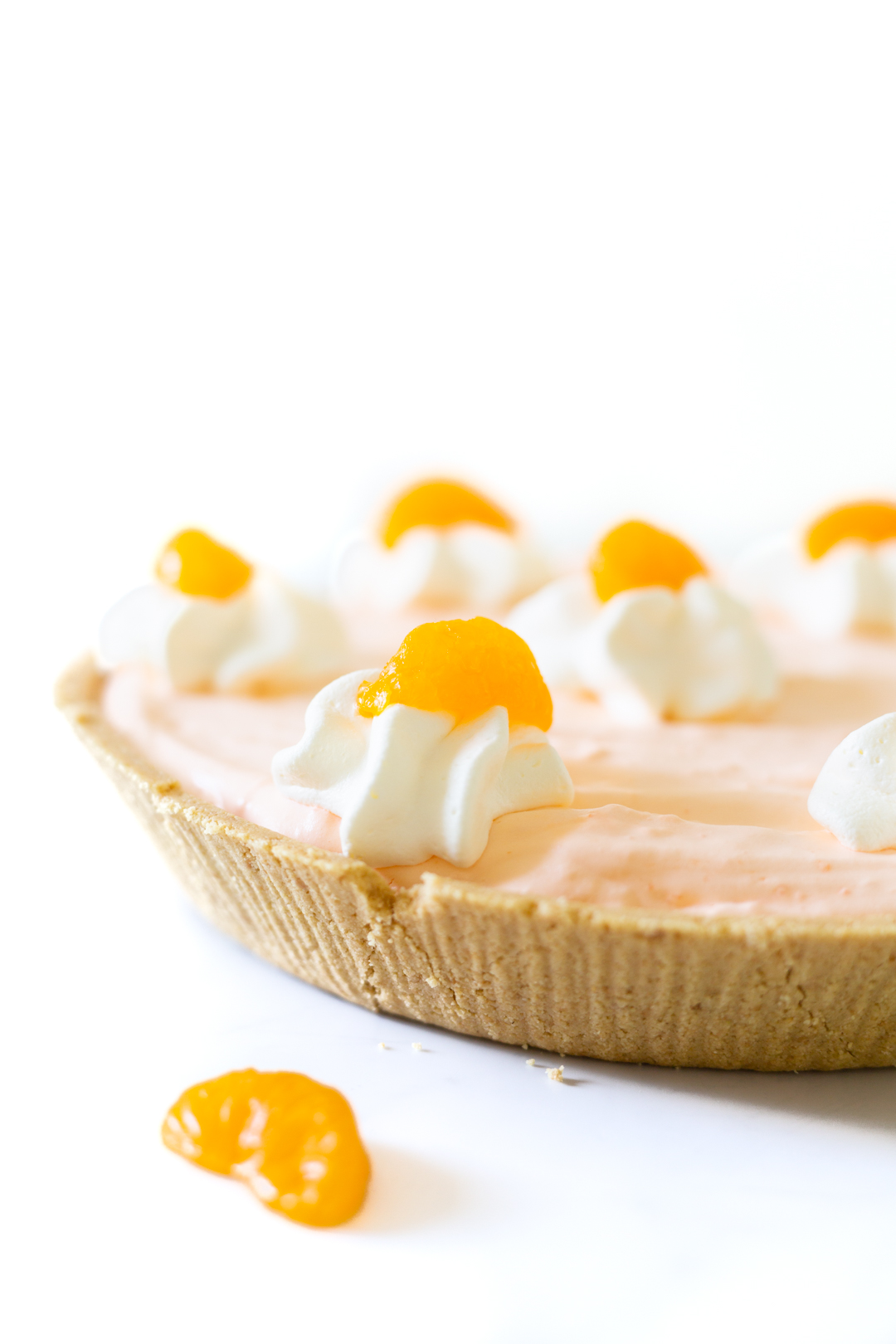 If you haven't enjoyed a good Mandarin Orange dessert during summer, you are definitely missing out. This scrumptious treat is not only easy to whip up, but it's cool and creamy making it just perfect. Whether you are entertaining or just wanting something to break up the monotony this season, this is a recipe for you.
With so few ingredients, it can be made and enjoyed any day of the week. Keeping your pies no bake really adds to the simplicity.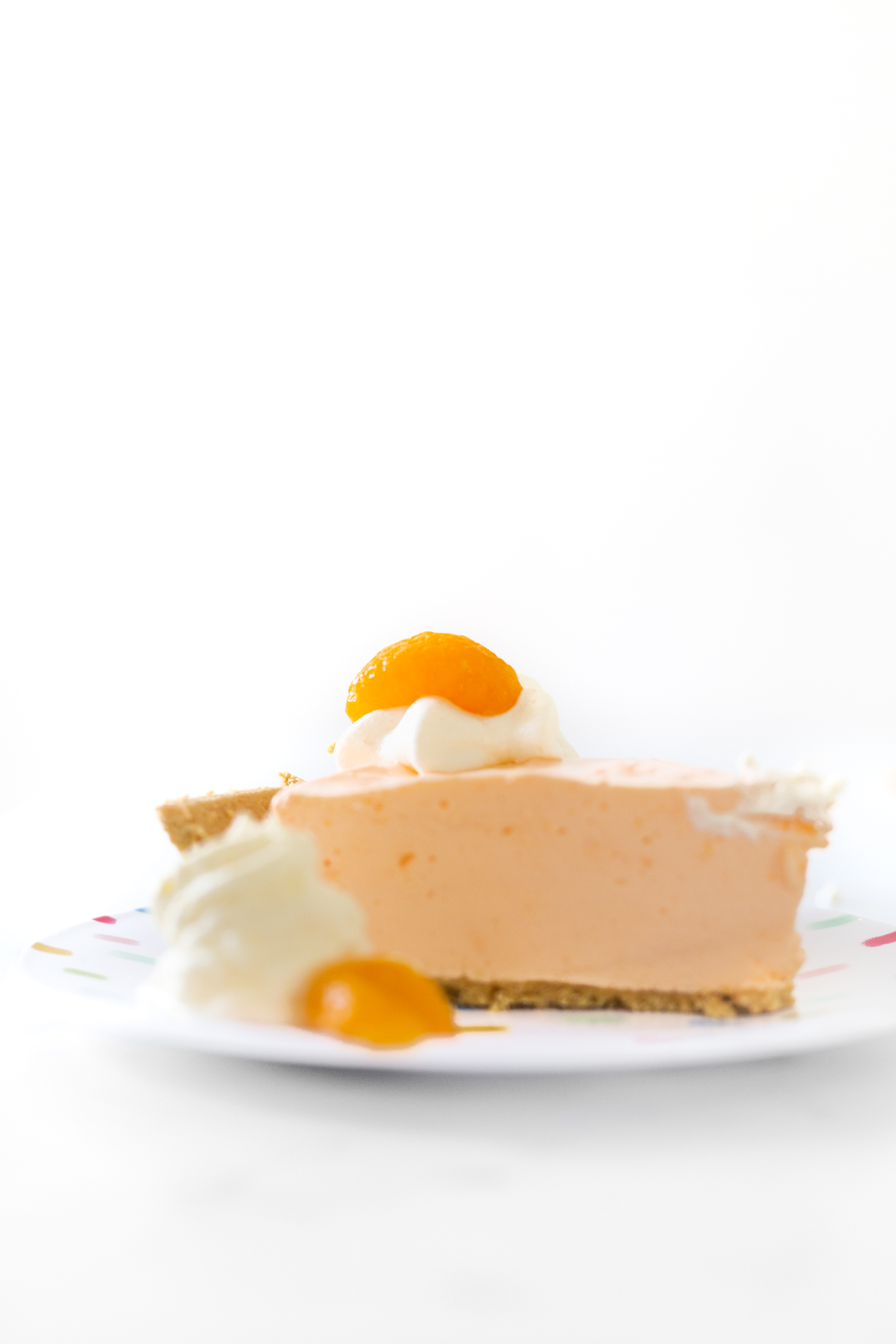 You may have spotted the recent no bake pineapple pie that I shared. This is the same basic recipe, but with the simple flavor swap. I have some more ideas coming too, so be sure to subscribe now so you don't miss a thing.
NO BAKE MANDARIN ORANGE PIE
Creamy. Cool. Simple. You just can't go wrong with this easy no bake pie recipe! This Mandarin Orange dessert really could not be more perfect for hot weather.
The graham cracker flavor really adds to the perfect flavor of this yummy pie.
Here are the 3 basic ingredients that are needed to make this:
Orange Flavored Gelatin
Whipped Topping
Ready-To-Eat Graham Cracker Crust
For fancy garnish, I highly recommend extra whipped topping or whipped cream as well as canned and drained mandarin oranges. So pretty and adds an additional pop of flavor.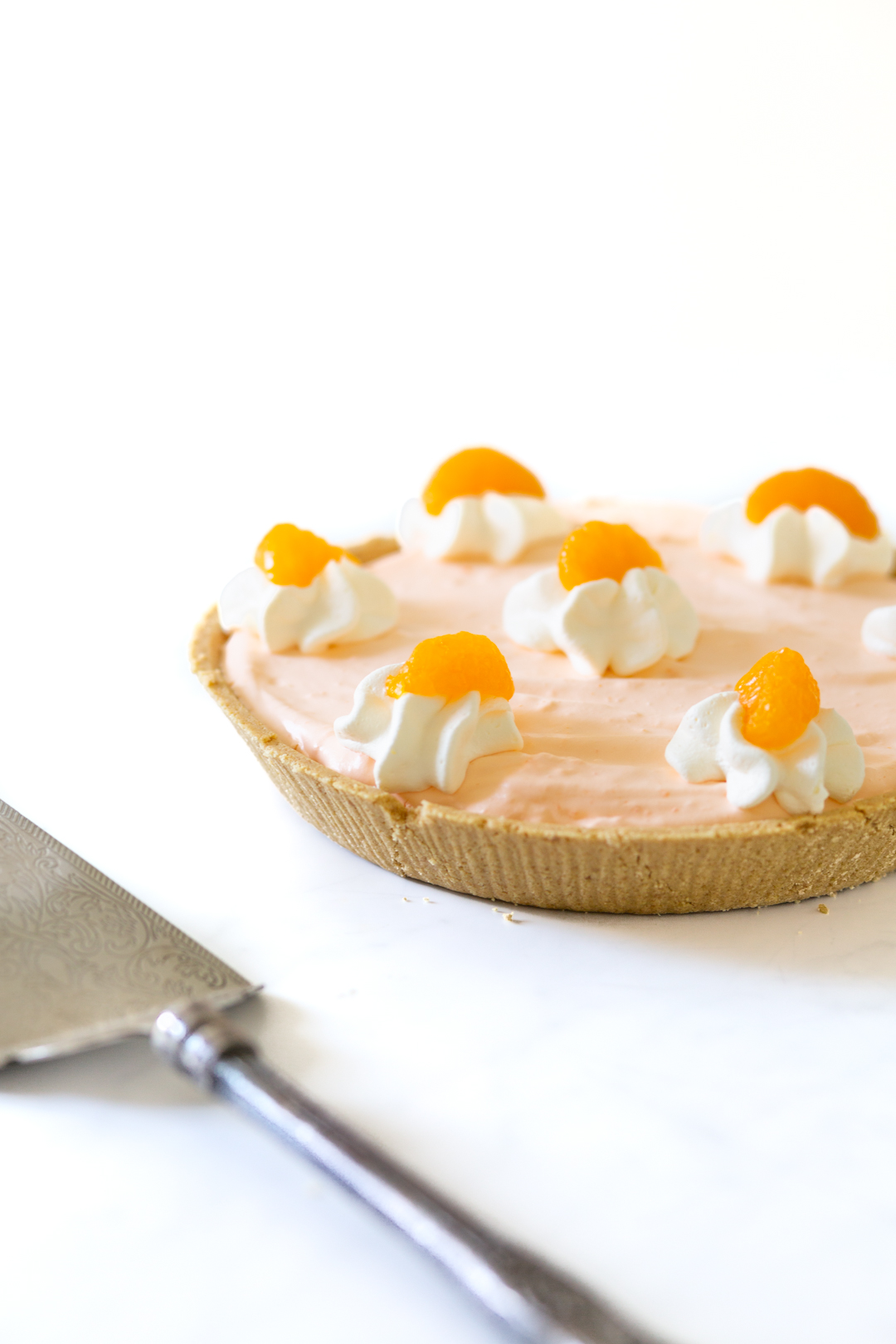 The instructions could not be simpler, be sure to follow the video for a visual idea of how to make this within this post and also be sure to print the very specific step-by-step directions below.
It is SO easy, but you want to make sure to follow the instructions for ultimate pie perfection.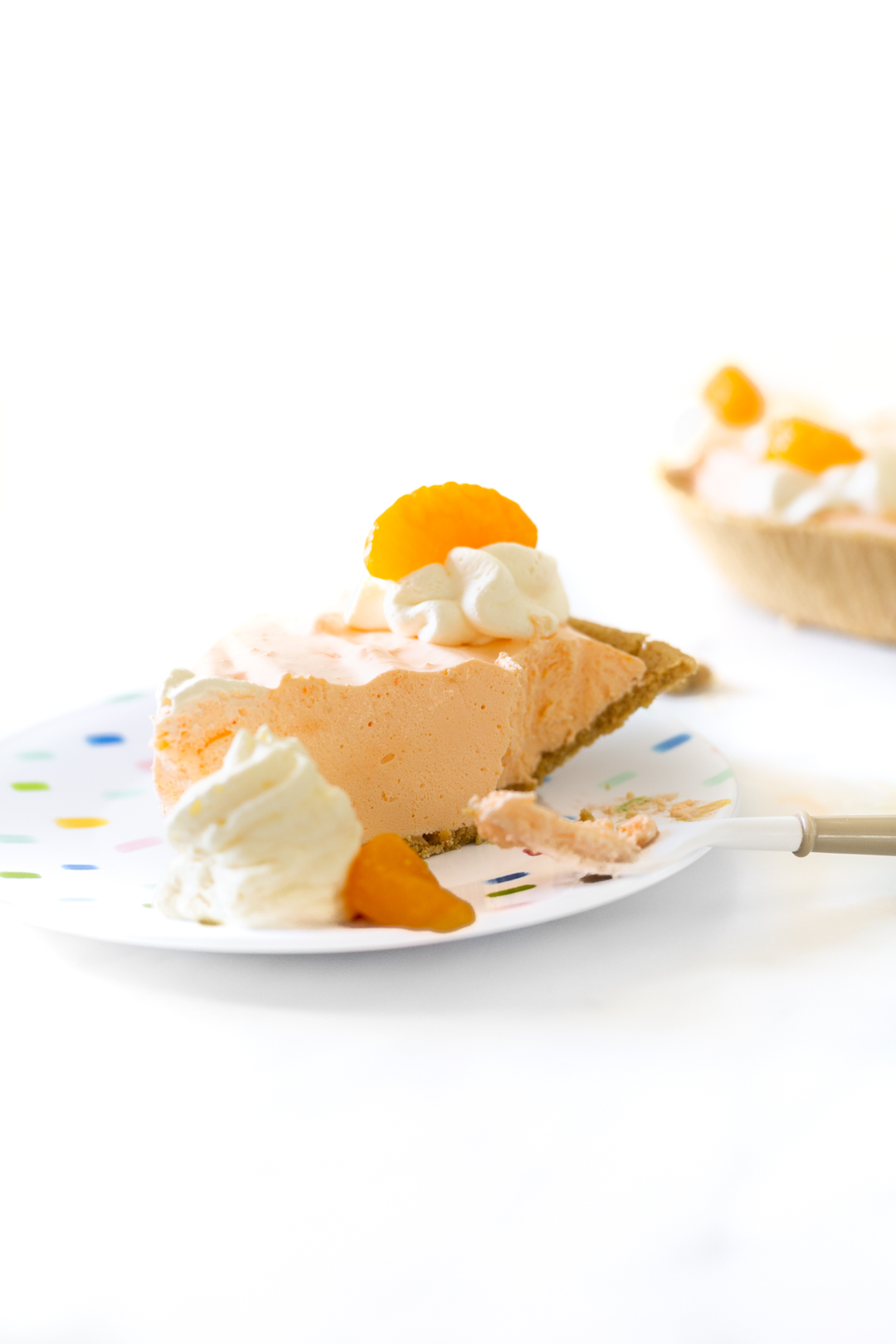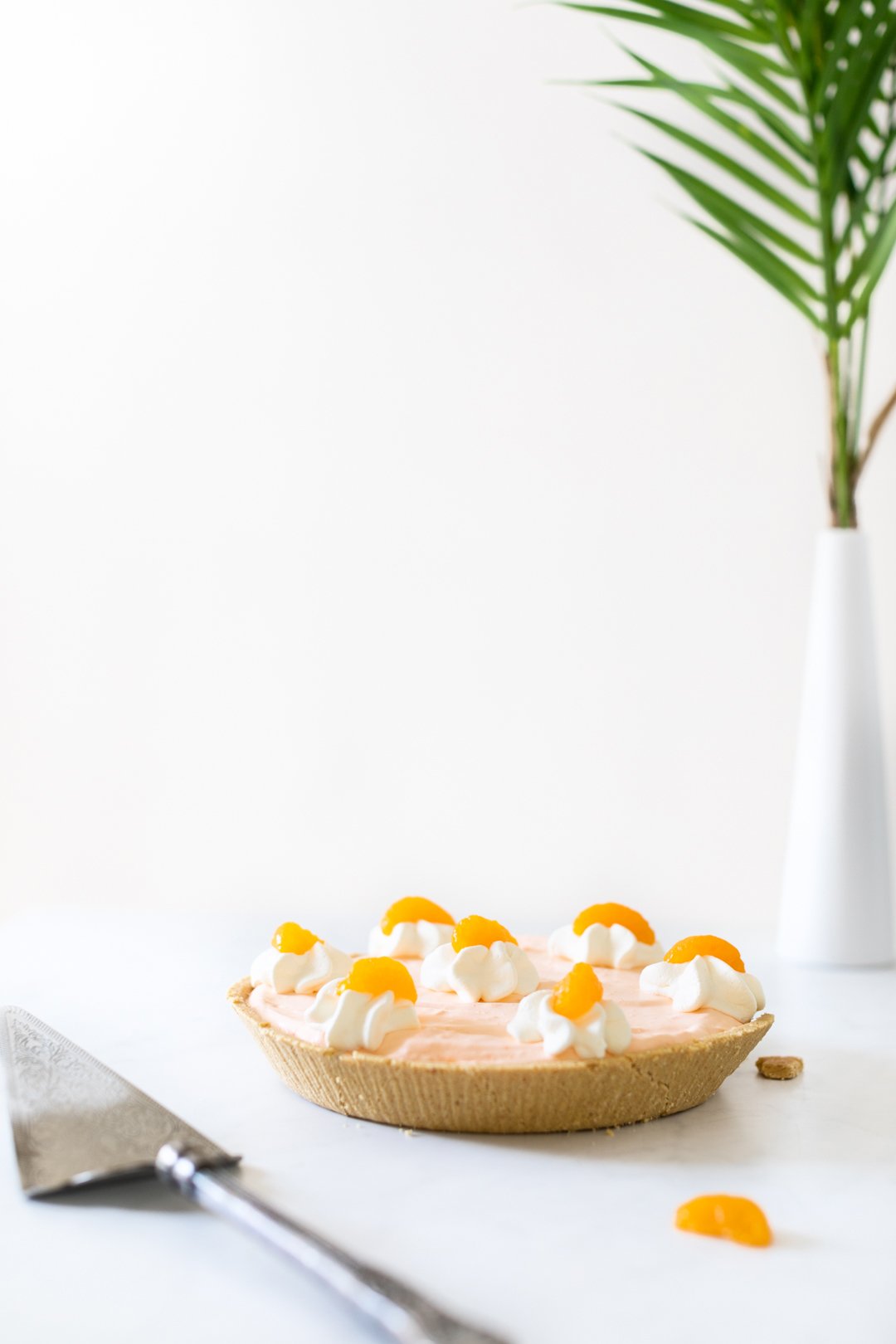 THREE INGREDIENT DESSERTS
Looking for more easy dessert recipes to satisfy your sweet cravings with? I totally have your back. Here are some more simple ideas to try out.
If you are a fan of Watergate salad, try this simple pistachio dessert hack for a simplified treat.
Lemon is a perfect flavor for summer, check out this 3 ingredient lemon dessert made with pineapple.
Feeling peachy? Worry not... this easy peach dessert recipe will cheer you up in minutes. You won't believe how simple this is to make.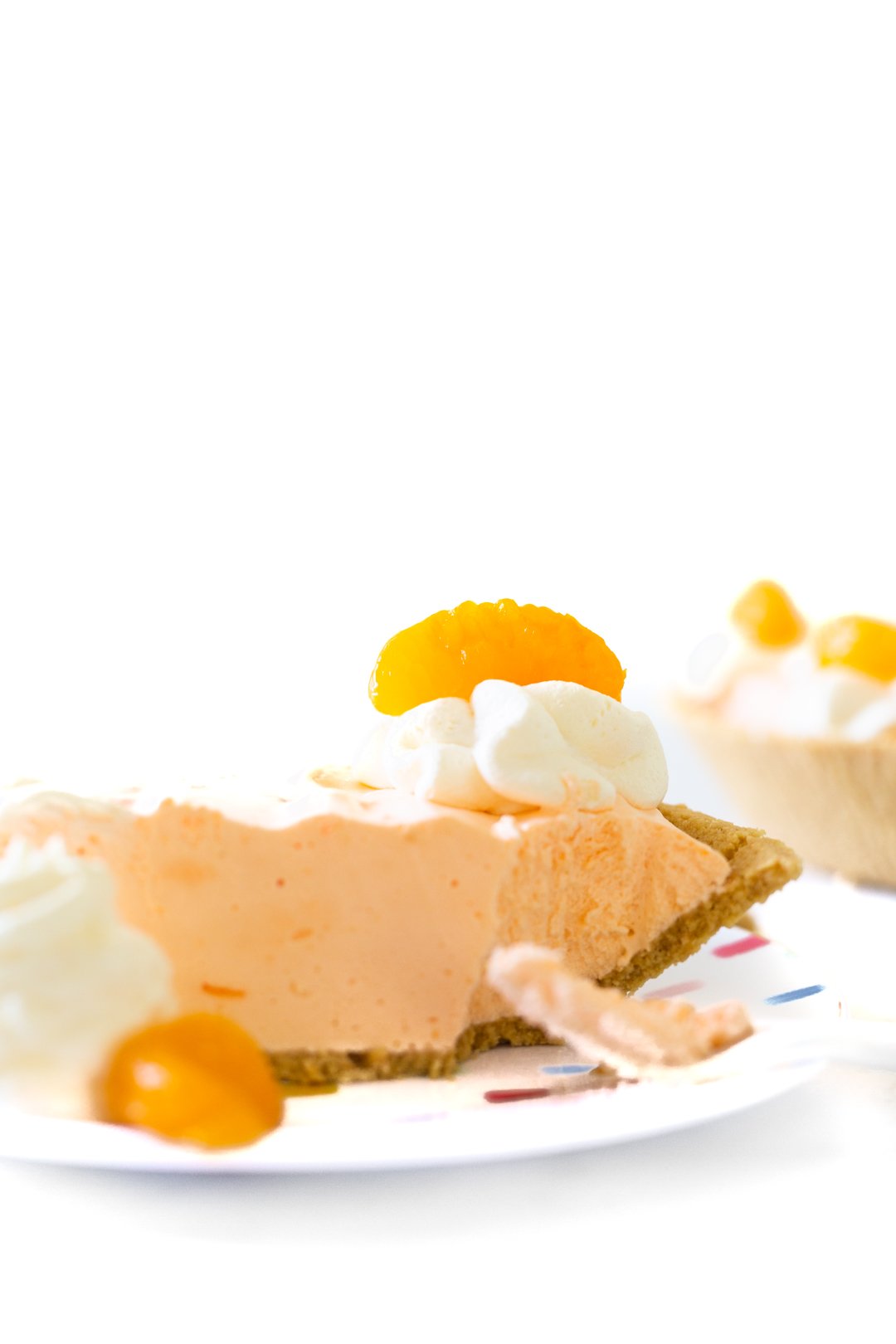 Hope that you enjoyed this mandarin orange dessert recipe cool whip and jello, too! I wanted to find something that was as easy as possible and this totally fits the bill.
Please pin on Pinterest and be sure to print the recipe below!
This original base recipe is adapted from this super easy Kraft recipe.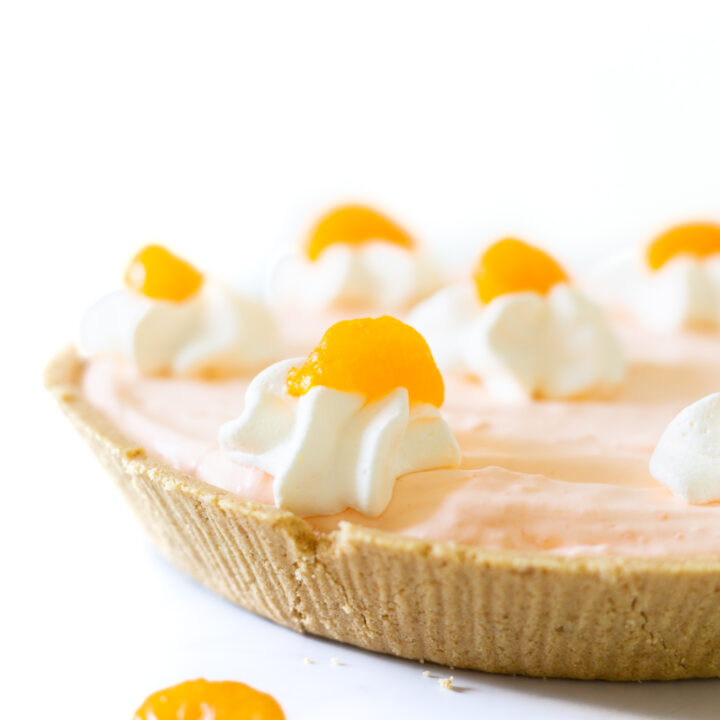 Mandarin Orange Pie with Graham Cracker Crust
Additional Time:
4 hours
20 minutes
Total Time:
4 hours
35 minutes
Easy No Bake Mandarin Orange Pie made with Store-Bought Graham Cracker Crust. Perfect summer dessert with only 3 ingredients.
Ingredients
1 pkg Orange Flavored Gelatin (3 oz.)
⅔ Cup Boiling Water
4 Ice Cubes
1 Container Whipped Topping, Thawed (8 oz.)
1 Store-Bought Graham Cracker Crust (6 oz.)
Optional Garnish: Additional whipped topping or whipped cream and canned/drained Mandarin Oranges.
Instructions
In a large bowl, combine gelatin mix and the boiling water. Stir until combined completely.
Add about 4 ice cubes and stir until melted.
Place the bowl in the refrigerator for about 20 minutes.
Remove the bowl from the refrigerator and immediately mix in the whipped topping.
Whisk until fully combined.
Pour this entire filling into the store bought pie crust and spread evenly.
Cover and store in the refrigerator for 4 hours before serving.
Optional garnish idea: add additional whipped topping or whipped cream with canned and drained mandarin orange pieces with steps for a fun presentation.