This is the easiest peach dessert you can make. With only three ingredients, this recipe comes together so quickly. The base ingredients are the same that I've used in the most popular dessert recipe that I shared on this blog. Enjoy this tasty twist.
This recipe is a perfect treat that you can whip up in a flash. You can also double or triple this simple recipe to make for a crowd. If you have a sweet tooth you are definitely going to be instantly hooked on this crazy easy flavor combo. This recipe uses canned peaches with all the mouth watering juices. That means you don't have to wait until peaches are in season and perfectly ripe. You can enjoy this yummy goodness anytime you want. That's a win.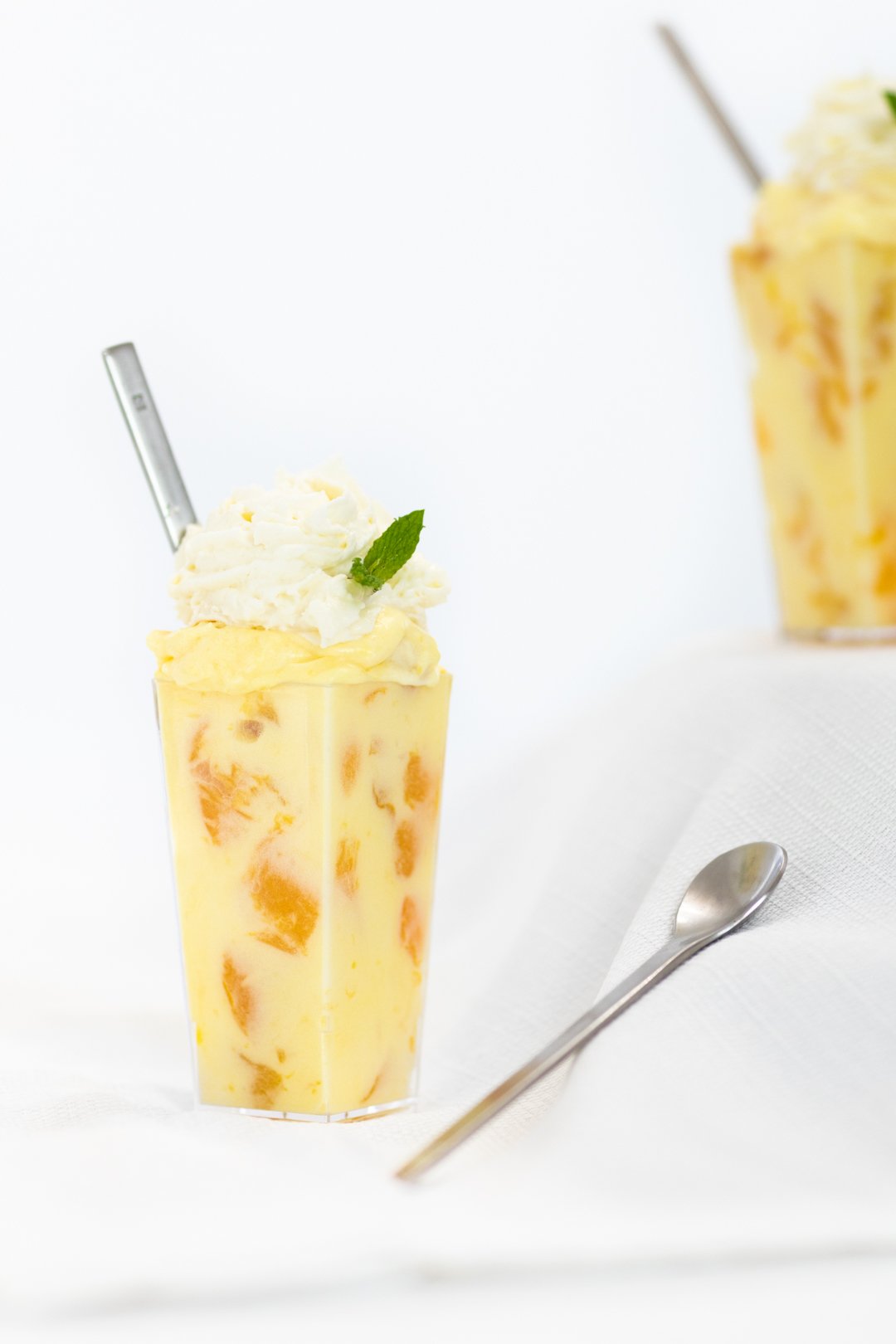 Peach recipes, especially pie is a traditional Fourth of July food. But, now you don't have to wait for peaches to be in season or for a special occasion to enjoy this. This incredibly simple concept is kind of mind blowing, but it's so darn good that I can't help but to continue brainstorming all the flavor possibilities. I have another yummy flavor twist that I'll be sharing soon, so keep an eye out for that! Back to this flavor combo, it's definitely the best peach dessert with Cool Whip that I've made to date.
If you are all about easy shortcuts and recipes, you definitely have come to the right place. I'm all about that, friends. So let me show you another dessert hack that's not complicated at all. It's no bake and perfect for the hot weather.
EASY PEACH DESSERT
This delightful peach infused recipe comes together so quickly, you will love it. Let me share the easy ingredients that we'll use to make this quick dessert. You might not even believe it, let's see! Here are the three simple ingredients you will need to make this:
Canned Peach Chunks
Vanilla Pudding Mix
Whipped Topping like Cool Whip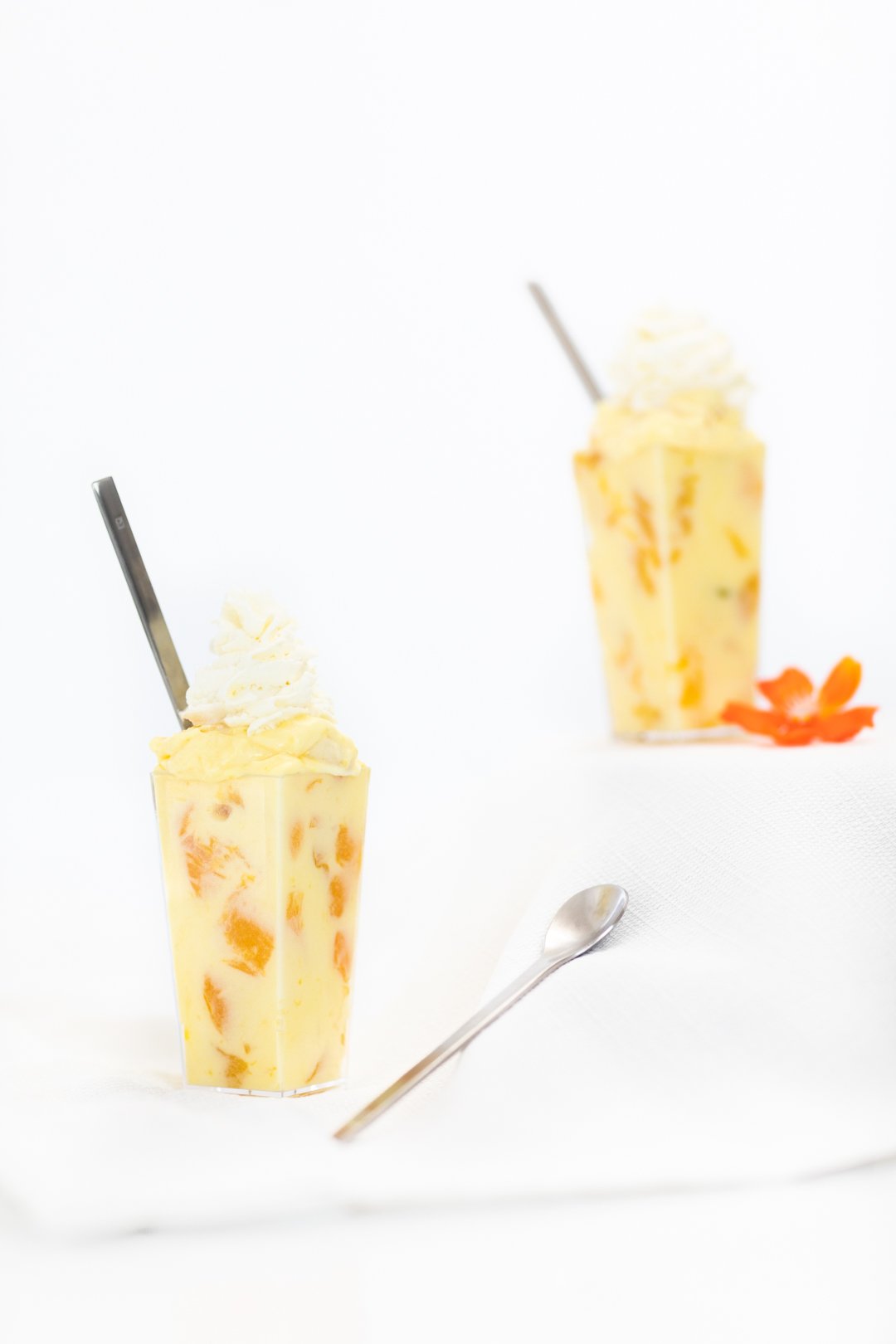 We will mix these ingredients together and store in the refrigerator for an hour or so. This step cannot be skipped or the dessert will not be smooth. We want to aim for perfection so that the pudding mix is absorbed beautifully by all of the delicious canned peach juices.
Trust me, the perfection will definitely be worth the wait. Make sure you opt for canned peach chunks and not canned peach slices. While the taste and flavor will be the same, I find that the larger slices just don't flow with this relatively smooth dessert.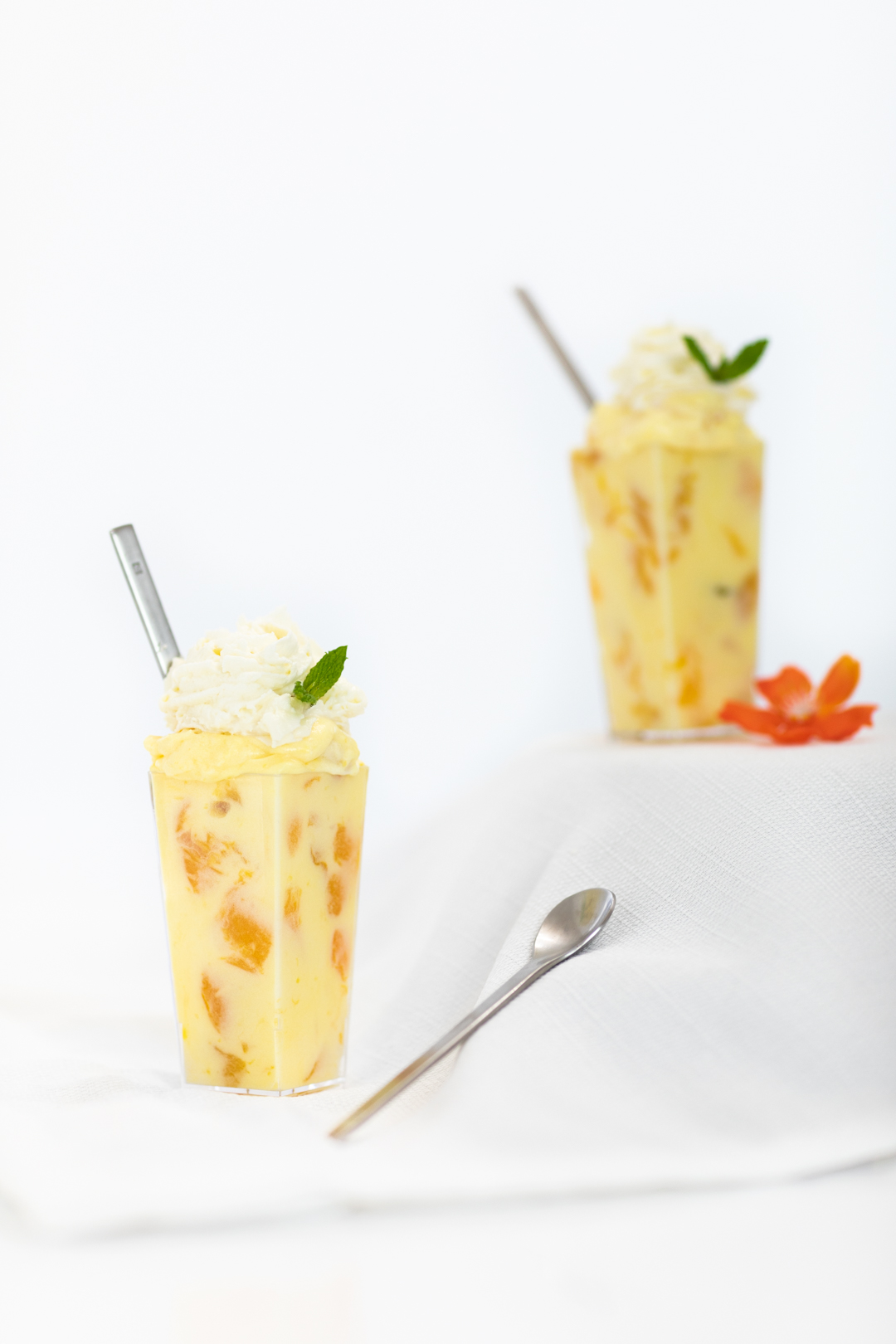 Once your creation is set, all you need to do is decide to garnish or not to garnish. I personally love putting a nice dose of whipped cream on top. For additional garnishes, fresh mint makes for a pretty one. You could also consider reserving some of the peach chunks as well, but that may not be as pretty.
I considered adding a cherry on top, but didn't think that the flavor would flow. Then again, when isn't a cherry topped pile of whipped cream a good idea? Decisions, decisions.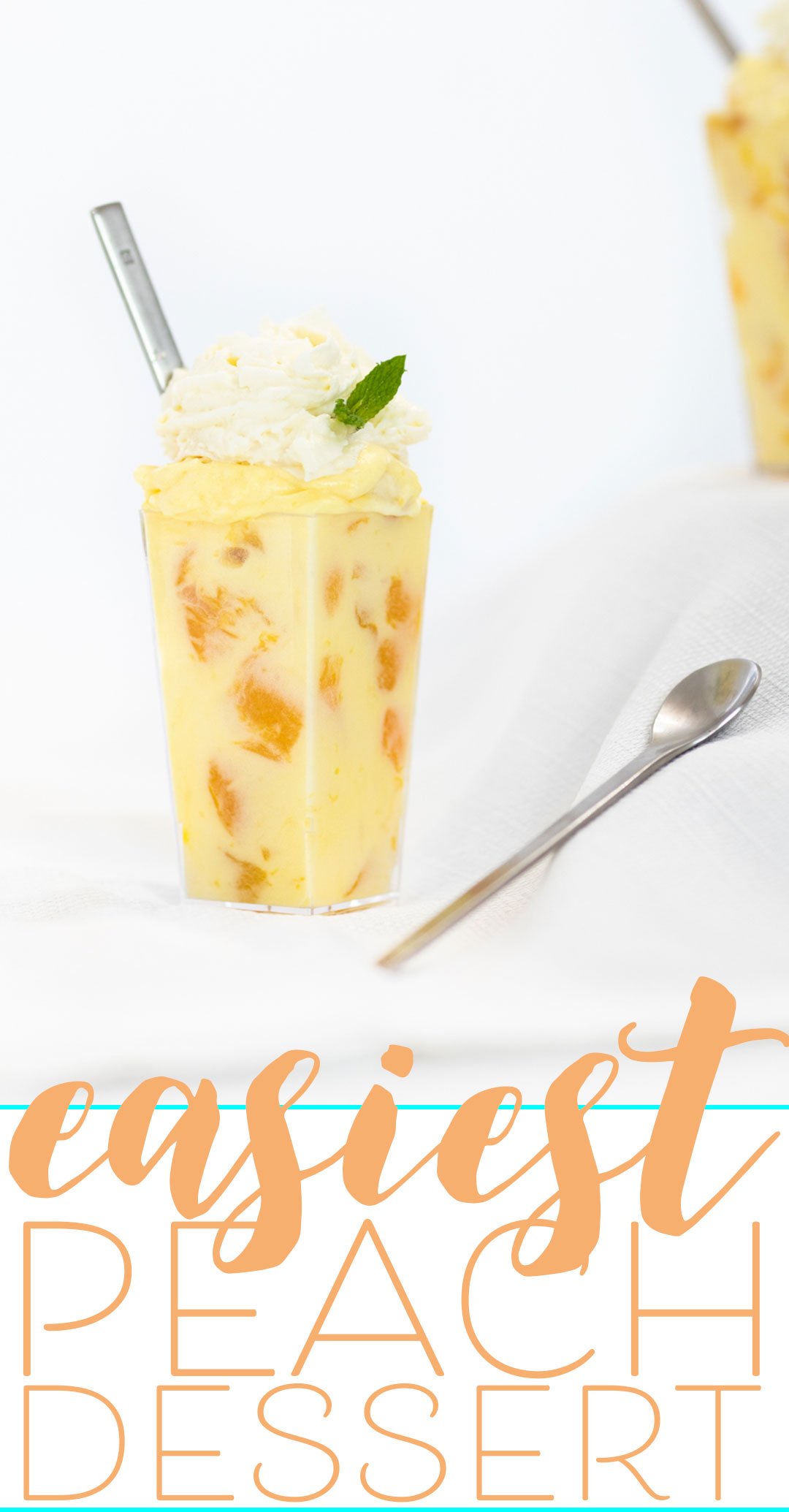 MORE DESSERT WITH 3 INGREDIENTS
Love simple ideas like this one? Check out more of my very favorite easy recipes for sweet treats.
Original Pineapple Dessert with three ingredients.
Pineapple Banana Dessert recipe that makes for a wonderful treat.
Mandarin Orange Dessert for another yummy flavor twist.
13 Dessert Recipes with 3 Ingredients over at Buzzfeed.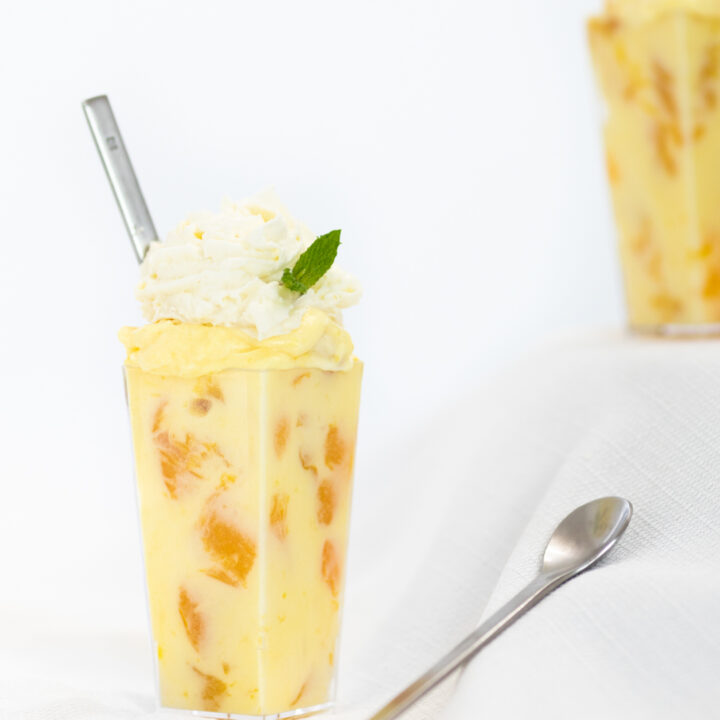 Easy Peach Dessert with 3 Ingredients
Yield: 6

Prep Time: 5 minutes

Additional Time: 1 hour

Total Time: 1 hour 5 minutes

Peach dessert made with only 3 simple ingredients.
Ingredients
1 can (20 oz.) Peach Chunks in Juice, undrained
1 pkg. (3.4 oz.) Vanilla Instant Pudding
1 cup thawed Whipped Topping
Notes
In a medium sized bowl, combine the peaches, dry pudding mix and the whipped topping. Make sure that the pudding mix is dissolved.

Refrigerate the mixture for an hour before serving. This step should not be skipped.

Optional: Top with more whipped cream to serve. Add mint as a garnish if desired.
Recommended Products
As an Amazon Associate and member of other affiliate programs, I earn from qualifying purchases.
Nutrition Information
Yield 6 Serving Size 1
Amount Per Serving Calories 99Total Fat 4gSaturated Fat 3gTrans Fat 0gUnsaturated Fat 0gCholesterol 1mgSodium 95mgCarbohydrates 15gFiber 1gSugar 10gProtein 1g


Would love to know how you will finish your dessert of! Make sure to let me know.