When it comes to serving up summer flavors, pineapple is always top of mind. Keeping things cool always calls for the perfect no bake pie ideas. I scored the web to find literally the easiest possible pie recipe ever. The resulting 3 Ingredient Pineapple Pie is going to be a go-to for years to come. This post may contain affiliate links.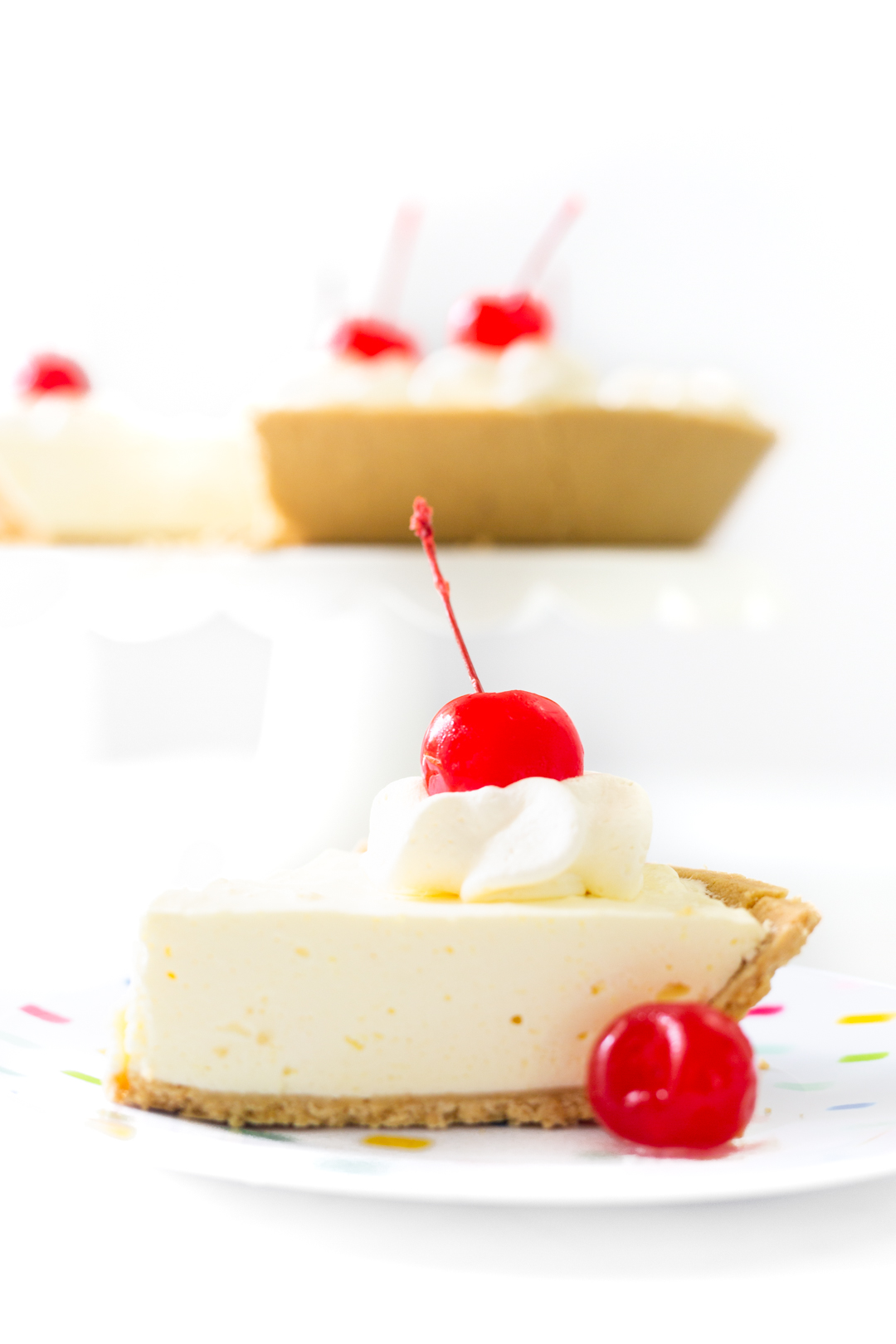 Let me show you how crazy easy it is to make a refreshing pie for summer dessert with these simple ingredients. You'll never have to go without dessert again. 😛
The most miraculous thing is that this pineapple pie is literally made without fruit. The flavor is highly customizable as the flavor comes from flavored gelatin and the easy creaminess is from none other than whipped topping.
You could not find an easier way to add so much flavor and yummy goodness with less effort which was my #1 goal when deciding to make this.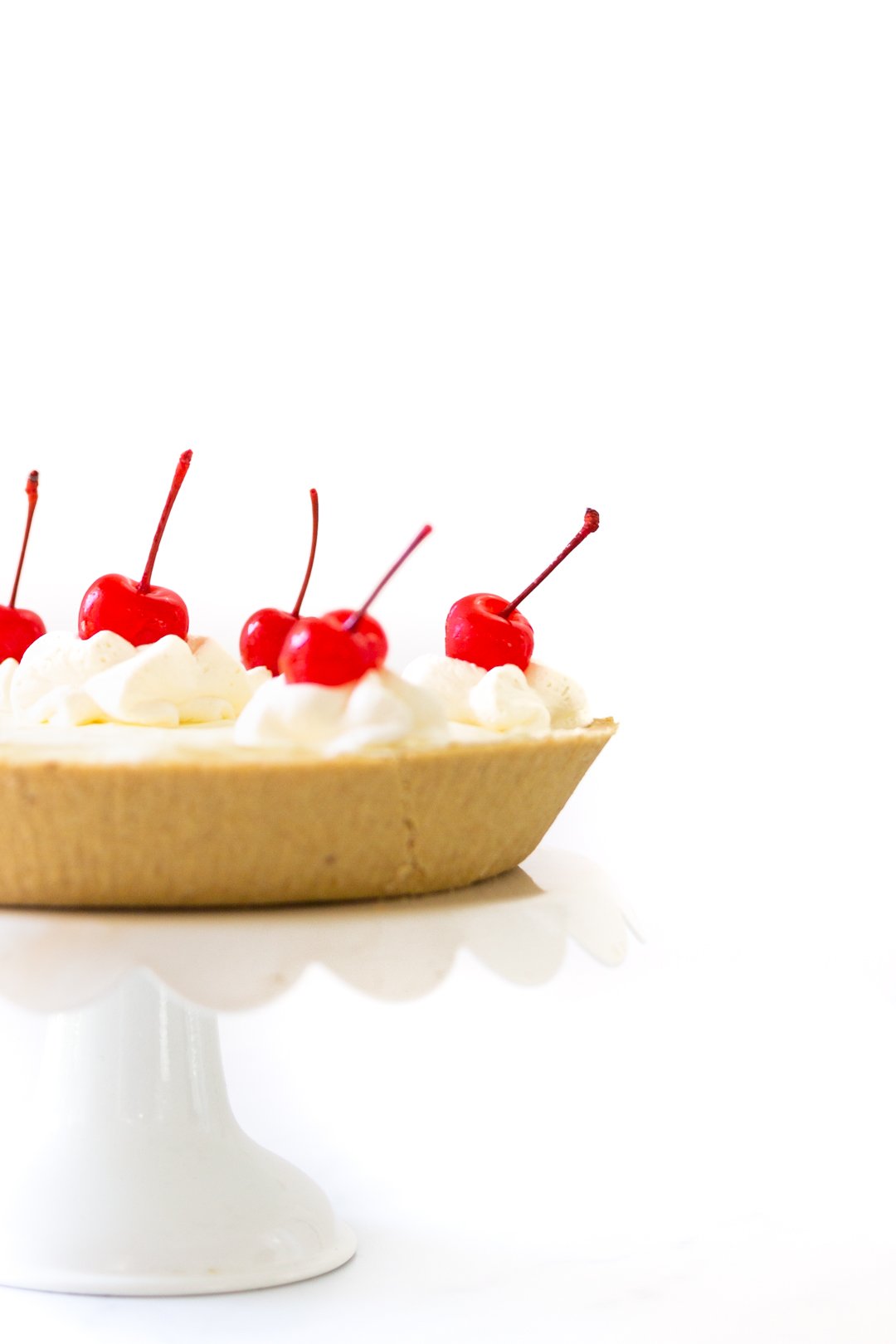 For presentation, the pie is very simple but if you add a garnish of jumbo cherries with stems and more whipped topping, you'll have yourself an attention getting pie for any occasion.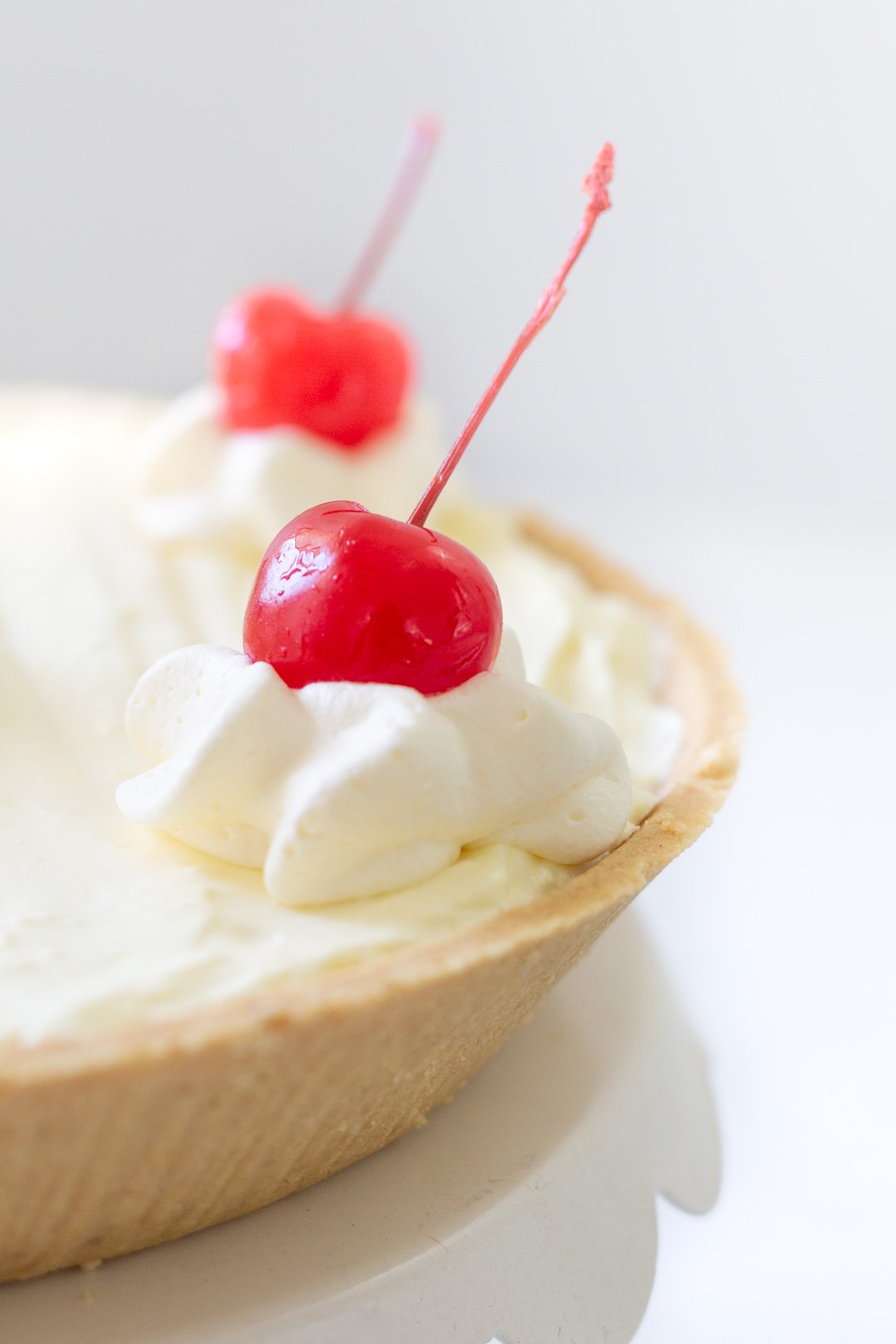 EASY NO BAKE PINEAPPLE PIE RECIPE
This pineapple pie filling is the easiest you will ever find. This simple recipe relies on a store-bought crust for a huge shortcut.
The graham cracker flavor really adds to the overall taste of this dessert.
Here are the 3 basic ingredients that are needed to make this:
Pineapple Flavored Gelatin
Whipped Topping
Ready-To-Eat Graham Cracker Crust
The flavor options are really endless because you can totally swap the flavors and garnishes so easily.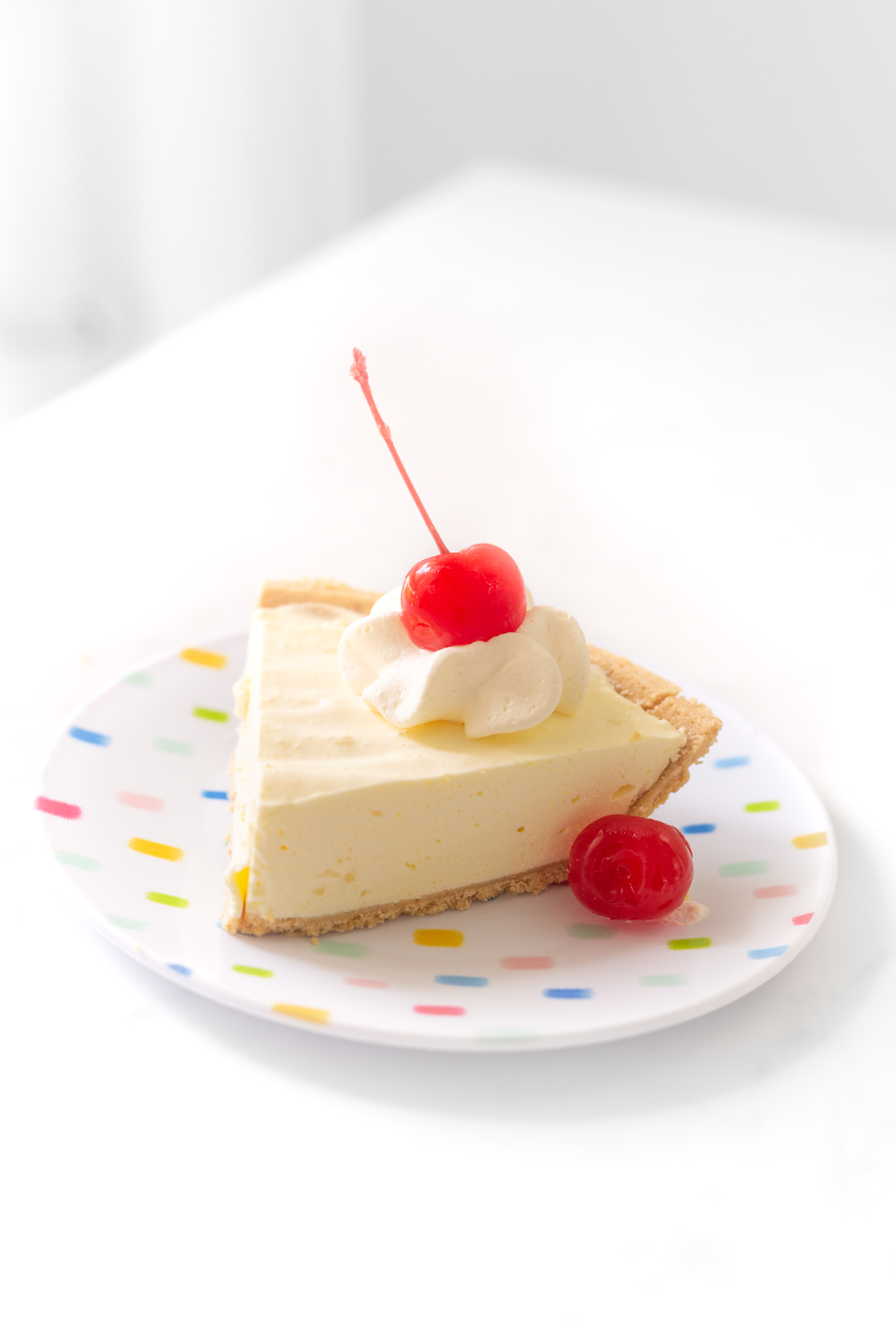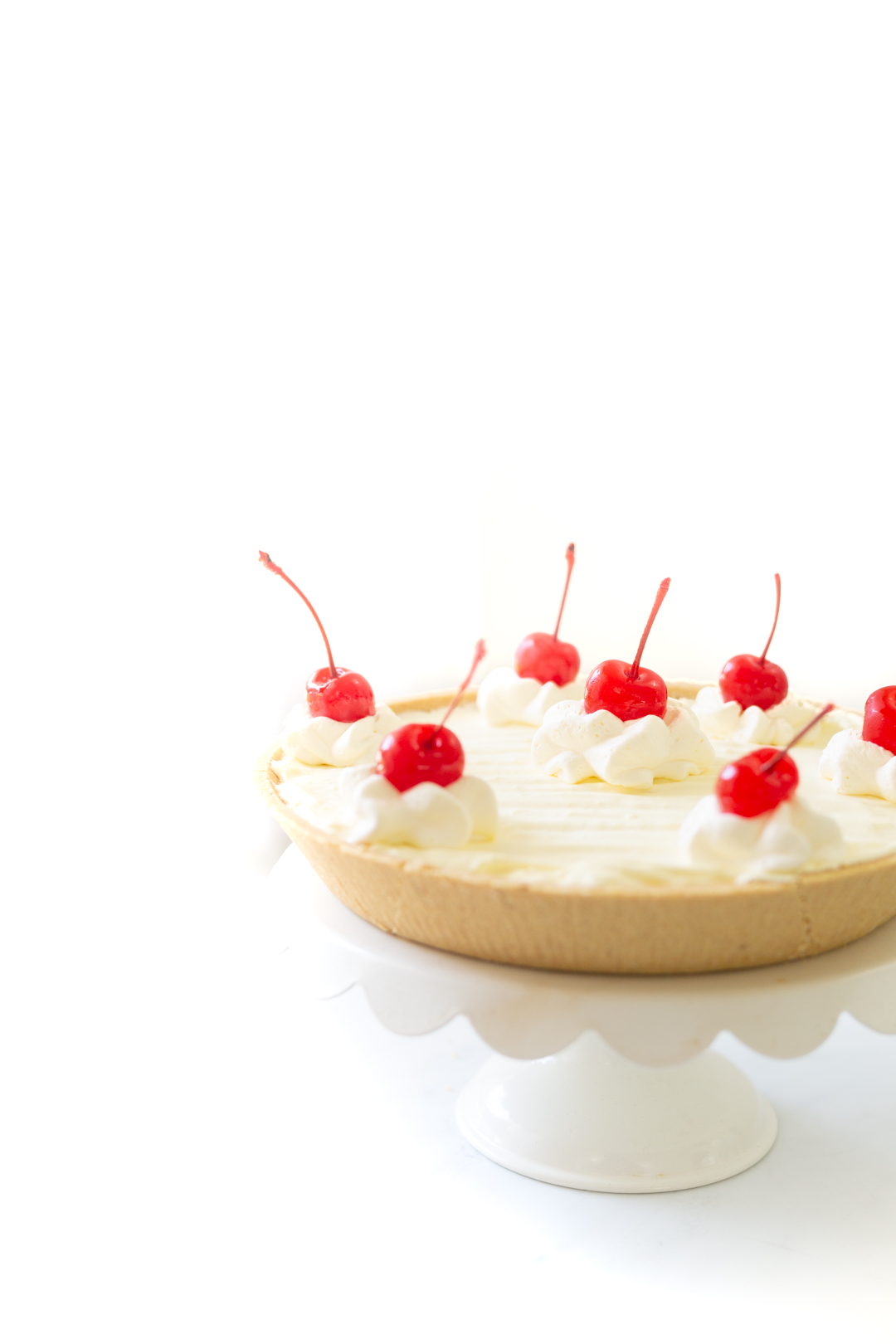 Whatever you do, don't overthink this pie. It's as easy as it gets and is meant to quickly make so that you can spend more time enjoying it. No oven!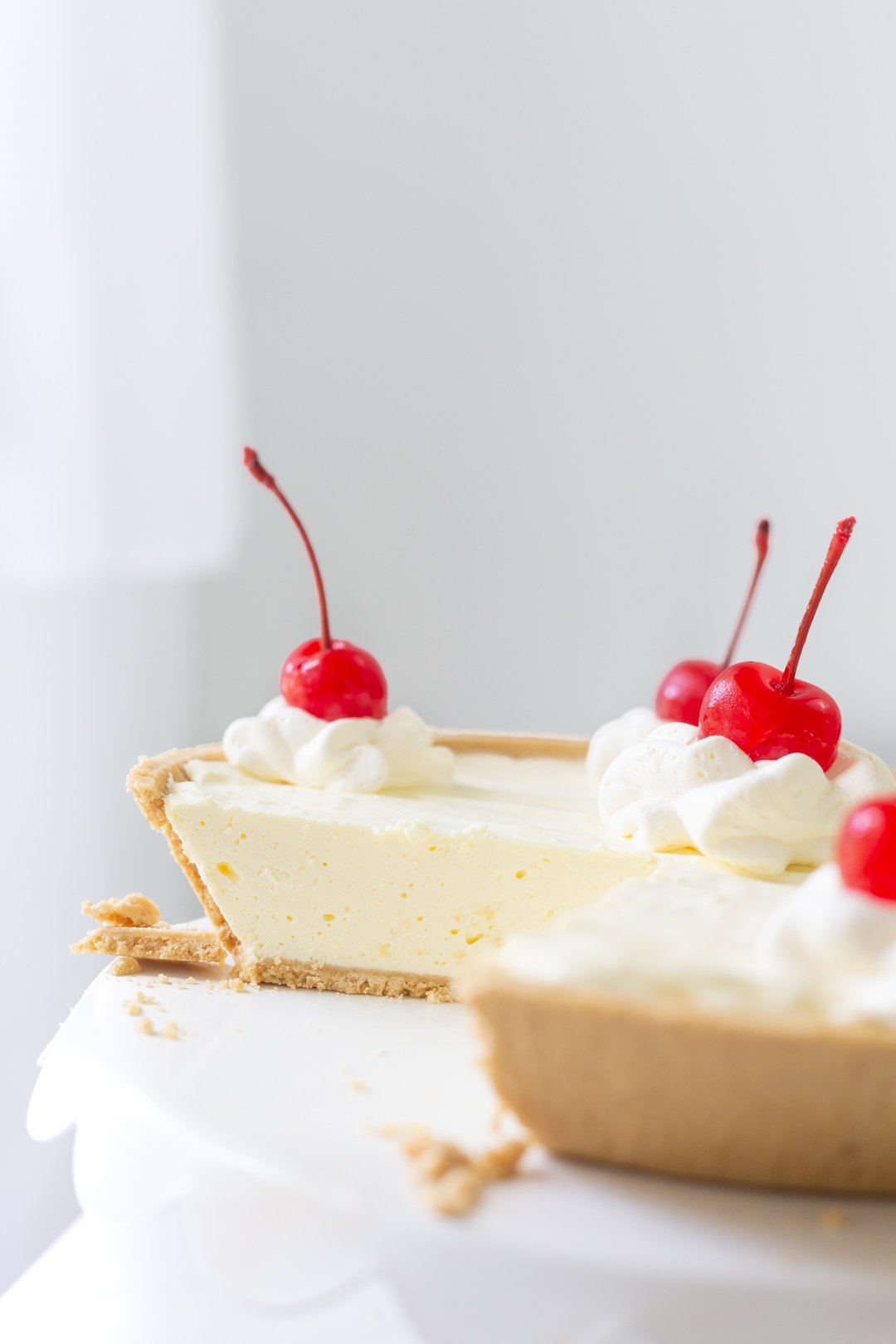 HOW TO GET A PERFECT SLICE OF PIE
The beautiful thing about this pie is that the filling slices so beautifully. The store-bought pie crust can be touch and go though.
My advice is to leave it in the pie crust tin that it comes with. My second piece of advice would be to make sure the pie is very chilled.
You could even stick it in the freezer for 10 minutes before slicing to ensure a clean cut with less crumbling. Of course if you are super picky you may consider making your own fool-proof crust instead.
Finally, for a perfect slice of pie, you are going to need a very sharp knife with no ridges. You want the knife to slice through very cleanly for that perfection you are looking for.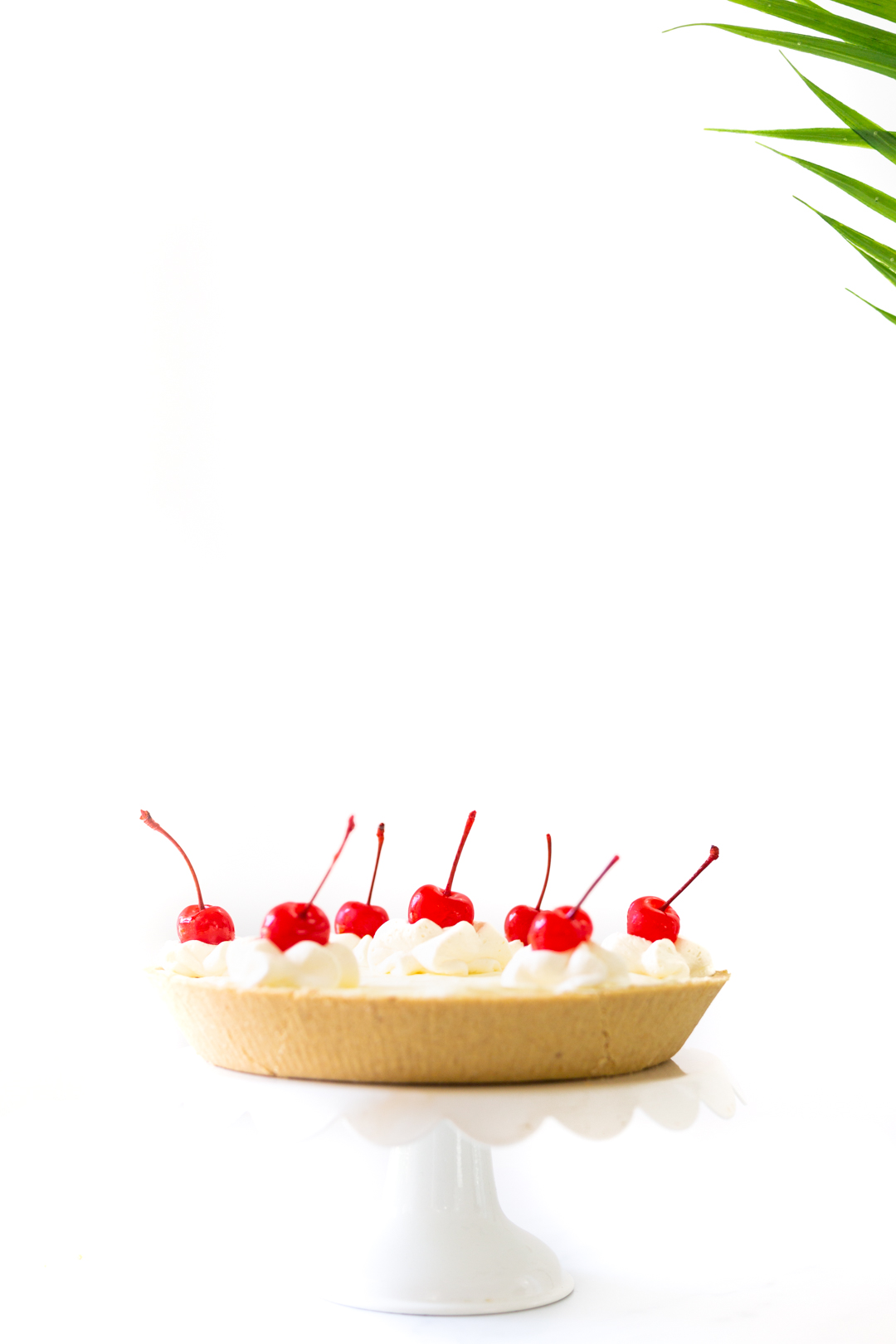 NO BAKE PINEAPPLE DESSERTS
If you love this pineapple pie no bake option, you will surely love these ideas, too. Why heat up the house when you can opt for an easy no-bake dessert instead?
Delicious Pineapple Lush Cake with delicious layers of crushed pineapple.
The idea is the most popular pineapple dessert recipe on the blog. So easy that you won't believe it. Instant crowd pleaser.
For another fun and refreshing twist, how about some pineapple and lemon together? This easy dessert is life.
This original base recipe is adapted from this super easy Kraft recipe.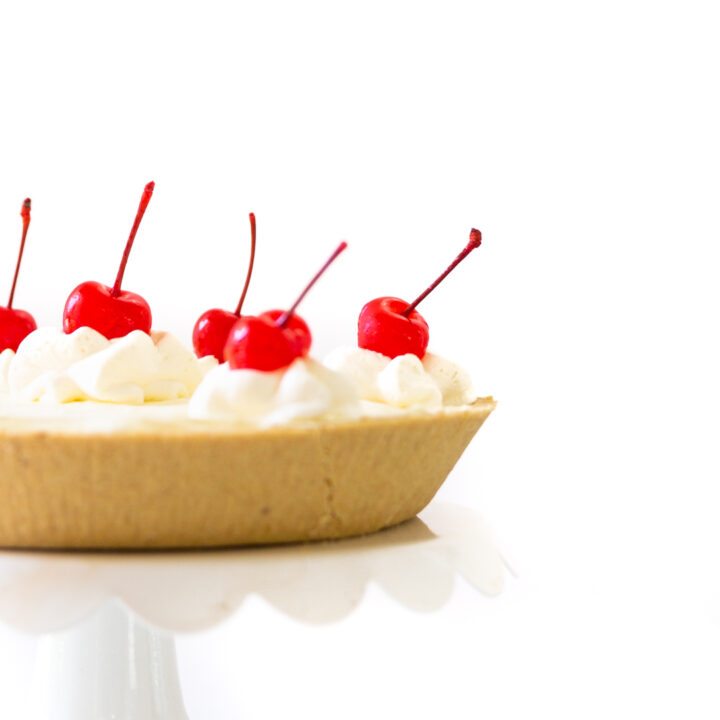 Easy Pineapple Pie
Additional Time:
4 hours
20 minutes
Total Time:
4 hours
35 minutes
No-bake pineapple pie with the easiest pineapple filling. Creamy and delicious.
Ingredients
1 pkg Pineapple Flavored Gelatin (3 oz.)
⅔ Cup Boiling Water
4 Ice Cubes
1 Container Whipped Topping, Thawed (8 oz.)
1 Store-Bought Graham Cracker Crust (6 oz.)
Optional Garnish: Additional whipped topping or whipped cream and jumbo maraschino cherries.
Instructions
In a large bowl, combine gelatin mix and the boiling water. Stir until combined completely.
Add about 4 ice cubes and stir until melted.
Place the bowl in the refrigerator for about 20 minutes.
Remove the bowl from the refrigerator and immediately mix in the whipped topping.
Whisk until fully combined.
Pour this entire filling into the store bought pie crust and spread evenly.
Cover and store in the refrigerator for 4 hours before serving.
Optional garnish idea: add additional whipped topping or whipped cream with jumbo maraschino cherries with steps for a fun presentation.
Nutrition Information
Yield

8
Amount Per Serving
Calories

180