This pasta salad is a classic. It's creamy, it's flavorful, and if you're looking for the ultimate pasta salad recipe, this is it!
Pasta salads are great because they can be eaten at any time of year - in fact, they make a perfect summer dish.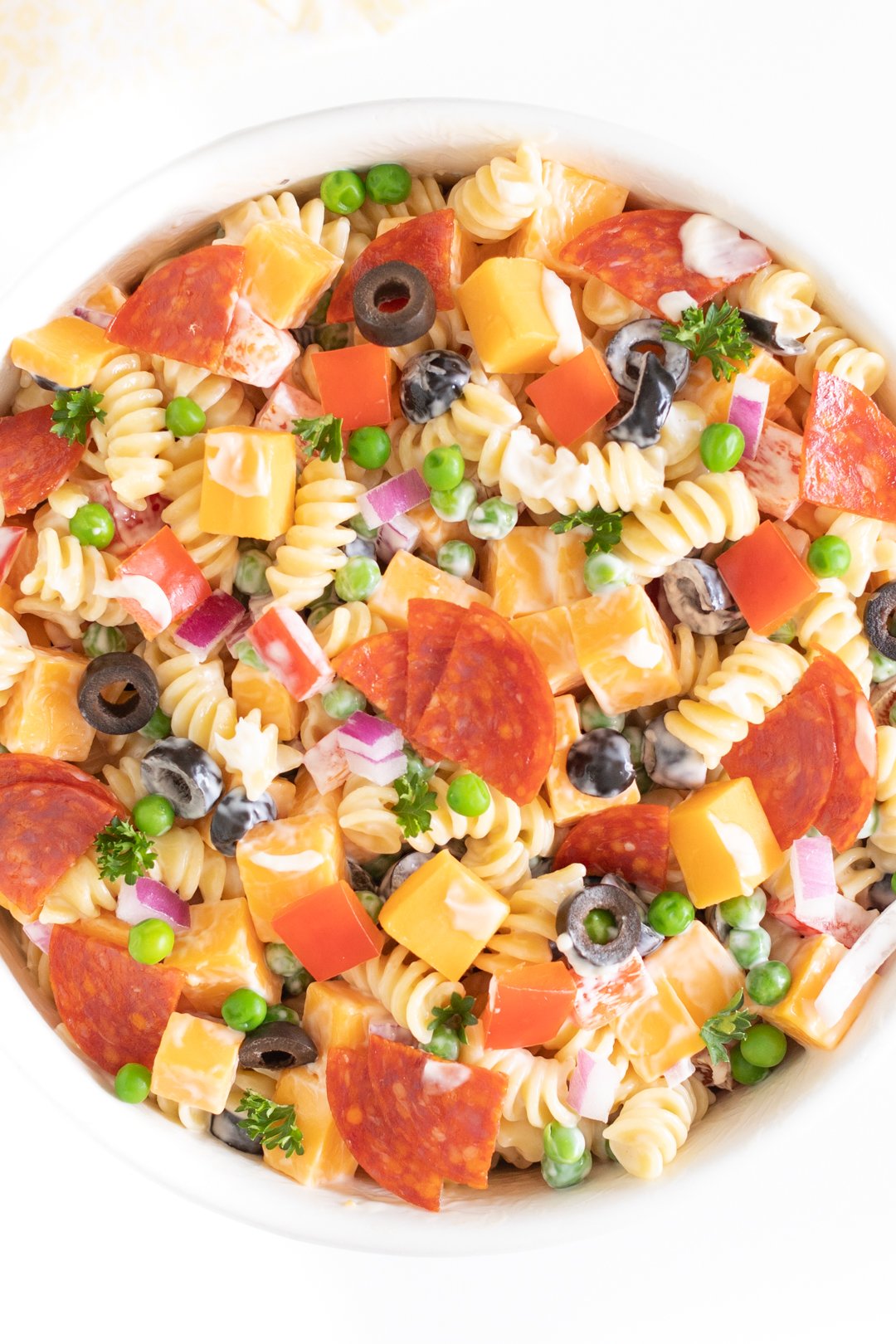 This throwback pasta salad uses traditional ingredients like mayonnaise and pepperoni to give it that nostalgic flavor we all love so much.
Each bite reminds me of my childhood and I can't get enough.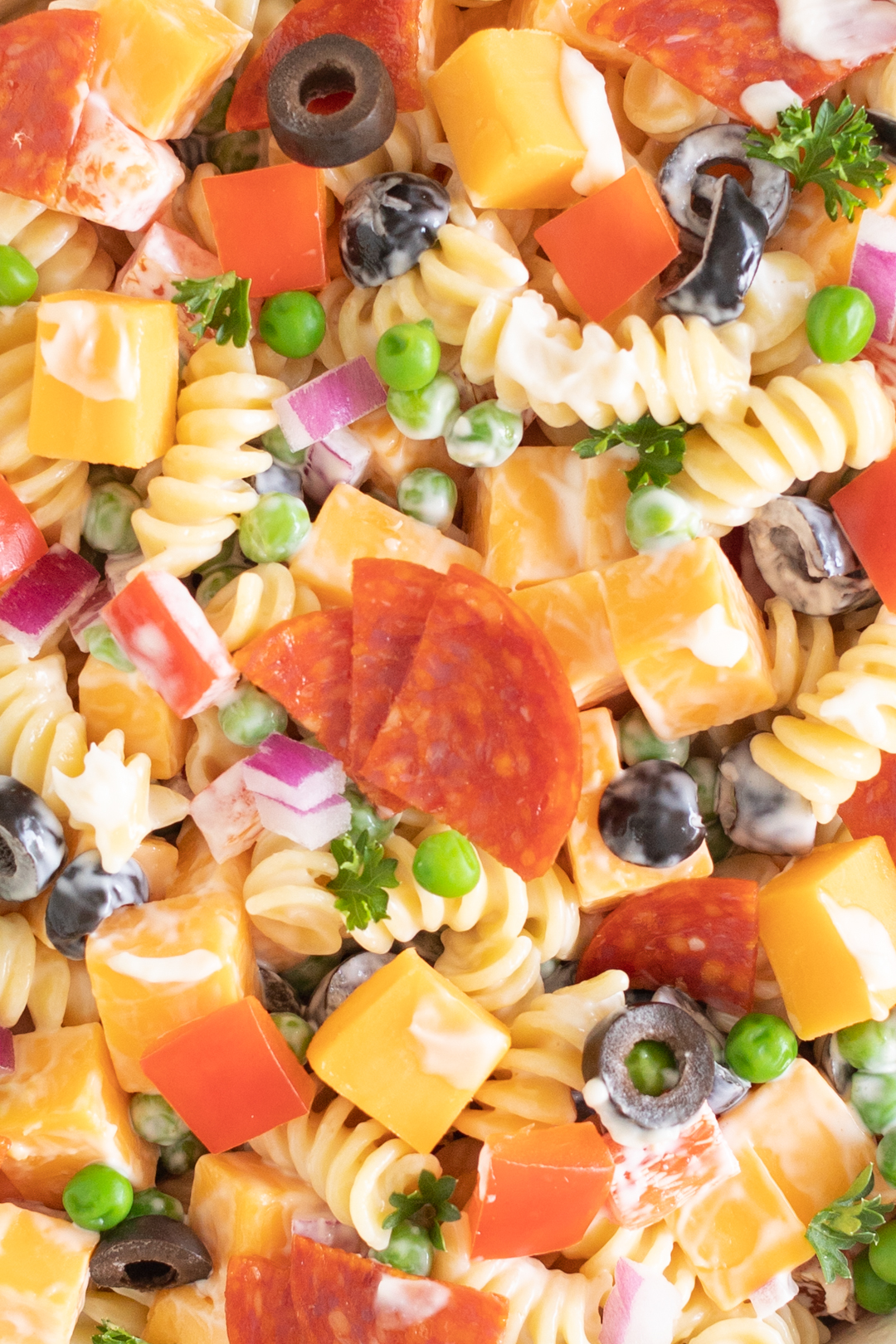 THROWBACK CREAMY PASTA SALAD
The old school pasta salad is very easy to make and it can be stored in the fridge for a few days. First, we whip up the dressing while the pasta is boiling. Then, we'll prepare all of the chopped veggies and ingredients. Let's make this.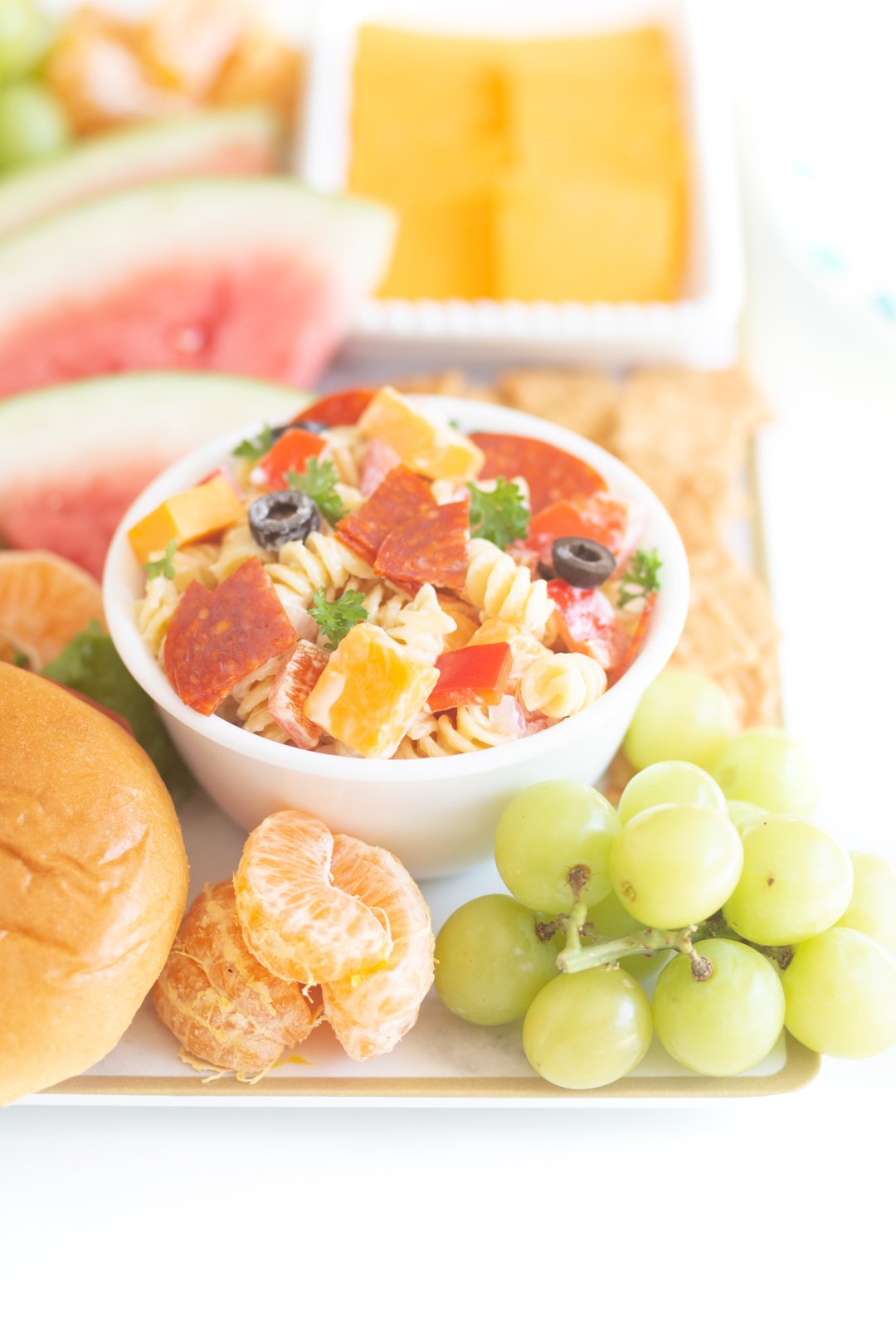 CREAMY PASTA SALAD DRESSING INGREDIENTS
Mayonnaise (Hellmann's or Best Foods are my favorites and it really makes a difference)
White Wine Vinegar - needed for some extra tang.
Salt and Pepper - must have basic seasonings for almost any dish.
Granulated Sugar - surprising underdog that makes the dressing pop.
These items are added to a bowl and mixed while the pasta is cooking and right before you start preparing all of the other ingredients.
CREAMY PASTA SALAD INGREDIENTS
All of these ingredients have been hand selected based on my memory of pasta salads from my childhood. They all come together beautifully for the perfect throwback side dish.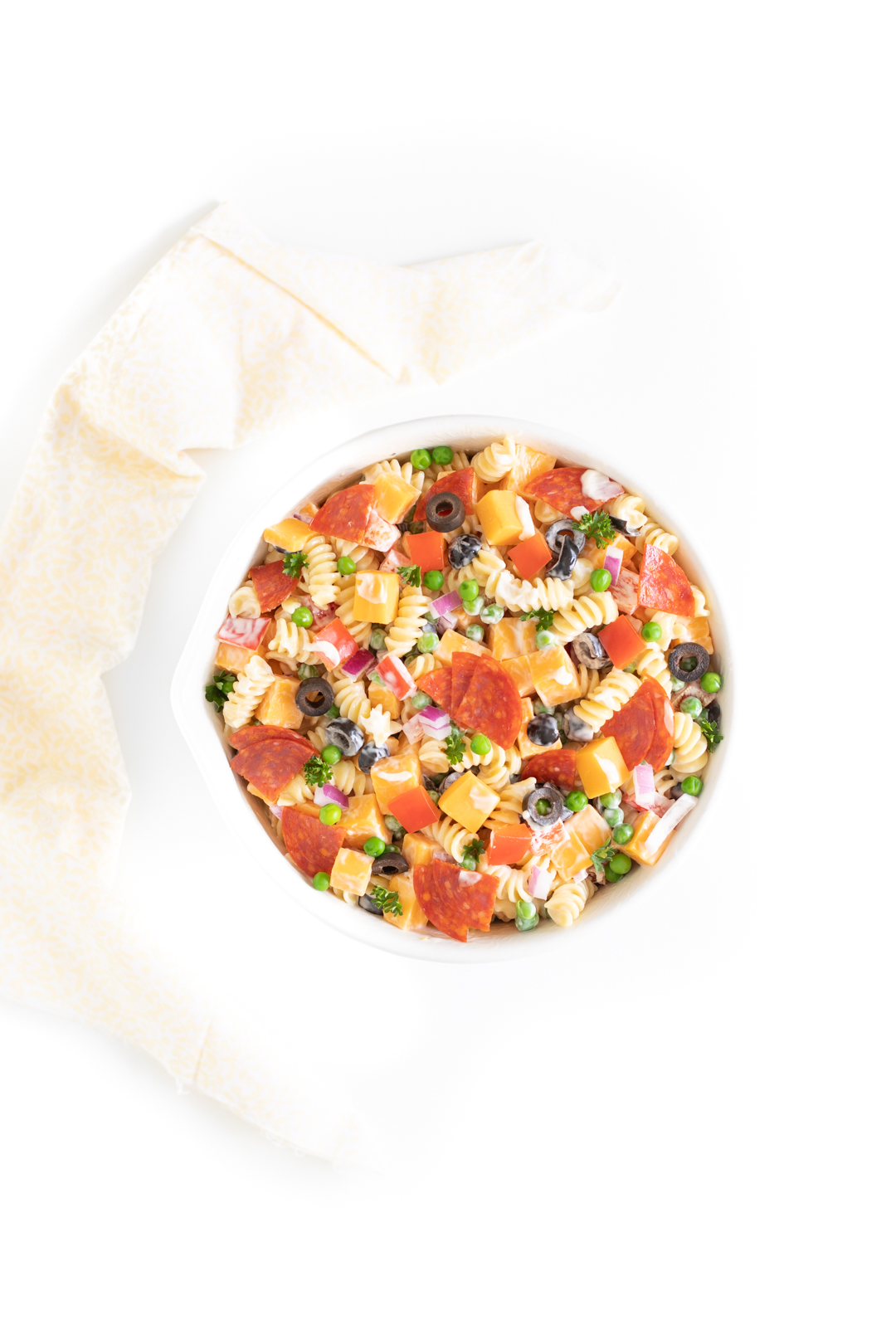 Rotini - is one of my top picks to make pasta salad with because it's fun to look at and even more fun to eat. The tiny ridges soak up the pasta dressing in all the right ways.
Red Pepper - is perfect for a nice pop of color and flavor. You can also swap for orange or yellow, too. I like the milder taste of these colors vs. green pepper. They aren't only good in fajitas.
Sharp Cheddar Cheese - has the perfect zesty flavor and is a must to include in any pasta salad.
Pepperoni - isn't always included in pasta salads, but I distinctly remember it being served at all of our family gatherings. Every recipe is better with a generous amount of these spicy little bits if you ask me. It's also fantastic in dips.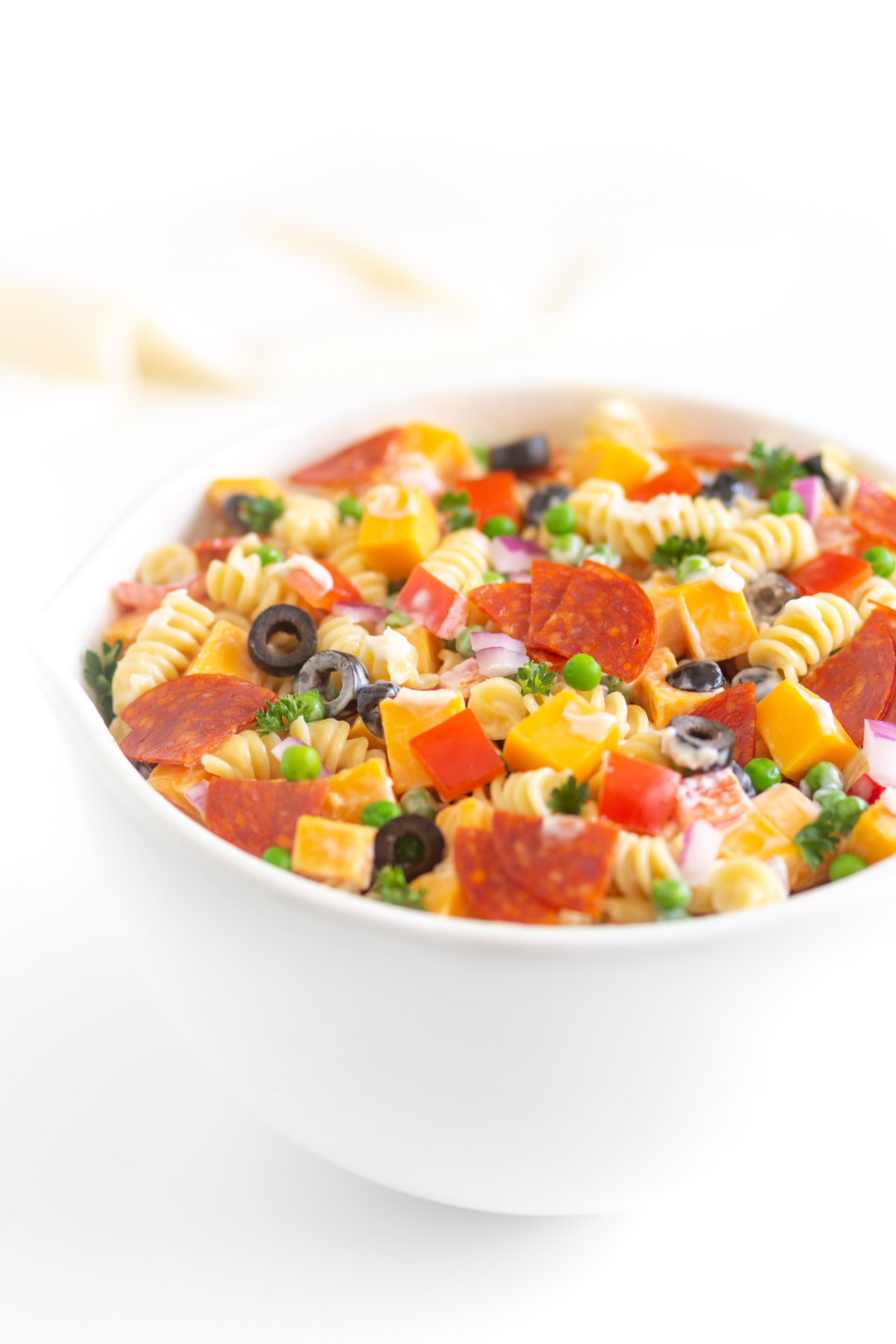 Black Olives - are not only one of my favorite things ever, especially the kind that come right in a can. They add a twist of flavor to any kind of salad.
Red Onions - adds a nice bite to the salad. Dicing them real small allows for the perfect balance without being too overwhelming.
Frozen Peas - thawed out are the perfect pop of color and texture for this salad. You could use canned instead, but you won't get the vibrant color and mouthfeel. Note that I totally forgot to include these when I took my photos, but please don't skip them in this recipe, they are the BEST.
HOW TO MAKE CREAMY PASTA SALAD
First, it's time to cook your pasta "Al Dente" style according to package directions. Once that is done, rinse and drain with cold water.

Then, in a large bowl, let's make the dressing by mixing mayonnaise, vinegar, salt, pepper, and sugar. Once that is fully combined, add the cooked pasta and mix until it's fully coated.

Add remaining ingredients to the pasta and mix it together until completely combined and all of the ingredients are coated.

Once everything is completed, cover and refrigerate until you are ready to enjoy.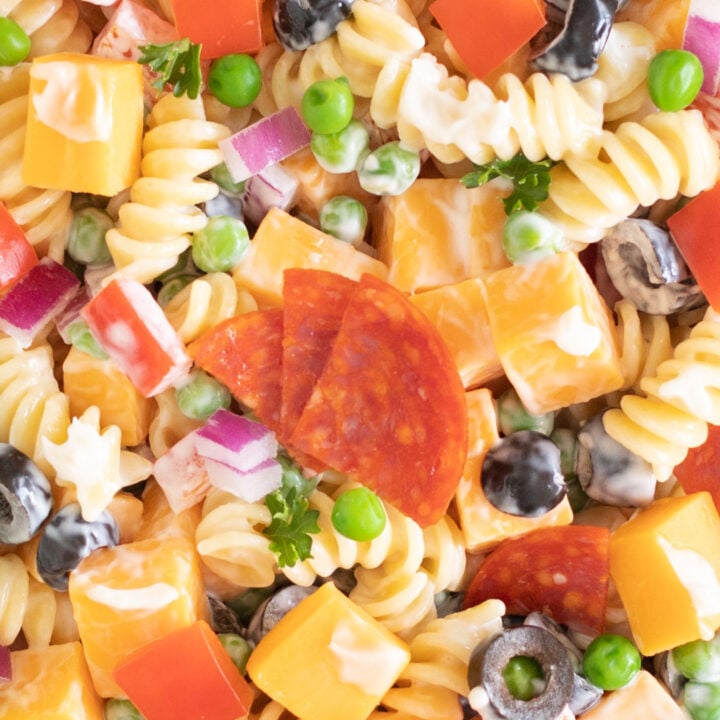 Throwback Creamy Pasta Salad
Old school recipe for a classic, creamy pasta salad with pepperoni, cheddar chunks, peas and mayonnaise. Makes for a perfect side dish to serve at picnics and barbecues!
Ingredients
DRESSING INGREDIENTS:
1.5 Cups Mayonnaise (Hellmann's or Best)
2 TBSP White Wine Vinegar
1.5 TSP Salt (to taste)
1 TSP freshly ground black pepper (to taste)
1.5 TSP white granulated sugar (to taste)
SALAD INGREDIENTS:
16 OZ Rotini Pasta
¾ Cup Red Pepper Chopped
¾ Cup Frozen Peas, Thawed (not cooked)
8 OZ Brick Sharp Cheddar Cheese, Cubed
20 Large Pepperoni Slices, Chopped into Quarters
3.8oz Can sliced Black Olives
⅓ Cup Red Onion, Diced
Instructions
Prepare the pasta "Al Dente" according to package directions, then rinse and drain with cold water.
In a large bowl, mix mayonnaise, vinegar, salt, pepper, and sugar. Add the cooked pasta and mix to coat.
Add remaining ingredients and stir until completely combined and all too the ingredients are coated.
Cover and refrigerate until you are ready to serve.
Notes
You can swap out the frozen peas for canned, but they will not have the same texture or pop of color.
I hope you enjoy this recipe and share it with your friends. Let me know how the pasta salad turned out for you and what your memories of pasta salad are from your childhood!