Have more things piled on your to-do list this spring? Hope you're out and about having more fun and enjoying at least a tiny bit of warmth.
As with the turn of every season, there is always some adjustment to new schedules and things to do and get used to.
I've personally been playing around with some minimalist slow cooker dinner recipe ideas.
This slow cooker recipe has only three ingredients and is perfect for adding your own flair to with spices and extra flavorings. The possibilities are endless.
Dinner does not get any less complex than this one, my friends. Hope you love the simplicity and few ingredients.

This was the first time using Portobella mushrooms (Baby Bellas in this case) in my slow cooker, but it sure won't be the last. I just love them cooked almost any way, but they really add a lot to this very simple recipe.
With only three ingredients like my classic salsa chicken, plus some salt and pepper, this is a no fuss simple dinner idea. If you are a mushroom lover, you will adore this quick fix!
Dawn Lopez
Portobella Chicken Slow Cooker Recipe
Ingredients
1 Pint of Baby Bellas (or equivalent in sliced portabella mushrooms)
1.5 - 2lbs Boneless Chicken Tenderloins or Sliced Chicken Breast
1 Can of Cream of Chicken Soup
Salt & Pepper to Taste
Instructions
Place chicken in the bottom of slow cooker, evenly dump the mushrooms on top and then cover with the cream of chicken soup. Sprinkle desired about of salt and pepper on top. Cook on high for 4 hours or low for 6 hours. Do a taste test to determine if your dish could use a little more salt & pepper. Enjoy!
7.8.1.2
151
https://cutefetti.com/portobella-mushroom-chicken-slow-cooker-recipe/
Want to see this recipe in the making? Check out my YouTube video:
For more easy slow cooker recipes, check out this big list of 4 ingredient slow cooker recipes here and even more here.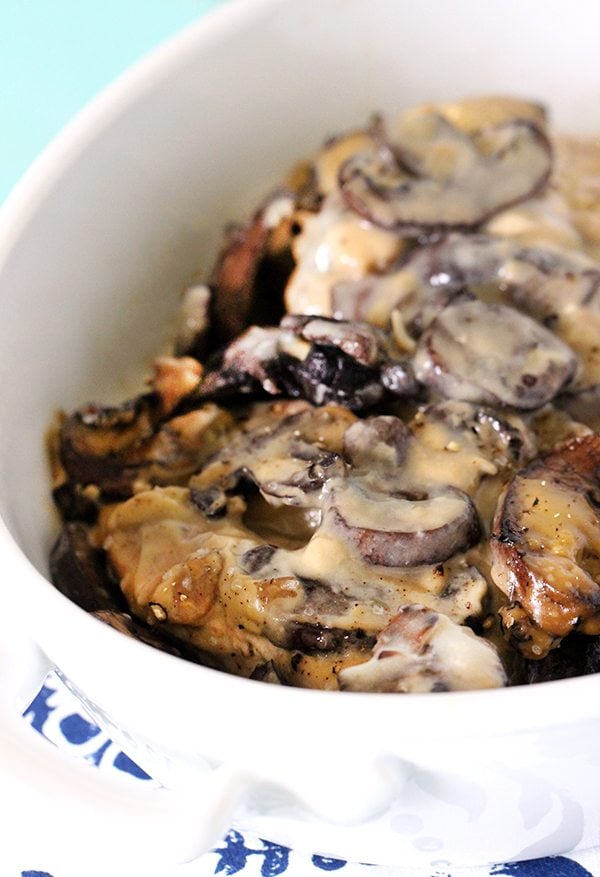 Have you ever used mushrooms in a slow cooker dish? What did you make?