Not only is pink one of my favorite colors, coming in a close second to purple, but it's a fabulous and festive color for Valentine's Day. I had a slew of white chocolate leftover from the holidays that I wanted to use up and thought it would be just the perfect popcorn topping and great for getting pretty pink sprinkles to stick on popcorn. I thought the results would be super sweet, but it came out just perfectly, instant favorite. Why haven't I tried playing with my popcorn this before?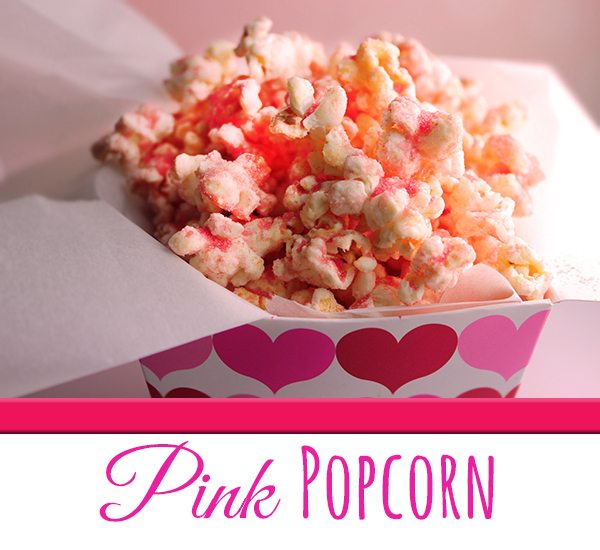 I recently shared how to make pink sugar, so you can easily pick your shade of pink sugar to make and it's so easy to do. If you don't want to make yours, you can simply purchase your choice of pink sprinkles at the store. I think the darker and brighter the pink the better so that the color will "pop" against the off white/yellow color of popped buttery popcorn. But, feel free to have fun and experiment. Nobody will complain!

With just white chocolate, some oil, pink sugar and a bag of microwave popcorn, you're going to make this super easy treat that is perfect for Valentine's Day. Great for bagging up and giving away to show someone you care! They'll never know how simple it was to make... unless of course they ask for the recipe 😉 Most regular family sized microwave popcorn bags should yield 8 cups which is perfect for this recipe.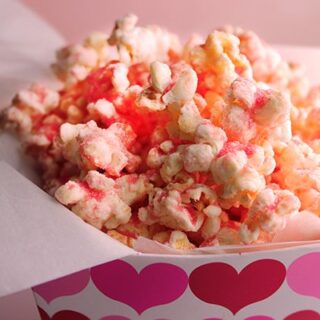 Perfectly Pink Popcorn Recipe with White Chocolate
Ingredients
8 Cups of Popped Butter Popcorn (Microwaved works great)
12 ounces of White Chocolate (chips are perfect)
2 Tablespoons of Vegetable Oil
½ Cup of Pink Sugar Crystals
Instructions
Put your popped corn in a large bowl. Meanwhile, melt white chocolate with vegetable oil on the stove top on low. Stir continuously until melted and blended. Pour white chocolate mixture over your popcorn and fold gently until all popcorn is covered. Immediately fold in pink sugar crystals until covering popcorn. Spread the popcorn out over a non-stick baking sheet, wax paper or foil. Let chocolate dry, about and hour or two.
What other fun pink things will you be making for Valentine's Day?