Whether you are looking for an idea for setting up a charcuterie board or a candy grazing board to help you celebrate a party theme or holiday, you have hit the jackpot. This growing list of the best candy boards are perfect for special occasions and will help you plan your best dessert from start to finish. Using tips to make your candy boards stand out will take the mystery out of making it an instant hit.
You will find a wide variety of fun candy ideas for celebrating birthdays to celebrating Valentine's Day, Halloween and even Christmas. This big list of ideas on ways to set up a dessert charcuterie board by using mostly candy and treats is a great way to start brainstorming fun ways. I can't wait to see which of these are your favorites!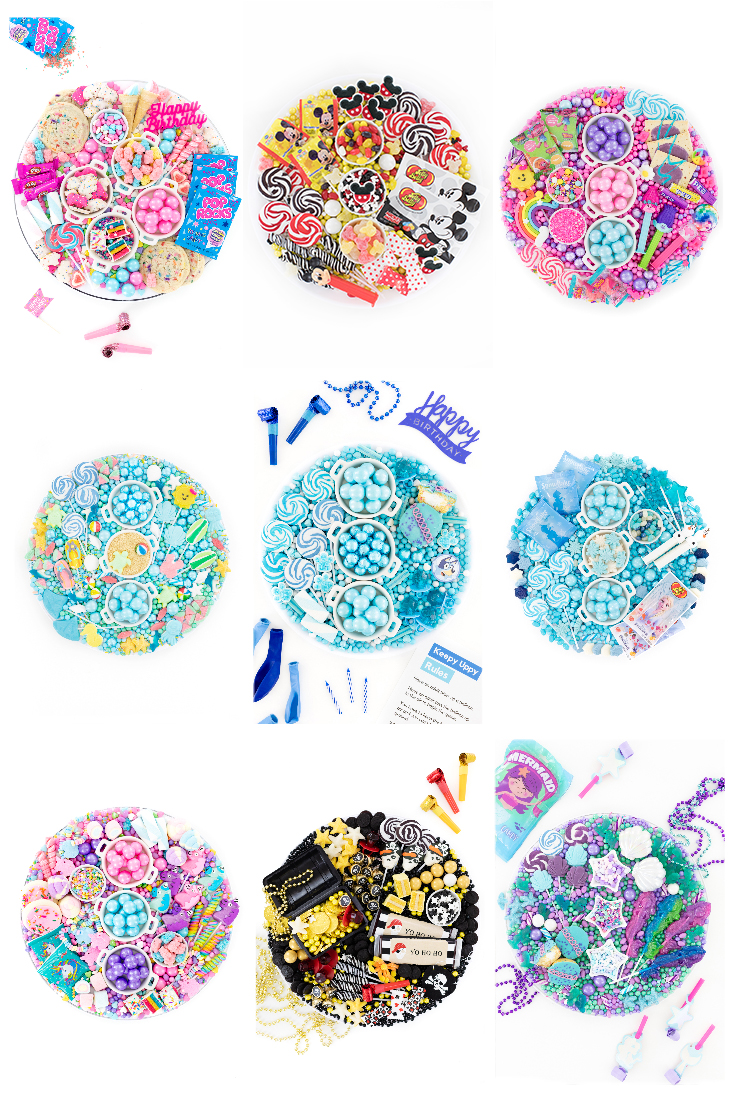 Charcuterie Boards really exploded back in 2018 and they are still going strong. You will find SO many cool twists on it from simple snack boards to romantic date-night board ideas. Then, dessert boards became a fun trend and now... candy boards are absolutely exploding. With summer on the way, it's a great time to explore the yummy possibilities.
IDEAS FOR CHARCUTERIE BOARDS
Are you ready to make your own candy dessert charcuterie board? For ideas for charcuterie boards, you can't get more exciting than this. Both adults and kids alike will be thrilled! After making so many of these fun candy charcuterie boards, I've come up with the best way to really simplify them for you. Even if you are throwing together a last minute party, you can still make one of these quickly.
Each of these candy boards that I have shared highlight the absolute best party candy available online for each party theme to take the work out of your search. These awesome visually fun treats will be amazing for setting up a party candy table or candy bar.
First, let's get into some fun eye-candy so you can see all of the possibilities. Then, keep reading for tips, tricks and ideas on creating your own.
Some of my very favs are Disney themed candy boards and I'm extra obsessed with the Trolls party board.
Party Candy Boards
See how to make the best candy charcuterie board for any party theme for birthdays, Valentine's Day, Halloween, Christmas and more. Huge list of ideas.

For those wanting to learn more, let's go over some basics now.
WHAT IS A CHARCUTERIE BOARD?
Charcuterie refers to prepared meats. Think pepperoni and prosciutto. The charcuterie board is like an extension of the traditional cheese and meat board with a focus on the inclusion of prepared meats. It's now on trend to extend the definition of this style of board to include a variety of fun ideas from dessert to candy charcuterie boards. Things that can be used as a charcuterie board?
Cutting Boards
Serving Trays
Any Shape or Size of Food-Safe Boards or Trays.
WHERE TO BUY A CHARCUTERIE BOARD?
You can buy a charcuterie board at almost any store that includes home goods, particular kitchen items. As mentioned above, think cutting boards. You can also find a lot of perfect serving trays at your local party stores.
I found some inexpensive trays that I love at Oriental Trading. See the link within this post where I talked about how to make a small charcuterie board. My favorite rectangular serving board that I use as a charcuterie board like the one I used for this waffle board can be found on Amazon.
WHERE TO BUY PARTY CANDY?
You can buy candy for your boards at many places including local grocers. For bulk candies, look for party stores or online retailers such as Oriental Trading, Party City, Amazon and many other locations. If you visit any of the candy boards above, I have created extensive links and lists so that you can purchase those exact same items used.
HOW TO MAKE A CHARCUTERIE BOARD WITH CANDY?
Now that we have our initial ideas in place, it's time to make it all happen. With just a few simple steps, you can have a stunning candy tray to serve at your party or even simple gathering. Think movie night and beyond.
I've narrowed down the steps to 4 that will cover almost any board that I've created here at Cutefetti.
Start by selecting a tray or board big that is enough for the crowd you are going to be serving.
Stick to no more than 3-4 colors for your candies and treats and alternate them as best you can when you place your items down. There will be exceptions, but this rule of thumb is very helpful for most boards.
Select fillers to fill up your entire board. Use smaller candies and sprinkles to build your base. These will help you to fill up the entire tray or board to give that feeling of abundance that really makes a good charcuterie board.
After you position your main candies and treats, go back in with smaller filler candies/sprinkles to fill in any unexpected spaces.
Voila! These helpful shortcuts are all you need to create a special memorable tray of the best looking and tasting treats for your parties!
Ah! Make sure to pin this post because the list of fun candy boards will be growing and be sure to share your own by tagging me on social media. I'd absolutely love to see your creations.