Have you caught the Bluey vibe yet? With a lot of kids spending a lot more time at home needing to be entertained, it's a great time to tune in and create your own fun celebrations with Bluey! Today, I'm sharing a fun Bluey inspired candy board, a fun balloon game and a lot of amazing resources to help you amp up the fun at home. This is sponsored by BBC Studios on behalf of Bluey, the adorable Disney Jr. series.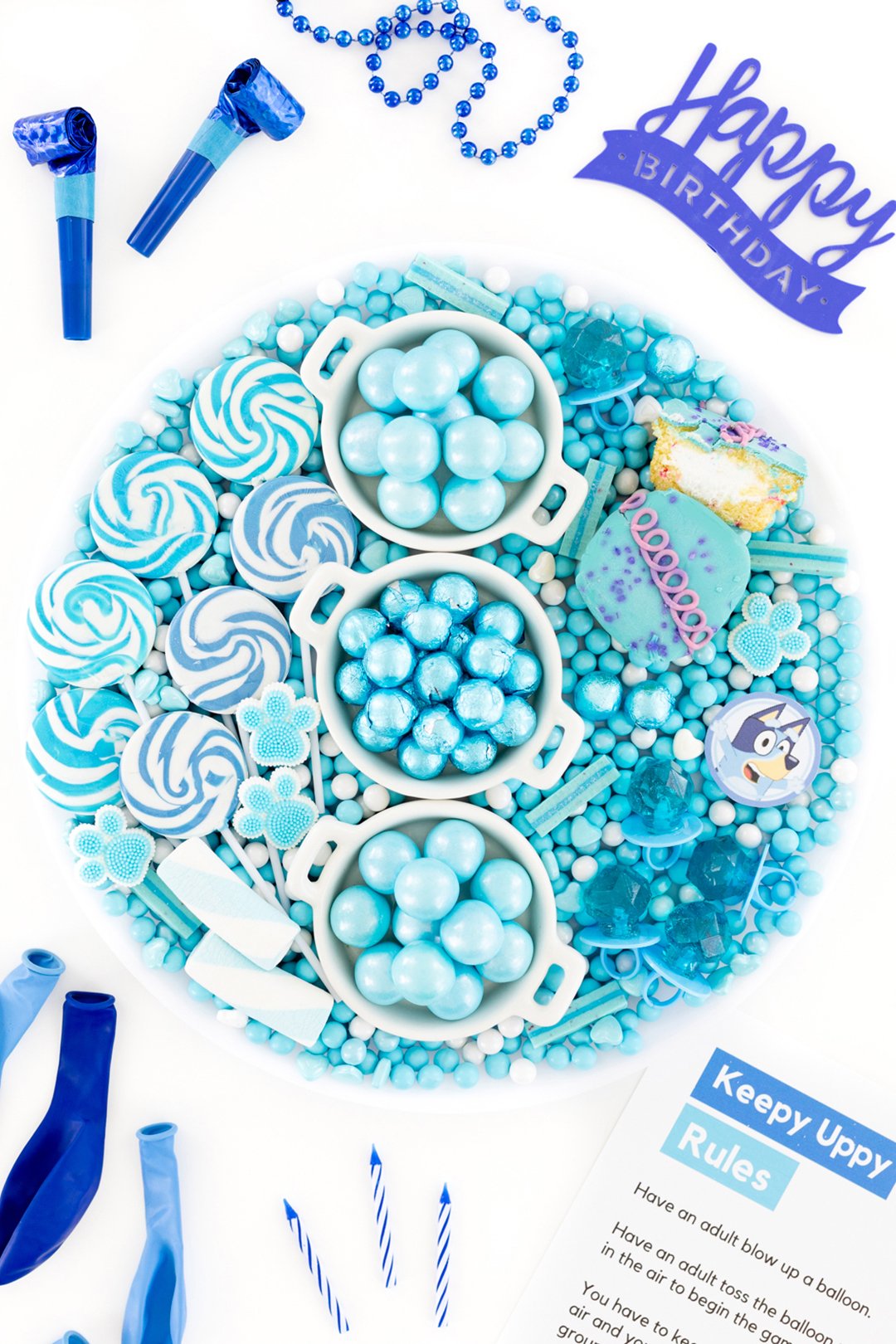 For Bluey newcomers, this fun series comes straight from the Down Under! The star of the show is Bluey, a VERY energetic 6 year old Blue Heeler Puppy and her family. The show boasts creative play and inspiration that is really relatable, especially right now with more families winging it and spending time at home looking for ways to have spontaneous fun. The show is now airing on Disney Junior and streaming on Disney+, too.
To amp up the Bluey inspired fun. I'm sharing ideas today from activity sheets that you can print to a perfect candy board treat, I have everything you need to create your own Bluey at-home birthday celebration, a show watching party or boredom busters.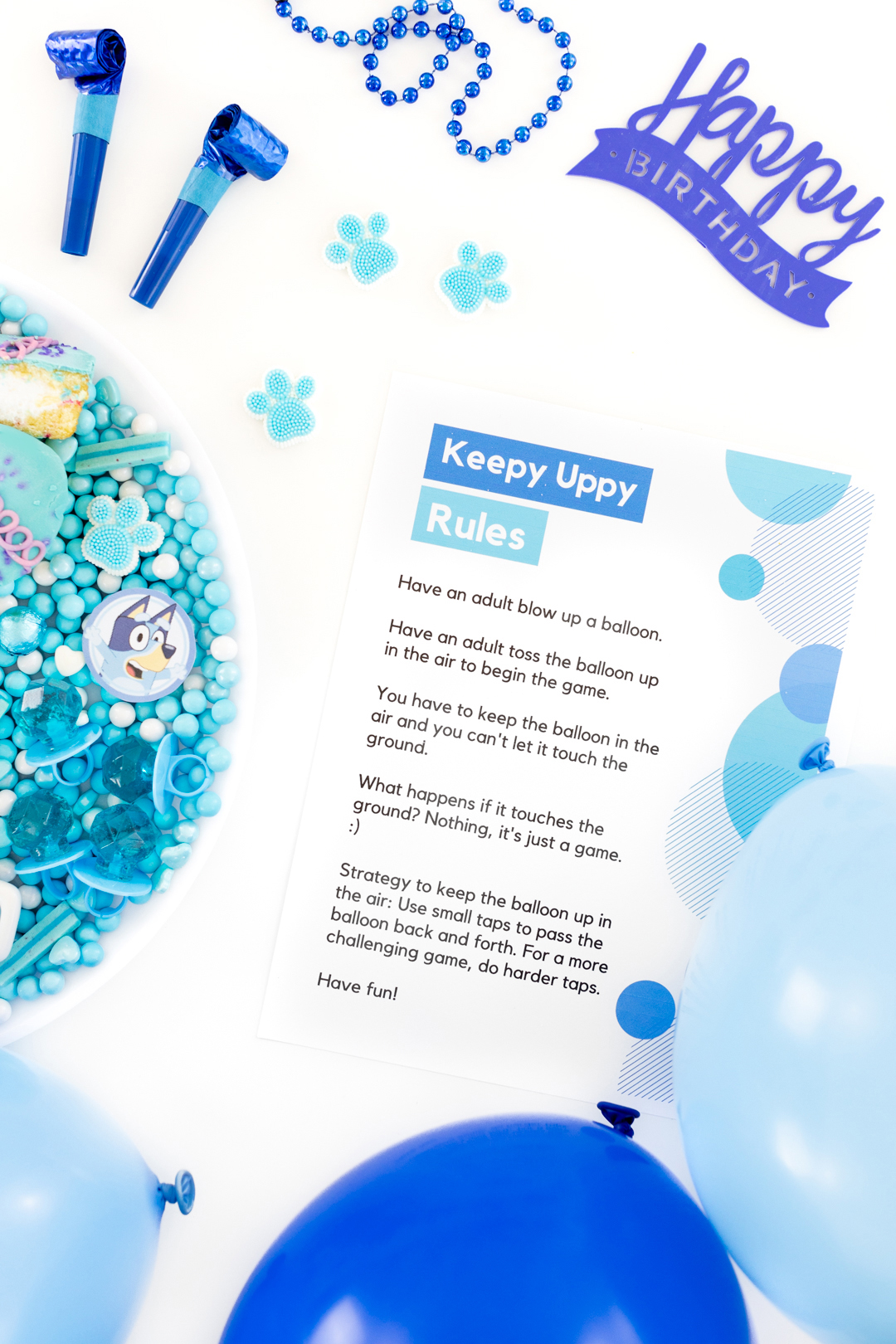 These simple ideas are perfect for family-sized fun.
BLUEY PARTY & CELEBRATION ACTIVITIES
These Bluey blue celebration ideas are perfect for celebrating a milestone like a birthday or just make any day WAY more fun!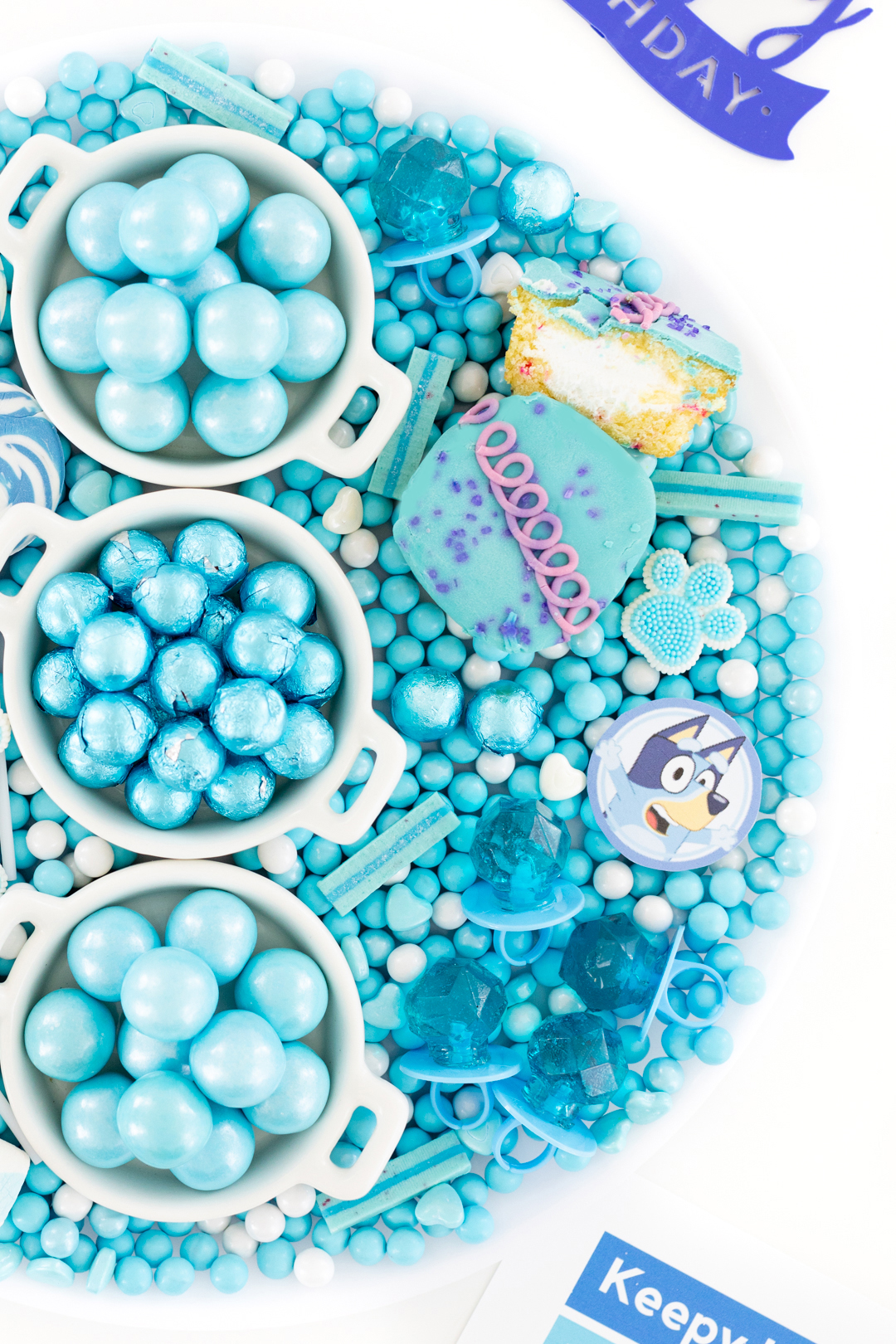 BLUEY BLUE CANDY BOARD
To make this Bluey blue candy tray, I used these cupcake toppers to decorate the tray.
Gather up a small tray, big enough for your family. Use smaller dishes to separate candies and get ready for some tasty fun.
Here are some ideas on blue candies and sweets that you can use to create your own custom Bluey board:
Blue Swirl Marshmallow Poles
Blue Swirl Lollipops – multiple shades
Blue Ring Lollipops
Blue Dog Paw Icing Decorations
Blue Gum
Blue Gumballs
Blue Sixlets
Blue Foil Wrapped Chocolates
Blue Candy Hearts
MORE BLUEY PARTY FOOD IDEAS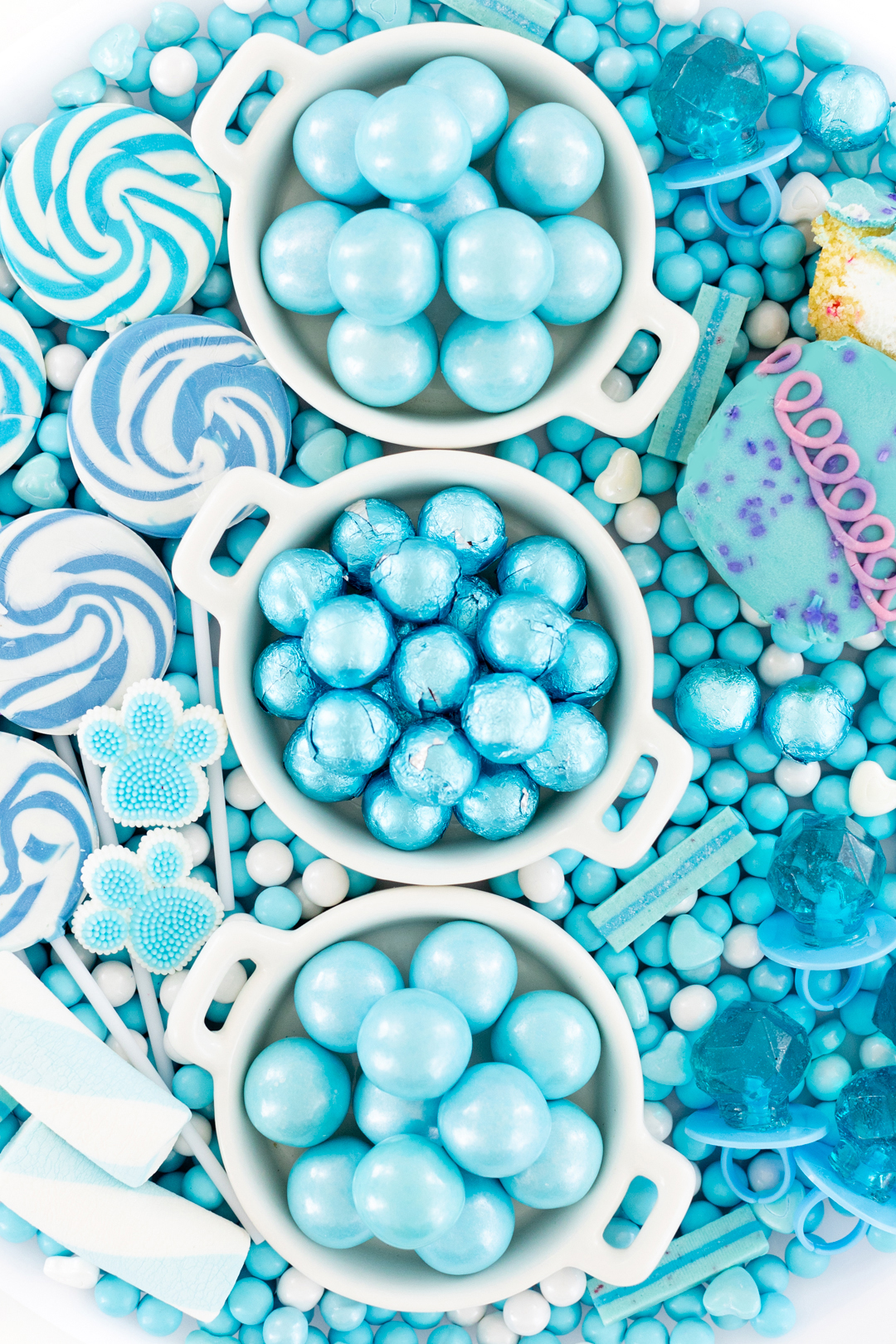 BLUEY PRINTABLE PARTY & CRAFTS
These awesome celebratory resources are all printable! Instant party anyone? I love a good easy DIY craft you can make easily.
Set off your celebration by making and having everyone wear these cute party hats and masks.
Decorate your living room with some cute Bluey party bunting and DIY Bluey and Bingo balloons.
Make this extra fun by inviting family members to the celebration with these cute Bluey party invitations.
Finish your little family gathering by ending with handing out these party bags.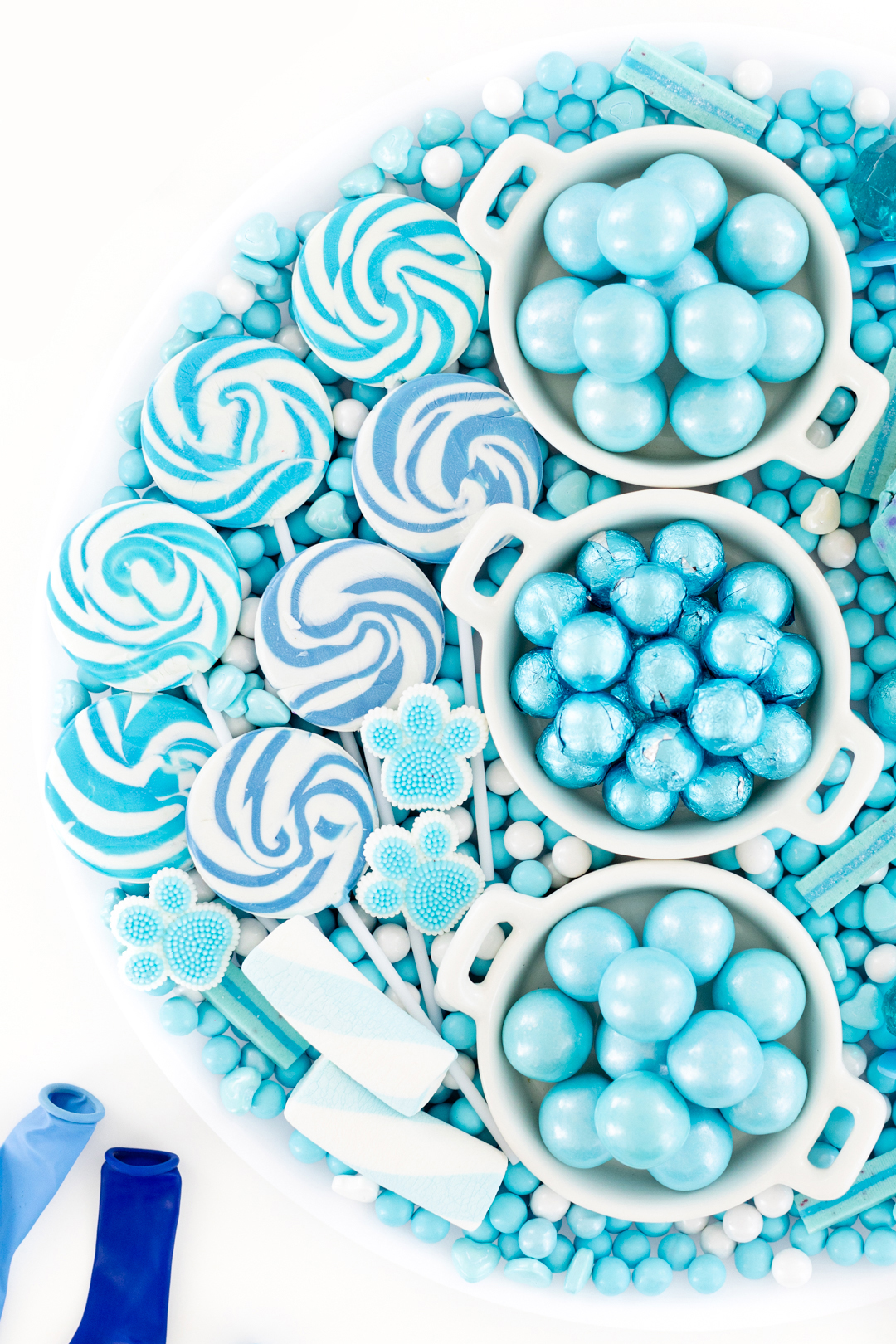 BLUEY BALLOON GAME
While brainstorming ideas on how to share some Bluey activities, I decided to turn a fun game Bluey was playing in the episode 3 from season 1 into a printable. The name of the episode and the game is Keepy Uppy. It's the perfect game to turn boredom upside down.
All it takes is a balloon and two or more players! I made this into a downloadable sheet that you can download below:
Download the rules, here (PDF)
The goal is so simple… it's to keep the balloon up in the air while passing it back and forth. Tune into the show to see how Bluey and her family have so much fun with it.
It's actually funny because I created this printable before spotting this new challenge to share your videos playing Keepy Uppy from the Bluey show. Submit your videos here. So fun!
Get even more fun Bluey ideas here and make a date to start watching Bluey with your kiddos.
Here are more ideas to celebrate at home.
What have you been doing to keep creative and fun at home?