Nothing cheers me up quicker than pastel treats. This super cute snack tray idea is inspired by something all new and fun! It didn't take any amount of arm twisting for me to put together a pretty board that's perfect for movie night or any kind of celebration. This post may contain affiliate links.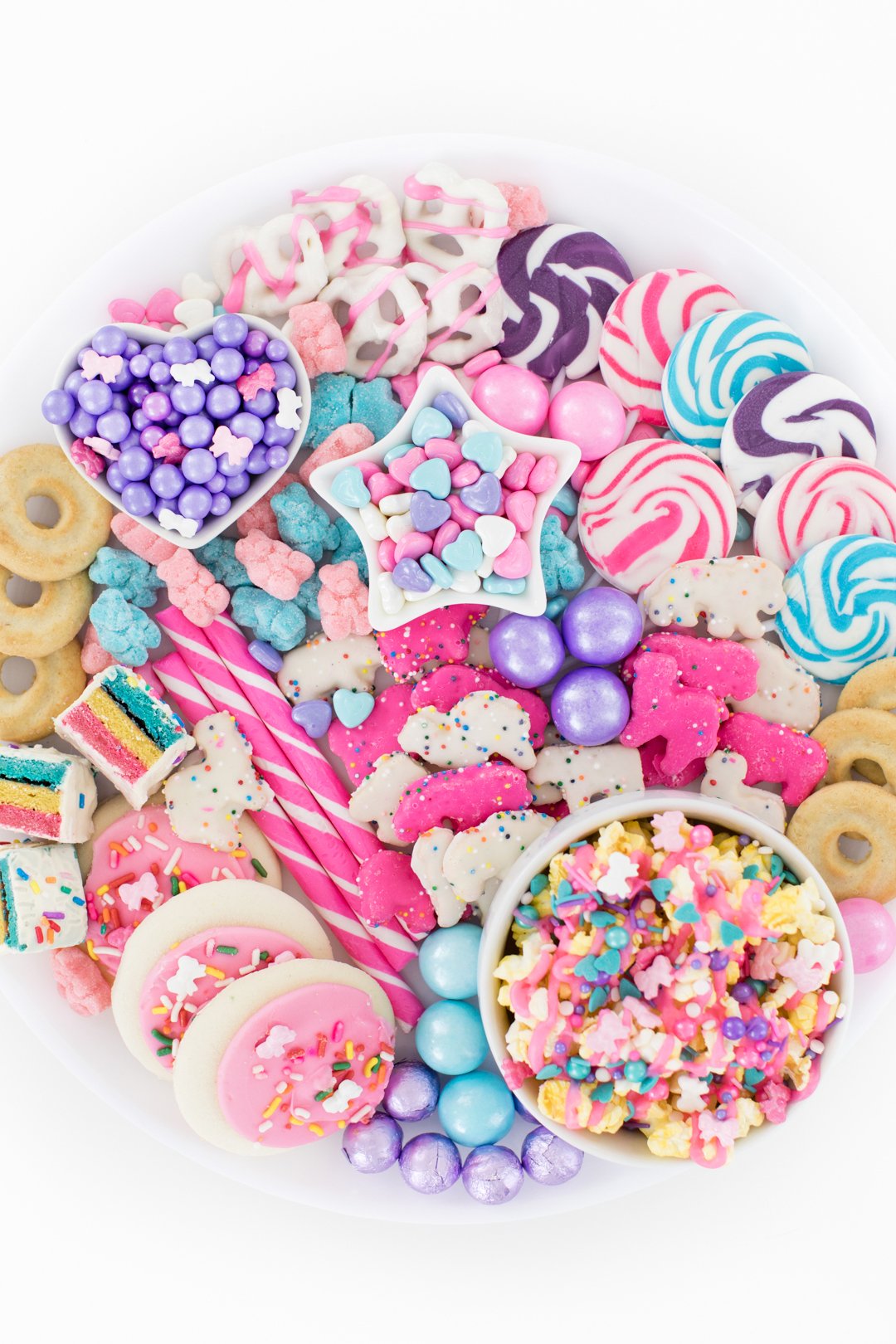 This cookie and candy "charcuterme" board idea comes from directly from the brand new digital magazine inspired by Taylor Swift. Enter the brand new Mood 13 Magazine. This unique mag is created by Swifties for Swifties and is so incredibly chock full of clever Taylor-laced diy, crafts and recipe projects. I was seriously impressed with how much creativity was packed into the pages. Even if you aren't a certified fan, you'll have no choice but to respect this unique endeavor. Just when you think you've seen it all, there's one more loaded page to scroll.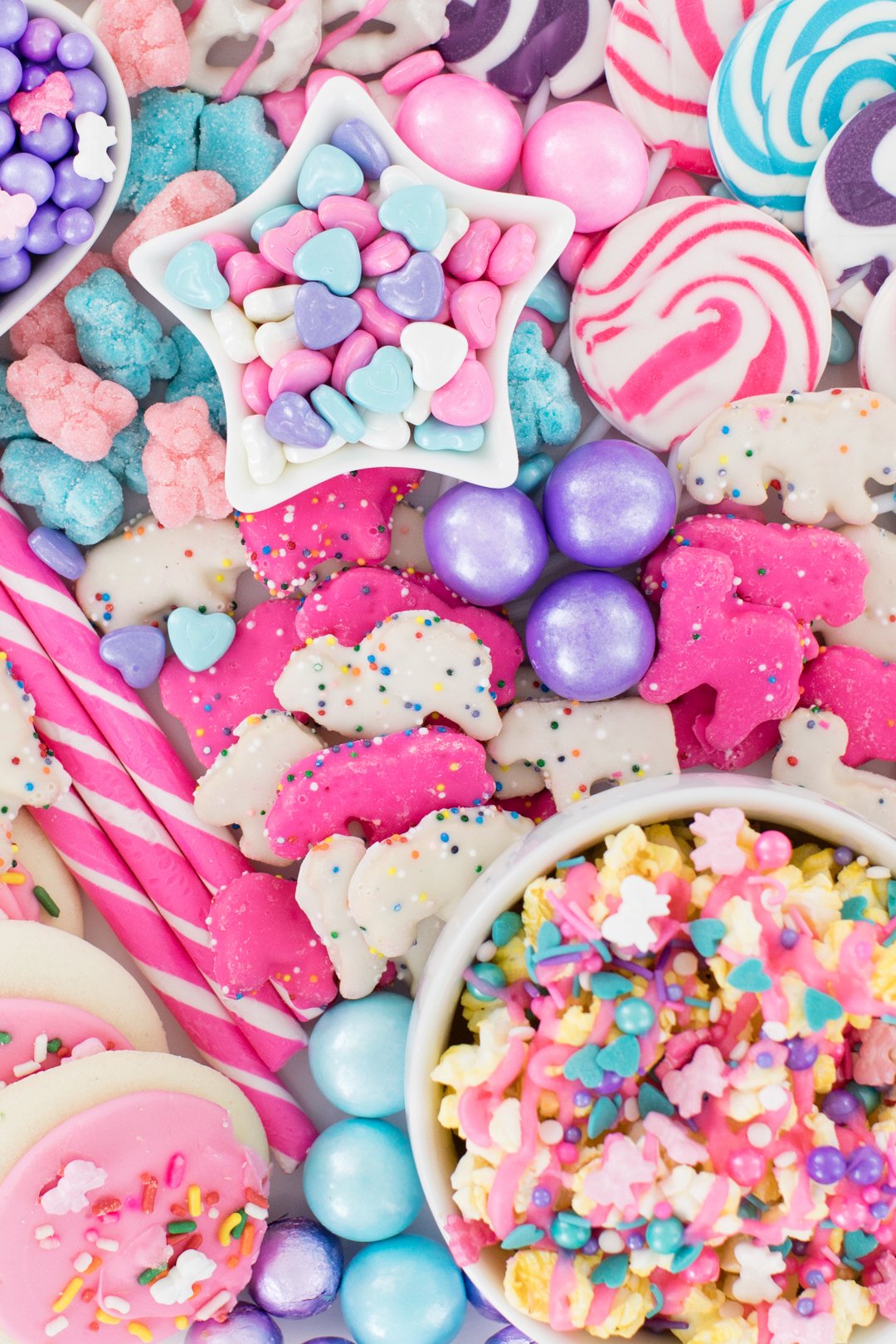 Now about how to make this pretty pastel snack board. You will find the original idea the May 2020 issue of Mood 13 Magazine which is available for download. The magazine is currently $2.99 through issuu, here. Let me show you how I put my inspired version. You could say it's inspired by an idea inspired by Taylor Swift. 😛 Say that 13 times fast.
PASTEL DESSERT SNACK BOARD
Ready to make an impossibly cute candy and cookie charcuterie board that's perfect for pretty much any occasion? Movie night, game night, girl's night... any night? Loaded with some of the prettiest treats around, this surely won't disappoint. The beautiful thing is that you can add your own take on it and use things that you have or that are readily available to you.
WHAT CAN YOU ADD TO A SWEET SNACK BOARD?
Here are some of the ingredients that I added to this fun pastel treat board:
Pastel Popcorn Mix - The original Chocolate Covered Candy Popcorn featured in the magazine recipe is actually available for free now. For mine, I simply popped up a bag and let it cool. Then, I added to a bowl and drizzled this pink cookie icing here on top and doused with a massive amount of sprinkles. These are the sprinkles I used on mine, here.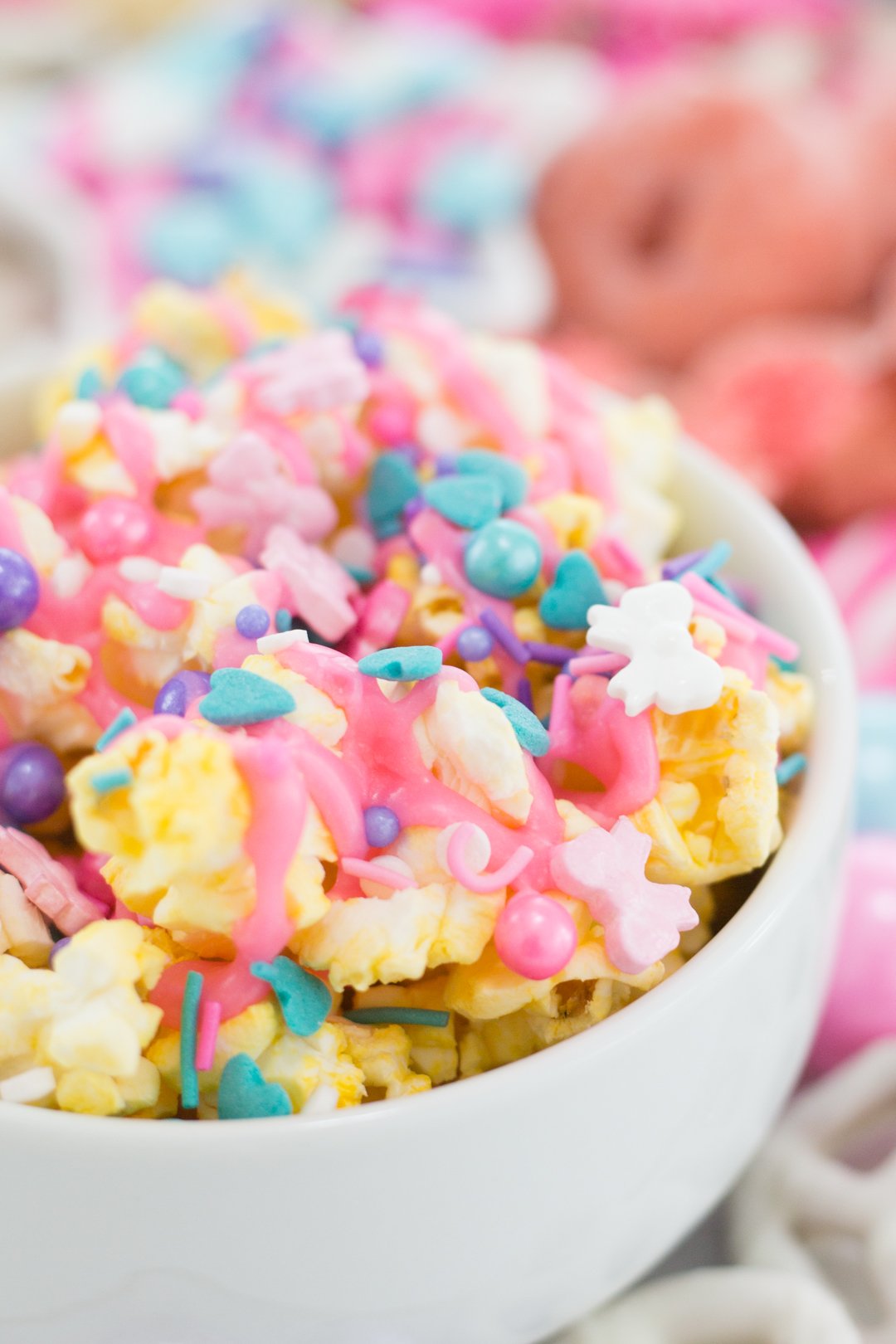 Pastel Candies - I am obsessed with pastel sweets! This pretty dessert grazing board is loaded with fun favorites like swirl lollipops, pastel gummy bears, sixlets, Mini Pastel Heart Candies, here and pretty pink candy sticks. I also like the addition of pretty foil wrapped chocolates from Color It Candy. You will find all of these candy picks linked up in the recipe widget below for your convenience.
Pastel Gumballs - Shimmery gumballs are life. They are really the perfect addition to any fun candy board because they really "pop". Pink, here. Purple here, Blue here.
Pastel Cookies & Treats - Some of my favorite pastel frosted cookies to use for any occasion are both Lofthouse cookies and I can often find a version that Target makes as well. You can always make your own or simply ice store-bought cookies with a fun pastel cookie icing in seconds.
Another favorite of mine are the Pillsbury Confetti Big Cookies that come ready-to-bake. You know that I'm also a fan of the colorful bite-sized cakes from Cakebites.
Lastly, you can't go wrong with Mother's Brand Animal Cookies when it comes to pastel treats.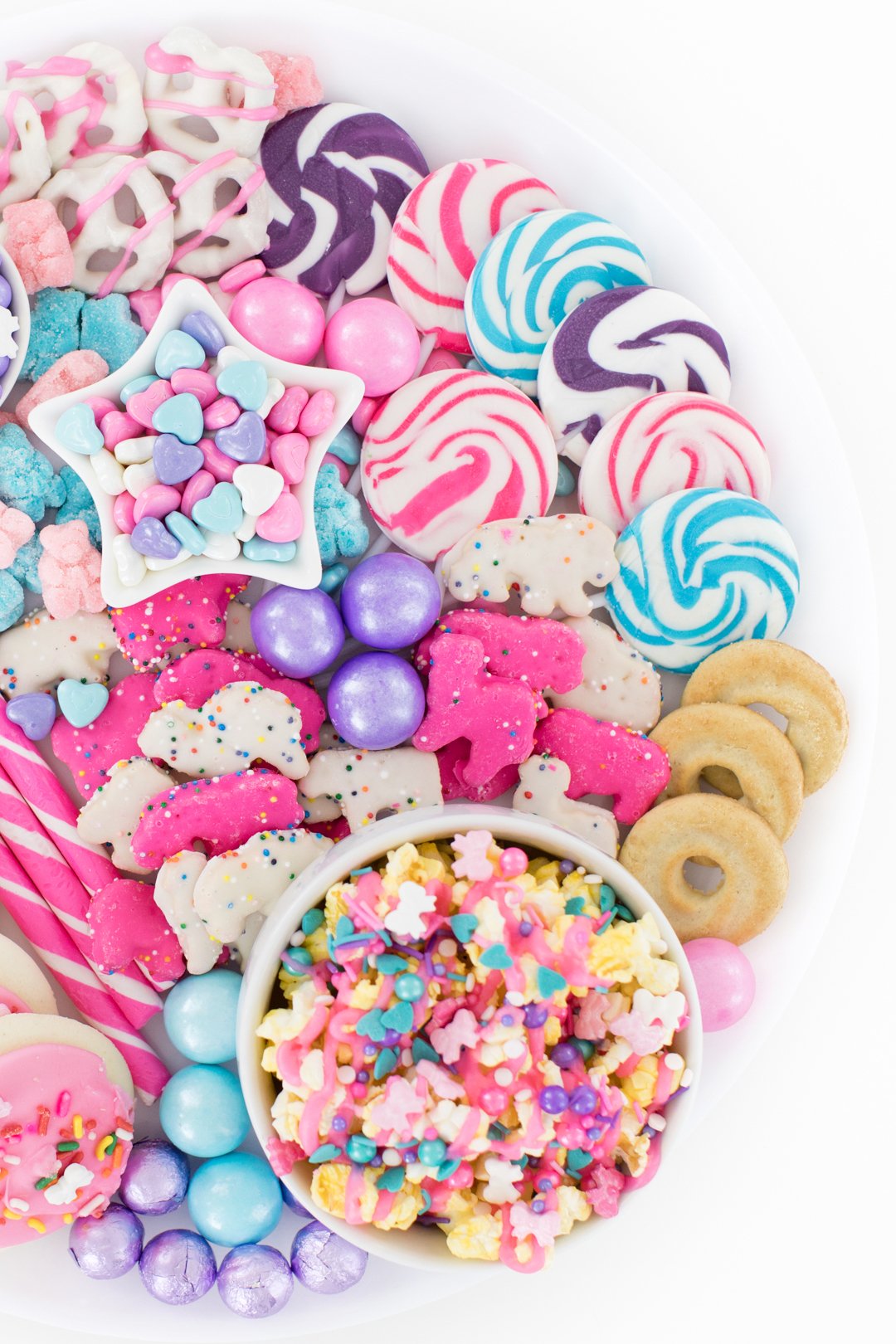 Pastel Pretzels - These are not easy to find if at all, so I used store-bought white covered pretzels and hacked them up by drizzling more of my pink cookie icing on top. Does not get easier than that.
You can also add some small sprinkles to make them pop more if you likey. HOW TO PREPARE A COOKIE TRAY
Now that you've made all of your perfectly cute selections, it's time to layer them onto a tray.
I like to add my smaller dishes and bowls first and work my way around it. The original Mood 13 idea suggests the same. Another pro-tip. Fill er up. Make sure to fill every space you can with your candy and sweets for the best looking board.
What can I use as a charcuterie board?
You can use a cutting board like the original idea or any kind of platter or tray of choice. For this particular dessert board, I used this smaller inexpensive tray, here.
Round, square or rectangle... whatever you can get your hands on can totally work.
PASTEL CANDY BOARDS
If you want something extra sweet and pretty, make a Minnie Mouse inspired pastel candy board.
Giddy up, this pretty unicorn party candy charcuterie board is one of my ultimate pastel favs.
Another epic pastel treat board? This pretty pink and blue birthday board will not disappoint.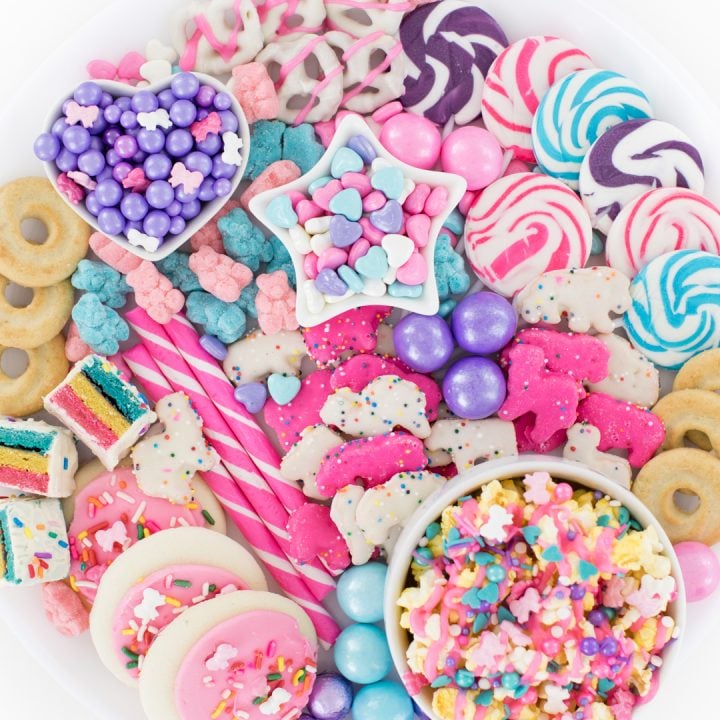 Pastel Cookie & Candy Board
Pretty treat board loaded with the prettiest pastel cookies, candies and treats.
Ingredients
Pastel Popcorn (Prepared with pink cookie icing drizzle and sprinkles)
Pastel Lollipops (Pink, Blue Purple)
Pink and White Candy Sticks
Pastel Shimmer Gumballs by Color It Candy (Pink, Blue & Purple)
Sweetworks Celebrations Shimmer Pastel Hearts
Pastel Gummy Bears Candy
Shortbread or Butter Cookies of Choice
The Original Cakebites Ultimate Party Cake
Sugar Cookies with Pink Icing
Pastel Animal Cookies
White Chocolate Prezels with Pink Icing Drizzle
Shimmer Lavender Sixlets
Various Sprinkles
Instructions
Choose your tray. Can be a cutting board or any serving tray that is square, rectangle, circular, etc.
Add smaller filled dishes and bowls first and work your way around them by alternating types and colors to add visual interest.
Make sure to fill every space you can with your candy and sweets for the best looking board.