I'm pretty excited guys. In case you haven't heard, it's National Coffee Day tomorrow (September 29th). Coffee is by far my favorite beverage of choice and also quite possibly one of the most exciting things that happens on any given day. It makes good days better and it makes crappy moments good. I'm a sucker for seasonal flavors too. Pumpkin Spice… Gingerbread, anyone? I received a Keurig® OfficePRO® Premier Brewing System, K-Cups and more promotional goodies from Staples to participate in this fun campaign and they are also sponsoring an amazing giveaway for my Twitter followers.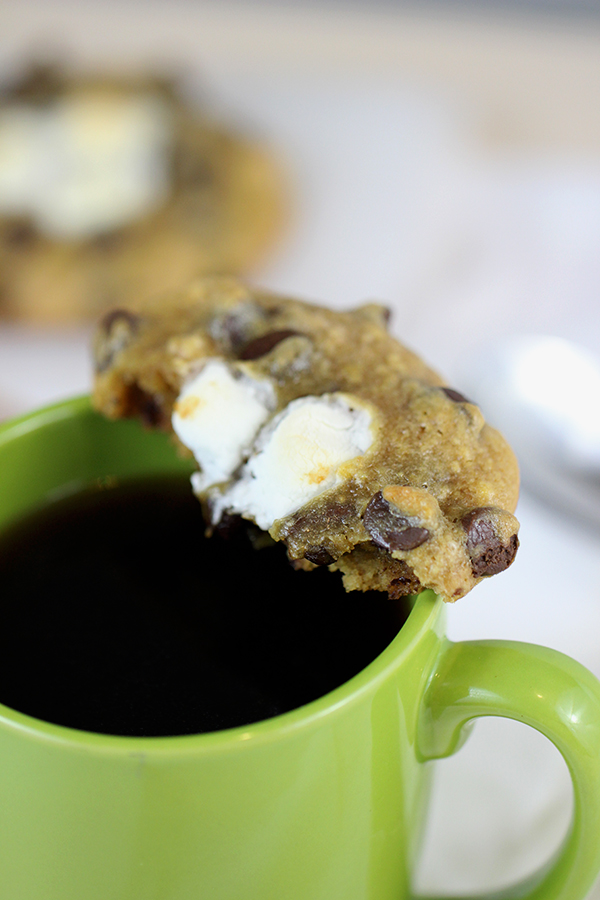 I've had a Keurig for a good few years. Normally I say… if it ain't broke, just let it be. But, when I saw this new model, I'm pretty sure I heard some kind of angelic tune playing in the background. It's made to be office durable and it holds a lot of water (90 ounces) so less refilling. Loved that because man can I pound back a lot of caffeinated goodness in a day. This has more options as far as cup size too, so you can easily find the right measurement based on your cup. Very cool because sadly my coffee cups are kind of small. I need to fix that problem. Soon. Ha!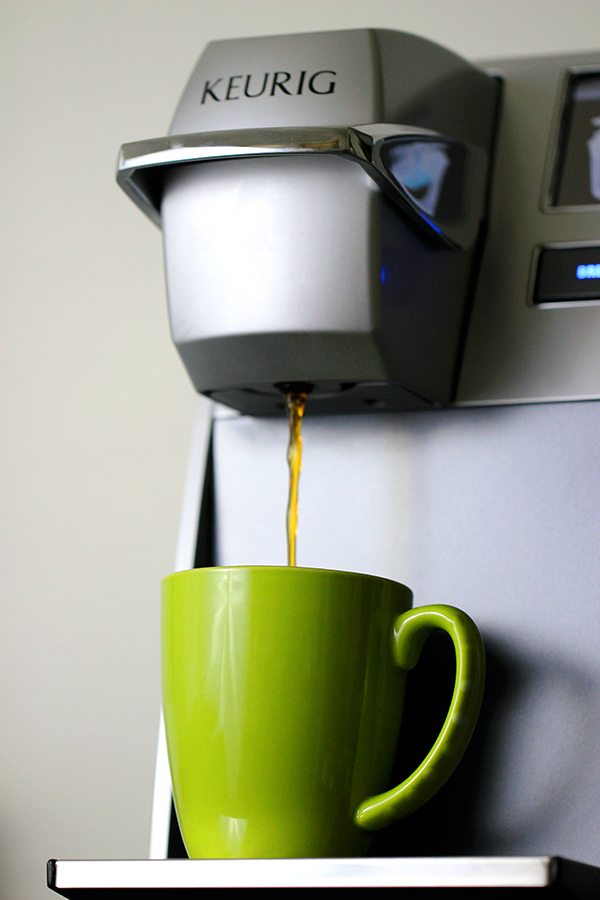 By far though, I feel all amazing because this Keurig® OfficePRO® actually has an interactive touchscreen. Bring on the cool tech. It's as seriously kick butt feature.
Now on the "what coffee to drink" question. It's not even funny how many options of K-Cup® options there are to choose from over on Staples.com. I had the chance to pick a few varieties to check out my new brewer with. Taste testing coffee is not an awful job. If you ever hear of any openings for one, I'd be a seriously amazing candidate. In addition to the yummy seasonal flavors I grabbed up, I also tried Newmans Own® Café Almond Biscotti Coffee. Quite a lovely flavor to add to my coffee collection. Perfect for dipping things in too. Which brings me to the delicious S'more's cookies I made on the fly. I wanted to do something no fuss, so I just added on to my favorite 4 ingredient chocolate chip cookie recipe by adding marshmallows and graham crackers.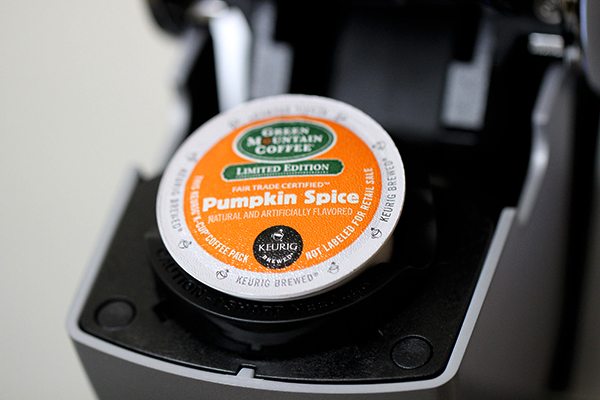 Coffee+cookies = heaven. Let me share that recipe with you and then we can get on to the truly amazing thing I've been waiting to share. Total suspense here.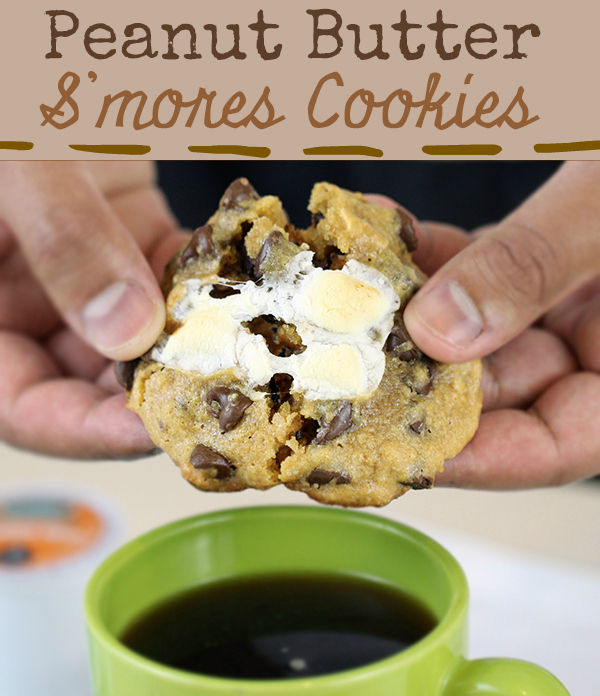 Celebrate National Coffee Day with Peanut Butter S'mores Cookies
Ingredients
1 Cup of Creamy Peanut Butter
1 Cup of Granulated Sugar
3 Large Eggs
1 Cup Graham Crackers Finely Crushed
2 Cups of Semi-Sweet Chocolate Chips
2/3 Cup Mini Marshmallows
Instructions
Preheat oven to 350
Combine peanut butter, graham cracker crumbs, sugar and eggs until fully blended. Gently mix in the chocolate chips.
Drop heaping tablespoons up to 1/4 cup (for nice big cookies) of cookie dough onto a non stick baking sheet (parchment paper lining recommended)
Lightly press 3-4 mini marshmallows into the top of the cookie dough.
Bake for 10-12 minutes.
7.8.1.2
122
https://cutefetti.com/peanut-butter-smores-cookies/
Now here is the fun part. I'm going to be giving away THREE Keurig® OfficePRO® brewers for coffee day tomorrow (September 29th, 2014).
RULES
It's simple!
Eligibility: Open to U.S. Residents, 18 years or older. Must have a Twitter account that is made public. May only win one prize.
You must follow me (@dawnchats) on Twitter. Then, find my Tweets on Twitter at 9 am, 12 pm AND 3pm EST. I will tweet using the hashtag #CoffeeBuzz at the top of each hour. All you need to do is retweet to be entered to win. One winner will be chosen at random using random.org at the conclusion of each hour and announced on Twitter. You will have an hour to reply to my DM on Twitter to claim your prize.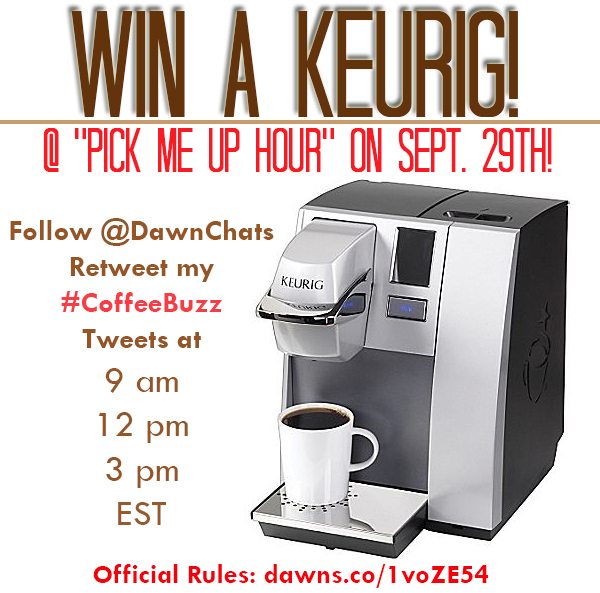 Hope you will join the National Coffee Day fun! Remember you can find all of your Keurig needs over at Staples.com
What are your absolute favorite flavors of coffee?