Ah. One of the best things about fall has to be pumpkin. I was so excited about trying to cook pumpkin in my slow cooker that I started looking for them back in August. Needless to say I came up empty handed.
More than a few store workers thought I was a strange bird for even asking.
Over a week ago, I joyously found some at my local supermarket. Of course, it was such a chaotic week that I wasn't able to actually try it out until this weekend.
Each day, I'd humph as I walked my my pretty little pumpkins knowing there was no time to get to them.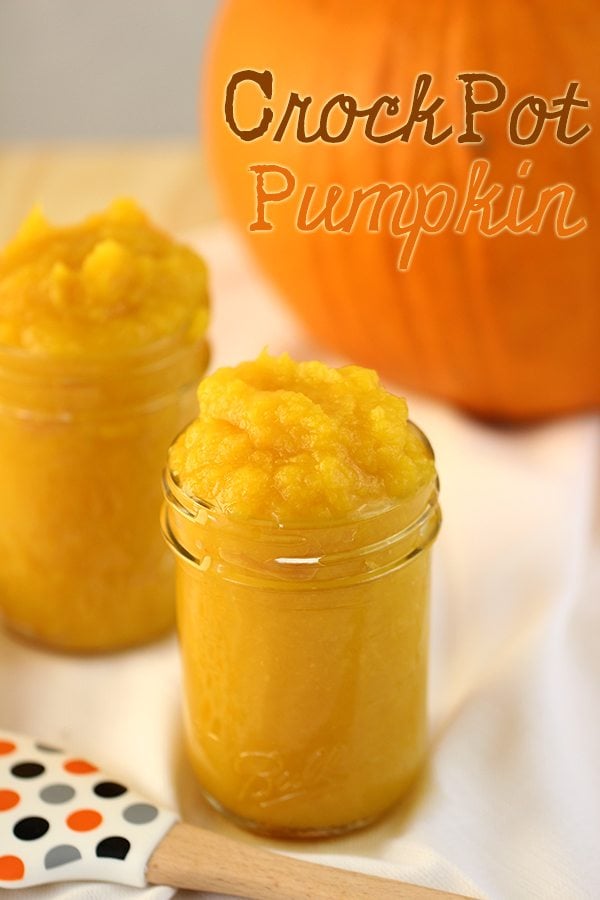 It's not even funny how many ideas are on my to-do list. Of course, there is a hefty handful of pumpkin recipes that I wanted to get to using fresh pumpkin puree.
Now, I'll (hopefully) get to try them out to share. One is Slow Cooker Pumpkin Cheesecake, which I'm actually cooking right at this very moment. I can't wait to see how that comes out. Nom nom.
But patience must prevail because it needs to refrigerate overnight. Wah.
Then, perhaps a little belated, but I'm totally making Pumpkin S'mores Ice Cream.
Well, I can justify it today because it's something like 80 degrees here in New England. Gotta bet my butt in gear.
I have about 20 things to cook this weekend and you know time management is not a strong suit of mine.
Send me luck, will you?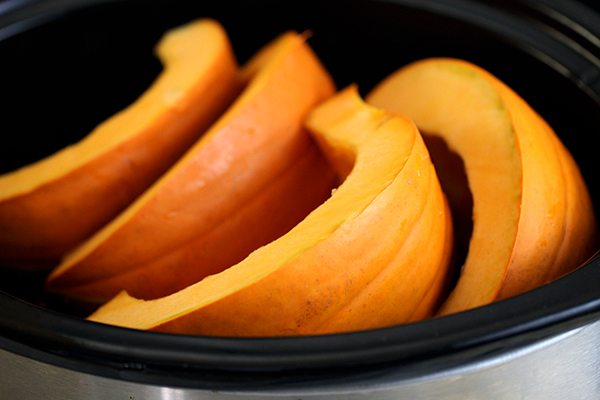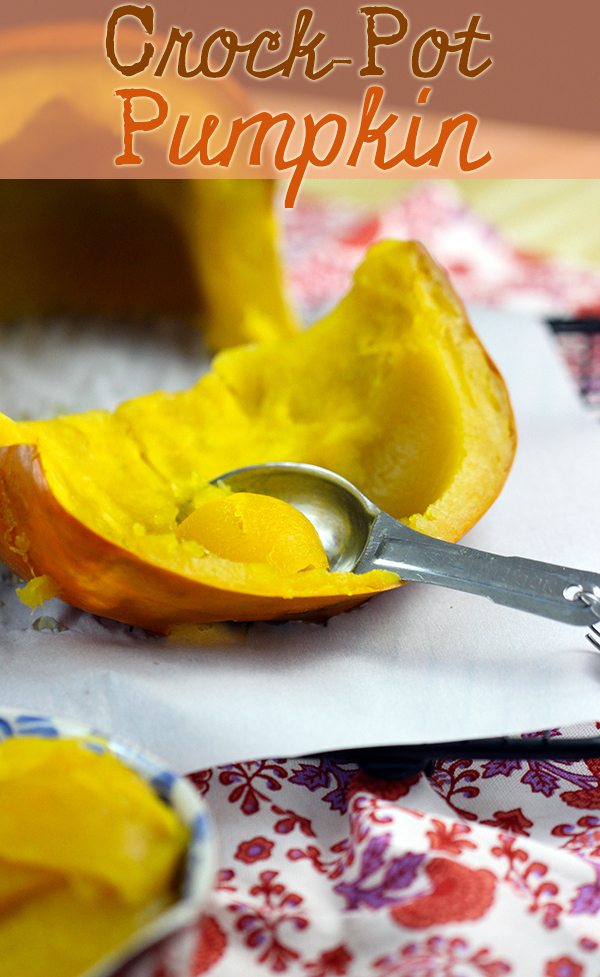 Now on to the Crock-Pot! I chose a smallish 5 lb pumpkin for this endeavor. Cleaned it off really good. Scrub if you must! To remove the pumpkin's stem, you might want to get all fancy and get a mallet and stuff. I chose the lazy way.
What's new? I just sliced around mine with a sharp knife and removed it that way. Not as pretty, but got the job done. Then, I cut my pumpkin into four equal sections. S
cooped out all the seeds and pulp with a sharp edged spoon.
Went ahead and added about an inch or so of water to the bottom of my slow cooker and arranged the sections of pumpkin so that they all fit. Depending on the size of your pumpkin you might need to cut more sections or arrange them differently.
Cook the pumpkin on low for 4-6 hours. Basically until pumpkin is soft and the peel easily separates.
I did about 5 hours. Remove and cool.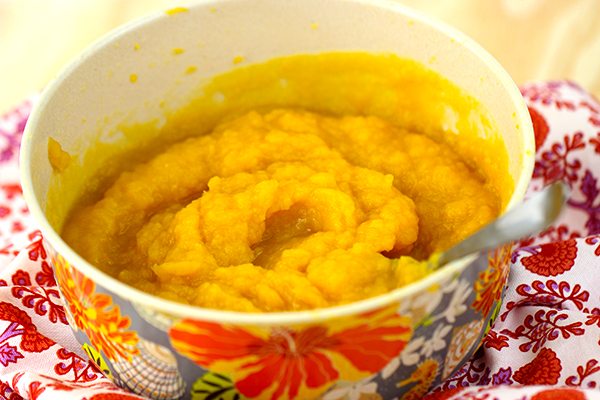 Make sure to drain your pumpkin, try to get all of the excess liquid out. Strain it or you might even want to use something like a cheesecloth to prepare your pumkpin for pureeing. There are a slew of great tips on getting the job done as well as storing and freezing your fresh puree at The Pioneer Woman. I plan on using every last drop of mine fresh. Like I said.. send me that luck. Here's to hoping that I get to squeeze in that yummy ice cream and that my cheesecake turns out fabulously. *drooling on my keyboard*.
In small amounts, you can add the fresh cooked pumpkin to a food processor or you can use a high powered blender. I used my Blendtec to easily puree my pumpkin. Worked like a charm. Simply just zapped for about 30 seconds per cup or so.
My 5lb pumpkin yielded approximately 3 and 1/2 cups of pumpkin puree. This will, of course, vary greatly depending on your lil' pumpkin.
Only one more hour until my cheesecake is ready for the fridge. Having patience is going to be rough, but they should be perfectly ready to dive into by our Sunday football game. Whoo hooo!
Have you ever made fresh pumpkin puree? What are your favorite pumpkin recipes to eat or make?