This post is sponsored by the Cool Foods for Families promotion at Publix. The opinions and text are all mine.
Just the thought of peach desserts makes my mouth water. With warmer weather on its way, I thought it would be fun to sneak in a taste of summer with this easy peach pie bar. That's the beauty of being able to stock up on favorite foods from the freezer and refrigerated sections at Publix – you get to enjoy them anytime! I'm excited to share how you can get your family excited to linger around the dinner table longer with this special dessert idea. Keep reading to learn about the 3/13 Publix Extra Savings flyer.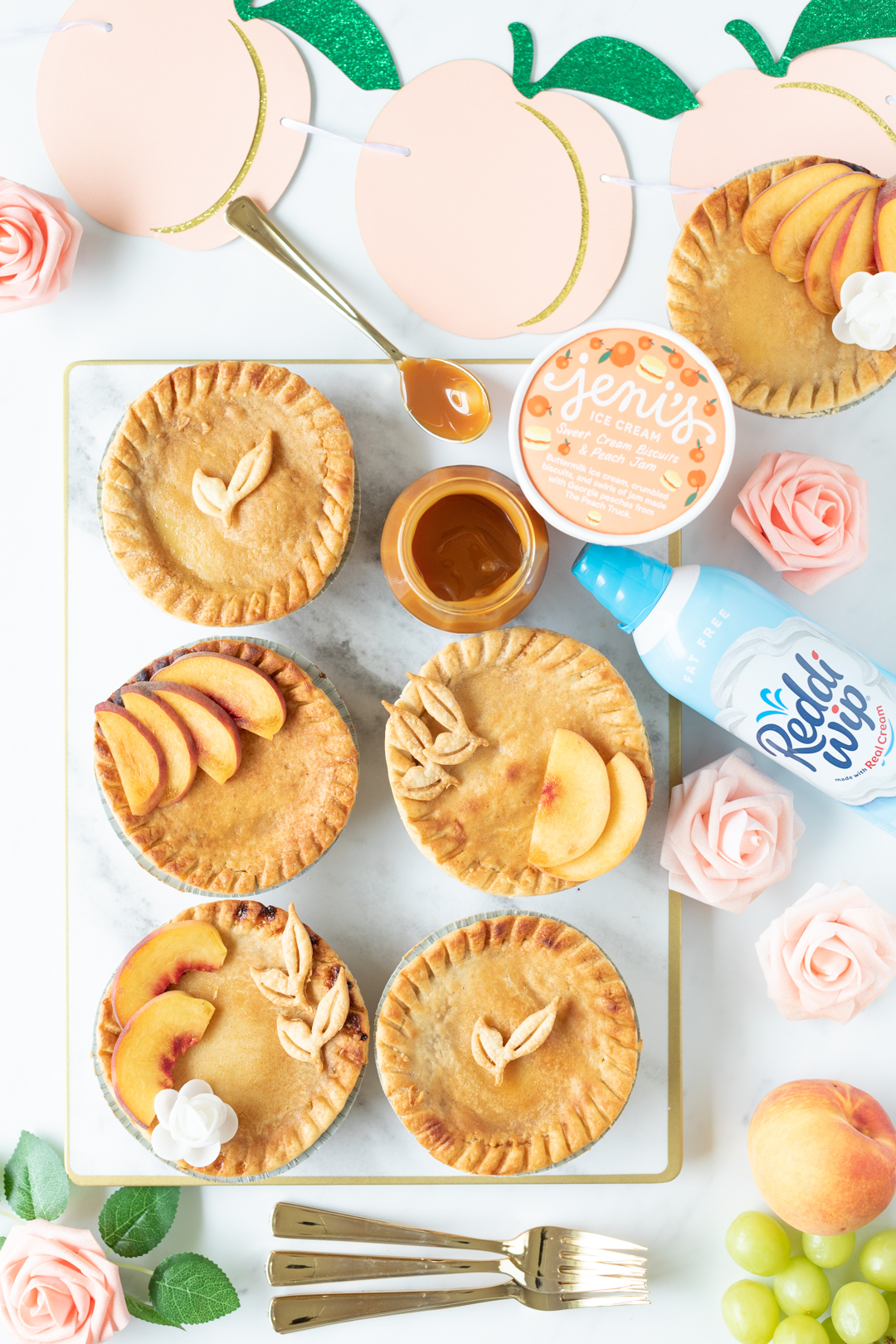 The Cool Foods for Families promotion at Publix is running from now through 3/26/21 and you can save on ingredients from the refrigerated, frozen and dairy aisles to create your own special dessert tray. For my peach pie theme, I included Marie Callendar's Peach Pies, Jeni's Sweet Cream Biscuits & Peach Jam and Reddi-Wip!
Learn more about all of the available offers online here. You can also look for at-shelf signs throughout the store or pick the Extra Savings flyer up right at the entrance. If you don't see it, be sure to ask customer service and they can provide one.
MINI PIE DESSERT BOARD
All of the magic starts with mini pies. I love how easy Marie Callendar's dessert pies are to prepare. I stocked up on their Peach Pies, but you can choose from one of their many yummy options. Set out all of the ingredients and toppings and let everyone in your family make their own delicious creation. This dessert idea is fun and memorable – I love it!
The toppings don't have to be complicated to make it fun. Keep it simple and delicious. Here's what I used to make my mini pie charcuterie board:
Marie Callender's Peach Pies (or a flavor of your choice)
Jeni's Sweet Cream Biscuits & Peach Jam (or a flavor of your choice)
Reddi Wip Whipped Cream
Salted Caramel
Additional Sliced Peaches
Edible Flower Decorations
Arrange the prepared pies on a large serving tray and have fun adding the toppings on or around the tray. You can keep it really simple or get a little fancy with extra toppings.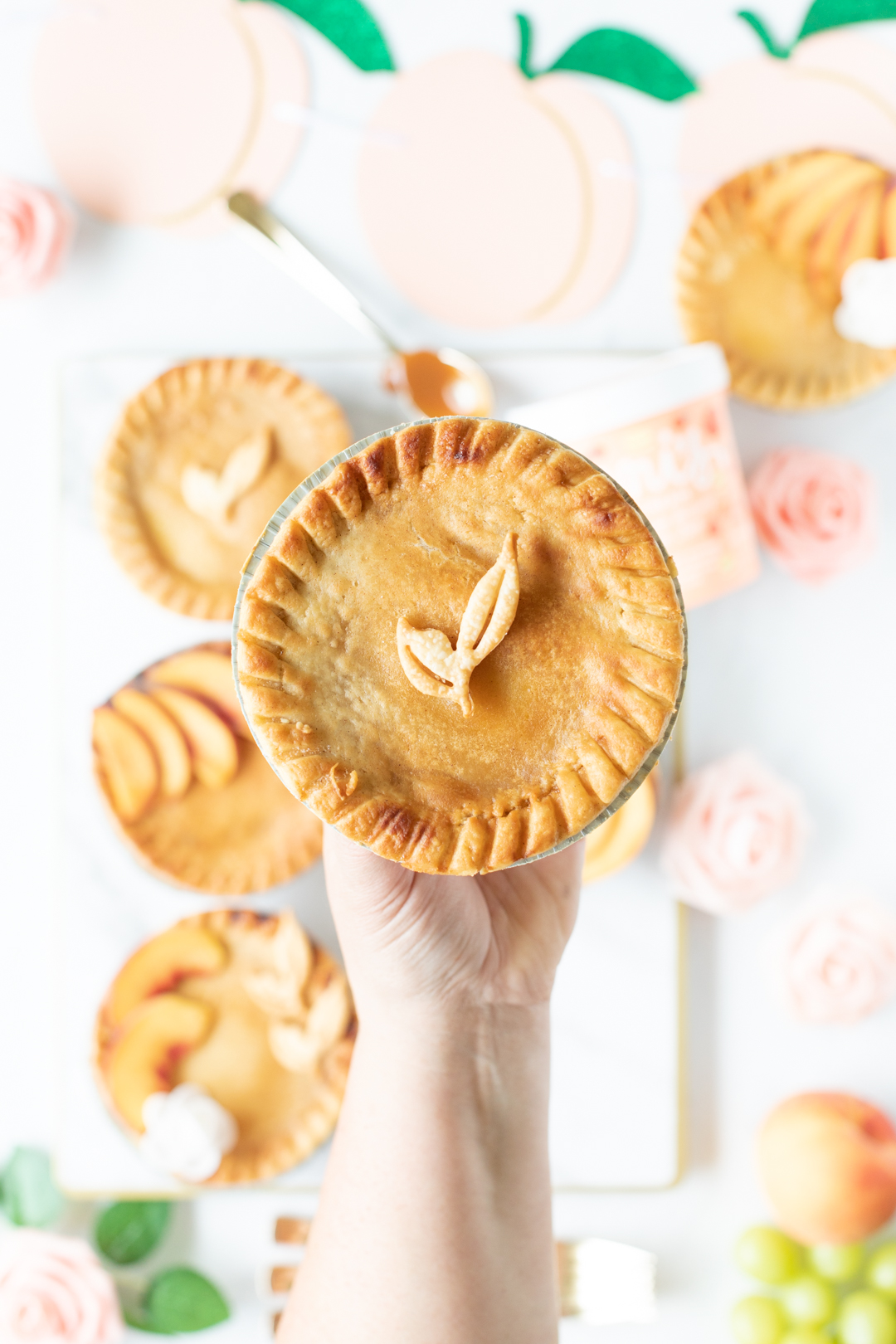 HOW TO EMBELLISH A STORE-BOUGHT PIE
To make your mini pies extra memorable, you can embellish them easily. Here are some easy ideas on how to make your store-bought pies look extra cute.
Use a cookie cutter to cut shapes out of refrigerated pie crust and bake them to place on top of the pies. I loved using a small leaf cookie cutter for mine.
Add thinly sliced fruits (peaches in this case) on top.
Add edible decorations, such as the white flowers used in mine.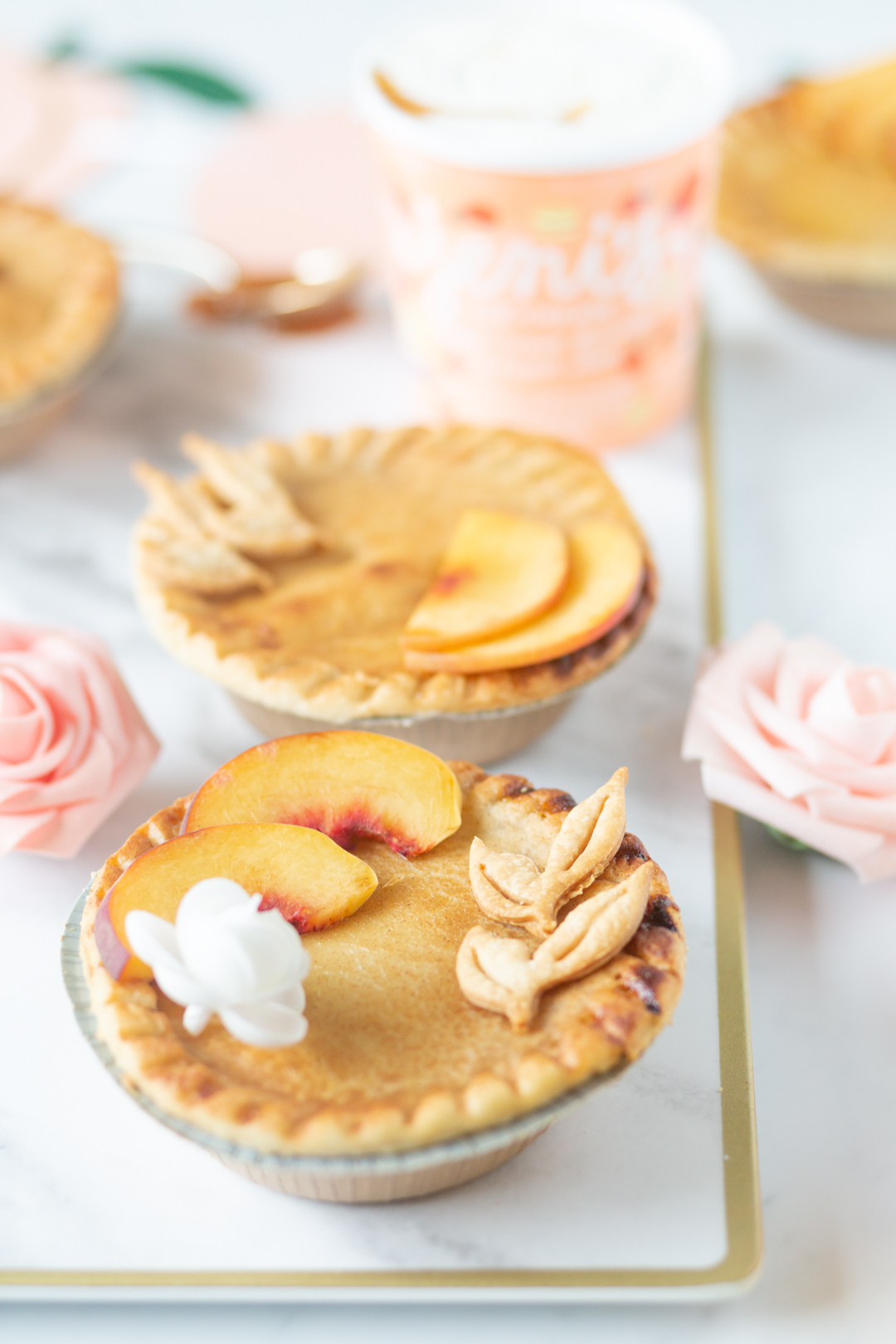 Whatever you decide, have fun with your creations. Each pie is customizable, just lay out the options and let your family choose their own favorites.
Once everything is set up, everyone can dig in! I absolutely love the idea of letting everyone pick and choose their own fun dessert. Yum.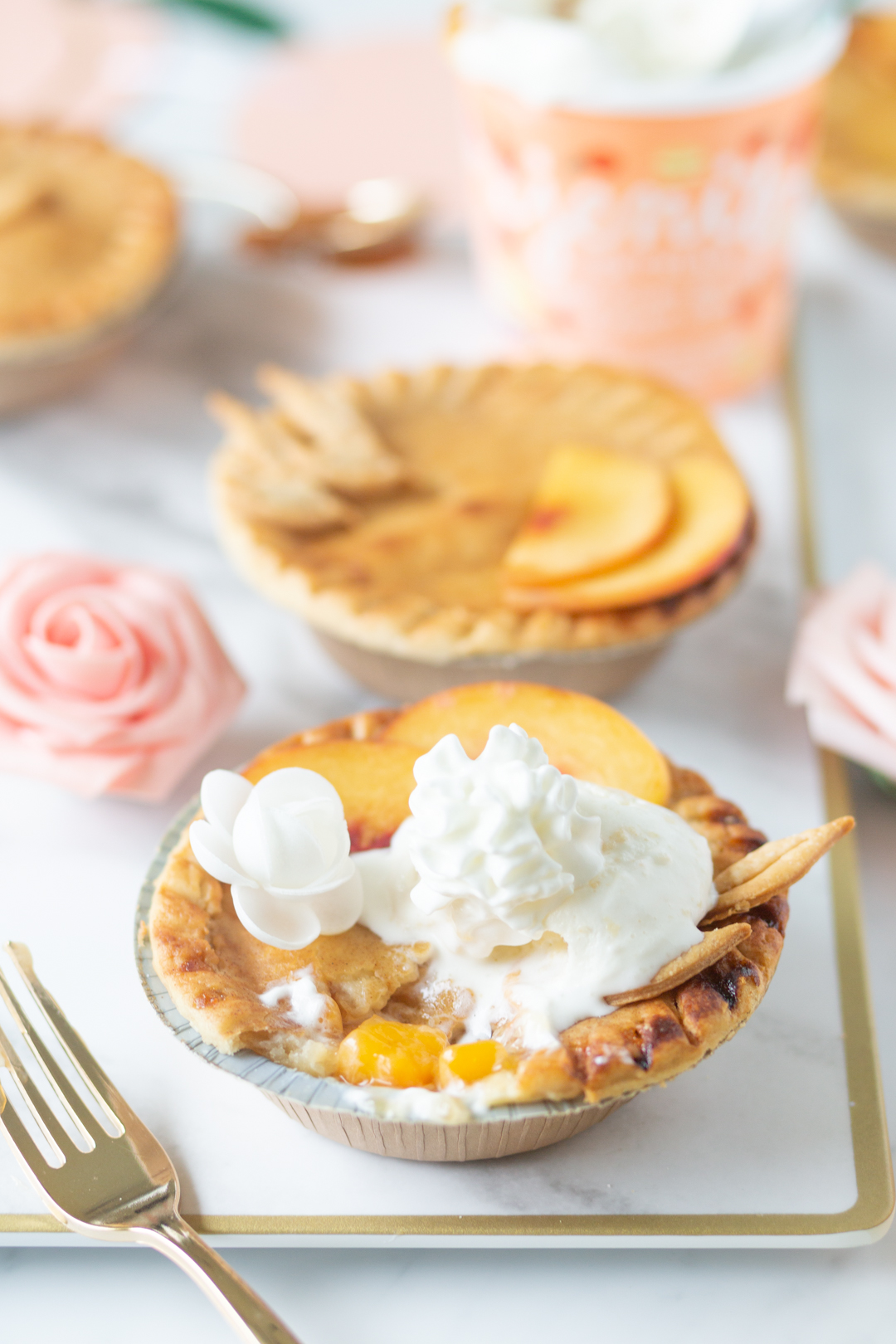 No matter how much time you have on your hands, you can set up something lovely to enjoy as a family. These pies are self-serve, making it a whole lot easier for everyone to dig in!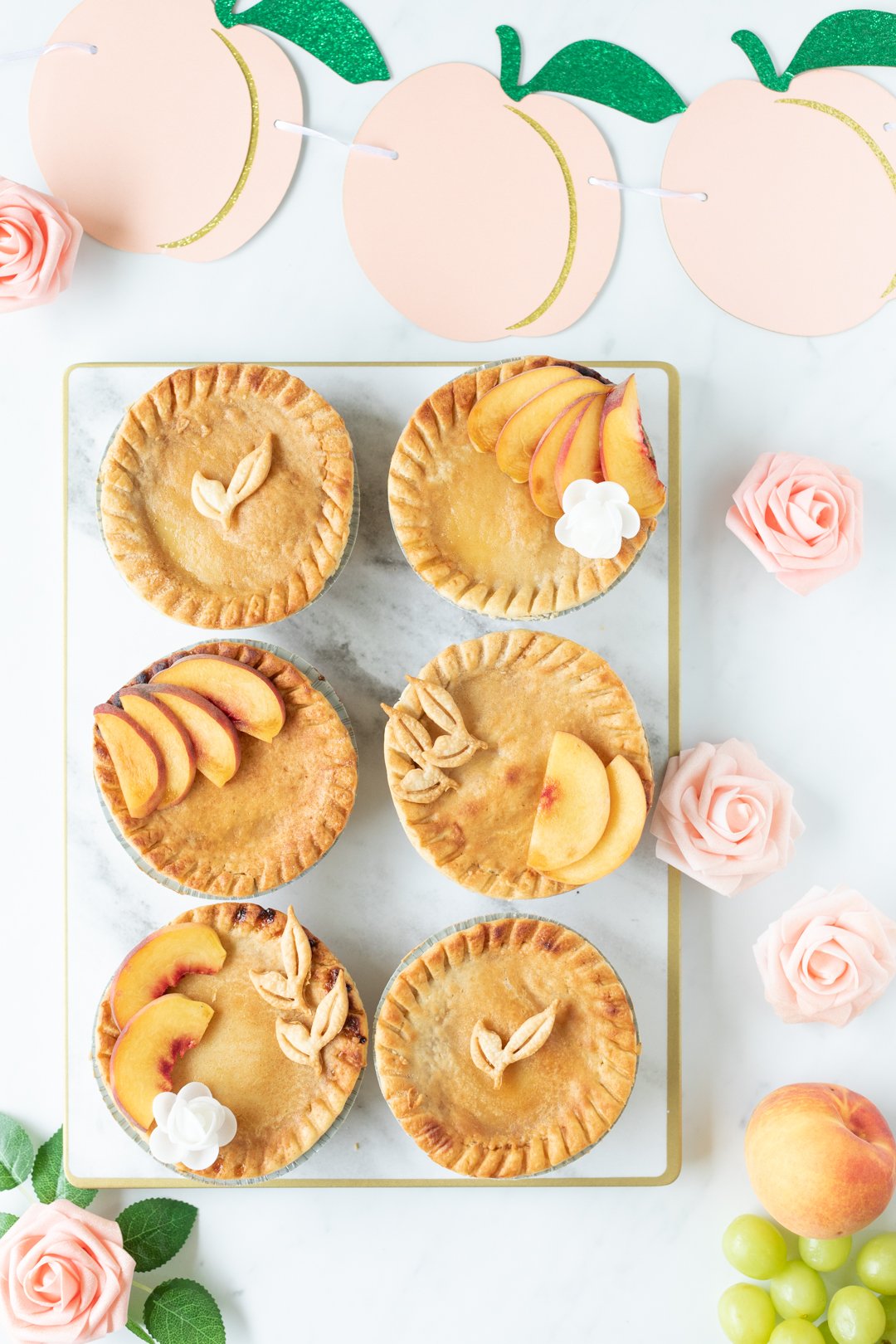 Make sure to visit Publix to take advantage of the Cool Foods promotion to create your own fun dessert bar. Check out these amazing savings below:
2 for $5 Reddi Wip 6.5-oz (flavor of your choice)
$1.99 Marie Callender's Dessert Pie 6–10-oz (flavor of your choice)
$6.99 Jeni's Ice Cream Pint (flavor of your choice)