Adorable Rainbow Themed Easter Basket using a small pool float.
Are you looking for a unique Easter basket idea for 2021. If there is one thing that 2020 taught us, it's that doing it up big at home is a must! Today I am sharing a super easy and fun pool float Easter basket. Using a pool float instead of a traditional Easter basket it's not only fun for the recipient but you can also use the pool float for other purposes, making it a totally functional idea! This post may contain affiliate links.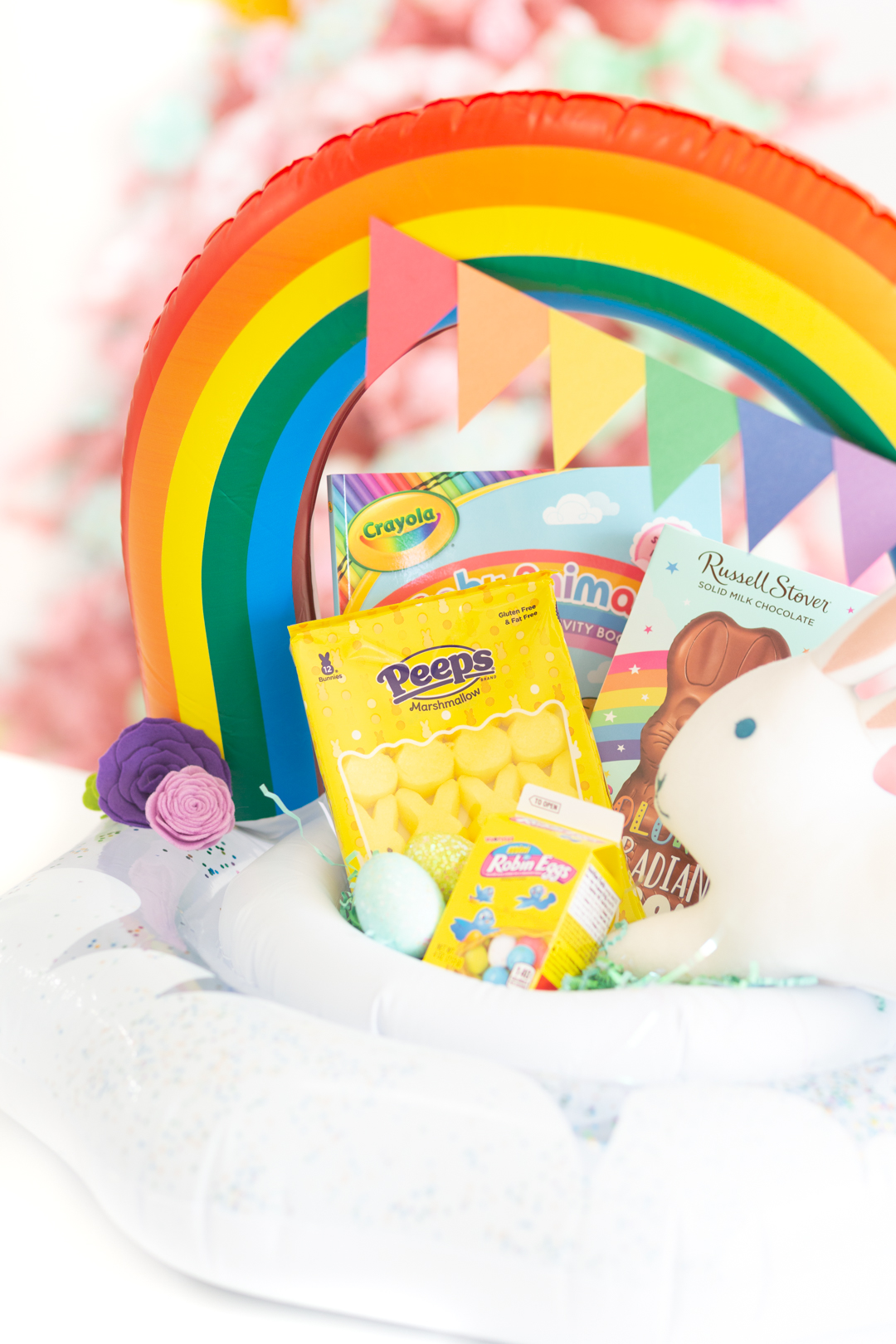 Not sure about you but when it comes to gift giving I am all about big presentation.
This pool float Easter basket totally fits the bill.
I spotted a really cute idea similar to this recently on Pinterest and fell in love with the concept.
After I looked at small infant size pool floats I just knew that this was an idea that everyone should know about.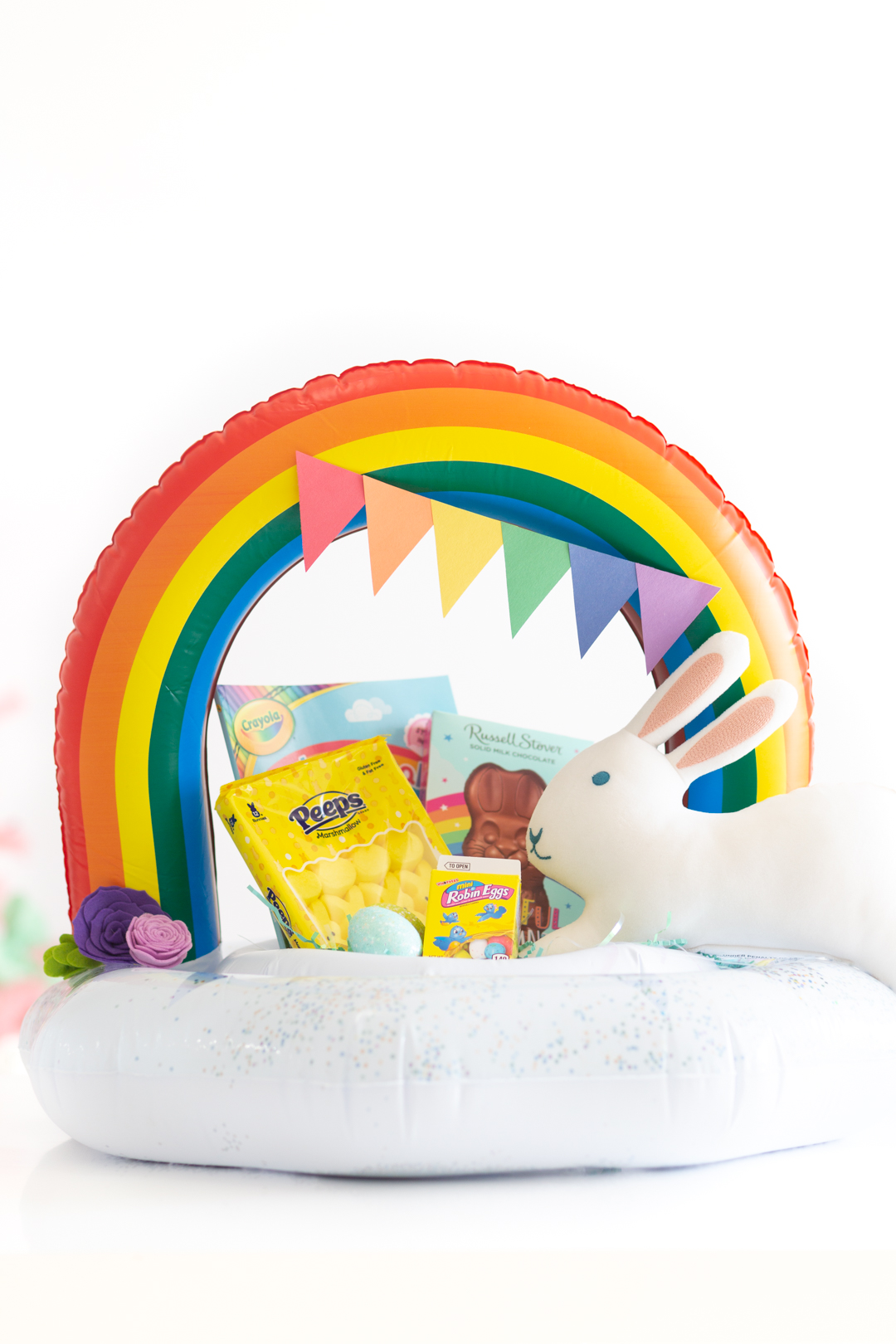 POOL FLOAT EASTER BASKET IDEA
There are so many different cool floats available on the market, there is definitely something for everyone. From rainbow pool floats to ice cream cone pool floats and all the way to shark pool floats, it is away too much fun. One of the best parts is that it really is cost-effective.
You can find many varieties of pool floats, I'm pretty much any kind of budget.
This post out that I used for this and was actually only $10.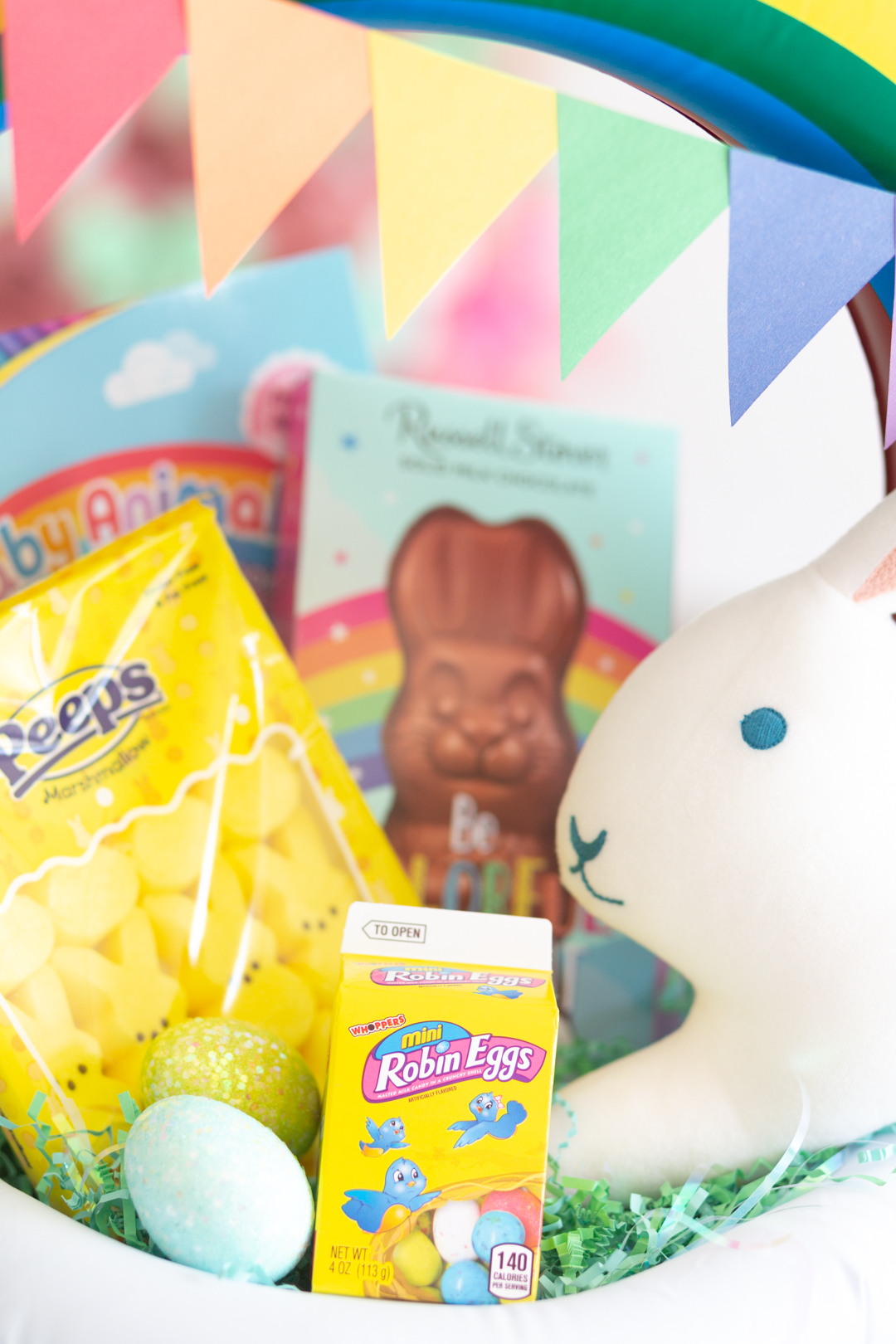 POOL FLOAT EASTER BASKET CHECKLIST
Small Pool Float - I used this adorable rainbow pool float.
Paper Plate - we will use this to block off the leg holes at the center of the pool float so that we can add items to it.
Easter Grass - it wouldn't be an official easter basket if we don't have some kind of Easter grass or basket filler at the base. I love green for this one.
Easter Basket Fillers - Picking fillers that both match the colors of the float you choose or the theme of the float you choose will take your gift to the next level. In this case, I did a bit of both with coloring books, stuffed bunnies, chocolate bunnies, Easter eggs and candies.
Easter Basket Decorations - Using a big bow will be fun. For something a little offbeat, add felt flowers or a construction paper banner for starters.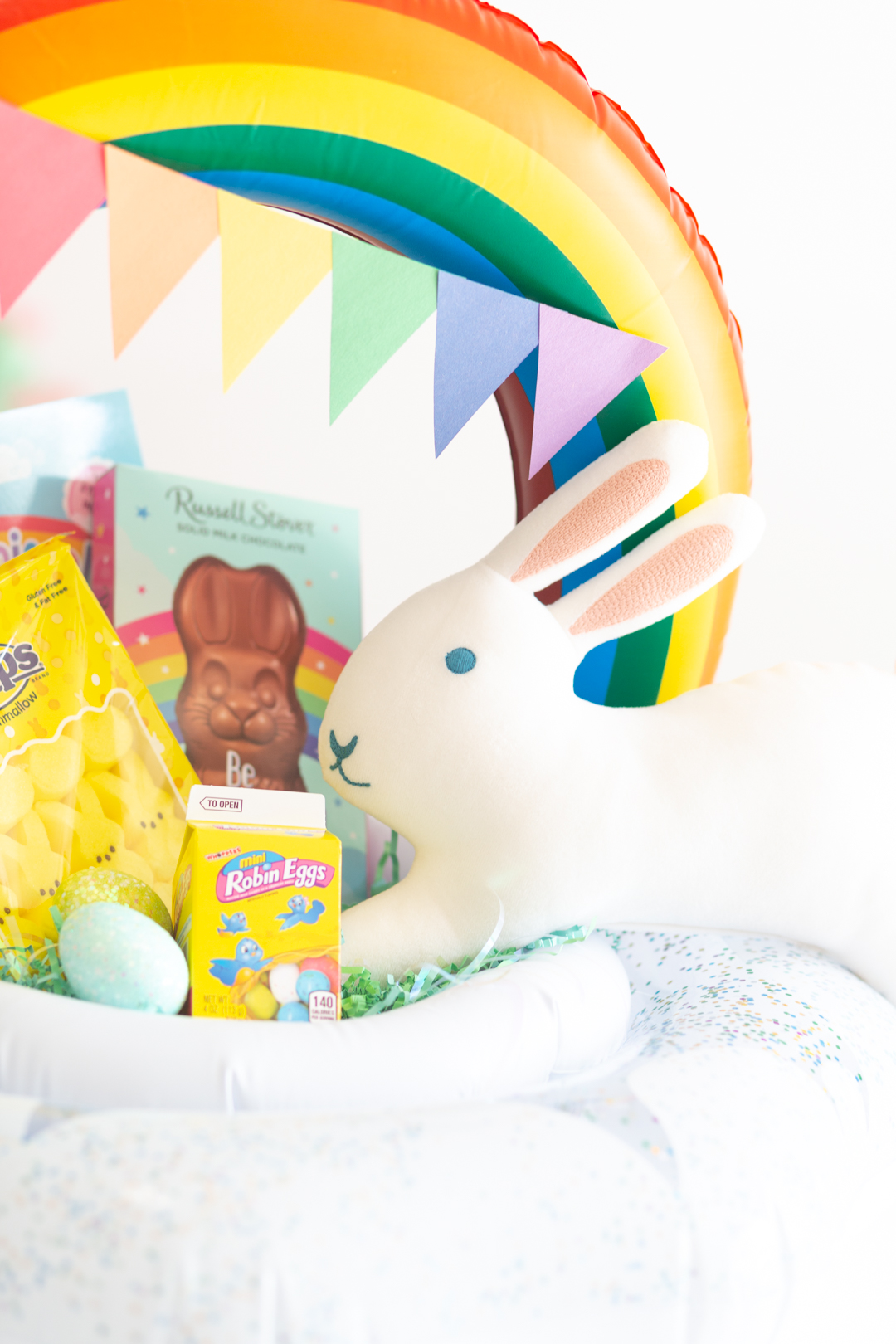 Tools: You may want to invest in a pump. I use a manual bike pump but they also have electric ones that will be even easier.


HOW TO POOL FLOAT EASTER BASKET
To set up your fun Easter Basket, there are a few super simple steps.
Inflate your pool float.
Add paper plate to base to cover openings.
Add Easter grass to base.
Set up your Easter basket fillers with the taller items in the back.
Working your way forward with the smaller items.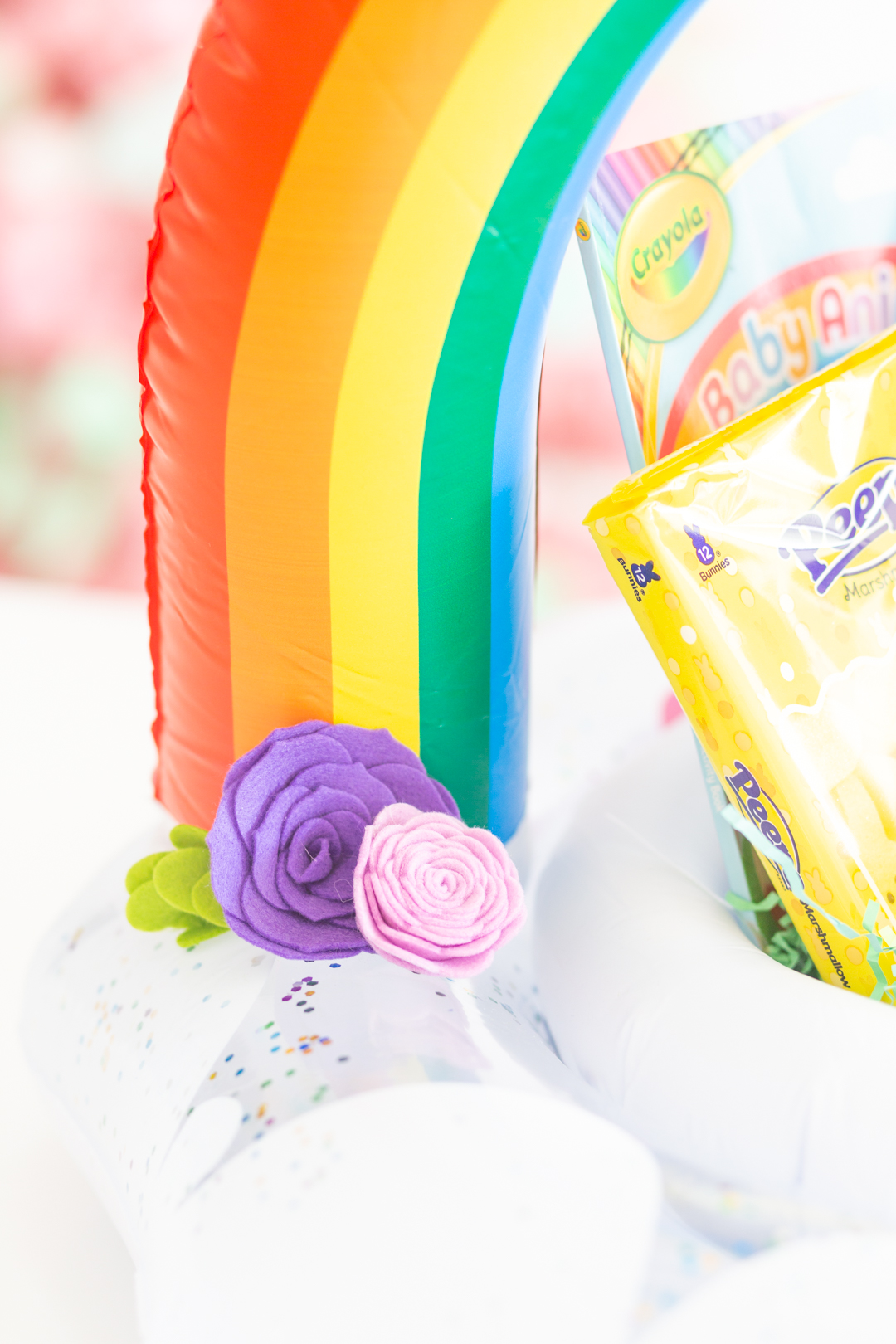 Add finishing touches such as bows, banners and/or flowers.
Gift to your recipient!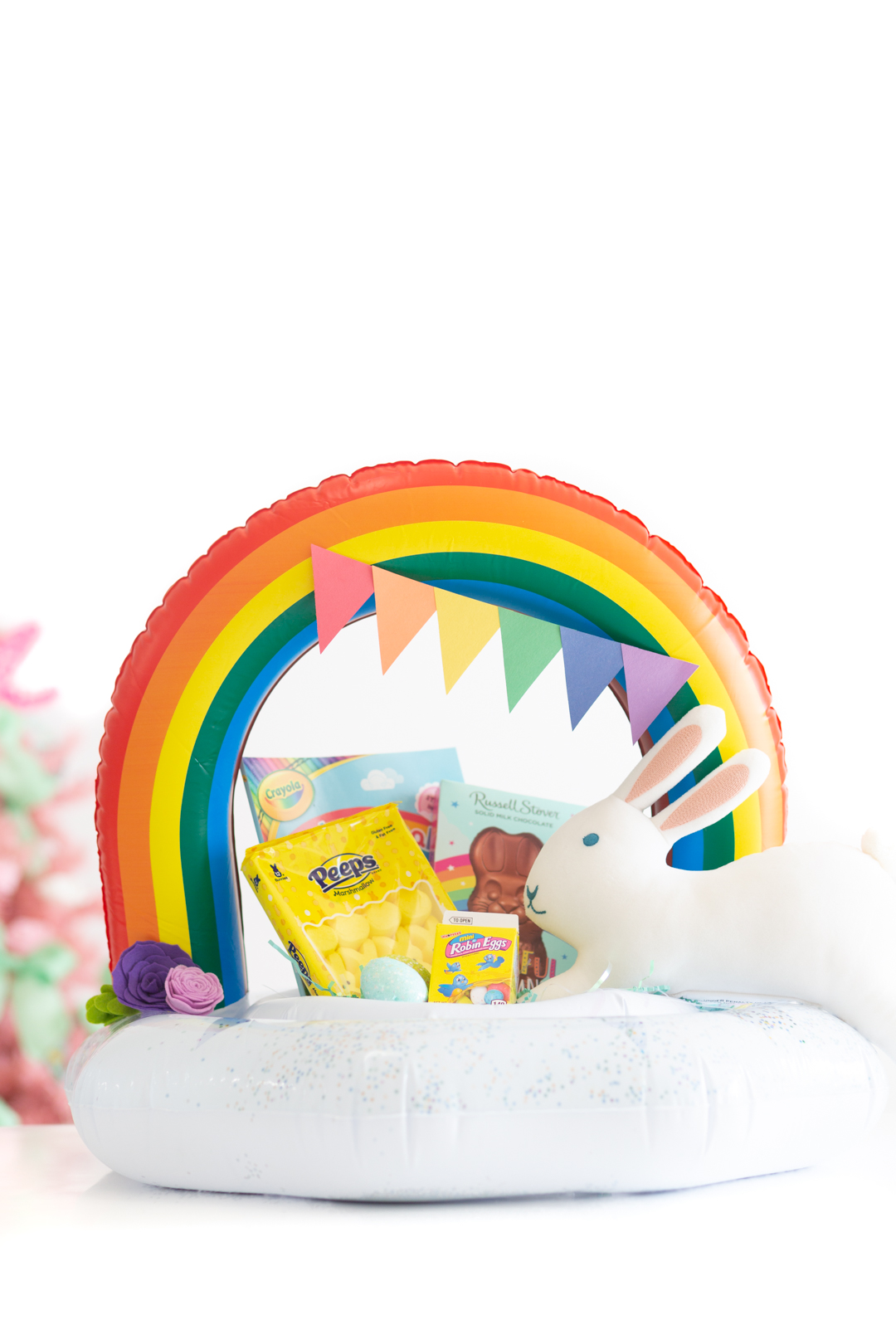 MORE FUN EASTER IDEAS
Kids are going to love this Smash Unicorn Surprise this Easter.
Love hot cocoa? This melting bunny hot cocoa is loved by everyone that tries it!
This fun Bunny Smash Chocolate will be a big hit for everyone this holiday.