Individual bunny trifles with Lemon cake, raspberry jam, lemon pudding and whipped topping served in a hollow white chocolate Easter bunny. Beautiful addition to any Easter tablescape.
Are you looking for a refreshing spring desert for to serve for Easter? These delicious individual trifles stuff inside the shell of white chocolate Lindt bunnies will be the perfect addition to any celebration this season. This super simple recipe idea it's so simple and forgiving that you can swap out with almost any similar ingredients for a delicious result. This post may contain affiliate links.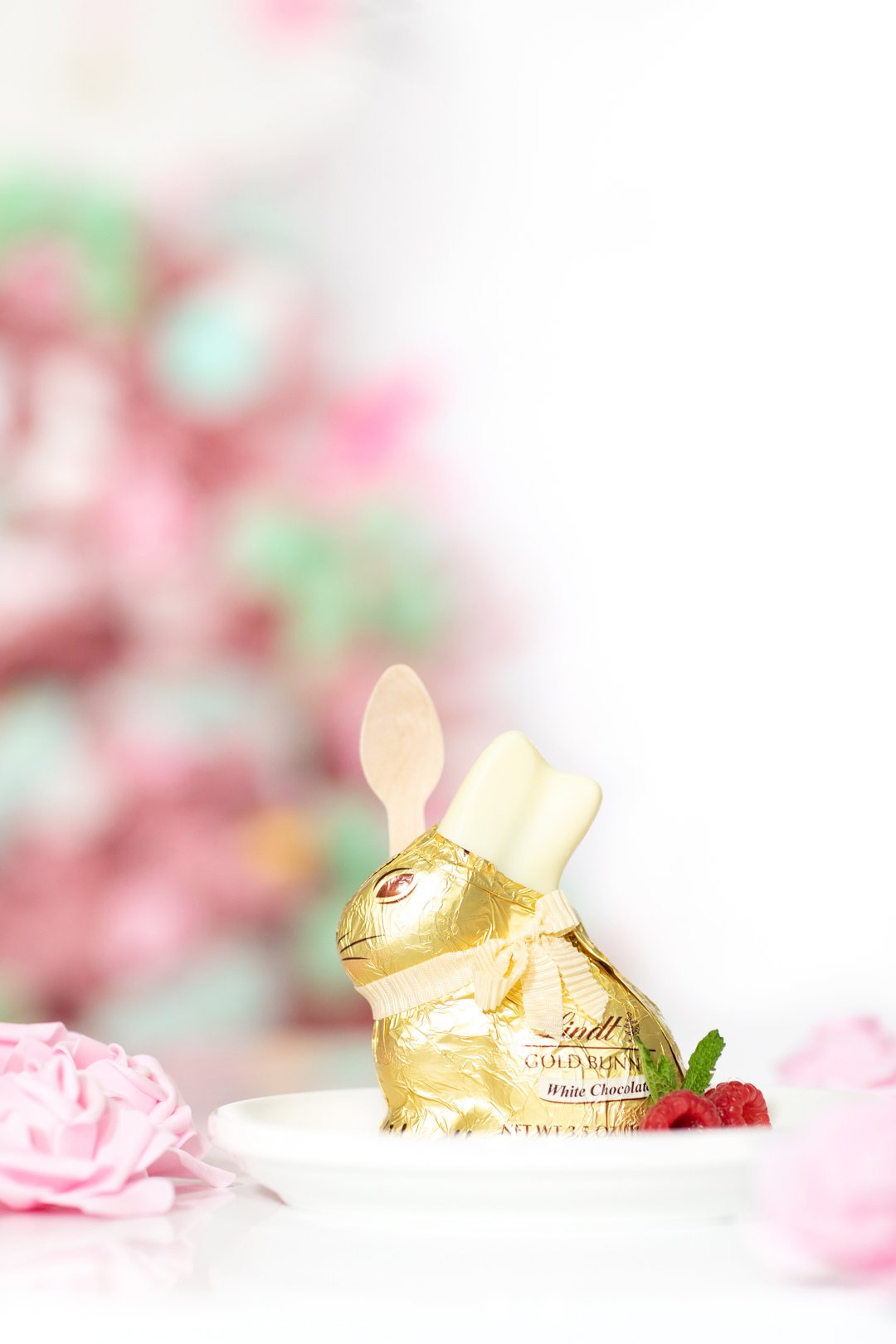 INDIVIDUAL BUNNY TRIFLES DESSERT
Are you looking for a perfect Easter dessert? Then, you have come to the right place. This recipe calls for a store bought cake but you can always make your own from a box mix or from scratch. The concept is really so flexible. The flavors of raspberry and lemon make for the perfect spring treat. We will add our trifle ingredients to a hollow chocolate Easter bunny for the an unusually fun presentation. I loved seeing the intrigue and confusion on my family's faces when I presented them with a plate full of a white chocolate bunny for dessert.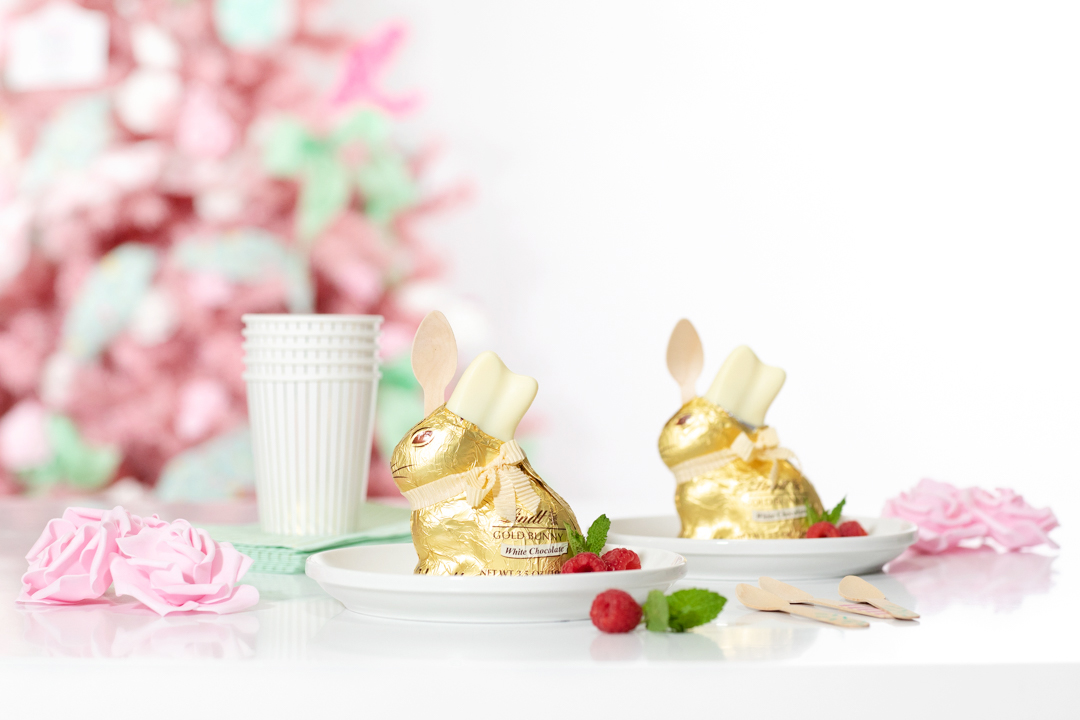 INDIVIDUAL BUNNY TRIFLES INGREDIENTS
This easy lemon and raspberry individual trifles come together so easily with just a handful of ingredients. Here are the ingredients needed:
Hollow White Chocolate Bunnies - Lindt White Chocolate Bunnies in the 3.5 oz size are perfect for this.
Lemon Cake. I used a store-bought lemon bundt cake which are commonly available during spring. You can also make a boxed cake or any lemon flavored from scratch cake if you wish. You only need about 2 cups of crumbled cake to make this recipe.
Raspberry Jam (Jelly or Preserves). Since I had this on hand and it's a very common item, I went with raspberry jelly. You cold also use raspberry pie filling if you prefer. I'm all about easy and the jam definitely does the trick.
Lemon Pudding. I made mine from a boxed mix, but you can make yours from scratch if desired. For an even easier hack, can also find individual lemon pudding cups that are ready-to eat at the stores.
Whipped Topping. I used Cool Whip for this which I think is the best option so that the dessert doesn't get overly mushy.
For those that like to play with their food, this is the perfect dessert. People of all ages will enjoy the treat, it's not just for kids. You can also use a milk chocolate or dark chocolate bunny instead of a white chocolate if you prefer. However these raspberry and lemon dessert flavor is go very nicely with the white chocolate. Are you ready to put these yummy trifles together? Let's go.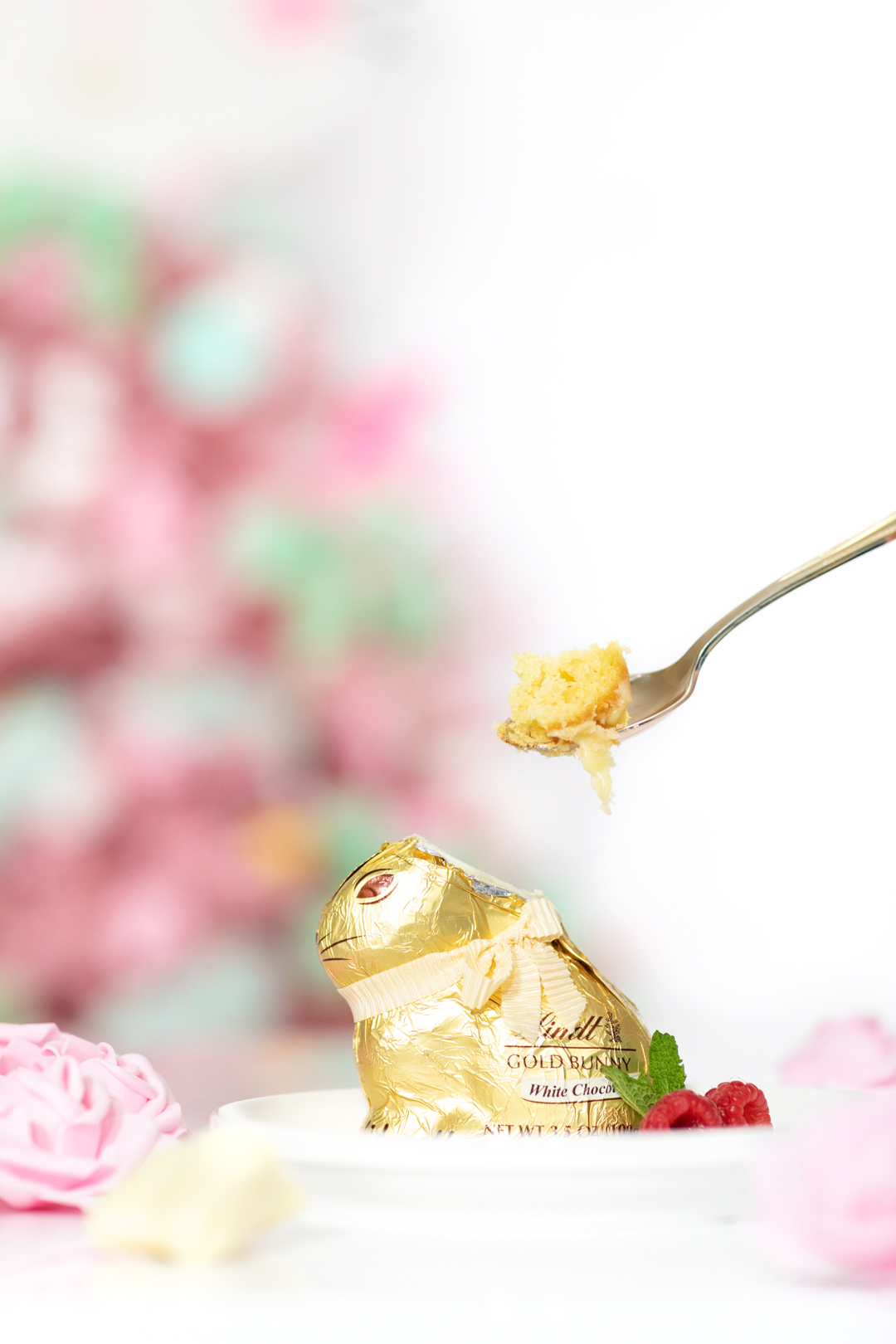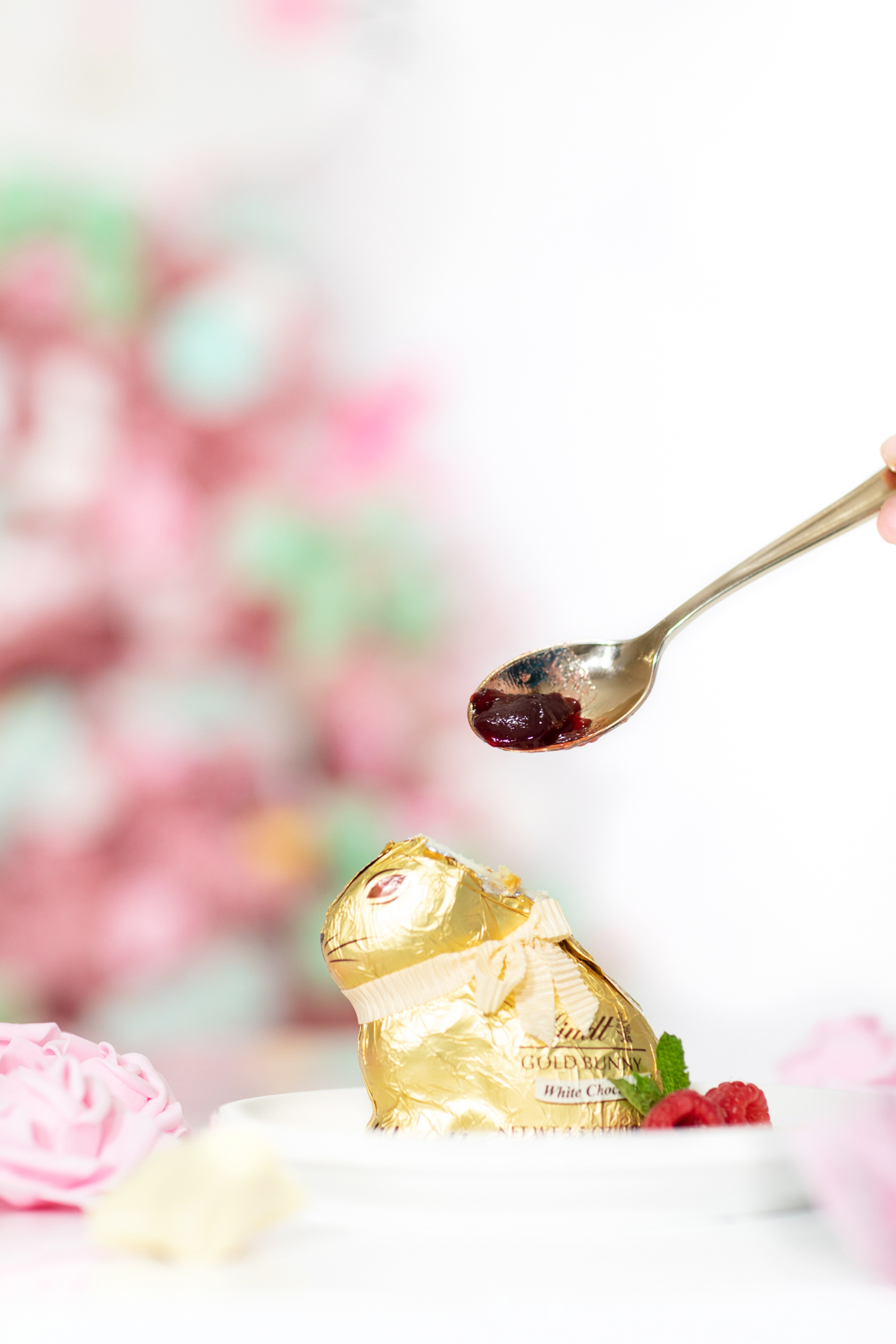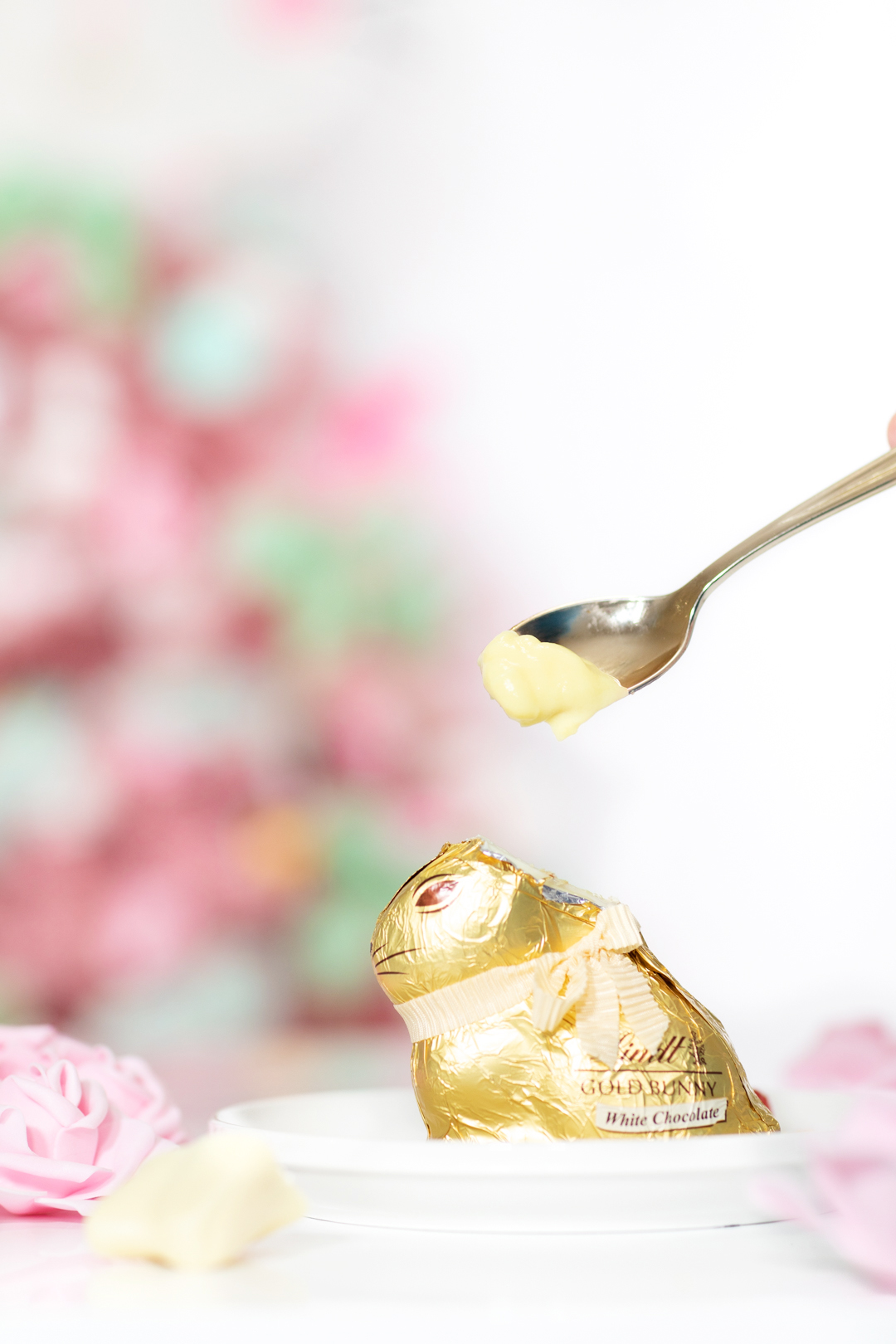 HOW TO REMOVE EARS OFF CHOCOLATE BUNNY
The best way to to do this is to use a heated knife to melt them off. It's quite easy if you opt to use a lighter at your own risk. You can also stick your knife in hot water and quickly try it as well. I feel that using a heated knife and melting your way through a hollow chocolate bunny is the best method. Get more detail on how to do this in my Melting Bunny Hot Cocoa post.
HOW TO MAKE BUNNY TRIFLES
When you have all of your ingredients together, it's time to assemble them. Once you have removed the bunny ears, its time to add the ingredients next.
We are just making a single layer of each ingredient inside of the hollow bunnies. I wanted to do double layers, but since the bunnies are fairly small, doing one layer of each ingredient just made more sense.
Here is the order that I did:
Crumbled Cake Layer
Jelly Layer
Pudding Layer
Whipped Topping Layer
CAN I MAKE TRIFLES IN ADVANCE
You might be wondering if you can make these individual trifles ahead of time? Yes you can. These delicious treats are best eaten between 2 and 24 hours after making them. You can make them the day before for perfect results. After the 24 hours you risk that dessert getting soggy.
HOW TO EAT CHOCOLATE COATED DESSERT
This cute Easter dessert makes for a fun activity and when you start to explain to them how it works. Just tell them to pull the ears off, which will come off fairly easily. Then tell them to start scooping the inside to get their delicious treat. As they take a bite or two they will need to start breaking the chocolate down. This makes the treat extra delicious because you can scoop up the inside content with the bites of white chocolate from the bunny. Rinse and repeat until the dessert has been completely enjoyed.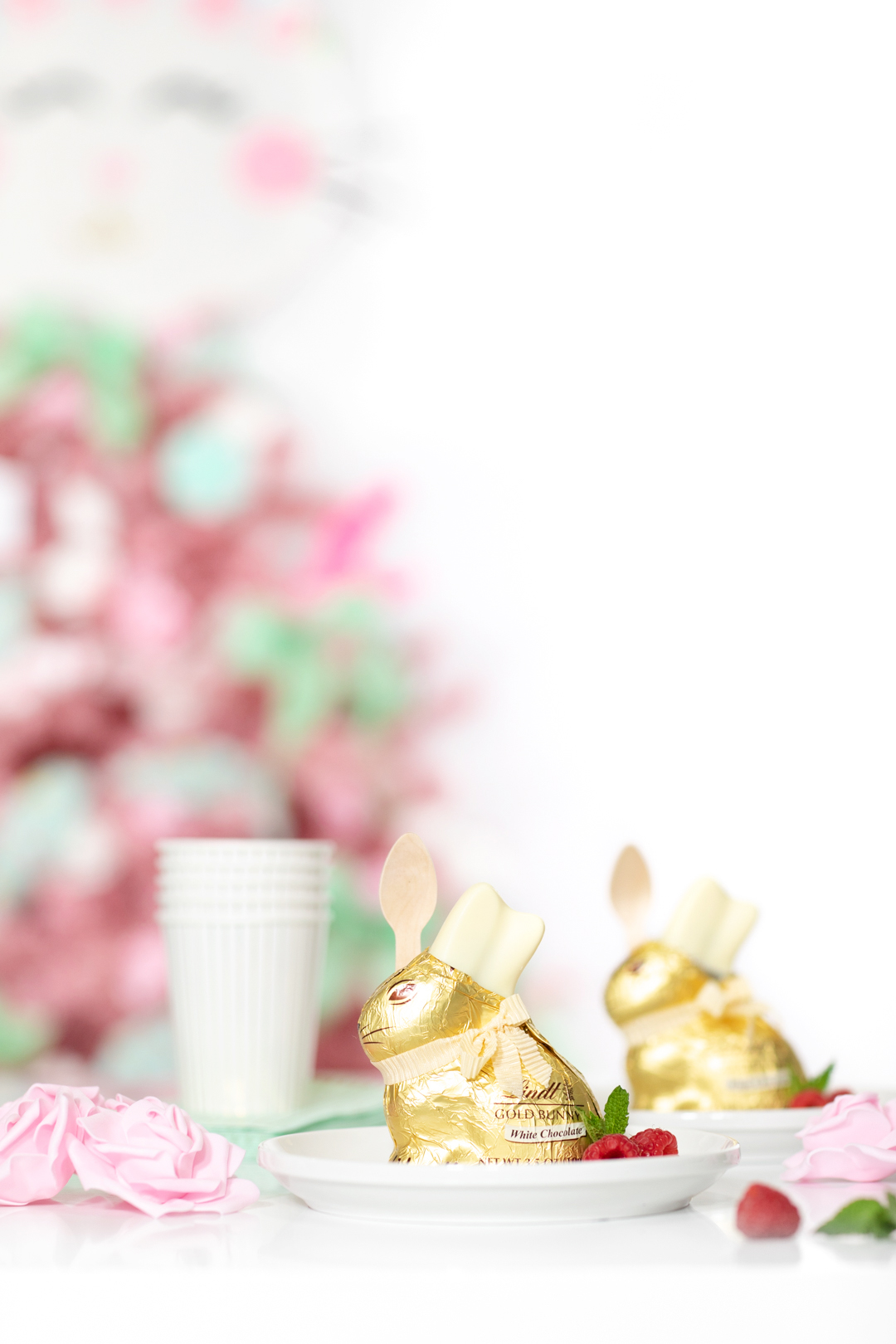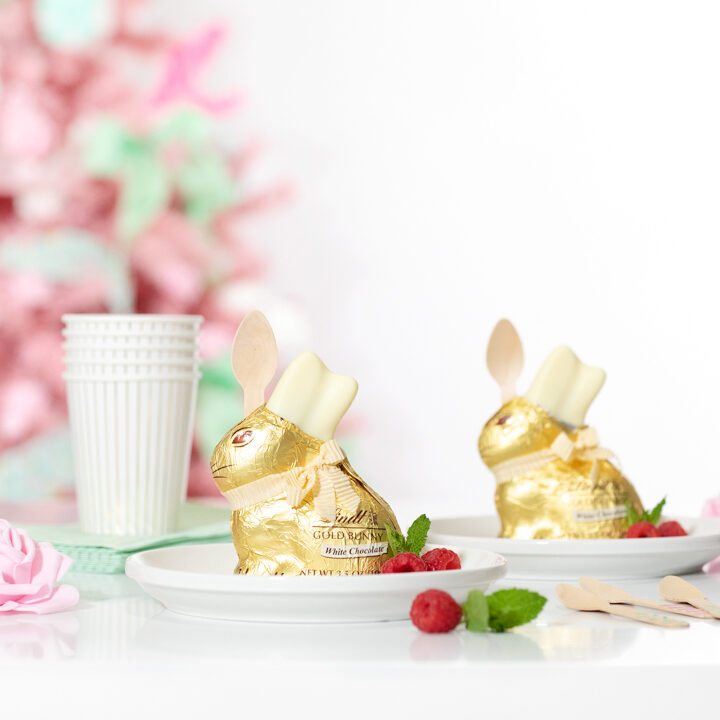 Individual Bunny Trifle Desserts
Total Time:
2 hours
18 minutes
Individual bunny trifles with Lemon cake, raspberry jam, lemon pudding and whipped topping served in a hollow white chocolate Easter bunny. Beautiful addition to any Easter tablescape.
Ingredients
(6) 3.5 oz Lindt White Chocolate Bunnies
2 Cups Lemon Cake, prepared & crumbled
½ Cup Raspberry Jam
1 Cup Lemon Pudding, prepared
1 Cup Whipped Topping
Optional Garnishes: Fresh Raspberries, Sprig of Fresh Mint
Instructions
Choose whether you want to keep some of the gold wrapping on your bunny or not. If you want to keep it on, remove the wrapper up until right under the ear line.
Use a heated knife to melt the ears off. Use a lighter at your own risk to warm it or run under hot water and dry. Melt and press your way through the ears for a cleaner cut.
Spoon ingredients in carefully to avoid spilling onto the bunny. Add cake, then follow with jam, pudding and then whipped topping.
Use a lighter at your own risk or a hot plate to make a melt around the bunny ears and press back onto the hollow bunny to seal.
Store covered in the refrigerator for at least 2 hours before serving.
Looking for more of the best Easter ideas using Lindt Chocolate Bunnies?
See how to make these Hot Cocoa Bunny Melts.