Make your own smashable chocolate with this simple Smashable Chocolate Easter Bunny Tutorial. Add candy and small surprises to your bunny for a unique Easter smash gift.
You may have heard a bit about smashable chocolate hearts. You can smash it open for fun surprises on the inside and then eat the chocolate, too. Score. This Smashable Chocolate Easter Bunny is similar to that. Instead of making your own chocolate heart, you can use a large store-bought chocolate easter bunny that both children and adults will love. I'm excited to share just how easy it is to to do with my Smashable Chocolate Easter Bunny Tutorial. It is a lot easier to make than you might think! This post contains affiliate links.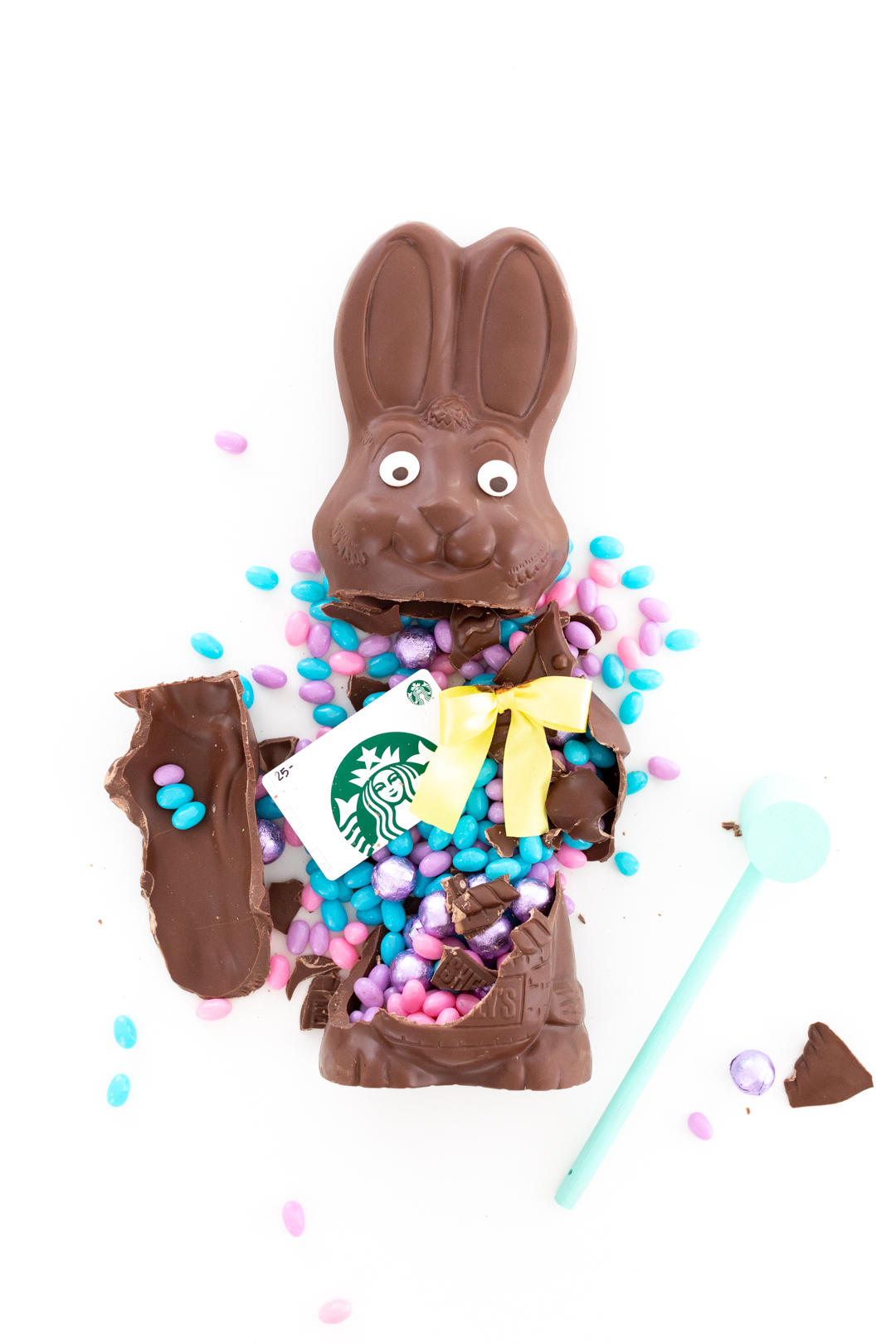 These BIG chocolate bunnies make for the perfect surprise gifts to hand out as gifts to loved ones.
SMASH CHOCOLATE BUNNY FOR EASTER
WHAT YOU NEED TO CREATE A SMASHABLE CHOCOLATE BUNNY
If you want to make the chocolate bunny, gather your supplies ahead of time.
Hollow Chocolate Easter Bunny. These 20oz Hershey's Chocolate Bunnies are absolutely perfect for this. The best place to purchase them cost-wise was Sam's Club. You can do this idea with almost any sized bunny as long as it's hollow and sturdy. The larger the better because you want to be able to add candy and small gifts to it like a pinata.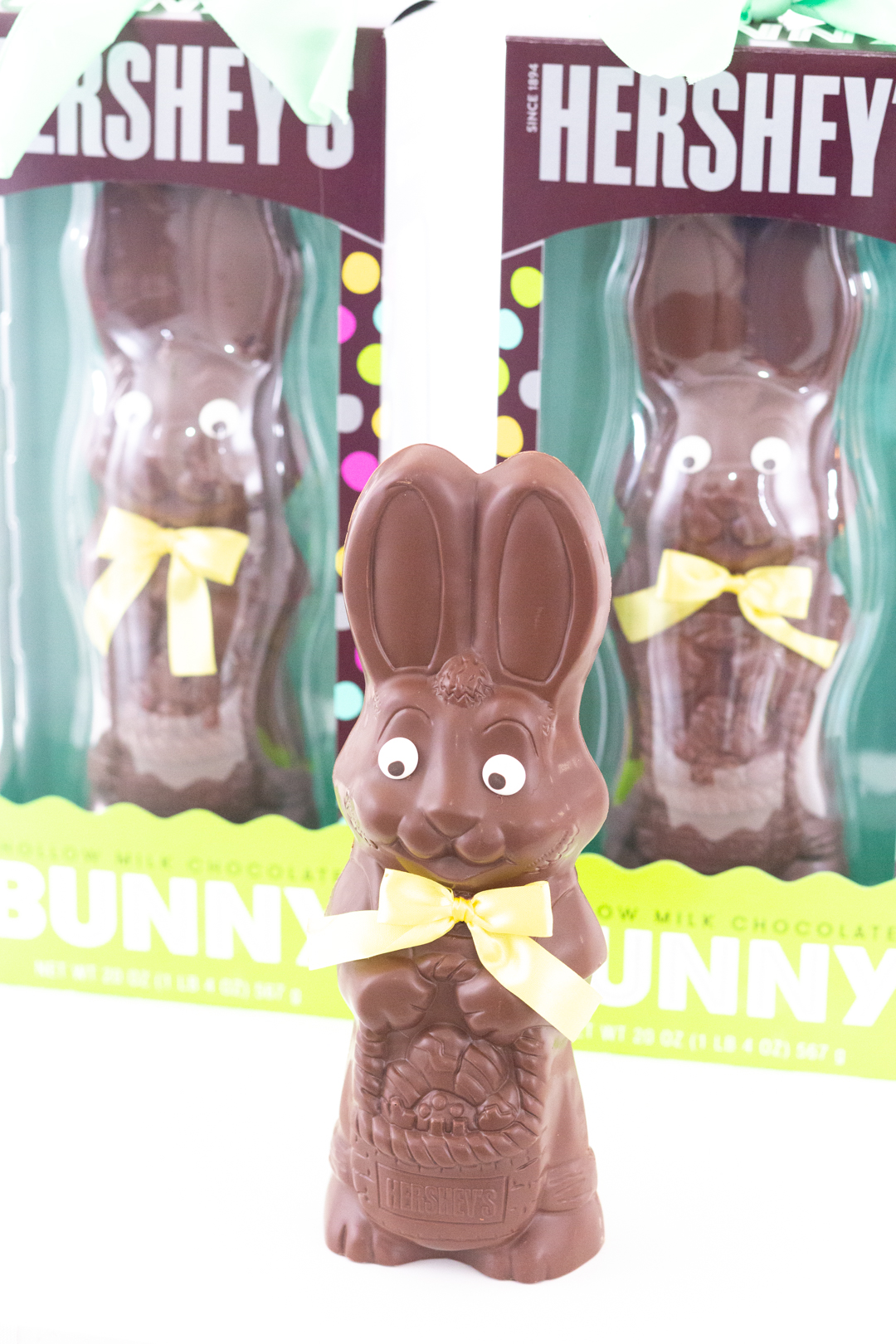 Candy.

Choose any candy. Jelly beans and other small Easter candy will be perfect for this. Add a fun variety so that the gift will be more exciting. You may want to customize each bunny with the sweets that you know the recipient likes most.

Gift Cards.

You can purchase gift cards to your gift recipient's favorite stores and restaurants and add them inside the chocolate bunnies.

Mini Mallot - In order for this to be a cool smashable gift, you will want to include a mini mallot. I used these mini mallots and painted them in fun pastel colors.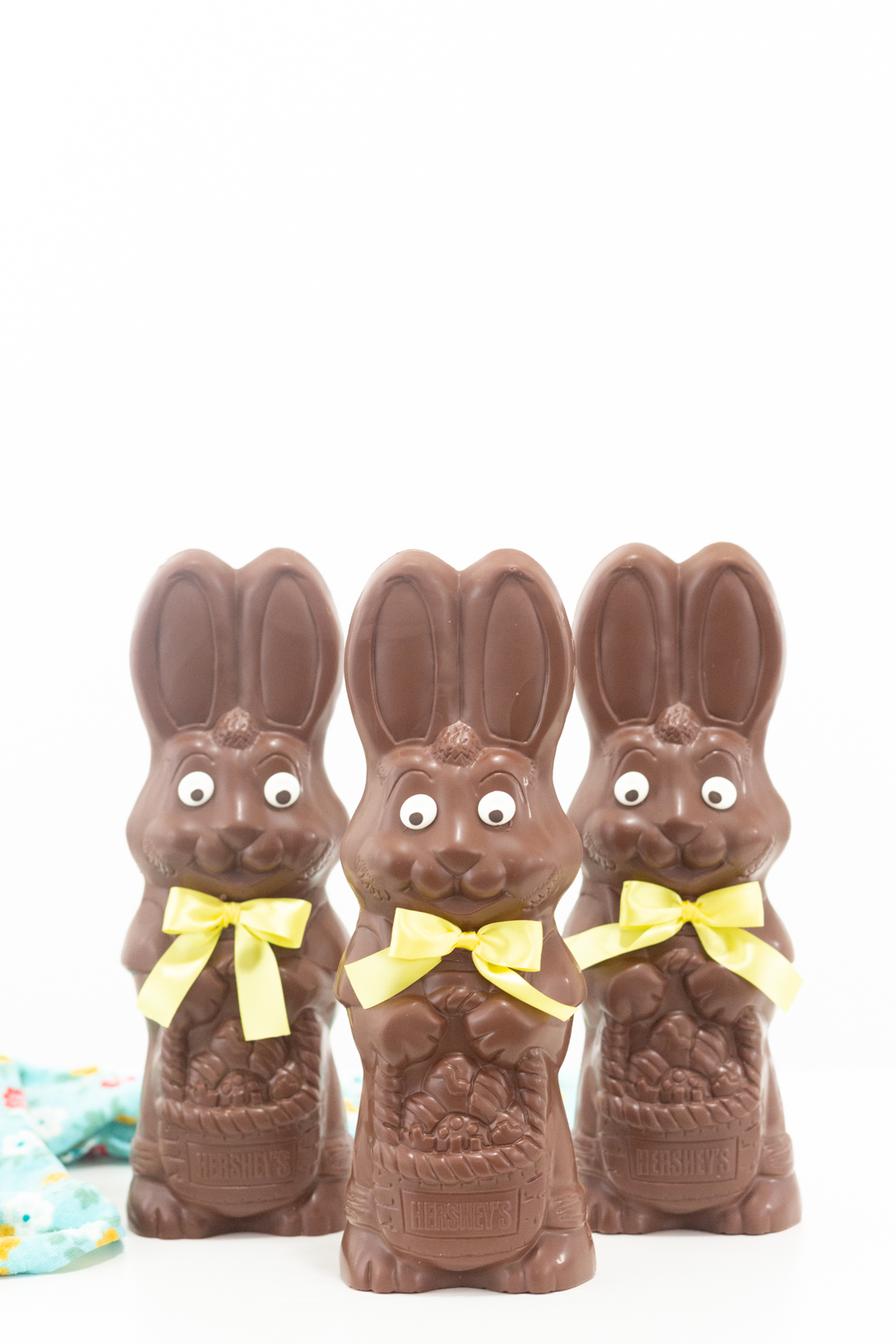 You do not need much to get started. If you have the chocolate easter bunnies, candy, and gift cards, you can put everything together with ease.
HOW TO MAKE A SMASHABLE CHOCOLATE EASTER BUNNY
Before we get started, it's important to mention that anytime you are handling your chocolate bunny, be careful where you place your hands. Chocolate melts pretty easily with body heat and it's all too easy to leave finger prints and dents on your pretty candy. Try holding it on the outside perimeter when you are handling it.
After purchasing the chocolate bunnies from the store, you don't want to just cut the chocolate bunny apart. You want to use a hot knife to melt it away for a cleaner cut. Similar to what I shared with this Easter Bunny Hot Cocoa idea. I removed the head directly above the bow, that way once we put the head back on, it will hide the seam a bit.
To make a clean break through this large chocolate bunny, I used a heated knife. It will take a little patience and about 10 minutes of time. Slow and smart is the name of the game. Patiently press and melt through instead of cut.
Now you are probably wondering how to heat a knife. There are two fairly simple ideas. One is to run under very hot water and then dry to use immediately. The other is, at your own risk, to use a lighter. You will have to reheat the knife several times in order to fully melt through the bunny.
Once you successfully remove the head, it's time to fill the body with all kinds of sweets and treats. I filled mine no more than ⅔ of the way to leave a little room for smashing.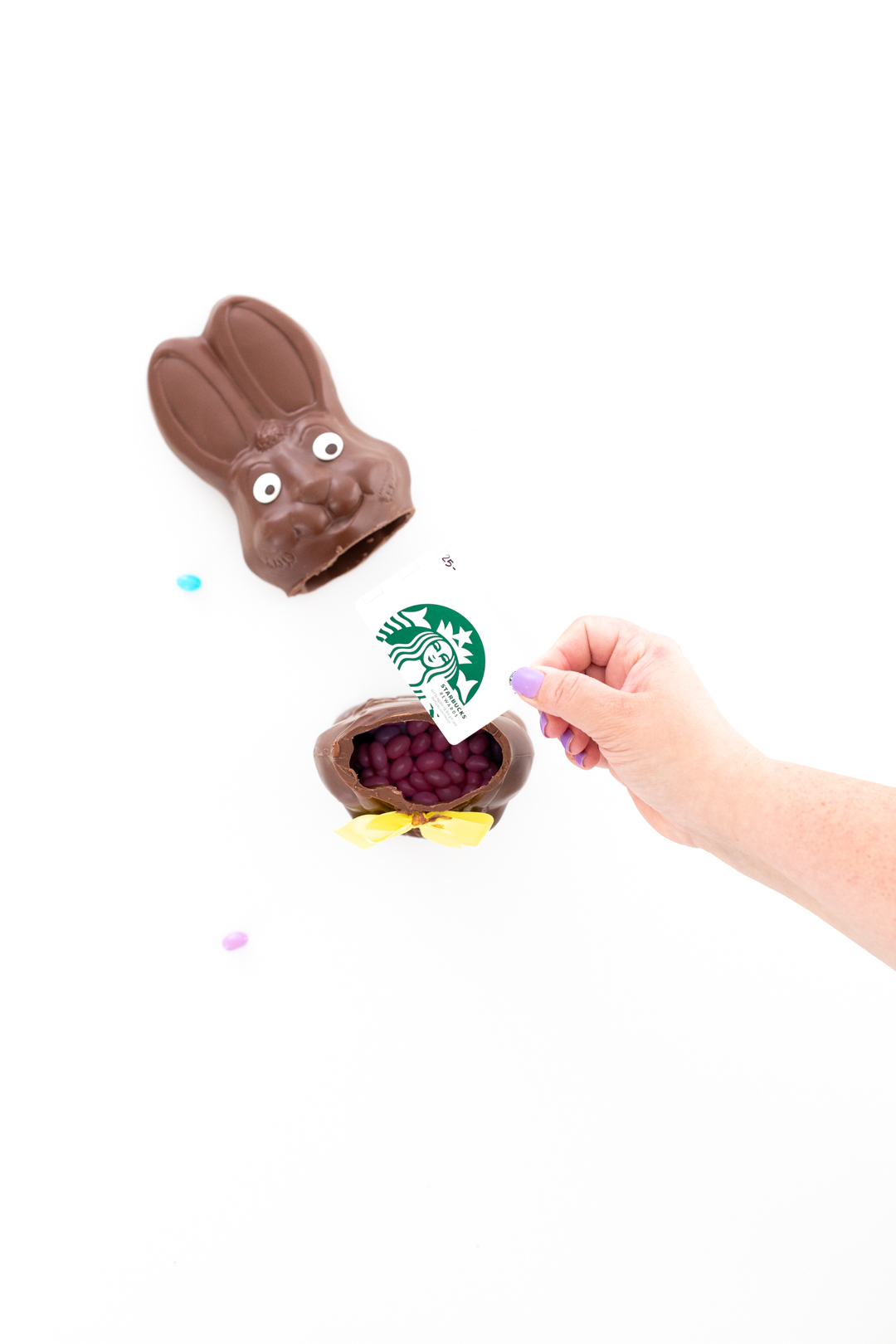 When your bunny is filled up, we need to lightly melt the base of the chocolate bunny head and place it back on to the body. To do this, I personally used a lighter very lightly around the entire base of the head. It doesn't need much heat at all.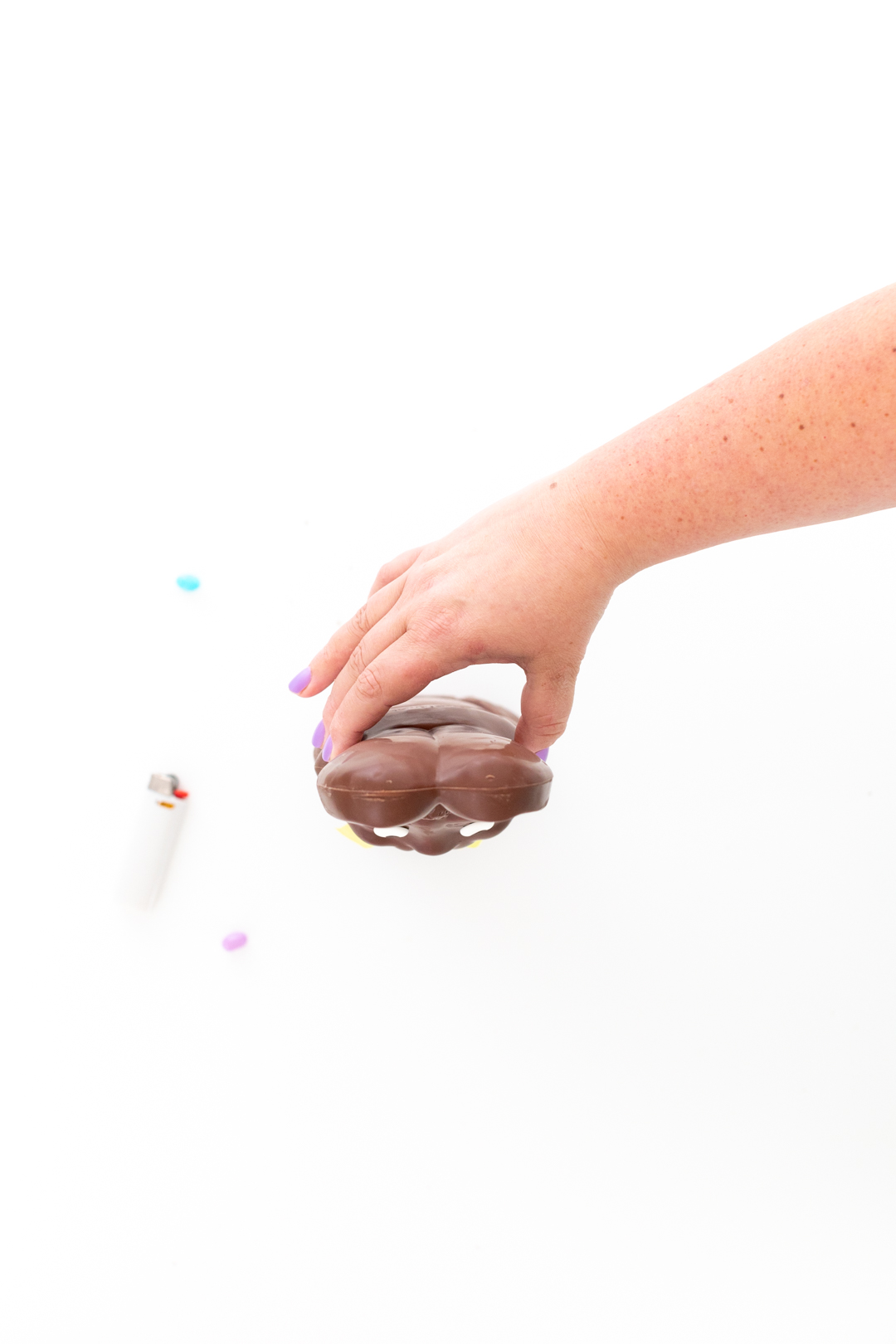 Once it's a little melty, place the head back on carefully and let it set. If your house is cool, it will come back to room temperature in a few minutes. If you are in a warmer environment, you could stick it in the refrigerator or freezer if you have the space. If not, you are totally good to go once the chocolate is solid again. Yay! You are still want to handle with care.
WHAT TO PUT INSIDE A SMASHABLE CHOCOLATE EASTER BUNNY
I decided to include candy and gift cards because those are two things people often enjoy receiving. You can put anything you want inside these chocolate bunnies. Just make sure they are food safe or wrap them inside of some plastic wrap.
These are a few good options to consider:
Jelly Beans
Small Easter Egg Chocolates or Candies

Small Toys - age appropriate. (Sanitize and cover them in protective plastic before placing them inside the chocolate bunny)

Gift Cards or Cash (Place any money in a sandwich bag and seal shut before putting it inside the chocolate bunny).
You can put anything that's non toxic and that won't expire before you gift your bunny inside that you think your recipients would like to receive.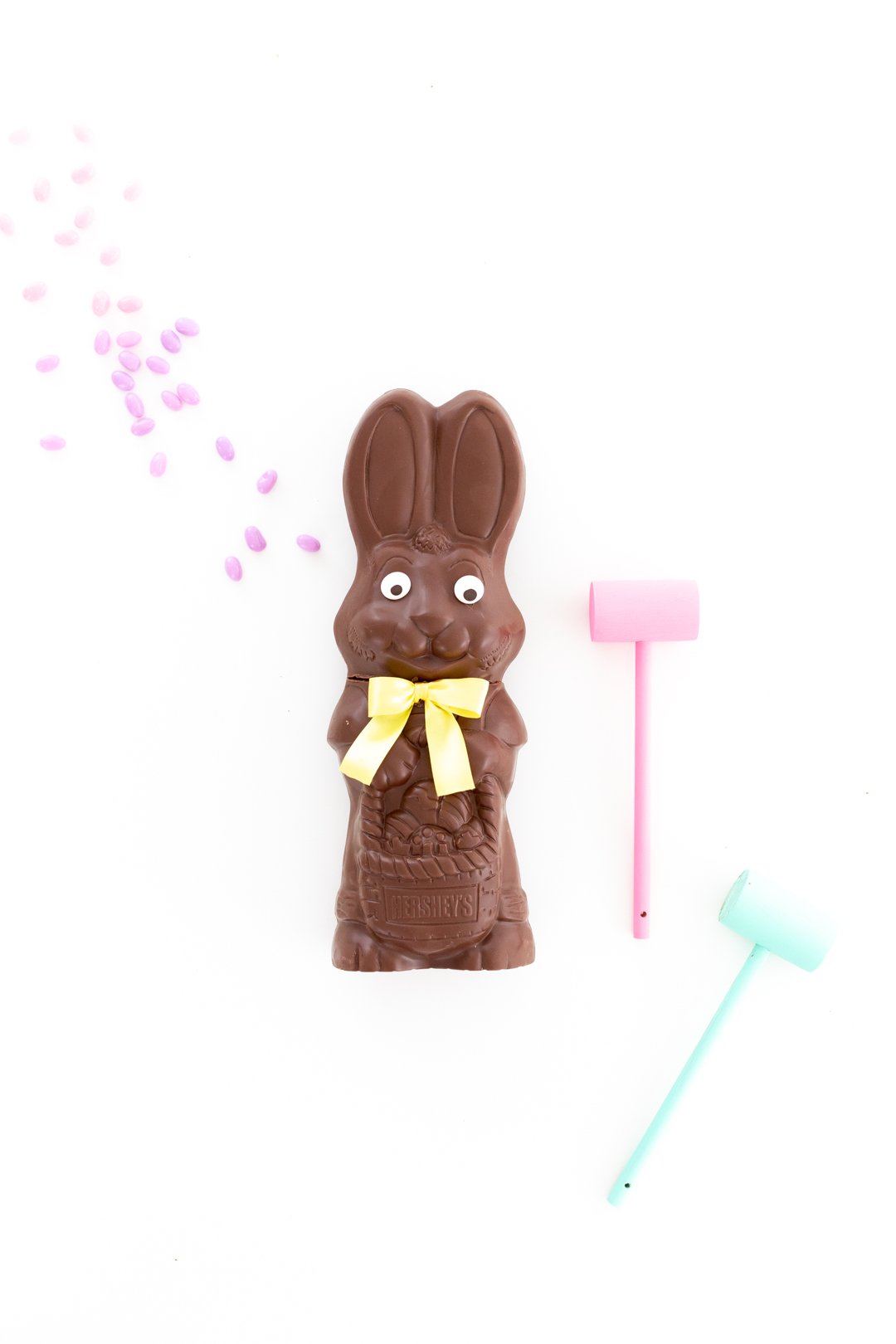 While smashable chocolate hearts are a popular choice for Valentine's Day, you can follow this Smashable Chocolate Easter Bunny Tutorial to create the perfect Easter treat.
You will have fun putting these treats together, and your loved ones will have fun smashing into them!