Whimsical light pink Easter Christmas tree decorated with pretty pastel colors, big bows and flowers. Huge Easter bunny piñata replaces a traditional tree topper.
Are you interesting in keeping your Christmas tree up year round? Make everyday a celebration with these gorgeous Pastel Easter Tree ideas. The best part is that it's so easy to transition your tree from the holidays to Easter. Let me show you my top choices for my 2021 Easter Christmas tree! I am so in love with all of the simple but effective decorations and the giant Easter bunny piñata tree topper is dreamy. This post may contain affiliate links.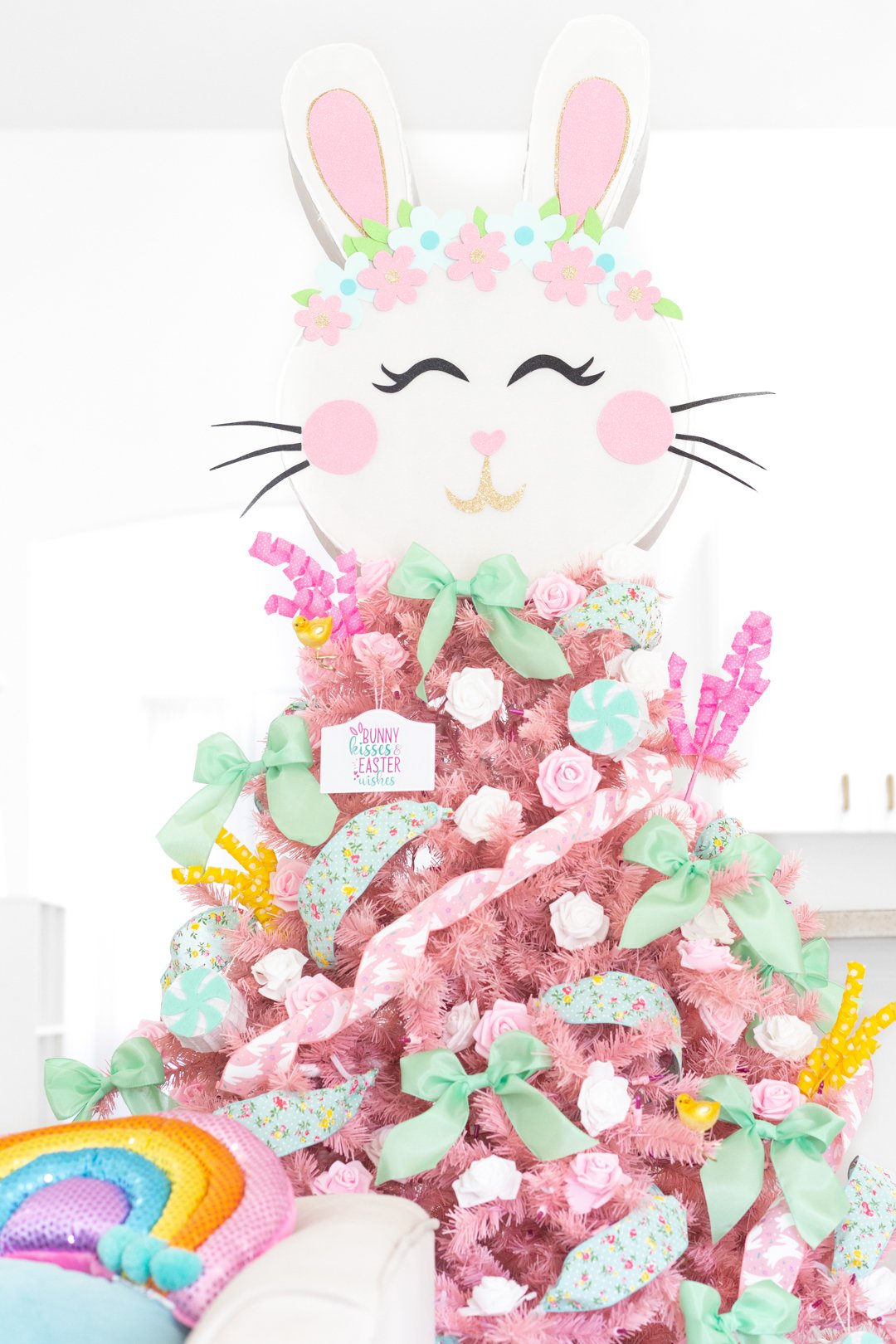 Whether you are decorating an Easter tree for the first time or it's already a tradition, these easy ideas are so easy to replicate. From simple pastel bows to faux flowers, each decoration on this tree is so simplistic. It comes together in the prettiest way with little fuss.
EASY PASTEL EASTER TREE
Do you love to create special moments at home but have little time? These stunning and simple Easter decorations come together so easily. Let me show you all of my ideas so that you can get some inspiration to gather your own ideas.
This tree uses a light pink Christmas tree which I love, but you can use any tree that you have and make it work. A traditional tree decorated for Easter is equally beautiful. Have a flocked tree? Perfect! They tend to look gorgeous decorated with almost anything.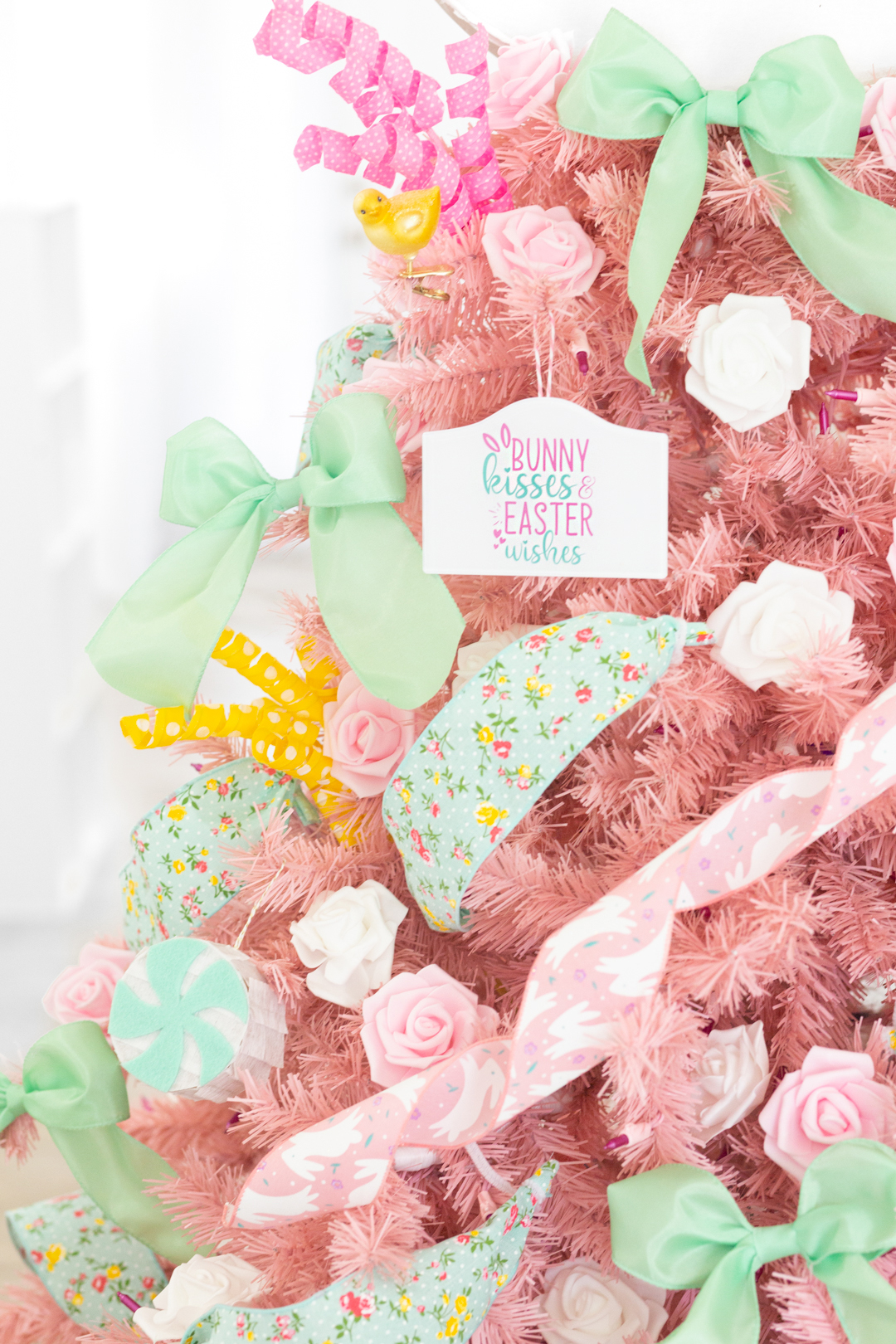 This Easter Christmas tree is easily one of my favorites to date.
EASTER TREE SUPPLIES
Here are some items that I used to make this tree happen: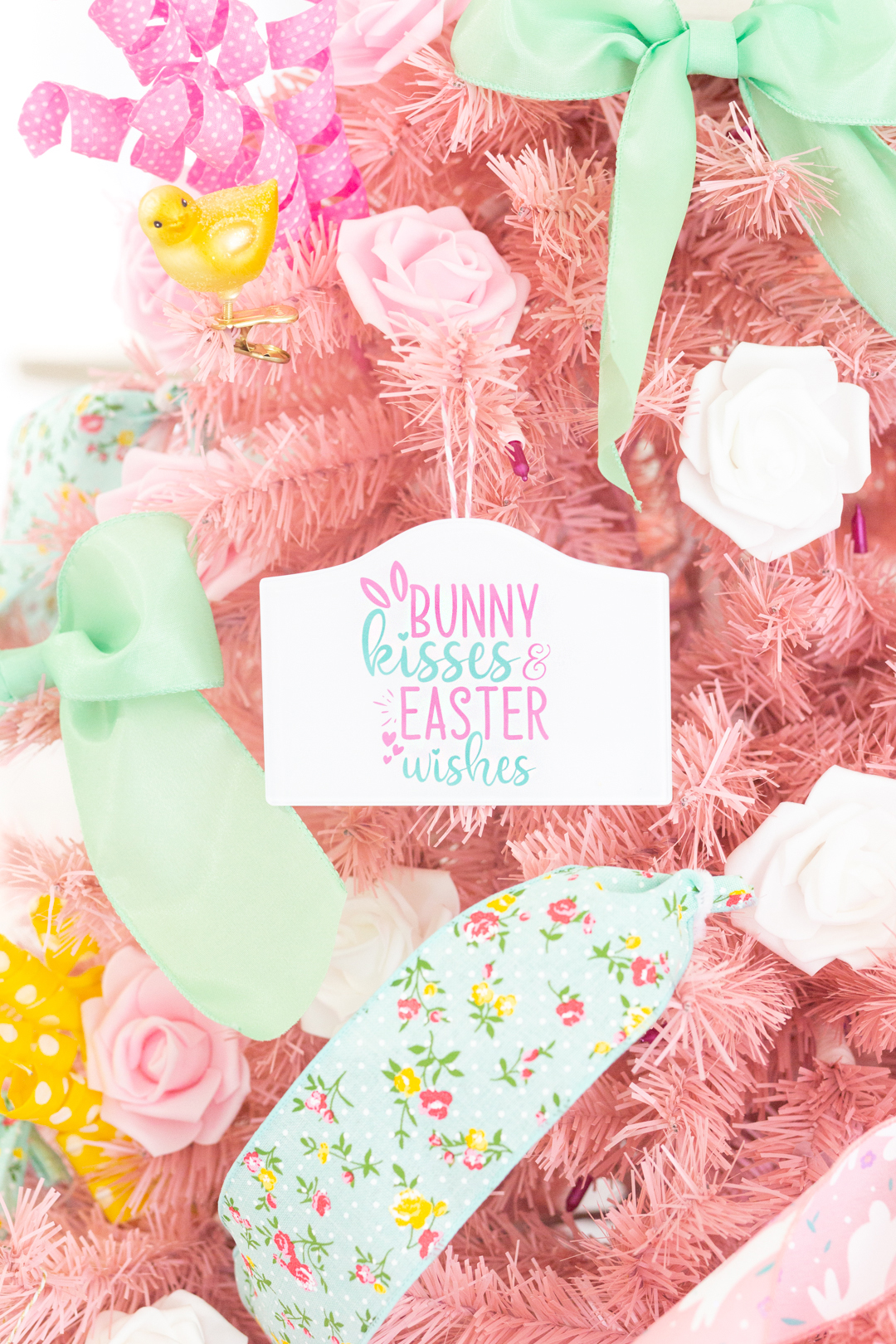 Once you have gathered your supplies, it's time to get to the fun part.
HOW TO DECORATE AN EASTER TREE
Now that I've consecutively decorated my tree year round, I have a few very simplistic tips to accomplish a pretty tree in no time.
When it comes to decorating a tree, I always place the tree topper first. Since I use a piñata, often some adjustments need to be made to make it work. Most of the large piñatas that I've used have an opening on the bottom, but it needs to be made larger. I use scissors to do this. This particular piñata has an opening in the back, so I created my own hole in the bottom using scissors. It's fairly easy to do.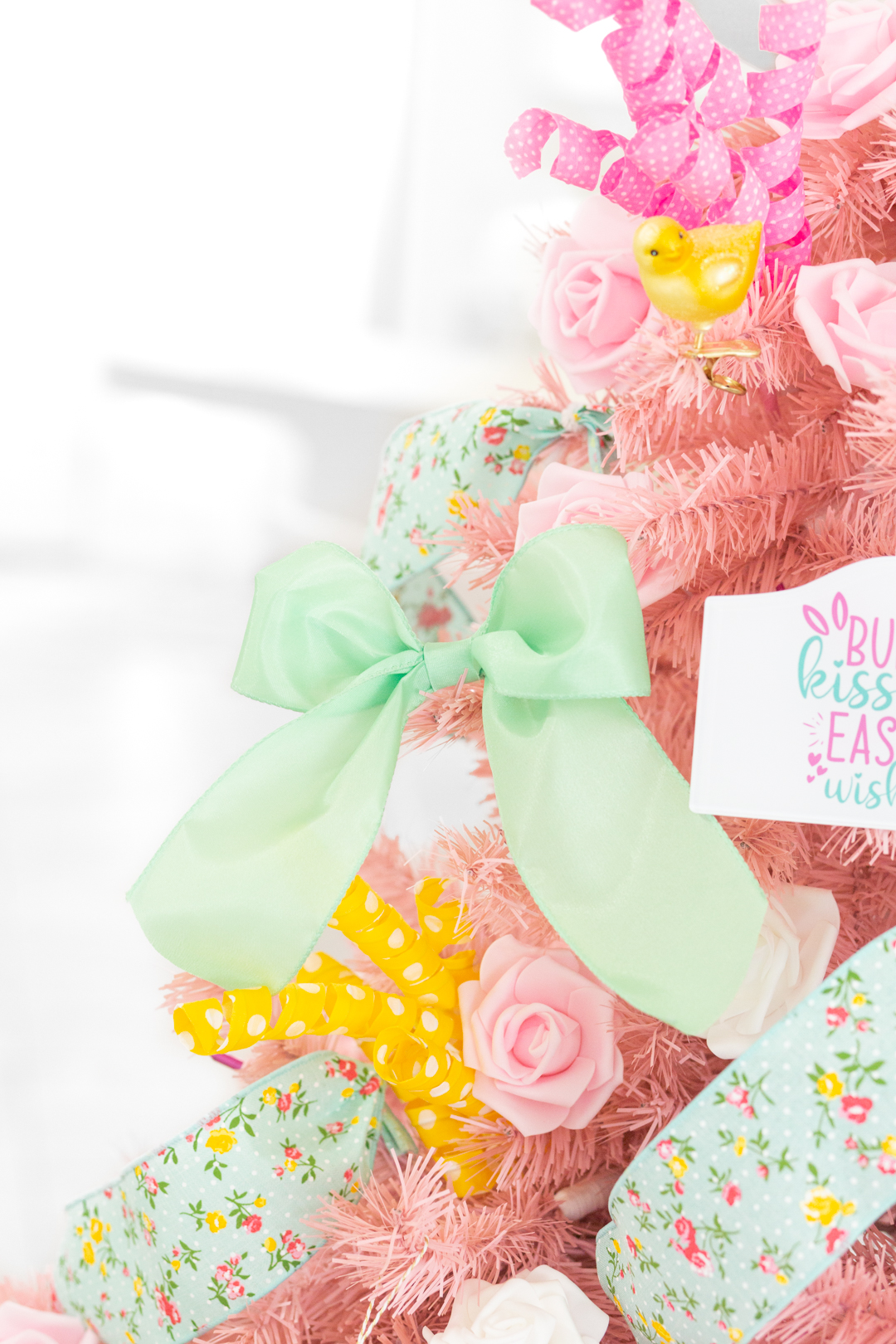 Ribbons to decorate a tree. For this tree, I used wired ribbon in three ways. To make ribbons, I used a simple method and a glue gun to hold them together. To use the ribbon as a garland, I twisted strands and pinched the ends on the tree branches to make it stay. The last way is to cut pieces out and use snips of pipe cleaners to hold them in place.
I typically follow with the ribbons and garlands and any signs I plan to use on the tree. In this case, I chose to place the large mint bows and the strands of mint floral ribbon first. Then, I added the large floral picks.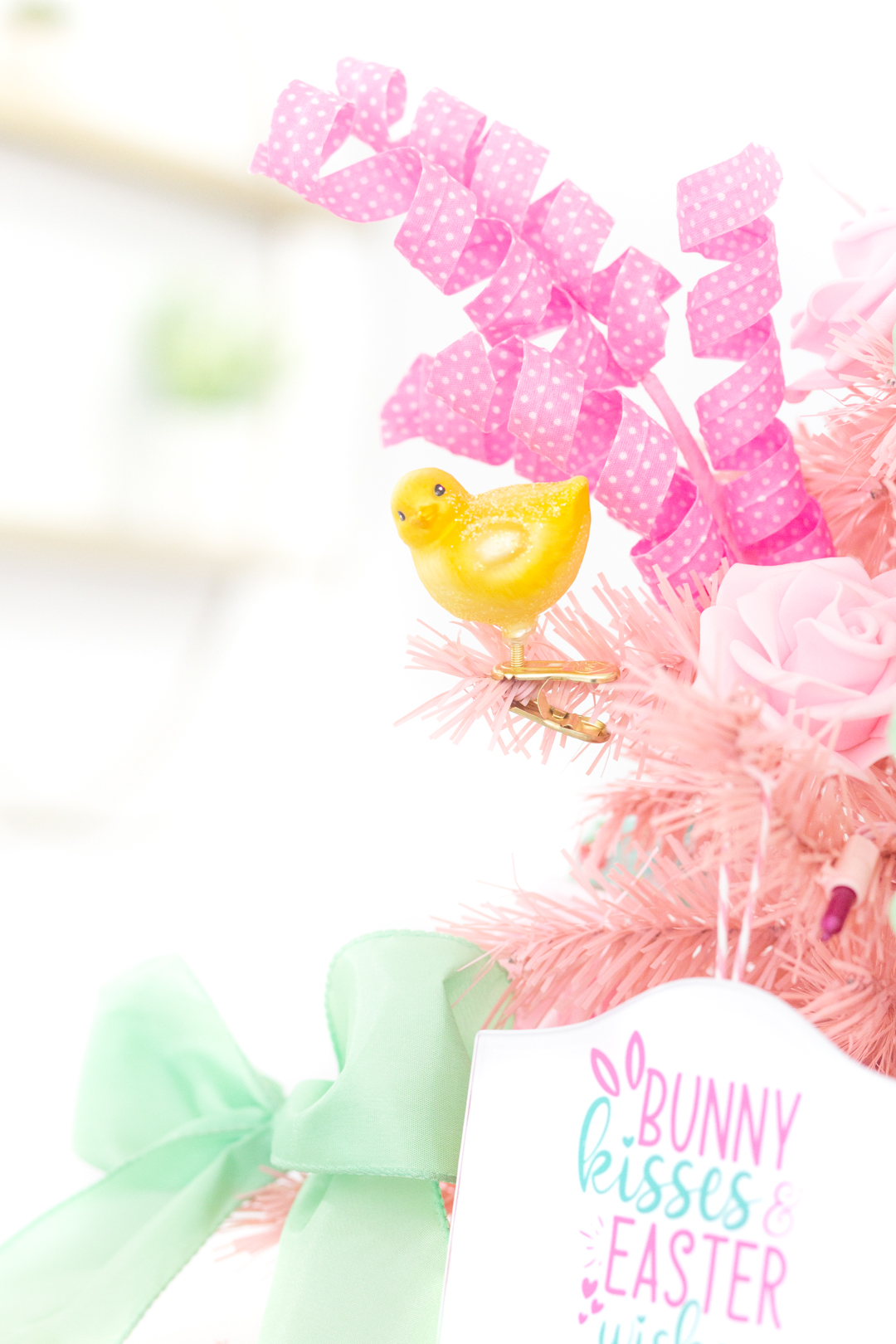 After these basics are in place, I fill in the rest with the smaller ornaments. In this case, the baby chicks and faux floral decorations.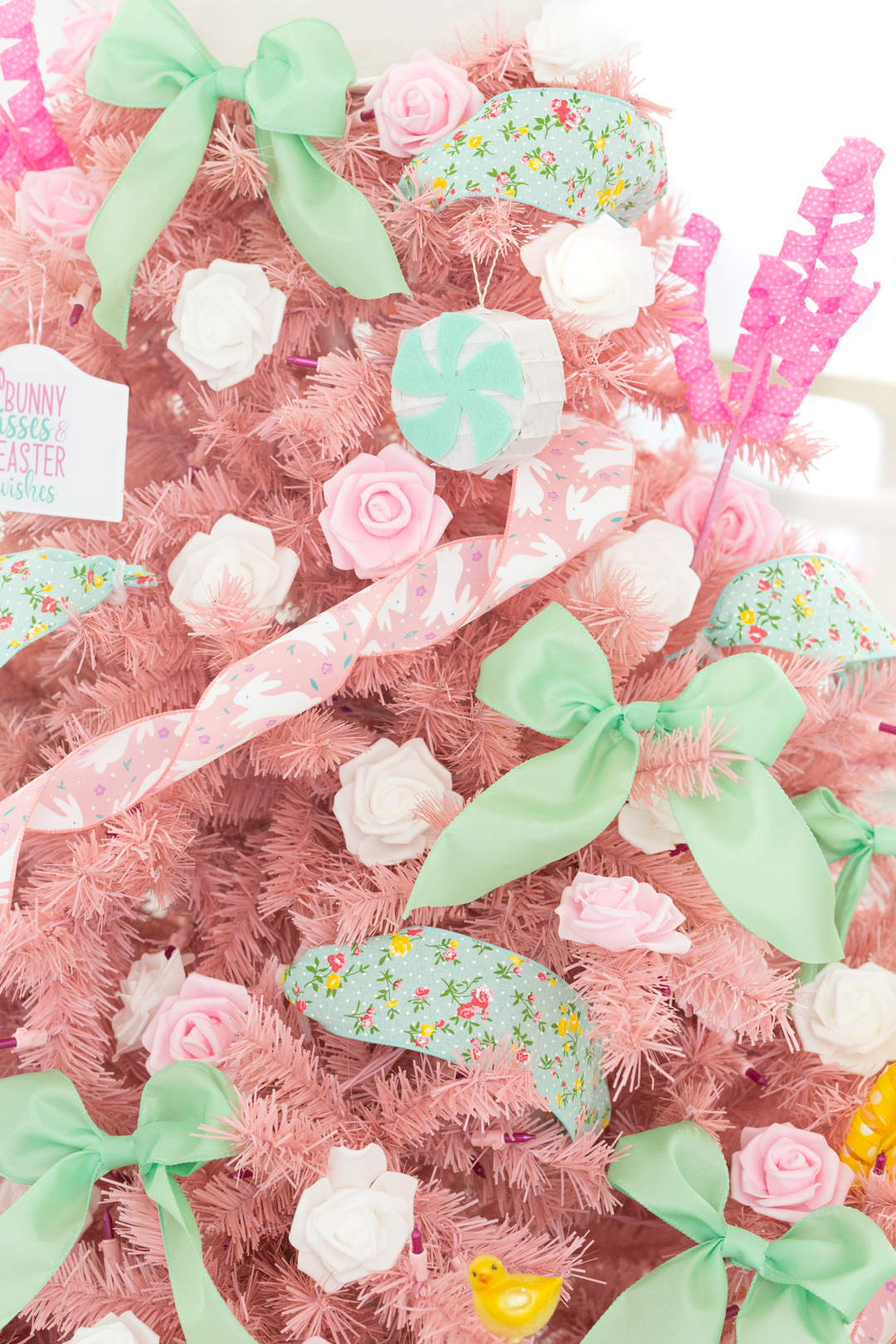 Bonus Tip: In between all of these steps, I stand back and take a look to see where gaps need to be filled. Taking a picture usually helps, too. I reference it frequently to fix things. It helps me pick up on things I'm not seeing with my eyes.
And that's a wrap! I am so thrilled with how this year's tree came out! I am not going to want to take this one down.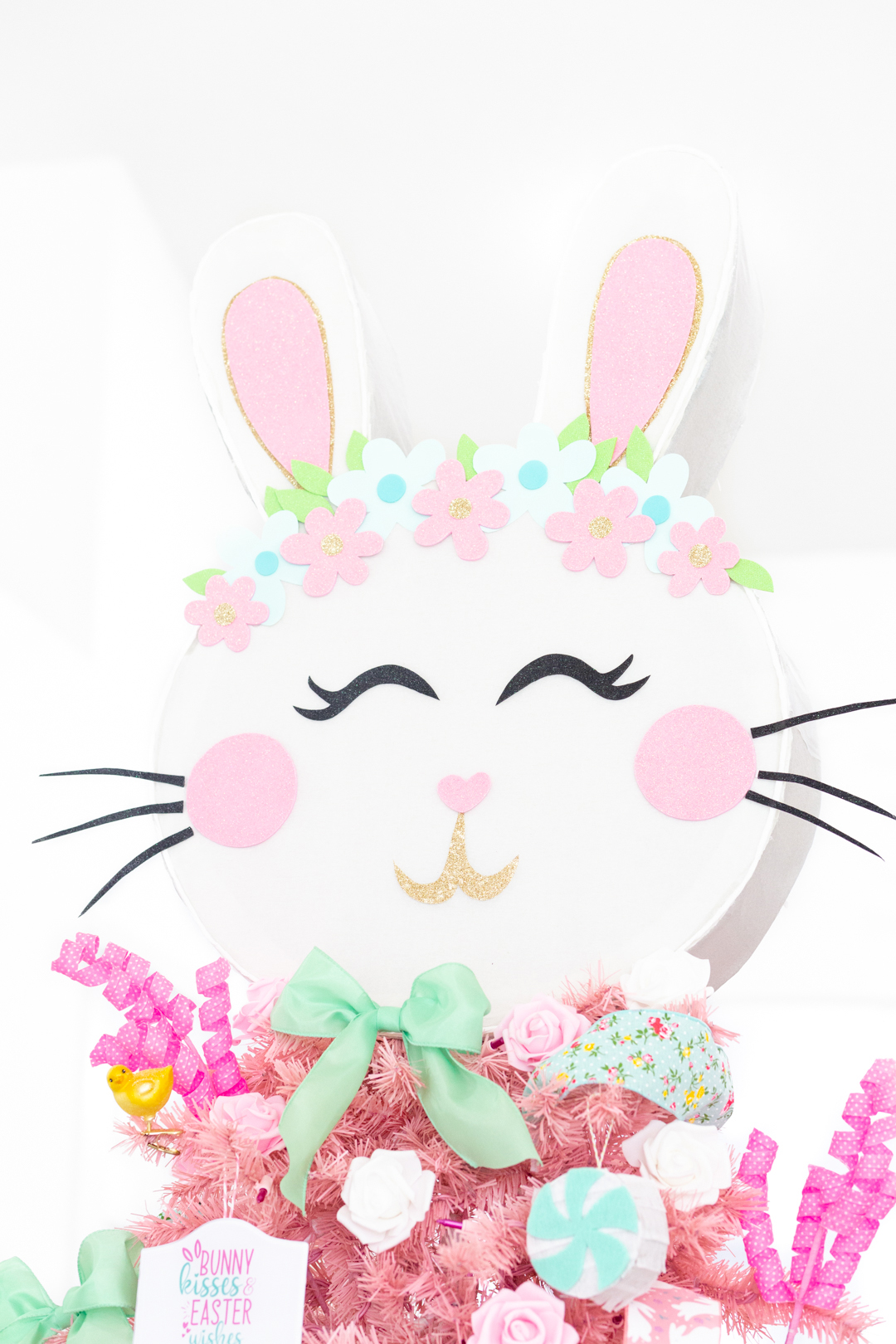 Would you like even more Easter tree ideas to choose from? I'm thrilled to have you to visit Amy's colorful Easter Tree with farmhouse vibes now! I'm obsessed with the big colorful garlands.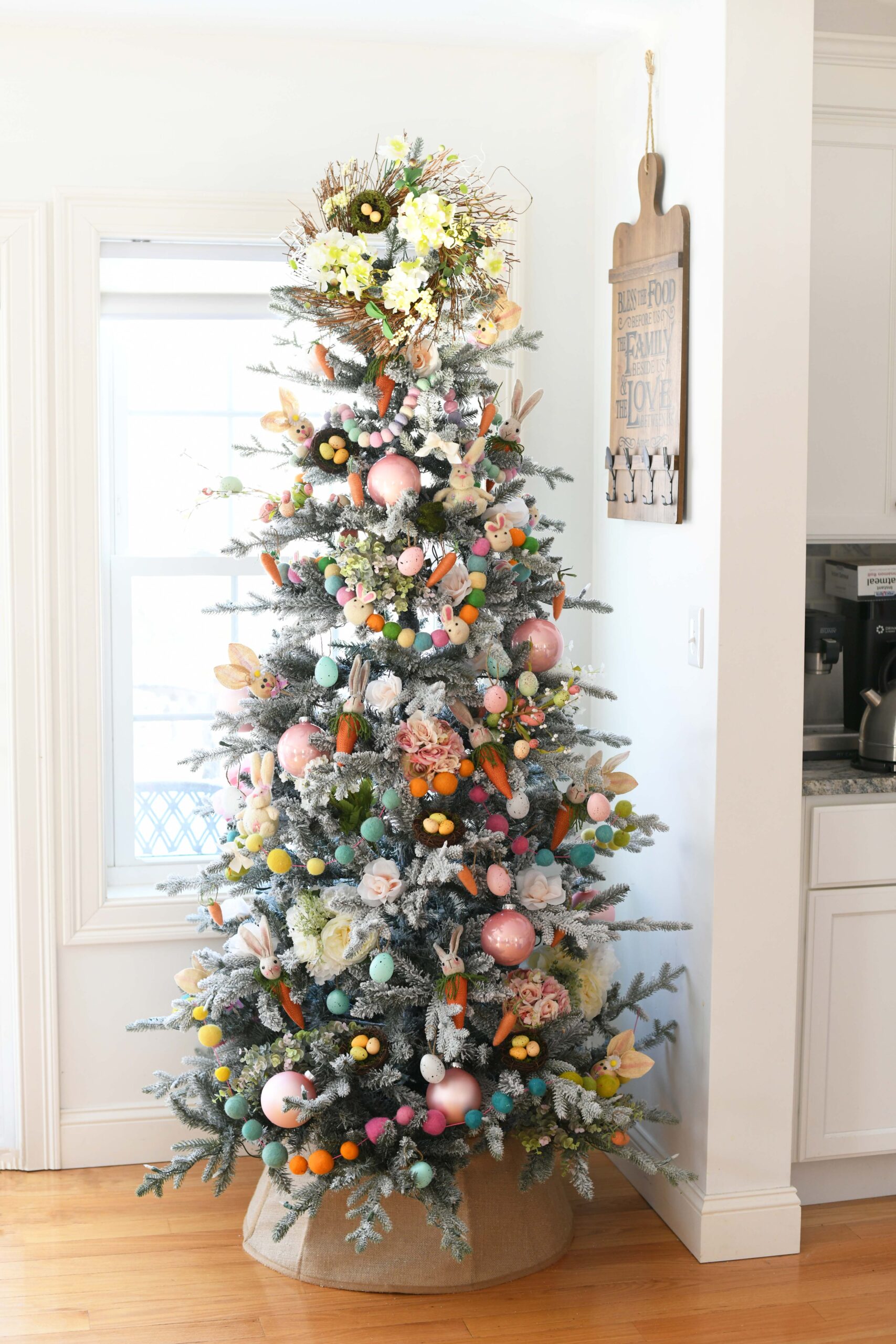 It's been a year since we've been joining forces to share our best Christmas tree ideas so that you can keep your tree up year round. How fun is that?
Let us know if you are loving this festive collab in the comments!
Year Round Christmas Trees
Keep your Christmas Tree up Year Round by Decorating it for every holiday or season.