Planning for Halloween early? It's a great year to set up a
Christmas tree
and decorate it for Halloween. If you've never
decorated a tree
for any other holiday, you are totally missing out on fun possibilities! This year, I wanted to do something a little different. Enter this teal Christmas tree for a Boo-tiful
Halloween decorating
idea.
This post may contain affiliate links.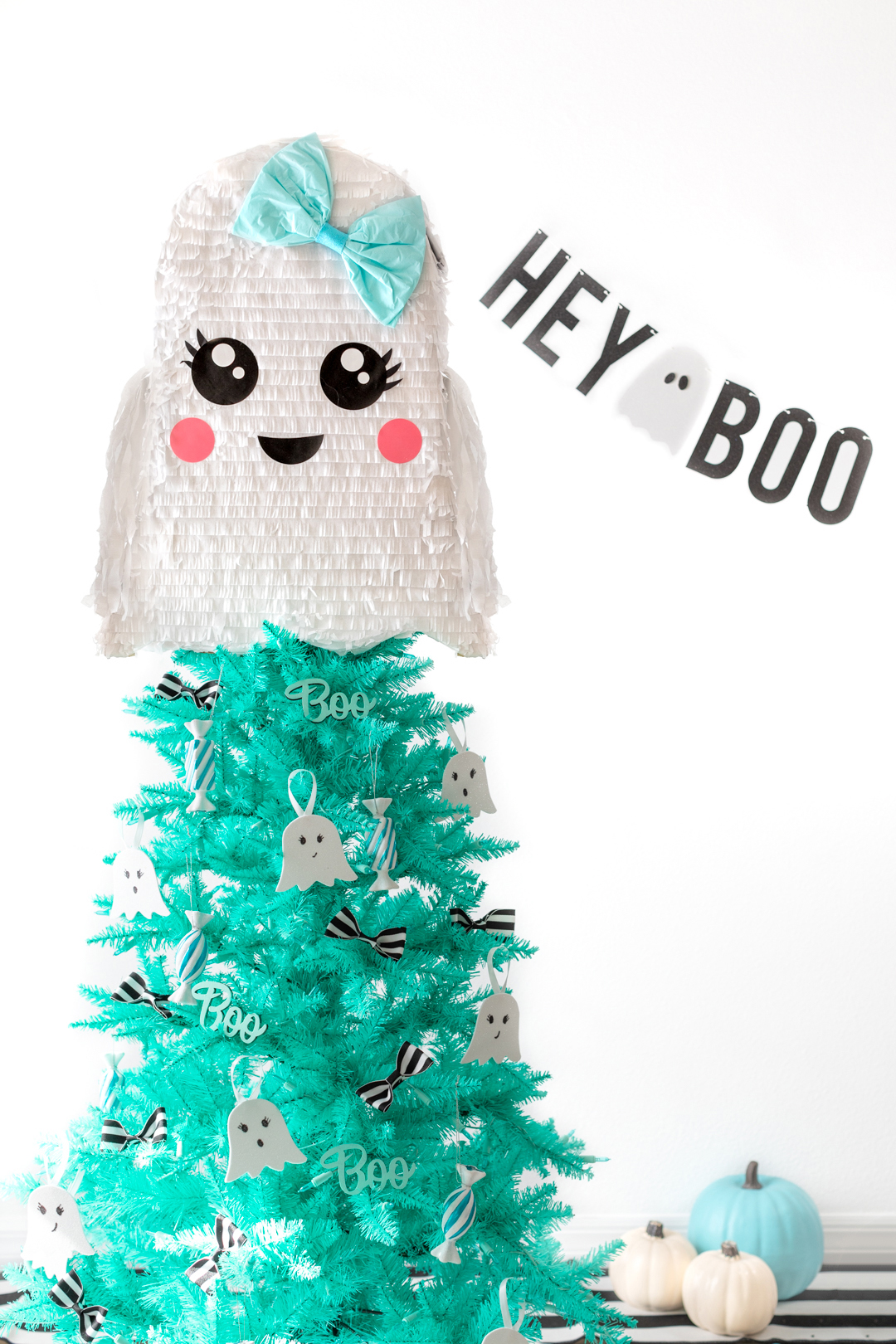 This tree is smaller than I was originally wanting, but in the end, I think it's best since I kind of have too many trees to store at the moment. 😛 I am so happy with how it turned out despite not being able to find a ton of budget-friendly
Halloween decorations
that matched my theme. I did a couple of
DIY ideas
and I am so elated with how it came together with little effort and a lower budget since times are tight for me right now.
With a little effort, you can bring on a lot of joy and that's what 2020 is all about for me.
If you are like me, you are going to love these fun little Halloween decor ideas that can be easily handmade.
You probably know that I am obsessed with
pink Christmas trees
, but it's time to go rogue. I am SO obsessed with teal tree right now and I'm excited to share how everything came together on my Halloween themed Christmas tree.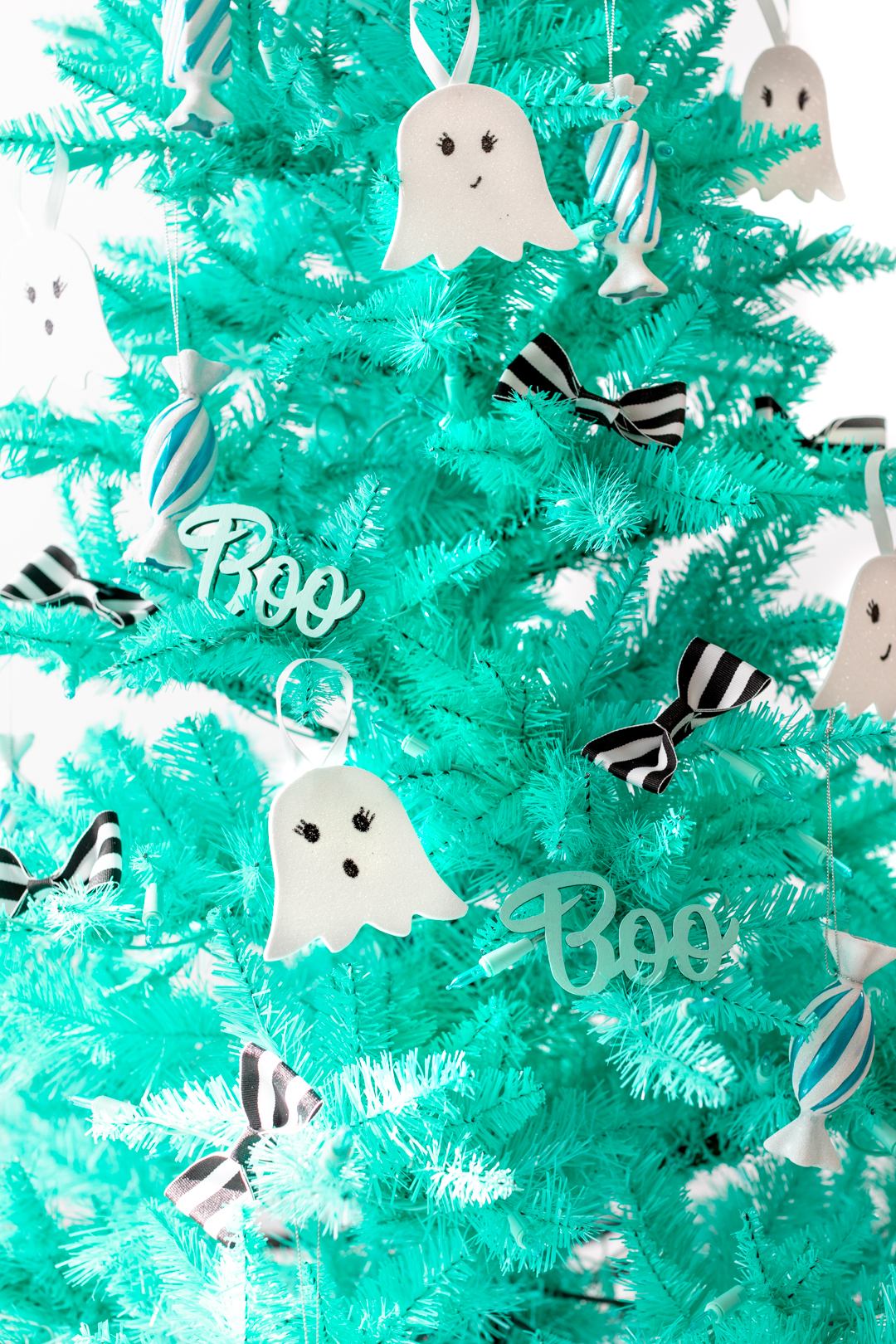 TEAL HALLOWEEN CHRISTMAS TREE IDEAS
To transform this teal artificial Christmas tree for Halloween, I wanted to add simple decorations that really popped. I stuck with a dash of black and white with a little teal. Aside from the BOO-tiful tree topper, I used only 4 simple Halloween decorations to complete this cute look. Easy, right? I made them all in one day as I watched Edward Scissorhands and the decorated while listening to The Nightmare Before Christmas soundtrack. That's how I do. Now let's get to it.
First up, I wanted to share the exact teal Christmas tree that I used. It can be found here. It is pretty small and can be displayed on the floor or even on some tabletops. It's 54" / 4.5".
Make sure to scroll down my post for the actual shopping list for this teal Halloween tree that I decorated. The list includes the simple DIY materials for your convenience.
BEST HALLOWEEN TREE TOPPER
If you are looking for Halloween tree toppers, you are probably not going to find that much. So, it might take a little thinking outside of the box. I took a chance and went BIG with a large Ghost Pinata for the tree topper. You probably already know that is my fav go-to for every holiday. Since this tree is only 4.5', it was kind of risky. BUT I could not find any smaller pinatas that I fell in love with and being in love with the topper is more important than functionality (in my crazy world anyway).
This is the handmade Ghost Pinata I used here on Etsy.. I asked for the bow to be teal instead of pink and the seller willingly was able to meet my request. Be sure to send a message first if you are interested in buying one just in case.
Getting the piñata to stay on top of a tree has been fairly easy for me. I simply cut out the bottom of the piñata to fit the top of the tree. Then I just kind of position it over the treetop. I haven't needed anything else to get it to stay in place other than a snug fit. So make sure to test before you cut out the entire bottom of your piñata.
Eek. I just cannot with the cuteness on this.
Now let me where the easy peasy DIY ideas that I put together..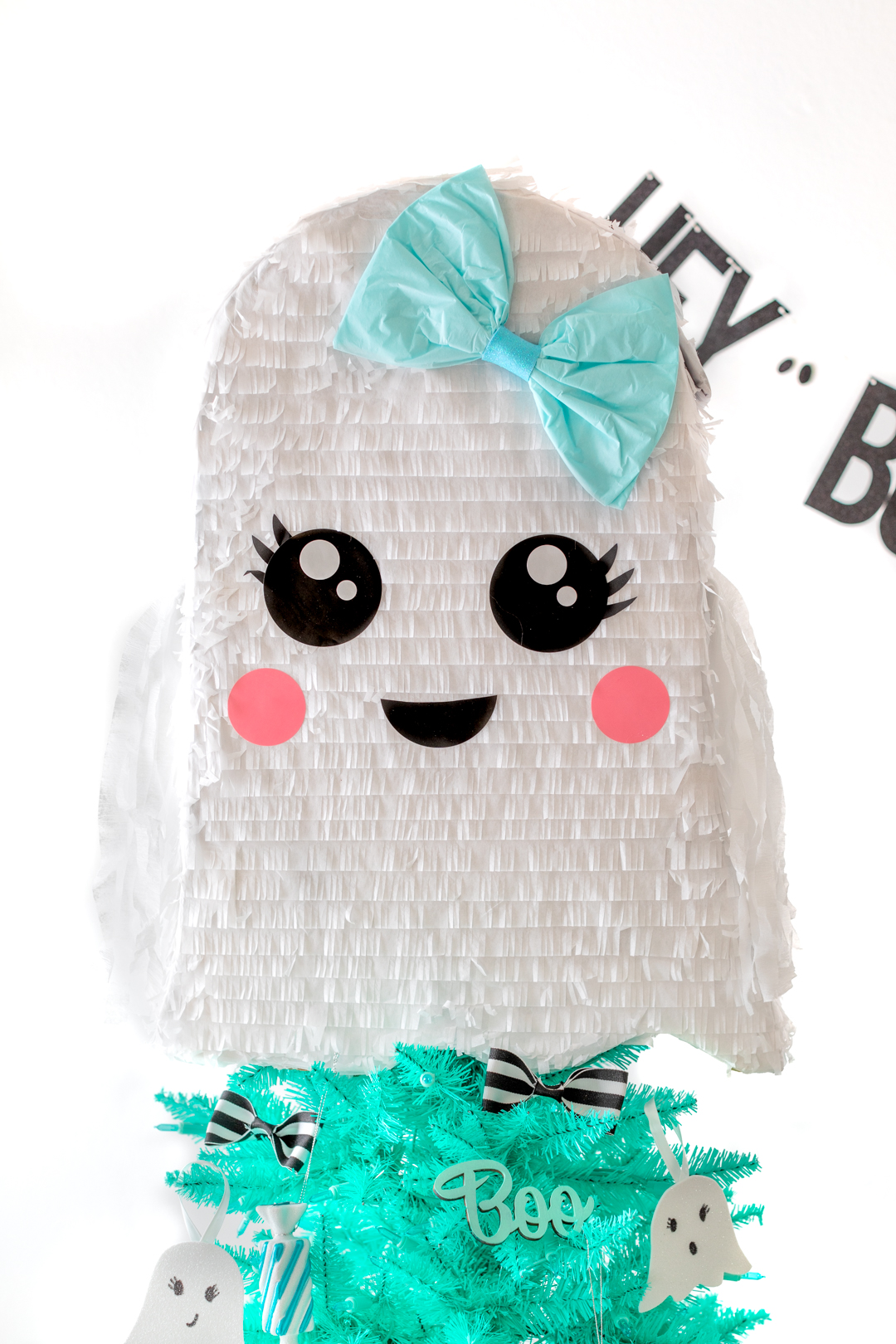 HALLOWEEN CHRISTMAS TREE DECORATIONS
With limited availability, if you want something extra unique, creating your own might be the least expensive option. I came up with the absolute easiest options for my tree. First up, ghost ornaments!

DIY GHOST ORNAMENTS
To make these easy ghosties, here is what you need:
Ghost Cookie Cutter or Template
White Glitter Foam
Black Paint Marker or Sharpie
Ribbon
Other tools you will need are scissors and glue. I used a glue gun.
I used my ghost cookie cutter to make the shape. I pressed it into the back of the foam sheets to make an imprint and then I trimmed them out with scissors.
Then, hand draw a cute little ghost face with black paint marker or a sharpie. Any heavy duty black writing utensil should do.
Finally, make a simple loop with a small ribbon and glue or attach onto the back for hanging.
So easy and adorable. Have fun making silly ghost faces to customize.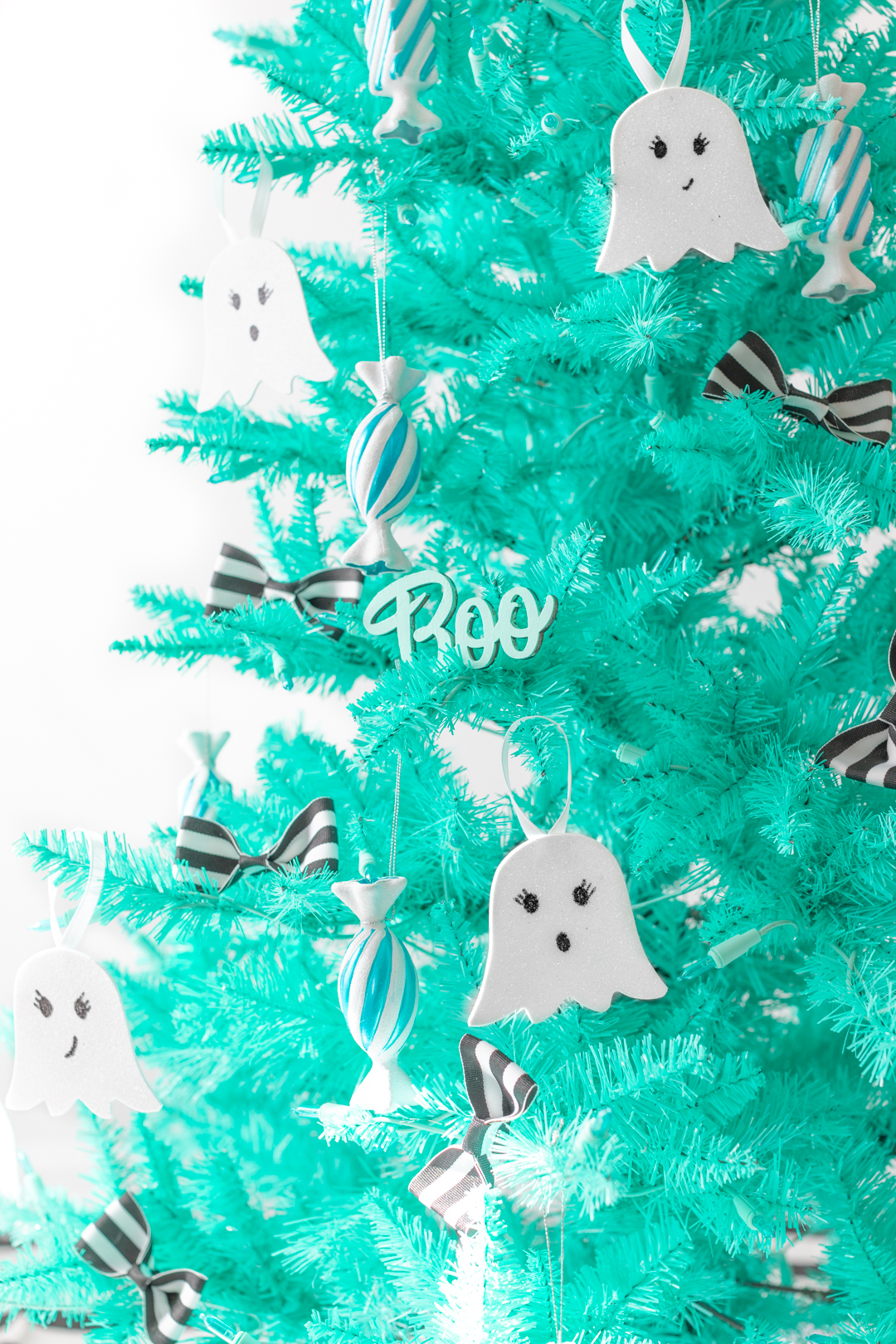 MINI BOO SIGNS
This was an easy peasy craft. It simply involved purchasing BOO signs made of wood. I found mine on Etsy and then painted them. I used a pretty sea glass color. All items are linked below for your ease. I think white would also look perfect and pop with this tree, but I didn't have any on hand.

BLACK AND WHITE STRIPED BOWS
For a fun final touch to make this tree stand out, I made bows. All I used was ribbon and a glue gun. That is totally it. I kept it simple and it make for the perfect outcome.
And, that's it! Tree accomplished! I could not be any more happy with how cute this turned up.
Consider it officially Halloween here at Cutefetti!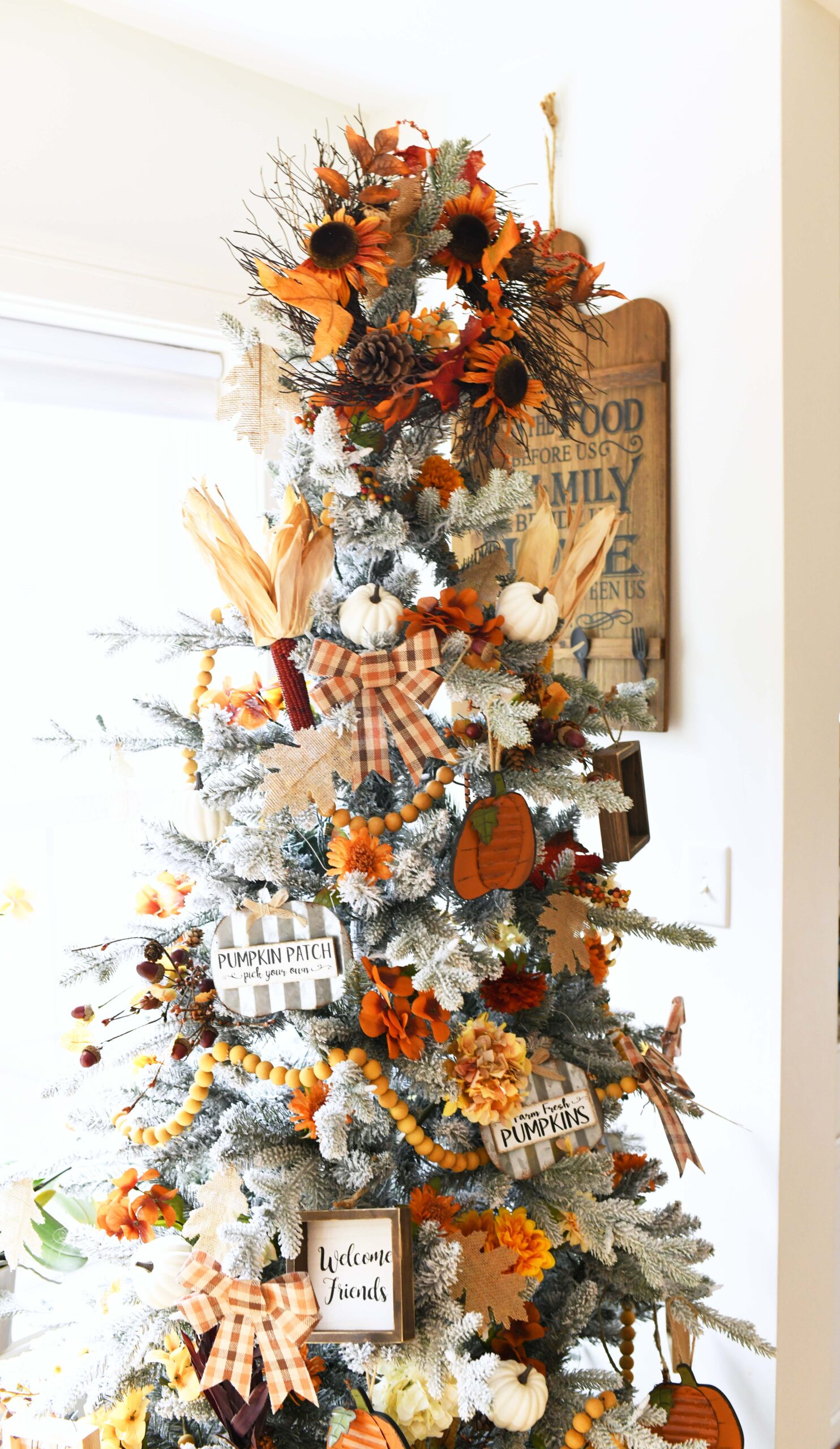 Want even more Halloween Christmas tree inspo? I'm inviting you to go check out Amy's Fall Farmhouse Christmas Tree ideas now, too! We've been teaming up to share a variety of tree ideas for all different holidays over the last year. I love that our styles are so different so there is something for everyone's tastes.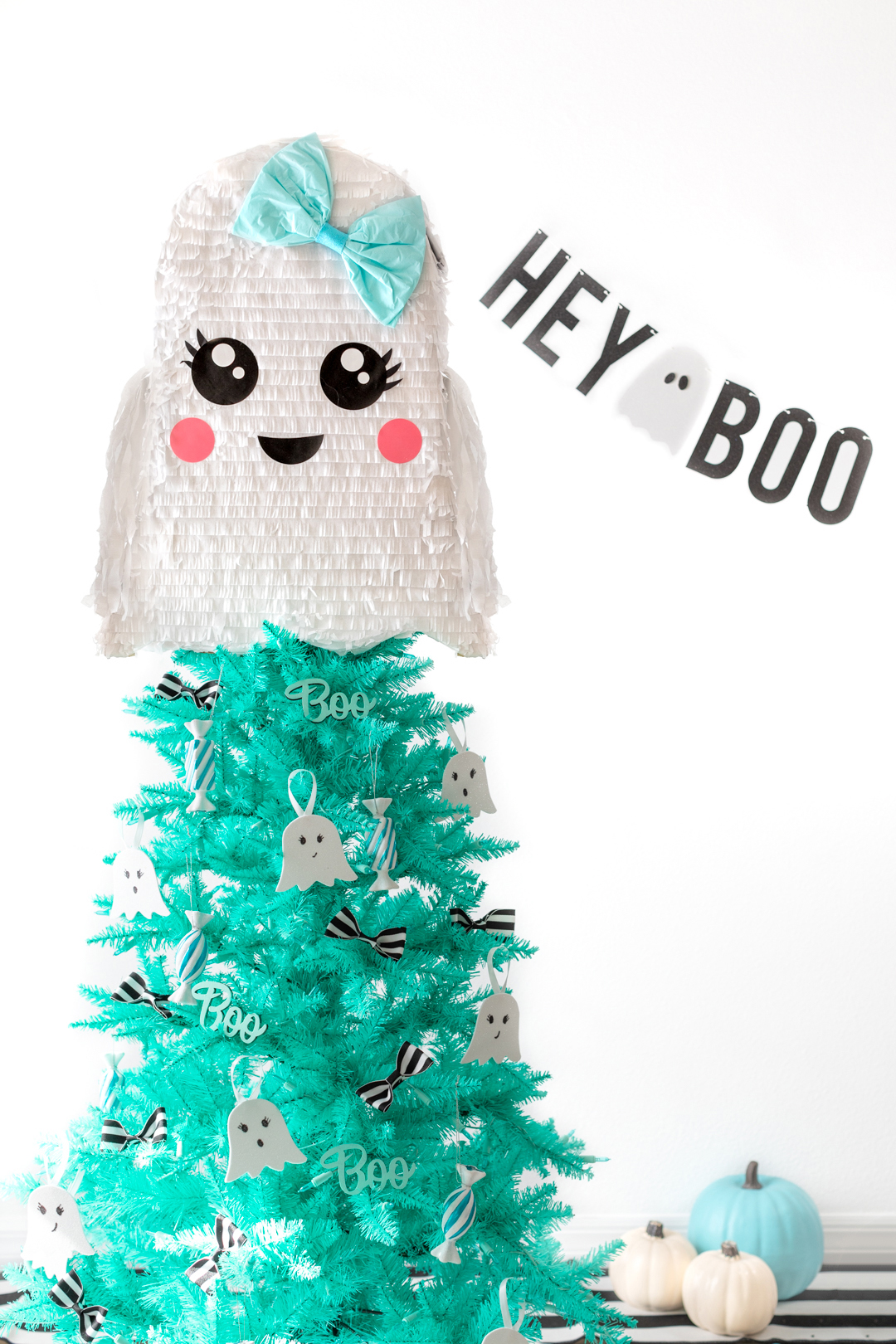 BEST HALLOWEEN IDEAS
Looking for more ways to celebrate? I totally have your back. Here are some of the best ideas to make this year extra fun and a little spooky.
Want to celebrate a
No Contact Halloween
? Here is a huge list of alternative ideas for Trick or Treating and beyond.
All treats and no tricks? This absolutely adorable
ghost cake
is exactly the thing you need. Plus, it would be kind of cool to compliment this Halloween tree.
If you are more of a creepy Halloween enthusiast, I have what you need for that too. Start by checking out these
spooky ideas
.
Halloween Christmas Tree
Decorate your own Christmas Tree for Halloween with these easy decoration ideas and DIY supplies.