Socially distanced party ideas have been way up there on my list of things to think about this year. As someone who loves sharing party ideas and ideas to make everyday special, I have needed to explore all of the options and alternatives. I hope that these are great thought-starters for you to help ease your mind a bit. It's going to take a little effort to make everything extra special, but it's totally worth it. On that note, I've been focusing a lot of my attention on socially distanced ideas to share and I've come up with some great ways to celebrate this Halloween that involves no contact that I think you're all going to love.
See Thanksgiving No Contact Ideas
See Christmas No Contact Ideas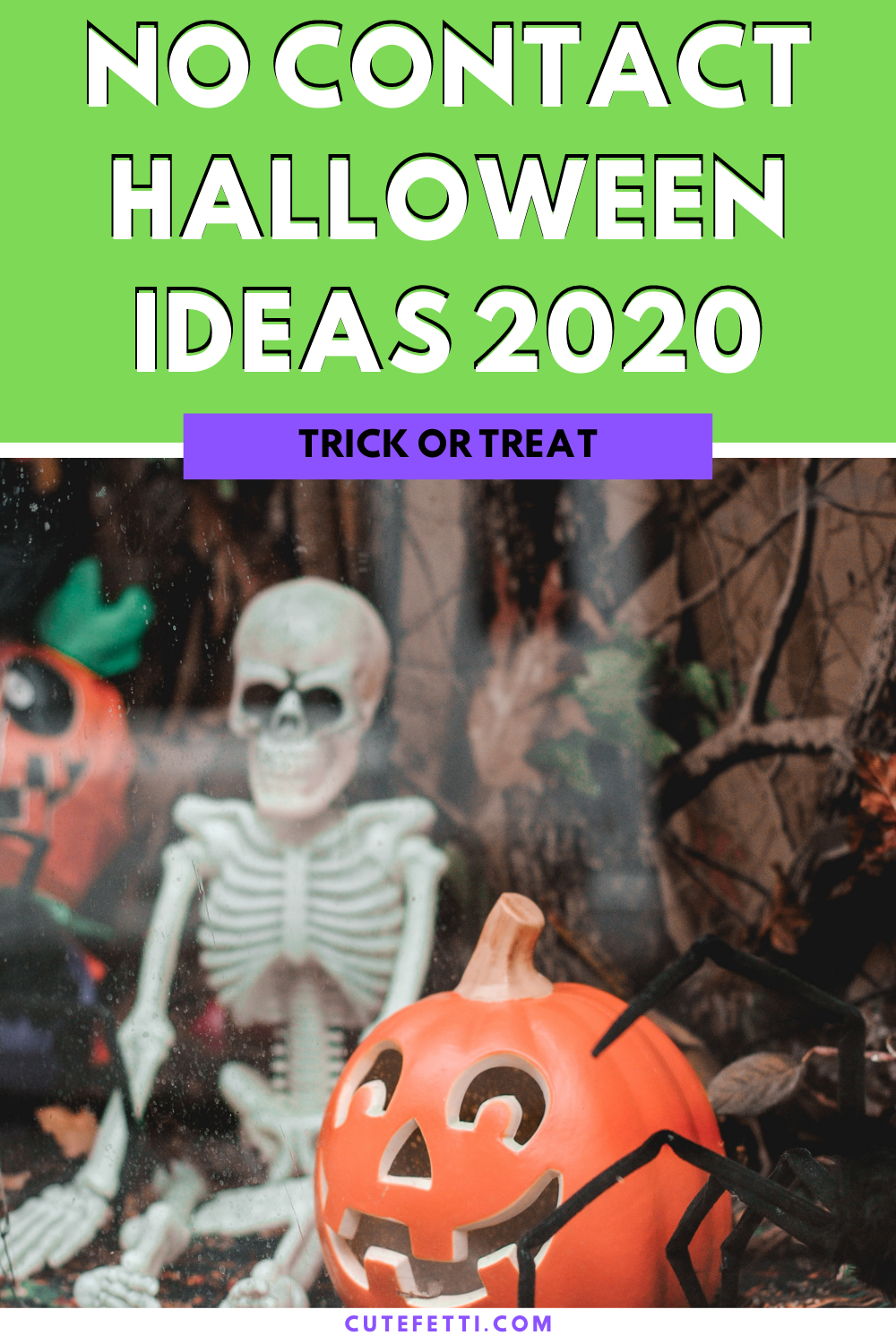 SOCIALLY DISTANCED HALLOWEEN IDEAS
If you're a returning reader, you already know I have a general list of socially distanced party ideas that covers everything from birthdays and anniversaries to graduations. With Halloween coming up, I wanted to get specific. Halloween has always been one of my FAVORITE holidays, and all kids love it. After all, this holiday is all about dressing up and getting free candy. I can't think of any kid who doesn't love that. I love that with a little creativity there are absolutely ways we can all STILL keep our plans, but maybe just done a little different. I'm giggling at the term "Coronaween" that I've seen floating around. So, I've come up with some ideas that involve zero physical contact and way more than six feet of separation to help you celebrate this spooky holiday without worry. If you like to plan WAY in advance, these no contact Christmas ideas are amazing, too.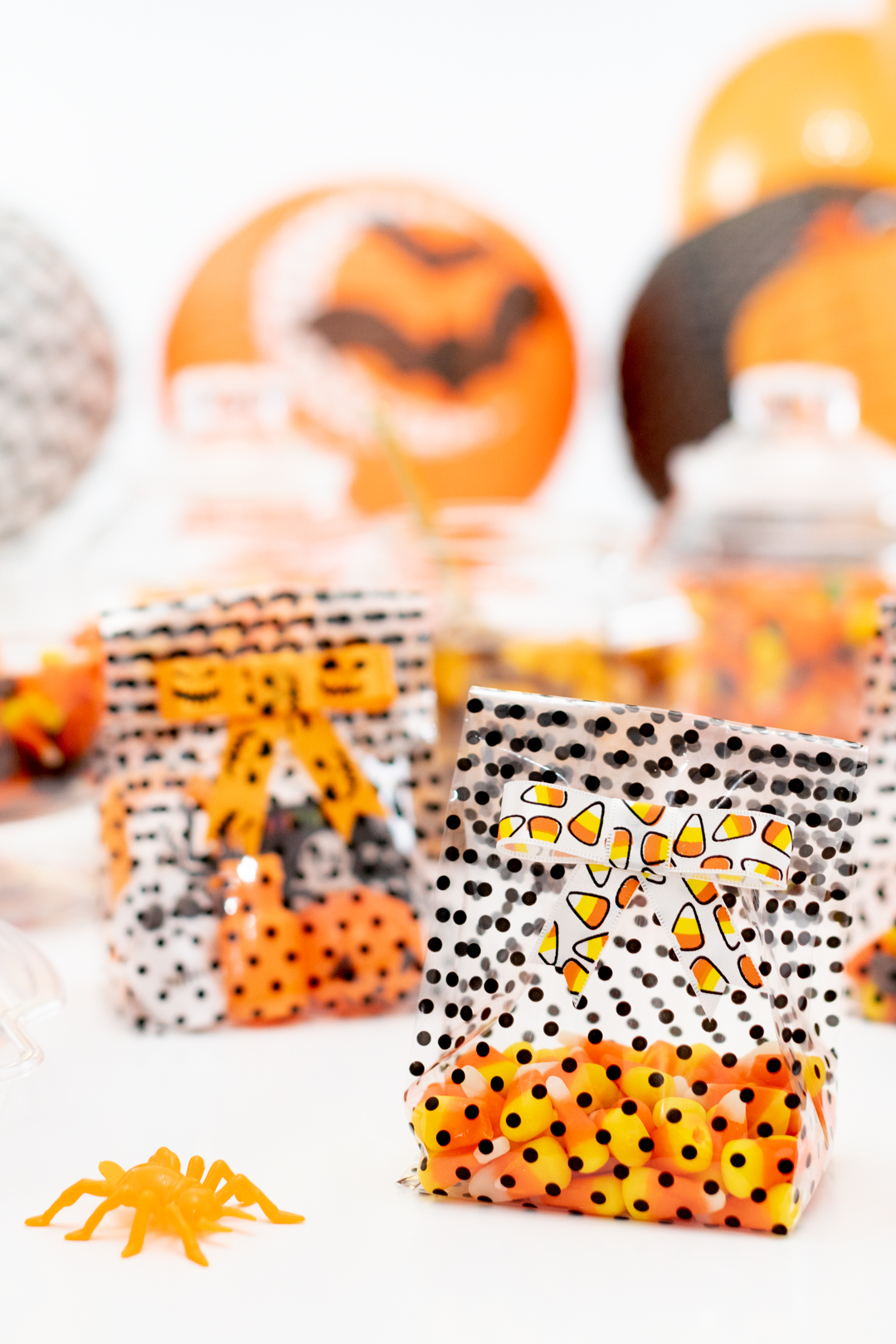 If you're like me, I love to plan ahead. Having festivities up in the air is stressful, so exploring all of the options no matter what the scenario helps. These socially distanced party ideas for Halloween will allow us to keep some normalcy while still taking some precautions if you choose. Use these ideas to host a great party for Halloween or as a stepping stone to something else that might be even more epic - and physically separated. Let's get to haunting!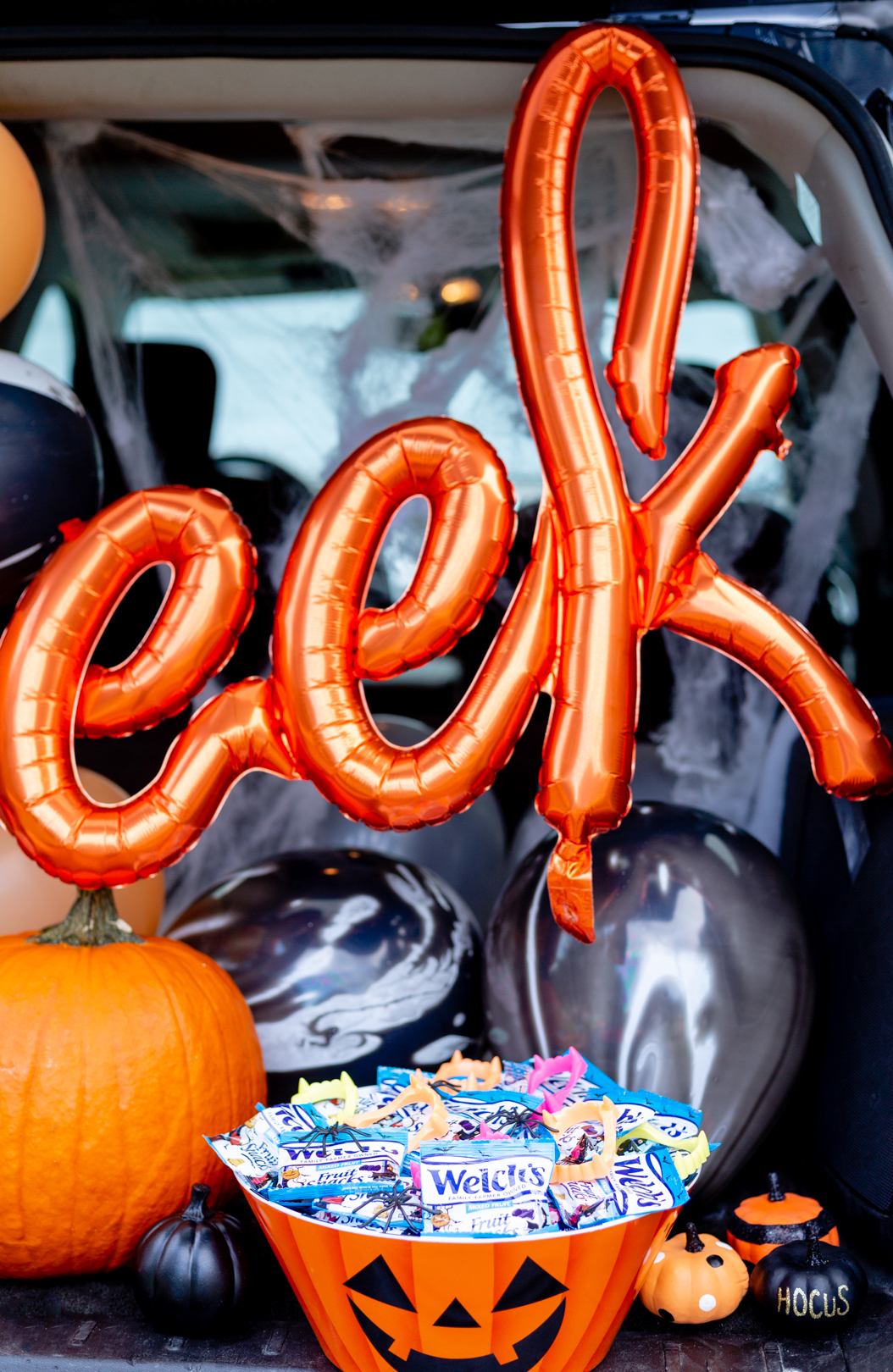 NO CONTACT TRICK OR TREATING IDEAS
Lets face it. The treats are the BEST part of Halloween. Here are some fun ways to ensure everyone gets mostly treats and no tricks!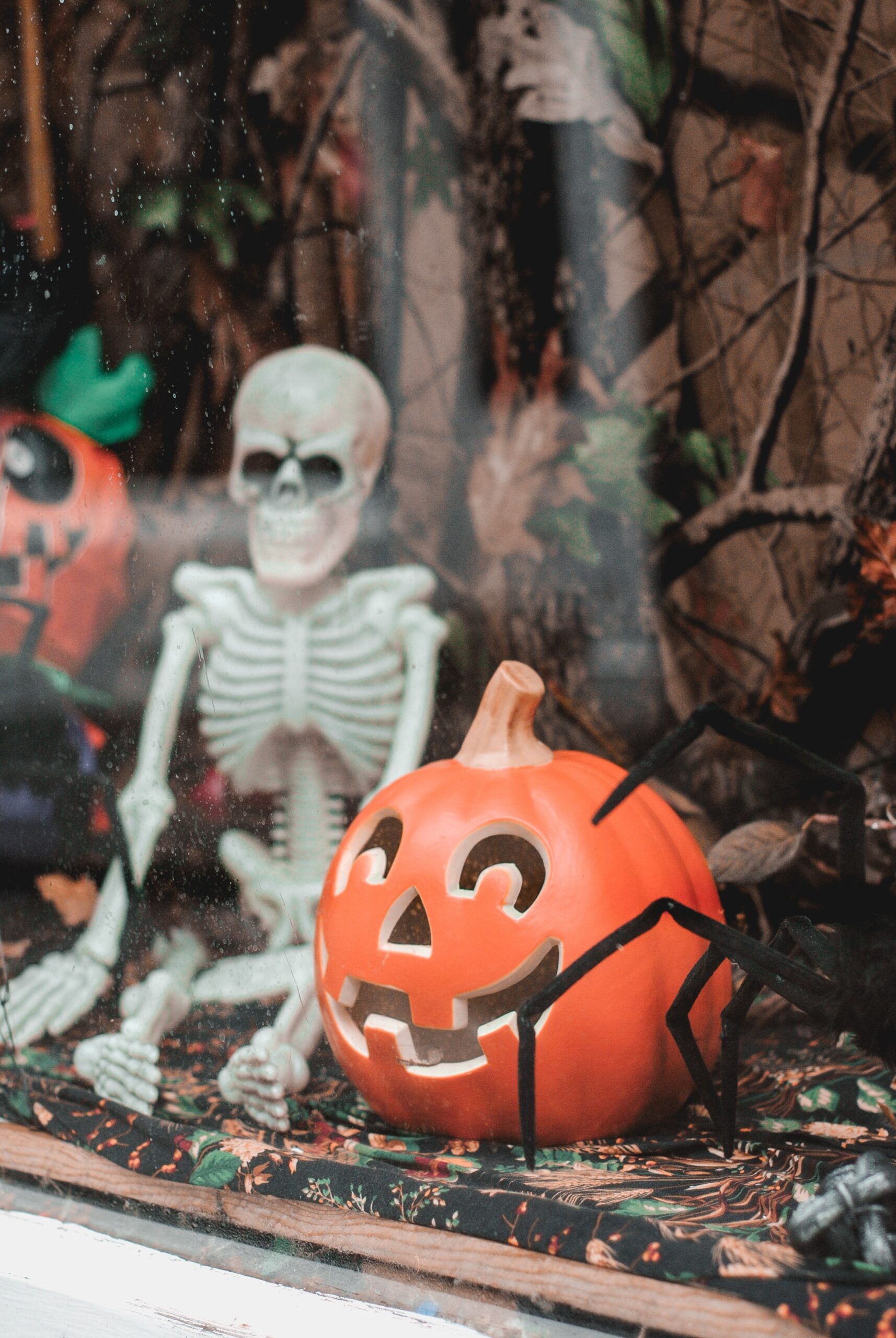 NEIGHBORHOOD CANDY NIGHT
This one gives kids all the fun of trick or treating with none of the contact. You might want to plan earlier in the day on Halloween or on a the day before so uninvited guests don't drop by. Get together with the neighborhood parents and create your own candy night for the kids. Each candy host can set out a table with individually wrapped and packaged candies OR treat boxes. Plan it so that only one family can pull up to each home and take one item each from each bowl that has been set out. After every child in the family has taken a piece, the next family comes through. Be sure to have the kids wear their costumes so everyone in the neighborhood can see.
Make sure to plan ALL of the details out so that everyone knows the rules in advance so there is no confusion during the timeframe. Be sure that only ONE family comes to the buffet at a time. It's also a good idea to have disinfectant wipes on hand so parents can wipe down candy as they put it in their kids' trick or treat bags.
TRICK OR TREAT BALLOON SYSTEM
Was scrolling on Facebook when I saw someone share a fun idea. Rally up your neighbors and see who wants to participate in trick or treating. Have them tie an orange balloon to their mailbox if they are participating. That way everyone knows where to go and where to skip. Participants can leave pre-packaged treats outside their doors if they want to avoid contact or use some of the tricks below.
HALLOWEEN CANDY HUNT
Think Easter Egg hunt, but make it Halloween Candy. Depending on your plans, you can do this with just your own family, neighbors/neighborhood OR join up with a few other trusted families to plan one. Can be indoors or outdoors. Create your own fun.
REMOTE TRICK OR TREATING
Same fun, different approach. Leave individually wrapped treats on a table or tray about 10 feet down your driveway from the house. It's a great way to keep that traditional Halloween feel without having any contact whatsoever.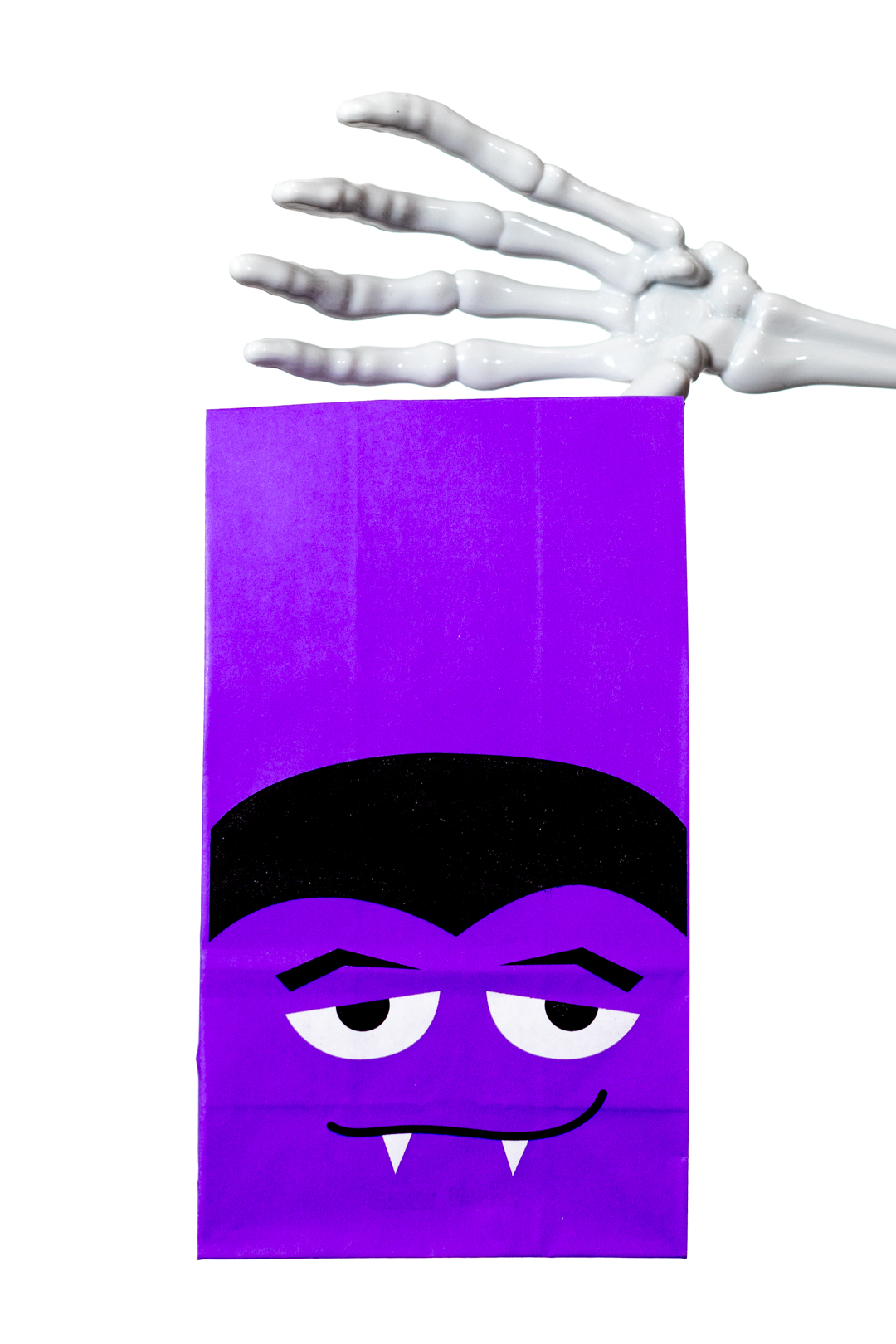 USE A GRABBER TO GIVE OUT CANDY
Love this idea for a more personal way to hand out candy. Use a grabber or tongs to pick up the candy from the dish to hand out. Easy peasy no-contact Halloween candy solution! They have some pretty cool grabbers out there. Think skeleton hands or witch hands. Muah ha ha.
DRIVE BY PARTY TABLE FOR HALLOWEEN
If you want something a little simpler, be the host with most! Set up a party table outdoors and invite your friends, family and neighbors to come pick up a party box filled with fun individually wrapped Halloween treats and candies that they can take home with them. Be sure to stagger your invite times for easy no contact pick up.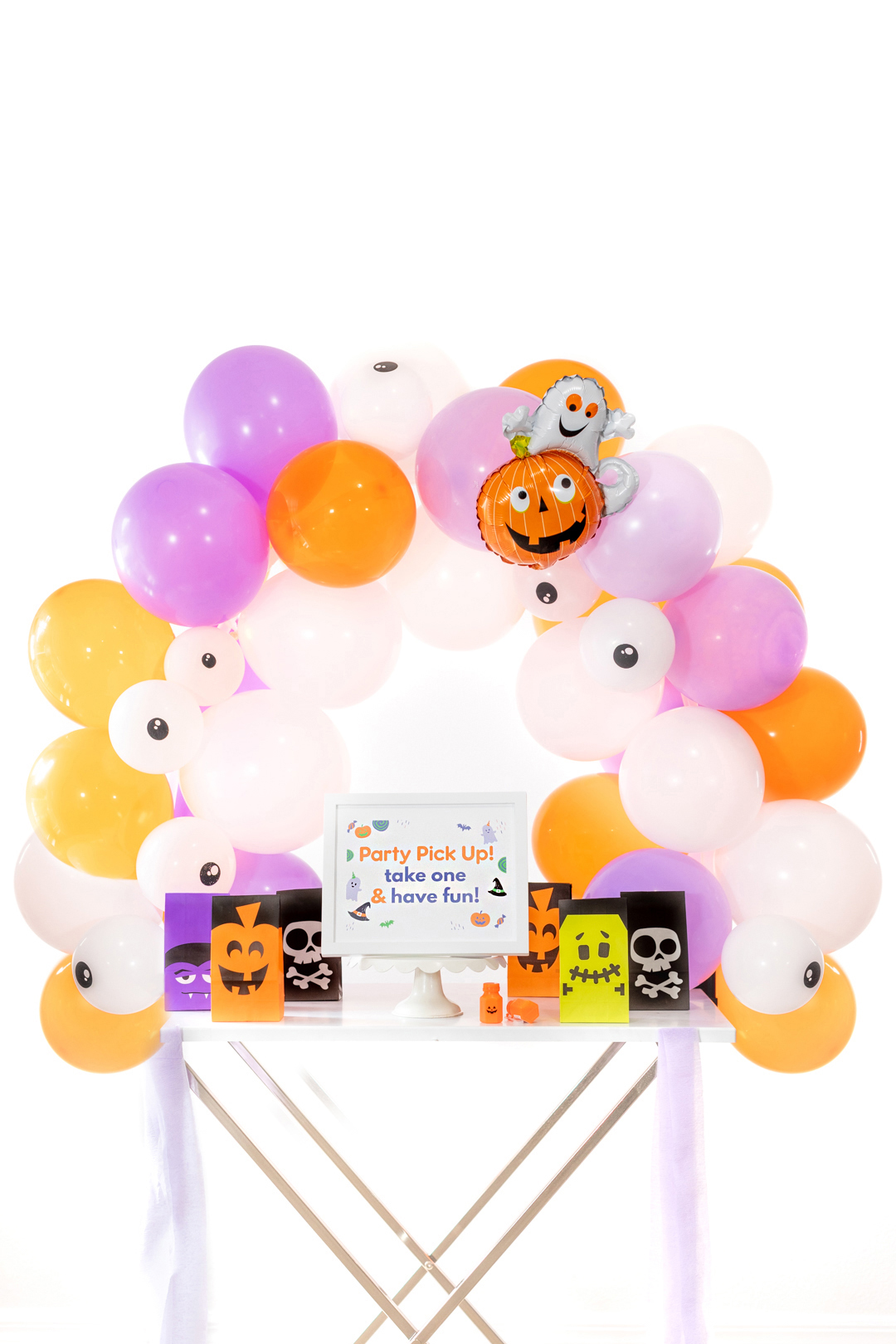 SET UP A COMMUNITY HALLOWEEN PHOTO BACKDROP
This is a fun way to get to have fun dressing up in costumes and making for a memorable holiday. One or more families can host a halloween photo backdrop in their driveway. Families can take turns coming to get their photos taken in their costumes.
Have participating families donate individually wrapped treats and candies that kids can pick up after their photoshoot.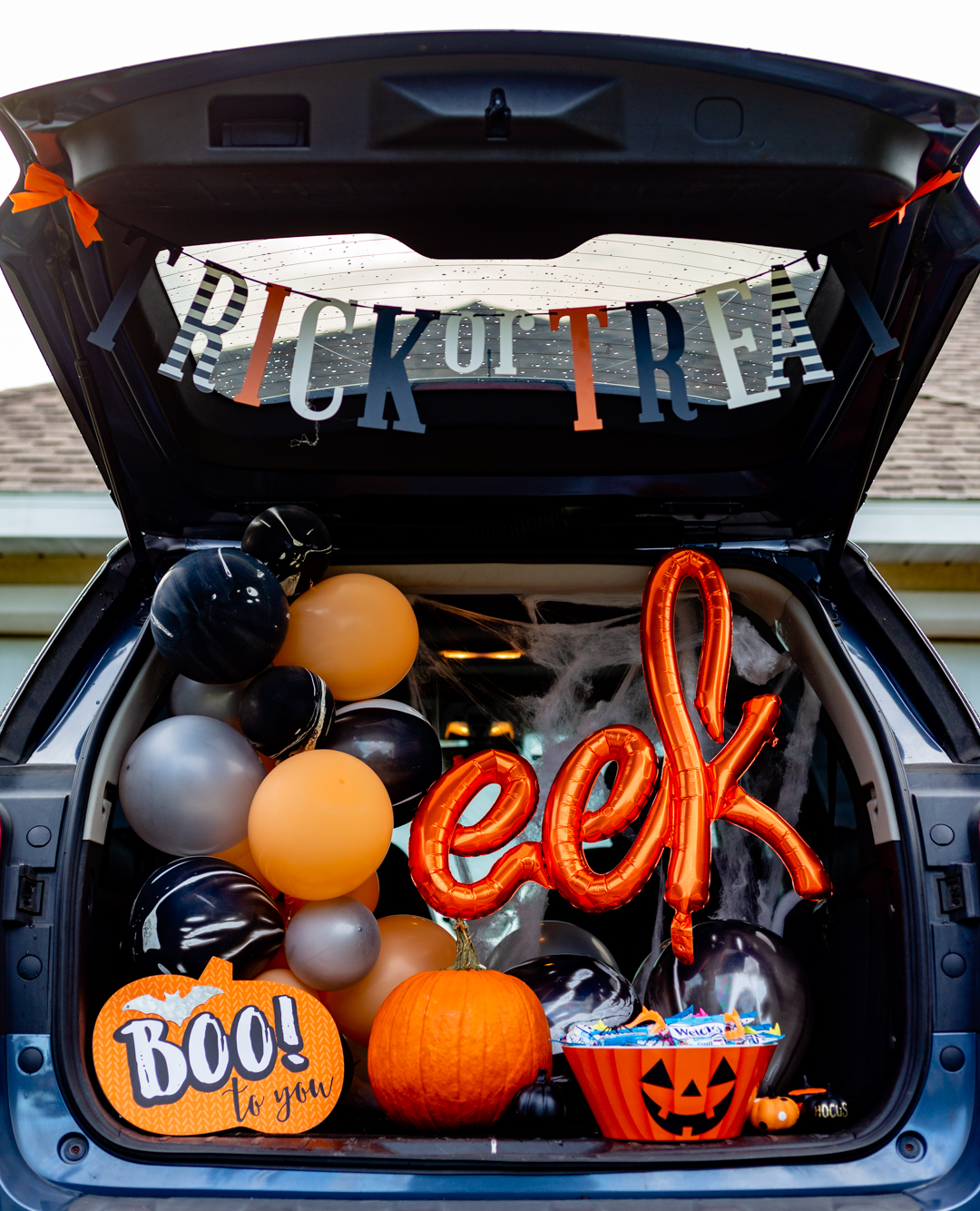 NEIGHBORHOOD DECOR PARTY
Get together with some families in your neighborhood and see if they want to join forces is decorating outside extra special for Halloween. If everyone is on the same page, you can plan to have things lit up so that everyone can walk by and enjoy them. Take it to the next level by individually wrapped treat bags at the end of the driveway for easy pick up on the walk through.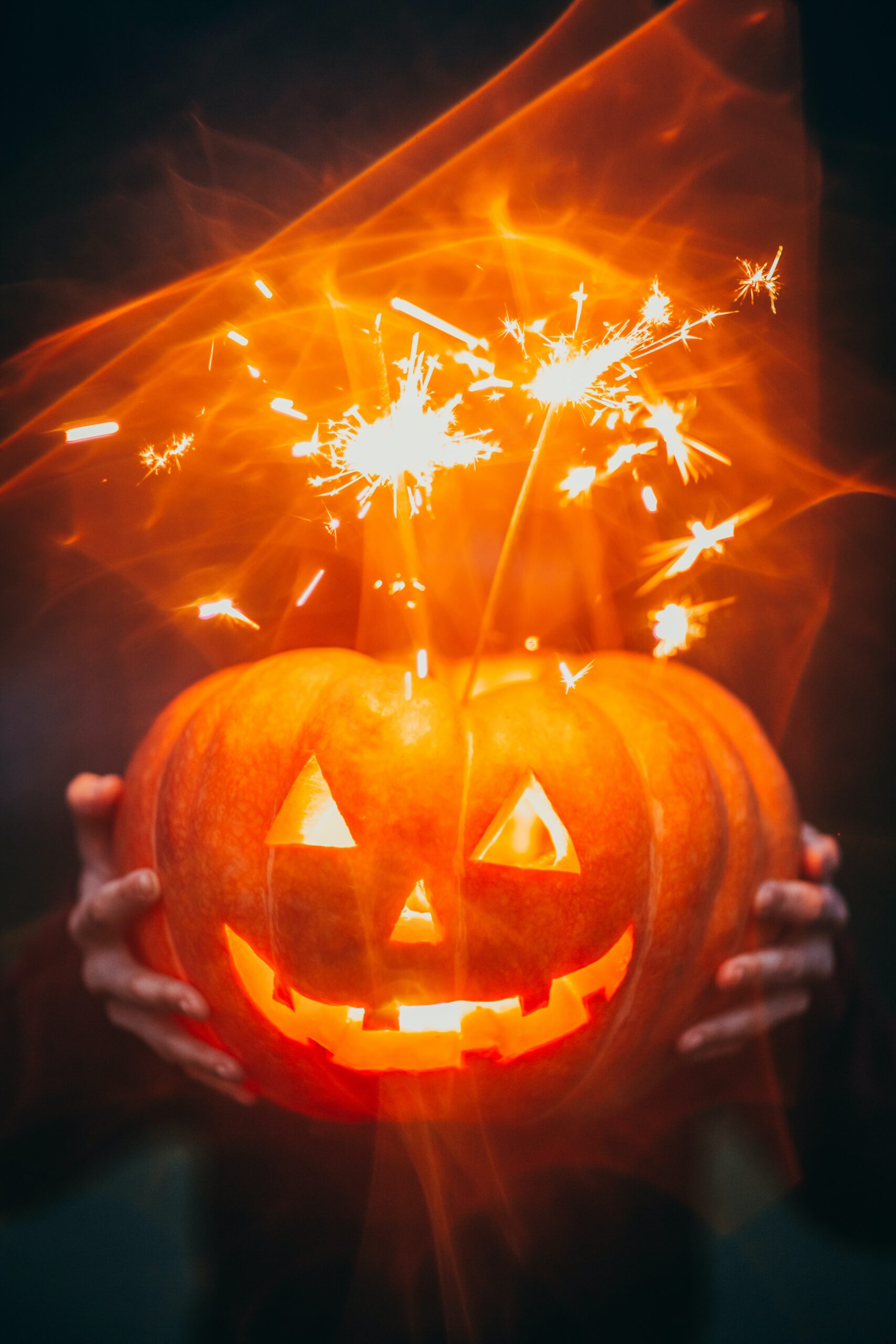 HALLOWEEN CAR PARADES
We've all heard of Trunk or Treating by now, but what about a car parade like the ones so popular for birthdays right now. Deck out your cars and arrange for a fun drive-by. Switch turns so everyone gets a turn to watch.
Phew! That's all I got for now. I will update this list in the upcoming months as I come up with more ideas.
Now onto other ways to celebrate Halloween.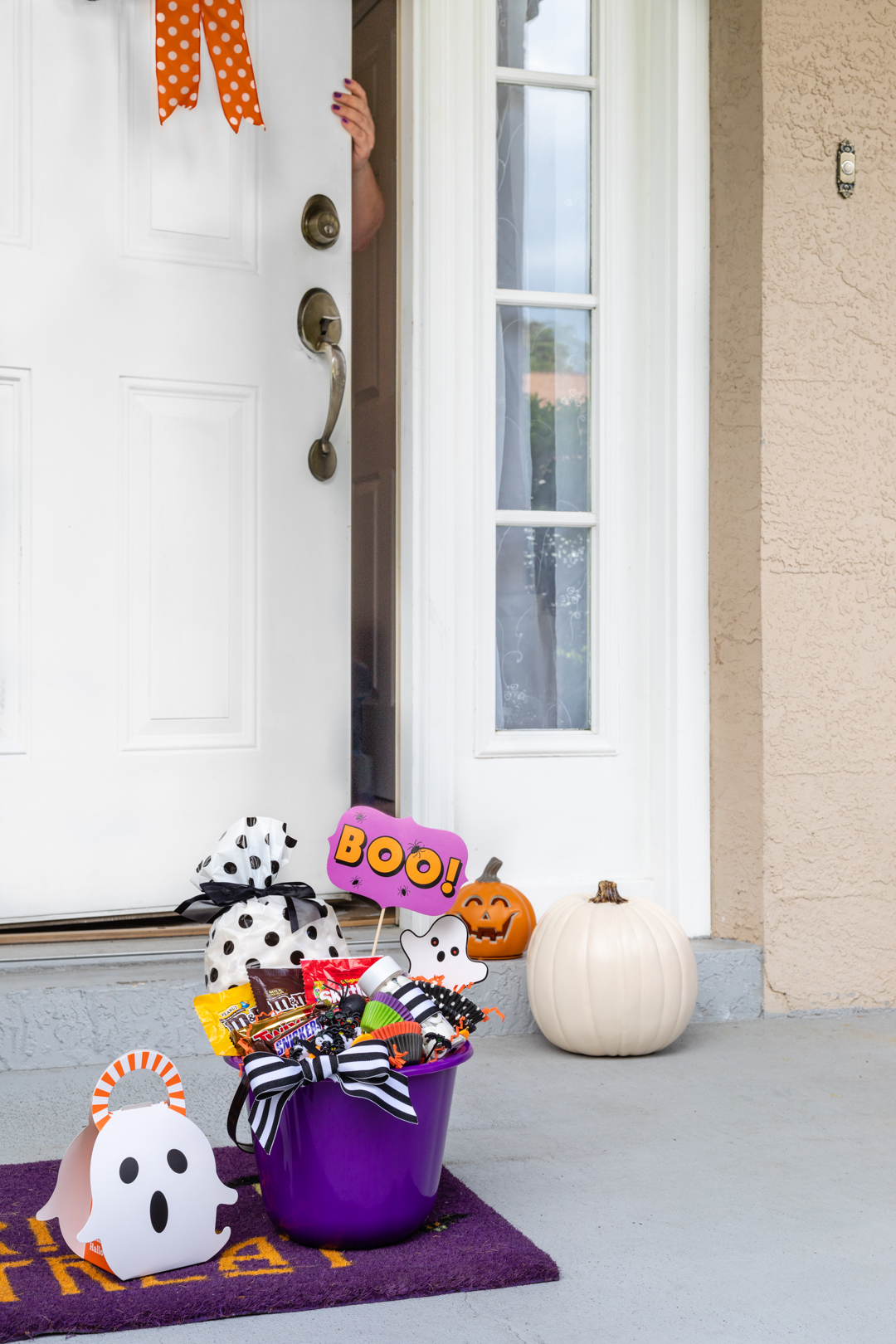 SEND HALLOWEEN SURPRISES
I've been pretty obsessed with the idea of sending surprise treats to friends and neighbors. Ever heard of Booing or getting Boo'd?
This would be PERFECT for Halloween, too.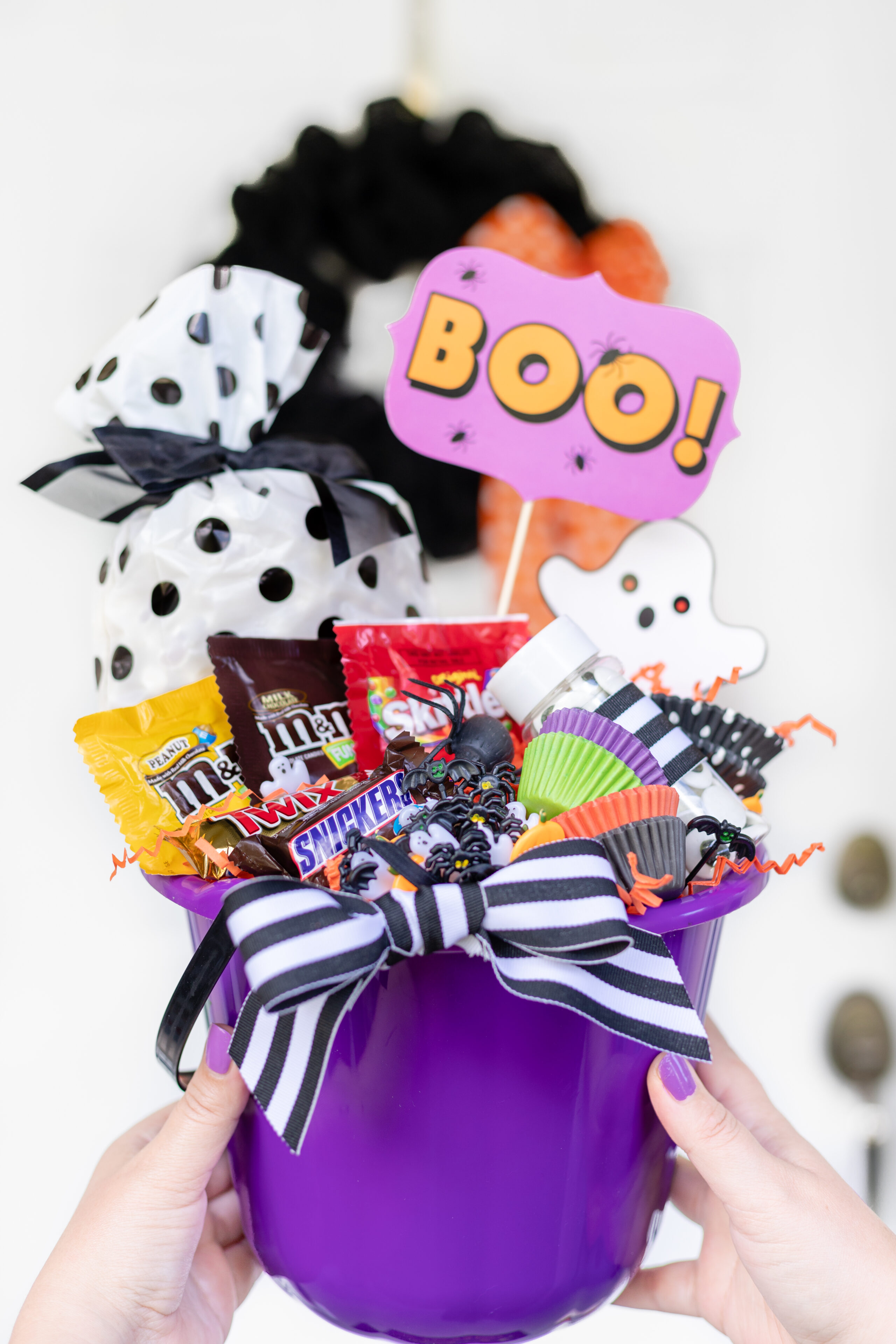 One of my favorite ideas are boxes where surprise balloons pop out when opened along with other goodies.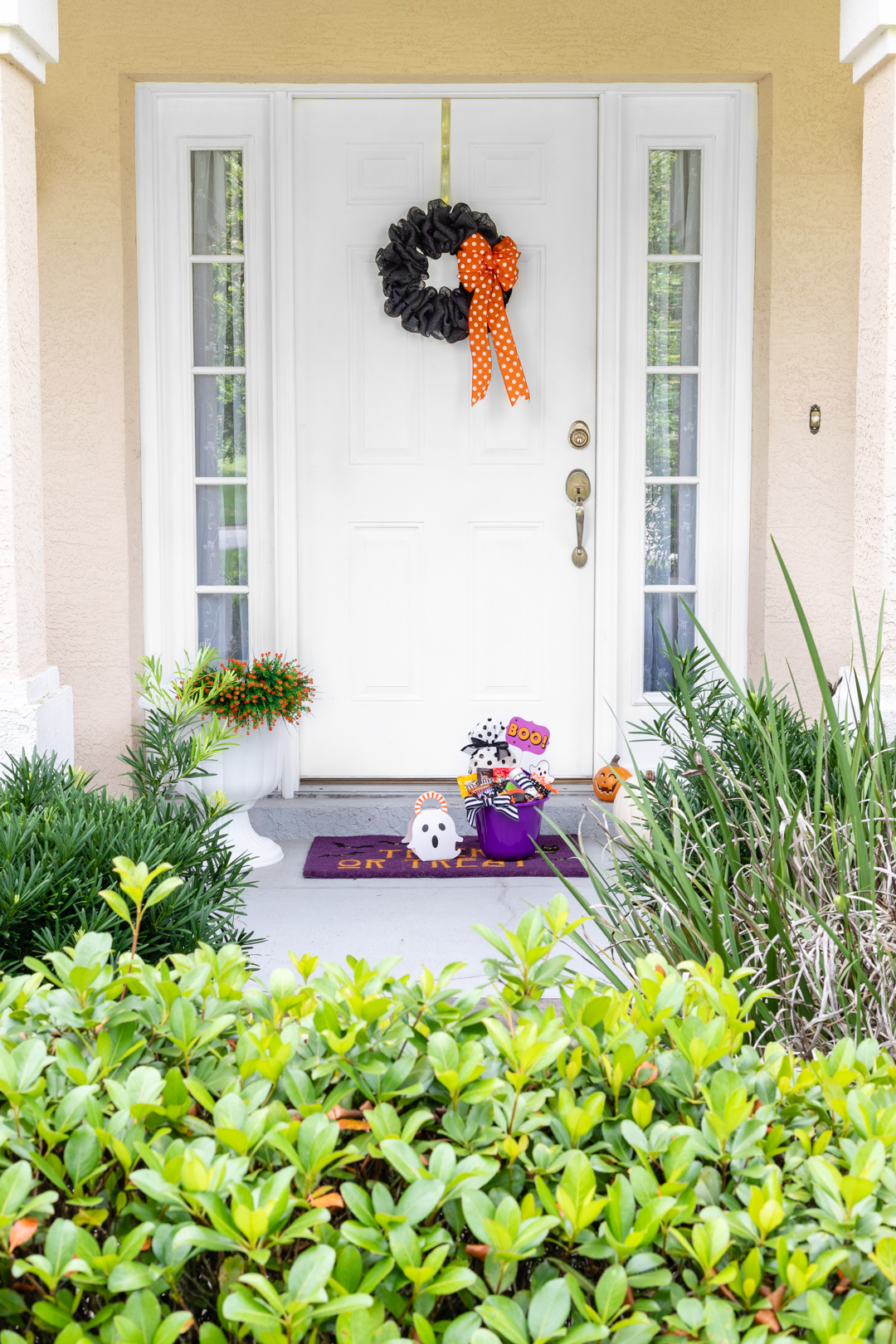 AMP UP YOUR HALLOWEEN FESTIVITIES
If there's anything I know, it's that keeping as much normalcy as possible is EVERYTHING. So this year, why not do it even BIGGER and SOONER. Decorate for Halloween both indoors and outdoors. Get the whole family involved. The garage is a fun place to decorate if you're into creepier ideas.

How to take Halloween decorating even more special?
Have a Virtual Decorating Party
Make it a Neighborhood Thing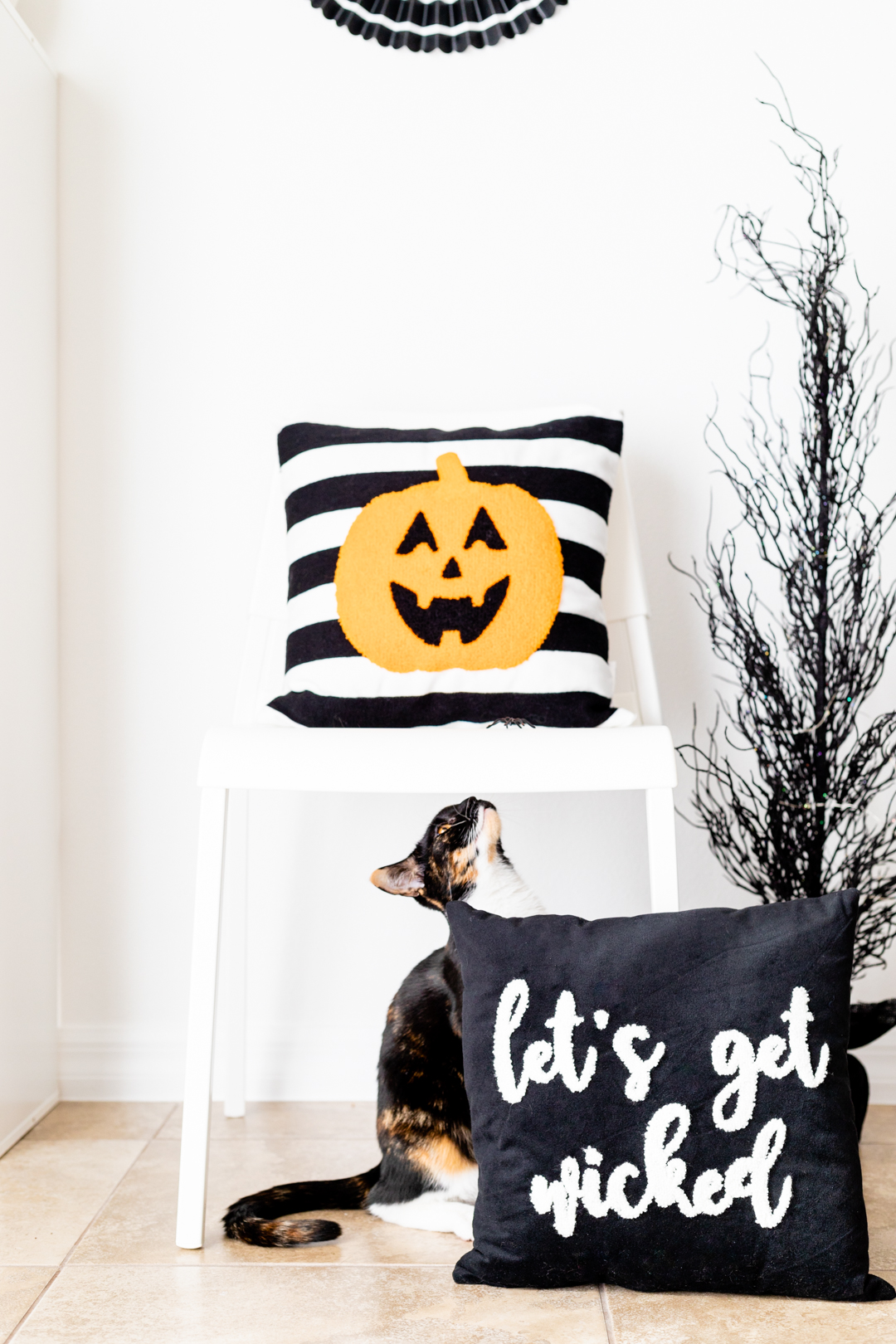 VIRTUAL DECORATING PARTY IDEAS
For many of us, one of the best parts of Halloween is decorating. We can turn that activity into a group party using Zoom, Facetime, Snapchat, and other similar apps to decorate with friends or family. Using these apps, the kids can talk to each other about what decorations are being put up, show each other the decorations as they go up, and even make suggestions to one another. For the adults, this is a great way to foster community, as well, giving us an outlet for human contact without actual contact. Don't forget the snacks!
VIRTUAL MOVIE NIGHT
We all have smartphones, and at this point with all the homeschooling, we also all have Zoom or some other form of video conferencing. We can use that to our advantage to have a virtual movie night. You and your fellow parents can choose a couple of movies - or more if you want to make it a virtual sleepover - on your favorite streaming service so the kids can all virtually watch together. Pop up your popcorn, throw a big double-handful of candy into a bowl, and set the kids up for a night of movies. Synchronize your movies, and fire them up at the same time. The kids can all enjoy the Halloween entertainment together, and they even get to have their candy!
VIRTUAL SLEEPOVER
You can extend the fun with a virtual sleepover. Have plenty of snacks on hand and lots of entertainment like movies and video games (most kids these days have online play). The same idea as a virtual movie night applies here, except that the kids will be up all night having fun. The only downside to this is that you will also be up all night. 😉 Of course, if Halloween falls on a weeknight, you'll have to wait for your Halloween celebration until the weekend, but it will be worth it. Some fun things you can do during your virtual sleepover include movies, snacks, video games, and telling scary ghost stories (make sure you have flashlights for that spooky face glow)!
SOCIALLY DISTANCED PARTY IDEAS
Remember, just because we choose to be physically apart doesn't mean you need to be emotionally separated. Use these socially distanced party ideas to help keep the sense of community that we all need so desperately and have a ton of fun in the process.
MORE HALLOWEEN IDEAS
Celebrate a cute and spooky movie night with this adorable ghost cake.
Live where it's warm like I do? These Frankenstein popsicles make for creepy fun.
Looking for something hauntingly hearty? This fun mummy snack board will be a hit.
Do you have any fun ideas to share? We'd love to hear from you!