Have you ever been "flocked"? There's nothing quite like that moment when you step out of your front door in the morning to find out that your yard is "flocked" full of bright pink flamingo lawn ornaments. And when it comes to making someone smile and pulling off one of the most epic adult pranks ever, telling someone that "You've Been Flocked" ranks up there pretty high.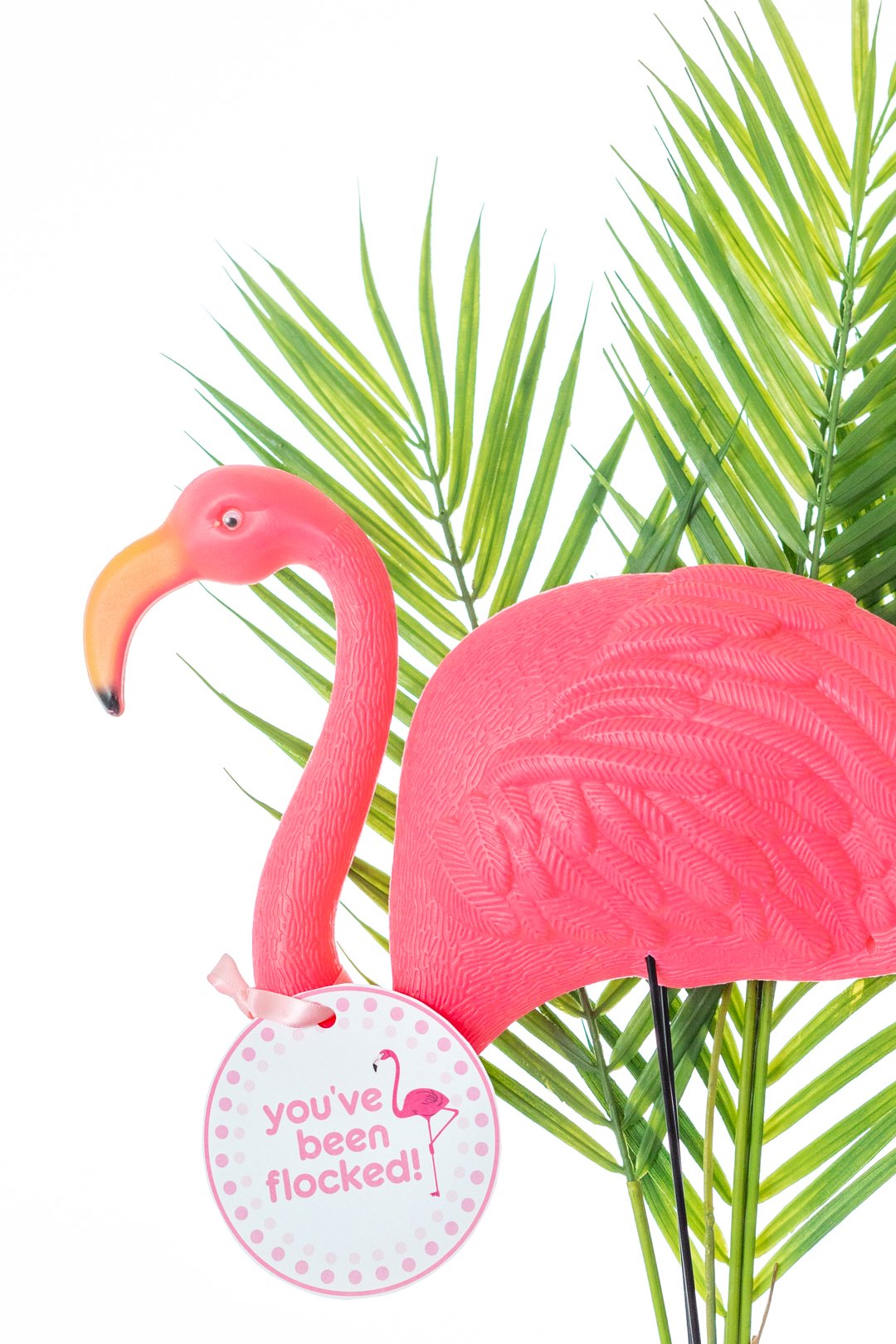 The idea of "flocking" has been used as a cool fundraiser challenge, too.
Now that a lot of people are searching for how to celebrate while social distancing, this could not be better timing to come up some flocking twists. Instead of being a prank, I wanted to turn it into more of a fun surprise. I've been thinking long and hard about unique "you've been flocked" ideas and I have to say, I'm pretty darn excited about the options. It's a great way to cheer up friends and family who might be spending more time indoors this summer.
Be sure to scroll to the bottom of this post for all of the items used in this post.

Sticking plastic flamingos in someone's yard and leaving it at just that is so 2019...It's time to get with the program of 2020 being the year of unique and crazy and up your flocking game. It's no coincidence that a flock of flamingos is called a "flamboyance" so this is why flamingo flocking should be something loud, proud, and have no limits!
If you're ready to take your first flocking victim, you need these unique "you've been flocked" ideas. I can assure you that these have probably never been done before...but they should be happening more!
YOU'VE BEEN FLOCKED - UNIQUE WAYS TO FLOCK YOUR FRIENDS
While putting plain old pink plastic flamingos (whew, say that five times fast!) in your victim's yards is fine, it's time to take it up a notch and try these unique ideas instead. These could easily be used to cheer someone up and surprise them in all the best ways this summer.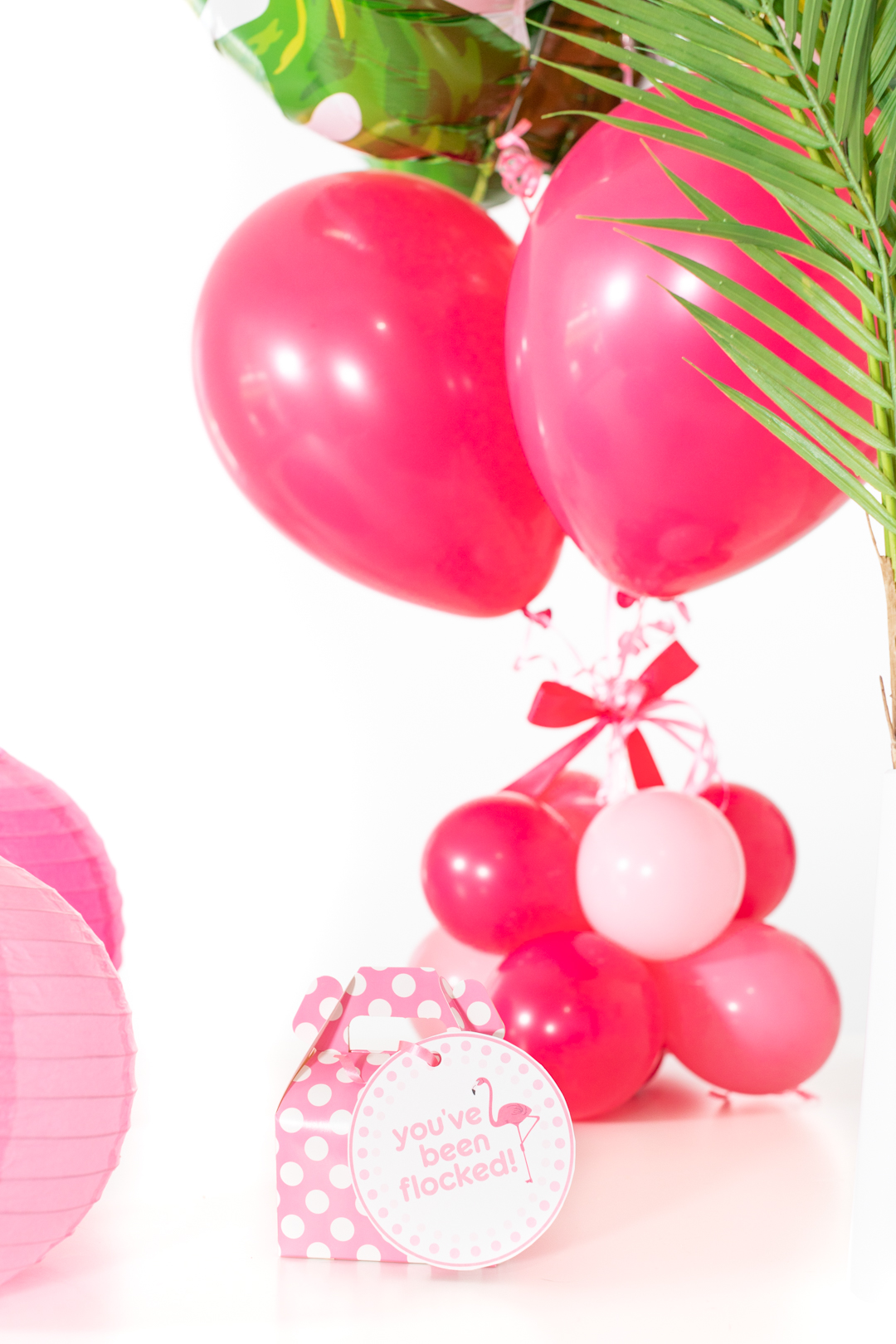 Before we get started, I wanted to share this free printable download!
You've Been Flocked Download - 4 pp (PDF)

TREAT BOX WITH MINI LAWN ORNAMENT FIGURINES AND FLAMINGO TRINKETS
The internet is a beautiful place where you can literally find ANYTHING that you want. Find some mini flamingo lawn ornaments and fun flamingo trinkets and put them in a treat box full of chocolates and fruits. Don't forget to add a note that reads "You've Been Flocked" and leave it sitting on their stairs.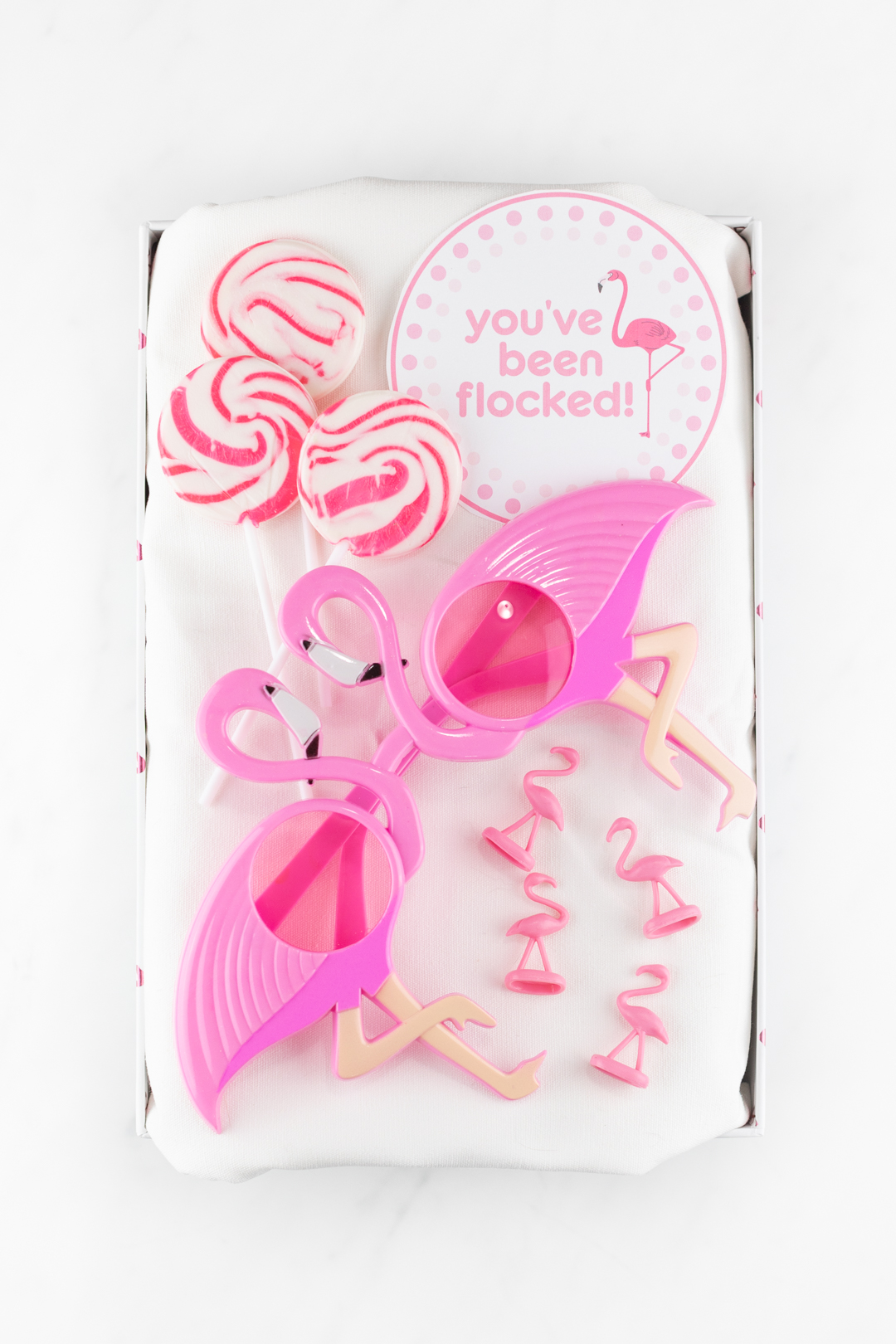 DELIVER A CAKE DECORATED WITH FLAMINGO LAWN ORNAMENT CANDLES
Everyone loves cake! Take matters in your own hands and have a cake delivered (or bake one yourself if you're feeling feisty) and decorate it with Mini Flamingo Ornament Candles. Use some fun writing icing (pink in color, of course!) and write "You've Been Flocked!" on the cake! Not sure about you, but I'd love to be the recipient of a flamingo cake!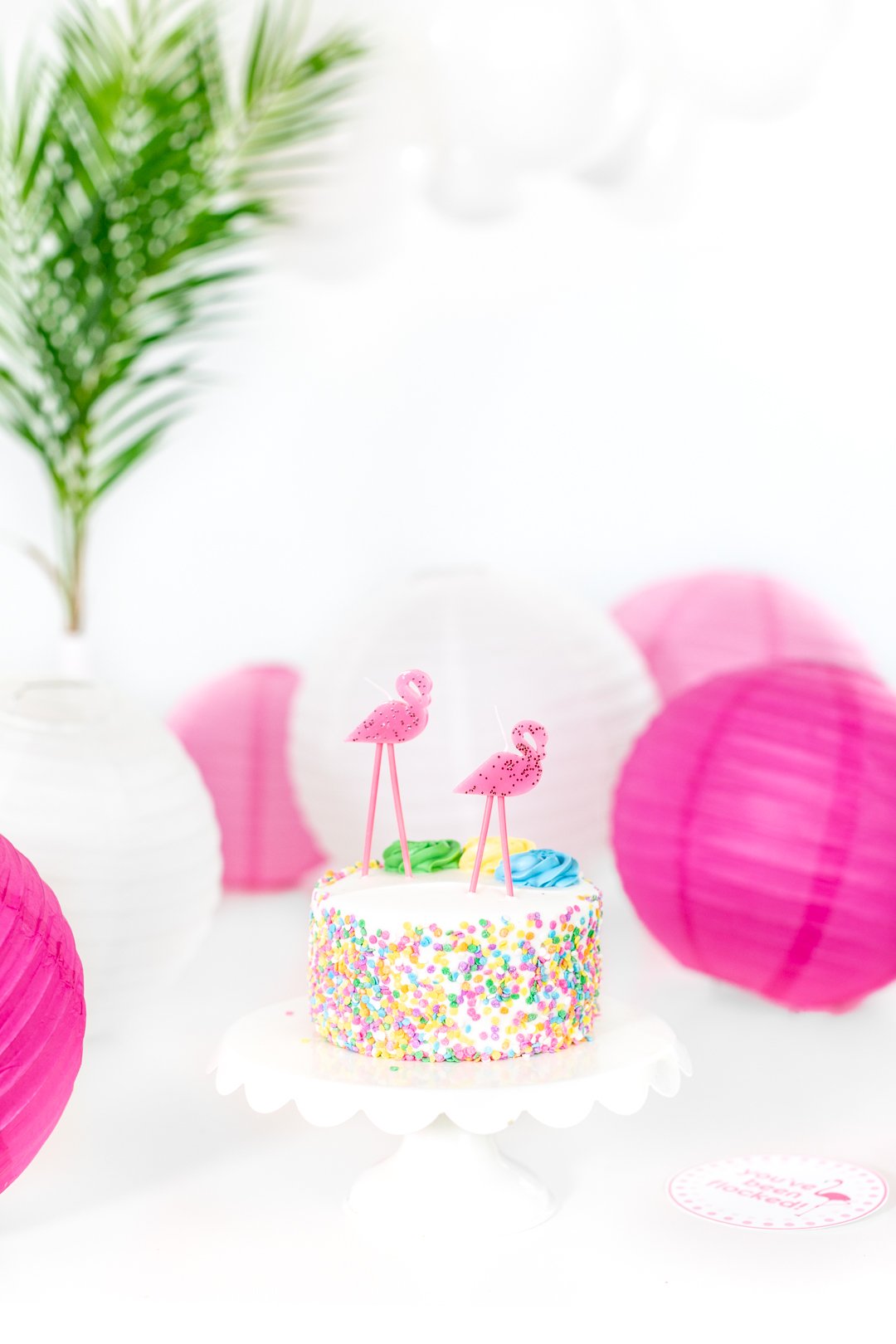 You could also bake up these adorable Flamingo bars to deliver. These Christmas themed flamingo cupcakes are also a good one to check out.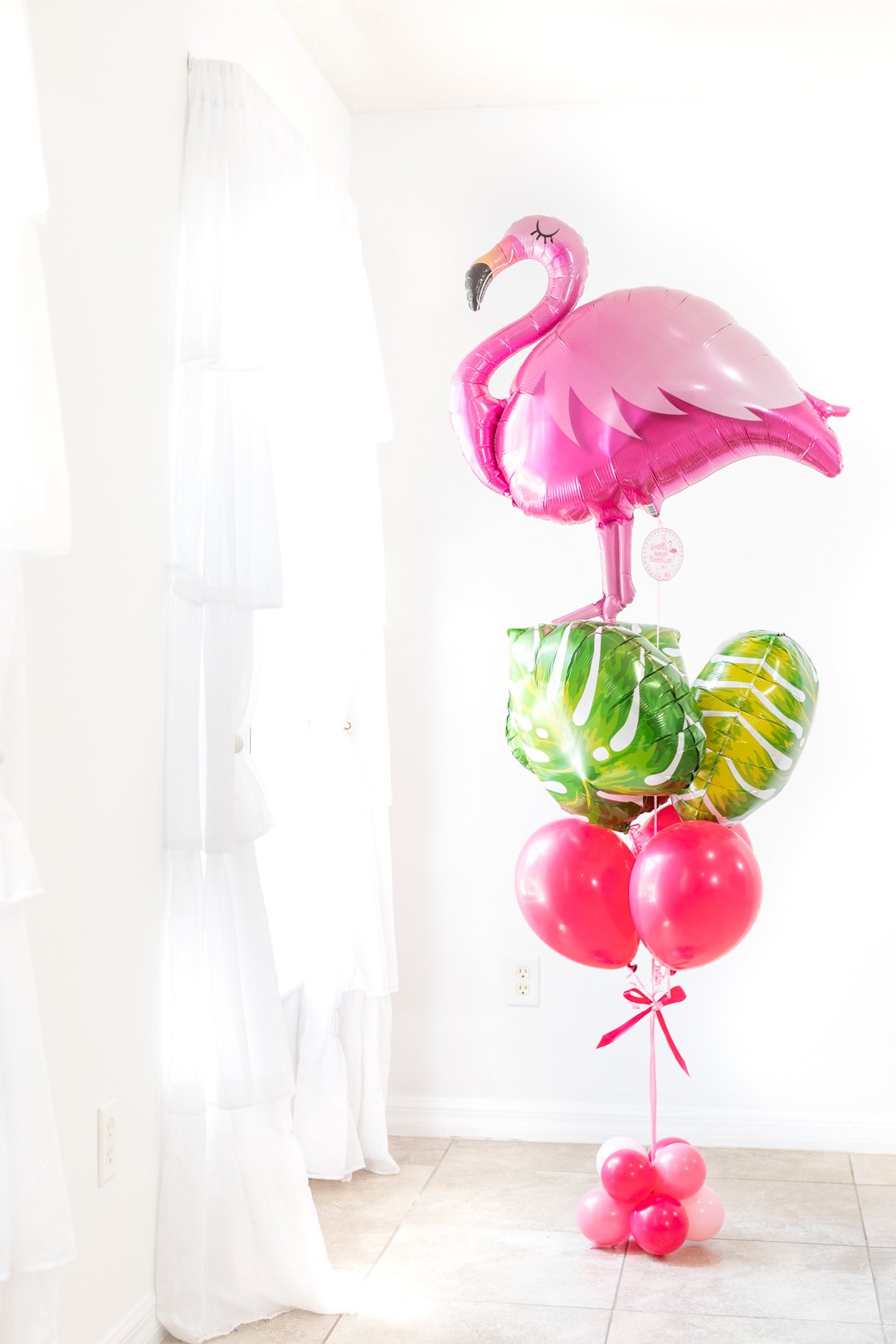 BALLOON BOUQUET WITH FLAMINGO BALLOONS
Skip on the plastic flamingos all together (sticking them in the ground is hard work!) and surprise them with balloons instead. All you need to do is a get a bundle of flamingo balloons at the balloon store or order online for a DIY balloon bouquet and leave them on their steps with a note that says "You've Been Flocked".
(If you want to be a really great friend, use a fun bottle of wine or something like that to be the balloon weight at the bottom of the balloons)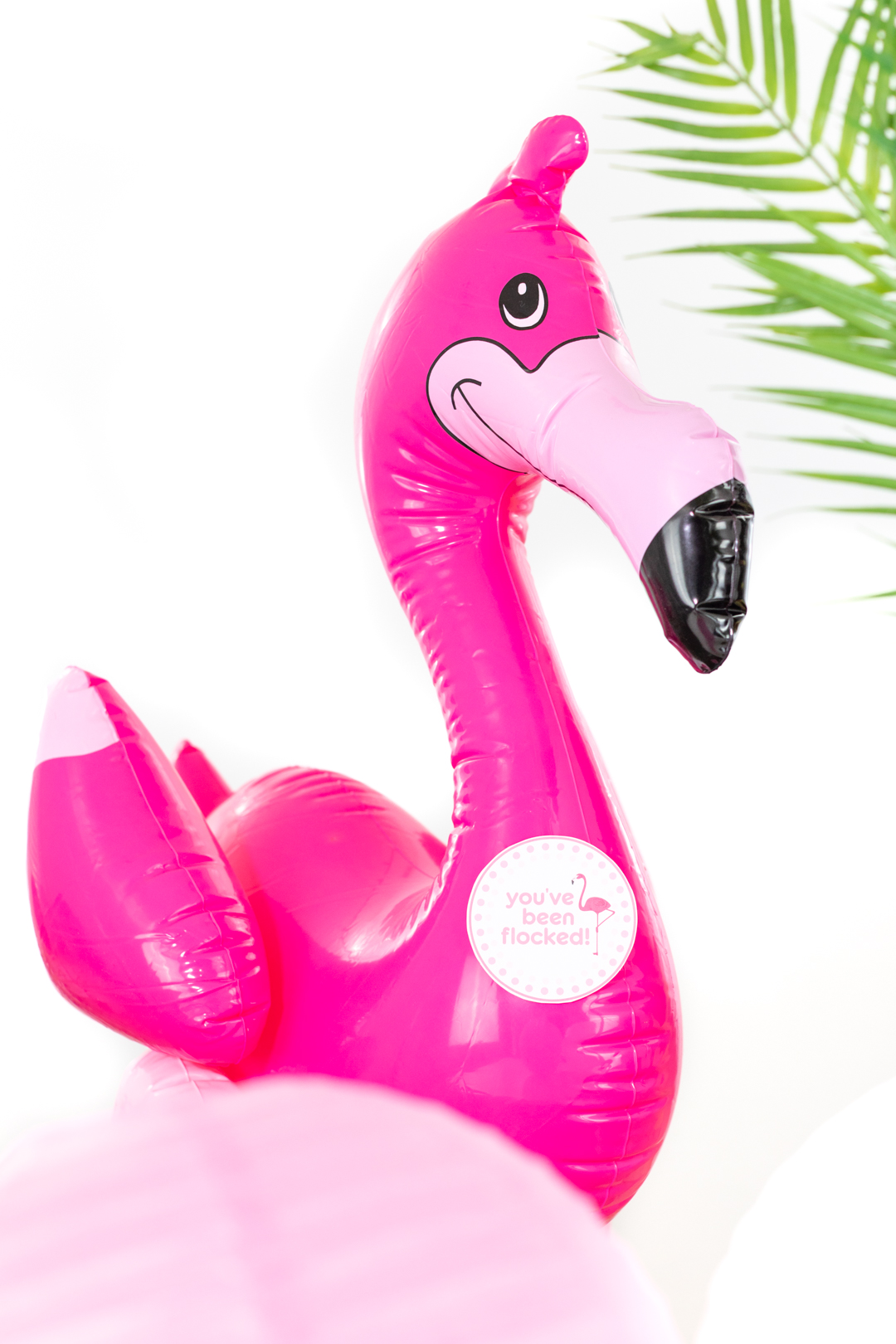 DELIVER A BIG BLOW UP FLAMINGO
Go big or go home! I found this huge blow up flamingo toy that would be PERFECT for flocking someone with. You could also use a flamingo pool float as well.
COMBINE FLAMINGO FLOCKING WITH IT'S 5 O'CLOCK SOMEWHERE
What better way to show someone that they've been flocked than by leaving personalized flamingo tumblers on their steps, along with a bottle of wine, champagne, or a six-pack of beer. (and if you're asking me, this is one epic surprise that most adults will truly love!)

"You've Been Flocked" Items
Here are some fun products and gift ideas to use to surprise someone with a you've been flocked delivery.
WHAT IS THE POINT OF FLAMINGO FLOCKING?
Who says that there has to be a point? It really comes down to the fact that it's super fun and a great way to surprise your family and friends. During times when people might need a bit of a pick me up, flocking their homes with something silly (or tasty!) can be a simple way to put a smile on their face and a warm and fuzzy spot in their heart. A perfect no contact way to stay connected.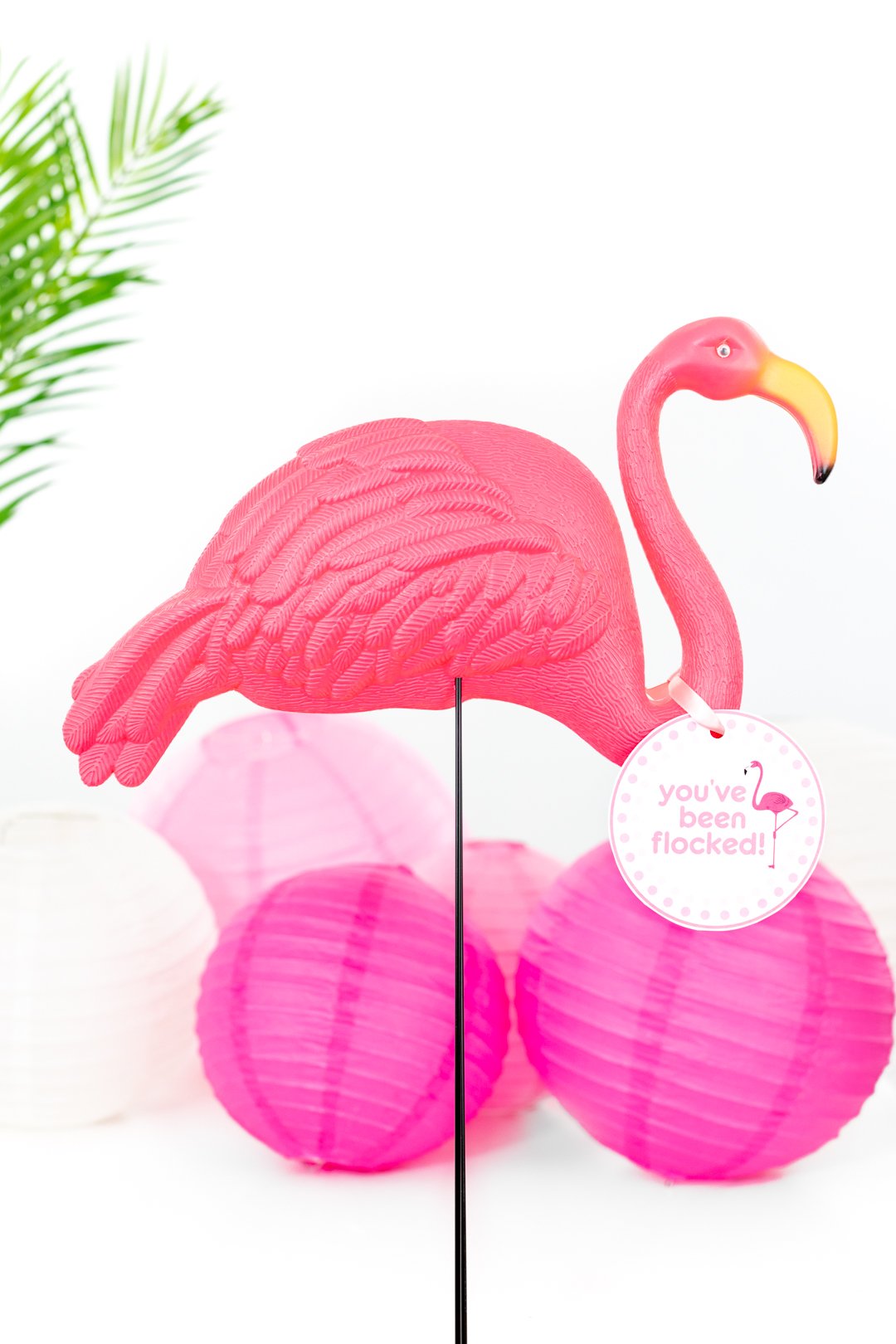 HOW DOES FLAMINGO FLOCKING WORK?
There is actually a premise behind the whole "You've Been Flocked" movement. Basically, when one person gets flocked, it's as though they've just been "tagged" and are now "it". And what that means is that it's time for them to think up a fun way to flock someone else.
While most people revert back to the pink plastic flamingos and just sticking them in the yard, these unique "you've been flocked" ideas are something that you should really try to do.
WHY DO PEOPLE GET FLOCKED?
This is why flocking is such fun! There isn't just one reason why someone gets flocked. Flamingo flocking can happen as a prank, as a birthday celebration, as a "job well done" celebration, or as a fun way to organize a fundraiser and gain some exposure fast. As long as everyone participates in being flocked, the idea of flocking will go on for quite some time.
The best part about "You've Been Flocked" is that it gives everyone a chance to be a part of the fun. From parents to kids, you'll find that once you start flocking your family and friends, there's going to be no limits on who is going to be next!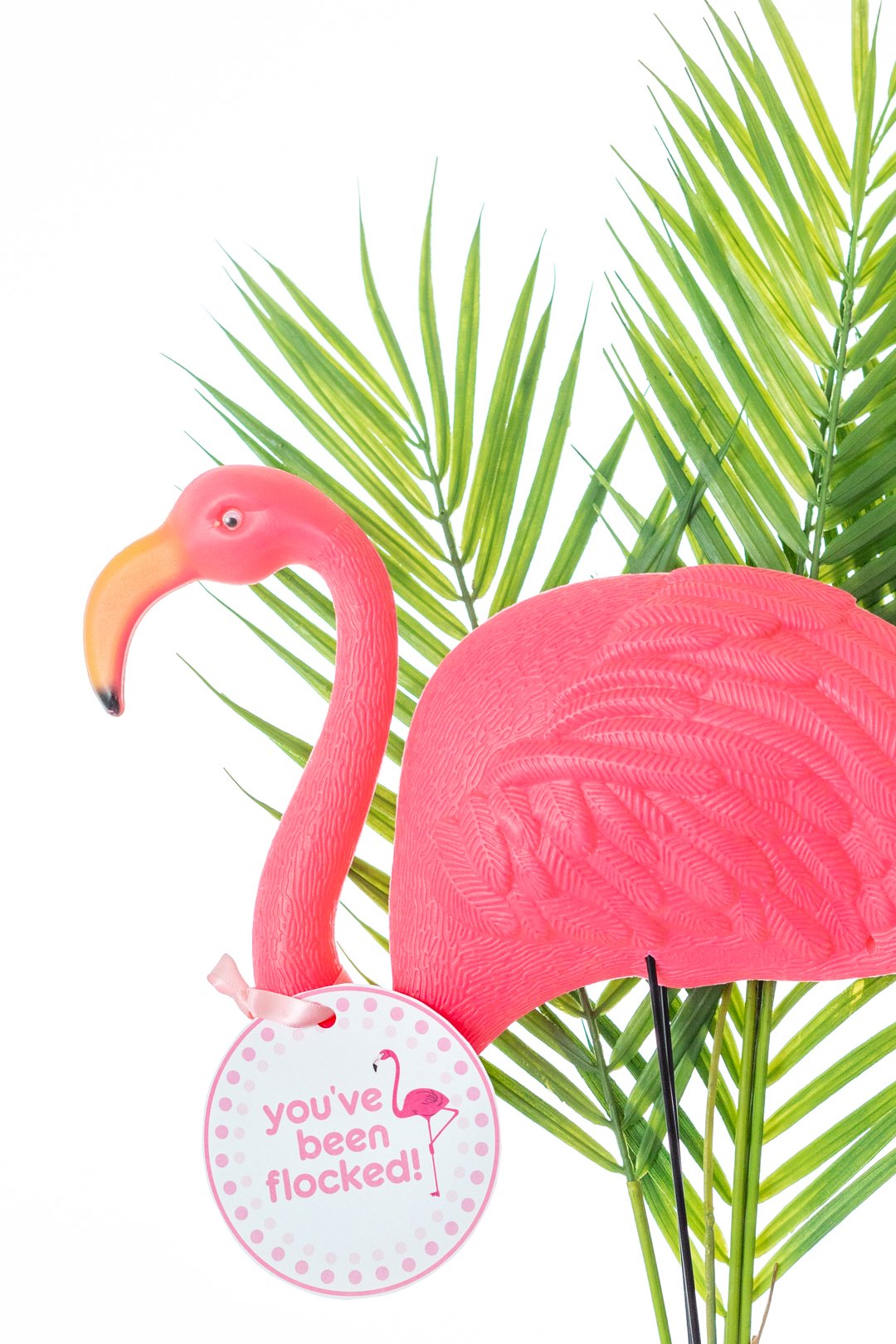 Do you have any other fun unique "You've Been Flocked" ideas?