Easy Flamingo Dessert Bars are perfect for summer parties. Perfectly pink dessert topped with the best flamingo sprinkles around. Using an easy base recipe for blondies, you can easily create the perfect dessert to match any party theme. If you're looking for food for a flamingo party, you have come to the right place! Let me show you how easy these bars are to make. This post contains some affiliate links, if you make a purchase I receive a small commision.


I have to admit that I'm a sucker for cute foods and colorful sprinkles. A flamingo theme is all too perfect for parties in the summer, it is an easy timeless hit with a trendy flair if you ask me. Let's get the summer soiree started, shall we?
EASY FLAMINGO DESSERT
I'm all about easy party planning tips and this dessert recipe totally fits the bill. Using my basic recipe for cake mix blondies, some pretty pink food coloring along with the perfect flamingo and pineapple sprinkles, this pretty dessert will wow everyone at your next summer party.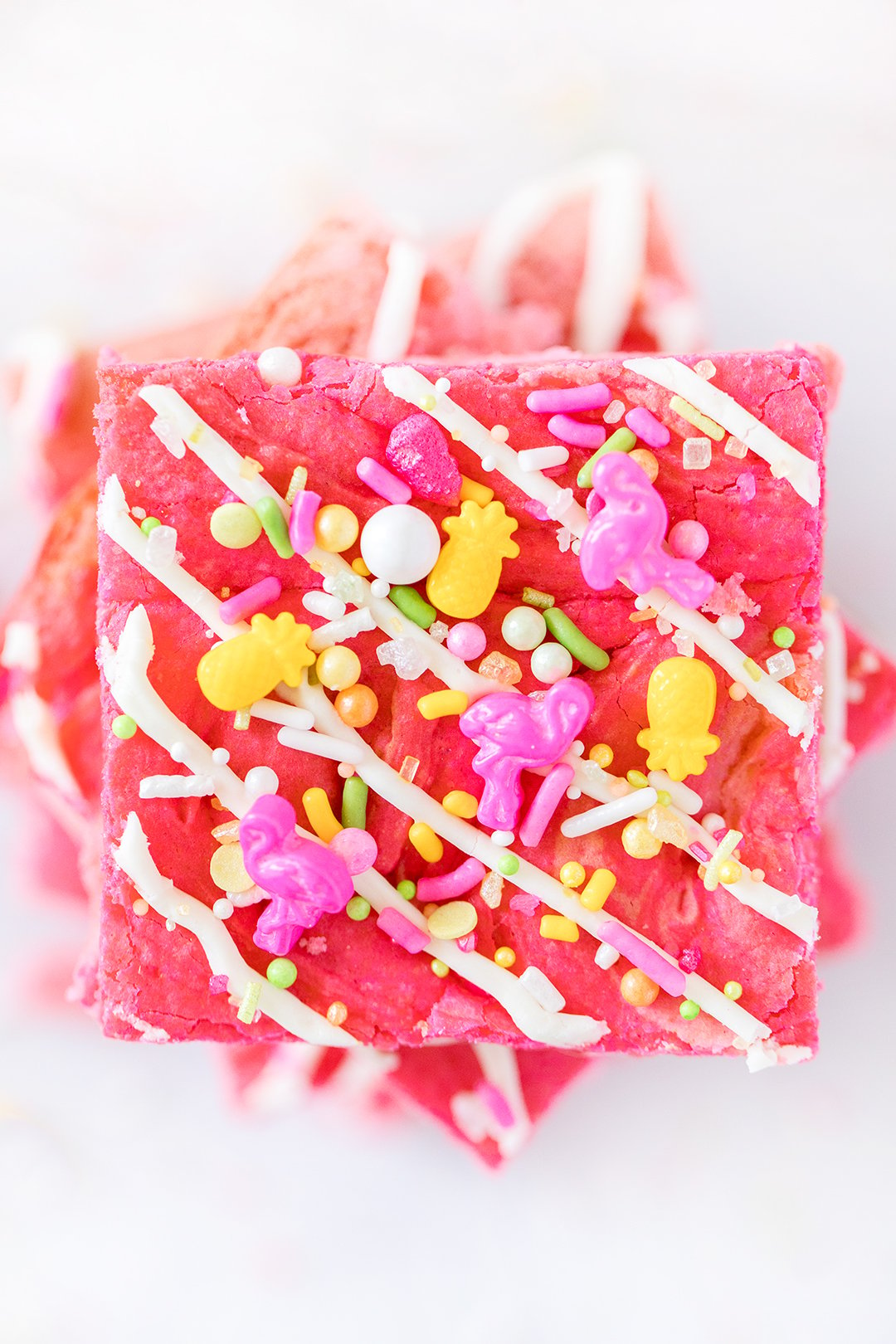 HOW TO MAKE CAKE MIX BLONDIES
Ingredients to make these easy dessert bars start with white cake mix and ingredients like vegetable oil, an egg and some milk. The addition of white chocolate chips makes them instant blondies. Pretty pink food gel makes them pink and the very best sprinkles take these right over the top.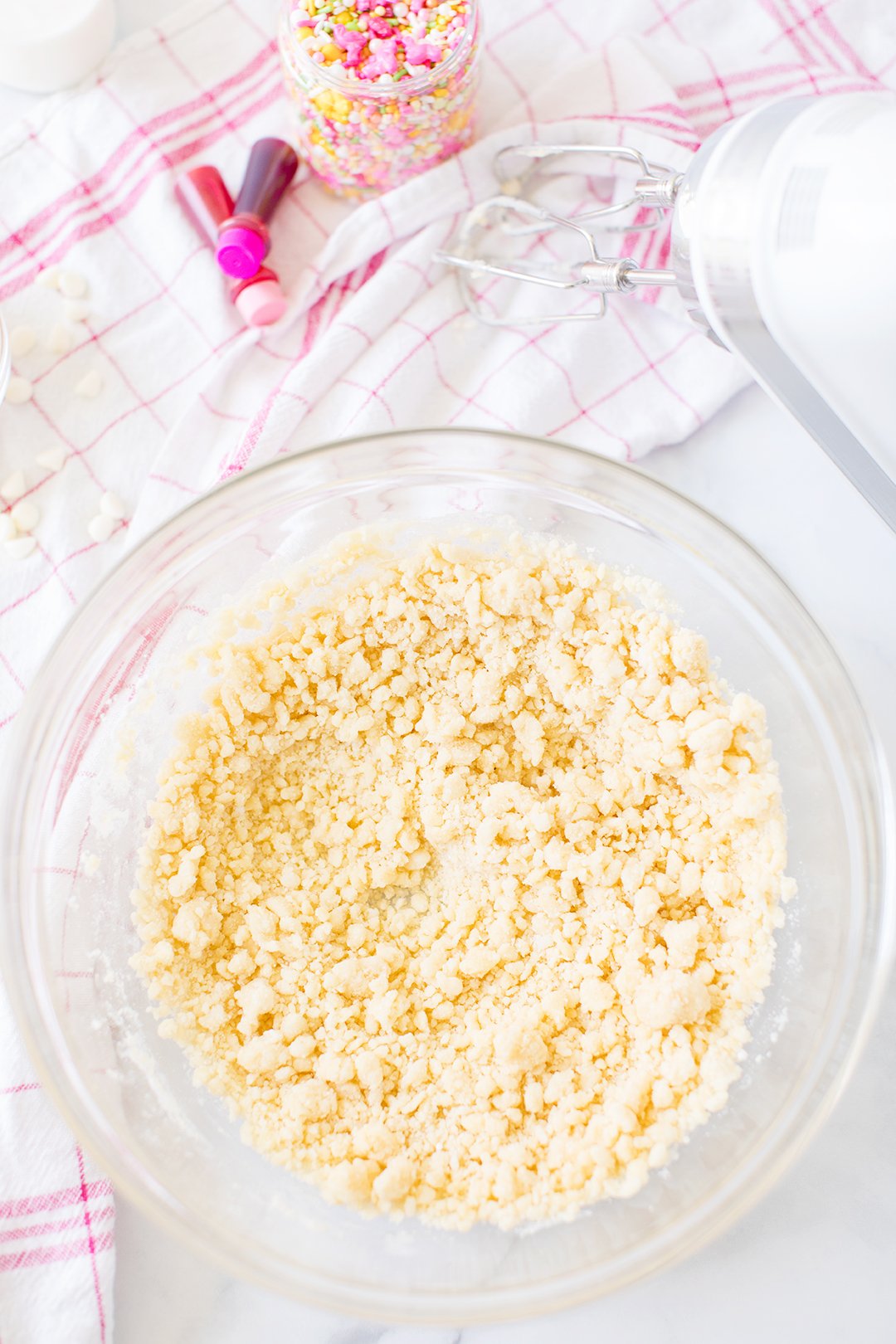 Once the main batter ingredients are combined and resembles silly putty, it's time to add the white chocolate chips.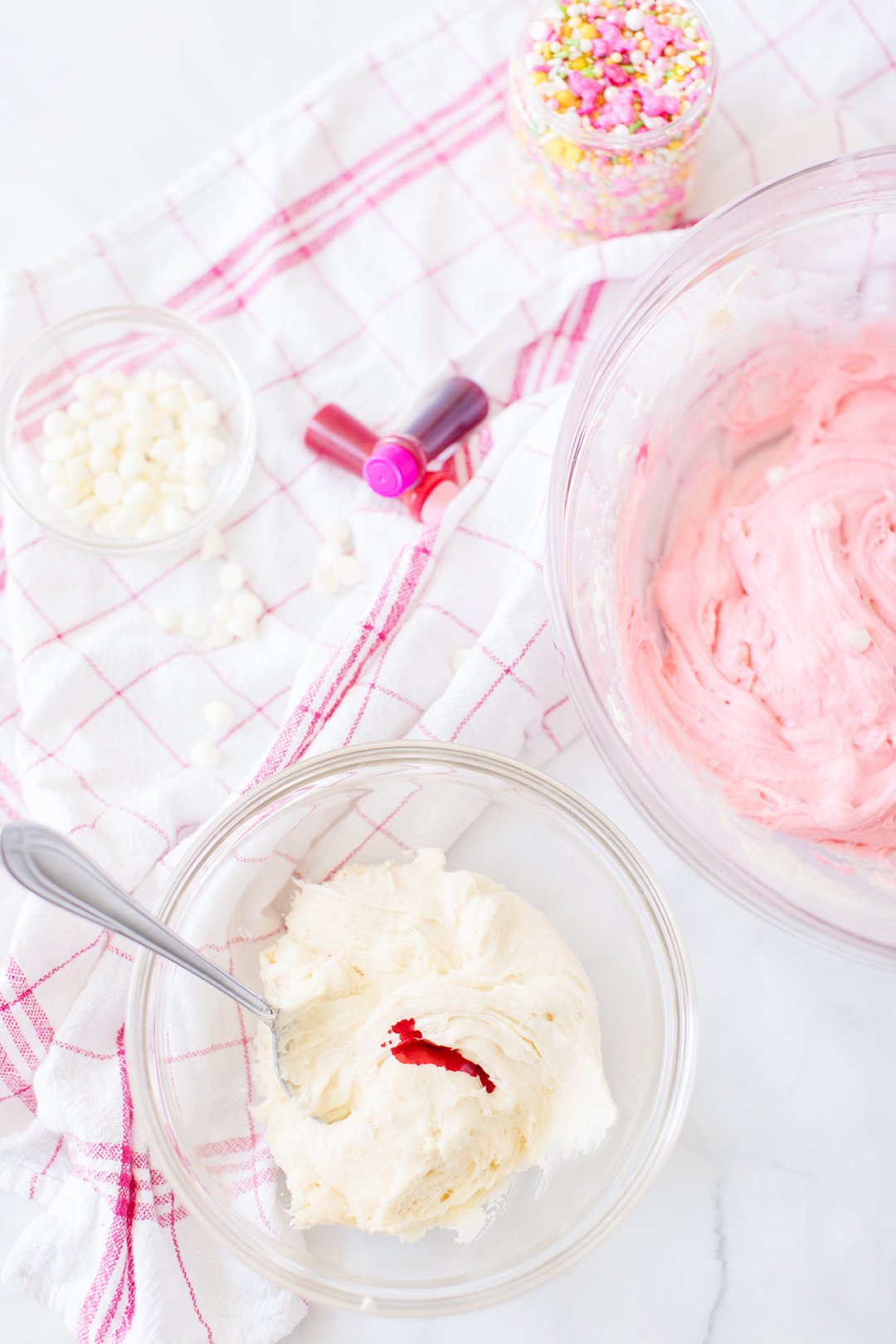 Once the batter is blended, it's time to separate it to make two different shades of pink using food gel.
HOW TO MAKE PINK DESSERTS
If you've tried coloring baked goods with food coloring in the past, you know how easy it is to wreck them. The solution is very easy. It's crucial to make sure that the dessert does not burn in the oven. The simple solution to avoid burning is to be sure to add foil completely over the baking dish for the majority of bake time. It's the key to colored treat success. To get a variety of sharp pink colored desserts, I recommend using the pink color from the Wilton Neon Gel Food Color Set. Here are some tips to making your own pink sugar, too.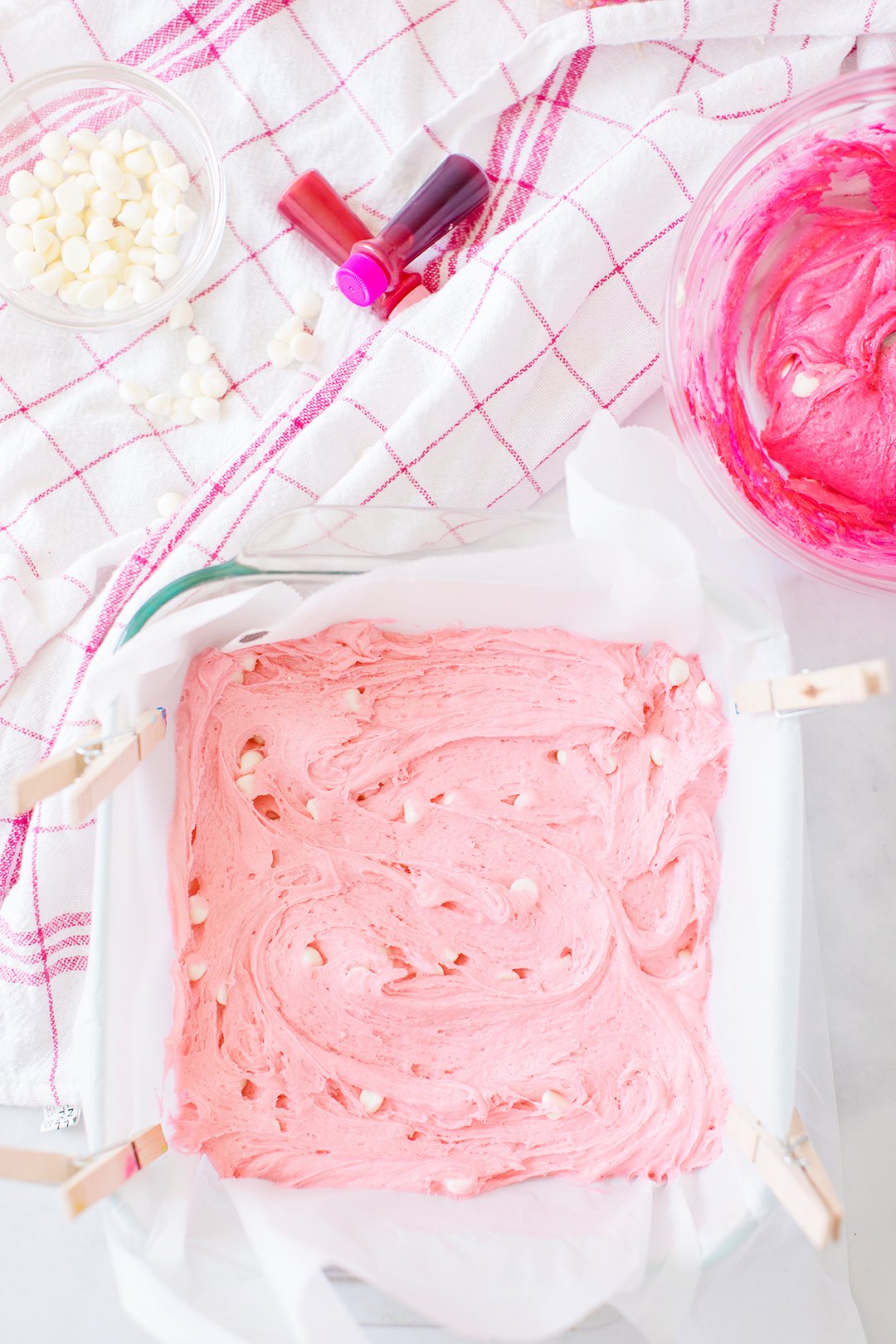 Next, we'll transfer the lighter pink batter to a parchment lined baking dish.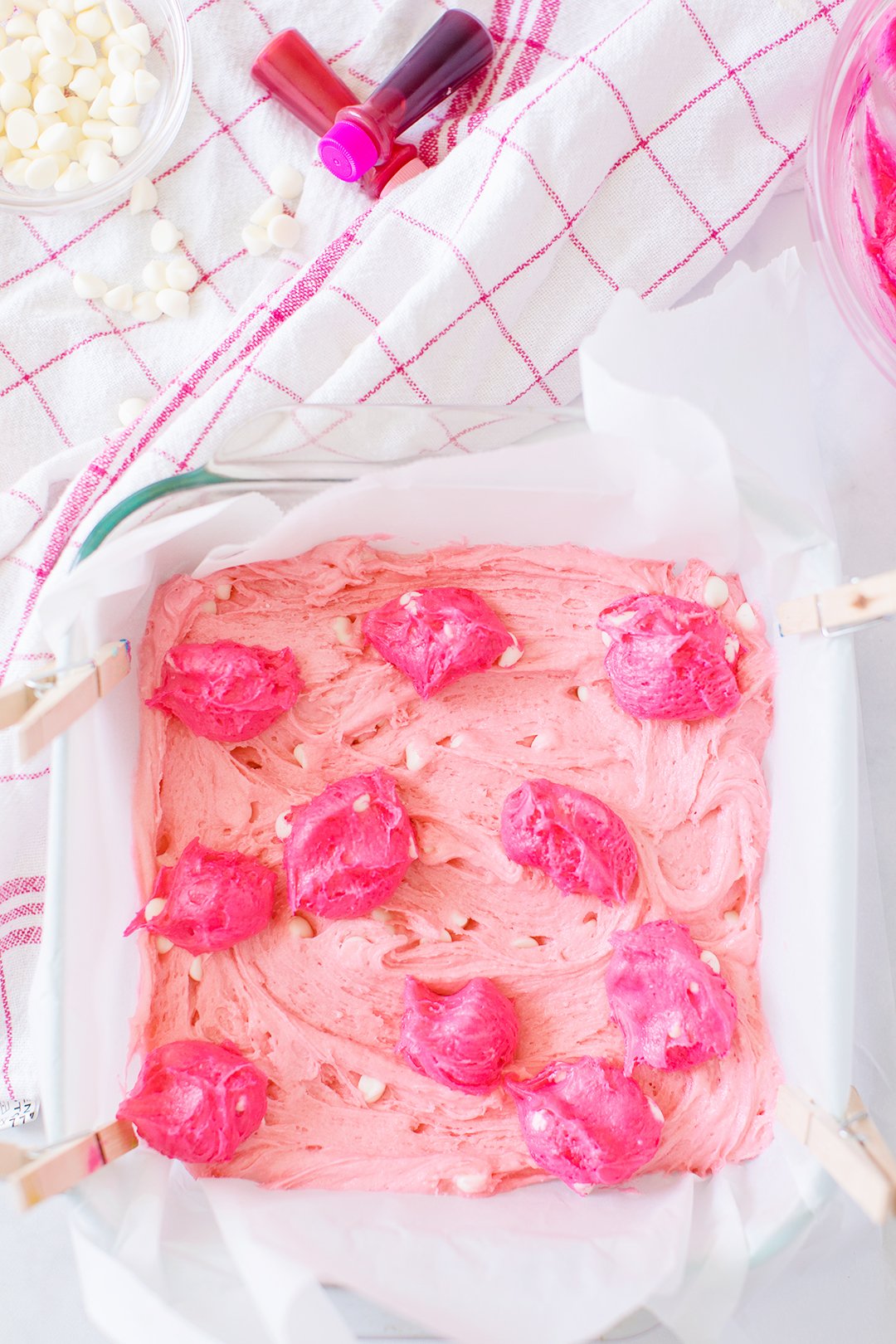 Next up, we'll spoon the brighter pink batter on top and use a knife to create a swirly pattern.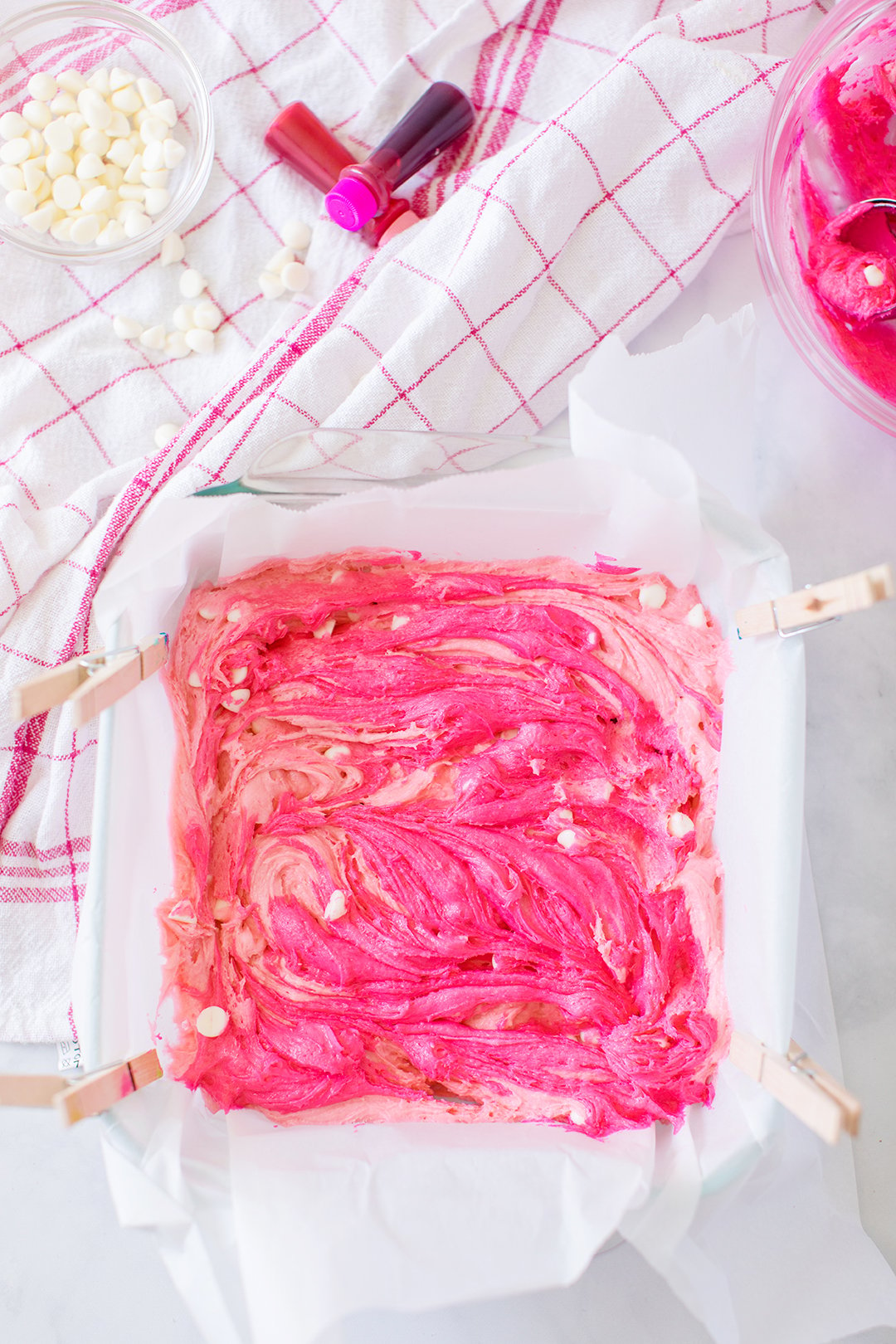 Once the bars are baked and cooled, it's time for the extra fun part.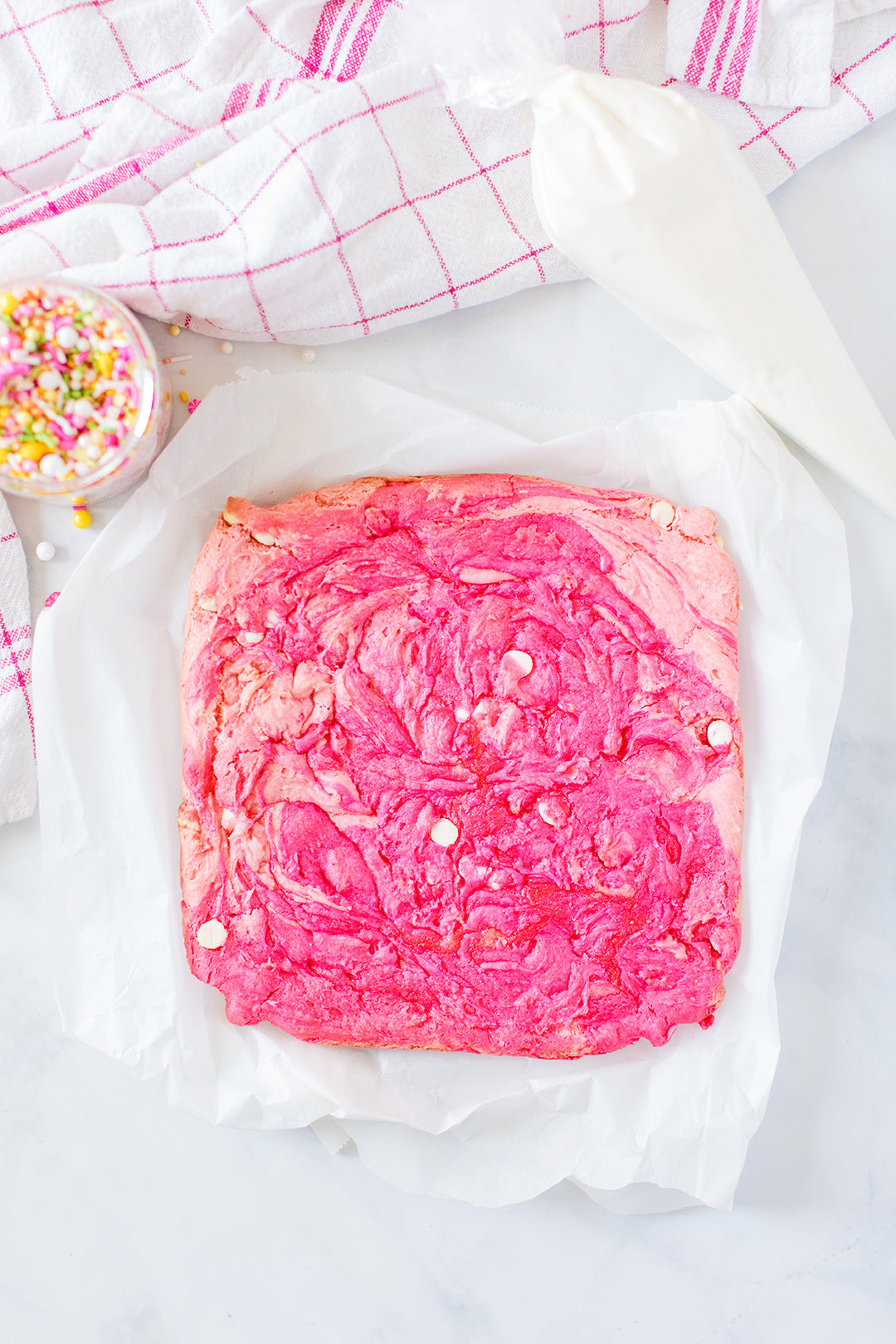 It's time to drizzle the frosting over the bars!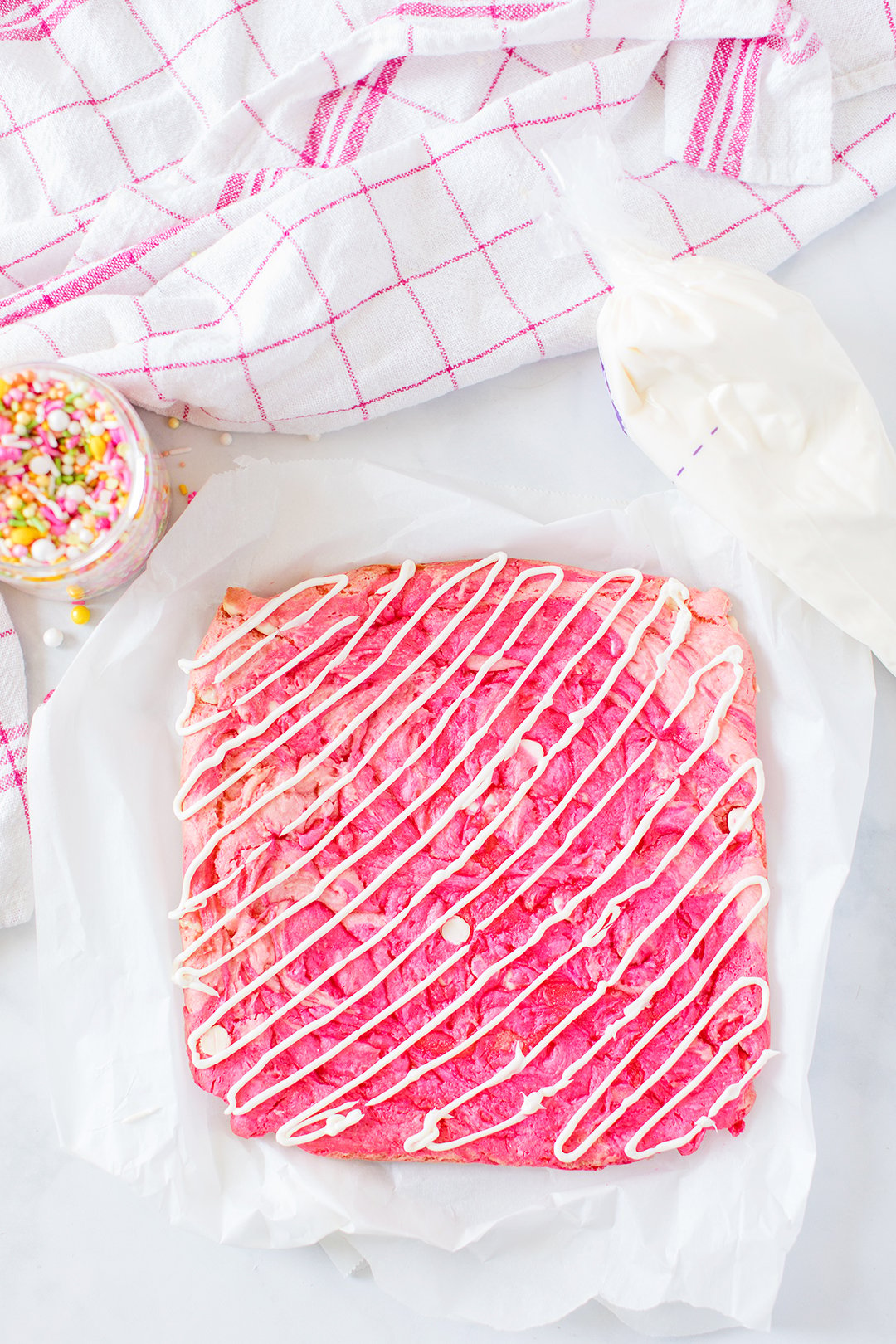 Finally, it's time for sprinkles. Yay!
BEST FLAMINGO SPRINKLES
Are you looking for the perfect flamingo sprinkles? These edible flamingo sprinkles found here at Etsy are seriously amazing and absolutely perfect for these pink dessert bars and any other summer themed party desserts you're making. The additional of tiny pineapples really take this one over the top if you ask me. This blend of pink, yellow and white sprinkles are nothing short of amazing and totally should be sprinkled on everything this summer.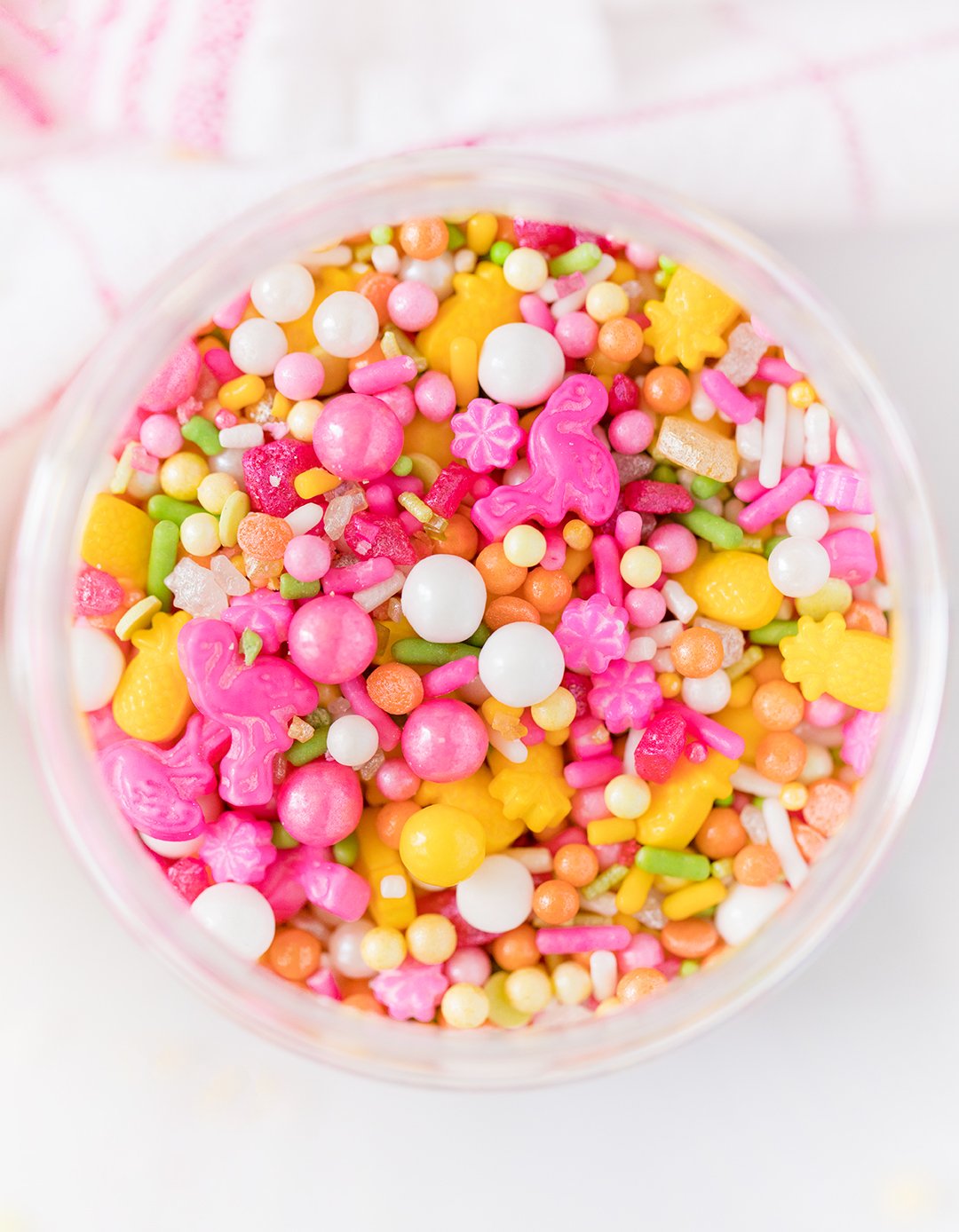 The possibilities are endless. Pineapple flamingo party themes are actually becoming more and more trendy and I think they will be all the rage this year.

Once the sprinkles are sprinkled, it's time to slice the bars up and serve. Party time!
MORE FLAMINGO PARTY IDEAS
Flamingo Blondie Bars
Yield: 12 Bars

Prep Time: 10 minutes

Cook Time: 40 minutes

Additional Time: 15 minutes

Total Time: 1 hour 5 minutes

Pink Blondie Bars recipe with Flamingo and Pineapple Sprinkles.
Ingredients
1 box white cake mix
¼ cup vegetable oil
1 large egg (beaten)
¼-⅓ cup milk
½ cup white chocolate chips
Frosting
Instructions
Preheat oven to 350 degrees.
In a large bowl, mix together the first three ingredients. Slowly incorporate milk, starting with ¼ cup and add more if necessary. The batter should be thick and resemble silly putty.
Add white chocolate chips.
Transfer about 1 cup of batter to a small bowl. Add 3-4 drops of pink food gel and mix until fully incorporated.
Add 2-3 drops of pink food gel to remaining batter and transfer to parchment lined 8x8 baking dish.
Spoon dark pink batter on to the light pink batter and use a knife to create a swirl design.
Bake for 25 minutes then cover with aluminum foil and bake for another 15 minutes. Remove from oven and allow to cool completely.
Once the blondies have cooled, use a pastry bag or baggie to drizzle frosting and add sprinkles.
Nutrition Information
Yield 12 Serving Size 1
Amount Per Serving Calories 127Total Fat 9gSaturated Fat 2gTrans Fat 0gUnsaturated Fat 6gCholesterol 18mgSodium 45mgCarbohydrates 11gFiber 0gSugar 8gProtein 2g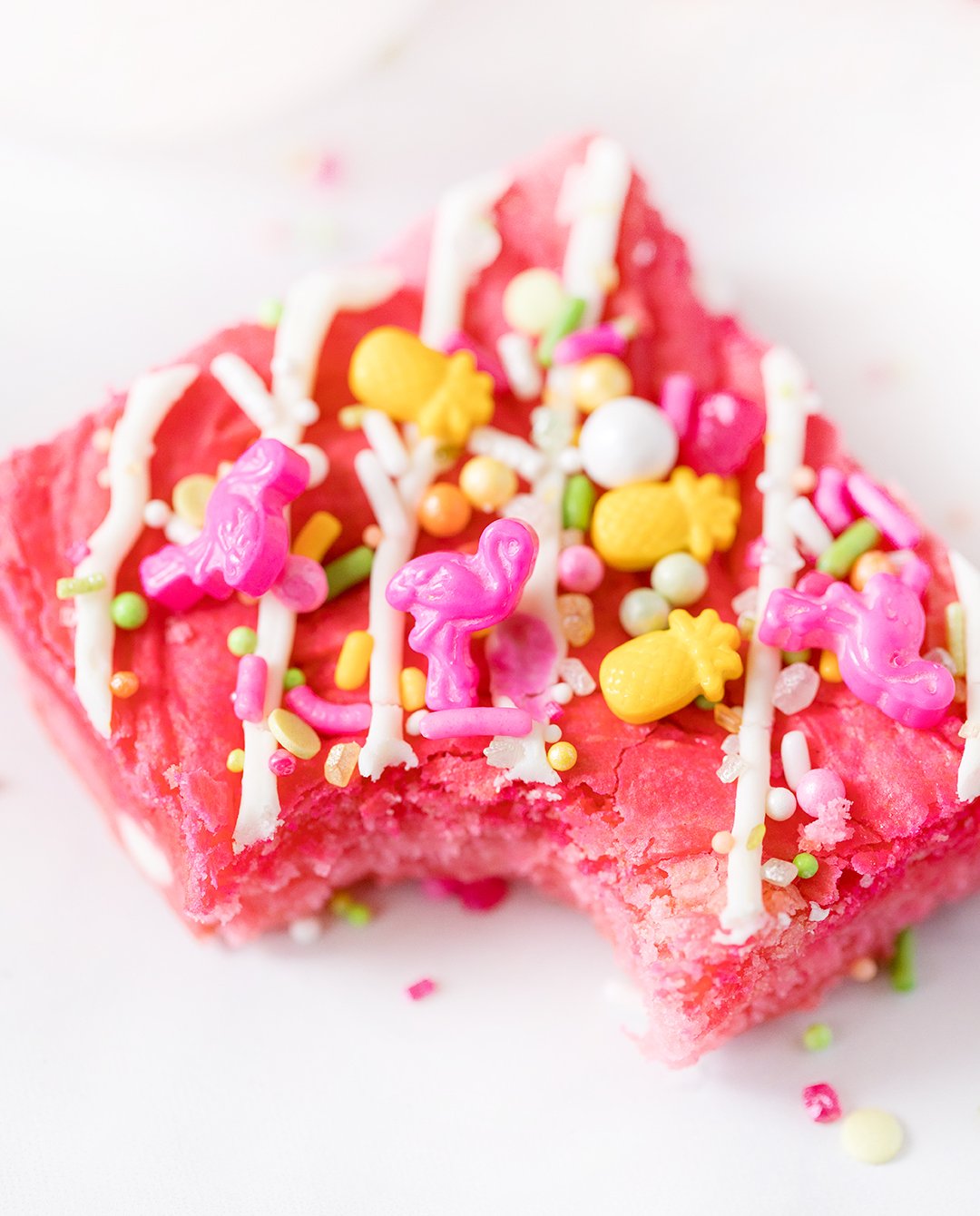 MORE SUMMER PARTY THEMES
EASY BLONDIE RECIPES