Eek. I love mermaid everything. Mermaid food is a hot trend that isn't going anywhere, so I figured it was about time to share mermaid party dessert ideas. With mermaid parties being totally popular right now, this easy go-to recipe is going to come in handy. With pretty swirls of mermaid colors and a perfect dose of pretty sprinkles, these dessert bars will be an instant hit at a themed party. Let's swim right into this recipe!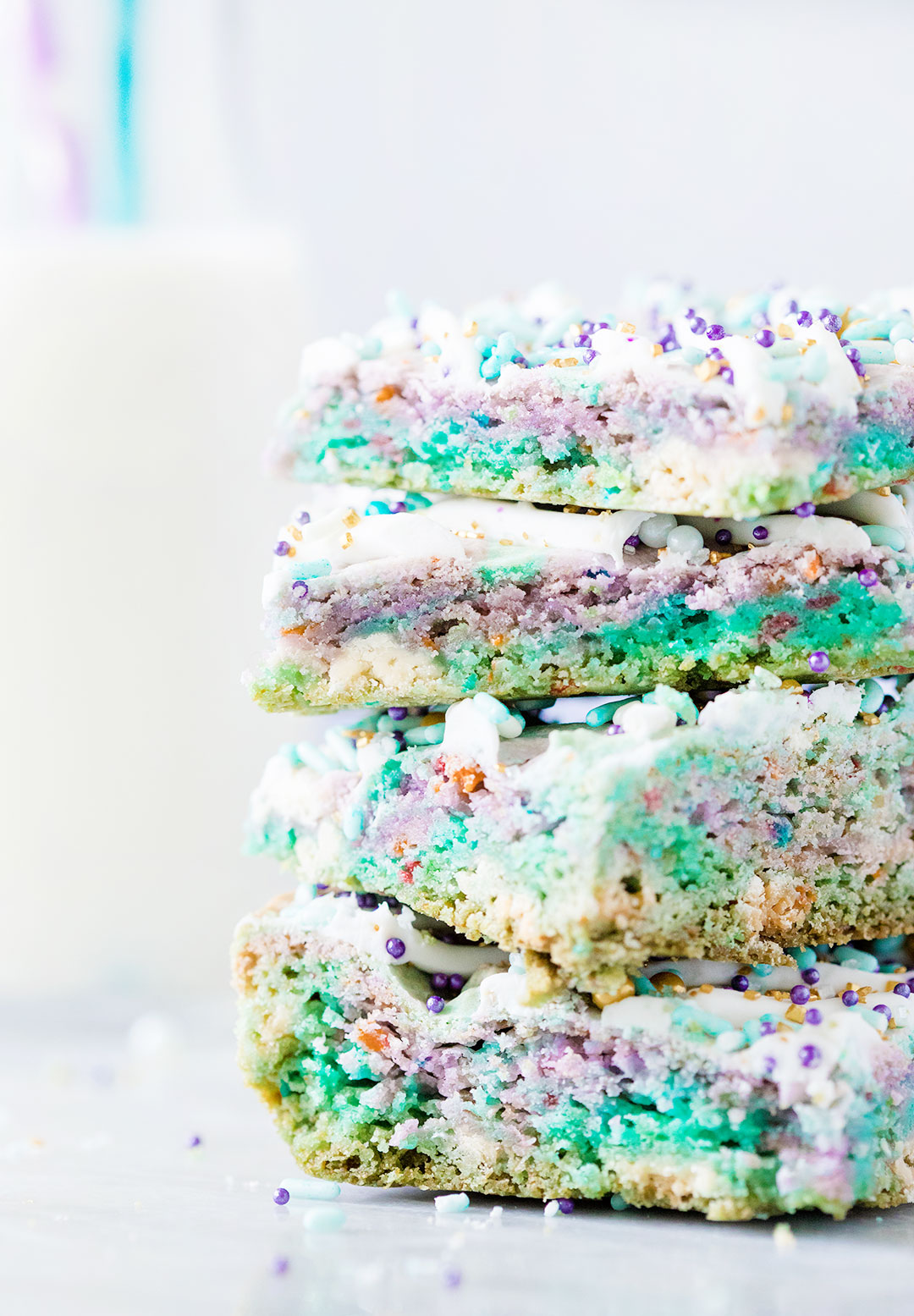 HOW TO MAKE EASY MERMAID DESSERTS
My favorite go to easy dessert hack usually surrounds a box mix and this one is no different. We're using a basic white cake mix as the base. Mermaid dessert ideas always involve pretty colors usually including purple and teal. The color combo totally makes me swoon every single time.
To turn a box of cake mix into a blondie bar, we're going to simply add some white chocolate chips. See, easy peasy on the scale of things. (See what I did there).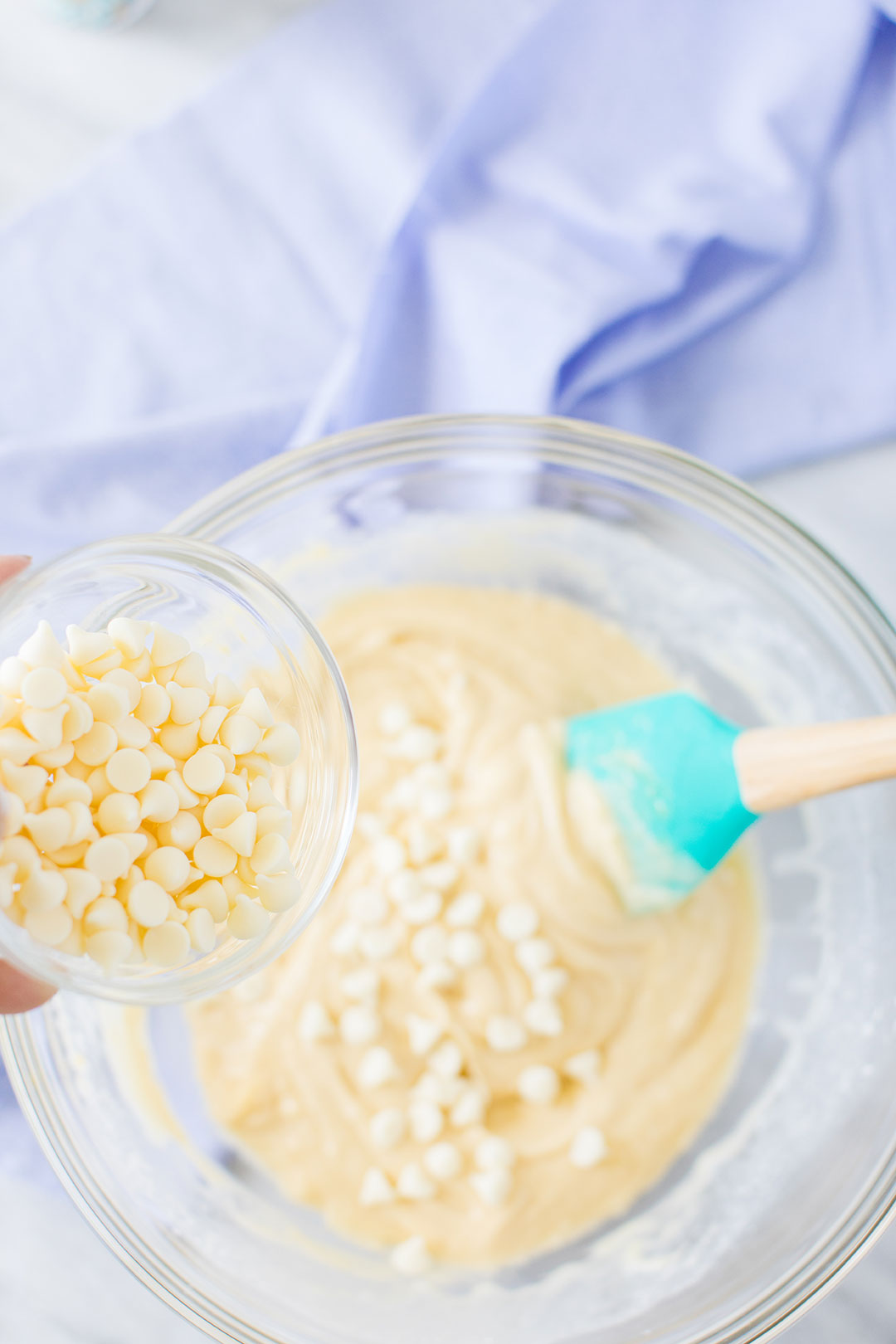 Next, we are going to get our mermaid colors on with teal and purple food coloring.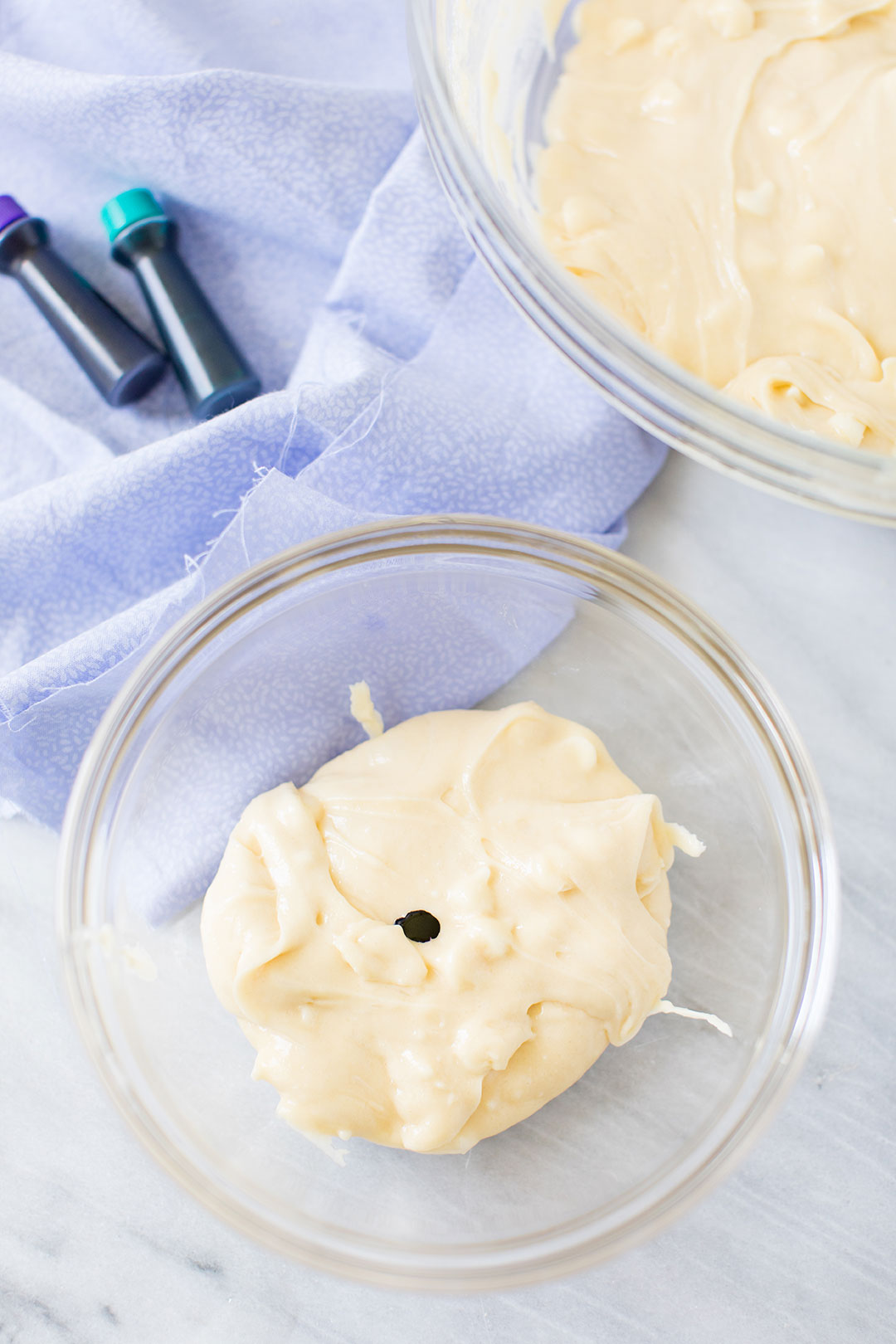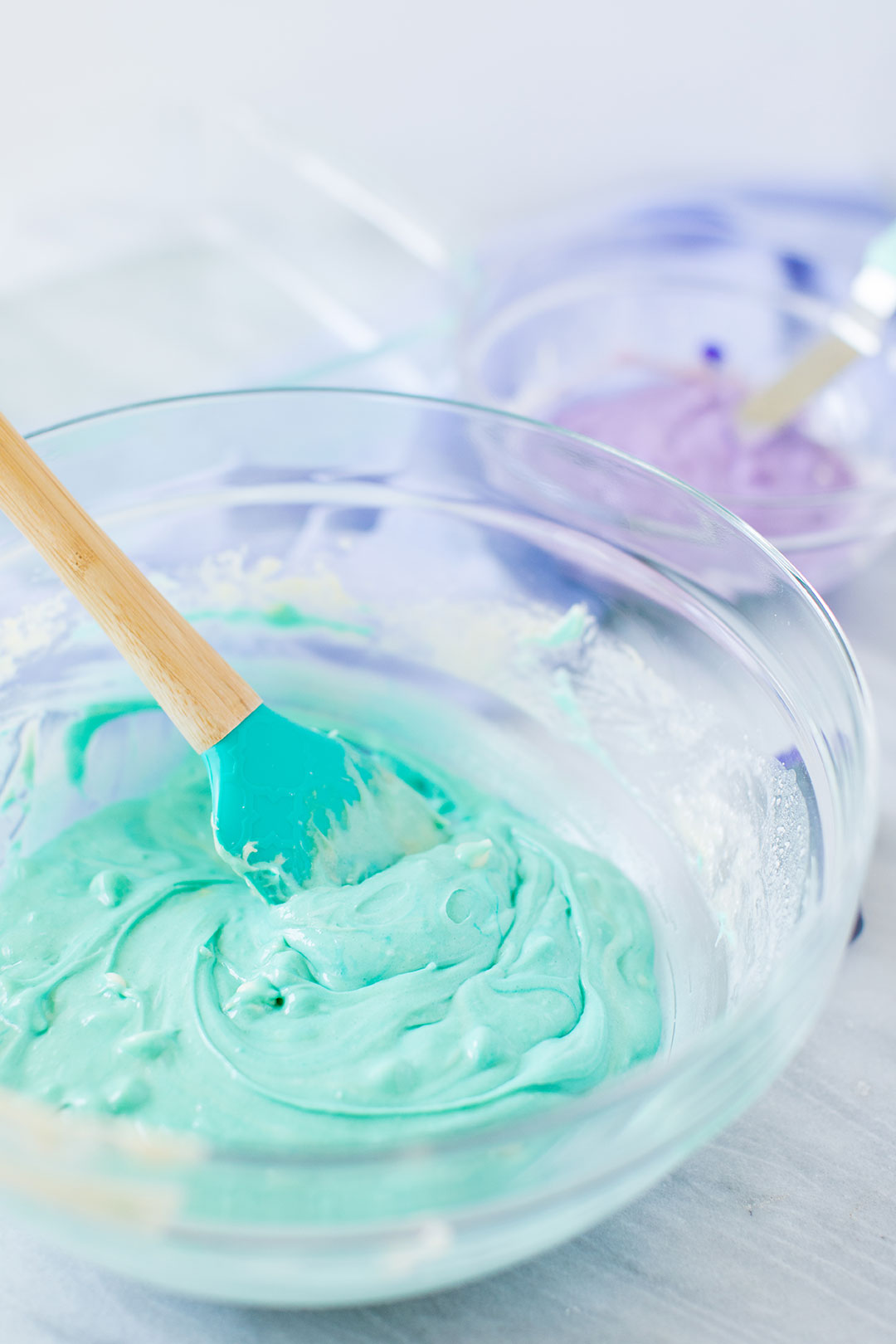 With a pretty swirl of a knife, the blondie base is pretty much ready to be baked.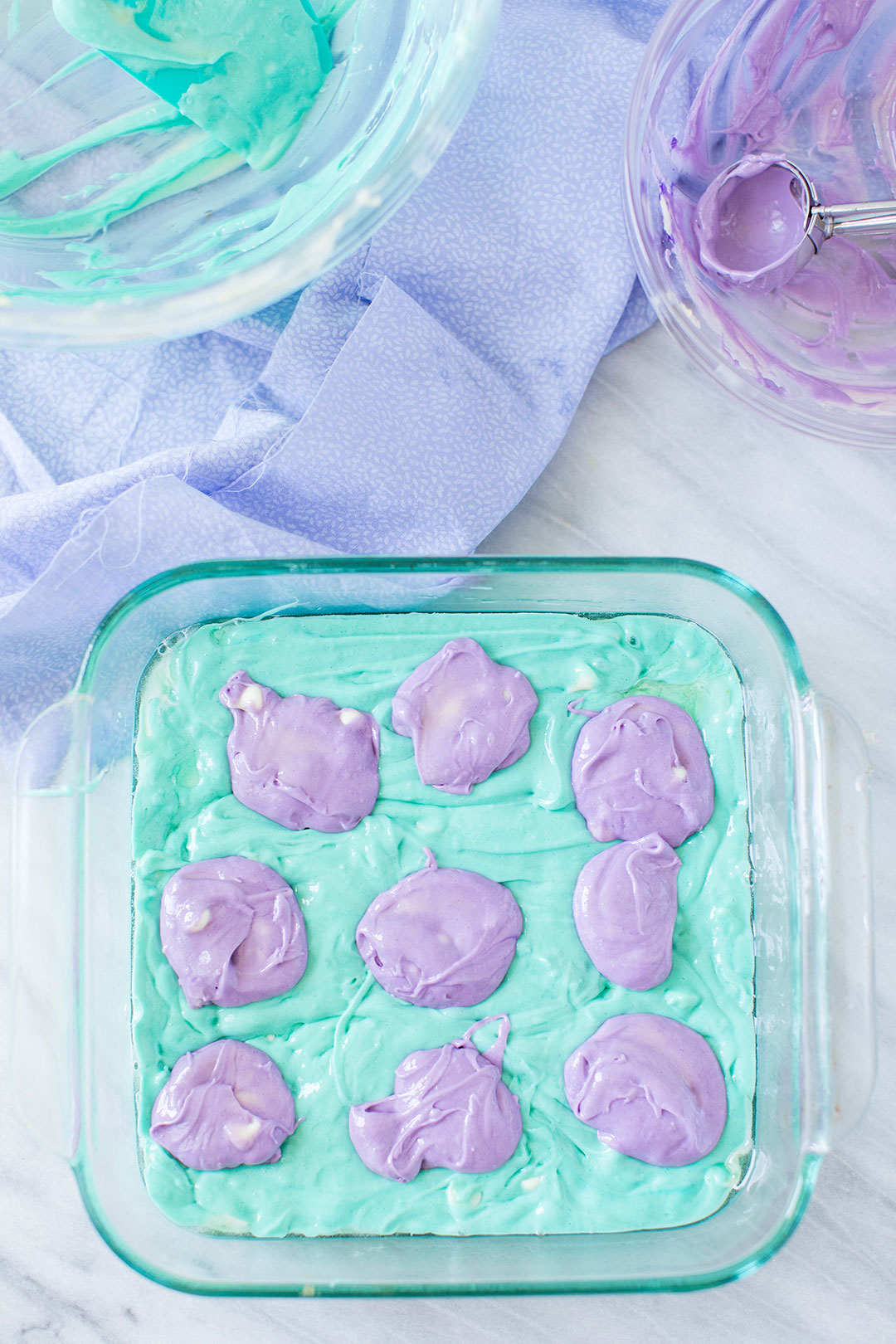 Can't get over how swimmingly these colors go together. (Mermaid humor is my new thing, apparently).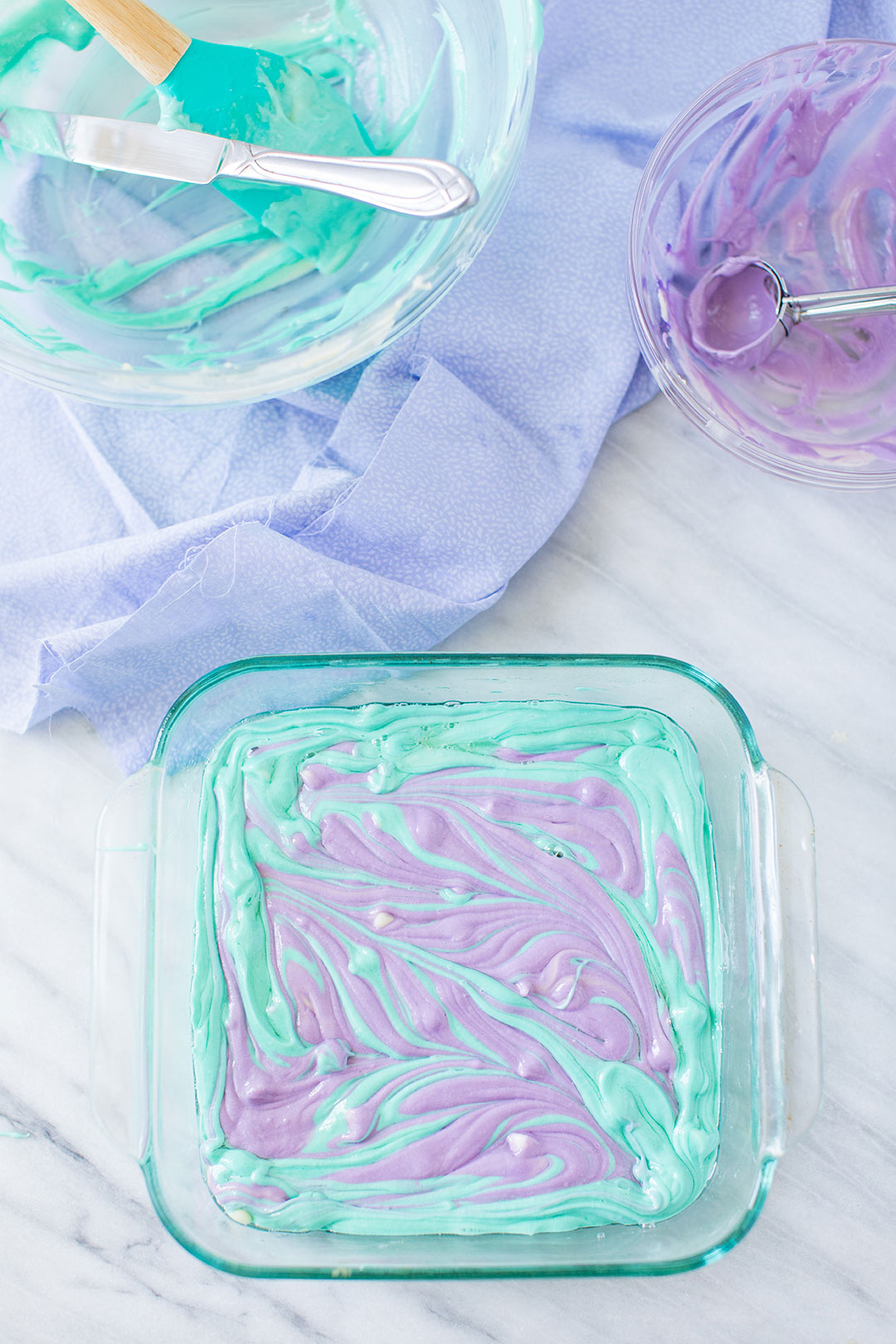 Once baked, the final mermaid touches take this sweet mermaid party dessert to the next level. Bring on the icing and pretty mermaid inspired sprinkles.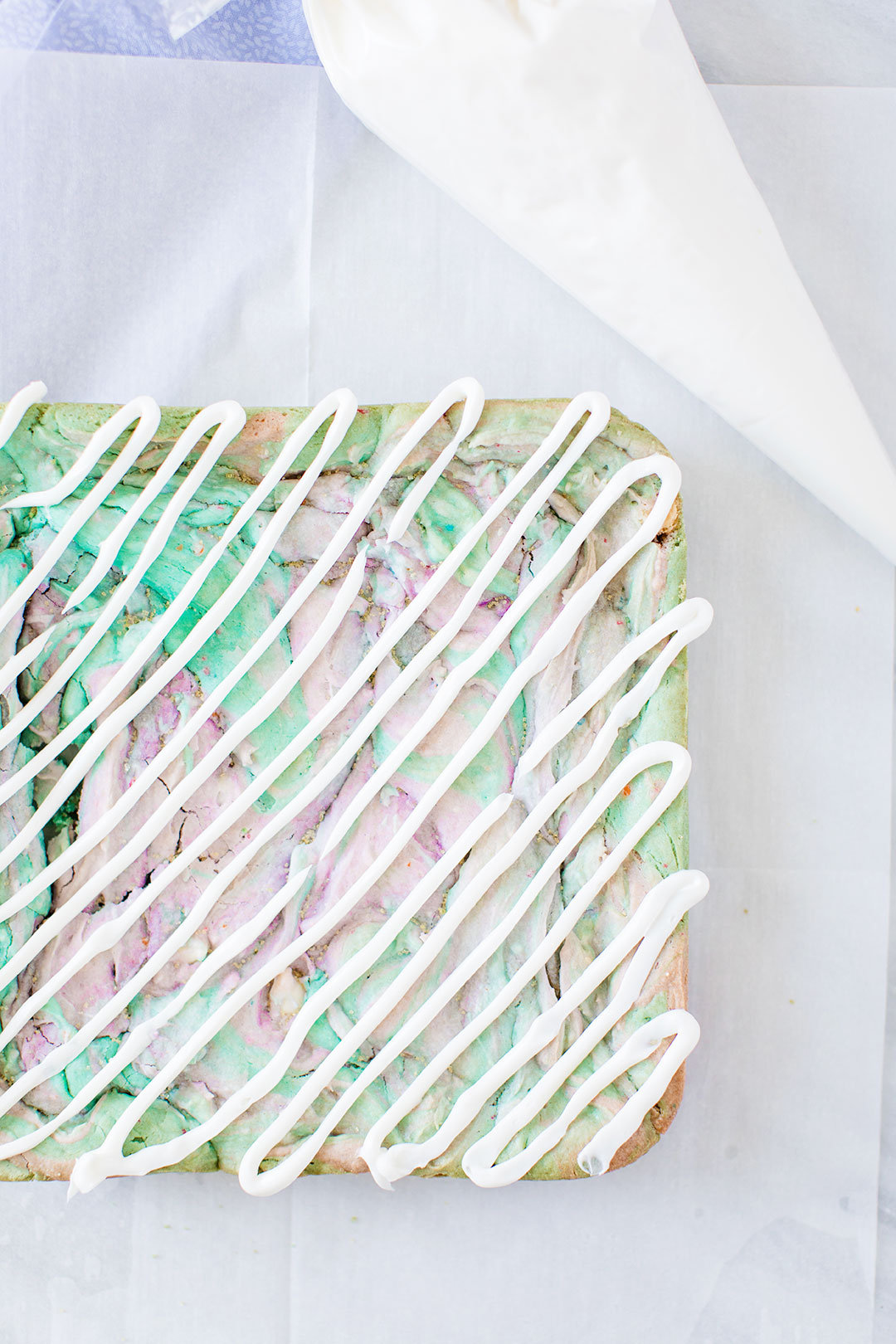 A little gold helps to make these blondies extra glam if you ask me. Feel free to swap out for hints of silver if that floats your mer-boat instead. This is my absolute favorite part of this recipe, so have fun with it. Add your own unique twist or incorporate matching sprinkles you might already have on hand.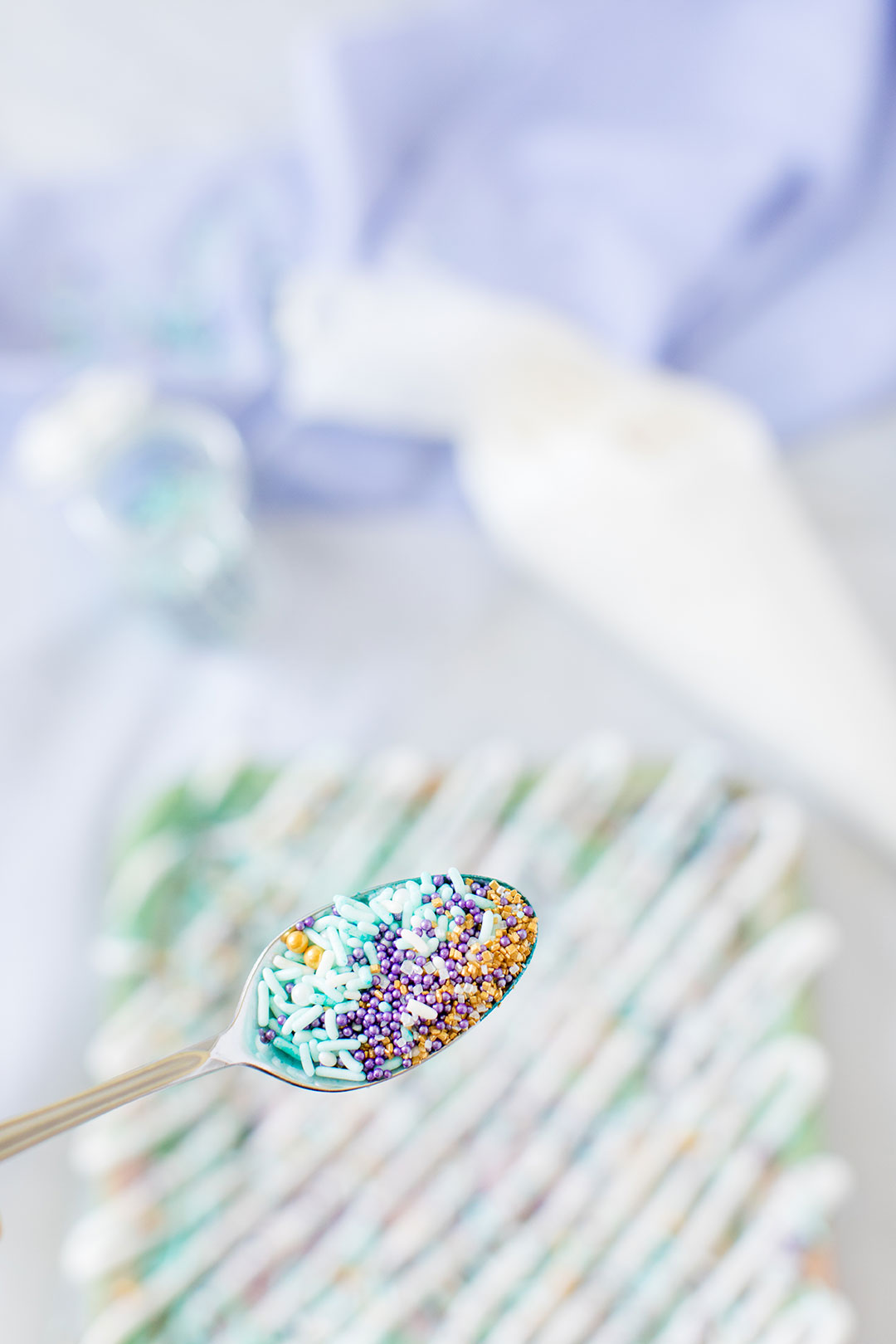 I seriously love how these bars came out. So simple, yet so darn pretty. They are guaranteed to make anyone smile and will sure make a great addition to any mermaid party spread.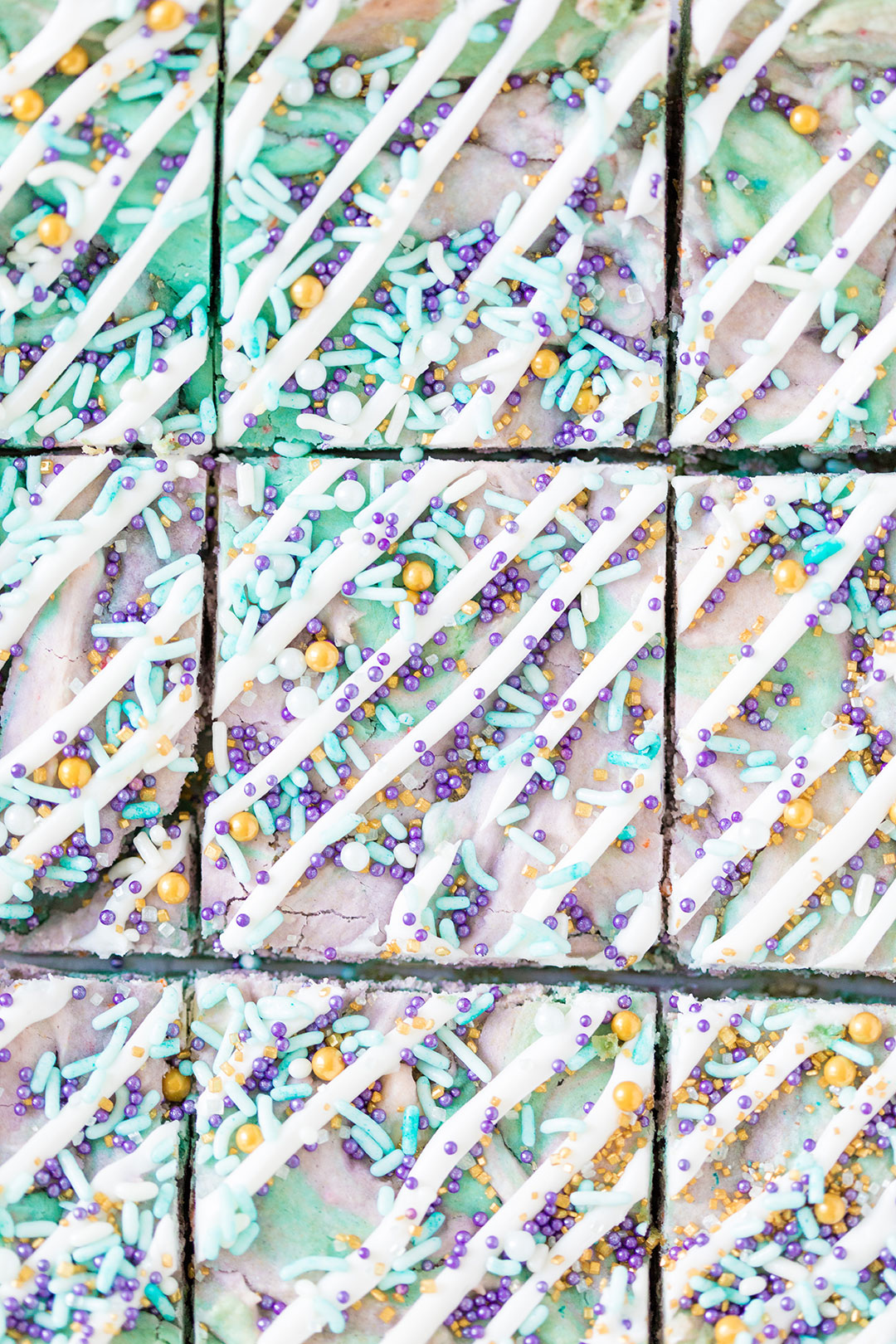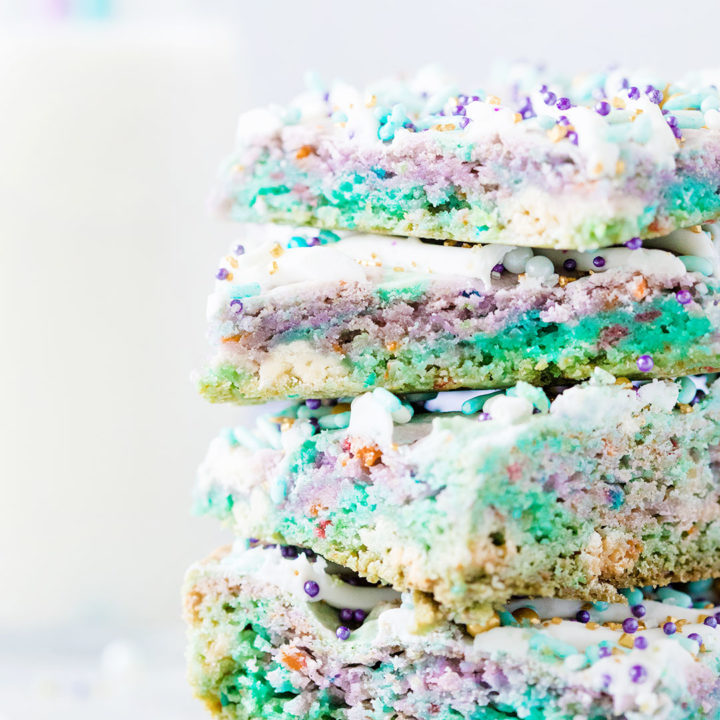 Mermaid Blondies
Prep Time: 10 minutes

Cook Time: 40 minutes

Total Time: 50 minutes

Mermaid Blondies is the perfect easy dessert recipe for Mermaid parties.
Ingredients
1 box white cake mix
¼ cup vegetable oil
1 large egg (beaten)
¼-1/3 cup milk
½ cup white chocolate chips
Food gel (Purple and Teal)
Frosting
Sprinkles
Instructions
1. Preheat your oven to 350 degrees.

2. In a large bowl, mix together the first three ingredients. Slowly incorporate milk, starting with ¼ cup and add more if necessary. The batter should be thick and resemble silly putty.

3. Add white chocolate chips.

4. Transfer about 1 cup of batter to a small bowl. Add purple food gel and mix until fully incorporated.

5. Add teal food gel to remaining batter and transfer to greased 8x8 baking dish.

6. Spoon purple batter on to the teal batter and use a knife to create a swirl design.

7. Bake for 25 minutes then cover with aluminum foil and bake for another 15 minutes. Remove from oven and allow to cool completely.

8. Once the blondies have cooled, use a pastry bag or baggie to drizzle frosting and add sprinkles.
Notes
Blondies will be slightly gooey in the middle when they first come out of the oven but will firm up once allowed to cool.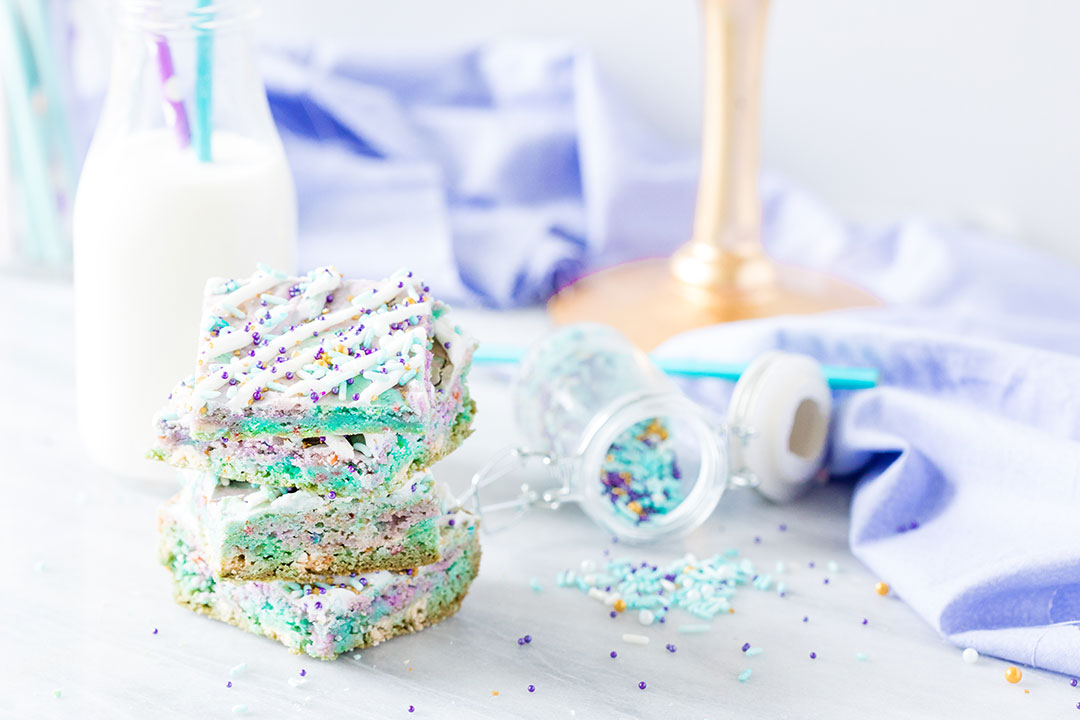 WHEN SHOULD YOU MAKE MERMAID FOODS?
This easy mermaid dessert recipe is perfect for serving on a mermaid party table, mermaid dessert table and best of all at a mermaid themed birthday party celebration. This pretty dessert is easy to make and a fuss free addition. It can be tweaked to match your party theme and colors.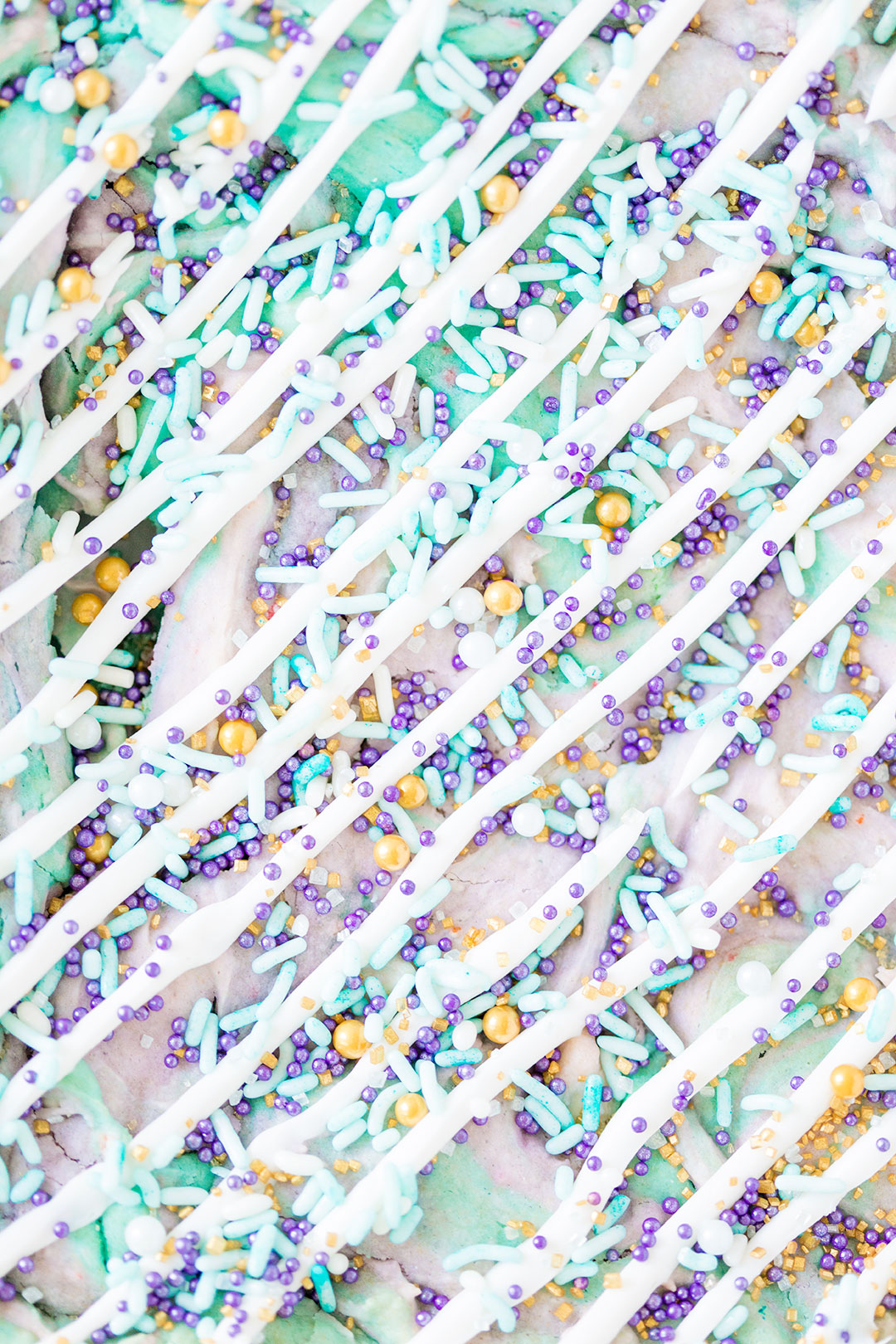 MORE MERMAID IDEAS
MORE BLONDIE IDEAS
Are you a sucker for mermaid foods? Have you ever tried making some? Share your favs!