Tailgates and touchdowns! That's the name of the game this time of the year. See what I did there? If you're looking to score on all the goodness that tailgating brings without all the fuss, I totally have you covered with my easy tailgating food inspo today. From start to finish, I'm excited to share these simple winning tips. This post is sponsored by Conagra, but opinions expressed are my own.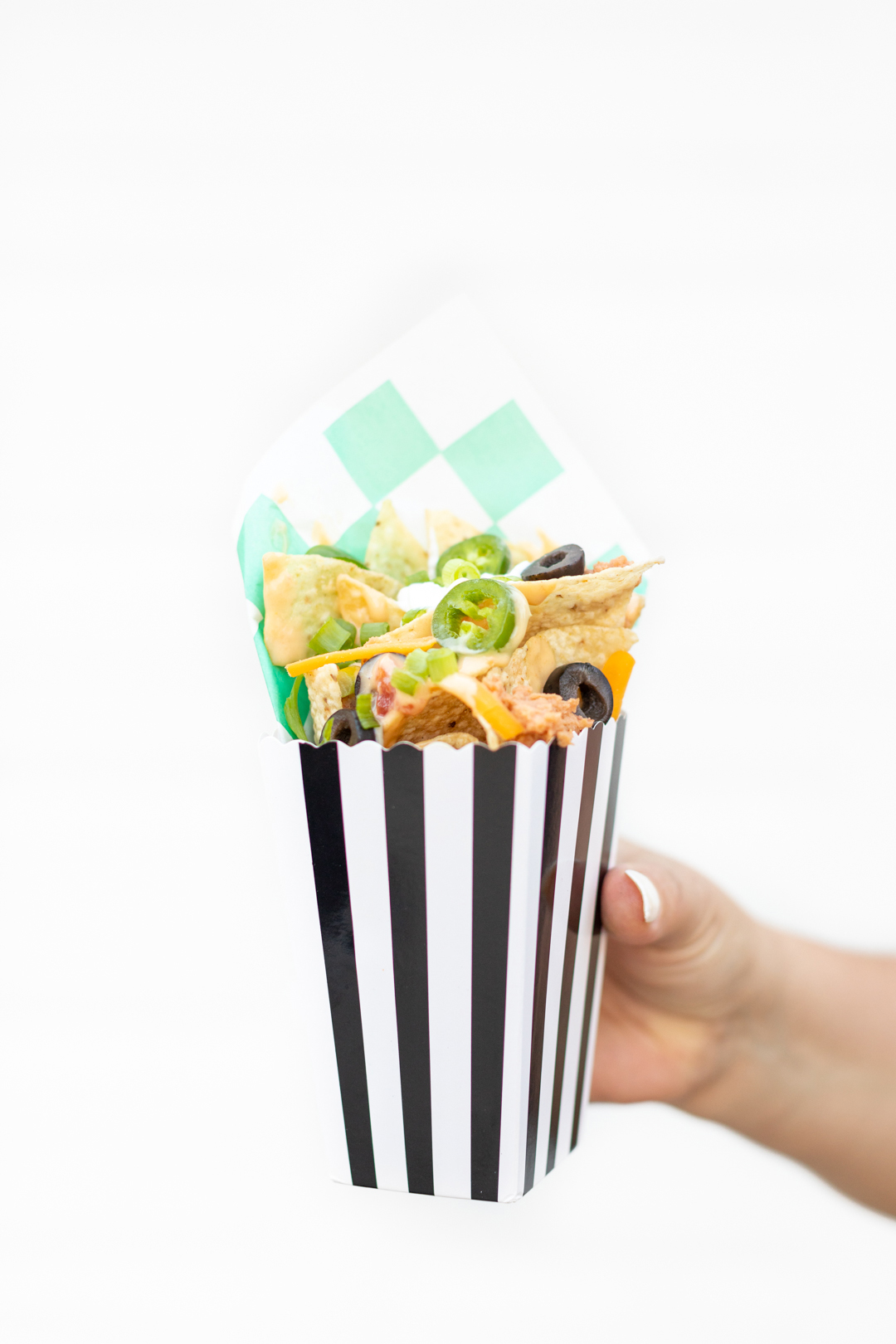 The most memorable part of life is time spent doing all the things. Ten years from now, I want to be able to look back and think of the best moments spent with friends and family. I know I won't want to remember walking around the store aimlessly, not knowing what to buy for the tailgating party I'm about to go to. Since time is a precious commodity and loss of it causes stress, I make sure to cash in on all the hacks in life that I can. For real. That's what Walmart's Online Grocery is to me. A time saving hack that allows me to fast forward to all the GOOD stuff in life. You know? Order online and swing by Walmart on my way to the tailgating party to have someone bring my groceries right out to my car. Score!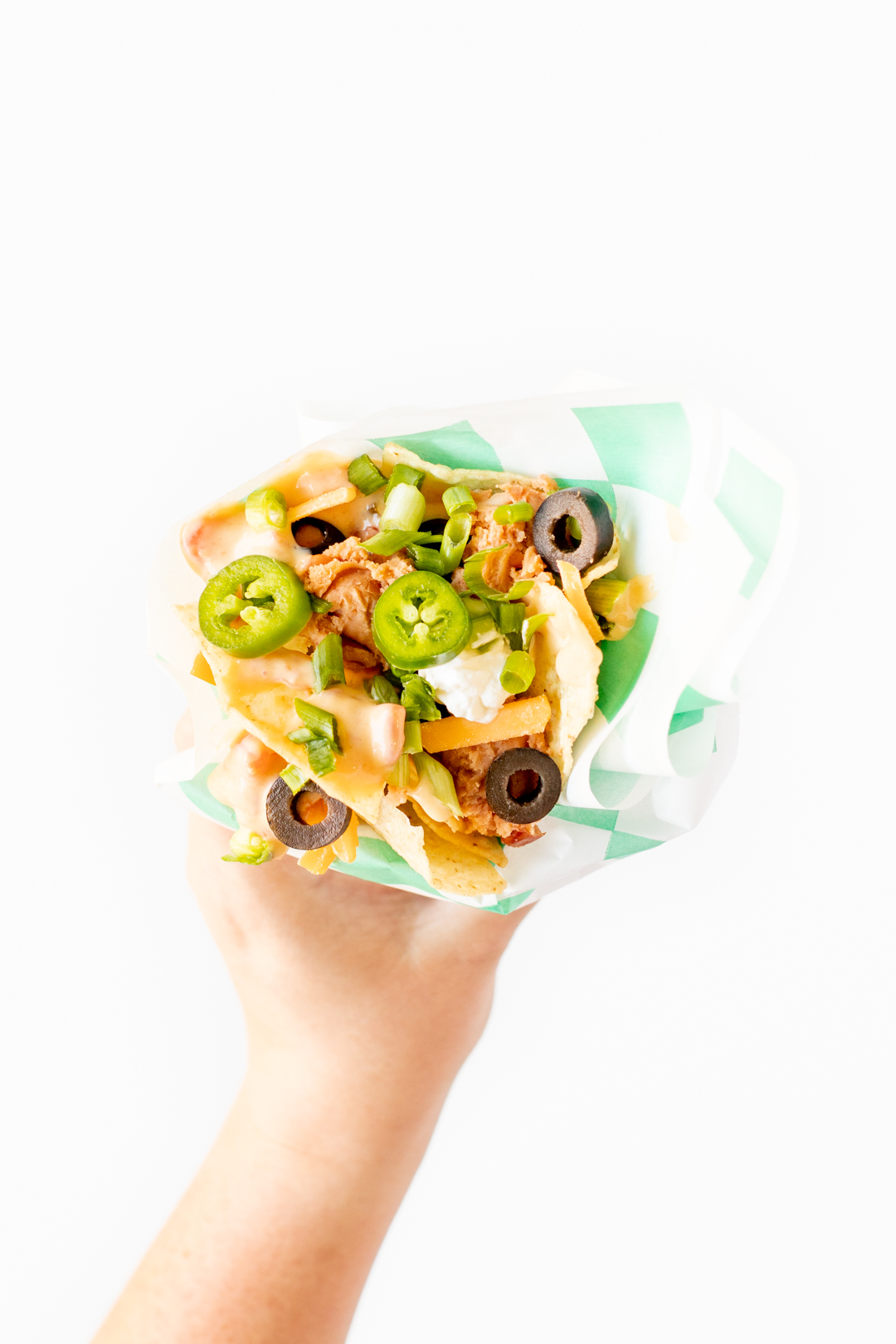 Now speaking of all this magical hack goodness. You are going to love this. Just one tap right over here and you can add the very best in tailgating food right to your cart over on the Walmart Grocery website. Tap, tap. Time is of the essence my friends.
See, I told you I'd be sharing all the good stuff.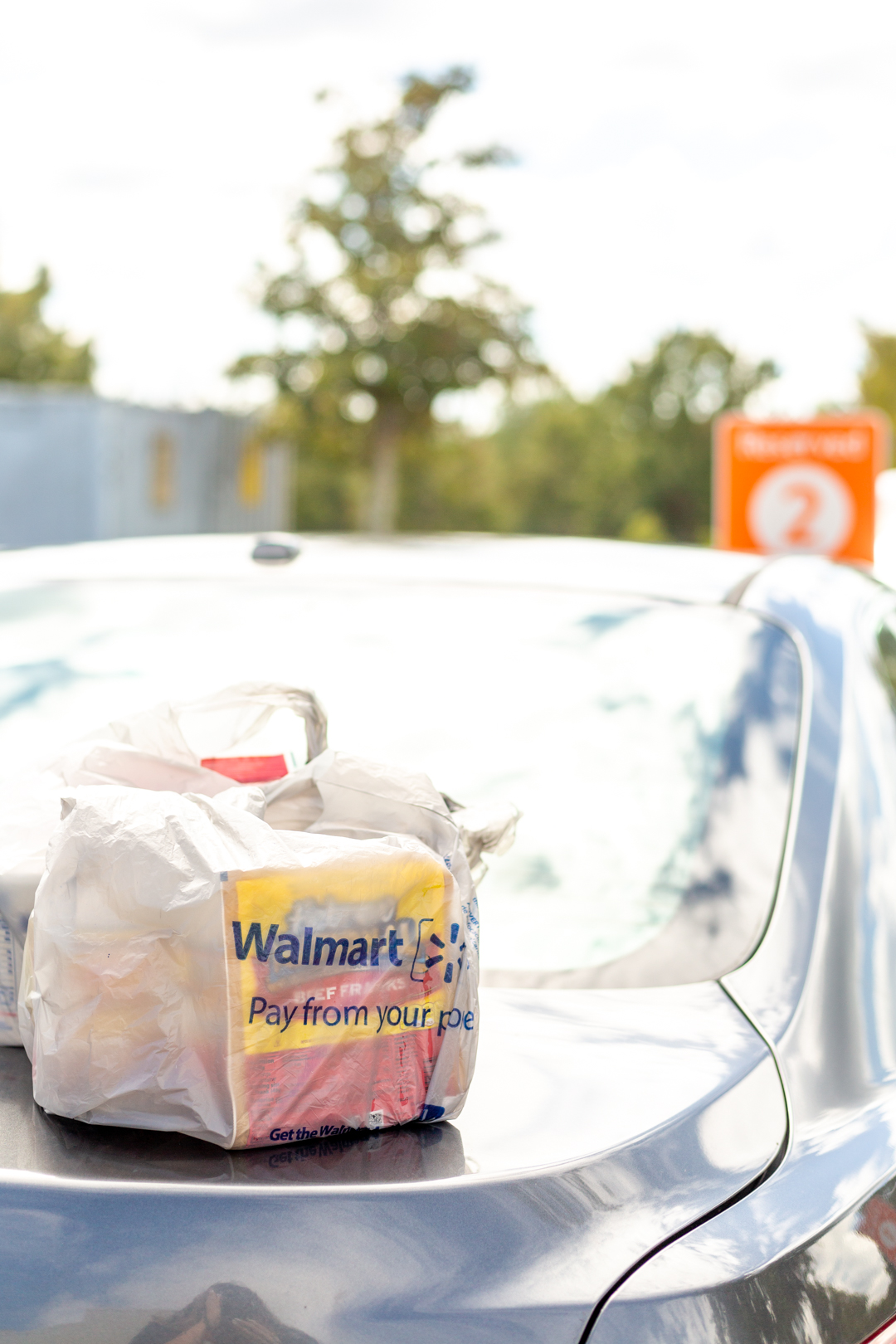 EASY FOOD FOR TAILGATING
Today's yummy tailgating food ideas feature Hebrew National Beef Franks, RO*TEL Original Diced Tomatoes and Rosarita refried beans. Relying on these three easy peasy ingredients, the possibilities are crazy amazing! From easy dips and hearty combos, let me show you some of my current favs and even more food insp for football parties on this tasty tailgating hub at Walmart.com.
The best part is that my picks today are all easy to make on the fly AND easy to eat because they are all made to be handheld. Let me give you some food for thought. Here are some top things to consider when choosing what to bring to the tailgate:
Foods that come packaged for easy transport.
Foods that are easy to prepare.
Foods that require little cooking.
Foods that people can eat easily.
These yummy highly portable hand-held tailgating food ideas totally fit all of these requirements. Use these simple tailgating ideas to get you started.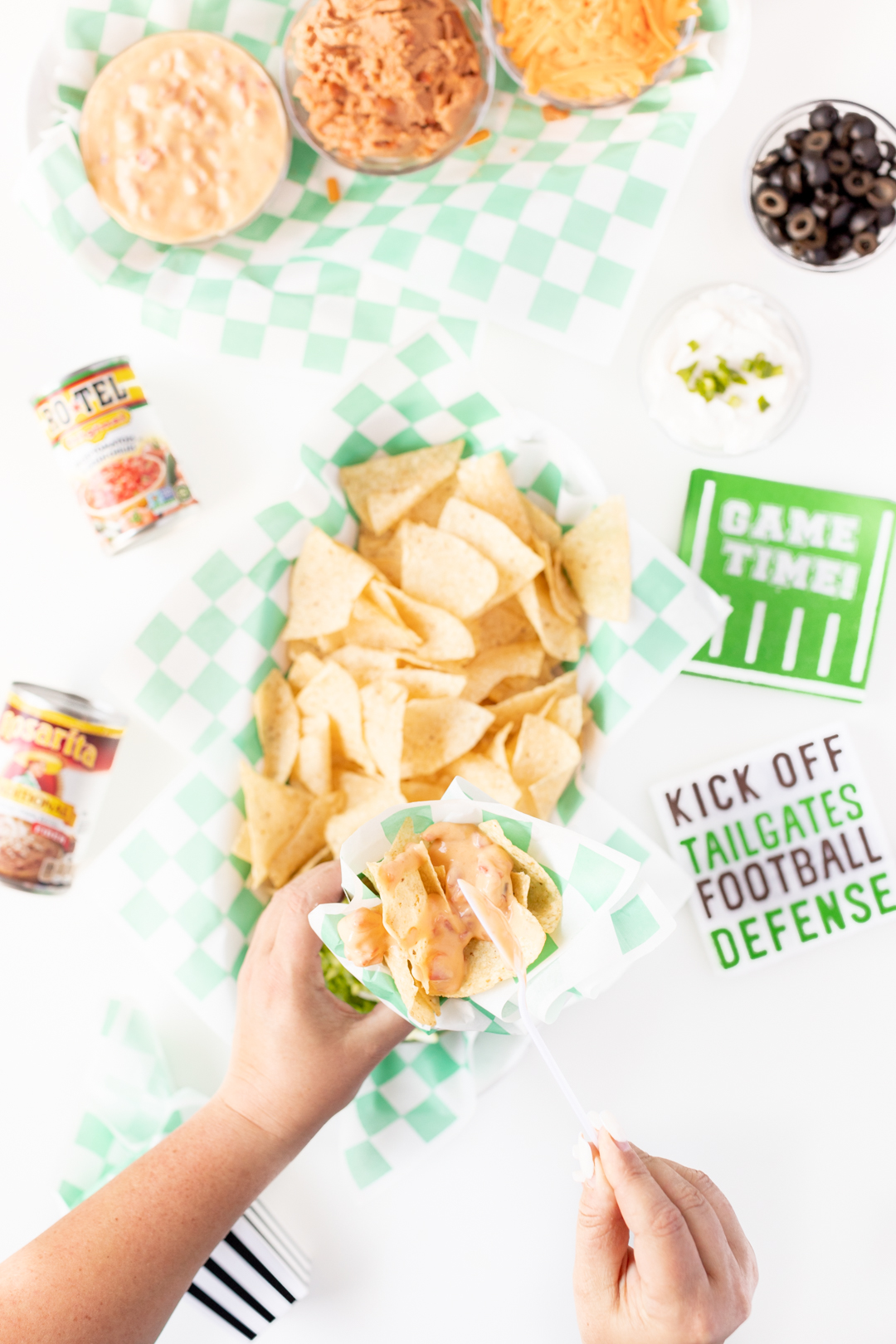 TAILGATING NACHOS (WALKING NACHOS)
Here the highlights of this football food idea:
Easy Ingredients
Handheld
It's easy to choose nacho toppings that people will love. Try Rosarita refried beans for authentic Mexican-style flavor, black olives, shredded cheese, sour cream, green onions and sliced jalapenos if you like. (Bring a pair of food grade plastic gloves to cut them up).
To take your tailgating nachos to a bold new level, mix one can of RO*TEL Original Diced Tomatoes with one can of liquid nacho cheese. It's absolutely delish and does not get easier than that.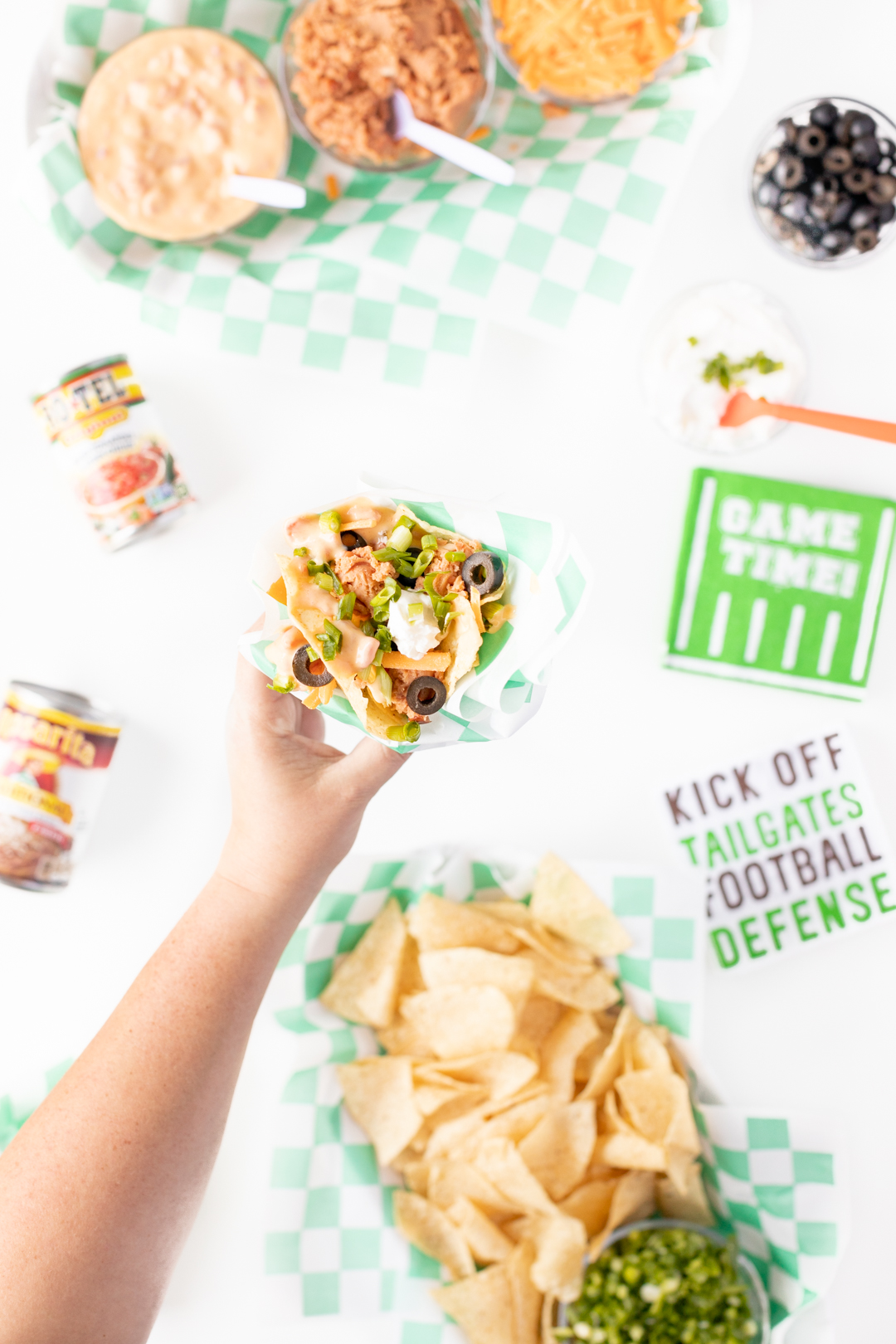 Don't forget this necessary part. To make your nachos portable, serve them in small popcorn boxes and line with food liner paper. I love this idea so much.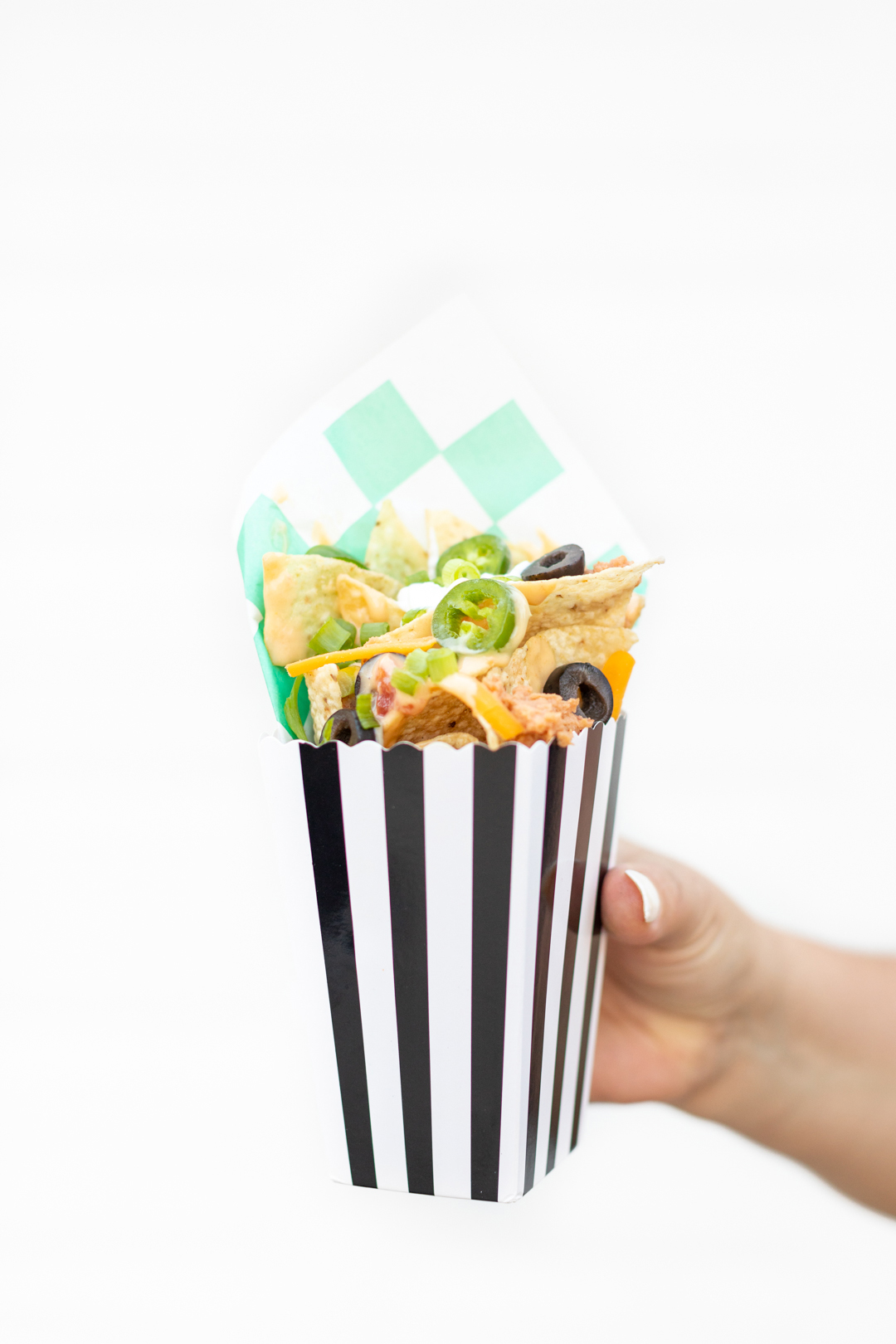 EASY CHEESY DOGS
Here the highlights of this football food idea are just like the nachos.
Easy Ingredients
Handheld
There's no better food to celebrate your favorite teams with than grilled hot dogs. Make them really good by choosing Hebrew National Beef Franks for all of your tailgating fun. You can't go wrong with their 100% Kosher beef products. Their 10.3 Ounce package contains 6 beef franks and is perfect to order at Walmart Grocery Pickup.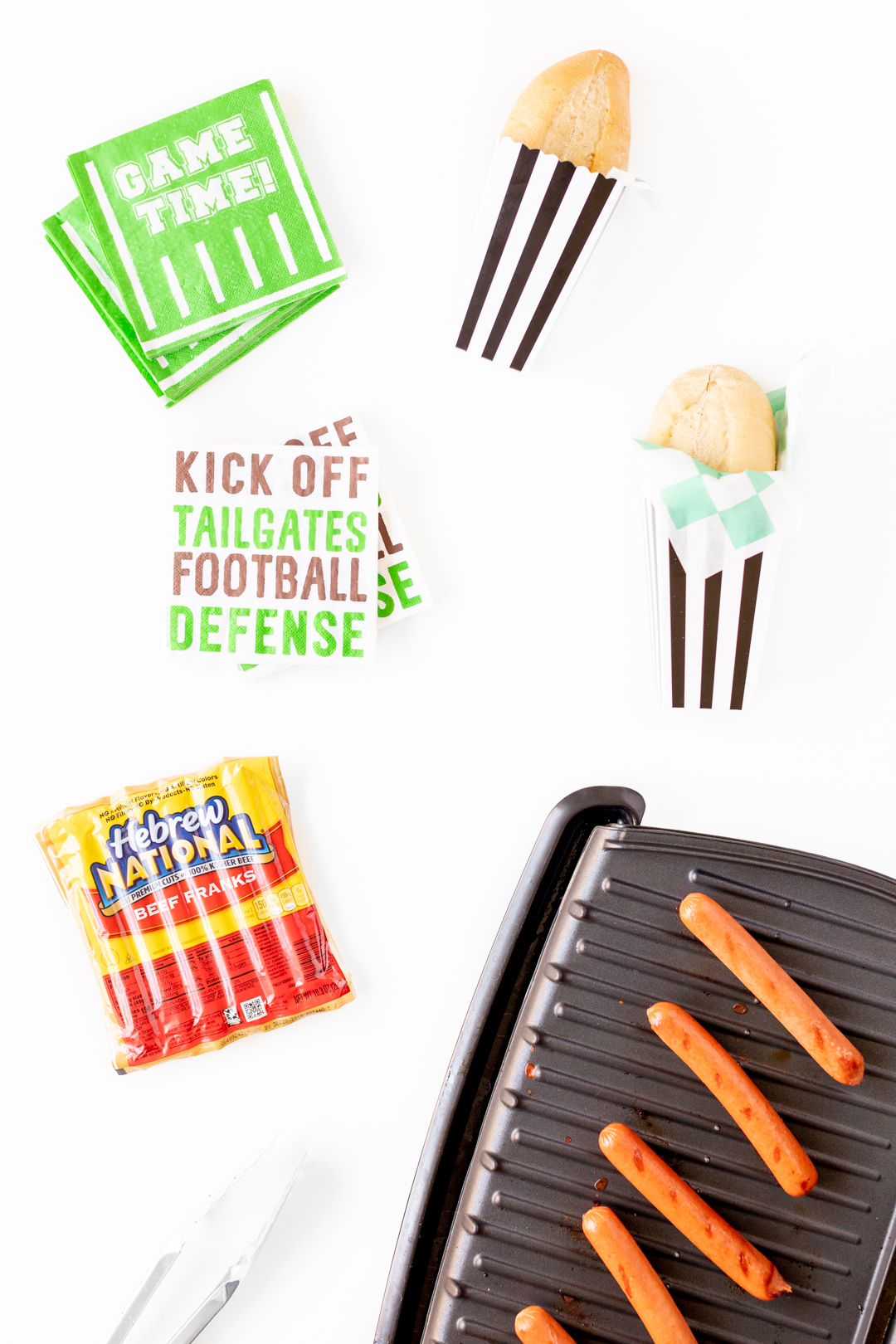 To make your dogs easy and cheesy. Make the same yummy cheesy salsa combo like we did for the nachos. Mix one can of RO*TEL Original Diced Tomatoes with one can of liquid nacho cheese for the perfect oozy and cheesy hot dog topping.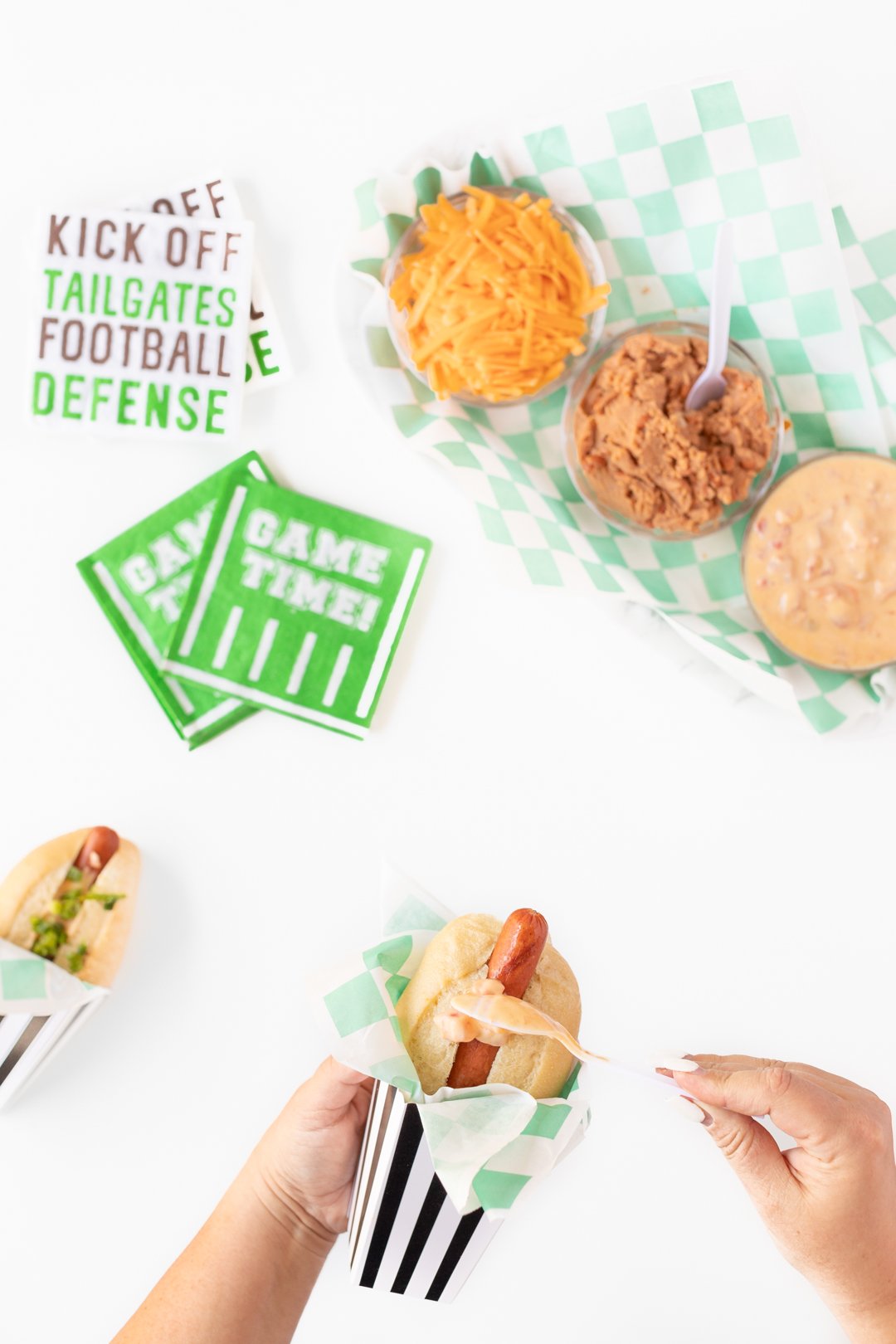 Drizzle the cheesy sauce on top of your grilled dogs. For an extra pop of goodness, add shredded cheeses, jalapenos and or chopped green onions. Just pure delish and none of the fuss.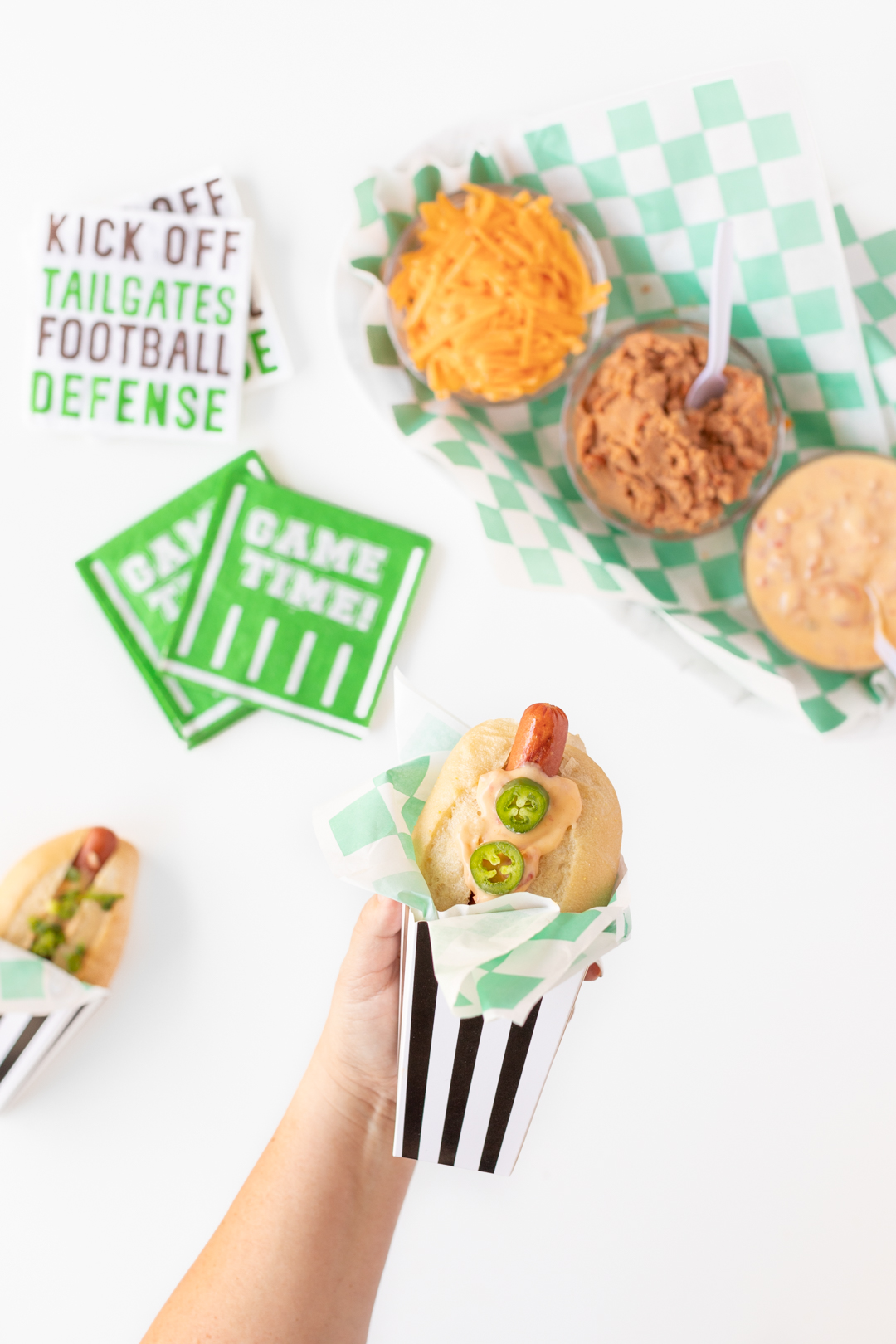 Hope you liked these easy tailgating ideas to get your started on a season of fun! And don't forget my serving idea. Using small popcorn boxes and paper liners work SO perfectly for hot dogs, too! Win!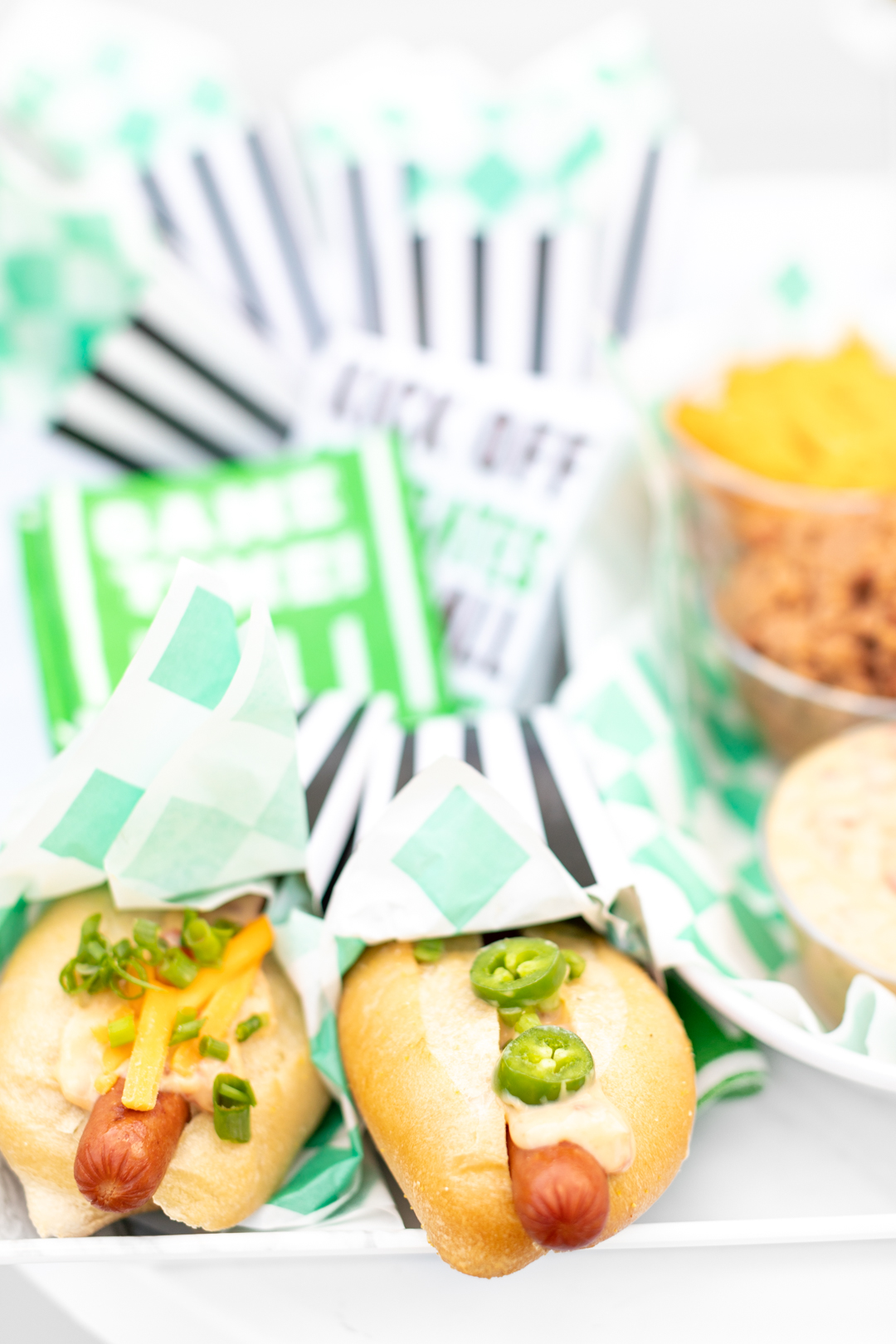 Can't wait to see what other easy combos you come up with! For the easiest of tailgating solution, remember you can go here to add ingredients to your cart to get you started. Save all the time you can with tailgating solutions like Walmart's Online Grocery.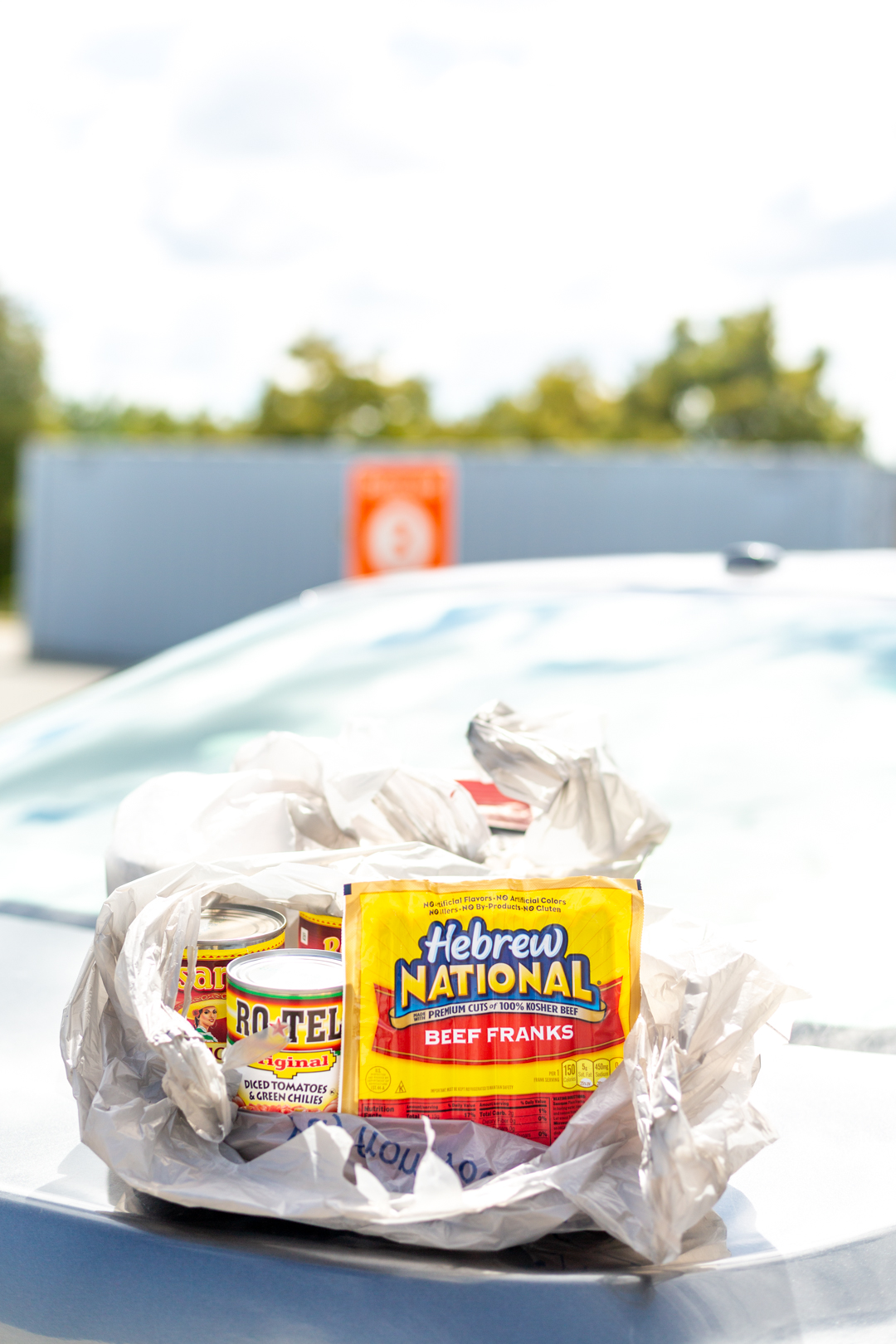 And be sure to check this tailgating hub to find even more inspo this season!
MORE EASY TAILGATING IDEAS
Tailgating Waffle Bar with all the fixings.
Spicy Buffalo Dip to make your friends happy.
Football Party Spreads that will make your cheer.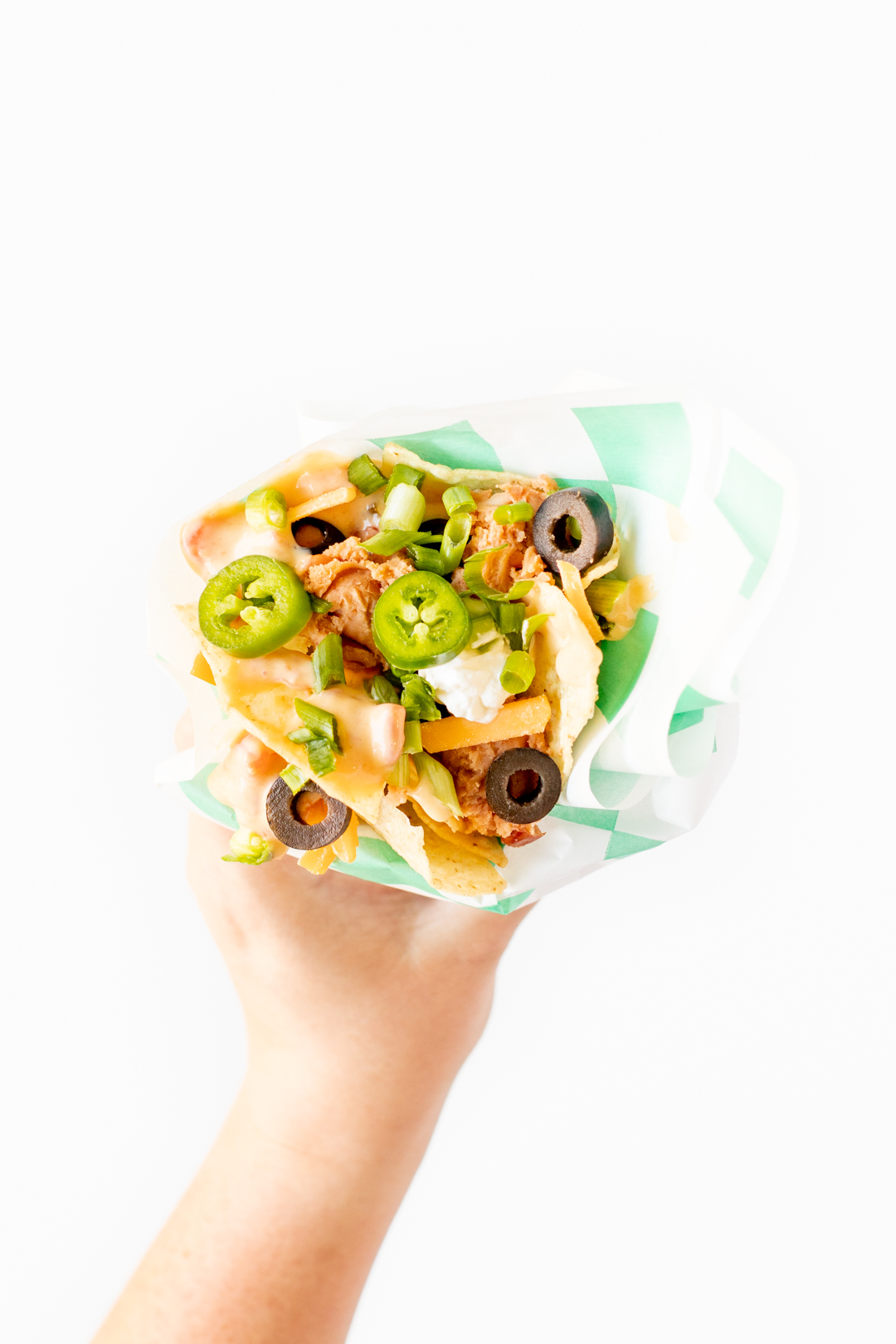 What are your fav easy tailgating foods?