Are you feeling that back to school crunch? We have 6 days to gear up! On that note, I had the chance to check out another really scrumptious chicken dinner recipe. Enter Herb Marinated Chicken over Farfalle. This is a sponsored recipe using Bertolli® Sauce, all opinions are my own.
It's as tasty as it is simple. Honestly, this dish has the feel of an upscale restaurant with a much sweeter price tag.
This is a keeper, friends. Mmm.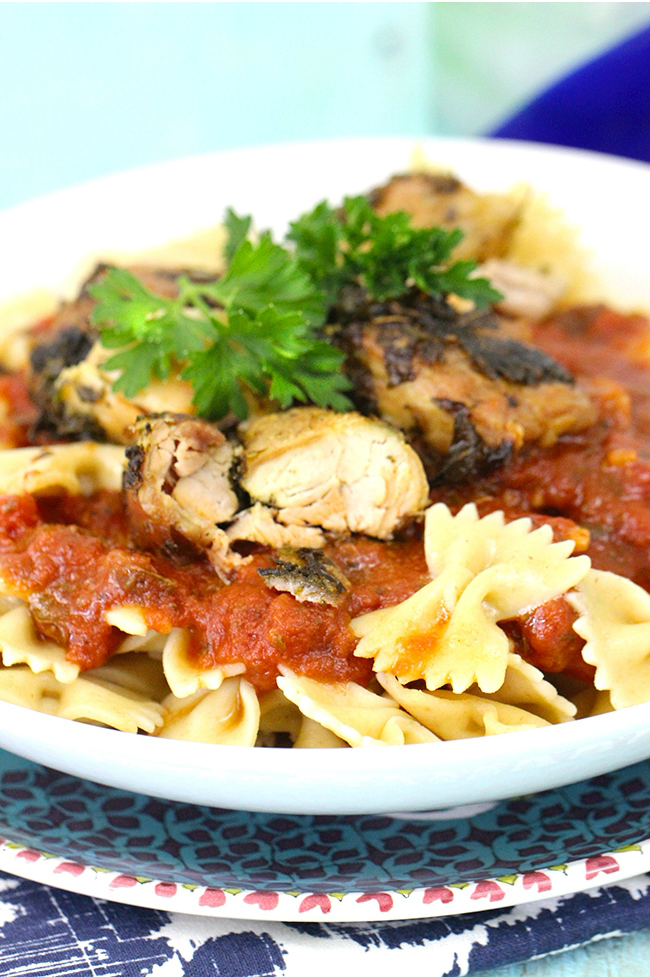 During this busy season, nothing quite replaces getting a chance to sit around the dinner table at night.
Assuming you can corral the whole family to sit still for a minute.
Those precious moments are worth everything.
That's where Bertolli Sauce comes into play.
They aim to bring the heart of Tuscany right to your table.
That means sharing stories, a little laughter and simply enjoying your family as much as you're enjoying the food.
Those are just the kind of moments that I aim to create in my own home.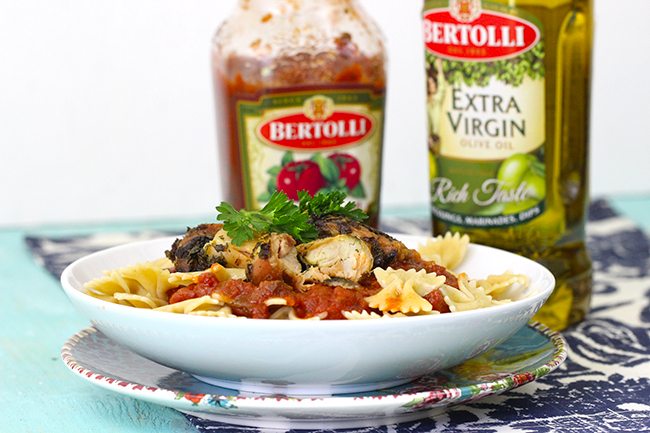 If your family loves Italian food, this is going to be a big treat.
Nobody will be able to resist the smell of the herb infused chicken.
Easy Herb Marinated Chicken over Farfalle
The combination of the flavorful Bertolli Tomato & Basil Sauce wafting from your kitchen will sure to get your family's attention!
I opted to broil my chicken for this dish, but you can grill it too.
Whatever is easiest and of course quickest for you.
Shall we dig in? Nom nom. Recipe courtesy of Bertolli.

Easy Herb Marinated Chicken over Farfalle
Ingredients
1 lb. boneless, skinless chicken breast halves
1/4 cup Bertolli® Extra Virgin Olive Oil
2 Tbsp. balsamic vinegar
1 Tbsp. lemon juice
1 Tbsp. finely chopped fresh basil leaves
1 Tbsp. finely chopped flat-leaf parsley
1 tsp. finely chopped fresh oregano
Pinch crushed red pepper flakes
1 jar Bertolli® Tomato & Basil Sauce, heated
1 box (16 oz.) farfalle pasta [or penne pasta], cooked and drained
Instructions
Combine Olive Oil, vinegar, lemon juice, basil, parsley, oregano and red pepper flakes in shallow bowl. Add chicken; turn to coat. Cover and marinate in refrigerator 30 minutes. Remove chicken from marinade, discarding marinade. Grill or broil chicken, turning once, until thoroughly cooked; slice. Spoon Sauce over hot farfalle pasta and top with chicken. Garnish, if desired, with additional parsley. Enjoy!
7.8.1.2
172
https://cutefetti.com/easy-herb-marinated-chicken-over-farfalle/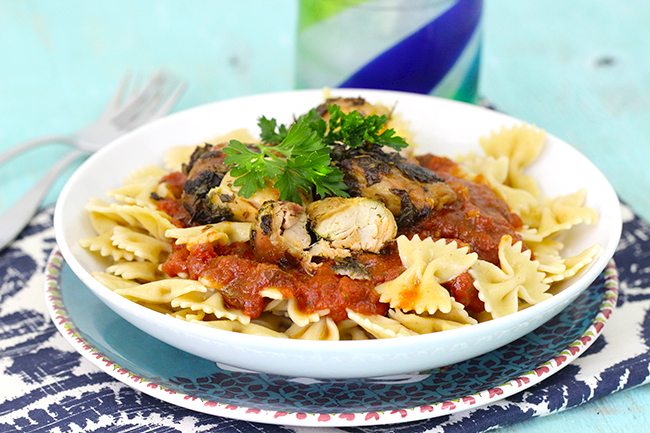 Good luck!
What do you love best about this recipe? Do you like to sit around the table for dinner?