Eek. Halloween is just so close, I can taste it. Speaking of, I'm sharing some yummy easy-to-make treats that are perfect for a non-candy festive snack that everyone will love. These DIY Frankenstein popsicles are made delicious with So Fruitty frozen treats in their Yummy Avocado and Fragrant Sweet Kiwi flavors. My friends at So Fruitty sent me a variety of popsicles to create this post with, all opinions are my own. This post also contains affiliate links.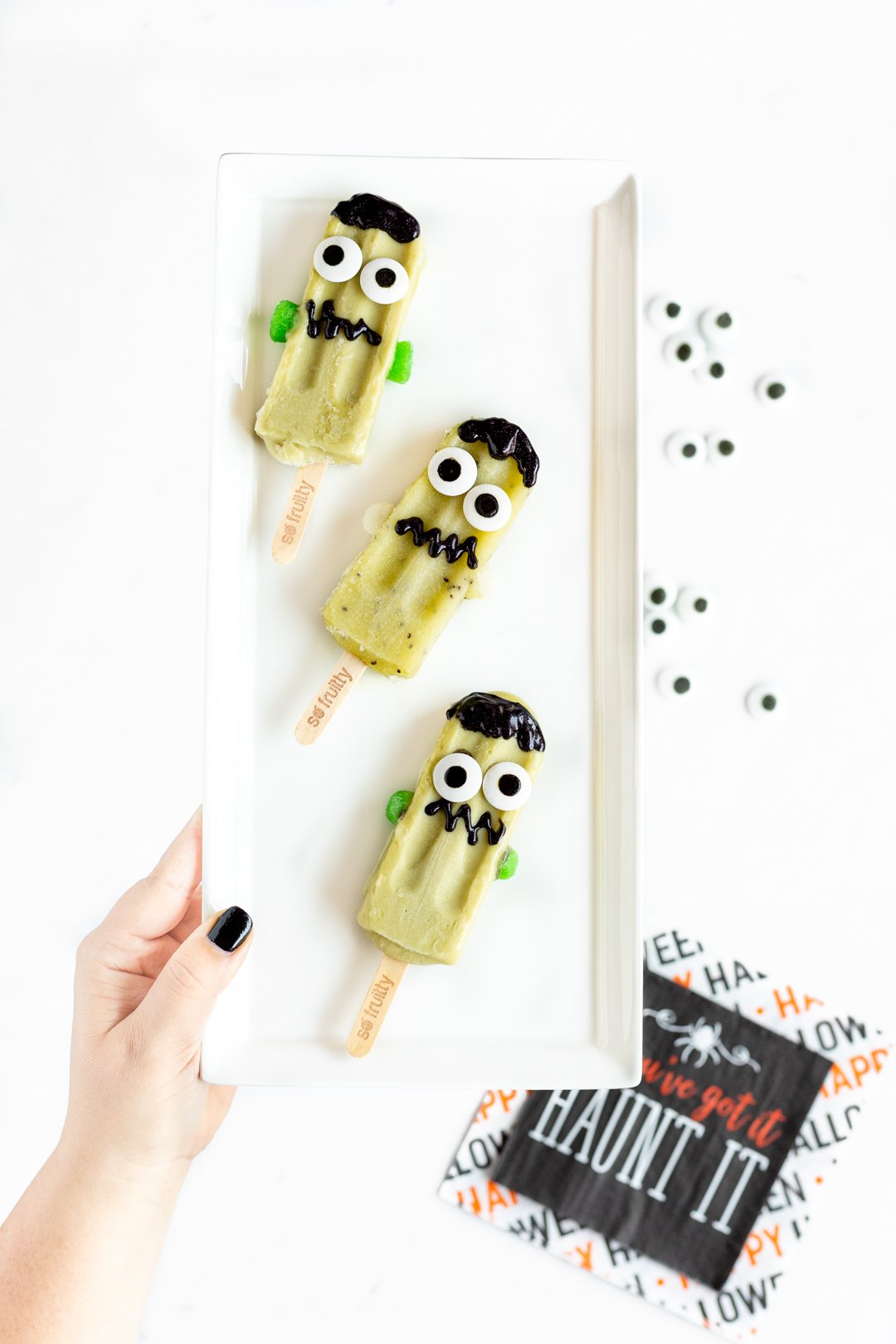 Have you spotted them at your local stores yet? I had a chance to try them earlier this year when they offered up some of their delicous treats for the retreat that I co-hosted. We were all so intrigued with their Yummy Avocado Frozen Fruit Bars! Spoiler alert: they are creamy and taste sweet. So fun! I find their products at my local Publix and they're available at many other stores, too. Check their store locator here. Now, let's make this fun Halloween recipe!
FRANKENSTEIN POPSICLES RECIPE
Let's have some fun playing with our food!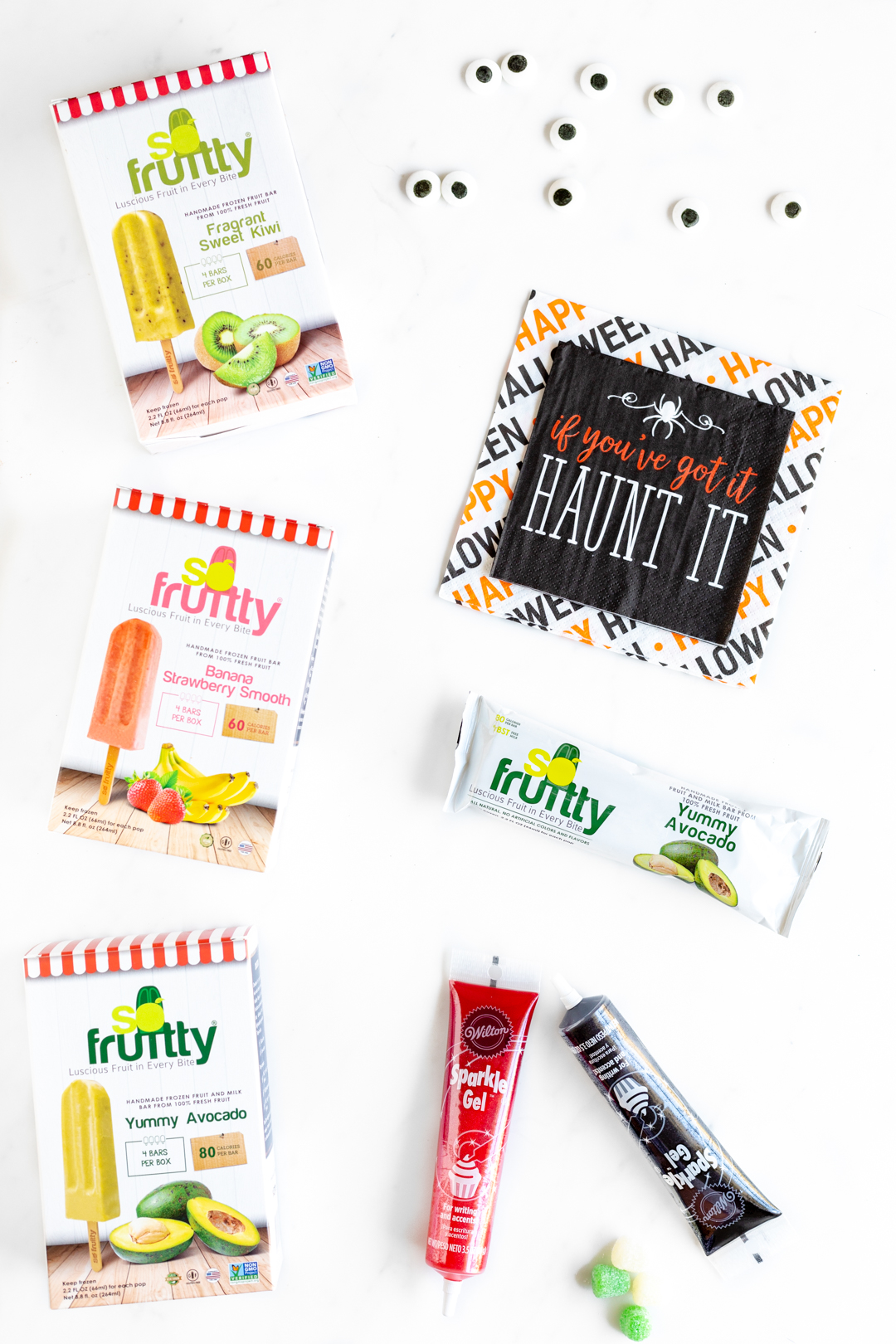 FRANKENSTEIN POPSICLE INGREDIENTS
Here are the small handful of things you need to make these cute Halloween themed ice pops.
It's easiest to make these on a small baking tray lined with parchment paper. Then you can place it back in the freezer quickly until the icing sets and until you are ready to serve these.
Can you believe it? An adorable treat with only four simple ingredients! Onward, friends!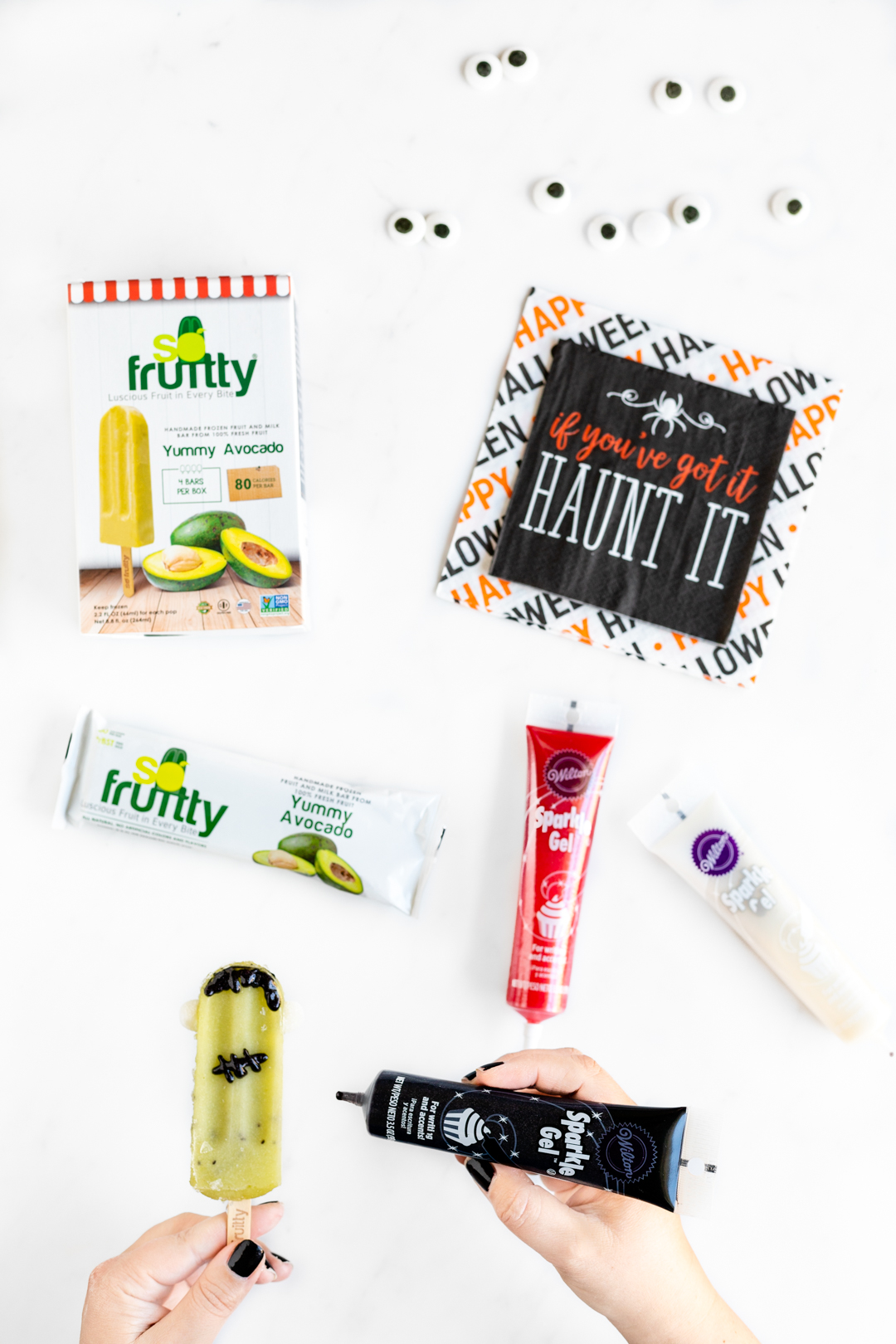 Now it's time to draw on your frozen treats with the Sparkle Gel. Add some hair on top and a mouth. You can make both of these is so many different ways. Have some fun with it. then, use the gel to adhere the candy eyes in place as well as the gumdrops on each side.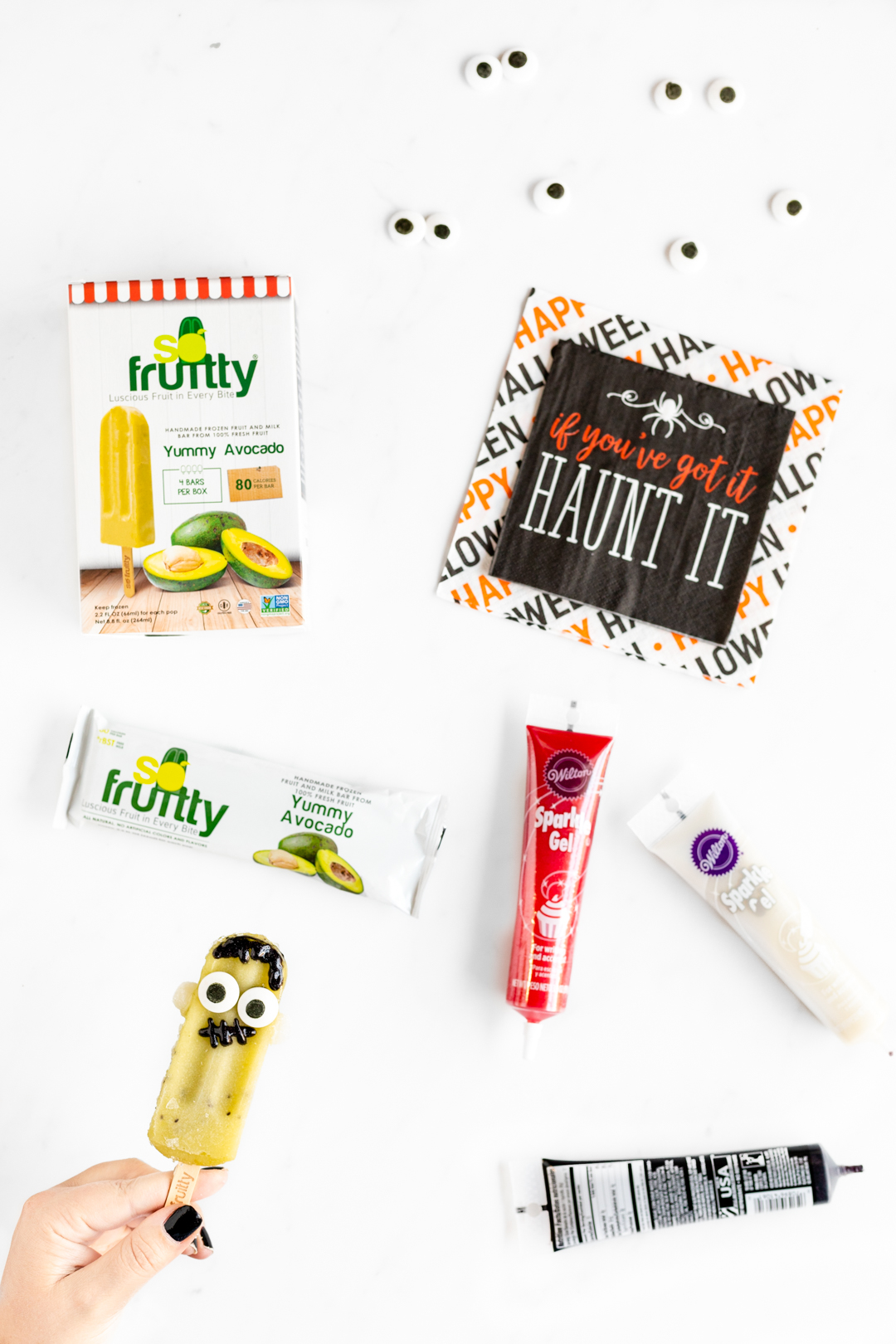 Voila. It's really that simple! Now, place them back into the freezer on your baking sheet until the icing is set and then serve. If you plan to serve them another day, you want to lightly wrap them in plastic wrap to keep them fresh. And speaking of wrap…. that's a wrap. You know how a scrumptious alternative to just candy treats this Halloween season.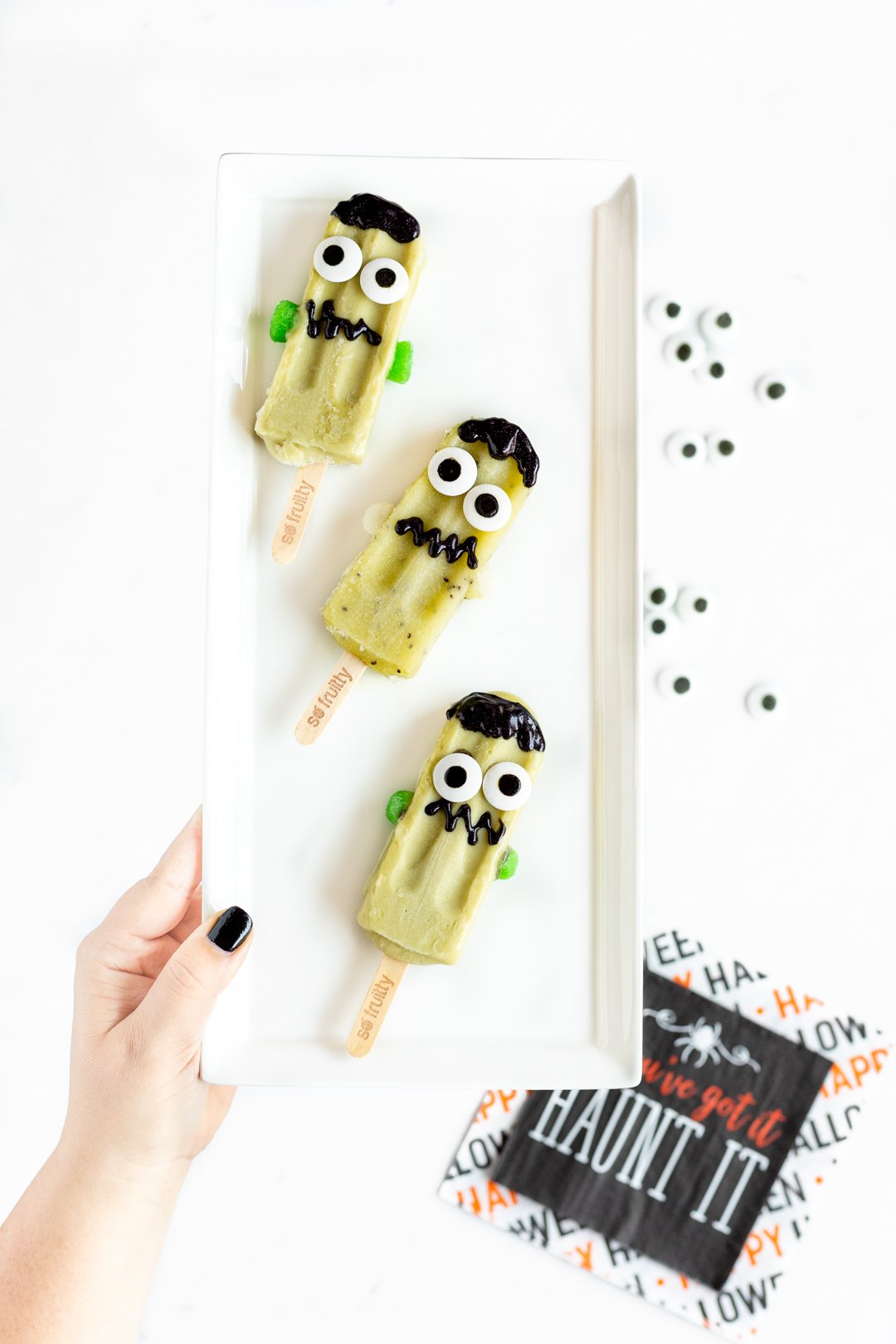 I'd love if you visited my friends at So Fruitty over on Instagram and show some love! Use the hashtag #SoFruitty with your own yummy creations!
Happy Halloween!