Enter, if you dare. Things are about to get a little spooky in here. You know that I often lean towards the cuter side of things, but when it comes to Halloween, I love to get my creep on. I'm excited to share ideas on how I made my porch… haunted thanks to the epic decor that I found at Lowe's this year. This post was sponsored by Lowe's as part of an Influencer Activation for Influence Central and all opinions expressed in my post are my own.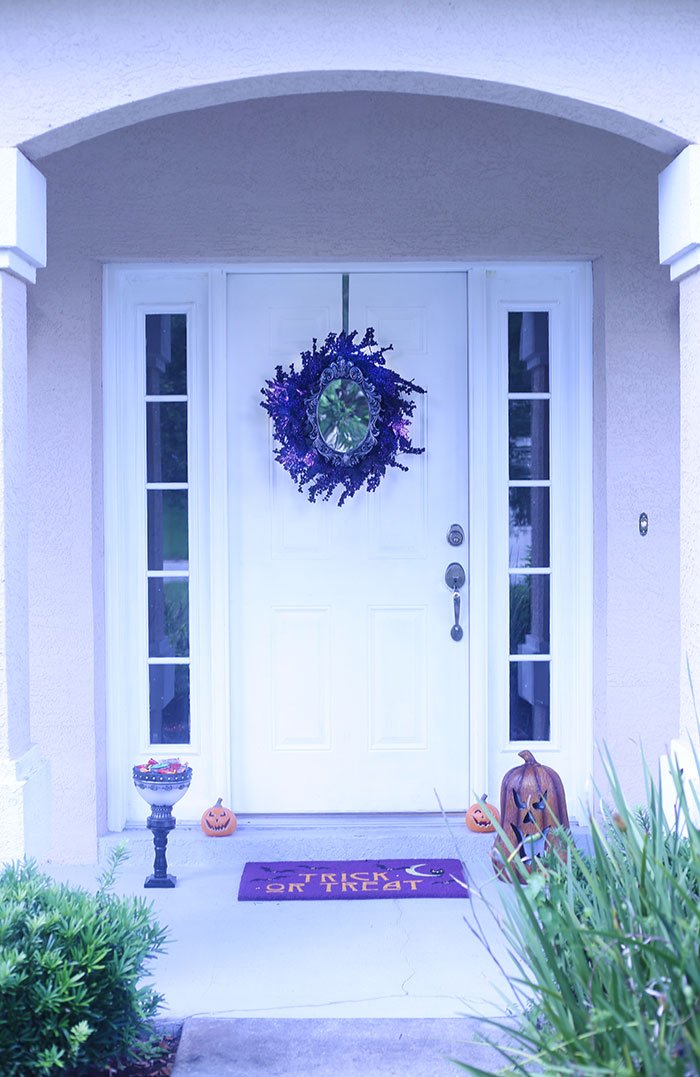 We're having company during Halloween week so I really wanted to do it up right this year. I have to admit, it was difficult to choose because there was just so many ways I could have went with this with all of the options at Lowe's. I wanted… all the things! My husband was following me around with a cart and had to spend half the time putting things back where I found them because I kept changing the theme. Thankfully, he has an amazing level of patience.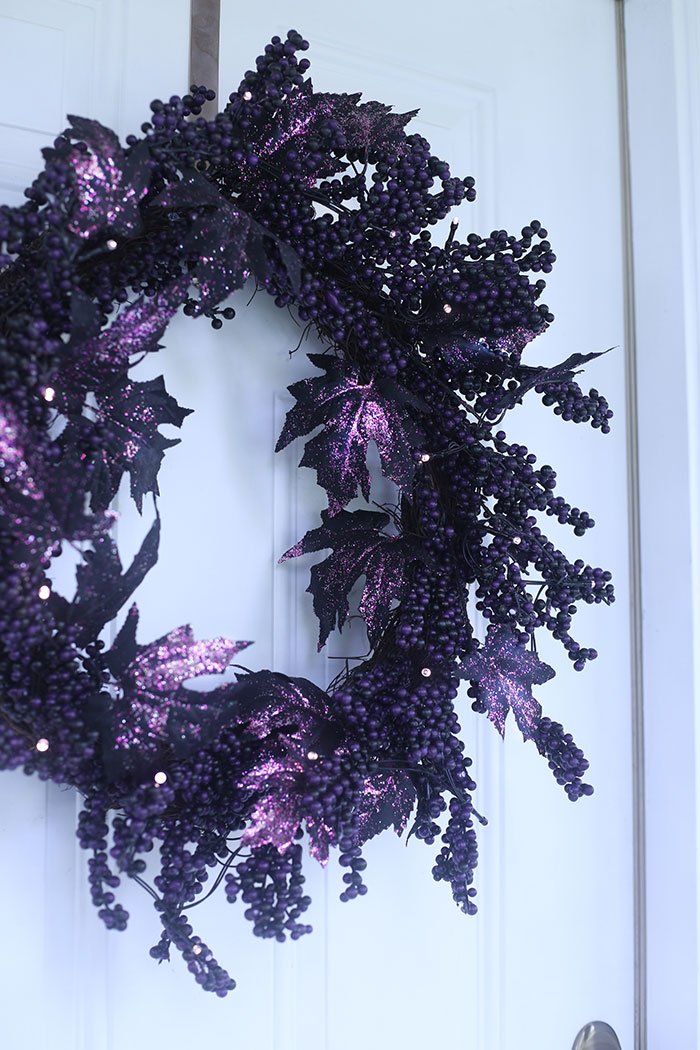 What changed my direction for the final time was this eery yet beautiful wreath. Instant love. I really had to have it. So… a purpley haunted porch theme it was. It even lights up with a battery operated timer. Bonus! Onward.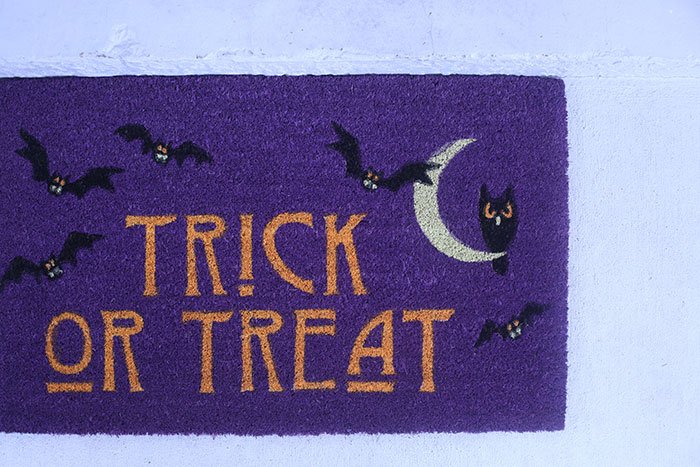 I love this Trick or Treat doormat so much. It keeps things cute and friendly… during the day at least.
After I brought my Halloween haul home, I came up with a brilliant idea. I had picked this seriously cool haunted mirror, but couldn't decide how to use it outdoors since it's made to stand upright on a surface.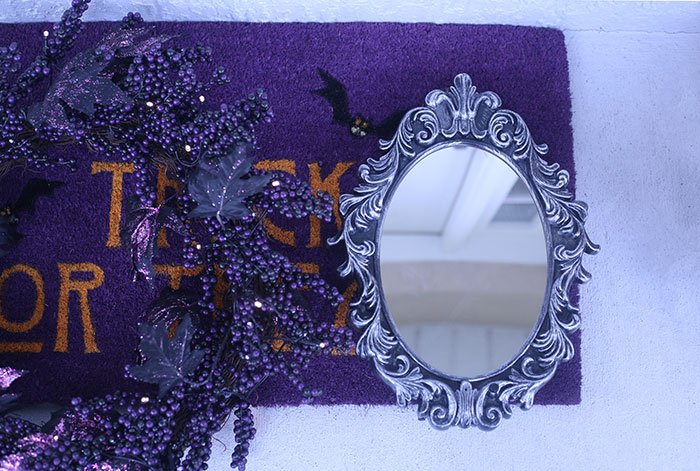 I decided that it just had to be attached to the creepy wreath for my front door. A combination of hot glue and ribbon did the job of attaching the mirror to the wreath in minutes. The result? Epic creepiness for all visitors who dare come knocking.
The mirror can be set to sense motion so that it turns on automatically… and completely scares the heck out of anyone in it's wake. It's brilliant.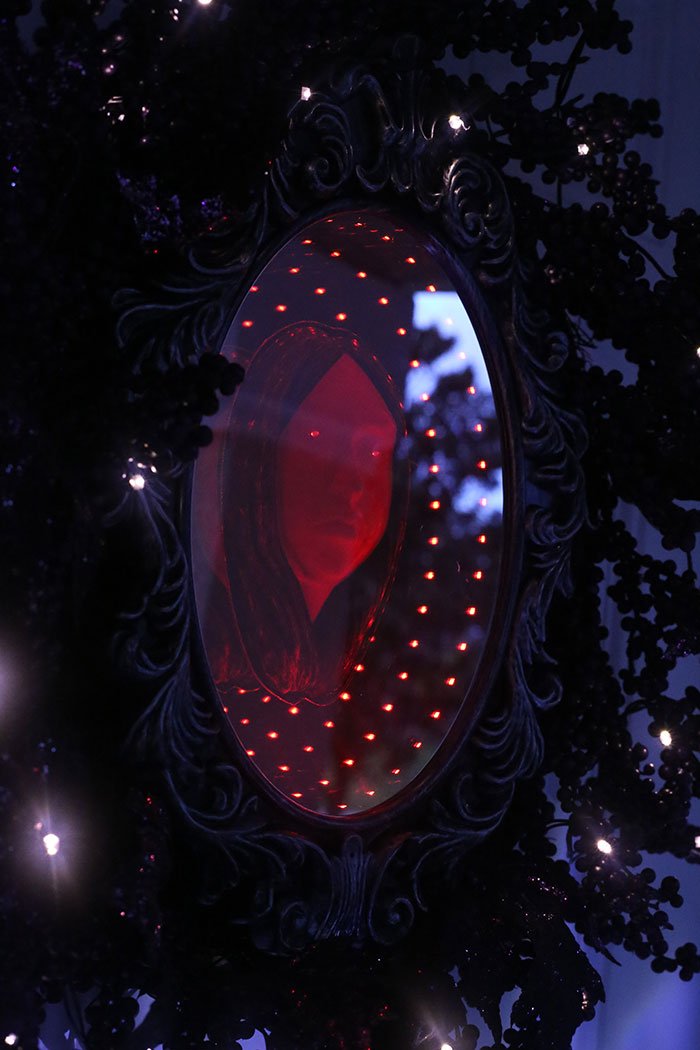 And friends. She sounds WAY more terrifying than she looks. Get to Lowe's and see for yourself. Now for some more haunting touches. The selection of Halloween lights they have is huge! It was really hard to pick, but these classic ghosts won me over. If you want to do it up big, you have to get some lights. They really bring your whole porch to life.. in the spookiest way possible.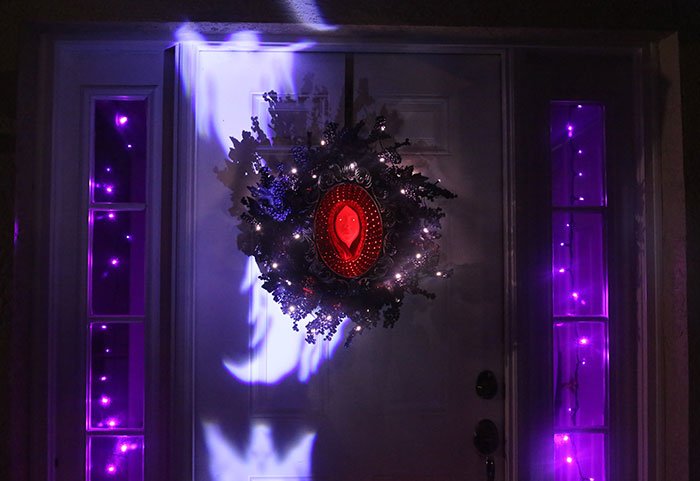 For even more haunted lighting, I set up these LED lights around my door frame. The ones I chose are both orange and purple. You can have them flash both colors or just use one. I stuck with just purple for mine.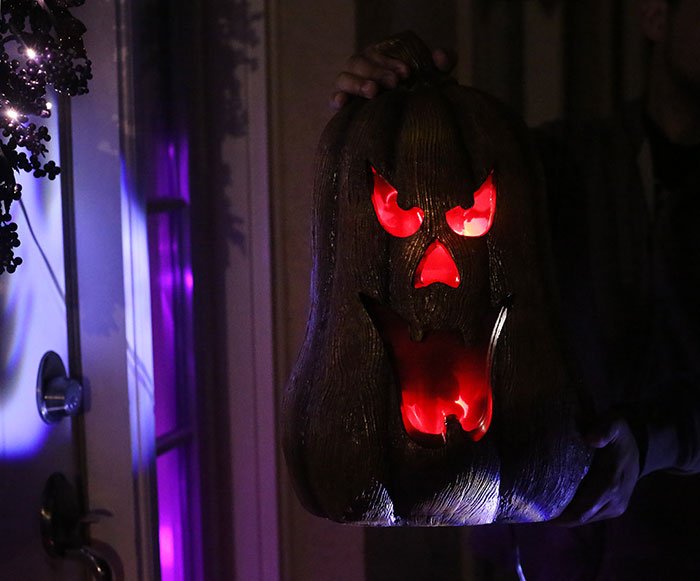 Now for some more light up fun. Another one of my favorite picks is this pre-lit pumpkin. I love the way this one lights up, it looks like it's breathing fire inside but in reality it's just cool looking LED lights.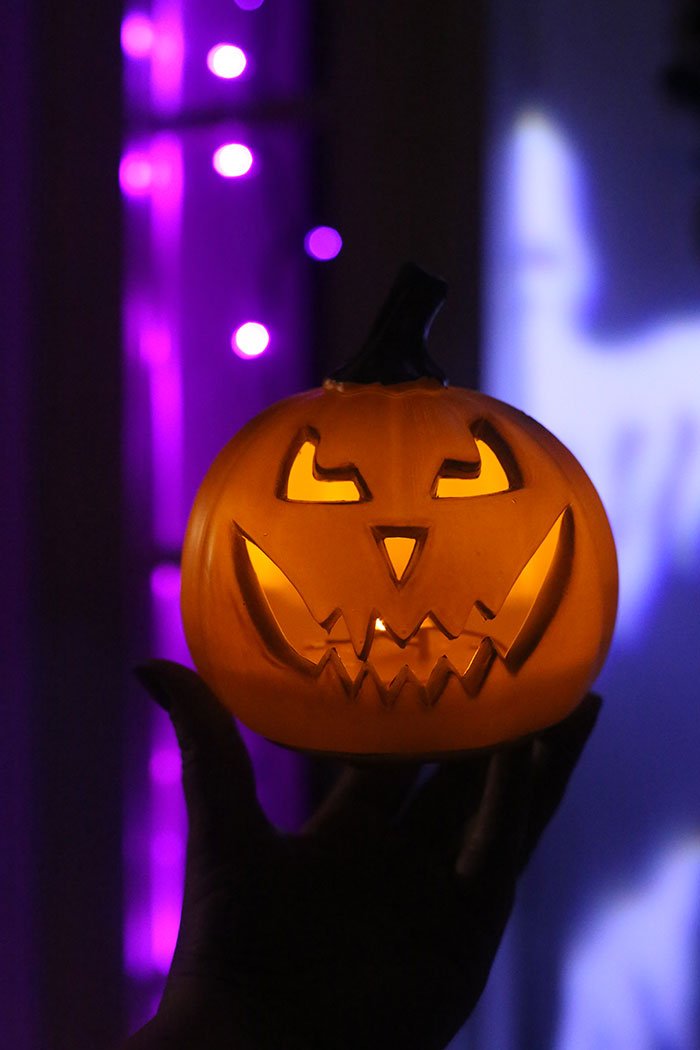 We couldn't scare the heck out of the neighborhood without trusty ole jack. I added a couple of pre-lit jack-o-lanterns to add to the creep factor. Lowe's has a few different varieties of these to choose from. Some are cute and some are a little more horrifying. Muah ha ha.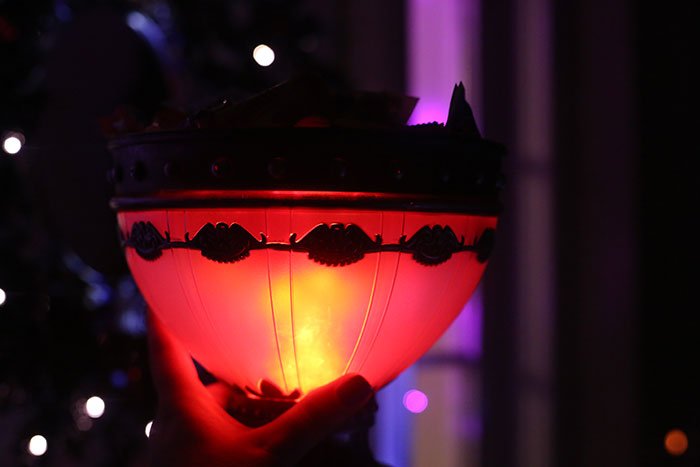 My haunted porch would not be complete without an equally sinister candy bowl. This is another pre-lit item that runs on batteries. I can't wait to pass out candy with this hauntingly delicious dish.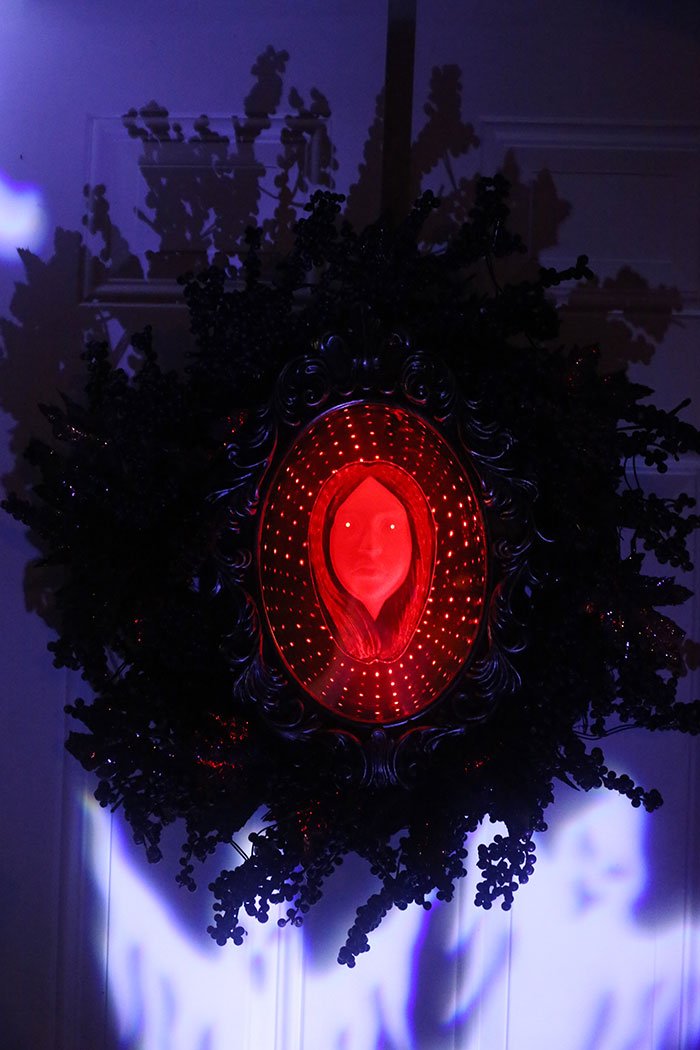 I had way too much fun turning my porch into something out of a horror movie. If you love it, make sure to check out everything that Lowe's has to offer this season. They are really rocking it out hard core.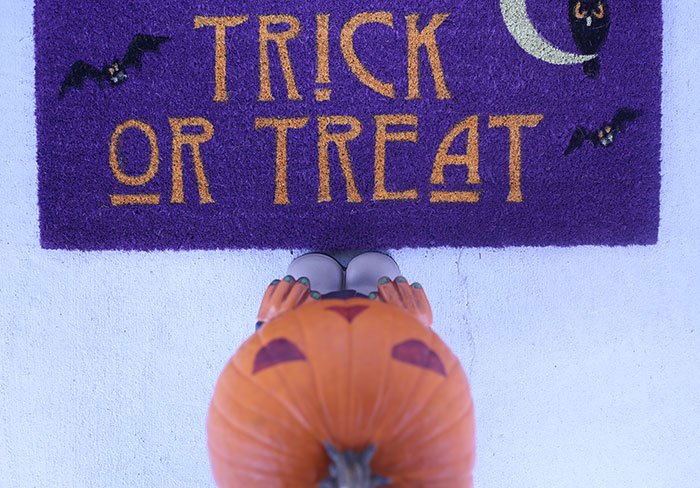 From Halloween pumpkins and carving kits to the spookiest light up decor, visit Lowe's this season.

How are you decorating for Halloween this year? Creepy or cute?