When is Mother's Day? That's a question that many of us ask. Hint: It's on Sunday, May 10th (2020). It's one of those spring holidays that just sneaks up on us. You won't be unprepared with these special Mother's Day party ideas. When it comes to celebrating this special day, you can't go wrong with this sweet and simple presentation for mom. I'm going to share my tips on how to make a big bang that she won't forget. Thank you to I Love Ice Cream Cakes for sponsoring this post, all opinions are my own.

Confession time. I'm kind of a mama's girl. I've been blessed with a seriously great mom that I adore. She's the one that my friends all kind of wish was their mom, she's just that cool. After all of my growing up, our relationship is truly better than it's ever been.
Host a Mother's Day Party
I definitely love spoiling my mom and wouldn't miss this fun excuse to celebrate her even more. Are you with me?
Mother's Day Decorations
I've always favored big presentations that speak louder than words over fancy-shmancy gifts. It goes along with "it's the thought that counts". Mom is going to remember this big to-do created all for her. Taking a few simple decorations, we'll set up the perfect Mother's Day party table to show some love. With a focus on champagne and pink tones and faux flowers, get ready to party! Let's start by going over all of the basic party elements; Your party ideas will come together in just minutes.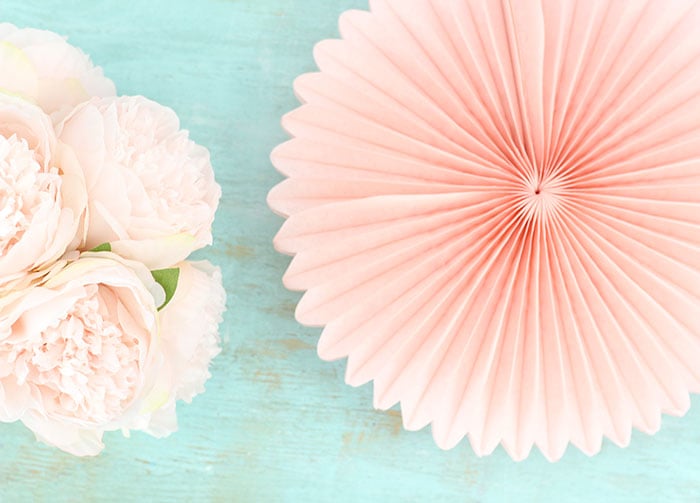 Tissue Paper Fans
You can buy them for a great price or even make your own. They make a huge impact on a party table. We'll be hanging them high and low to make the party table appear larger.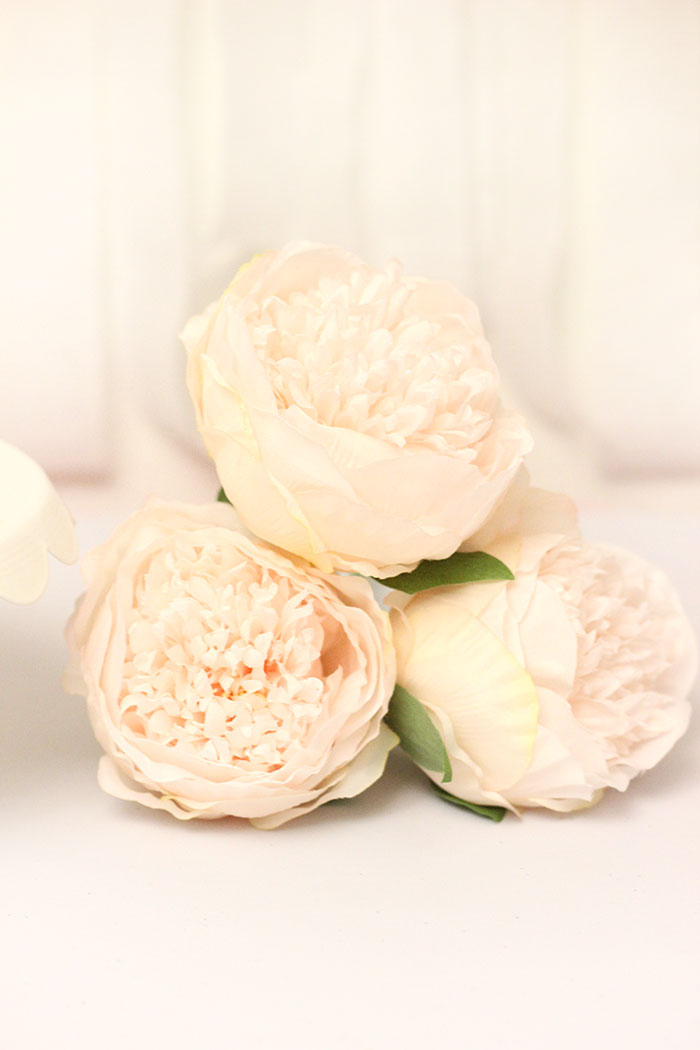 Faux Flowers
While I love fresh flowers, investing in gorgeous faux flowers is a good idea because you can reuse and repurpose them. For this party, I chose pretty light pink faux peonies. They are gorgeous! We'll use them on the party table to make it pretty for mom.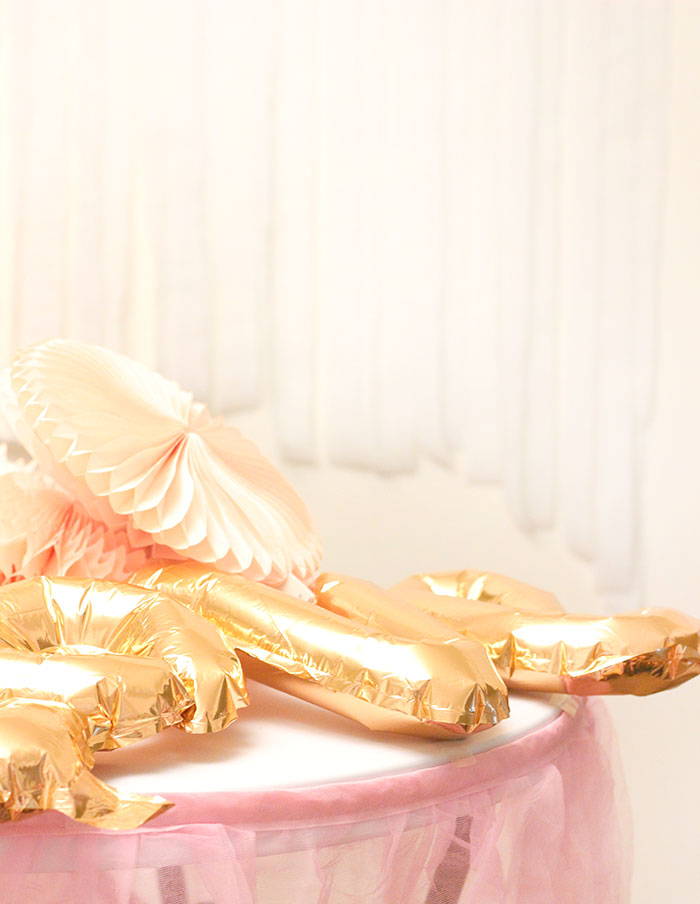 Streamers
I love using streamers to make a party pop. You can find a pack for about $1 which is a huge bonus. Line the wall behind your main party food area with the streamers to make the perfect backdrop.
Balloons
Balloons are a party go-to. They are really budget friendly and definitely help with creating a big party presentation. For this party, I used a champagne foil letter balloon that reads "love". It's absolutely gorgeous and you can find them at a good price. I found this one for $6 on Amazon. Isn't it so cute?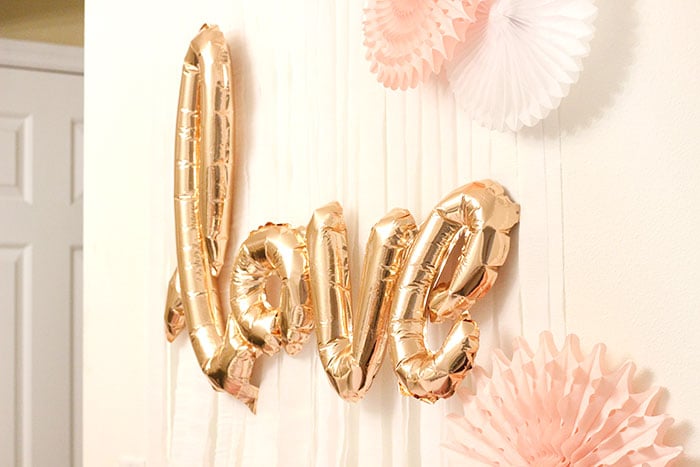 Table Tutu
For maximum awesomeness, use a simple tulle tutu for your table. I adore this pink one and it can be used over and over again. It's nice and thin so it can be stored easily. If you don't have a need to invest in one, you can always use a matching tablecloth that you have on hand or a simple matching plastic one.
Mother's Day Desserts
When I think of Mother's Day parties, I either go with a brunch celebration or a dessert theme. This year I'm focusing on sweet treats for mom.
Ice Cream Cakes FTW
Ice cream cakes are perfect for almost any party. It's no fuss and you just grab it right out of your freezer when you're ready to party. They're oh-so-delish, too! After much thought, I decided on this scrumptious Carvel® Strawberries N' Cream Ice Cream Cake from I Love Ice Cream Cakes, which I picked up at my local grocery store. It features strawberry and vanilla ice cream with the most mouth-watering crunchies. You'll find a dreamy strawberry filling all topped with whipped icing. Sounds about right for a sweet springtime celebration to me! Let's take a peek: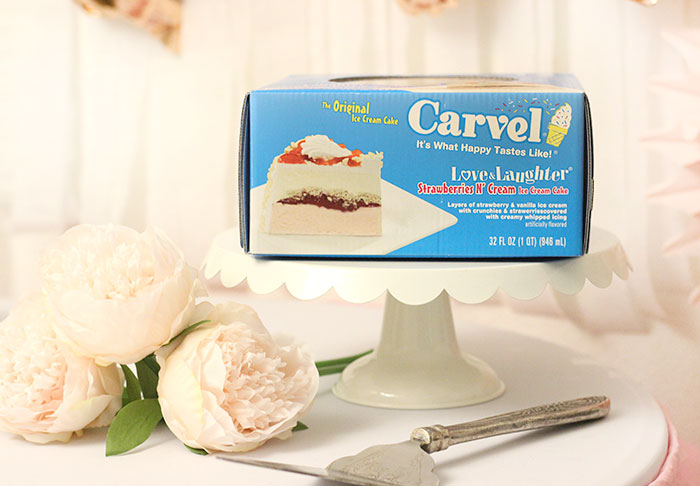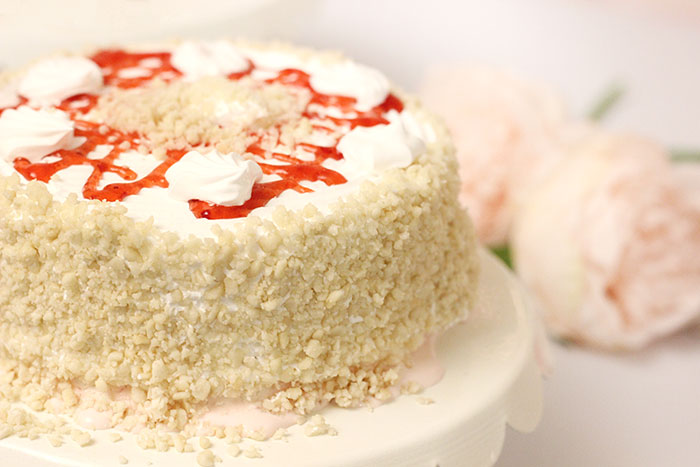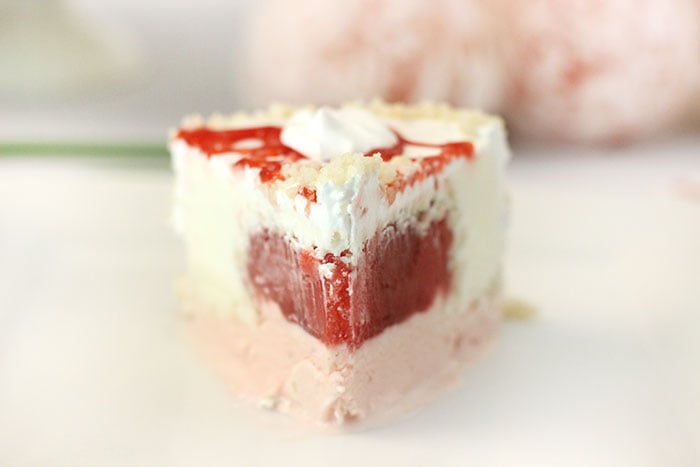 Are you drooling yet? Between the strawberry and vanilla flavors and the crunchies in there, it's perfect.
Matching Party Treats
You all know my favorite party hack, don't you? For quick and easy matching party treats, simply purchase or make cookies or cupcakes and use matching frosting. Easy peasy and perfectly pink for this party.
Keeping it simple and keeping the main focus on the ice cream cake and fun decor, you'll have the perfect Mother's Day party.
Find the best ice cream cake from I Love Ice Cream Cakes this Mother's Day with this clever product locator.
You'll find a variety of tasty options at the grocery stores in different sizes, shapes, and flavors from these brands, including:
Carvel

®
Hello Kitty®
Jon Donaire®
OREO®
Check the bakery or freezer aisles in grocery stores nationwide to pick up your party-perfect ice cream cake.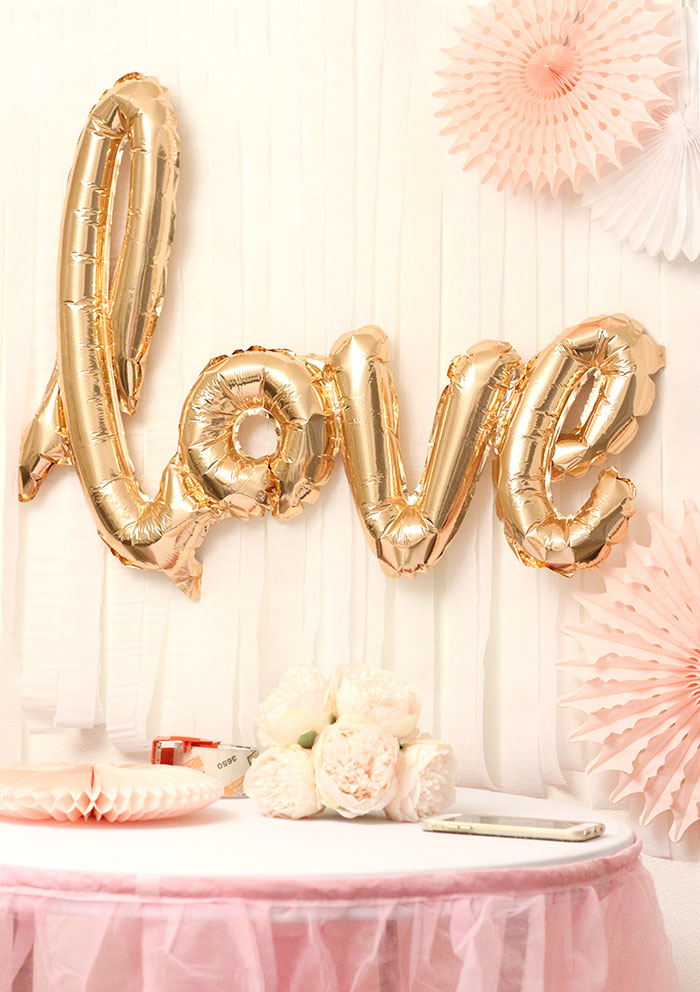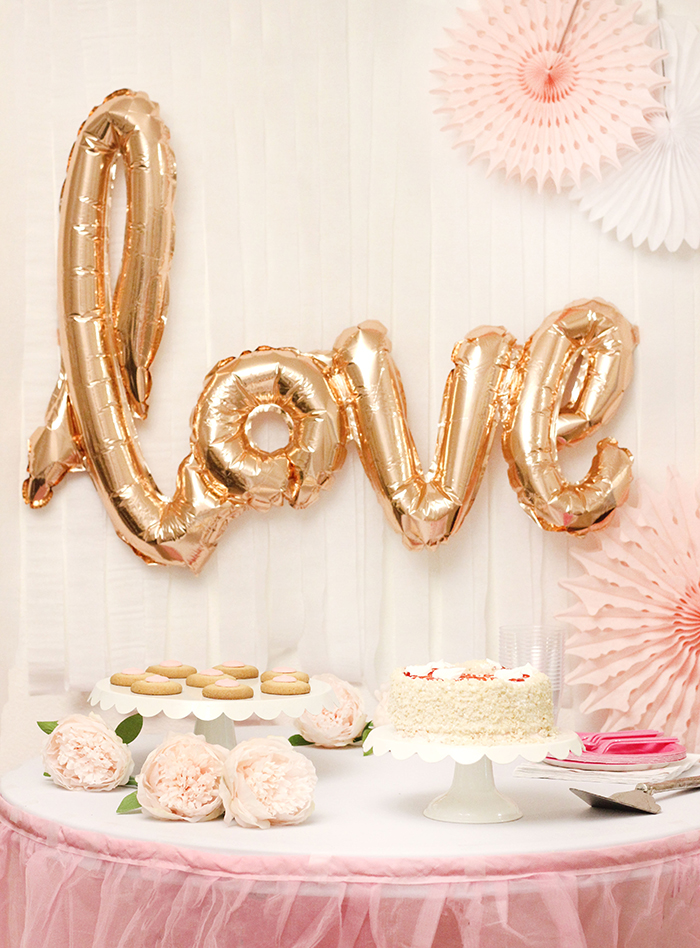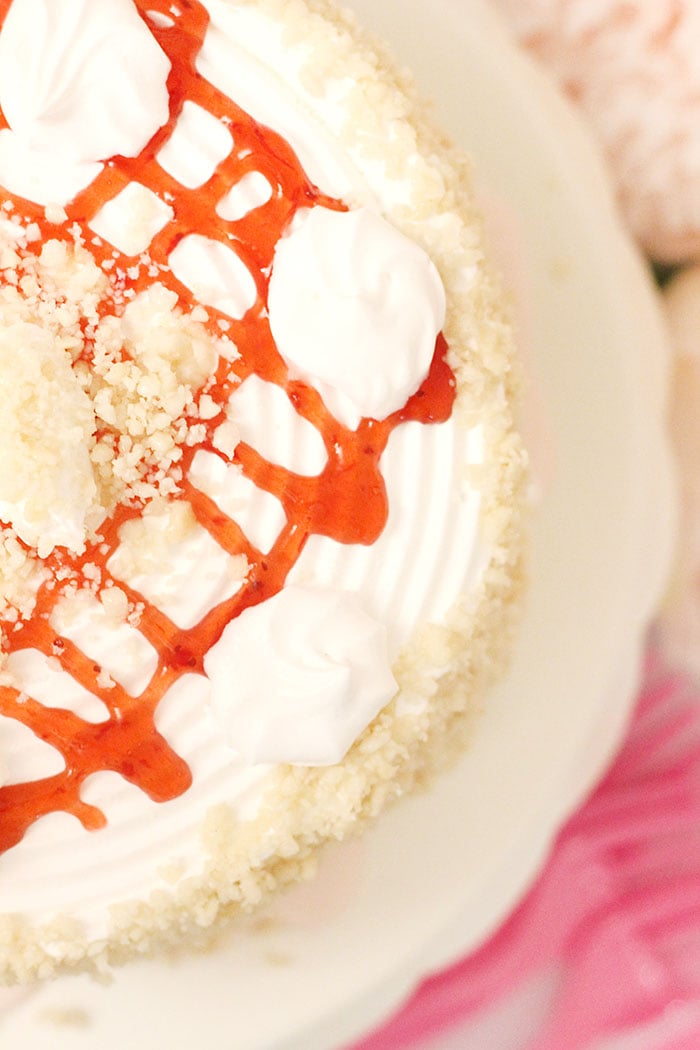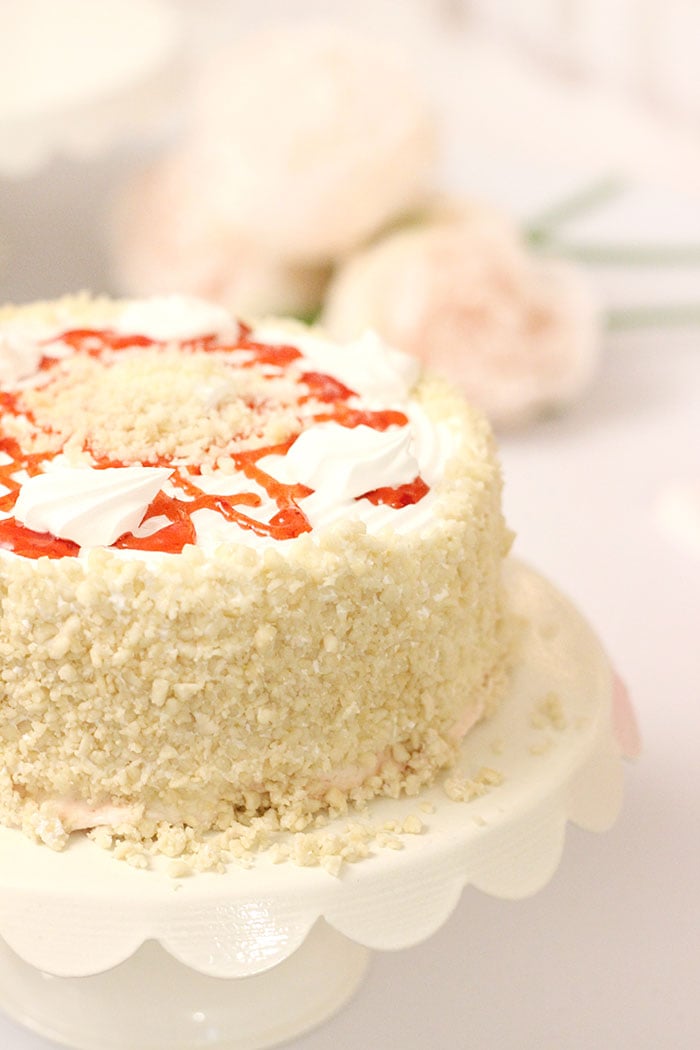 If you love ice cream cakes as much as I do, make sure to join the I Love Ice Cream Cakes' Crunchie Club! It's the best way to keep in the loop about coupons and ice cream cake news!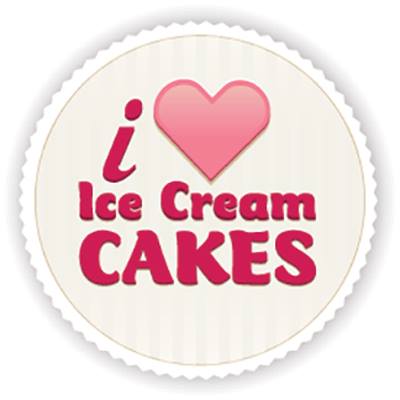 Which of these ice cream cakes would be perfect for your Mother's Day celebration?