This post is sponsored by General Mills, but all opinions are my own.
Tis the season to deck the halls and enjoy all the sweet treats! I'm so excited to share all the best dessert charcuterie board ideas for all of your holiday needs. One of my favorite highlights are these adorable Ugly Sweater Brookies made with Betty Crocker™ products available at Sam's Club! Let's have some fun to prepare for a delicious holiday season ahead!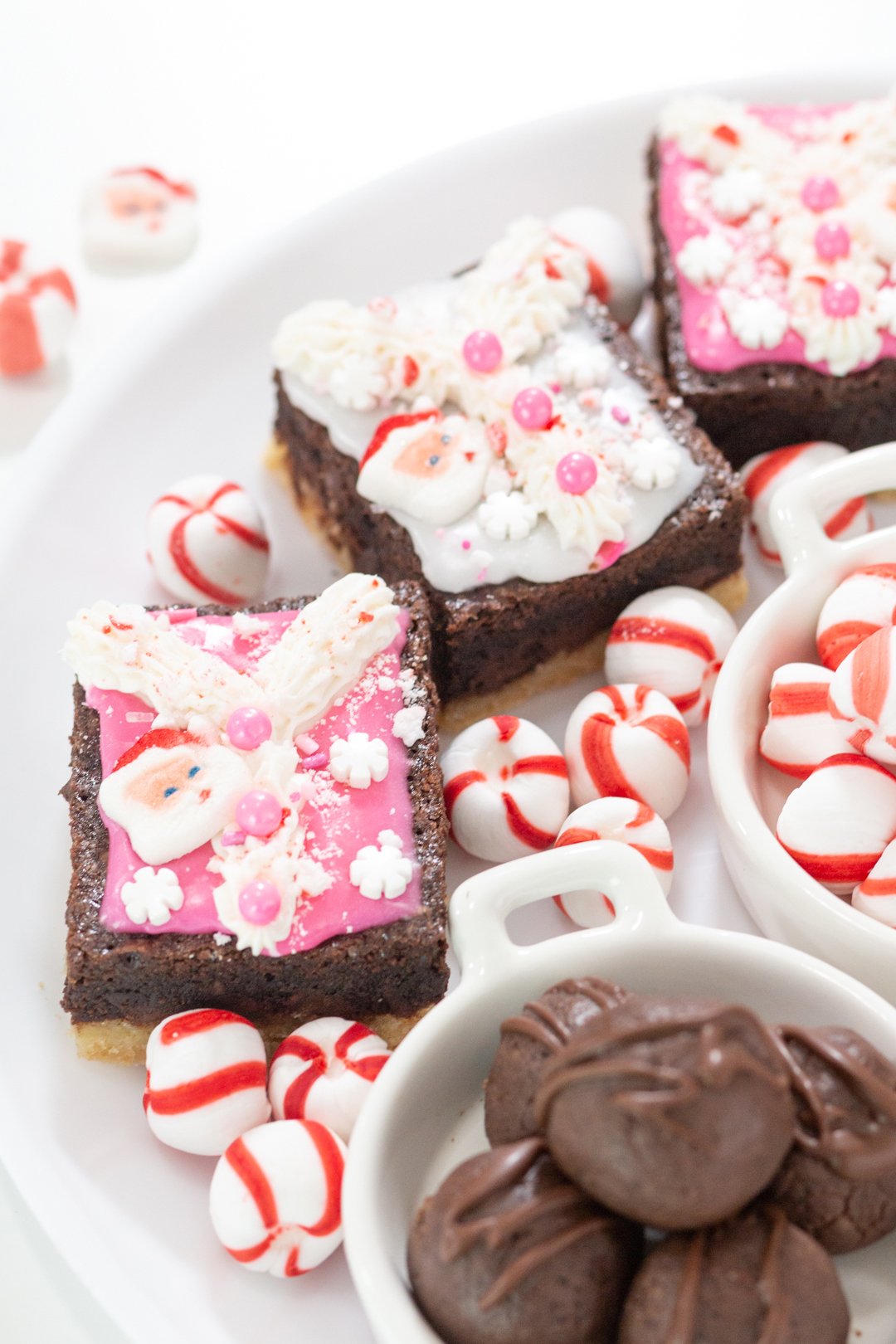 There's nothing quite like the perfect selection of desserts set up on a serving tray or platter. Getting to pick and choose exactly what you want to enjoy is just tasty and fun. What I like best is seeing the look on everyone's face as they see the spread in front of them for the first time. That "kid in a candy store look" is just priceless.
That's why I am loving all of the options to stock up on club-sized packs of Betty Crocker™, Bisquick™ and Pillsbury™ favorites at
Sam's Club
. You'll never run out of the good stuff during the busy holiday season.
UGLY SWEATER DESSERT
To get our holiday dessert on, I made Ugly Sweater Brookies using Betty Crocker™ Triple Chocolate Brownies and Betty Crocker™ Sugar Cookies available at Sam's Club. This recipe could not be any easier to make and the decorating is made extra simple for the perfect no-fuss holiday treat.
The combination of scrumptious brownies and tasty sugar cookies makes for a unique treat and then adding icings, frostings, icing decorations and sprinkle takes them over the top. You can transform these treats into something that will be the talk of the table with such little effort. I love it!
For another easy dessert idea for the holidays, try Betty Crocker™ No-Bake Cookie Dough Bites. YUM. The variety pack comes with two flavors. Chocolate Brownie and Chocolate Chip with Chocolatey Drizzle will add easy variety to your holiday dessert spread.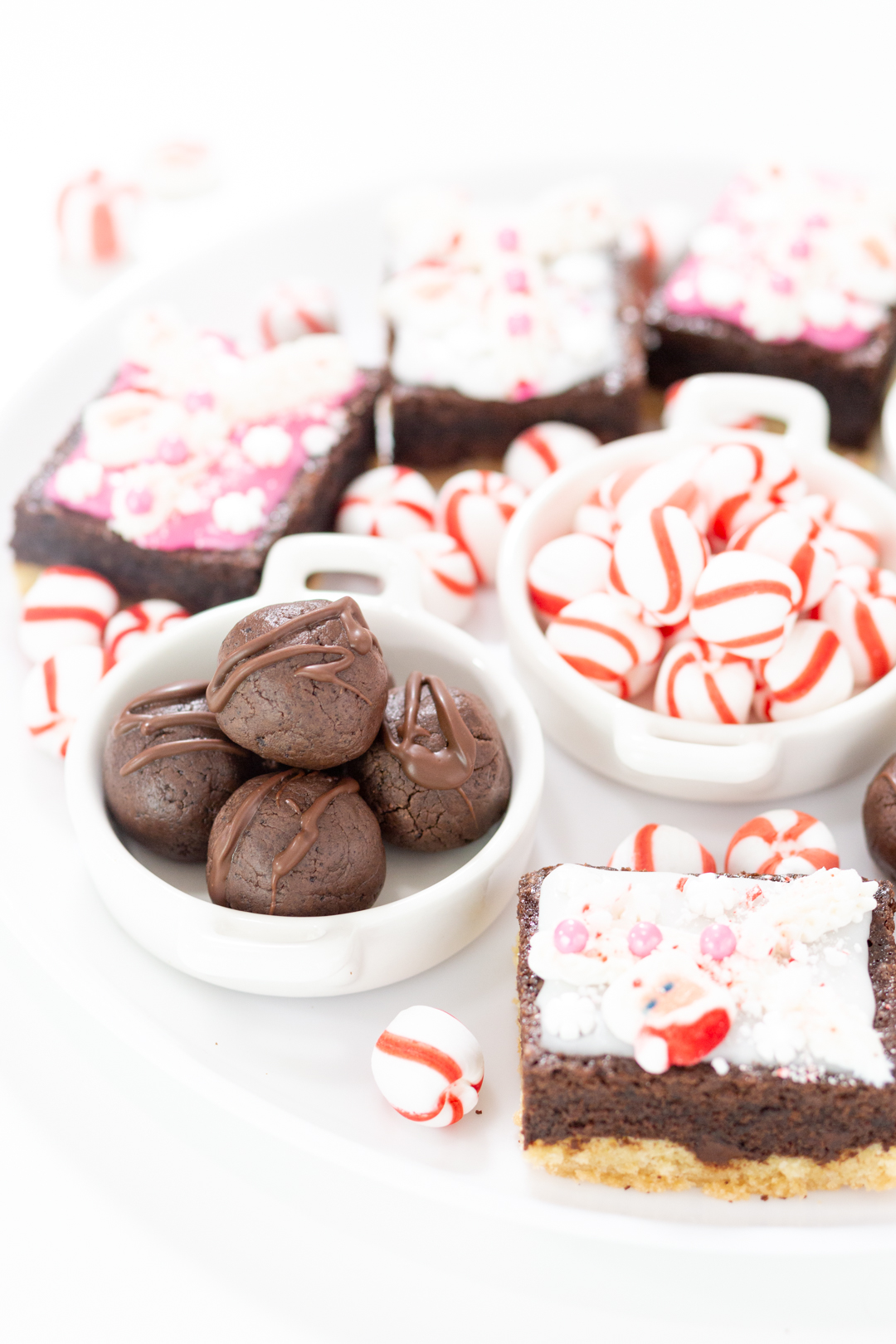 Not sure about you, but I love a good no bake recipe... especially when it's bite-sized dessert. I'm kind of obsessed with the Chocolate Brownie flavor. Melts right in your mouth.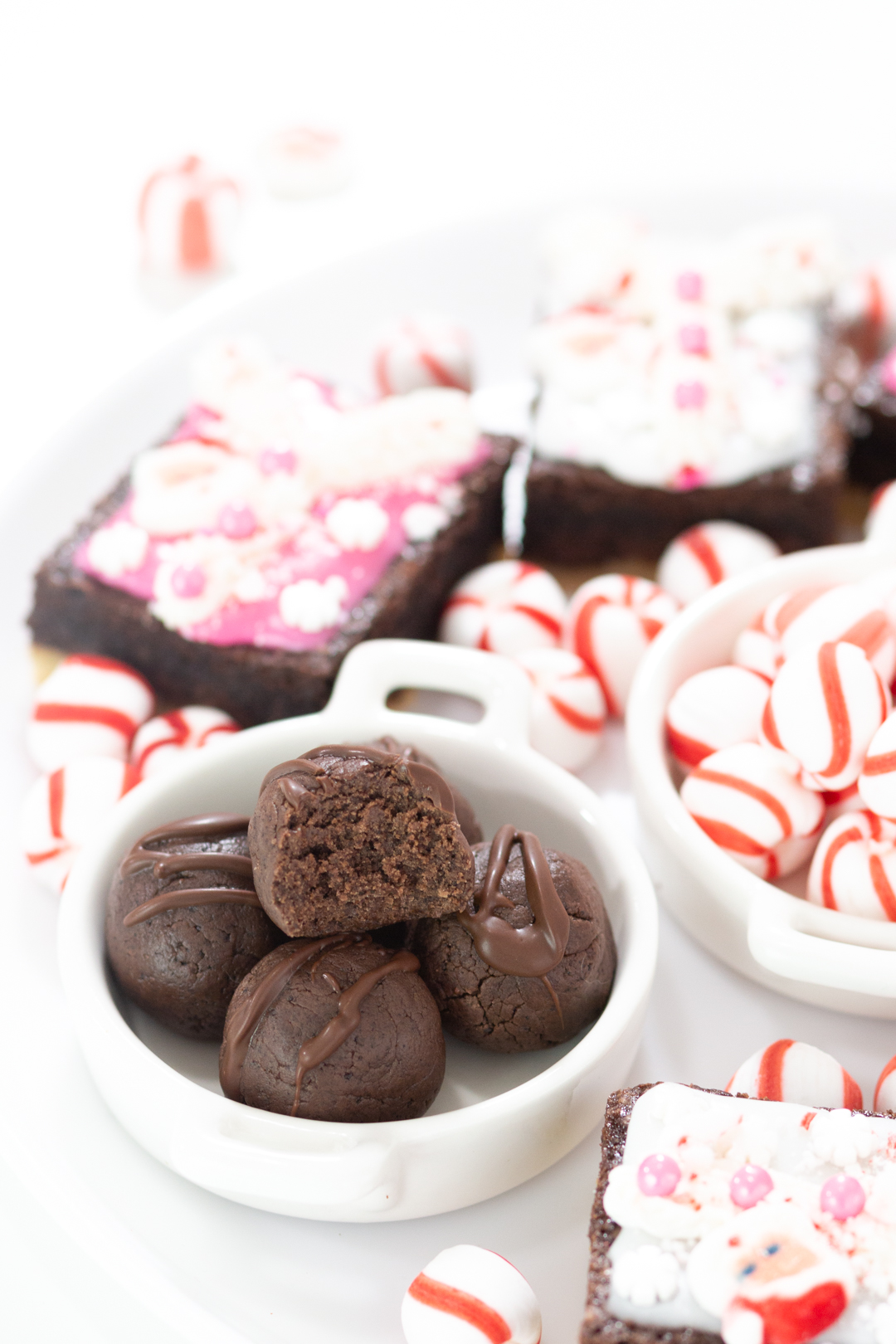 To make your dessert board extra tasty and easy for entertaining, add a variety of holiday candies and peppermints for variety.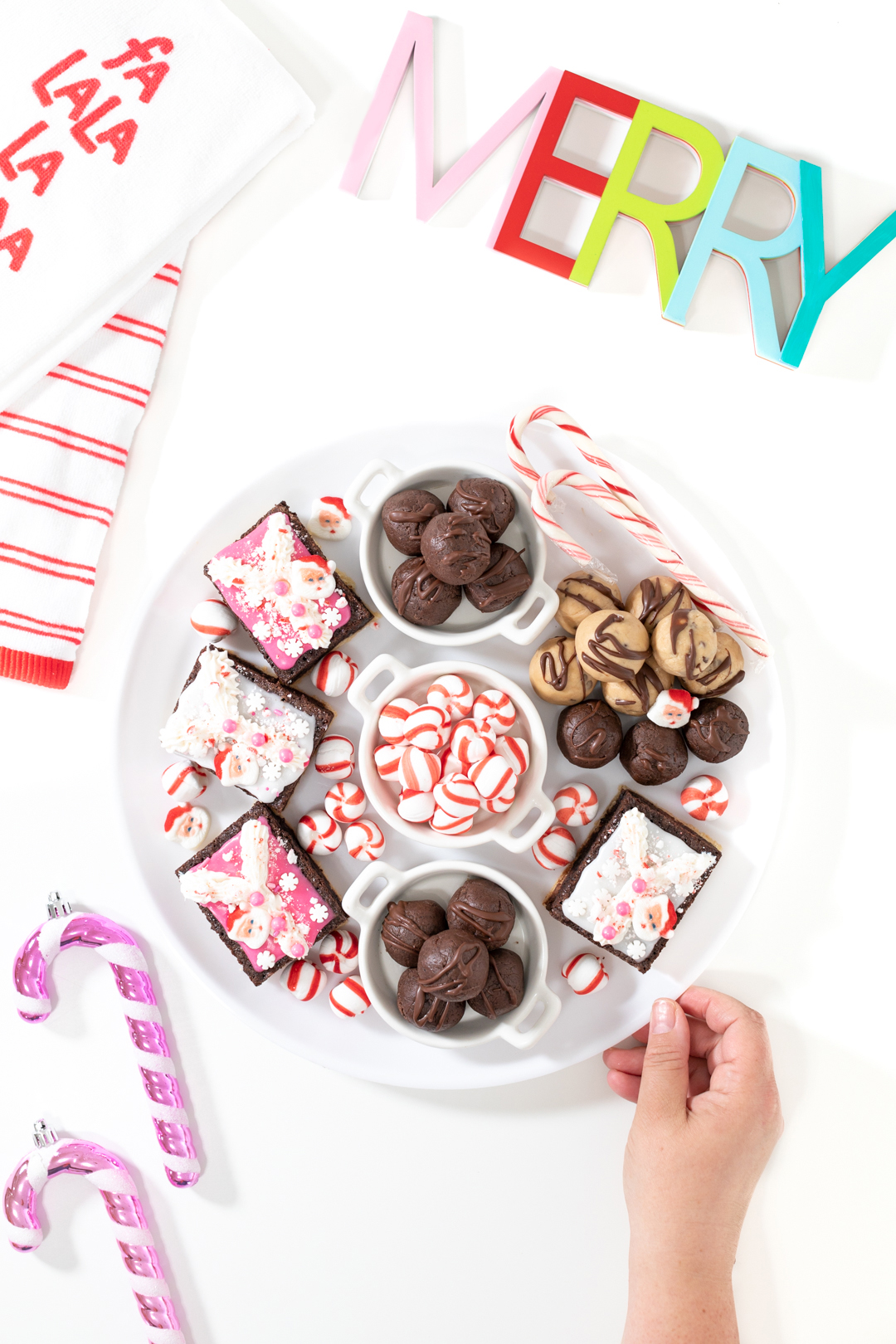 Use small dishes to separate your items and add visual interest. Keep it simple and the fun will follow.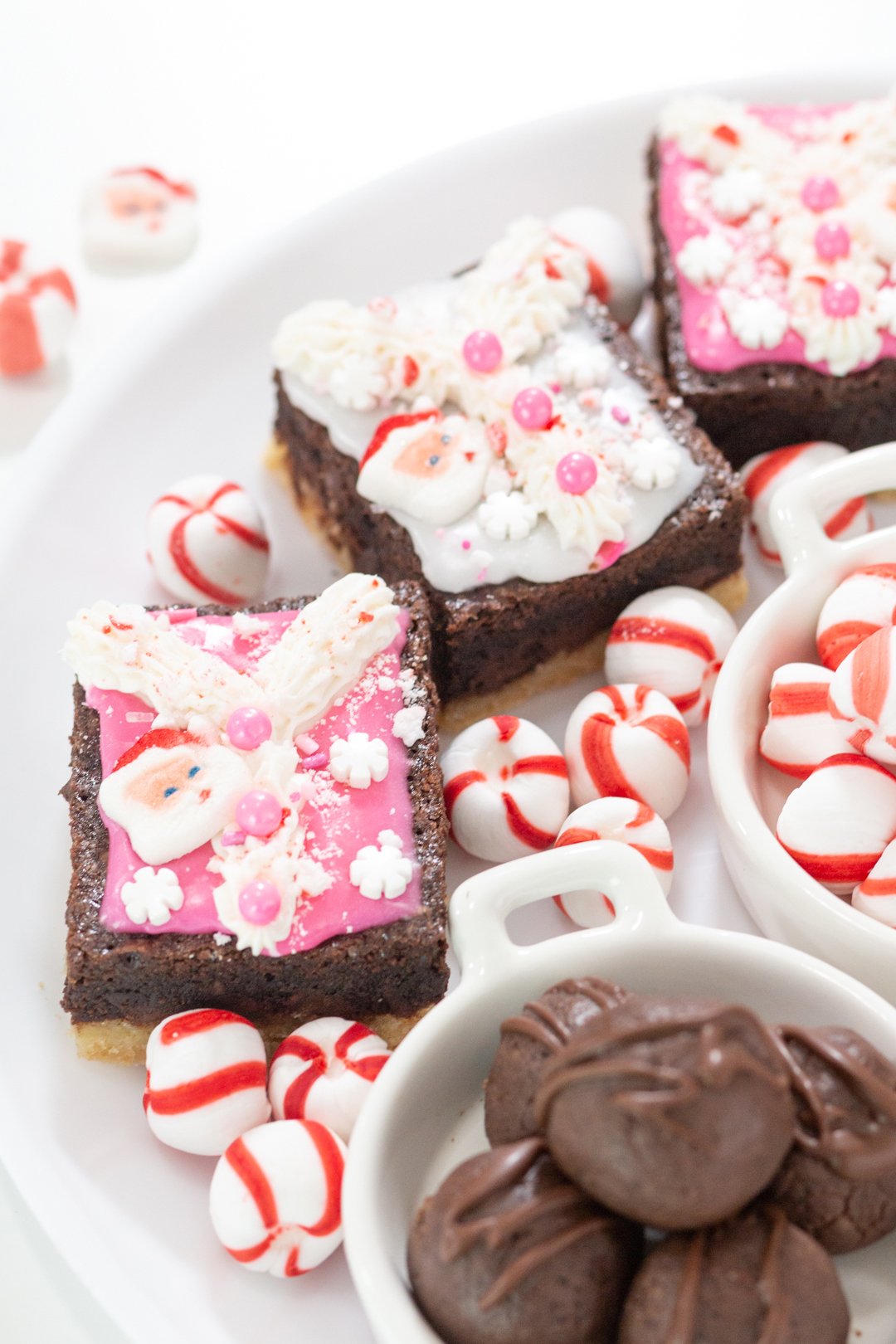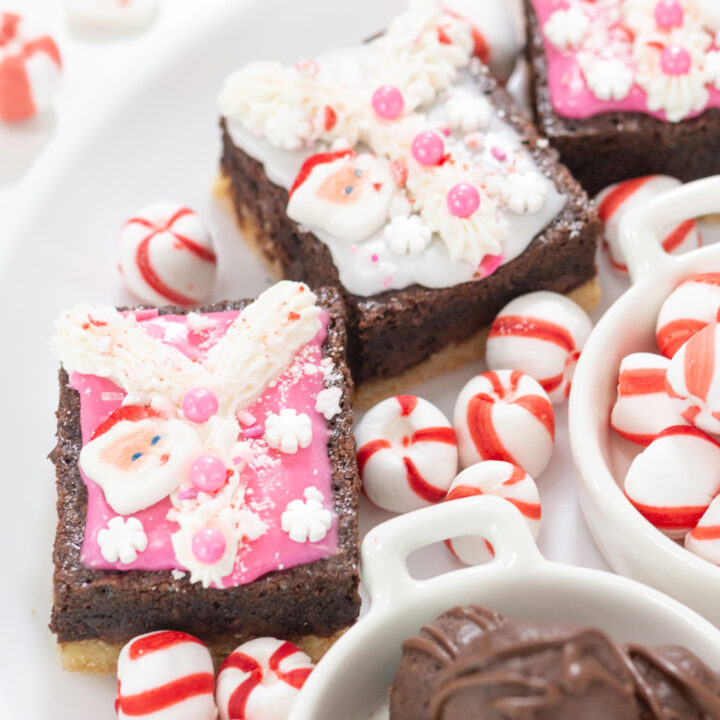 Ugly Sweater Brookies
Total Time:
1 hour
50 minutes
Adorable Ugly Sweater Dessert Brookies. Combination of Brownies and Sugar Cookies baked into one dessert and decorated for the holidays.
Ingredients
SUGAR COOKIE LAYER:
1 Pouch (1.5 lb 1.5 oz) Betty Crocker Sugar Cookie Mix
4 TBSP Butter, Softened
1 TBSP Water
1 Egg
BROWNIE LAYER:
1 pouch (1lb 4 oz) Betty Crocker Triple Chocolate Fudge Brownie Mix
¼ Cup Water
1 Cup Vegetable Oil
4 Eggs
UGLY SWEATER DECORATIONS:
Cookie Icing (Pink and/or White)
White Frosting
Sprinkles
Crushed Peppermint
Small Candy Balls for "buttons"
Snowflake Sprinkles
Santa Icing Decorations
Instructions
Heat the oven to 350 degrees.
Line 13" x9" pan with foil and spray with non-stick cooking spray.
Combine all sugar cookie ingredients in a medium bowl.
Press the mixture into the bottom of the pan.
Combine all brownie ingredients in medium bowl.
Pour over the cookie layer.
Bake for 35-38 minutes or until you can insert a toothpick cleanly through the center.
Cool for an hour before cutting.
Remove brownies by lifting the foil out of the pan.
Cut into 20 even pieces.
Add Cookie Icing carefully to each brookie and let set.
Using frosting and star tip to create a sweater "trim" in a Y shape.
Add any other sprinkles, icing decorations and crushed peppermint to decorate.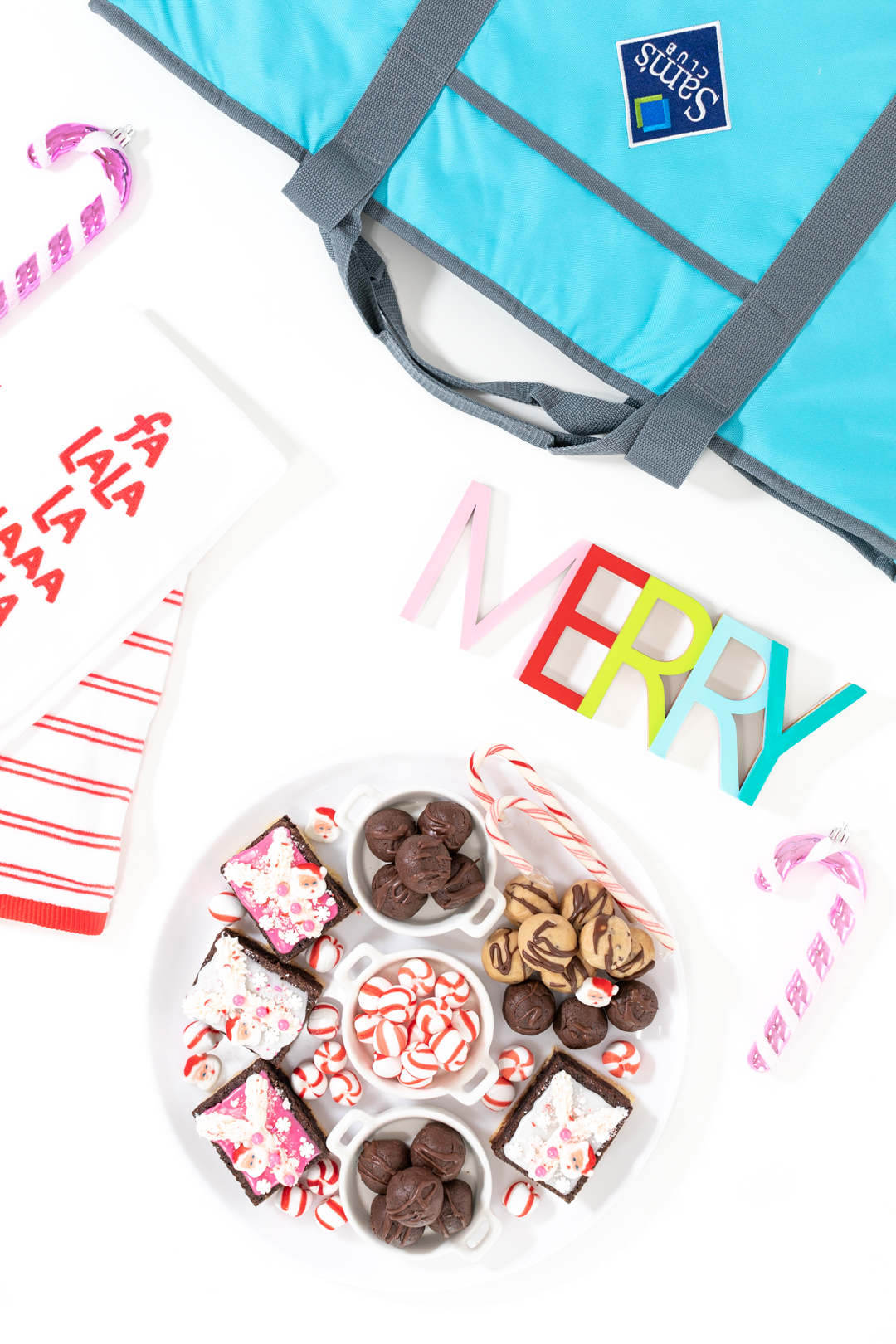 Deck your halls & stock up on favs from Betty Crocker™ & Pillsbury™ products at Sam's Club.