Seriously, time is flying like a witch on a broomstick. Only a little over two weeks until the most creep-tastic day of the year! Time to narrow down some ghoulish party ideas that will spook your guests. Last week I shared some of the things that I spotted at Kmart for Halloween. Remember all that creepy zombie guy or the giant glowing skeleton? I finally get to share all my ideas here together in motion today. We had a blast creating all these party goodies, hope you will enjoy as much as we did. This is a sponsored discussion as part of the Kmart Ambassador program, all opinions are my own.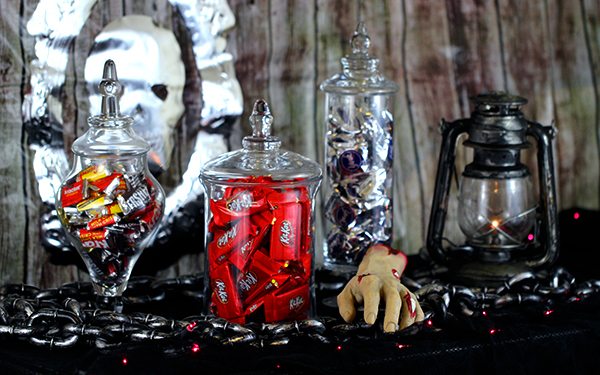 When it comes to Halloween party decor, Kmart has an absolutely obscene amount to choose from. To set my spooky scene, I started with a Barn Siding Scenery Backdrop that I found. I figured that would be a perfect way to build my theme. I also found some great wall decals from black bats to signs that say "be afraid". I really liked the one pictured above, it's a skull reflection in a mirror. The decals are metallic looking. There were so many options, I have no doubt that you'd find just what you're looking for. For candy and other treats, I thought their 3 piece apothecary jars were just perfect. You could also put other gory items inside if you wanted. Love them!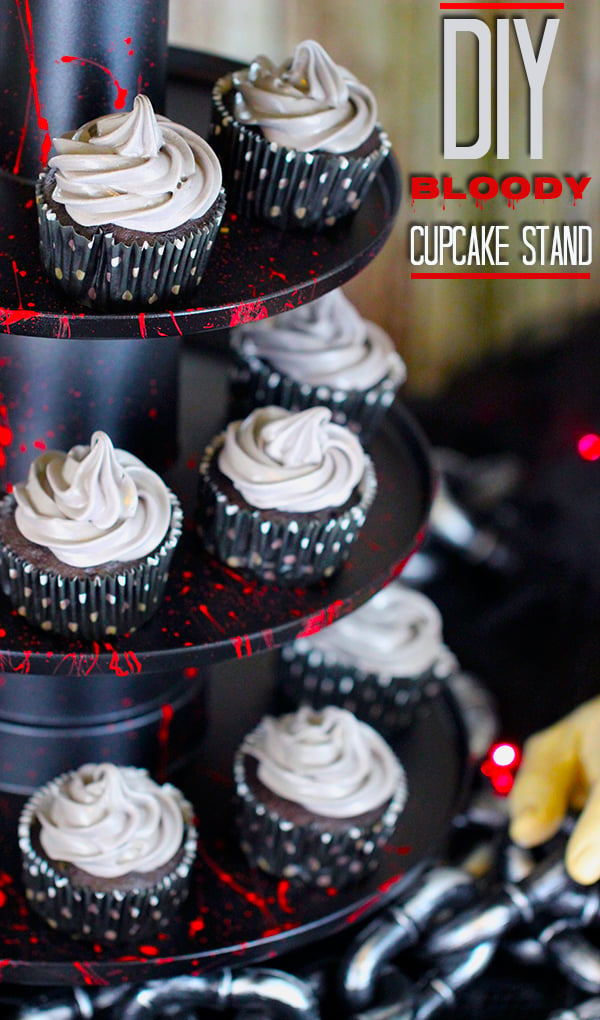 No party is complete without cupcakes, in my opinion. My theme was dark colors and metallics, I got the idea to make the Wilton Cupcake Server I purchased into something far more spooky. Here's what I did:
MAKE A BLOODY CUPCAKE STAND
Here's what I used:
-Wilton 4-Tier Dessert Tower
-Black spray paint or black acrylic paint
-Red acrylic paint
-Small paint brush
I simply spray painted the cupcake tower in black. I used two coats. Once dried, I literally took a small paint brush and dipped it in red paint, then "flicked" it at the tower. Make sure to do this outside or somewhere protected. I sort of got some red paint on my blinds. Oops. Let your red "blood spatter" dry completely before using your tower. For matching theme cupcakes I used black food coloring and white cake mix to make black cupcakes. Then, I used more black food coloring to make a grotesque gray frosting. So simple too!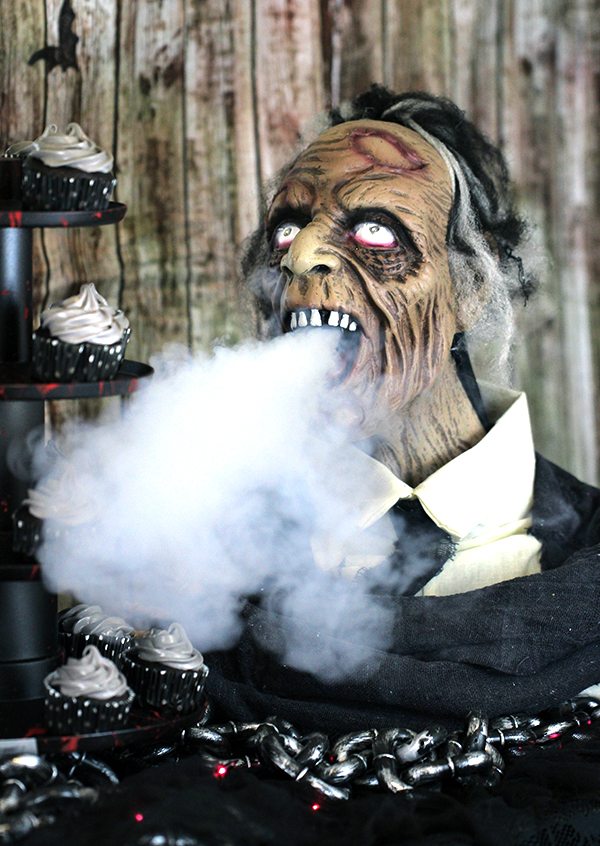 Now on to the creepier things! Make sure to check out the huge skeleton head with color changing eyes. Creepy! But, my absolute favorite is the guy above. Hands down the creepiest thing ever. It makes a gut wrenching sound and connects with a fog machine. The fog then comes out of it's ghastly mouth. If you want spooky this year, he is a MUST buy! Don't forget the fog machine and fog liquid while your shopping! You will need them both for the full effect.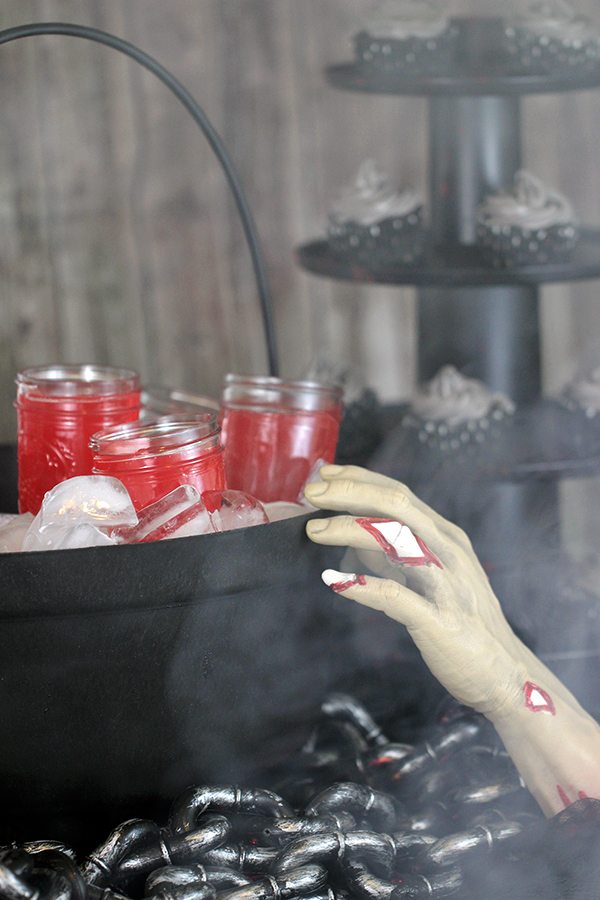 No scary party would be complete without rogue bloody hands, chains, cauldrons or drinks.
What will you be picking up at Kmart for Halloween? Party decor, Costumes? What are your picks for #MoreThrills this season?