Oh googly eyes, how I love thee. From stickers to candy, they are the cutest. I've had a package of candy eyes just waiting to be used up and I finally conjured up an idea. My husband actually indirectly gave me the idea for these slimy monster cupcakes. Last weekend I made some bloody s'mores and drizzled red cookie icing over them. He thought green would also be cool for Halloween. Brilliant. (Oh yeah those are coming soon). This post contains affiliate links.

On my quest to check out green icing options, I stumbled on this bad butt "Slime Green" Sparkle Gel. Picture right on the packaging is a monster looking cupcake. How could I resist? A chance to use slimy green sweet goo and my candy googly eyes. Sounded like a win. It really does the job of looking like that real slime that kids play with. It has a glittery look to it and it oozes really nicely too. Can't wait to come up with even more creepy oozy goodies to make with it.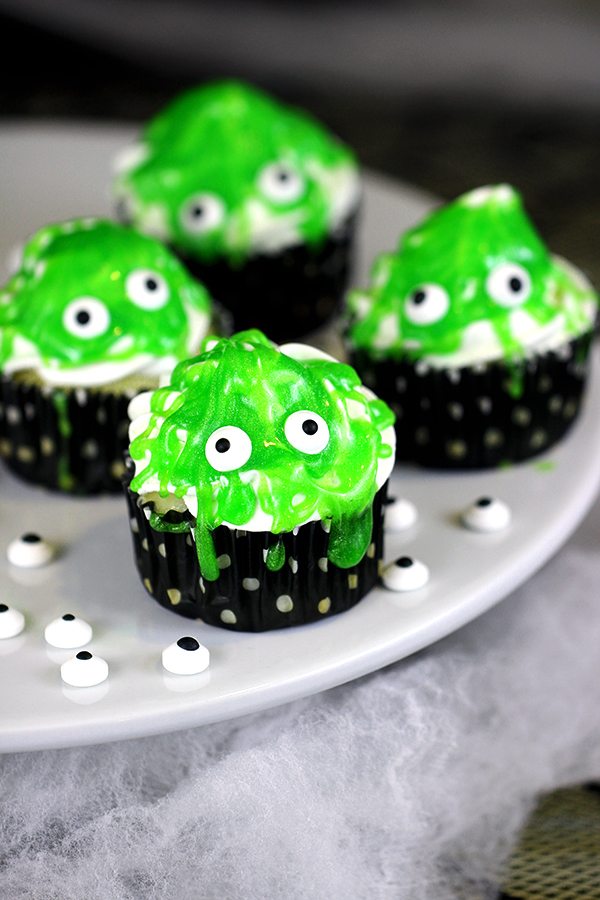 My son thought these were pretty awesome, so that is another win. It's kind of hard to impress teenagers these days, in my experience. So, I'll take that for a double win. These are beyond easy to make too. All I did was bake up cake mix cupcakes with store bought frosting. Then, I drizzled on the goo and topped with eyeballs. You could do one, two, three or as many darn eyeballs as you want. I like that they each come out differently depending on how you drizzle and place the eyes. Fun, fun! Want to try making them?
Slimy Monster Cupcakes
1 Box White Cake Mix – Prepared as directed for 24 cupcakes (hey make sure to use only egg whites per the directions)
2 Containers White Frosting
2 Tubes Wilton Slime Green Sparkle Gel
Candy Eyes ( I used these - but any that you find would probably be awesome!)
I made 24 cupcakes using a box of cake mix, you could use any flavor you'd like of course. After baking, I used my life saving Wilton Dessert Decorator with a star tip to frost the cupcakes. You can frost them any way you want. Slime time! Drizzle the Slime Green Sparkle Gel over the top of the cupcakes. The slime doesn't really solidify, for best results wait a while and let it set before placing the candy eyes on. These would hold up best being refrigerated. If you plan on serving them at a party, add the eyes on right beforehand. Otherwise they tend to get wet and the center of the eye fades.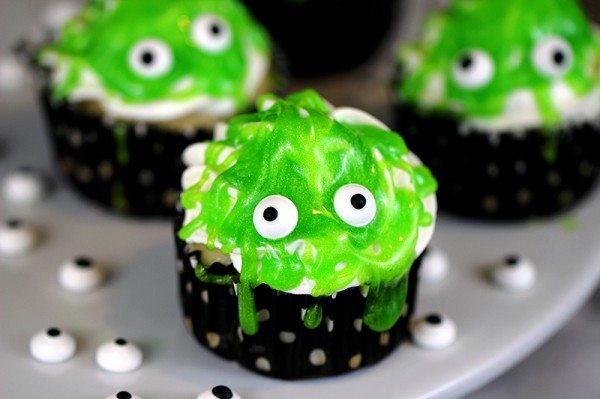 Happy monster eating! Want more spooky cupcakes? Check out these simple Undead Skeleton Cupcakes too!
Have you ever made a slimy dessert? Have you seen this Wilton Slime Green Sparkle Gel yet?